Planning a family vacation to the USA's East Coast is no easy task; there is an abundance of choices that are perfect for the whole family, from the hustle and bustle of New York City to the magic that is Orlando, Florida. So how could you possibly choose?
Well, we are here to help! We have compiled a list of fifteen of the best all-inclusive resorts along the East Coast to make sure your next family vacation is one that will never be forgotten.
Kicking off our list is the Capt. Thomson's Resort, situated in the stunning Alexandria Bay, New York. This family-friendly resort is a great choice for your next family get-away. Overlooking the St. Lawrence River, you can experience the landmark views of the Thousand Islands from your very own private balcony.
This hotel boasts several modern amenities from a heated outdoor pool and hot tubs, to the free WiFi and flat-screen TVs in every room. However, it is the attractions surrounding this resort that will make your vacation one to remember.
Just a short walk away is the Uncle Sam Boat Tours that will take you down the river and across to Boldt Castle. Alexandria Bay is also home to the Scenic View Park, perfect for a family hike, or the Cornwall Brothers Store & Museum.
With so much history on offer, it is no wonder Capt. Thomson's Resort has made it onto our list.
If you are looking for a fun-filled vacation any time of year, then look no further than Pennsylvania's Woodloch Pines Resort. This all-inclusive family resort, one of the best in the Pocono Mountains, caters to your holiday needs all year round.
You can enjoy a dip in their indoor and outdoor pools, or take a trip to the nearby attraction Ski Big Bear, just a short 7 miles journey, for skiing, snowboarding, and snow tubing.
This family resort hosts over 30 scheduled activities each day, including the likes of archery, go-carts, arts and crafts, and many more to help fill up your days. Then, at the end of the day, you can kick back and unwind while watching family-friendly evening entertainment.
Woodloch Pines Resort also offers a kids club and babysitting services allowing the adults some alone time to take advantage of the spa and massage services; perfect for relaxing after a busy day of exploring the Pocono Mountains.
While a lot of their activities come included in their all-inclusive packages, Woodlock Pines Resort does also offer additional adventures that you can try out for an additional fee. Including the likes of escape rooms, paintballing, mini-bowling, and a shooting barn, they could make your family vacation different from all others.
Next up on our list is the Key Largo Bay Marriott Beach Resort. For families who love a trip to the beach this waterfront resort in Florida is perfect. This 4-star hotel sits on 17 acres on the coastline, overlooking the Gulf of Mexico with its own private beach, and is the go-to for all those who love making a splash.
This grand hotel comes with an onsite dive shop so guests can enjoy a range of water sports, from exciting diving and parasailing to the more relaxing fishing and boating. This hotel has something for everyone, and its close proximity to Dolphins Plus means you can experience a swim with the dolphins.
For a relaxing holiday, you can enjoy deluxe amenities from heated swimming pools to Breezer's Tiki Bar, where you can unwind with cocktails and live entertainment. The outdoor dining area means you sit and eat while overlooking the Atlantic Ocean.
This recommendation keeps us in sunny Florida with the Club Med Sandpiper Bay Resort. This is one of the best all-inclusive resorts Florida has to offer; situated between Miami and Orlando along the St. Lucie River, guests can enjoy the world-famous Florida theme parks, including Universal Studios, and Disney World, and the gorgeous beaches of Miami.
As well as the close proximity to Florida's theme parks, Club Med Sandpiper Bay has something for everyone. This hotel comes with a kid's splash zone, an adult-only swimming pool, a golf course, and tennis coaches.
Onsite, you can look forward to the evening entertainment put on by the entertainment staff, or spend your relaxed evenings challenging your family to a table tennis tournament.
With babysitting facilities and a kids club, adults can take a break and enjoy the amenities meant just for them such as fitness classes and spa services which will allow adults to take a breather and enjoy their holiday just as much as the children.
Club Med Sandpiper Bay is a no-brainer for families that are looking for an all-inclusive, family holiday filled with brilliant sunshine, endless fun, and all the magic that comes from being so close to Orlando, Florida.
When people think of a family holiday, most people picture a couple with their children, having fun and exploring new and exciting places together, but not many will picture our four-legged furry friends. The Baker's Cay Resort, however, has you covered. If you do not want to leave your pets at home, this hotel is a good choice for you as you can bring them with you!
This hotel will accommodate all your pets' needs, with complimentary crates for when you go out without the pooch, to pet-friendly menus!
The Key Largo area is perfect for pet-friendly activities; the local Dagny Johnson Key Largo Hammock Botanical State Park offers lovely nature trails for walking the dog and an off-leash park.
If you love aquatic animals just as much as your pups then the Theater of the Sea is a perfect trip out. Home to dolphins, stingrays, sea lions, and many more, guests can experience personal shows and interactive events with the animals.
Baker's Cay truly is a haven for animals lovers who want to surround themselves with several species of exciting and exotic animals, and share it all with their best friends.
On the secluded Island Paradise of Key West, the Pier House Resort & Spa is one of the top all-inclusive resorts for a relaxing family break.
If you are a family who loves building the biggest of sandcastles then the private white sand beach is perfect for a few hours of sun and fun. Or, if you have a taste for literature, especially that of Ernest Hemingway, you are just a short drive away from the house he called home.
Right on the coast, there are of course several water sports options to choose from if you like getting your feet wet. However, if you prefer the dry land, Duval Street is packed with boutiques and art galleries everyone will enjoy.
When you are not dining out elsewhere, the Pier House offers dinner with a view; their signature restaurant, One Duval, overlooks the Gulf of Mexico with waterfront views. You can tuck into the fresh, locally sourced cuisine while the sun sets over the horizon. Beautiful! There is no question as to why this hotel is rated as one of the best all-inclusive resorts on the East Coast.
Located in South Carolina, the Embassy Suites by Hilton is perfect for a vacation for adults and children alike. This all-inclusive resort comes with both indoor and outdoor pools, kids clubs, and an array of water sport activities.
Setting this hotel apart from the others is the breathtaking views of the Blue Ridge Mountains that are visible from some of the available family suites that are on offer.
This grand hotel comes with bicycle hire for cycling around the mountain trails or taking a spin around the adjoining Verdae Greens Golf Course. South Carolina also offers the BMW's Ultimate Driving Experience, Frankie's Fun Park, and the Clemson University International Center for Automotive Research.
This hotel has been rated in the top 10% of all Embassy Suites since its opening in 1993 for guest satisfaction. You can be sure that this vacation spot will not be a disappointment!
Staying in South Carolina, The Marriott Myrtle Beach Resort and Spa at Grande Dunes is a 4-star luxury hotel on the oceanfront. Just beyond their doors in North Myrtle Beach, you can experience dozens of outdoor activities; go horseback riding along the uncrowded beaches, or embark on one of the beach's kayak tours.
Back at the hotel, you can enjoy the resort amenities that are on offer, from the hot tub and multiple swimming pools, the snack and poolside bars to the waterslide that your little ones will love – and let's face it, so will you!
Rooms come with private balconies and of course, those fluffy bathrobes that we all love to experience. With free WiFi, children's activities, and a relaxing spa, this hotel has all you need for a relaxing day when you're not discovering the adventures of South Carolina. This resort would be perfect for your next all-inclusive vacation.
It may come as no surprise that this hotel has made the list; there is not a single child, or adult for that matter, that hasn't been touched in some way by the influence of Disney, making this a perfect choice for your family vacation.
This grand hotel plays host to two outdoor pools, a restaurant, and a games room, meaning you wouldn't have to venture very far to have a fun-filled holiday, but with the free shuttle service to the other Disney parks, why would you just want to stay at the hotel?
This resort offers all the magic you could hope to find in Orlando, Florida, and you can give your children a vacation they will never forget, and relive your own childhood at the same time! Surround yourself with all the best of Disney's Movie Magic in this fabulous hotel dedicated to all of your favorite characters.
Children's activities and outdoor play equipment can be found around the resort for those lazy days when you're not exploring all that Orlando has to offer, and loungers and sunbeds are available for use when you want to lounge about the pool and watch the kids play.
Moving slightly north, this next hotel offers private cottages for you and the family atop the Blue Ridge Mountains in North Carolina.
At this scenic resort, you can experience all that the great outdoors has to offer; close to the Nantahala National Forest, you can step out of your comfort zone, or embrace your adventurous side with river rafting, hiking, fishing holes and so much more.
The sights around the area will stay with you always; swimming holes, lakes, and waterfalls will create the perfect backdrops for those family pictures that will be forever treasured.
This hotel comes packed with amenities, from tennis courts to musical entertainment, from onsite restaurants to a rooftop terrace. This hotel and destination are a great choice for an inclusive family vacation.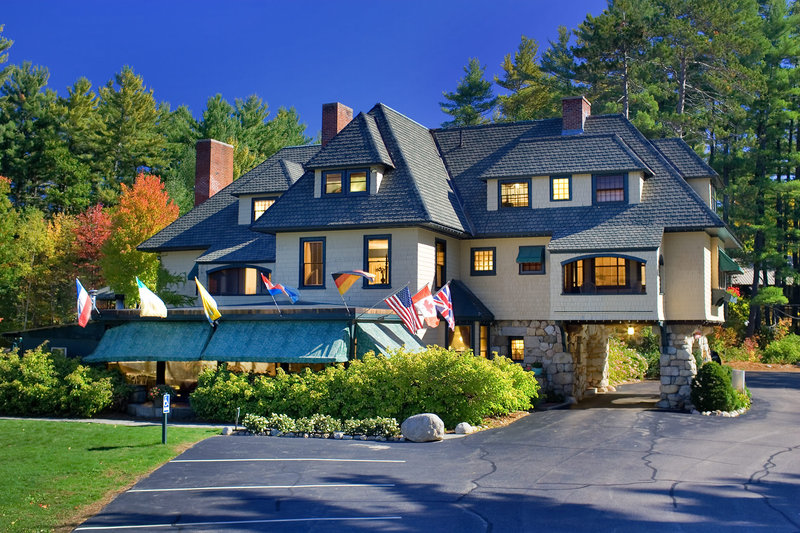 The Stonehurst Manor is the only 5-star resort on our list of the top all-inclusive resorts, but it is certainly not the only one on offer. This resort has a lot to offer, raising it up on our list. At Stonehurst, you can experience the best of Mt. Washington Valley, and the mountain views of the White Mountains.
This setting makes it perfect for those in-land adventures, such as snowshoeing, cross-country skiing, zip lines, and climbing. This resort will allow you and your family the chance to jump in and experience all the best of the country that the suburbs cannot give.
Then when you return to the Manor, you can warm yourselves up with the heated outdoor pool or the wood-burning fireplaces and enjoy your complimentary dinners or relax in whirlpool baths.
Spend some time exploring the gardens that the Manor has to offer; a lifesize chess game sits within the gardens and gives parents the chance to teach their children the game in a fun, family activity all while soaking in the sun.
And if you have any pets that you just can't leave behind, then great! This resort is pet-friendly. Your furry friends can join you and enjoy the hikes and walking trails around the area right along with you. What could be better than that?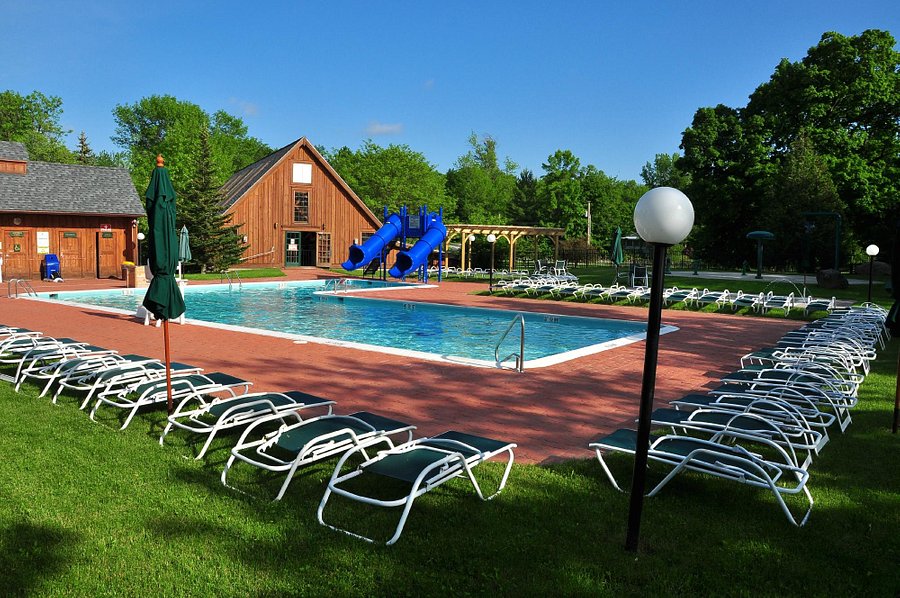 With kids programs for all ages, this Vermont-based, all-inclusive family vacation destination is perfect. With three meals a day, you won't have to worry about finding places to eat, and if you adults want an evening without the children, you can enjoy your evening meal alone.
Then you can spend your evenings in your own private cottage, with separate parent bedrooms, as you unwind from your busy day.
This resort makes planning your day easy, offering an incredible variety of both water and land activities, without having to wait in line. Families can enjoy the family-friendly offerings including Pontoon boat rides, the mini-golf course, or even something simpler, like a family picnic or nature walks.
Counselors at Tyler Place will take your little, and big, children off to experience a range of age-appropriate activities whilst the adults can do exactly the same thing! The range of activities here almost seems endless.
Tyler Place also comes with a heated outdoor pool and an indoor pool too! While the children splash about, you can enjoy free, high-speed WiFi as you sit back and soak in the sun, or take the children down to the tennis courts for a few games to help burn off their relentless energy.
But who can blame them? This resort has plenty of activities to keep everyone excited for the whole holiday.
This resort is an amazing choice for families who love embarking on new adventures together. Much like the previously mentioned Tyler Place Family Resort, Medomak offers a vast selection of activities, fun for the entire family.
From archery and shuffleboard to arts and crafts, from foosball to overnight stargazing and nightly campfires, this resort will have your family vacation jam-packed with fun and exciting activities.
They even offer a small selection of adult-only activities, from local beer and cheese tastings to massage therapy. There is something here that will steal the hearts of everyone and have you wanting to come back for more.
The area surrounding the Retreat center also hosts several enticing attractions that you can visit during your stay here. Nearby are several museums such as Farnsworth Museum and the Owl's Head Transportation Museum, as well as several parks – the Birch Point State Park is a favorite among guests, producing tidal pools along the shoreline, where the Atlantic meets the Pines.
Private cabins are available and daily meals come as family-style dining. If you want a completely family-orientated vacation, the Medomak should most definitely be placed high on your list of must-do holidays. There is no better place to enjoy your family time than right here.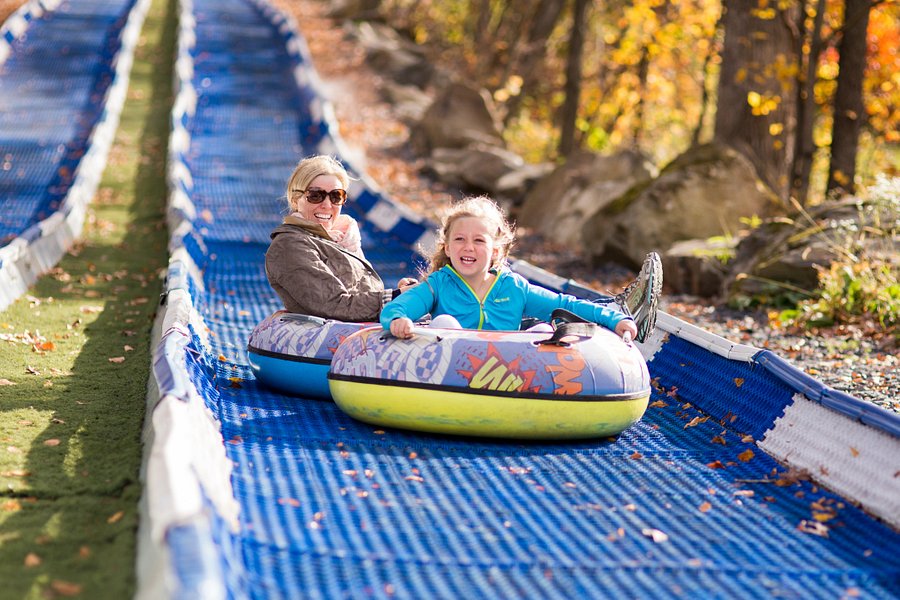 At the Rocking Horse Ranch Resort, it doesn't matter what time of the year you are looking at taking your well-deserved family vacation. The Rocking Horse Ranch is open all year round and offers events for all seasons.
Here, you can enjoy three meals daily while experiencing all that this fantastic resort has to offer. Summertime offers BBQs, and pool parties, while in winter, you can get into the Christmas spirit with their Winter Fun Park and festive events; the holidays at the Ranch include meeting Santa, pantomimes, and their famous blue lights – 50,000 blue lights covering the nearby pine trees.
The Rocking Horse Ranch will be popular with your children as there is so much that they will be able to get up to; there's the Big Splash Indoor Water Park and exotic wildlife exhibits, there's a selection of indoor and outdoor activities to choose from and the resort offers a number of children's programs such as laser tag, the lucky horseshoe arcade and so much more.
And let's not forget, it is a ranch, so naturally, there will be horses there too, ready for you to ride any time of the year. Whether you're an expert rider or a complete beginner, they have over 500 acres of trails, each trail suitable for any level of horseback riding.
They also offer alternatives to horseback riding if you don't feel confident enough to get on the horse, from tractor-drawn wagon rides to tours of their 115 stall barn, you won't have to miss out on these magnificent creatures.
If you are a family who loves embarking on outdoor adventures, then look no further than Mohonk Mountain House. With resort amenities ranging from bicycle rental to archery, from hiking trails in the mountains to horseback riding, this family resort has something for everyone.
This Victorian Castle resort is surrounded by pristine forests and overlooks Mohonk Lake, offering breath-taking views all year round. Offering three meals included in the competitive all-inclusive rates, sourced from local Hudson Valley farms, you will dine in style while at Mohonk Mountain House.
Mohonk offers a large number of outdoor activities from tomahawk throwing and fishing to croquet and family crafts, and along with the unlimited activities that Mohonk has to offer, high in the mountains, adventure awaits!
With 85 miles of hiking trails and rock scrambling through the Mohonk Labyrinth and Lemon Squeeze, available in the summer, there are so many things here that you will be able to partake and tick off that bucket list.
Mohonk Mountain House also offers a range of evening entertainment from movie nights to live music and workshops. Throughout the year the resort hosts a number of events to keep the guests entertained such as Jazz on the Mountain, or Will Shortz's Wonderful World of Words.
Much like many of the suggestions on this list, Mohonk Mountain comes with babysitting facilities for when the adults have exhausted themselves and want to kick back and relax with some of the holistic wellness sessions such as yoga or tai chi or just spend an hour or two in the spa.
In Summary
The East Coast is packed full of amazing destinations and all-inclusive resorts perfect for your next trip away, and this list was just the tip of the iceberg of all there is to discover along this stretch of the USA.
There is so much potential for a successful, and thoroughly enjoyable, vacation with the most important people in your life. No matter where you decide to go, this list has surely shown that there is no better place than the East Coast.
More about our TFVG Author
A seasoned traveller, Dad, and avid sports tourist, James foundered The Family Vacation Guide to share his expert vacation experiences- especially when it comes to being a travelling family man.
Featured in Travel articles such as Travel + Leisure, TripSavvy and SFGate, you know you're reading some of the best vacation tips online.