The newest trend in family vacationing is waterpark resorts. These all-inclusive packages include the thrills of classic waterpark attractions with a hotel stay, for a convenient option for your family vacation. They're packed with fun, sun, and gallons of water to keep you on the cooler side of life.
All-inclusive waterpark resorts are exciting vacation opportunities, not just for the kids, but something that couples or groups can enjoy.
If you are looking for something close to home, the US has some of the best all-inclusive waterpark resorts.
The US is stocked with waterparks from coast to coast. South Dakota is known to have the greatest number of waterparks per capita, while Wisconsin is known to have the largest-sized waterparks in the US. With so many options available, getting the most bang for your buck is essential.
Budgeting for Your Waterpark Resort Vacation
Depending on their amenities, waterpark resorts can vary in size and cost.
Most resorts offer rooms, suites, and sometimes, private housing options. Some offer all meals, while others provide breakfast only or meal vouchers. You can build resort packages to fit your family's needs and budget.
In general, though, it's less expensive to visit an all-inclusive waterpark resort than it is to book your hotel and buy your tickets separately. Additionally, most of the options on this list offer steep discounts that vary throughout the year.
Let's find out what kind of water features, amenities, and deals make these 20 waterpark resorts some of the best all-inclusive waterpark resorts in the US.
Great Wolf Lodge: Multiple Locations
Great Wolf Lodge has 20 locations to choose from spread across the West, Midwest, South, and Northeast. It is an indoor waterpark treasure for all ages. Rain or shine, your family can indulge in your waterpark experience when you take on the adventure at the slides or find solace lying in the hot springs.
With over a whopping 50 activities available in this indoor waterpark, there is something special to do for the entire family.
Great Wolf Lodge offers day passes or more extended stays in their suites. Meal packages from breakfast to platinum dinner experiences are available at several food outlets throughout the park.
With 20 resorts in the US, there is bound to be a Great Wolf Lodge closer than you think.
Crown Reef Beach Resort and Waterpark: Myrtle Beach, SC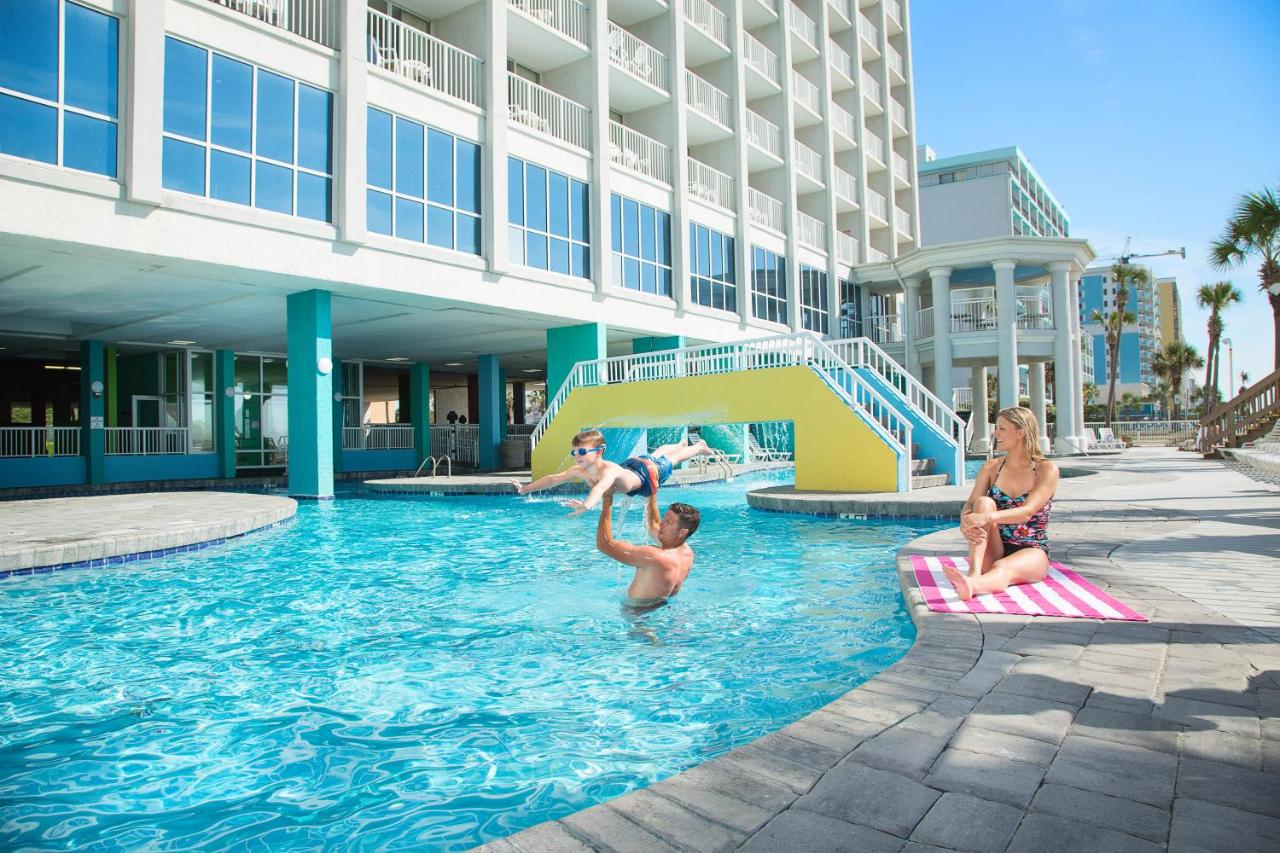 Crown Reef Beach Resort and Waterpark is a dream come true if you are looking for tall and long-run waterslides. The park features a forty-foot-tall slide and a single slide over 300 feet long.
Different plans and accommodations are available. Rent a room or a house for the family so that you can enjoy endless fun with 15 key water features along with a lazy river.
Crown Reef is open all year round and has other resort activities like an arcade, beach access, or fitness centre to enjoy when you come out of the water.
Crown Reef also has a bonus: Hotel guests can get a package deal to visit the Tigers Myrtle Beach Safari. So, if you love waterparks and petting tigers, this might just be the vacation of a lifetime.
Encore Resort at Reunion: Kissimmee, FL
Encore Resort at Reunion is an outdoor water extravaganza for the whole family to enjoy. Residents of Florida and Georgia qualify for a resident discount, but those travelling farther can still take advantage of the resort's vacation deals.
Encore offers home residencies with 3-12 bedrooms. Most houses have their own private pools. They also provide a discount of $100 off any two tickets for the nearby theme park of your choice. It's a nice little bonus added to Encore's fantastic onsite waterpark.
For thrillseekers, Encore Resort doesn't disappoint. Storm Chaser is a 60-foot vertical drop, while the Surfing Safari is a fun setup for the little ones to splash around. There seems to be something for everyone to enjoy in this waterpark.
Pointe Hilton Squaw Peak Resort: Phoenix, AZ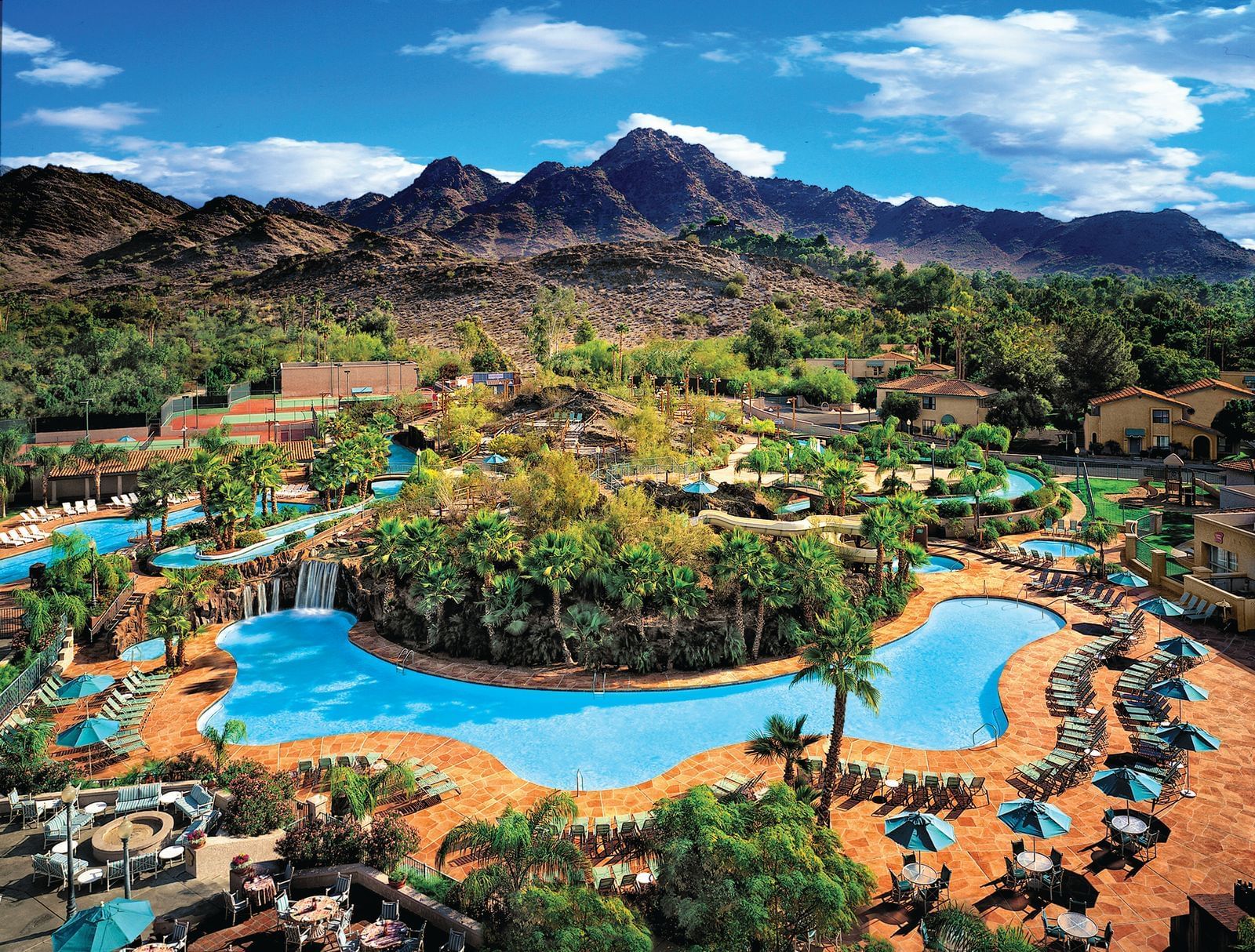 Pointe Hilton Squaw Peak Resort is also known as the River Ranch Waterpark. Four acres of water fun for the family in the middle of the Arizona Desert. This park isn't overwhelmed with many slides but has a relaxing, simple atmosphere with a large lazy river and pools.
There are cabana rentals and spa amenities to enjoy while soaking in the Phoenix sun. Rental packages can include meal credits, mini-golf, tennis court access, and a fitness class.
Kalahari Resorts & Conventions: Multiple Locations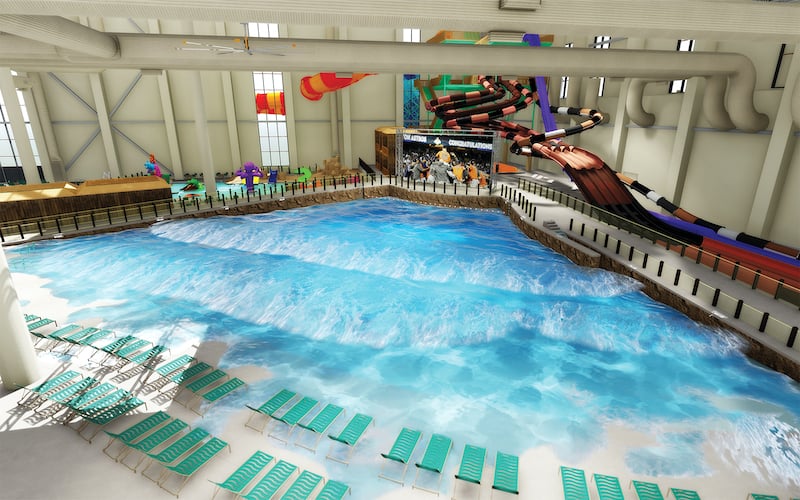 Kalahari Resorts & Conventions, with locations in Ohio, Texas, Pennsylvania, and Wisconsin, offers passes and packages available to fit any budget.
Kalahari opens the outdoor waterpark for all hotel guests and day pass holders in the summer months. Then, there are dozens of water attractions available indoors in the off-season that will make memories for all ages.
Other attractions include an arcade, escape rooms, mini-bowling, and mini-golf.
Standard rooms start at $332, depending on location. The longer you stay with Kalahari, the more you can save on all-inclusive deals.
Discovery Cove: Orlando, FL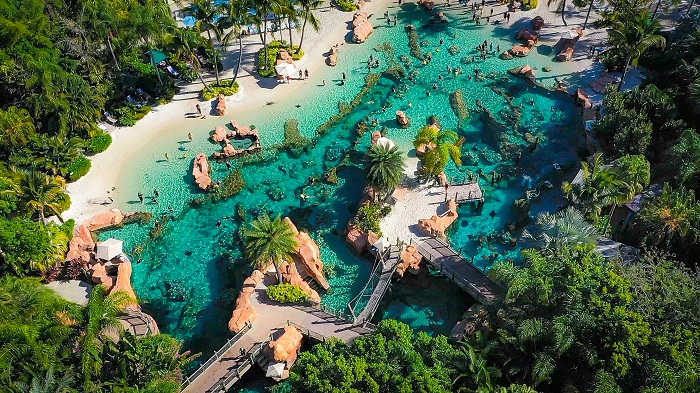 Discovery Cove is an all-inclusive day of fun for the whole family.
This isn't your typical waterpark by any means. The creators of SeaWorld have designed this awe-inspiring resort to give an authentic underwater experience. It will feel more like an island getaway for the day in the middle of Orlando.
At Discovery Cove, families will experience snorkelling, swimming with tropical fish, lying on white sandy beaches, and feeding colourful exotic birds.
Prices start at $224 per person. Be sure to tack on an extra hundred if you plan on swimming with the dolphins.
Why not also check out our guide to some of the best resorts in Orlando with a water park for more inspiration in the area?
Holiday Inn Resort Orlando Suites Waterpark: Orlando, FL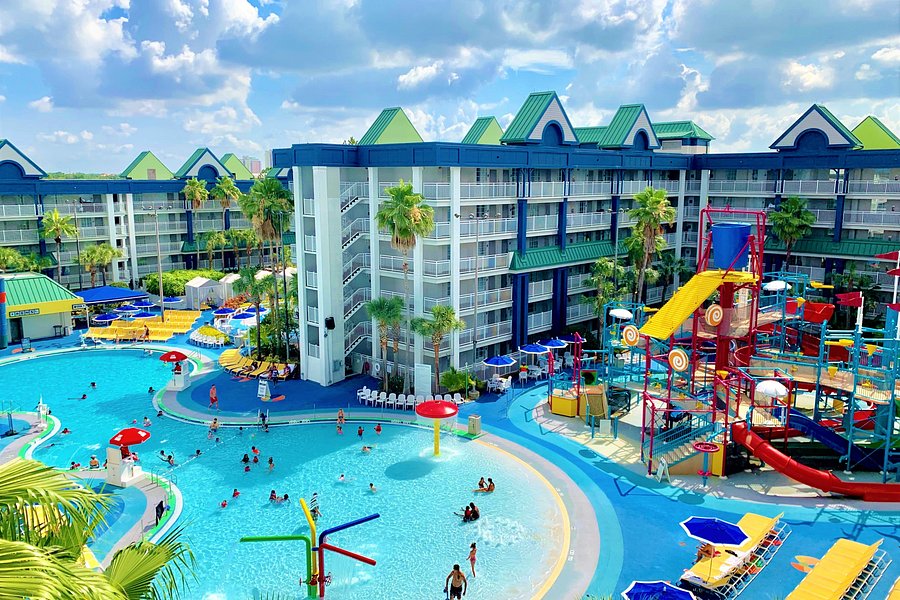 Holiday Inn Resort Orlando Suites Waterpark is a colourful playland of water for kids of all ages and the perfect escape from other local theme parks.
Of course, this resort offers free shuttles to surrounding parks, but this fabulous waterpark might be just the ticket for the family. With other amenities, including a 4D movie theatre, arcade, and Batman Laser Challenge, you and the family have plenty to stay busy with.
You'll also save a little money if you're bringing your little ones along, as kids under 11 get breakfast and dinner for free.
Hyatt Regency Maui Resort and Spa: Lahaina, HI
Named one of the most beautiful waterpark sites in the US, Hyatt Regency Maui Resort and Spa is a different experience for families with older children or groups who want to find the perfect balance between relaxation and adventure.
Featuring six pools onsite, the Maui Resort and Spa boasts a more relaxing atmosphere with waterfalls, ocean views, and tropical flowers.
It also has a fantastic 150-foot lava waterslide to take advantage of if your idea of a vacation isn't complete without an adrenaline rush.
Other activities include the Mermaid Experience, with special swim classes featuring wearable mermaid tails and an interactive pool for children.
Arizona Grand Resort & Spa: Phoenix, AZ
Arizona Grand Resort & Spa is a luxury resort with a waterpark oasis. The Travel Channel named it one of the Top 10 in the US.
This waterpark is 7 acres of splashing fun, with a wave pool for keeping cool and an eight-story thrill slide to get your heart racing. The entire family can enjoy a game of water volleyball or relax poolside.
For the younger ones, they can enjoy themselves in the Wild Cat Springs area.
You can put together your own package that will work best for you and your family, including optional dining credits with your booking. Book two weeks in advance to get special discounts.
Bridges Bay Resort: Arnolds Park, IA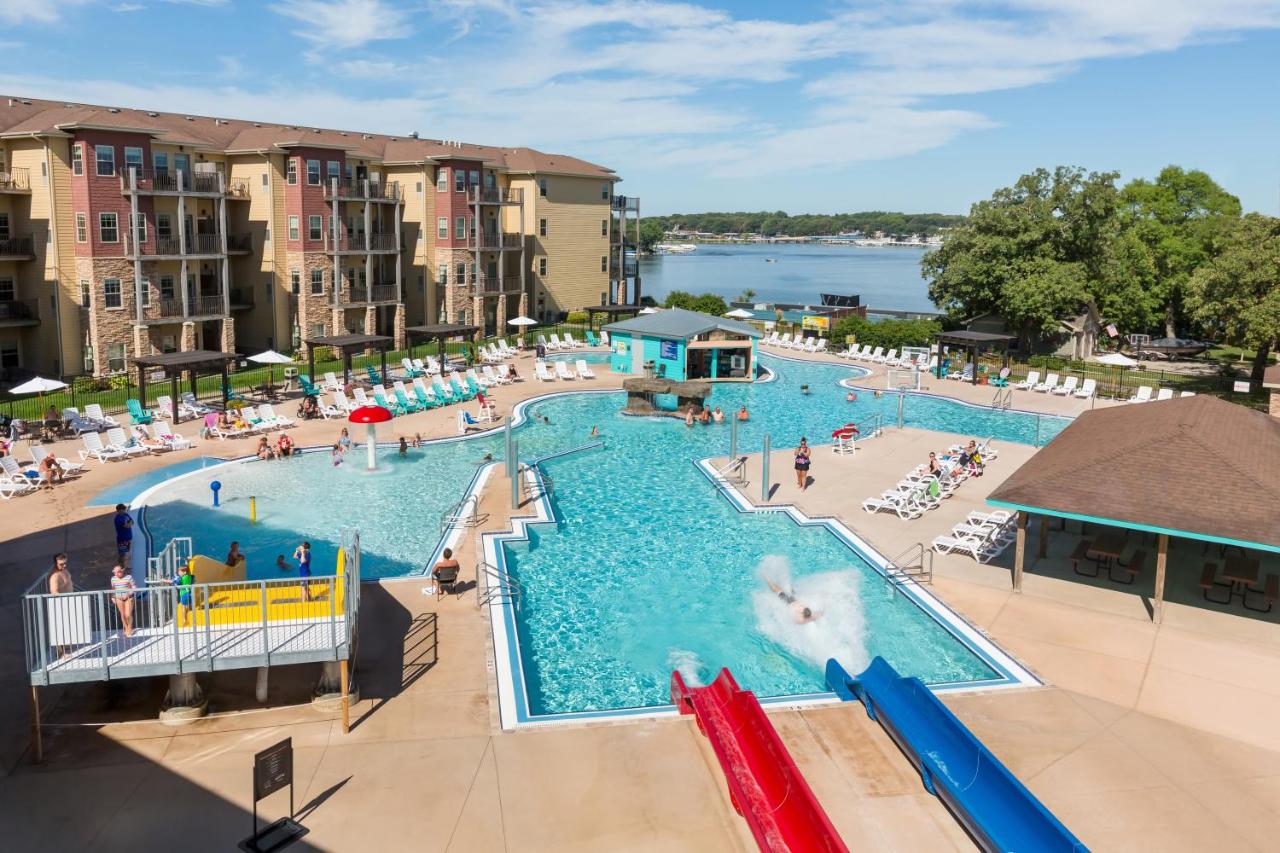 Bridges Bay Resort is an unexpected waterpark treasure.
Bridges Bay Boji Splash Indoor Waterpark is open all year round with plenty of fun for the family. It is the only indoor waterpark in the Arnolds Park area, making it a hotspot for all your waterpark needs.
Take a zipline experience over Lake Okoboji, or stay indoors and take on the waterslides. Enjoy the whirlpools or family fun at the arcade. There's even the chance to go fishing on the lake. It is a well-rounded family getaway with a wilderness vibe.
They have day passes and resort packages with hotel rooms, condos, or cabins available for your stay.
Camelback Resort: Tannersville, PA
Camelback Resort, better known as "The Stay and Play Resort," offers tons of amenities to guests.
Besides the arcade, rock climbing, and other resort family fun, Camelback has two waterparks to take advantage of, depending on the season.
Aquatopia Indoor Waterpark has got thrill slides and whirlpools. The new, psychedelic Mountain Mayhem light slide might not exactly be your thing, but Camelback certainly has something for the whole family to enjoy.
During the summer months, Camelback Outdoor Waterpark is open as well.
Kartrite Resort & Indoor Waterpark: Monticello, NY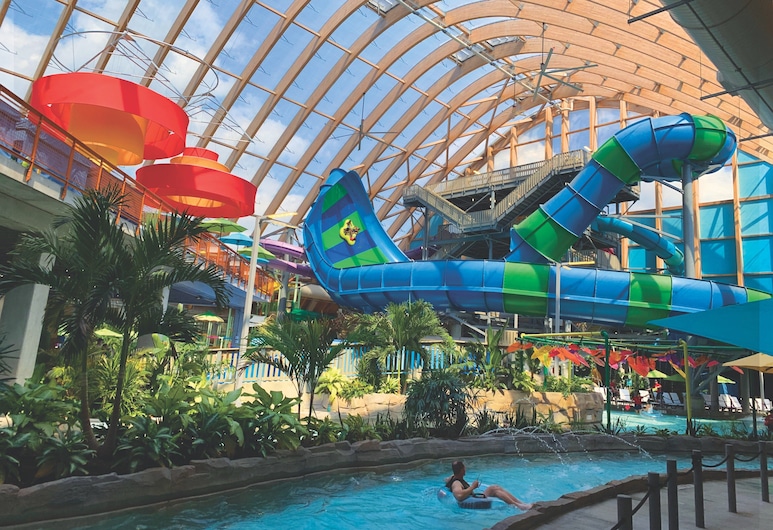 The Kartrite Resort & Indoor Waterpark is New York's largest indoor waterpark.
Located in the Catskills, Kartrite provides a combination of fun and luxury for the entire family. Suite packages include a couple of waterpark passes with the rental. Private cabanas are available park-side, including lounge chairs, a television, and a fridge.
The best part, of course, is the expansive water attractions designed to bring a smile to every visitor.
There are thrill slides like the Nor'easter, which claims to be the ride of a lifetime for you and three others. The lazy river and wave pool are excellent options for a more relaxing stint in the water. There's even an adorable shallow lagoon called Puddle Ducks, available for the tiniest of water lovers.
Splash Lagoon: Erie, PA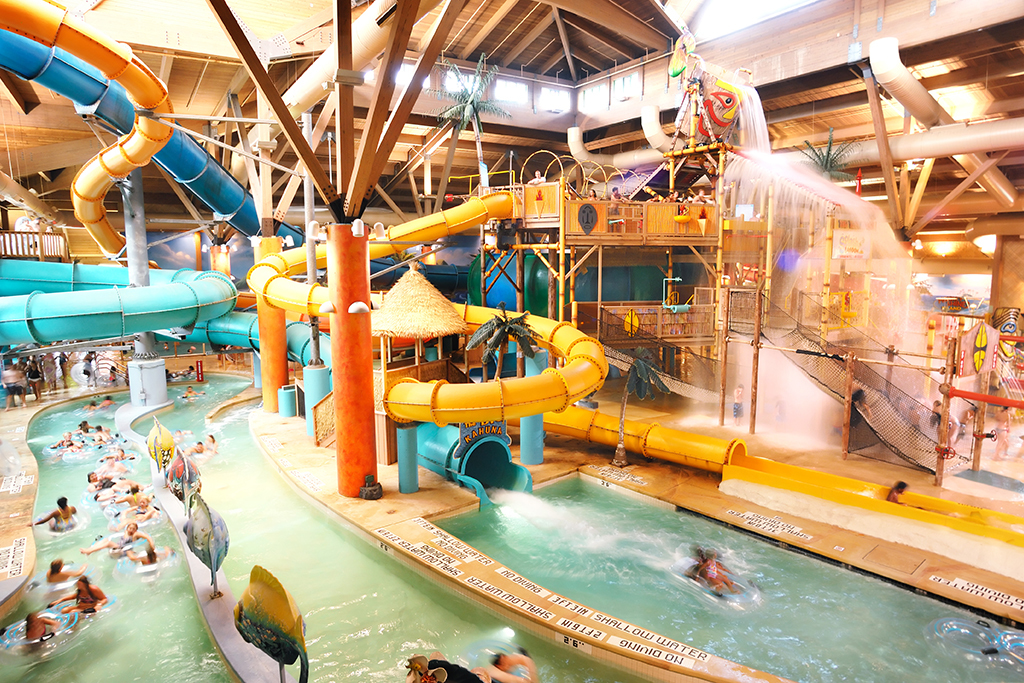 Splash Lagoon is a unique experience because three different hotels are attached to the park rather than the standard, all-inclusive resort rooms.
Book your hotel packages online and build the perfect waterpark getaway.
This indoor waterpark is 84 degrees of Polynesian beauty, complete with seven waterslides, a wave pool, and several family-friendly activities like the arcade, tree-top climbing, and axe throwing.
It has been listed as one of the Top 10 Indoor Waterpark Resorts by USA Today.
Cape Codder Waterpark: Hyannis, MA
Cape Codder Waterpark is an indoor/ outdoor waterpark with 30,000 square feet of family fun.
It has thrill slides, including a series of slides that run through a pirate ship. The kiddie pool features water cannons and buckets, keeping up with the pirate theme.
If water hygiene is a concern, you won't have to worry. Cape Codder uses a high-intensity ultraviolet water purification system to guarantee sparkling clean water free of contamination.
Cape Codder offers lodging packages with specials and discounts depending on which package you select. You can choose from family packages, holiday packages, or getaways.
Rentals include waterpark passes and discounted meal vouchers.
Legoland: Goshen, NY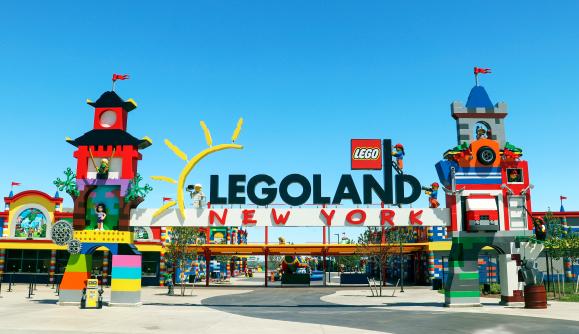 LEGO® City Water Playground just opened in the spring of 2022.
This waterpark is a kids' dreamland, featuring the only safe Legos to be around in bare feet. It is currently a simple structure compared to other waterparks on the list.
Still, there's a chance this water playground has the potential to grow into one of the best waterparks ever, as those iconic bricks continue to draw in huge crowds of all ages.
Lego 2-day packages start at $167 a person. It includes a themed Lego hotel room, a daily in-room treasure hunt, 2-day passes to the park, and a hot breakfast buffet.
Westgate Smoky Mountain Resort & Water Park: Gatlinburg, TN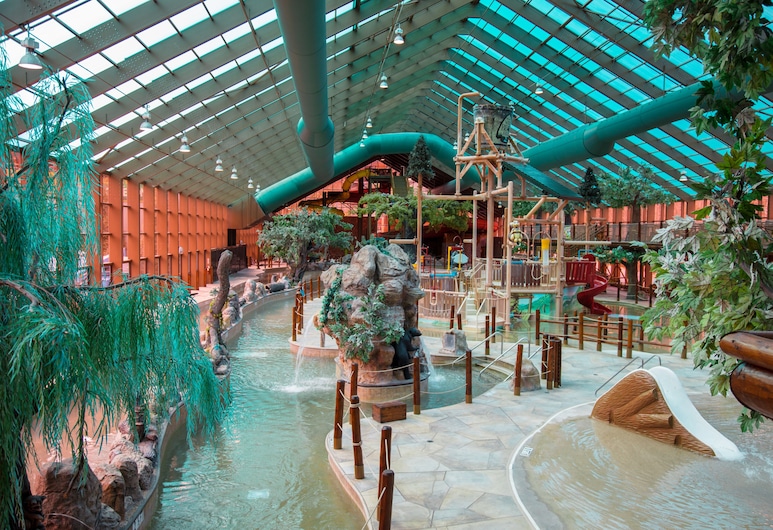 Westgate Smoky Mountain Resort & Water Park is known to be one of the top waterparks in Tennessee.
This waterpark is 60,000 square feet of water excitement. Thrill slides with twists and turns for over 300 feet or a 900-foot-long lazy river are just some of the options at Westgate.
It has a retractable roof to make this indoor waterpark unique with open-air and direct sun on warm weather days.
Because there are so many other popular attractions nearby, you must build your waterpark and accommodations package when making reservations. Each option is listed as à la carte, or you can book a 3-Day Gatlinburg Vacation with Water Park package.
Country Cascades Waterpark Resort: Pigeon Forge, TN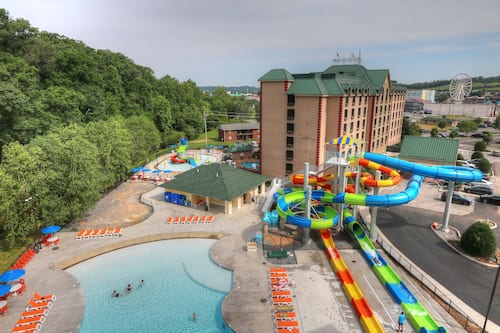 Country Cascades Waterpark Resort is an 80,000-gallon outdoor waterpark.
All room packages include access to the waterpark, indoor pool, and indoor hot tub. Grandma's Homestyle Breakfast is included with the stay.
This smaller gem is perfect for families looking for a great vacation package deal. Country Cascades has some thrill and some chill wrapped up into one family getaway.
Flamingo Waterpark Resort: Kissimmee, FL
Flamingo Waterpark Resort is a cash-free resort experience, allowing you to unwind without worrying about where you'll keep your wallet while you're splashing around.
With 120,000 gallons of waterpark to play through, Flamingo Waterpark is exciting for the whole family.
They have thrill slides, main slides, and kiddie slides. The waterslide tower is an ideal layout for choosing which slide to take next.
When it's time to relax, enjoy the 630-foot-long lazy river.
Resort rentals include four passes to the waterpark per night stay, as well as Movie Night passes, gym access, and heated pool access. The resort is also RV-friendly, with electric hookups for RVs and boats.
Wilderness Resort: Wisconsin Dells, WI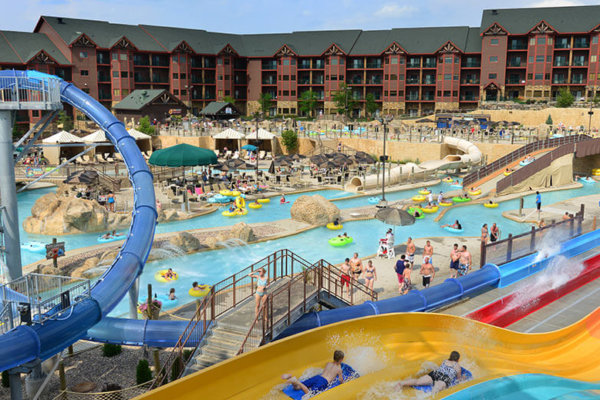 Wilderness Resort is one of the largest waterparks in the US, and it is located in, what is known to be, the Waterpark Capital of the World.
Wilderness Resort is better explained as a small water city resting in the Midwest.
There are eight waterparks at Wilderness Resort: four indoor and four outdoor. There's even a swim-up bar for vacationers 21 and older.
Accommodations have plenty of options, from hotel rooms to condos or cabins. This resort can accommodate kids of all ages. S
So, if you have a flexible schedule and are young at heart, spring deals start at $135 a night on weekdays. All rentals include waterpark access.
Universal's Volcano Bay: Orlando, FL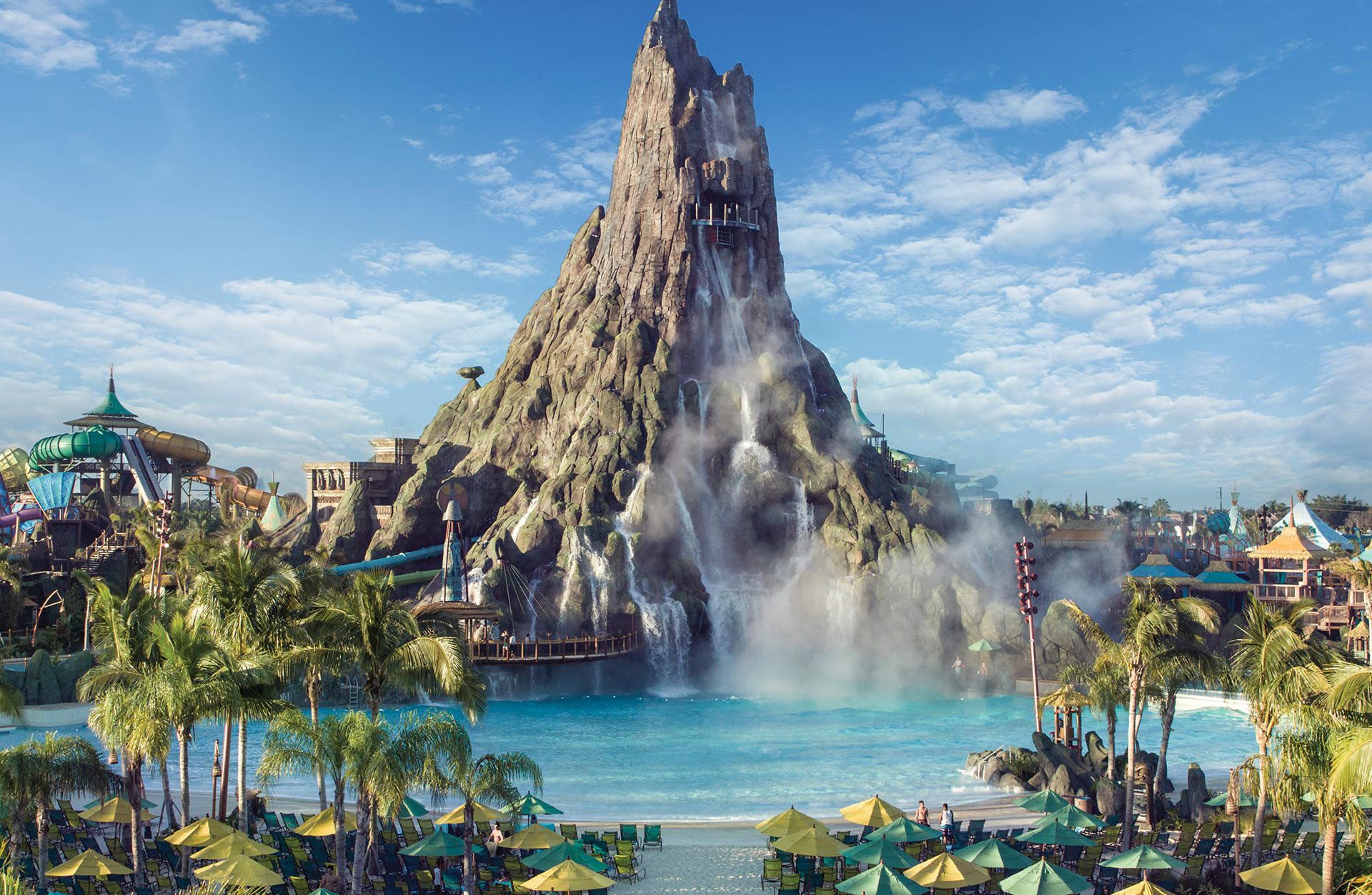 Universal's Volcano Bay is part of Universal Park, Orlando, and you can include it in your park package of choice.
Volcano Bay has 17 water attractions that are Hawaiian-themed, including thrill slides and body slides built for speed and the impressive Aqua Coaster. Several attractions share the name "Moana," meaning ocean or sea. The river is less-than-lazy in Volcano Bay, as it requires you to strap on a vest and ride the rapids.
The entire park is split into zones, named River Village, Rainforest Village, and Wave Village, each with its own set of attractions. At the centre of it all sits the Volcano, home of Vol, the Spirit of Krakatau.
Family of 4 deals can start at $89 per person.
Conclusion
With so many waterparks around the country, it is challenging to pick which one is right just by searching, 'waterparks.'
So, if you are looking for an all-inclusive resort experience that will be fun for the whole family, these are the 20 best waterpark resorts for thrill slides, budget, accommodations, and amenities.
No matter your financial plan, there will be a waterpark resort out there for you and your family to enjoy this year.
Check out these other fun-filled articles about vacationing in the USA:
More about our TFVG Author
Karly is a The Family Vacation Guide guest travel contributor.