Being a millennial parent is hard. There's pressure to work and maintain a dual income, but never let your career come before your family. They say it takes a village to raise a child. But for today's millennial parents, that village is more or less just parenting tips they find on the Internet.
With all the pressure in the world and no help in sight, offloading the task of dinner to a restaurant can bring relief. But that creates a whole other issue. Which restaurant are you going to go to?
Before you put aside your needs and head for the golden arches, take a look at this guide on the USA's best kid-friendly chain restaurants. These restaurants are available in most US states, and they feature a variety of cuisines.
Red Lobster is a true staple of the American casual dining experience. It's had a market presentence since the 1960s. It has over 700 locations worldwide, including 44 US States, Canada, Mexico, China, Hong Kong, Japan, Malaysia, Philippines, Ecuador, Guam, Puerto Rico, Qatar, Turkey, and the United Arab Emirates.
Red lobster specializes in seafood such as crab fish, lobster, mollusk, and shrimp but also offers plenty of non-seafood items such as chicken pasta and steak.
For Kids
Red Lobster offers a fantastic kids' menu with tasty treats such as garlic grilled shrimp, popcorn shrimp, petite Maine lobster tail, and golden fried fish. Alongside its delicious seafood options, Red Lobster also offers kids' menu staples like macaroni and cheese and chicken fingers to accommodate the pickiest of eaters!
For Adults
For adults, Red Lobster offers an expensive menu with lunch favorites, bowls and sandwiches, classic entrées, pasta, soups, sides, hot platters, cold platters, and even family meal deals. Looking for something healthy? Why not try the oven-broiled wild-caught fish with a side of steamed broccoli.
Can't decide between steak or seafood? The Ultimate Surf and Turf signature feast offers a 6-ounce filet mignon, a butter-poached Maine lobster, and bacon-wrapped sea scallops served with lemon and two sides of your choice. You can also create your own combinations of protein and sides.
Olive Garden is another American casual dining staple that serves crowd-pleasing Italian-American cuisine. Known for their all-you-can-eat breadsticks and salad, Olive Garden has a reputation for providing tasty and filling Italian-themed meals at low prices.
Olive Garden has over 900 locations in Brazil, Canada, Ecuador, El Salvador, the United Arab Emirates, Kuwait, Mexico, Panama, Slovakia, and Costa Rica. Olive Garden is your go-to if you're looking for a cheap, tasty, and reliable casual dining experience anywhere in the country.
For Kids
You can't go wrong with pasta. This is why Olive Garden's kids' menu is so great. Not only does the kids' menu offer classic options like cheese pizza, chicken fingers with pasta, and macaroni and cheese. The menu also offers more eclectic options for mini foodies, such as pasta with Alfredo sauce, five cheese marinara pasta, cheese ravioli, and even gluten-free rotini.
For Adults
Olive Garden's expansive menu offers an endless variety of appetizers, entrées, Alfredos, soups, and salads for adults. Foodies can enjoy their many delicious options such as Chicken and Shrimp Carbonara, Asiago Tortellini, Alfredo with Grilled Chicken, and the Chicken or Shrimp Scampi.
Can't decide on what to eat? Why not try the tour of Italy, which offers moderate portions of lasagna, Alfredo, and Chicken Parmesan. Their grilled chicken marinara and herb grilled salmon are both under 600 cal for health-conscious adults. And don't forget you can always create your pasta if you prefer your pasta your way.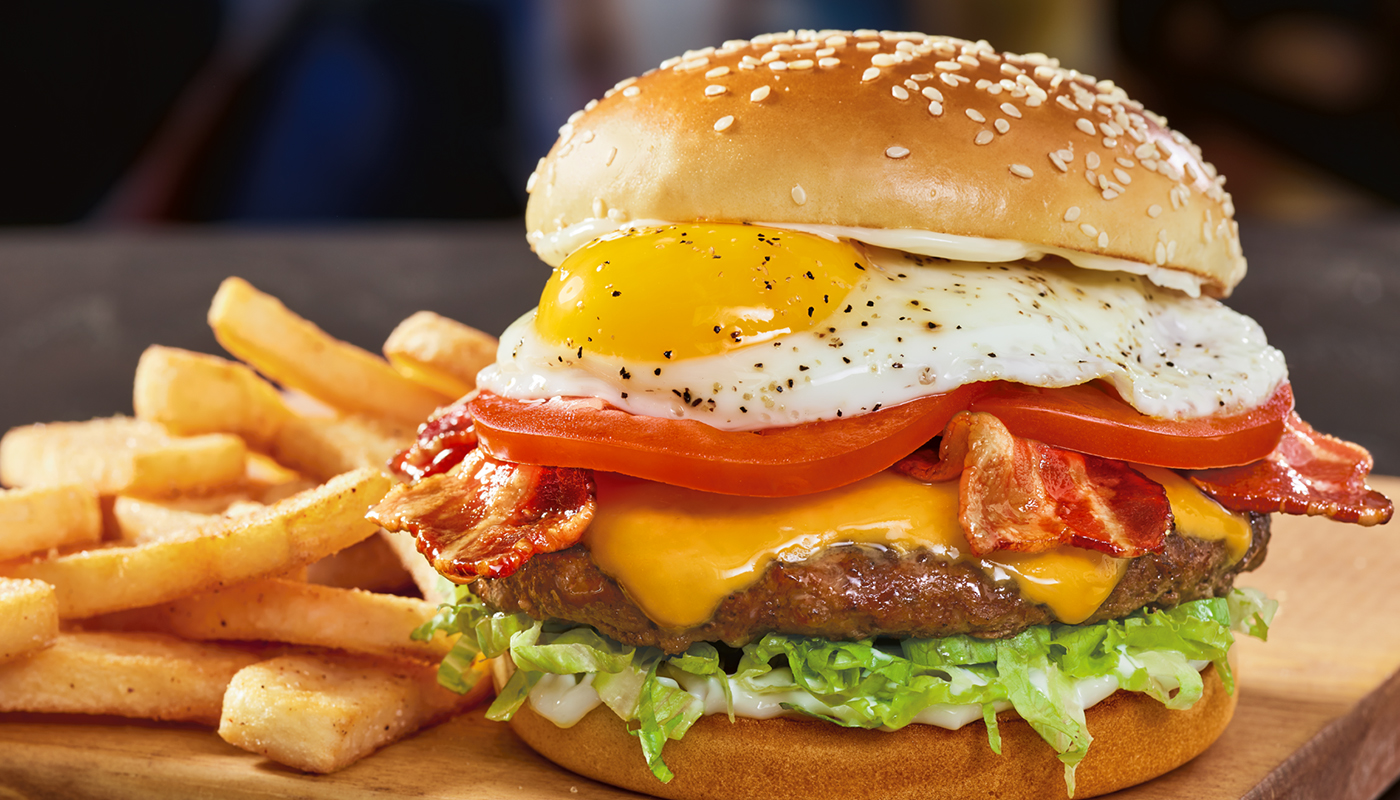 You're probably already acquainted with Red Robin if you like gourmet burgers and brews. Formerly known as Sam's Tavern, Red Robin has been an American casual dining restaurant since the late 60s. They have over 500 locations in the United States, and they also have a market presence north of the border.
For Kids
While Red Robin's kids' menu isn't as expensive as their adult menu, the menu does offer all of the kids' menu staples necessary for a good restaurant outing. Red's cheeseburger is the perfect size for your young one and can be made as beef, chicken, turkey, or veggie burger. Cluck a Doodle's offers three Breaded chicken tenders with your choice of steak fries, mandarin oranges, and steamed broccoli.
If you're looking for a healthier option, you can opt for the grilled chicken with the same three side options. Red robins also offer tasty vegetarian options like mac & cheese and grilled cheese sandwiches. And if that's not enough, the Red Robin's mascot, Red, is so cute that your kids won't miss the clown.
For Adults
Red Robin offers an impressive selection of gourmet burgers for adults, fit for any burger-loving foodie.
In the mood for a generous serving of protein? Why not try the Monster Burger made with two gourmet patties, your choice of cheese slice, red onions, pickled relish, pickles, lettuce, tomatoes, and mayo.
Trying to cut down on your red meat consumption? Check out the teriyaki chicken burger, grill turkey burger, or even the Tuscan salmon burger.
In the mood for barbeque? Red Robin's Smokehouse Brisket Burger is topped with chopped smoked brisket, Whiskey River barbecue sauce, black pepper bacon, provolone cheese, roasted jalapeños, dill pickle planks, onion straws, and chipotle aïoli on a toasted brioche bun.
The options don't stop there. Red Robin's appetizers are filled with fun and fantastic food options like pretzel bites, mozzarella sticks, fried pickle nickels, towering onion rings, cheesy bacon fondue, and bottomless steak fries. And if you're not in the mood for a burger, Red Robin also offers several entrées, sandwiches, and wraps.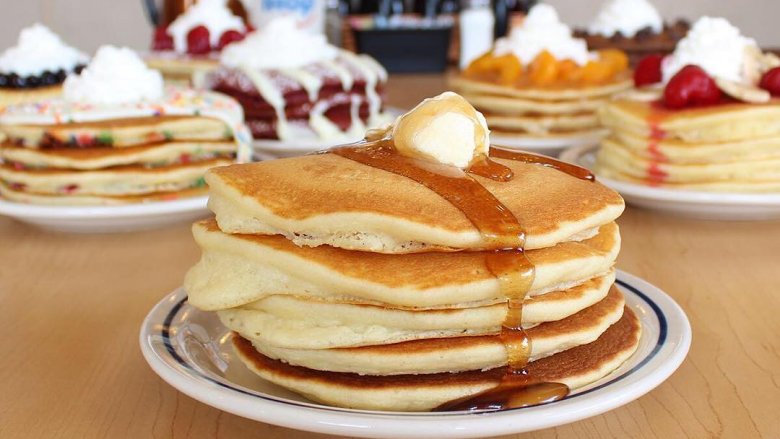 While pancakes are easy enough to make at home, every American knows that IHOP will always make it better no matter how hard you try.
IHOP, or the international house of pancakes, has been the go-to stop for pancakes and breakfast foods in America since the late 1950s. The casual dining restaurant chain is an iconic piece of Americana. The blue rooftop and the chalet-style building can be recognized as an IHOP long before seeing the actual sign.
At conception, the I in IHOP referred to their menu as having pancakes from across the globe. However, now IHOP is an internationally recognized brand with 1841 locations worldwide, including the United States, Canada, Mexico, Guatemala, United Arab Emirates, Kuwait, Saudi Arabia, Qatar, Ecuador, Pakistan, India, and Peru.
For Kids
The kids' menu is simple, yet it's somehow perfectly designed to cater to The desires of any child under the age of 12.
The silver five comes with five silver dollar pancakes, one scrambled egg, and a bacon strip. Still, if you're feeling creative, you can always upgrade it to a junior cupcake pancake combo or a funny face pancake combo. The junior chicken and waffles will make kids and adults salivate.
And thankfully, the kids' menu also addresses picky eaters with staples like the junior cheeseburger, junior chicken strip dinner, and the Kraft macaroni and cheese. All kids' meals include a beverage with free refills. Beverages are a choice of 2% milk chocolate milk, hot chocolate, or juice.
For Adults
IHOP is known for its breakfast items like french toast, waffles, omelets, and most importantly, pancakes. However, the brand does offer lunch and dinner entrées like their handcrafted melts, their beef and chicken burgers, their amazing appetizers and salads, and much more.
Suppose you can pull yourself away from their fantastic breakfast offerings like their New York cheesecake pancake or their chicken fajita omelet. Why not try their buffalo chicken melt made with crispy chicken breast tossed in Frank's red hot buffalo sauce, pickles, and Wisconsin whole milk cheese.
IHOP also offers several gluten-friendly options like their gluten-friendly pancakes and Belgian waffles. IHOP also offers unique value options for guests over 55, making it an ideal dining spot for a multi-generational meal.
Ruby Tuesdays is an American casual dining restaurant serving American cuisines such as burgers, chicken, pasta, ribs, seafood, steak, and more. It was founded in the early 1970s and is celebrating its 50th year in 2022. If you're thinking the name Ruby Tuesday sounds familiar, you would be right. Ruby Tuesday is inspired by a Rolling Stone song of the same name.
Since 2020, Ruby Tuesdays has owned and operated 209 Ruby Tuesday restaurants domestically and has international locations in Canada, Chile, Egypt, El Salvador, Guam, Honduras, Hong Kong, India, Kuwait, Romania, Saudi Arabia, Trinidad and Tobago, and Panama.
For Kids
For kids, Ruby Tuesdays offer a simple, straightforward menu featuring the most popular items among children. Mini corn dogs, cheeseburger sliders, and hand-breaded chicken tenders are all provided with a side of your choice.
Ruby Tuesday's sides include mashed potatoes, apples, grapes, broccoli, french fries, fresh grilled zucchini, and green beans. But don't forget the best part. At Ruby Tuesdays, kids eat free on Tuesday nights from 5 PM to closing.
For Adults
The adult menu at Ruby Tuesday is filled with fun and exciting items and tasty Americana favorites.
Their appetizers are filled with American staples like boneless and bone-in chicken wings, crispy mozzarella sticks, spinach artichoke dip, cheddar queso and chips, and barbeque chicken street nachos. However, they also have some ethnic appetizers loved by Americans, like the coconut shrimp with honey sriracha mayo or the blackened chicken quesadilla with guacamole, sour cream, and pico de gallo.
If you're looking for something healthy, Ruby Tuesdays has several refreshing and delicious salads, such as their Honey-Glazed Salmon salad or Backyard Barbeque Chicken salad. However, You don't have to limit yourself to just salad, as most of their burgers are less than 1000 cal each.
Their menu also features several great steaks, chicken, and seafood options. The Hickory Bourbon Salmon or Chicken served with grilled zucchini and rice pilaf is flavourful and healthy. You can also make any steak dish a combo with grilled or crispy shrimp, hickory bourbon chicken, or a half ribs.
If you really can't decide between steak, chicken, or seafood, you don't have to. Try the triple play, which comes with crispy shrimp, buttermilk breaded chicken tenders, a half rack of barbeque ribs fries, and coleslaw.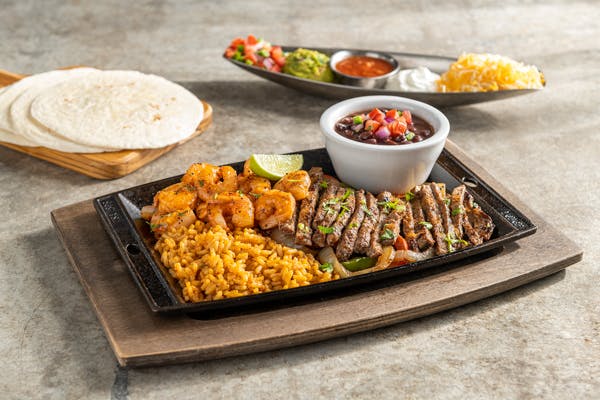 Chili's is one of America's biggest casual dining food chains, with 1606 locations worldwide and a market presence in every continent except Antarctica. The Bar and Grill establishment, founded in 1975, focuses on Tex-Mex-style American cuisine.
Chilli is quite popularly known for serving delicious meals at a reasonable price. The restaurant is so ingrained in American culture that Chili's Baby Back Ribs song, from their 1999 TV advertisements, went on to be featured on Austin Powers: The Spy Who Shagged Me and in season two of The Office US.
For Kids
Chili's kid's menu is impressive and expensive. It features 12 items, most of which come with a choice of sides and drinks. And if you have a Chili's card, kids can eat free with the purchase of any regular entrée.
The menu offers three types of burgers: beef, cheese, and chicken. In addition, they also provide Pepperoni or Cheese pizza, Macaroni and Cheese, Cheesy Chicken pasta, Crispy Chicken tenders, Grilled Chicken dippers, Grilled Cheese sandwich, and Cheese Quesadillas. They even offer a mini chocolate molten cake with vanilla icing and a thin chocolate shell.
For Adults
If you thought their kids' menu had a lot of options, Chili's adult menu would leave you flabbergasted. Chili's menu carries many appetizers, salads, soups, chilies, burgers, sandwiches, tacos, quesadillas, chicken, seafood, ribs, steaks, and smoked options. If you're a person who takes a while to order, you may want to consider checking out their menu beforehand.
Chili's offers all the essential appetizers expected of an American establishment but elevates some with a Tex-Mex twist. Chips and salsa lovers can opt for skillet queso, white spinach queso, or fresh guacamole. Wings are offered bone-in, boneless, or fully loaded. You can also try their Texas cheese fries in full or half portions.
Chili's Guiltless Grill menu offers entrées with bold flavors and 650 cal or less for those looking for a healthier option. But if you're willing to take the caloric hit, you may want to try those baby back ribs that have everyone singing.
Chili's Texas-style baby back ribs are smoked in-house every day over pecan wood. You can order them as a whole or half order, with classic barbeque, Texas dry rub, or honey chipotle. You can even mix and match your ribs if you can't decide.
The Cheesecake Factory is an American restaurant founded in the early 1970s as a bakery that became a restaurant in 1978. There are currently 308 cheesecake factory locations worldwide. Most sites are in America. However, the Cheesecake Factory does have a spot in Canada, Hong Kong, and a couple of places in the Middle East, mainly Dubai.
Visiting the Cheesecake Factory feels grand and eccentric. This is because the cheesecake factories are filled with regal decor from worldwide. Every cheesecake factory has French limestone floors, Victorian beadboard wood paneling, and Egyptian columns. As strange as it seems to have those three elements put together, somehow, the cheesecake factory arranges it to make it work.
Just as the cheesecake factory has a grand and eccentric decor, they also feature an extravagant and eccentric 21-page menu featuring over 250 items.
For Kids
It's no secret that kids love Italian cuisine. Even if the kids' menu was restricted to a couple of varieties of pasta and some pizza, your kids would have a great time at the Cheesecake Factory. However, the cheesecake factory's kid's menu goes above and beyond.
As mentioned, the kids' menu does contain a variety of pasta like pasta with butter and Parmesan, marinara sauce, Alfredo, spaghetti and meatballs, and macaroni and cheese. It also features the all-important cheese and pepperoni flatbread pizza.
However, the menu doesn't stop there. The kids' menu at the Cheesecake Factory offers roadhouse sliders, mini corn dogs, fried chicken strips, cheese or chicken quesadillas, grilled cheese sandwiches, grilled chicken, and grilled salmon.
The kids' menu even has various desserts with ice cream, hot fudge sundaes, and strawberries. Between the grand and regal appearance and the kids' menu fit for a prince or princess, your kids will love their cheesecake factory experience.
For Adults
While the kids' menu focuses on American and Italian dishes, the adult menu at the Cheesecake Factory makes no such restrictions. The menu still has a predominantly American and Italian theme. They offer many Asian and Mexican-inspired dishes as well.
Feeling worldly? Why not try a chicken potsticker appetizer, followed by a Carne Asada steak entrée and the all-important tiramisu cheesecake. Wanna stick to good old American cuisine? Have a girl at the southern fried chicken sliders, an Americana cheeseburger, and an oreo dream extreme cheesecake.
They even have a Skinnylicious menu for the diet conscious. The diet menu consists of everything from appetizers, salads, entrées, and even low-calorie cheesecake desserts. Looking for a healthy feast? Start with their shareable chicken samosa appetizer. Then, get the lemon garlic shrimp pasta as an entree.
By the end of your meal, you would have successfully saved enough calories to indulge in the Low-Licious, gluten-free, no-sugar-added cheesecake! 
Check out these other articles about vacationing with the kids in the USA:
More about our TFVG Author
Karly is a The Family Vacation Guide guest travel contributor.