The beautiful state of Vermont is known for its rolling green hills, majestic snowy peaks, and of course Ben and Jerry's ice cream.
The prime skiing and winter sport's destination in the USA, Vermont has a host of plush luxury resorts to call home during your stay, so for those seeking a skiing trip to remember, or simply a characterful slice of New England life, we've compiled a list of some of the best resorts to keep you comfortable during your stay.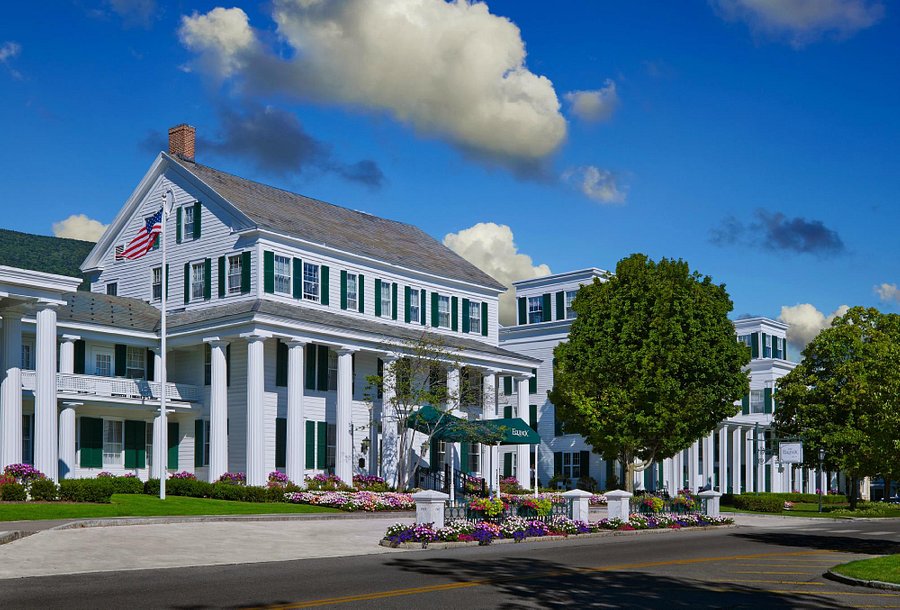 A Vermont institution, the Equinox has provided luxury lodging with timeless New England charm in the heart of the green mountains for more than two hundred years.
The Equinox offers three different styles of accommodation, so whether it's traditional resort luxury in the Equinox Main Resort commanding breathtaking views of the mountains, beautiful flowing suites in the renovated 19th Century Orvis Inn manor house, or rustic charm in the cozy accommodations of the elegantly maintained 1811 House, The Equinox has something for your vacation.
As the seasons change in Vermont, so do the host of outdoor adventures available at The Equinox. In the warmer months enjoy falconry and fly fishing, take an off-road spin through the Green Mountains in the Land Rover Experience or try your hand at professionally-led shooting
The Equinox is also home to a 6423-yard world-class golf course that has been named as one of the top 75 courses in the country, offering stunning views and clear mountain air on a course that will provide a gentle challenge for players of any level.
Then in the Winter months speed across the gorgeous snowy scenery on a snowmobile or ride a dog sled, sleigh rides and cross country skiing.
The Equinox has a host of on-site restaurants, the Marsh Tavern offering the warmth and luxury of a pub lunch from noon until late, or visit the Colonnade for breakfast in opulent surroundings.
A free trolley ride from Stowe Mountain Ski Resort, Stoweflake Mountain Resort is conveniently located a short distance from some of the best skiing in the east of the USA.
You can also stay on-site, taking advantage of cross country skiing and snowshoeing on the Stoweflake's five kilometers of beautifully kept trails. The resort is also dog-friendly, so your pooch can get in on exploring Vermont's beautiful great outdoors!
After a busy day of adventuring, take a tour around Ben and Jerry's touring factory and fill up on some well-deserved world-famous ice cream.
Then, after a busy day come home and sprawl out in the Stoweflake's array of elegant accommodations framed by picturesque Vermont mountains.
The family-friendly Stoweflake townhouses come in one, two, and three bedrooms all fully equipped with modern comforts, including WiFi and daily housekeeping, as well as private decking, making for a perfect home-away-from-home experience. There is also the option of the cozy Baraw Ski House, with 4 bedrooms that can sleep parties of up to ten.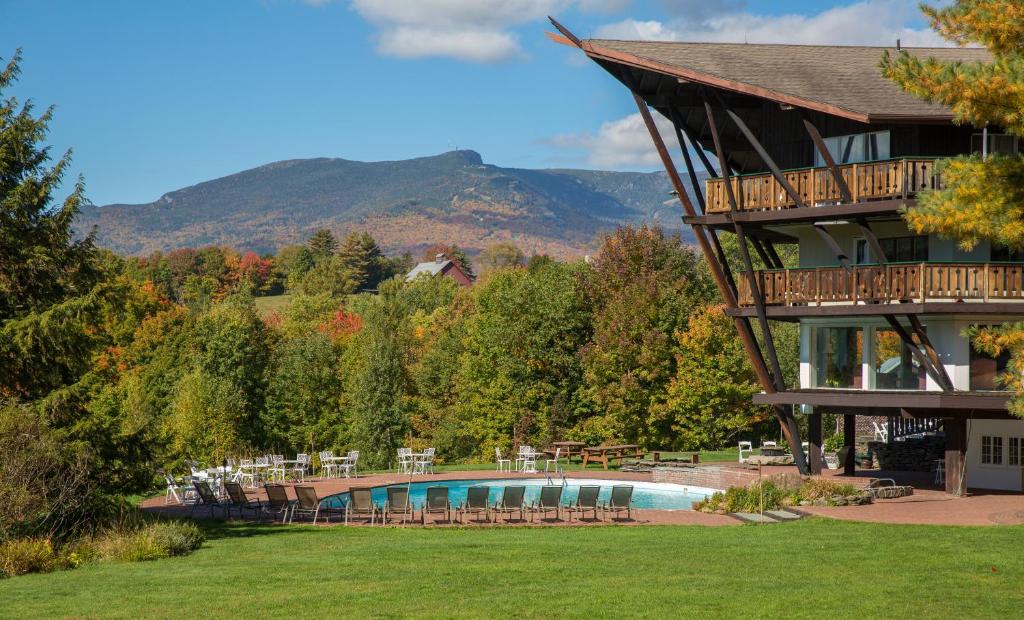 Set amongst 26 acres of stunning mountain vistas and woodlands the Stowehof resort puts you in the heart of beautiful Vermont. The stylized throwback architecture captures the nostalgia of classic ski resorts with the modern luxury you would expect from a competitive skiing resort.
During the warmer month explore the expansive grounds on foot or by bike, while in the winter you can get around by snowshoe.
Perfectly located halfway between the Stowe village and Stowe Mountain Resort and an even shorter distance from the extensive beautiful trails of Weissner Woods. This beautiful landscape changes with the seasons offering a variety of different seasonal activities all year round.
The summer is perfect for exploring Smugglers Notch State Park or taking a dip in scenic Moss Glen Falls. Watch the greens of the sweeping scenery change to crisp brown in the autumn months as the many hike trails change before your eyes, or bottle yourself some maple syrup in the spring as the scent of the sap fills the woods.
Or take the day off lounging, lost in views of the surroundings, in one of The Stowehof's uniquely decorated rooms.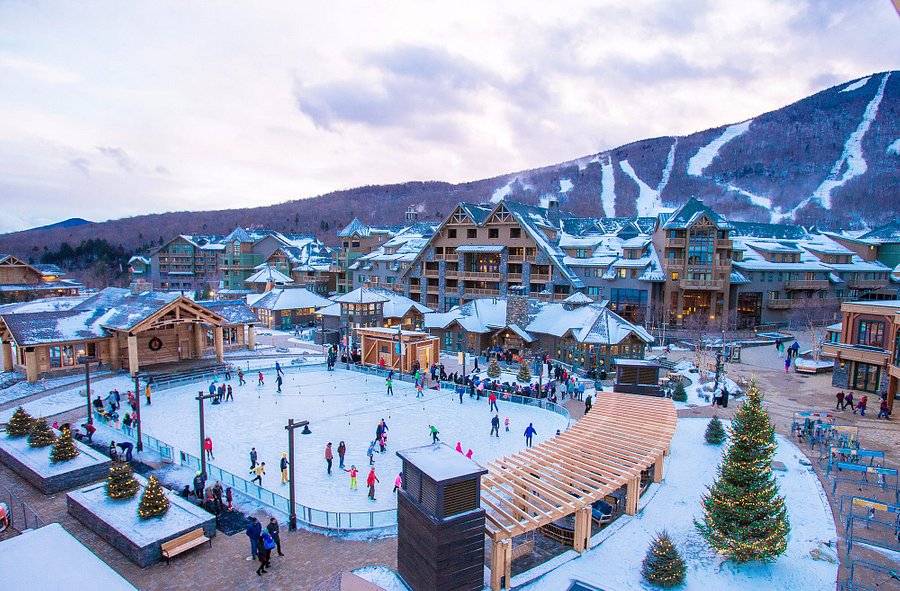 A sophisticated and kid-friendly resort experience, The Lodge at Spruce Peak Stowe is in the heart of Stowe village and a tantalizing distance from Stowe Mountain Ski Resort, making it the perfect village basecamp for your family vacation which is guaranteed to be filled with family fun.
The Lodge boasts 250 luxuriously appointed suites and guestrooms as well as a host of one, two, and three-bedroom penthouses.
Sprawling over 2500 sq. ft, these top-floor exclusive apartments can house up to eight guests, with private decking, fully kitted out gourmet kitchen facilities, and floor-to-ceiling windows with spectacular mountain views, as well as private check-in and 24-hour concierge services.
If you want to take a day off the slopes, the resort plays host to one of Vermont's top golf resorts nestled 1800 ft in the mountain range and a 420 seat performing arts center, which hosts a range of entertainment including live music, theatre, and artist residencies.
The resort's restaurants leave you spoilt for choice when settling on where to go for dinner after a long day on the peaks. Try the Tipsy Trout's unique Vermont spin on sushi and fermentables with their locally sourced produce or keep it more traditional at the homestyle Alpine Hall. Or maybe it's a cocktail and live music you're craving at the Whistlepig Pavilion.
Experience the beauty of the mountains with the convenience of small-town Vermont life. The charming town of Stowe offers a host of shops, as well as an authentic country market selling a wealth of beautiful local fresh produce.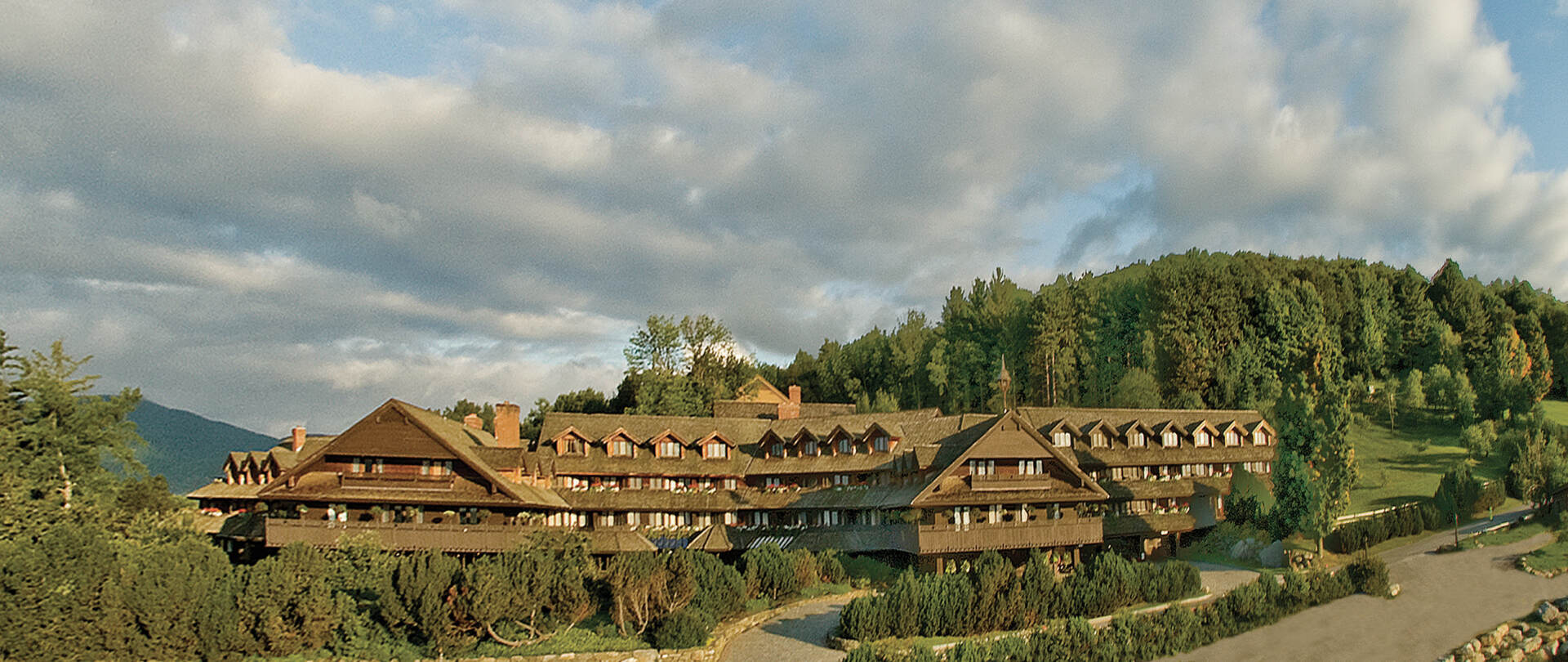 A Bavarian-style mountain resort in the heart of the Vermont mountains, the Trapp Family Lodge is a unique destination for the whole family. A 96 room beautifully realized mountain lodge nestled in a sweeping 2500 acre estate, what was once the home of the traveling band of family singers, The von Trapps, is now one of Vermont's most recognizable mountain resorts.
Visit in the winter and the 116 trails of Stowe Mountain are sure to keep you tied up throughout your stay either on skis or snowshoes, and if you choose to stay at the Trapp Family Lodge you can enjoy their 10km of trails or go sleigh riding in stunning snowy mountain settings
The activities available at the lodge are exhaustive, and in the warmer months, you can enjoy hiking on the Lodge's 35km of beautiful wooded trails catering to all levels.
Or rent a high-quality downhill bike from the Lodge to take advantage of their 28 miles of cycle tracks through flowing fields and lush woodlands. And what better destination after a hard ride than the von Trapp Brewery where you can imbibe the family's authentically brewed German-style lagers.
And when it's time to relax, unwind at the Lodge's state-of-the-art spa facilities with three massage rooms, indoor and outdoor pools, hot tub, spacious fitness suite, and regular yoga classes.
Burlington, VT is a cultural and culinary hub, set amongst a backdrop of stunning Vermont mountains, lakes, and trails and The Essex Resort is the perfect basecamp for your family vacation.
True to Burlington's culinary heritage, The Essex is host to a cooking academy where you can brush up on your knife skills, Sunday brunch prep, sushi making, or cake decorating. The Essex prides itself on its culinary reputation and they love to share their expertise with their lucky guests.
Guests can also take advantage of The Essex's championship tennis courts, unwind at the spa or fool around playing on the Resort's lawn games.
Burlington is host to a truly exhaustive list of activities, both indoor and outdoor. Schooner cruises, kayak tours, axe throwing, dog sledding, air balloon rides, and a wealth of ski trails are just an idea of the many ways your family can take advantage of the Vermont fresh air with a guarantee of family fun.
A selection of shopping experiences and art galleries are also yours to enjoy as well as a wealth of theatres and cultural centers. Burlington also plays host to a mind-boggling selection of breweries, cideries, distilleries, and wineries.
When it comes to family-friendly resorts in Vermont, the Jay Peak Resort is at the top of the pile. Year-round the resort has something to offer regardless of the season you plan your kid-friendly family vacation.
As you would come to expect from any Vermont resort worth its salt, the skiing available at the Jay Peak is world-class. The mountain receives more snow year in year out than any other in the US and their 81 trails offer endless opportunities for exploration during your stay.
That is of course if you can drag yourself away from the extensive resort facilities complex boasts. Within minutes of the resort are a selection of athletic fields for a gang of athletic activities including rugby, soccer, and lacrosse, or keep trim indoors at the Carved Fitness Center with a selection of machines and free weights.
The Jay Peak is also home to an NHL-size indoor ice skating rink at the Ice Haus Indoor Arena. Get a feel for the ice off the mountainside in this incredible indoor attraction. With rentals available, you can get on your blades with a stick in your hands, or just get a few laps in. There's even a comfy heated spectator area and café so you can watch while your kids have fun and make friends.
And at The Pump House, Vermont's only indoor waterpark, enjoy a day truly unique in the state, safe from the elements.
A host of slides, a lazy river, a kids play area, poolside rock climbing wall make the Pump House a fantastic way to escape the cold, and in the summer months the retractable roof to let the heat in not to mention the outdoor pool complex in full view of the stunning green landscape. A Flowrider indoor surfing system lets you test your athletic skill and ride some waves while snow falls on the mountains.
All the accommodation at the Jay Peak is located mere moments from this host of activities and amenities. The list of styles of lodgings is extensive, catering to any party size and budget. A range of one, two, and three-bedroom suites, mountain cottages, slopeside condominiums, and luxury townhouses will leave you spoilt for choice when choosing the base of operations for your perfect family vacation.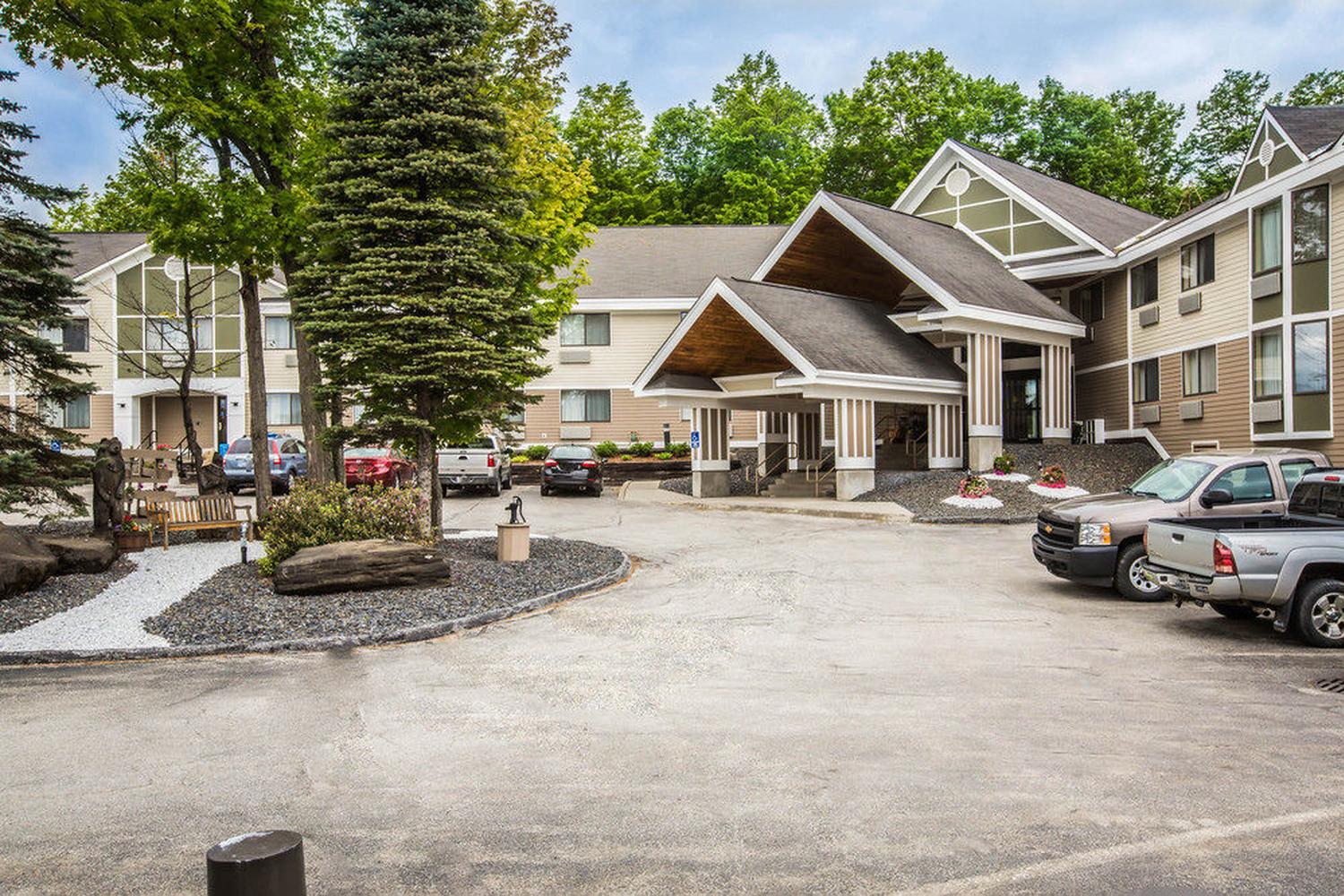 Conveniently located a short distance from Burlington International Airport the Comfort Inn and Suites at Maplewood is a welcoming getaway in charming Montpelier.
The hotel's spacious rooms all come equipped with free WiFi and LCD TVs, some boasting picturesque mountain views. A nearby scenic jogging trail and a fitness center are also available on site.
A short distance from Bolton Valley Ski Area, Sugarbush Mountain, and Stowe Mountain, The Comfort Inn and Suites at Maplewood is the perfect base for world-class skiing, snowshoeing, and sledding opportunities.
The nearby Ben and Jerry's Factory tour allows you and your family to get an up-close behind-the-scenes look at how the world's most beloved brand works.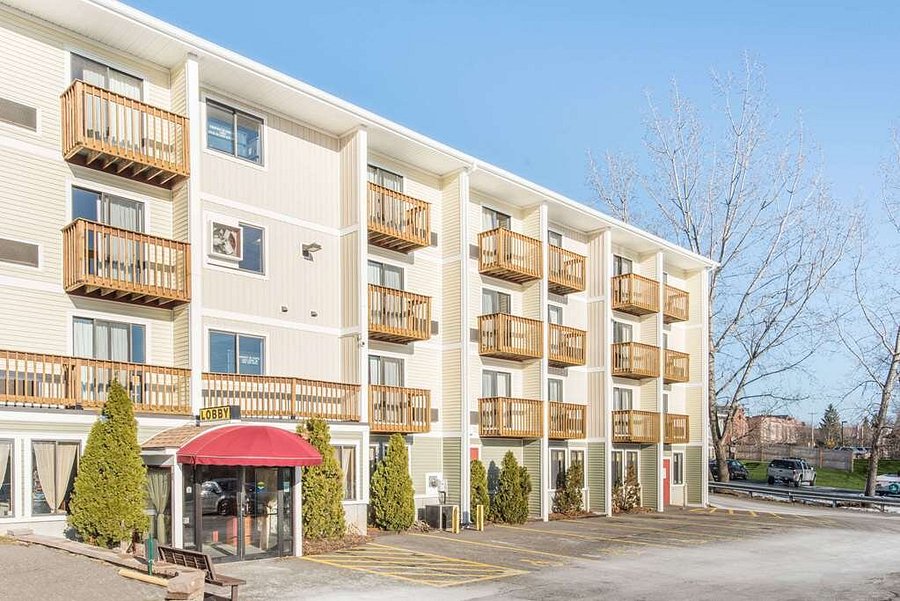 The Days Inn by Wyndham in scenic Colchester Burlington is a cozy, 'home away from home' family-friendly hotel.
Kick your day off at the onsite fitness center or indoor pool and then fill up on the daily breakfast. Nearby downtown Burlington is home to a charming outdoor marketplace and a multitude of local craft breweries as well as the Higher Ground comedy club and live music venue.
Located less than 30 minutes from every major peak in Vermont, an unforgettable skiing experience is on your family's doorstep when you choose the Days Inn by Wyndham in Colchester. The stunning blue waters of Lake Champlain are also only a short distance away, as well as Niquette Bay State Park, a 584-acre park with hiking trails available for every level of adventurer.
The Capitol Plaza in Montpelier is located just five minutes from downtown Montpelier, the smallest state capital in the USA and full of New England charm.
The Capitol has a selection of well-appointed luxury bedrooms and suites to cater for your party, as well as an onsite fitness suite and J Morgan Steakhouse which is open from brunch until late.
Montpelier is a historic and cultured slice of New England life, nestled among rolling mountains and lakes home to a host of indoor and outdoor activities. Recognized as one of America's top 100 small arts towns in the US and is home to a theatre, an independent cinema, and live music venues.
The charming town has been voted #1 Best Small Town for Shopping in The United States by USA today, and a room at the Capitol Plaza puts you among its host of independently owned boutique shops in a historic pedestrian-friendly setting.
The North Branch River Park is a 28-acre natural reserve where you can take a gentle walk by the Winooski river and gain access to a wealth of cross country skiing and mountain biking.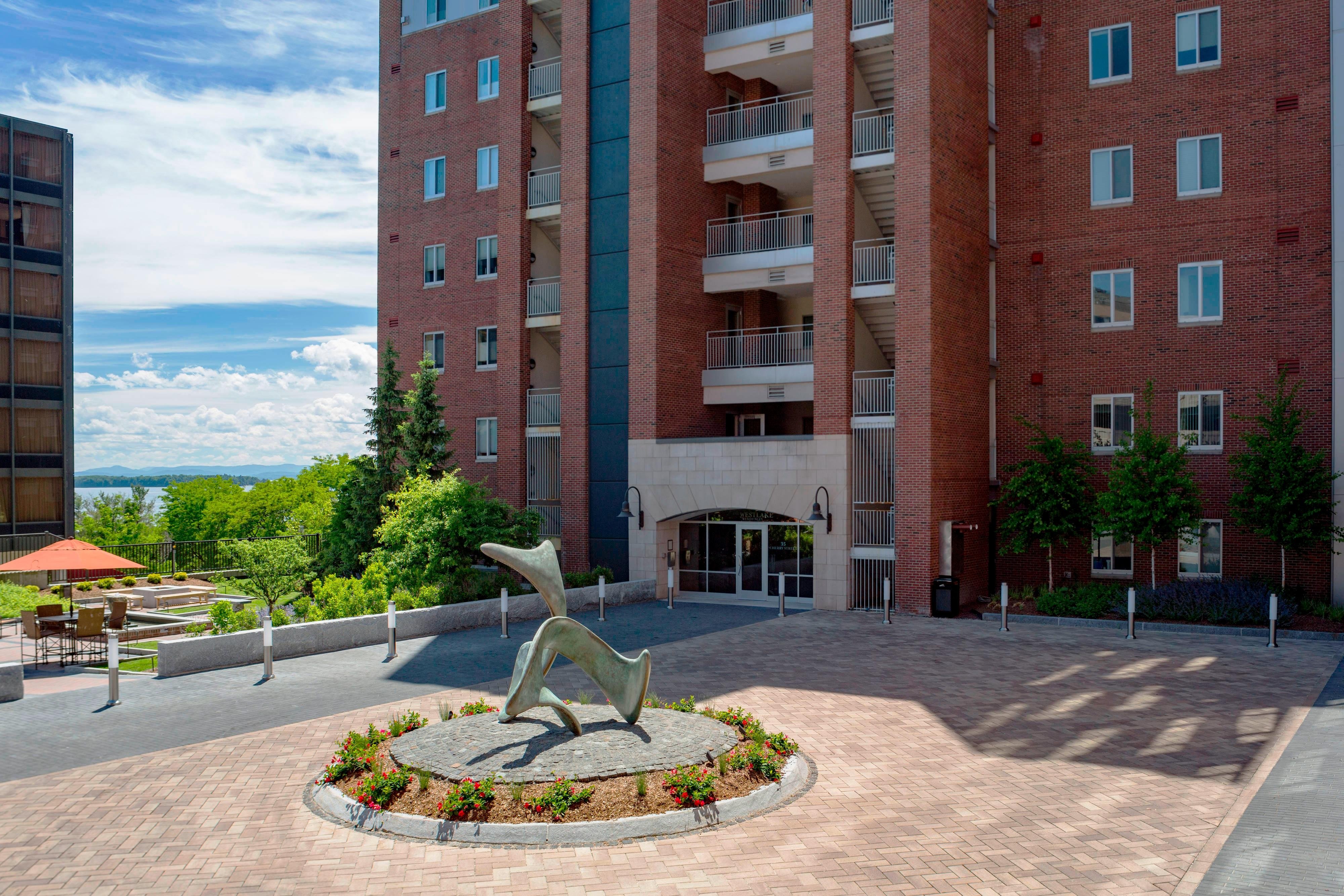 The Courtyard Burlington Williston located in downtown Burlington is a modern and comfortable kid-friendly hotel situated perfectly for taking advantage of the host of activities available in the nearby area. A convenient distance from Burlington Airport the town and hotel is easily accessible from many major cities.
Boasting a range of comfortable spacious rooms and suites, the Courtyard also has an onsite restaurant and is near a host of other eateries., as well as a heated indoor pool and fitness suite that is open early until late.
Historic Burlington is Vermont's most populous city and has all the amenities you would expect with buckets of Vermont charm. The Church Street Marketplace is a pedestrian-friendly shopping experience replete with a range of dining opportunities and only a short distance from the Courtyard.
Take a short trip out of town to Shelburne Farms, a 1400 acre educational working farm set amongst beautiful scenic surroundings.
The warm yet sophisticated furnishings of the Sonesta ES Suites in Downtown Burlington help relax you and put you at ease from the moment you enter the common area after your short four-mile trip from the airport.
This pet-friendly hotel features a daily grab-and-go breakfast, a spacious fitness suite, and a generously sized indoor pool. 96 spacious suites provide a comfortable space for your family to relax in with a host of amenities to make your stay as comfortable as possible including a fireplace, a separate bath, and shower as well as a full kitchen complete with everything you need to prepare any meal of the day. The oversized two-bedroom loft suite sleeps 6-8 people.
A host of historic, cultural, and geographic sights and family activities are situated near the hotel as well as a variety of restaurants.
In Summary
Wherever you decide to stay when visiting the beautiful state of Vermont, you will never be far from stunning scenery, exciting outdoor activities for the entire family, and charming New England towns.
The dramatic change of the surroundings from winter to summer means that picking another time of year for your stay means a dramatically different adventure from your last and the sheer variety of plush hotels and resorts means that there is something to satisfy every need.
More about our TFVG Author
A seasoned traveller, Dad, and avid sports tourist, James foundered The Family Vacation Guide to share his expert vacation experiences- especially when it comes to being a travelling family man.
Featured in Travel articles such as Travel + Leisure, TripSavvy and SFGate, you know you're reading some of the best vacation tips online.