Visiting Seattle, Washington, is about more than taking your kids to one of the West Coast's biggest cities. You'll find the peace and serenity of Washington state's natural beauty outside the booming metropolis.
From Olympic National Park and Forest on the west, Mt. Baker-Snoqualmie to the northeast, and Mt. Rainier National Park to the south, there is no shortage of nature to explore between your visits to the Emerald City.
When planning your trip to Seattle, you want to ensure that you find the best places to stay for your family and children. While the city is beautiful, trendy, and full of life and entertainment, there are some areas you might want to avoid when visiting with kids.
Let's find the best places to stay in Seattle for families with kids, so you can make your plans peacefully and easily.
Staying in Seattle with Kids
Situated between two bodies of water and two expansive mountain ranges, Seattle was not easy to reach. Coast Salish tribes occupied the area until settlers arrived in the 1850s.
The town survived by supplying lumber to San Francisco to the south until the population boomed in the 1870s with the arrival of the transcontinental railroad. After those tracks were laid, the city lived on a steady incline in population, industry, and, eventually, tourism.
Today, Seattle is one of the most popular cities to visit in the Western United States. It offers everything from trendy, chic city entertainment to rugged outdoor adventures. There's always something to do in Seattle.
When you're visiting with kids, here are some of the best neighborhoods to consider for your stay:
Waterfront
Lower Queen Anne
Downtown Seattle
Belltown
Pioneer Square
Bellevue
South Lake Union
Waterfront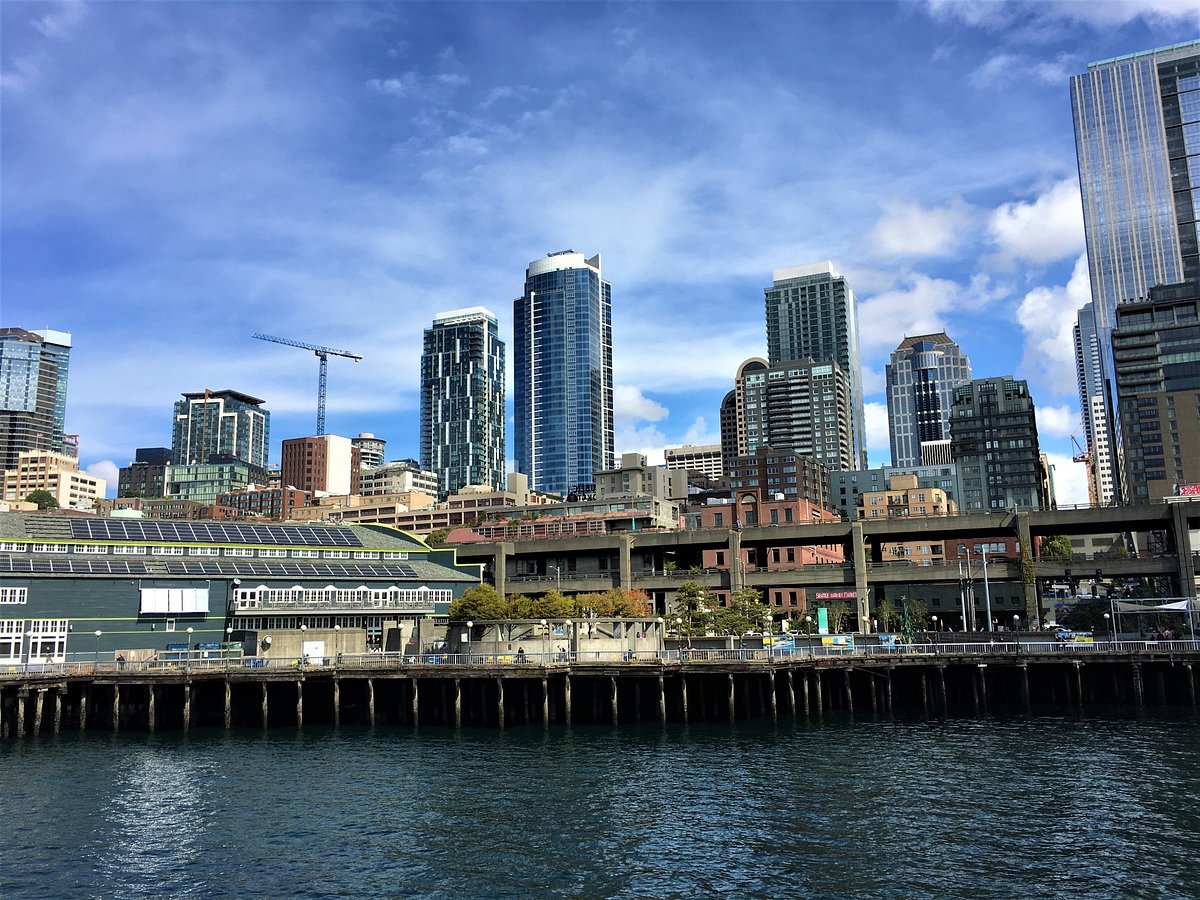 Close to Downtown and the famous Pike Place Market, you'll find the Waterfront district of Seattle. Overlooking Elliott Bay, the Waterfront is a great place to stay with kids if you're looking for good food, sea views, and plenty of fun.
Staying at the Waterfront gives you the feeling of experiencing a seaside getaway, even though the entire bustling city of Seattle is immediate to the east.
The best part about staying at the Waterfront is that it affords you a centralized location to call home, making it easy to get around and take in all the sites. As long as you don't wander around too much at night, the Waterfront is a safe area to stay with your kids.
Where to Eat
If your kids are excited to try new seafood or are already lovers of things like clams and oysters, then Elliott's Oyster House needs to be on your list of restaurants. It's considered the best oyster house in the entire United States.
Maybe your kids are in a more relaxed environment when it comes to eating lunch and dinner. In that case, Pike Place Chowder offers a great selection of fresh seafood chowders. Even though it's usually packed, you'll never feel rushed.
The Seatown Rub Shack & FishFry is a great mix of market and deli. You can find a delicious selection of meats, including seafood, and wonderful hand-crafted sandwiches that you can enjoy in the market or on the patio outside.
Finally, your experience in Seattle won't be complete until you've visited The Crab Pot Seattle. Armed with mallets and a bib, the patrons at this seafood joint have a great time cracking the shells of their meals and making a mess in the process.
What to Do
The Waterfront offers lots of entertainment for you and the kids. You'll find that your days are packed with things to see and places to be, even if you never leave the district.
The Seattle Aquarium should be one of your first stops. It overlooks Elliott Bay and offers a great range of interactive exhibits and live shows. The kids can see different sea creatures when they stop by the aquarium for a day. They even have a Pacific octopus!
The famous Pike Place Fish Market is a unique experience for visitors, especially those who live nowhere close to significant bodies of water. All the seafood you see at the market is ethically and responsibly sourced.
A trip to Seattle would be incomplete without taking at least one short cruise. From the Waterfront, you can easily access Argosy Cruises. A sightseeing cruise around the harbor takes only one hour and lets you see almost all of Seattle on a narrated tour.
When to Go
Perhaps you've heard that Seattle is a very wet city. That means you'll want to plan your vacation around the driest months. Visiting in the summer and early fall will afford you the best weather, with July and August considered two of the driest months.
Lower Queen Anne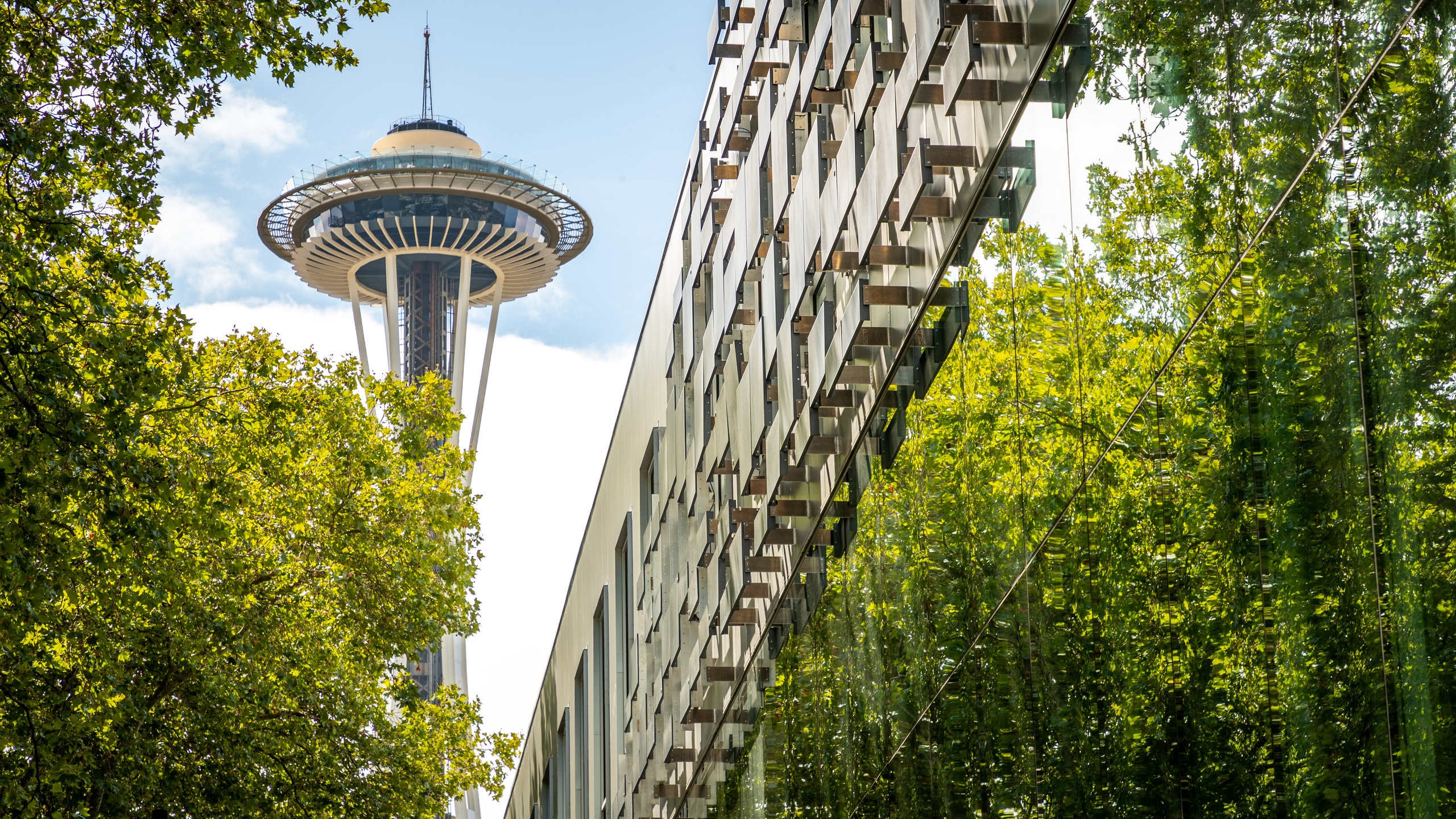 Just north of the Waterfront district, you'll find the quaint community of Queen Anne. For this trip, you might consider staying in the southern portion of the district. From there, you have easy access to many Downtown amenities.
You'll find plenty of chic, affordable hotels in Queen Anne. Many of them have excellent views of the Seattle skyline, including the world-famous Space Needle. Excellent local restaurant choices will also surround you.
As one of Seattle's oldest residential neighborhoods, Queen Anne will give you a localized experience that's much more pleasant than always feeling like a tourist. Instead of picking the trendiest spot in town, stay in Lower Queen Anne, where you can feel like you belong.
Where to Eat
There's no shortage of excellent eateries throughout the Queen Anne district. You can find everything from the Mediterranean to Tex-Mex.
The Skillet Counter at the Seattle Center is a modern take on the classic American diner. You can find burgers, fries, salads, and soups in a slightly upscale atmosphere almost always filled with locals in the heart of Seattle's arts and civics region.
The Golden Olive is a charming little Mediterranean restaurant that's perfectly laid back, offering a great selection of authentic, fresh foods.
Stop by the local Cajun-Creole joint known as Toulouse Petit Kitchen & Lounge for a taste of something southern. It's one of the most popular neighborhood restaurants in Queen Anne, so you know it will be delightful.
When it's time for dessert, you can get the best ice cream at Molly Moon's. Featuring homemade ice cream with a wide assortment of toppings, it's a great place to take the kids for something sweet.
What to Do
Staying in Lower Queen Anne means you'll have an almost overwhelming selection of things to do and see.
Your first stop should be the Seattle Center. This family gathering place features some of Seattle's most iconic landmarks, including the famous Space Needle. Visiting the top gives you some of the best views in the entire city.
Other great features of the Seattle Center include the Pacific Science Center with rotating exhibits and a famous laser light show; the Museum of Pop Culture; and, of course, the Seattle Children's Museum with hands-on interactive exhibits.
Apart from the Seattle Center, you're also close to Kerry Park. It's a beautiful neighborhood park with some of the city's best views. At the right time, you can even see Mount Rainier. It's also one of the best places to watch the sun go down in Seattle.
Finally, if you're looking for a place to walk along the water and maybe do some fishing, you can head west toward Centennial Park. Sometimes you can even see seals and sea lions frolicking in the water!
When to Go
Visiting Lower Queen Anne in the fall will give you astounding views of Seattle's natural beauty. Taking in the changing colors from the Space Needle is an awesome experience. September and October are the best months for fall colors and cheaper accommodations.
Downtown Seattle
Not all cities have a safe downtown area or one nice enough to take the kids on a family vacation. However, Downtown Seattle is still considered one of the best neighborhoods to book a hotel when you want to visit Emerald City.
As long as you take the typical precautions that all tourists should take when traveling to new places, there's no reason to feel unsafe in Downtown Seattle. The busy tourist areas are especially safe and walkable.
When you stay Downtown, you'll find yourself living in the middle of skyscrapers and a fast-paced business world. But despite the busyness of the city, there's always time for tourists to make the most of their trip.
Downtown Seattle offers unique restaurants, exciting markets, famous coffee shops, museums, and the famous Seattle Great Wheel.
Downtown might not be your first choice for other cities, but staying in Downtown Seattle guarantees you and your family a wonderful, exciting time together.
Where to Eat
If you want to start your Seattle dining experience with a cozy neighborhood favorite, check out the Sound View Cafe. You can order classic lunch foods like salads, soups, and sandwiches and enjoy your meal with a nice view of Puget Sound.
When your kids are in the mood for some good, old-fashioned pizza, you can take them to Pizza Pro for a delicious slice of their favorite pie.
Or if they're up for trying something a little different, head over to Red Bowls on Third Avenue. You can experience authentic Japanese and Korean cuisine in their signature red bowls.
When it's time for dinner, and you want to treat the family to something nice, take a quick trip to Shuckers. The oyster bar inside one of Seattle's best hotels will give your kids a seafood experience they'll never forget.
What to Do
Downtown Seattle gives you great access to the infamous Pike Place Market, a huge public marketplace that features the best of Seattle's local farms, artists, and other creatives. It was the original Seattle farmer's market and is considered by many to be the heart and soul of the city.
Inside the Pike Place Market, you'll find one of Seattle's best attractions: the original Starbucks coffee shop location. Stop for a cup of freshly roasted coffee from where it all started.
Situated in Miner's Landing, just a short jaunt from Downtown, you'll find the Seattle Great Wheel. This giant Ferris wheel offers rides to anyone who wants a higher glimpse of the city and the surrounding mountains and seas. They'll even serve drinks to enjoy on the ride!
After you ride on the wheel, take your kids for a walk along the boardwalk at Waterfront Park. You can enjoy sculptures, and more views of the Seattle skyline, and you'll most likely see a few ships in the dock.
The Seattle Art Museum is home to a wide variety of contemporary and classic art, featuring rotating exhibits that will impress any art lovers in your group.
You can explore the skies at the Sky View Observatory in Columbia Center. Located on the 73rd floor, the observatory is yet another place to enjoy the best sites Seattle offers.
When to Go
If you want to avoid the busiest tourist season, avoid traveling to Downtown Seattle in the summer. For great weather, affordable prices, and moderate crowds, try visiting sometime in May or between September and October.
Belltown
Belltown is located right in between Downtown Seattle and Lower Queen Anne. It's quieter than Downtown, more centrally located than Lower Queen Anne, and offers plenty of fun activities and delicious cuisine options.
Staying in Belltown gives you access to amenities like parks and waterfront views. There's even a neighborhood beach and a local ferry service if you want to explore the islands of Puget Sound.
Overlooking the famed Elliott Bay, Belltown is a great place to stay with your kids. They'll love the easy access to green space and that you're within walking distance to some of Seattle's most famous attractions, like the Space Needle and Downtown.
Where to Eat
Belltown is home to many outstanding neighborhood restaurants that will please even the pickiest eaters in your group.
Step back in time with The 5 Point Cafe, a 24-hour establishment that opened sometime around 1930. They serve breakfast all day, hearty American comfort food, and even feature cocktails for the adults in the evening.
Cafe Opla is closer to the waterfront and offers some of the city's best American-Vietnamese fusion menu options. You'll appreciate the funky atmosphere, giving a different vibe than most restaurants in Seattle.
If you're looking for something with a European influence, you must check out Tilikum Place Cafe. The bistro-style space has a taste for the eclectic. The menu features rotating seasonal options, ensuring you always get the freshest meals.
What to Do
You'll find charming neighborhood parks and true Seattle oddities when you stay in Belltown. For instance, if you head down to the Pike Place Market, you can visit the famous Gum Wall. It's exactly what it sounds like: an alley wall covered entirely in chewing gum.
Pier 66 is a famous feature of Belltown. It's a popular cruise terminal, meaning there are always big ships you can see if you walk along the waterfront. Even if you aren't going on a cruise, it's always fun to see the ships.
The Olympic Sculpture Park is a nine-acre plot of land hosted by the Seattle Art Museum. Staying in Belltown means an easy walk to the park to visit interesting sculptures spread throughout the entire greenspace.
Make sure you take your kids for a stroll along the sands of Pocket Beach. It's a man-made beach and not great for swimming, but you can play in the sand and enjoy watching the waves come in.
If you want a waterfront attraction with a little more to do, visit Myrtle Edwards Park north of Belltown. There are bike paths, walking trails, a small sculpture garden, and excellent views of the Olympics Mountains.
When to Go
The best time to visit Belltown is in the late spring or early fall. The summer is Seattle's peak tourist season, so more events might be offered between June and August. However, if you're looking for a quiet family vacation, it's best to avoid the summer.
Pioneer Square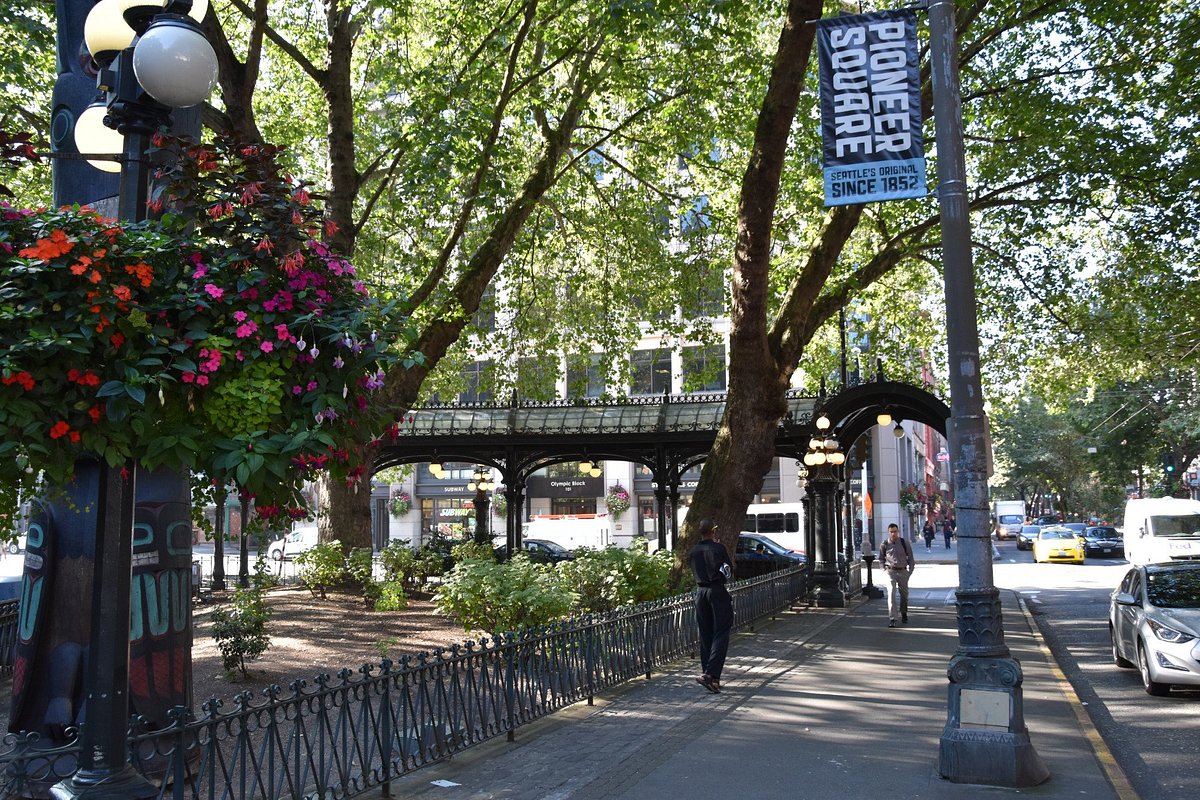 If you want to experience Seattle's original Downtown, you and your kids should stay in the illustrious Pioneer Square. Just south of what is now Downtown Seattle, Pioneer Square is a great place to call home while you explore the city.
Pioneer Square is known for many things, including the Romanesque Revival buildings that line the streets. It's a lively part of town with lots of rich history in the stores, restaurants, and museums.
With plenty of affordable places to stay and numerous options for family-friendly entertainment, consider booking your Seattle vacation in Pioneer Square for a fun-filled time.
Where to Eat
If you're interested in a family mini-golf tournament while you eat lunch, check out the iconic Flatstick Pub. Famous for tacos, hot dogs, craft beer, and a great time, you can reserve a tee time for you and the family to have a great experience.
Seattle is home to seven different professional sports teams, making it a lively place to catch a game. If you head to the baseball-themed bar and grill called Sluggers, you can share a tasty meal with your family and watch the crowd go crazy for their team.
When you've spent a long afternoon exploring a new city, there's nothing quite as comforting as ending your day with a wood-fired pizza. Swing by King Street Bar & Oven for some of the best pizzas in Pioneer Square.
What to Do
Staying in Pioneer Square puts you right next to some of Seattle's most interesting oddities, museums, and tours. You're also within walking distance of other exciting neighborhoods.
Beneath the Streets is the first place you need to check out; it's an underground tour of the world beneath historic Pioneer Square. There are a few different tours, but the classic underground experience is the family-friendly tour.
If the underground tour sparks your family's interest in creepy, haunted things, multiple haunted tours start in Pioneer Square. The best is Spooked in Seattle, one of America's top ghost tours.
For the history lovers in your family, check out the Klondike Gold Rush National Historic Park. You can learn all about one of Seattle's defining moments; after all, it was during the gold rush that the city truly flourished.
You can also check out some of Pioneer Square's greenspaces. There's Occidental Square, famous for its maple trees, and the Waterfall Garden, an artificial waterfall monument to United States Postal Workers.
When to Go
Staying in Pioneer Square gives you great access to history and exciting Seattle curios. If you visit in the fall, particularly in September or October, you'll have some of the best weather and better prices.
Bellevue
If you cross Lake Washington to the east of Seattle, you'll end up in the charming district of Bellevue. Known as the retail district of Seattle's east side, Bellevue has some of the most well-off neighborhoods and top schools in the metro area.
Although Bellevue is considered one of Washington's larger cities, it carries the feel of a small town. This is mainly due to the proximity to outdoor activities like hiking, camping, kayaking, and plenty of green space to make you forget you're in a city.
You're only a short drive from the Cascade Mountains and the Cougar Mountain Regional Wildland Park when you stay in Bellevue. You have Lake Washington to your west and Lake Sammamish to the east. And if you're up for the drive, Mt. Rainier is only two hours away.
Staying in Bellevue still affords you all the opportunities of city life without putting you right in the heart of Seattle. Since it takes only 20 minutes to drive across the lake into Downtown Seattle, Bellevue is a great place to stay with your family.
Where to Eat
Central Bar + Restaurant is a favorite among locals for its warm environment and friendly customer service. It's set up like a tavern and offers a range of classic American fare, with outdoor seating available.
Chace's Pancake Corral is Bellevue's preferred breakfast spot for locals and tourists alike. Their flapjacks are famous in the Seattle area, and they serve a selection of other breakfast foods.
If you're in the mood for homemade Korean food, head to Mamas Kitchen. You'll find a casual eatery with exquisite service and delicious, authentic Korean meals.
Maybe Chinese is more pleasing to you and your kiddos. Make sure you check out a long-time Bellevue establishment called Best Wok Restaurant, a casual dining experience that serves the best Chinese food in the area.
What to Do
Plenty of fun activities keep you occupied when you stay in Bellevue. Apart from visiting Seattle across the lake, you should take full advantage of the parks, museums, and other attractions in Bellevue.
Visiting Bellevue's downtown area is a great place to start. Known as the heart of Bellevue, the downtown area offers all kinds of fun experiences. There's always something to do Downtown, from the charming restaurants to the city events.
The Bellevue Downtown Park is one of the best attractions that you'll find. With over 20 acres of ground dedicated to the park, you can explore the greenspace, throw a baseball with your kids, or check out the canal and waterfall.
If you have little kids in your family, take them to the KidsQuest Children's Museum near North Bellevue. The museum is filled with hands-on exhibits and interactive experiences that make learning seem fun for the kiddos.
A walk through the Bellevue Botanical Gardens is never a waste of time. With over 50 acres of land filled with native Washington wildlife and some other species, you can explore the gardens free of charge from dawn to dusk.
Closer to Lake Sammamish, you'll find the expansive 90-acre paradise known as Weowna Park. With over two miles of easy trails you can hike with the kids, Weowna Park is a great place to spend the day. You can even see some natural waterfalls.
While staying in Bellevue, you should take some time to check out Mercer Island. Located in Lake Washington, right between Bellevue and Seattle, you can explore the residential neighborhood and charming parks spread around the island.
When to Go
Bellevue offers visitors the best weather between May and October, with mid-September often considered the perfect time to visit.
South Lake Union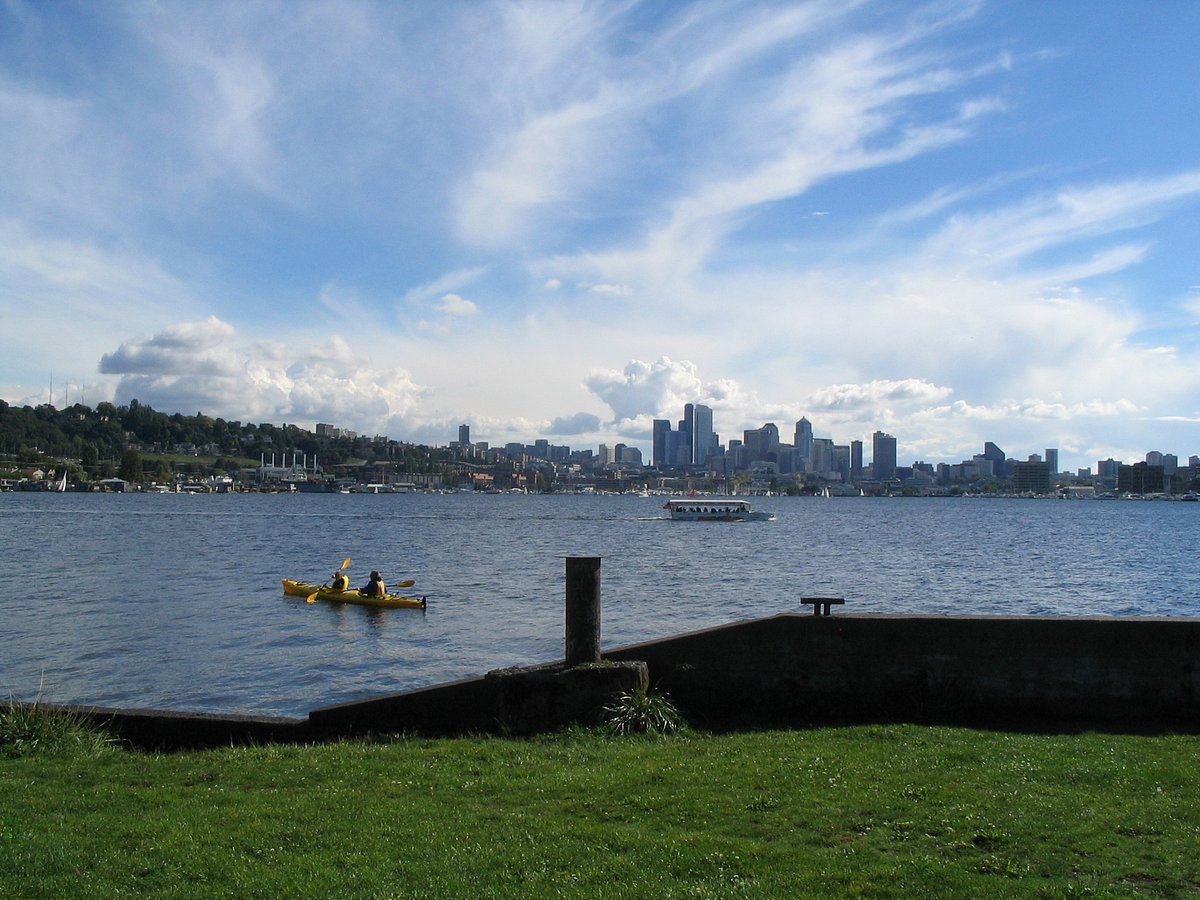 The final destination on this list is South Lake Union, a little neighborhood between Belltown and Lower Queen Anne. Back in the heart of Seattle, South Lake Union is a great place to experience fresh seafood and maritime traditions.
When you stay in South Lake Union, you have easy access to surrounding neighborhoods like Westlake and Capitol Hill. And since you're sitting right on the coast of Lake Union, you can take part in boating or other watersports popular on the freshwater lake.
Like the rest of Seattle, South Lake Union also has a vibrant history and outdoor culture. With plenty of museums and outdoor activities, you and your family will stay busy for the entire vacation.
Where to Eat
LOCAL Public Eatery will become one of your favorite spots if you're a fan of new American fare served in a modern, trendy atmosphere. Best of all, with rotating craft beers, there's always something for the parents to enjoy.
Daniel's Broiler is a charming steakhouse right on the waterfront of Lake Union. You can enjoy some of the best cuts of meat in the city at Daniel's, as well as stunning views of the surrounding countryside.
Duke's Seafood is a local chain that provides upscale seafood and cocktail options in a low-key, laid-back environment. Plus, it is continuously ranked one of the best seafood joints in Seattle. You'll never feel out of place at Duke's.
Another great seafood restaurant in the area is the White Swan Public House. With craft beer, housemade cocktails, and sustainably-sourced seafood, White Swan has a little bit of everything. Their outdoor seating creates the best environment to enjoy seafood any day.
What to Do
If you have little kids in your family, they'll have a wonderful time playing at Lulu's Slide. Lulu's is a waterfront park and playground that boasts a wooden playground set complete with slides, swings, and more. It's a great place to spend an afternoon.
While staying in South Lake Union, you'll find plenty of water sports to enjoy on Lake Union. If your family enjoys water sports, then make sure you take advantage of the water-loving community at Lake Union.
The Museum of History and Industry of Seattle is situated right on the waterfront at Lake Union Park. Housing several famous artifacts, there's lots to see here! It's a beloved Seattle institution that highlights some of the most important moments throughout Seattle's history.
After the museum, you can experience one of their famous tours with Seattle Water Tours. Best of all, you can take an ice cream tour if you visit on Sunday. What could be better than sailing the waters of Seattle with delicious ice cream?
Also, in Lake Union Park, you'll find the Center for Wooden Boats. It's a quaint maritime museum that honors the nautical legacy of many Seattle patriarchs. They also house historic wooden boats that are available for rent.
The best part of Lake Union Park is the historic ship pier, where you can see famous Seattle ships like the Fireboat Duwamish. Take your kids to experience what was Seattle's most powerful fireboat for most of the 20th century.
When to Go
If you want to avoid the peak tourist season, try not to book your stay in South Lake Union for the summer. Like much of Seattle, the early fall is a great time to visit. Generally, you'll experience the best weather between May and October.
Staying in Seattle with Kids: Final Thoughts
At the end of the day, Seattle is a fun city to explore with the whole family. From the stunning natural beauty surrounding the city to the exciting tours, museums, and expansive city parks, there's no shortage of fun in Emerald City.
Known for exquisite eateries and wonderfully unique shops and neighborhoods, Seattle is a quirky city with lots of personalities. You don't have to travel far to find some one-of-a-kind thing that is absolutely, uniquely Seattle.
Visiting Seattle with your kids should be a memorable experience that brings the whole family closer together. No matter where you decide to stay, you can create a lasting impression on your little ones with a family trip to Seattle.
More about our TFVG Author