While Seattle probably isn't at the forefront of people's minds when they think of family holidays, after all, Disney Land or Universal Studios isn't located in the more often than not-dreary Pacific Northwest; this great northwestern state more than makes up for its geographical shortfalls with a city rich in culture, history, avant-garde architecture, and aesthetic.
With a bustling nightlife and an abundance of fascinating museums to enjoy, one may be under the impression that a getaway in Seattle is predominantly an adult endeavor.
However, this isn't entirely the case; Seattle hosts a plethora of family-friendly activities from a good old-fashioned beach day to trips to the iconic Space Needle.
So, whether you're a couple on a romantic long weekend or a family of four taking your annual trip, there's something for everyone to enjoy in the fantastic city of Seattle. For the sake of this article, we're going to focus on family holidays and the best hotels for you and your children.
Regardless of the destination, the hotel you choose can be a big decision, picking the wrong abode can make or break your trip so this article is going to help guide you to the perfect hotel for you, your little ones, and every other need you may have.
We'll explore a mixture of price ranges and everything each establishment can offer you to ensure you can relax and enjoy Seattle to the fullest potential.
For the sake of ease, we're going to explore a number of hotels from three different price ranges, budget, luxury, and mid-range to ensure you have all the options and information available to help make an informed decision about where you're investing your hard-earned money.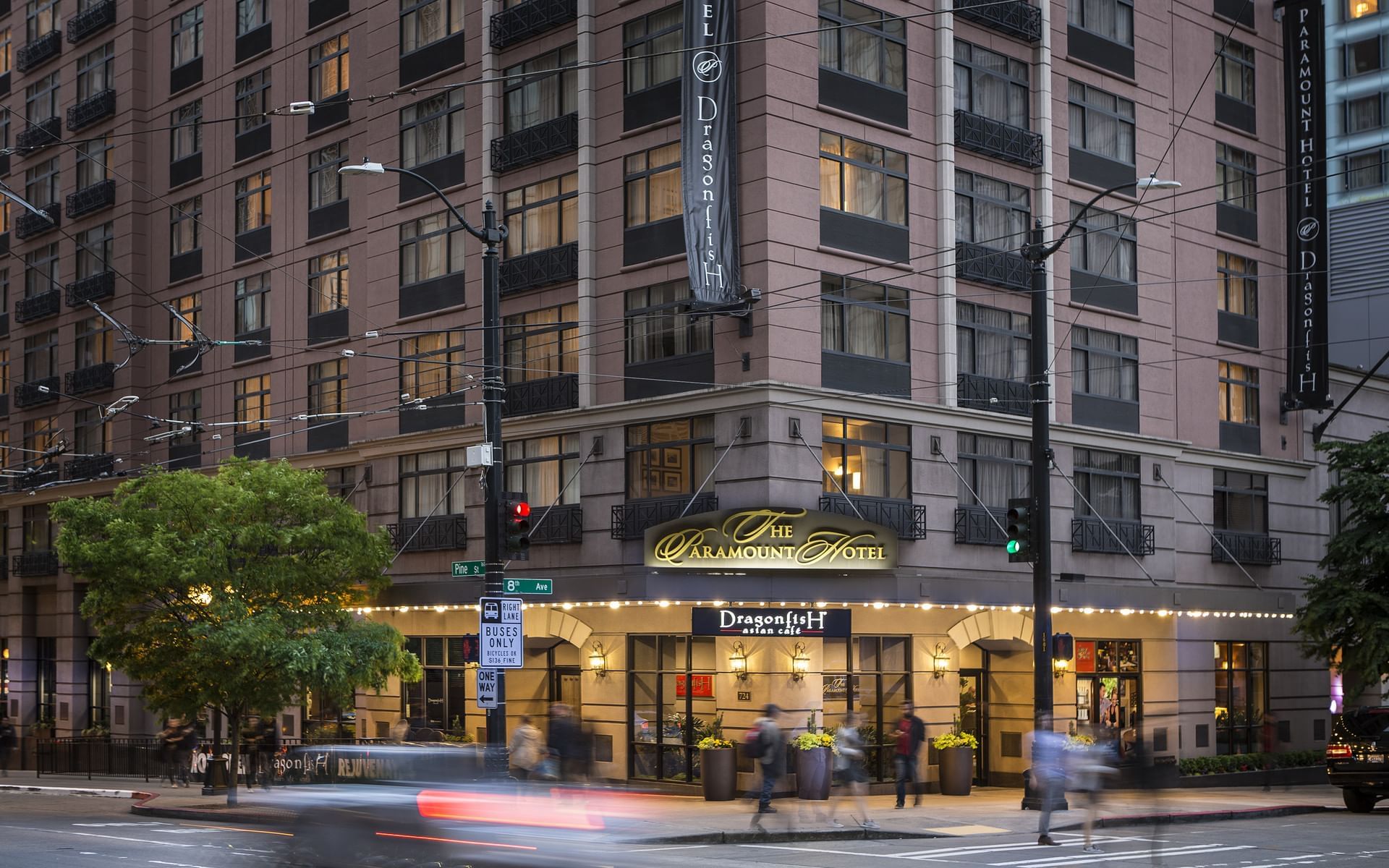 A luxury hotel without a luxury price tag. At The Paramount Hotel, you and your family can get a taste of the high life with this beautiful hotel situated in the heart of Seattle's Central Business District. With an abundance of spacious rooms, you and your family can enjoy peace and privacy and when you're ready to hit the town, the attractions Seattle has to offer will no doubt impress.
Perhaps you and the family can catch a show at the Seattle Theatre Group Paramount or enjoy a shopping spree at the Pacific Palace.
After a long day exploring what Seattle has to offer, make your way back to The Paramount Hotel and unwind with a workout in the state-of-the-art fitness center The Paramount Hotel offers, all while the children enjoy the complimentary free WiFi.
Other amenities and services this exquisite hotel has to offer its guests are 24-hour valet parking with an onsite concierge service. In addition to banqueting and catering facilities and a 24-hour business kiosk, just in case you want to squeeze in a little work while the kids enjoy the services the hotel provides.
This mid-ranged establishment located in the heart of downtown Seattle will be sure not to disappoint even the fussiest of kids!
Next on our list of kid-friendly hotels in Seattle is the Country Inn & Suites by Radisson. Another excellent choice of the many family-friendly hotels this great city has to offer.
Located to the south of Seattle, within walking distance of the great Angle Lake – perfect to visit with children – this award-winning establishment sports a myriad of facilities including free WiFi, laundry service, a bar and lounge for you to enjoy while the children engross themselves into the children's television networks the hotel offers.
Moreover, after experiencing some of the great local attractions Seattle has to offer, which are within walking distance of the establishment, the whole family can unwind with a trip to the hotel's indoor pool.
Parents get to enjoy complimentary drinks poolside while the children play in the grand pool this stunning family-friendly hotel has to offer.
Additionally, the Country Inn & Suites by Radisson offer a free shuttle service for all of their guests with access to the Link light rail to transport you and your family into the heart of Seattle center ready to experience an abundance of other attractions. Sights such as the iconic Space Needle where you can get a full view of the breathtaking Seattle skyline.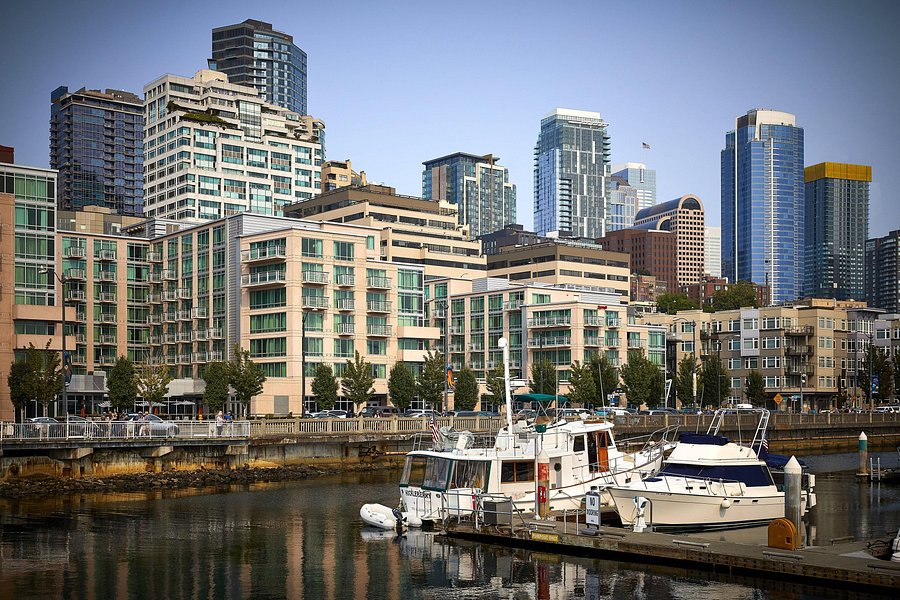 For something slightly more extravagant, turn to the trusted and respected hotel chain Marriott and enjoy the delightful kid-friendly Seattle Marriot Waterfront situated within walking distance of beautiful Pacific beaches and coastlines, in addition to a plethora of exciting other attractions such as the grand Space Needle, the Seattle Aquarium or the Seattle Art Museum if you want to soak up a little of the Emerald City's culture.
After basking in some of the best family-friendly attractions central Seattle has to offer, head back to a beautifully chic room with all the modern amenities any 21st-century family would need. Facilities such as relaxing whilst overlooking the beautiful Elliott Bay, Mt. Rainier, and the downtown Seattle waterfront.
Parents can enjoy a fitness center while the kid-friendly indoor and outdoor swimming pool can entertain your young guests for hours on end.
This coupled with additional features such as a concierge service, free coffee, and refreshments, laundry service, and room service with a free continental breakfast thrown in, will mean that visiting Seattle will feel so effortless with a stay at this stunning downtown Seattle hotel.
Would you love to stay in the heart of the Tuscan countryside? Or hop some of Greece's most astonishing islands. You can experience the same Mediterranean-isms and quirks with a stay at the gorgeous Mediterranean Inn located in downtown Seattle's Queen Ann neighborhood.
Within a reasonable distance from some of Seattle's best attractions in the city center, such as the lively pike place market, the Space Needle of course, and the original Starbucks, your family vacation will no doubt be joyful with a stay at one of the best hotels in Seattle for families.
This beautiful mid-range hotel sports accurate Mediterranean décor to make you feel as though you're holidaying on the French Rivera. With luxurious amenities such as an appropriately decorated rooftop terrace overlooking the stunning Seattle skyline allowing you to soak up breathtaking views of the great Pacific Northwest.
Why not take advantage of the Mediterranean Inn's bike loaning program and take the family on a cycling cruise around the city, visiting all your favorite attractions whilst keeping fit and your carbon emissions low!
Once again, unwind after a long day of exploring Seattle center with an innovative gym while the kids enjoy free WiFi and children's television networks.
As the children are occupied with their favorite shows, you and your partner can soak up everything the beautiful Mediterranean Inn has to offer with on-site restaurants and coffee shops, a beautiful sun terrace to help top up that tan or speak to the welcoming staff on the 24-hour help desk to help you get exactly what you need out of your stay at the quaint Mediterranean Inn.
This beautiful budget-to-mid-range establishment is no doubt one of Seattle's best family hotels.
Another slightly higher end-hotel for you, but I promise, this one is so worth it! Kimpton Hotels! More specifically the beautifully modern Kimpton Hotel Vintage Seattle, located once more in the heart of Seattle center with fantastic attractions nearby suitable for all the family.
With an abundance of local restaurants, the quaint pike place market, and a healthy number of cultural hotspots such as the Seattle Art Museum and the 5th Avenue Theater, Kimpton Hotels are no doubt one of the best hotels in Seattle for families.
Treat your little ones to exciting trips to the waterfront or perhaps enjoy watching a game of football or baseball, as well as the myriad of other kid-friendly activities in the vicinity, the Kimpton Hotel Vintage provides you and your family some of the best amenities that you can enjoy as much as a trip to the Space Needle!
The art-deco style of rooms intertwines vintage and modern décor to create an elegant ambiance allowing you to relax and enjoy what the city has to offer. Choose from extravagant suites to practical family rooms that are both stocked with excellent facilities.
Parents can unwind right in the comfort of their room with access to a minibar, on-site restaurants, and workout rooms while children can enjoy complimentary bike rides, free WiFi, flat-screen TVs, and spa services.
If you don't want to venture out into the city, you and your family can still make the best memories in this fabulous kid-friendly hotel.
Don't fancy a trip to the theatre? No problem, you can have a great movie night at the Kimpton Hotel whilst ordering room service, ensuring you need not lift a finger!
Choose from an array of family rooms and live in the luxury of the Seattle center at this kid-friendly establishment.
Another fantastic option if you're taking a family trip to Seattle and want an accommodating hotel. The Hampton Inn & Suites by Hilton boast a large list of excellent facilities that are going to suit a family with little ones to a T!
This hotel is unlike the others we've discussed as the Hampton is pet-friendly! That's right, there's no need to put the family dog in a kennel during your trip because you can take your furry friend with you!
Not only that, but this beautiful child-friendly accommodation allows your little ones to soak up Seattle life via the luxurious heated indoor pool and hot tub while the adults can enjoy the complimentary gym, on-site retail outlets, and private balcony overlooking scenic Pacific Northwest views.
Located seven miles north of downtown Seattle, the Hampton is within commutable distance of the main Seattle attractions but if you prefer to stay closer to your accommodation, there is still a wide range of activities all the family can enjoy.
Everything from shopping centers, theatres, museums to cinemas and entertainment centers are available, making the Hampton one of the nicest family-friendly hotels in the area.
In addition to the wide-ranging activities near the hotel, the hotel itself offers many kid-friendly activities your small guests will be ecstatic to partake in.
Free WiFi is of course available at the Hampton, along with flat-screen TVs making for a cozy movie night if you don't fancy a night out. With an array of children's activities in the hotel, your little one won't utter the word "bored" for the entire trip! Guaranteed! The Hampton is surely one of the best family-friendly hotels in Seattle!
The uber-modern décor within the Hampton creates an incredibly welcoming atmosphere for you and your whole family to enjoy. This mid-range establishment will surely make you feel as though you're living the high life with its plethora of luxury amenities! This is definitely one of the best, child-friendly Seattle hotels!
If your children have been extra well behaved and you've got a little more cash to splash, The Fairmont Olympic Hotel should definitely be one to consider.
This elegant establishment located in downtown Seattle boasts a classic exterior that oozes wealth, a real treat for the whole family! Not only this but The Fairmont Olympic Hotel has been hailed as one of the best child-friendly hotels in Seattle.
Due to its spectacular location, all the main attractions on offer will be within reach such as the quaint pike place market, the grand waterfront, and more entertainment!
With classically decorated rooms and suites, you can enjoy one of the best Seattle hotels. Children can enjoy movies on demand with state-of-the-art flat-screen TVs, free WiFi, a great outdoor pool as well as indoor swimming facilities. Let the kids enjoy everything this hotel has to offer while you relax in the onsite spa and immerse yourself in some well-earned self-care.
Not only that, but The Fairmont makes for such a good family-friendly option as the majority of everything you need to have the optimal experience is located in and around the hotel grounds. Onsite restaurants with coffee shops and the option to indulge in a couples massage are all possible at the Fairmont Olympic.
With the addition of complimentary wine, champagne, snacks, and many more treats, you can kick back and relax knowing your kids are enjoying all the wonderful facilities this fabulous Seattle hotel has to offer.
Another wonderful option of family hotels in Seattle, The Westin Seattle. This beautifully situated downtown Seattle hotel offers a luxury experience with a mid-range price tag.
Due to such a perfect location, the kids won't even need to leave the hotel to enjoy the perfect family getaway, however, if you do wish to venture out of the grounds and explore some of the city, plenty of child-friendly activities are well within reach.
At the Westin, you and your little ones won't need to travel far in order to enjoy all the main attractions. However, if you want to give your child an unforgettable experience, why not visit the pacific science center to give an educational boost, or perhaps enjoy some marine life with your child at the Seattle Aquarium.
For the parents, you'll be close to some excellent bars and restaurants as well as the beloved Pike Place market, but the adventure won't stop when you get back to your room, thanks to the fantastic amenities the Westin has to offer.
For example, offsite bowling makes for fantastic family-friendly fun that will no doubt keep your kids entertained for hours! This coupled with the free WiFi and flat-screen TVs in each room might mean your kids will never want to leave their room!
Although the Westin could clearly be hailed as the best hotel for children Seattle offers, adults are also treated very generously with their choice of features. The Westin sports both an outdoor pool and a heated indoor pool for the ultimate relaxation experience. As well as a myriad of other leisure outlets such as a bar/lounge, mini bar fitted rooms as well as the option to hire a car.
You and your family can also enjoy a free breakfast daily, experiencing the high-quality, gourmet food the Westin offers. Not to mention the childcare services on offer here! Another excellent Seattle hotel!
If you're someone who likes to bring an element of your home life on vacation, then you're in luck because, at the Westin, dry cleaning services as well as being a pet-friendly establishment are on offer. With very reasonable nightly rates, the Westin is definitely a top contender for one of the best family hotels in Seattle!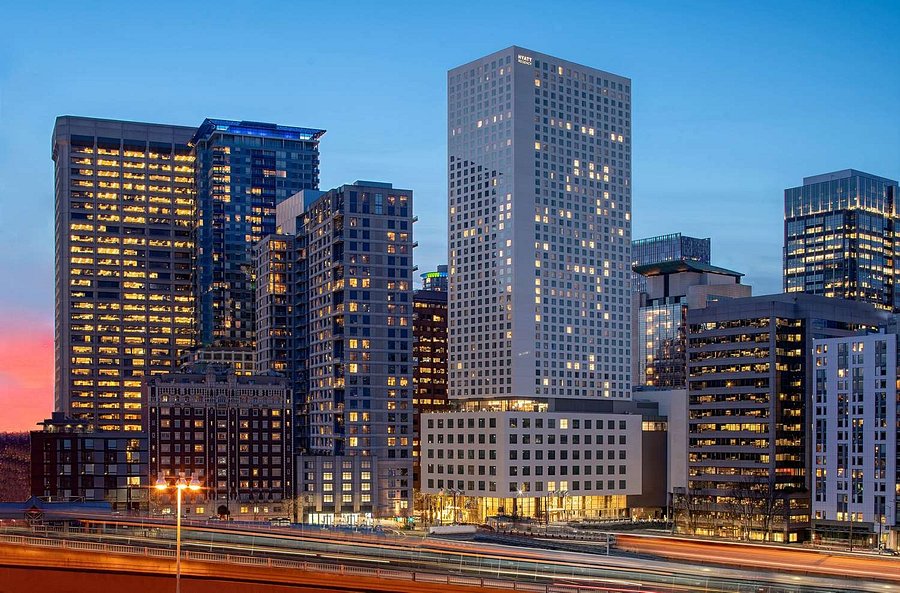 Luxurious and stunning, the only two words I'd want to use to describe my ideal hotel. The Hyatt Regency Seattle epitomizes both those words. At this hotel, you will be treated like royalty as this establishment offers some of the best and most extravagant amenities featured on this list, for both you and your partner and for your children!
Located in the center of Emerald City, all of Seattle's greatest attractions such as the fabulous pike place market and the one-of-a-kind Space Needle are all within walking distance of this enormously beautiful establishment.
Additionally, all the main family attractions, such as the delightful waterfront, are in the vicinity of this dashing hotel.
Choose from spacious suites or sophisticatedly decorated family rooms for your party. A multitude of child-friendly amenities are offered at the Hyatt Regency, making it a wonderful option to ensure the best family trip in Seattle.
Services such as on-demand movies with flat-screen TVs and children's television networks to keep the little ones entertained while you and your significant other can enjoy happy hour and some quality time in the onsite bar.
Moreover, the hotel offers free WiFi to keep the little ones busy and your furry friends are more than welcome to join you as the Hyatt Regency is pet friendly!
When it comes to food, we all know how fussy kids can be, but luckily for you at the Hyatt, an extensive food menu is available with a special dietary menu available should you or your little one suffer from any food allergies.
This coupled with onsite restaurants, coffee shops, and a free breakfast means all your culinary needs will most definitely be met. Additionally, the hotel offers a range of services such as shoe shining, dry cleaning, ironing, and laundry service to ensure you and your family are constantly looking your best.
If you don't fancy hauling children around the city, especially if they're on the younger side, the Hyatt gives you the option to rent a car so you can explore everything Seattle has to offer with ease!
In Summary
Family hotels in Seattle are abundant and there are plenty of excellent candidates to choose from if you're considering a trip to the rich Pacific Northwest.
As a kid-friendly city on a whole with beaches, the Seattle Children's Museum, and a plethora of more child-friendly activities, you should definitely consider Seattle for your next family vacation!
By using this article as your guide to finding the perfect accommodation for your family and with a healthy mix of budget, mid-range, and luxury, Seattle doesn't discriminate. So, regardless of your socioeconomic background, come and experience for yourself exactly what Seattle has to offer you and your family.
More about our TFVG Author
A seasoned traveller, Dad, and avid sports tourist, James foundered The Family Vacation Guide to share his expert vacation experiences- especially when it comes to being a travelling family man.
Featured in Travel articles such as Travel + Leisure, TripSavvy and SFGate, you know you're reading some of the best vacation tips online.