Orange Beach is a beautiful resort destination in the southern state of Alabama. The resorts offer a litany of incredible experiences for your whole family– all at an affordable price, if you know how to find it!
One of the best attractions for kids and adults is the waterpark-classic lazy river. Lazy rivers are rarely deep, meaning they are safe for kids, and their slow pace makes them relaxing for everyone of all ages. Orange Beach has no shortage of such attractions.
Orange Beach is a popular tourist destination, and it features a multitude of options at your fingertips. While the wide berth of choices is fantastic, it does make it hard to choose which one is right for you.
Below, we'll review 5 of the best Orange Beach Hotels with a lazy river. By the time this post is over, you'll have everything you need to know to find the perfect hotel for your next family vacation.
Let's get started!
Phoenix West 2 Vacation Rental Condominiums
Phoenix West 2 Vacation Rental Condominiums is exactly what it sounds like. Rather than a traditional hotel, you can rent out spacious suites for you and your family to have a fantastic time, all while feeling right at home. Many of their rooms have a gorgeous view of the ocean right from where you'll be staying.
Some of the many attractions and amenities the Phoenix West 2 Vacation Rental Condominiums offer are parking, hot tubs and a sauna, giant chess, an in-house gym, and a tennis court. All the condos come furnished with a full kitchen, and there's a nearby laundromat for any laundry emergencies.
Not to mention the fantastic on-site pool. That's right– you don't have to leave the Phoenix West 2 property for your waterpark desires! The property comes equipped with a waterslide, and of course, a lazy river to lay back and release all of your cares. It's certain to be a great place in Orange beach that is fun for the whole family.
All of these amenities in one place is like a dream come true. Of course, all of this luxury doesn't come cheap. So while Phoenix West 2 is sure to be a fantastic experience, there may be better choices for families on a budget.
Turquoise by Luxury Coastal Vacations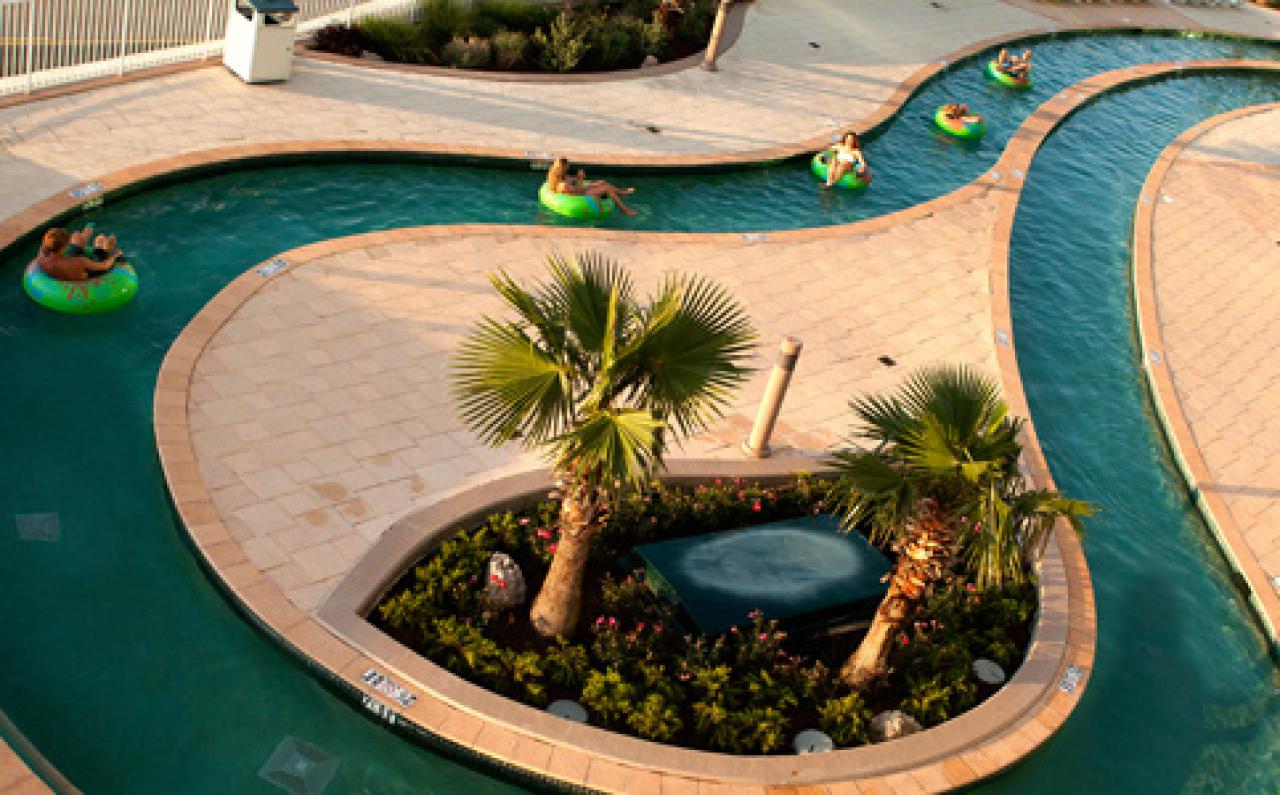 Turquoise by Luxury Coastal Vacations is a fantastic place to stay, offering excellent services sure to make your stay in Orange Beach, Alabama a fantastic trip your whole family will remember fondly.
Their condominiums are a fantastic place to stay, suitable for all your fun in the sun, while also being a nice relaxing place you and your family can come back to when they want to relax and unwind. Especially since these luxury suites are only a short walk from the beach.
Turquoise's offerings are pretty roomy. Their condominiums vary from outfittings fit for a single guest or a family. The larger ones are about 3-to-5 rooms, which can fit an entire family. All the condominiums come fully furnished with a living room, kitchen, and queen sofa beds.
The amenities offered include a sauna, television with a DVD player, tennis court, gym, pool, and, of course, a lazy river! Turquoise even has on-site parking to make things easier for their guests. No matter which type of condo you choose, Turquoise easily makes for a fantastic vacation in Orange Beach.
The price for staying a night varies, so depending on your ability to find a deal, you might get a bargain or end up spending big bucks. Keep an eye out to catch those bargains. The money is sure to deliver fantastic experiences for a family vacation.
The Wharf by Young's Suncoast
The Wharf Resort, Orange Beach, is a fantastic place to stay. It's a 9-floor resort condominium that stands out from the rest of the offerings at Orange Beach, and not only for having a Ferris Wheel on the southeast end of its property.
The Ferris Wheel measures over 112 ft. tall to give riders a clear view of Main Street, the nearby marina, and the rest of the Wharf property. Tickets are very cheap, and children 3-years-old and younger can ride for free. It's even handicap accessible!
It's a grand adventure to stay in, offering amenities for all your needs. Among them are free parking, a gym, a kitchen, and free Wi-Fi. The property itself also has an on-site pool and water slide.
Of course, the property comes with a lazy river, but it also includes the Hummingbird Zip-Lines. It's a great time for the whole family, and you're no doubt going to make memories that will last for years to come.
The Wharf is one of the best choices for a budget vacation. Attractions and amenities like the Ferris Wheel make it unique. The price varies, but it's possible to find deals within a reasonable range that will leave you with extra money for souvenirs!
Caribe Resort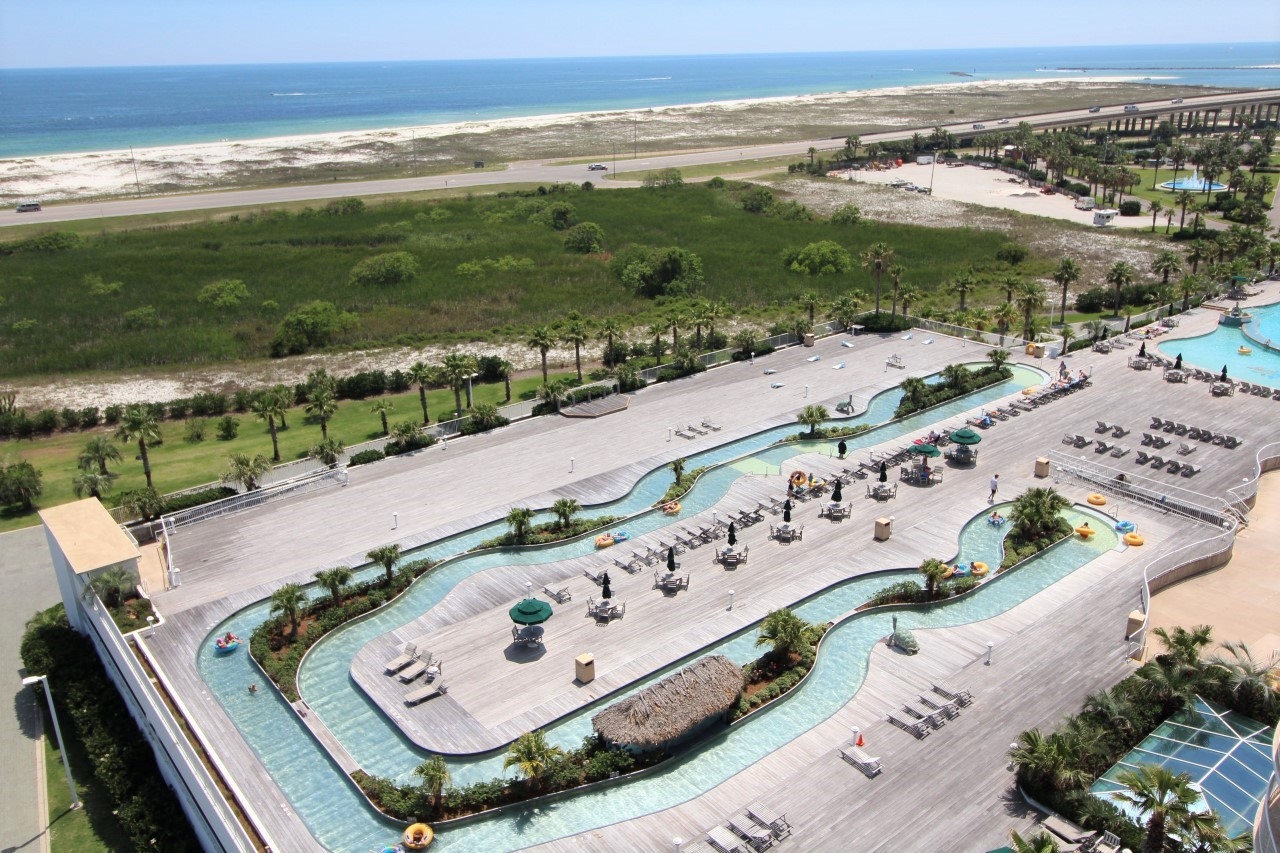 Caribe Resort by Caribe Realty is another great resort to entrust your vacation with. It has luxury condominiums, enough amenities to make your head spin, and an on-site restaurant famed for its seafood. The on-site marina will take your family vacation to the next level.
The condominiums come fully furnished and equipped with kitchens, with free wireless internet and satellite and local TV for when you need to relax in your room. The on-site fun includes outdoor and indoor pools, golf, and tennis, alongside a waterslide, kiddie pool, and lazy river.
One of Caribe's most stand-out features is its restaurant, Cobalt, which serves breakfast, lunch, and dinner. Cobalt is an on-site restaurant esteemed for its seafood. There is even a happy hour lasting from 3 to 5 p.m, serving draft beers and house wines.
Caribe is a relatively lower-cost vacation option compared to other resorts on this list. That could make it more inviting to those looking to vacation on a budget.
Crystal Tower By Young's Suncoast
Crystal Tower is the final entry on the list and is a winning rental property, to be sure. The condominiums are located along the coast of Gulf Shores, but an air-conditioned pedestrian bridge connects the living area to the amenities.
The amenities include a pool, hot tub, and lazy river. Crystal Tower stands out for its unique layout, its pedestrian bridge, and sizable features and amenities, including the largest lazy river on Alabama's Gulf Coast.
Many of Crystal Towers' amenities are on the first two floors of the adjacent building, connected by the bridge. The first floor has a gym fit to keep you fit during your stay, and the second floor has a beach club, card room, and sitting area with 24-hour management service.
Crystal Tower is one of the better options on this list for a budget-friendly vacation in Orange Beach. The unique layout and worthwhile amenities make this a great vacation spot.
Final Thoughts
Orange Beach, Alabama, is a wonderful location full of many notable attractions and great times to be had. From Crystal Tower's unique design, to Caribe's esteemed Cobalt restaurant, to the Wharf's Ferris Wheel, to the beach a short walk away from Turquoise, you're in no shortage of choices!
Orange Beach offers something for everyone. Budget vacations are available alongside the best Orange Beach hotels with a lazy river. If you're willing to spend some money, lavish luxuries are available.
No matter what you choose, you're sure to create cherished memories.