Water parks are a great family vacation destination for having fun, cooling off, and encouraging your kids to be active and play outside. The southeast United States has a great selection of family-friendly water parks, and the region's hot weather makes a trip to a water park the perfect family activity.
Alabama is one of the best states for a water park adventure. The weather is warm year-round, and the state has a lower average cost for amenities and entertainment than most areas of the U.S.
If you're considering a family trip to a water park in Alabama, you may be feeling lost in the many options to choose from. To help, we've put together a guide on some of the most popular water parks in the state. Read on to learn all about the nine best water parks in Alabama.
Located in Bessemer, Alabama, Alabama Splash Adventure is the perfect place to take your family for a full day of water park fun. The park features a sizable range of:
Water slides
Attractions
Live shows
Plenty of tasty food options
One of the iconic attractions at Alabama Splash Adventure is the Kahuna Wave Pool, an 800,000-gallon artificial wave pool that creates waves up to four feet high. The Kahuna Wave Pool is a great chance to enjoy some cool water on a hot day while playing in the waves.
For thrill-seekers, be sure to check out the Free Fall, an almost vertical body slide that sends you into a smooth six-inch water landing. Alabama Splash Adventure also has a variety of tube and open body slides, including racing slides, as well as a young children's play area and a lazy river that is delightful for all ages.
Additionally, Alabama Splash Adventure can be a quality price performer for a family on a budget. With the price of admission, families can expect free parking, free unlimited soft drinks, and free use of inner tubes and life jackets while in the water park.
Throw in some free live entertainment, and you can have a complete vacation experience with just the cost of your ticket.
Head south to Gulf Shore, Alabama, to enjoy Waterville, USA. This comprehensive 20-acre park features water rides, amusement park rides, and escape rooms, all within easy driving distance from the beach. Waterville USA is an exciting addition to any Gulf Shore beach family vacation.
Get the whole family involved on Gold Rush, a tube ride that fits up to three people on each raft. Other exciting rides include:
The Jet Stream: A high-speed body slide.
Dune Racer: A six-lane racer that is perfect for all the kids to participate in.
Visit the Crystal Waters River, a one-third-mile lazy river ideal for soaking up the Alabama sun for a more relaxing time. Try the Flowrider surfing simulator or the North Shore Wave Pool if waves are your scene.
Waterville USA charges no extra money for parking, inner tube rentals, or life jacket rentals. The water park has plenty of concession stands to choose from, offering classic amusement park food such as burgers, hot dogs, and ice cream.
To elevate your water park experience, consider renting one of the private cabanas, where your family can relax in the shade and receive table service for food.
For some nature appreciation, you can't go wrong with a family trip to Spring Valley Beach in Blountsville, Alabama. The park is surrounded by lush greenery and large grassy fields, making it stand out as an authentic outdoor play experience for you and your family.
This 25-acre park has plenty of exciting water slides, relaxing pools, and children's play areas. Spring Valley Beach is a family business, and the family-oriented nature of the park shows the inclusivity of the attractions. For instance, only one water slide has a height requirement, allowing children of all ages to feel welcome to participate.
Furthermore, the park's centralized design lets the whole family enjoy their favorite activities together. Four of the slides are connected to the pool area, and beside the pool are seating and grill areas, perfect for cooking up some burgers and hot dogs while the kids play nearby.
Spring Valley Beach proudly invites families to bring their food from home and take advantage of the grilling facilities. After working up an appetite on the water slides, your kids can enjoy a wholesome family picnic while taking in the beautiful natural scenery of the surrounding landscape.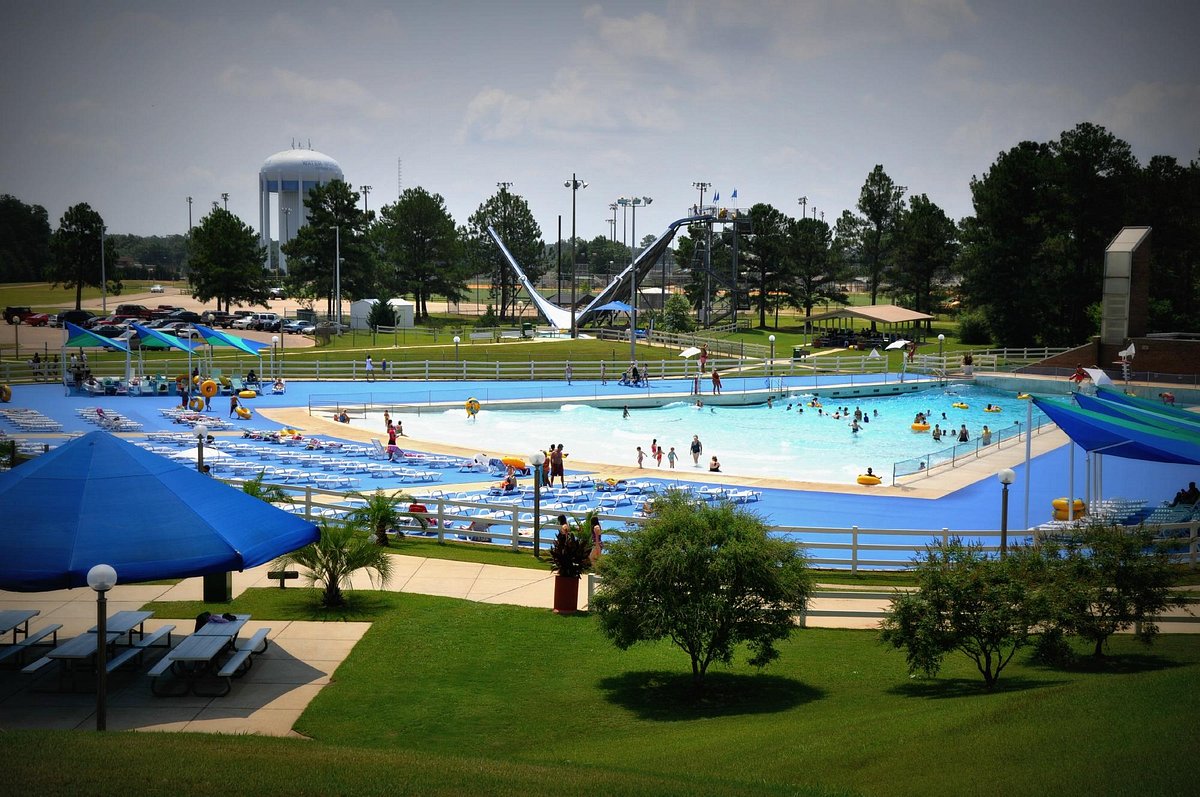 Water World is a charming, family-friendly water park in Dothan, Alabama. This cute park has plenty of rides and attractions to enjoy, as well as a hospitable staff that provides excellent customer service.
Every water park needs a signature wave pool, and the Rip Tide Wave Pool won't disappoint. The 350,000-gallon pool creates waves as high as three feet, and the "beach" lounge area surrounding the pool is a fantastic spot for unwinding in the sun.
Water World also has some fun water slides for those who prefer a little bit more action in their water park entertainment. The Storm Bowl is a unique body slide that quite literally puts you in the eye of the storm, and the Great White makes quite the impression as a four-story tall inner tube slide that takes you on a steep plunge.
As a family-friendly park, Water World also has Kids Cove, a fun spot for little ones to play with water cannons, splash in the water, and go down a smaller water slide.
Water World makes it easy for families to enjoy a homemade picnic. Outside food is welcome, and there are grills onsite for cooking all your favorite poolside meals.
If your family lives in the Cullman, Alabama, area, becoming a Cullman Wellness and Aquatic Center member is a fantastic idea. In addition to the Wild Water water park, this wellness center offers multiple pools, fitness facilities, and spa services.
Wild Water provides all of your favorite water park attractions. Have an adventure on thrilling water slides like The Torque, Blitz, or Sideswipe, and then relax on the Drift River.
Younger kids can have safe fun on the Splash Station water playground, complete with a small water slide. You and your kids can also engage with your athletic sides by taking advantage of the diving boards or the eight-lane racing pool.
The Cullman Wellness and Aquatic Center is committed to supporting a healthy community and offering family-inclusive wellness activities. They offer a variety of adult fitness and wellness classes, childcare, and children's classes.
If you're looking for more health-oriented water activities, this is the ideal place for your family. The indoor vortex resistance therapy pool is perfect for treating muscle issues. At the same time, the spa and sauna facilities are an excellent way to unwind while the kids get out their energy at the water park.
Local community centers are a wholesome and affordable way to get your kids outside in the summer. If you live in Fayette, Alabama, you're in luck: the Fayette Aquatic Center is a beautiful municipal water park.
While smaller than the typical corporate water park, the Fayette Aquatic Center makes up for it with a great ambiance and inclusive attitude. For a remarkably low admission cost, your family can enjoy:

Three water slides
A lazy river
A splash pad
Splash fountain
A children's play area
A pool with a diving board
The center has plenty of shaded seating areas for lounging by the pool, and you and your kids can enjoy food and beverages from the concession stands.
As a municipal center, the Fayette Aquatic Center strives to provide benefits to the community: this means swimming lessons, fitness classes, and plenty of free or affordable amenities.
Conveniently, the Fayette Aquatic Center is open throughout the summer, making it the ideal place to entertain your kids and keep them cooled off during the hot summer months of their school vacation.
Located in Red Bay, Alabama, Red Bay Fun Park is the perfect small water park for a chill day in the sun for you and your family. Whether you live in town or just happen to be in the area, it's worth taking your kids to the Red Bay Fun Park to cool off from the summer heat and get some exercise.
Red Bay Fun Park is small, but its attractions are entertaining and reliable. The park has two adult-sized water slides and a large pool that features several kiddie slides. One of the latest additions to the park is an interactive splash pad, which is always a big hit with the little ones.
This park is a great way to have some quality outdoor time, and alongside the water park, the space features a skatepark, playground, and walking trail. Use of the non-water facilities is free, which means your family can get a whole day of entertainment and exercise just for the low admission cost to the pool.
Start the day with a walk around the trail, take a ride on one of the twisty water slides, play with your kids on the playground, and then eat lunch at one of the shaded picnic tables. Red Bay provides you with the perfect summer day that will create lifelong memories for your family.
Hartselle, Alabama, has one of the best municipal water parks in the area. This lively water park has a little bit of something for everyone, making it a nice place to take the family to get some fresh air and cool off.
The Hartselle Aquatic Center has a super fun twisty water slide that spills out into the main pool. Your older kids will love going down the slide again and again. The center offers a fun splash and play kiddie area for more minor children, filled with water cannons and squirt spouts that provide plenty of interactive stimulation.
Athletic family members will also have a blast practicing dives and jumps off of the center's diving board or doing laps around the large swimming pool. Parents can relax in lounge chairs by the poolside or enjoy the water by sitting in one of the chairs in the shallow end.
Despite being a small water park, the Hartselle Aquatic Center has plenty of amenities to offer, including a good selection of concession stands, allowing for lots of snacking opportunities. The park also offers four different swimming classes, which is an excellent chance for your kids to improve their skills.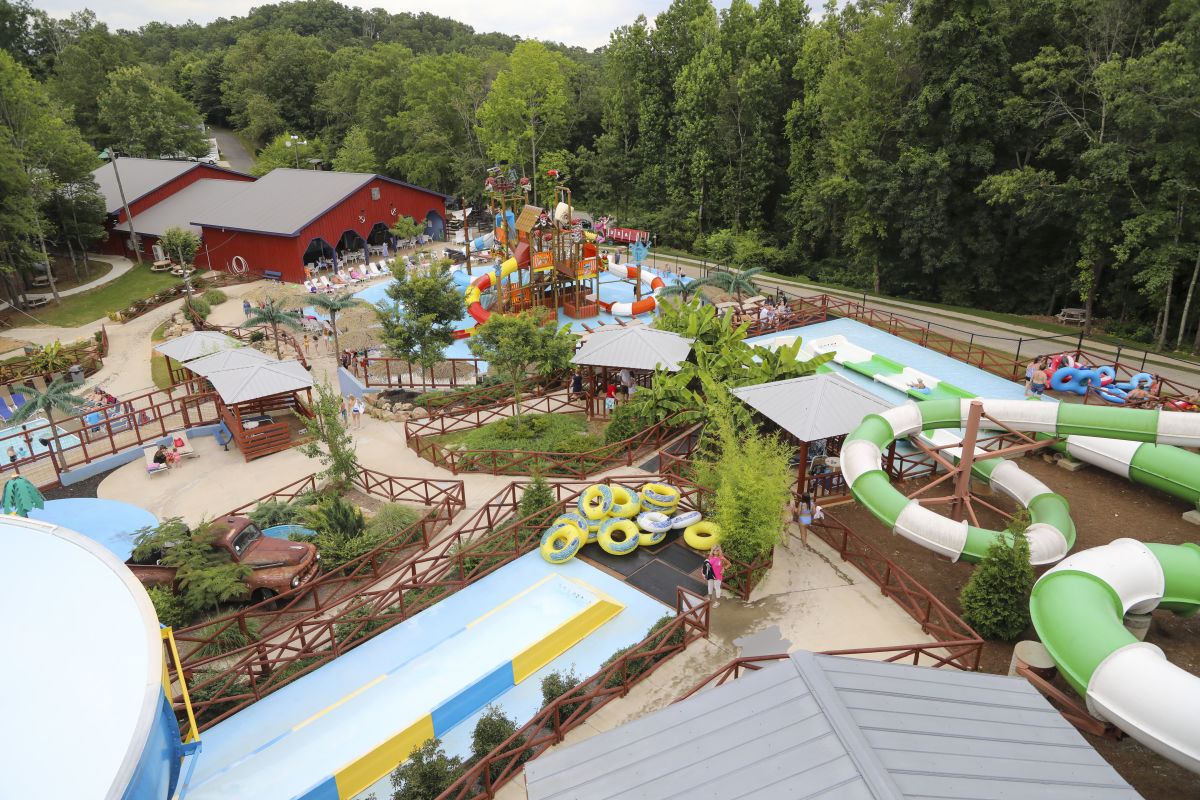 If you love a themed water park, then Pirates Bay Water Park is the place for you. Located in Leesburg, Alabama, Pirates Bay Water Park has a wide array of rides and activities to enjoy.
The colorful park has plenty of water rides, including body slides and tube slides. This park is perfect for families, as there are slides available for folks over 48 inches tall and special slides dedicated to those under 48 inches.
Your kids will love playing in the massive water house, and the adults will have a relaxing time next to one of the many pools the park has to offer. To mix things up, your family can also enjoy the nearby putt-putt course.
Final Thoughts on the Best Water Parks in Alabama
With the affordable prices and fantastic weather, Alabama is a great place to enjoy a family vacation to a water park.
Whether you're in the mood for a large water park with lots of rides or a small local spot that emphasizes health and wellness, Alabama has some beautiful water parks to choose from.
We hope this guide helps you on your search to find the perfect water park in Alabama. If you want more water park vacation inspiration, check out our guide on the best water parks in Texas.
Have fun splashing around, relaxing in the sun, and drifting down the lazy river!
Other fantastic water parks to consider for some family fun
If you're hoping to find some more of the best water parks, our round-up below will be the perfect place to start.
More about our TFVG Author
A seasoned traveller, Dad, and avid sports tourist, James foundered The Family Vacation Guide to share his expert vacation experiences- especially when it comes to being a travelling family man.
Featured in Travel articles such as Travel + Leisure, TripSavvy and SFGate, you know you're reading some of the best vacation tips online.