Sedona, Arizona is one of the Southwest's top vacation spots. The high number of hotels, resorts, and the unlimited potential for outdoor recreation in the area make it an ideal destination for families.
However, despite everything that Sedona has to offer families looking to travel to the area, it can be challenging to find the right luxury hotel that will provide a good time for you and your entire family. Travelling with the whole family should not mean grandeur and opulence is off the cards!
Because we understand how exhausting it can be searching for a place to stay, we've conducted the research for you and put together this list of the eight best luxury hotels in Sedona for you and your family to stay on your next vacation.
1. Enchantment Resort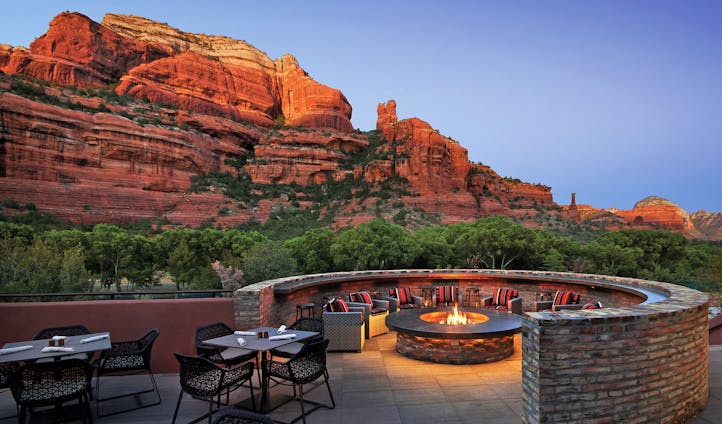 The Enchantment Resort is the peak of luxury and is an incredible hotel to stay at for both children and adults.
The resort's stunning grounds span an expansive 70 acres right at the base of Boynton Canyon and feature both indoor and outdoor amenities.
Families will appreciate the hotel's wide selection of accommodations, and guests can choose any type of room, from double queen rooms to multi-bedroom suites.
Amenities at the resort include the onsite spa, fitness centre, and indoor and outdoor pools. The concierge will also work with you to organize various activities that will allow you and your family to enjoy all that Sedona offers.
The whole family can also enjoy the onsite tennis and pickleball courts, followed by a quick dip in the pool to cool off.
But perhaps the best feature of the hotel for families is Camp Coyote, a kids camp for children ages four through twelve, which includes activities like scavenger hunts, painting, nature walks, and more.
You can enrol your kids in half or full days of camp and evening camp from 5-9 when it's available to enjoy a few hours of alone time around the resort.
Enchantment Resort resides at 525 Boynton Canyon Rd, Sedona, AZ 86336, and can be found online at their official website.
2. Amara Resort and Spa
The Amara Resort and Spa would be an ideal place to stay on your next family vacation. The resort's grounds are exceptionally beautiful, with many of the rooms featuring gorgeous red rock views, and you can't beat the Amara's location.
The Amara allows guests to appreciate the quiet solitude of the area and proximity to outdoor recreational activities without sacrificing walkability and proximity to the dining and shopping of Sedona.
The resort itself is packed with amenities, and the resort fee covers additional features such as unlimited use of the resort bicycles, valet parking, and driving to Sedona's main street via the hotel's golf car service.
Room sizes are perfect for small families, and accommodations range from single rooms to nearly 700 square foot one-bedroom suites.
The Amara's concierge service is exceptionally accommodating and is available to help guests plan their Sedona adventures, and will organize experiences such as open-air Jeep tours, guided hikes, and golf experiences at the Sedona Golf Resort and Oakcreek Country Club.
Families can enjoy luxury features such as the onsite restaurant, heated infinity pool, hot tub, full-service spa, and fitness centre, which is open 24 hours. Parents will also appreciate the hotel's helpful nannying service.
Amara Resort and Spa resides at 100 Amara Ln, Sedona, AZ 86336, and can be found online at their official website.
3. Hilton Sedona Resort at Bell Rock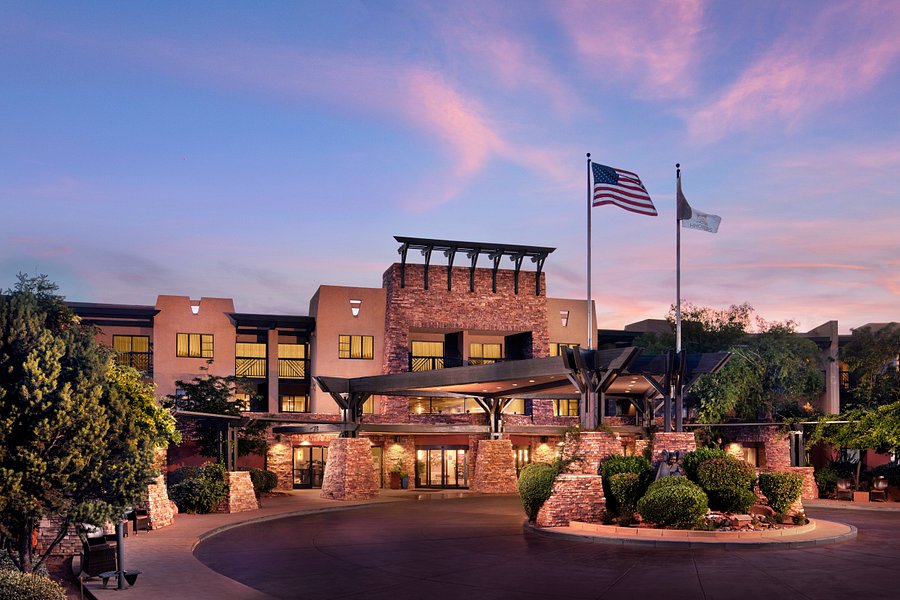 The Hilton Sedona Resort at Bell Rock is everything your family is looking for out of a luxury hotel stay. The accommodations are perfect for families and include suites and connecting rooms.
Certain rooms feature kitchenettes, allowing your family to store and reheat leftovers and even cook meals at home if you want to.
If you don't want to deal with cooking, you can get dinner at one of the resort's two onsite restaurants or simply order room service.
When booking your stay, consider opting into the hotel's Family Fun Package or Pink Jeep Tour Package to make the most out of your stay and the experiences you want to have.
The resort's onsite spa is perfect for parents looking to unwind after spending the day playing tennis or golf.
The onsite ShadowRock Tap + Table restaurant features an outdoor seating area with fun games for the whole family, including cornhole, connect four, Jenga, and shuffleboard.
During the holiday season, guests can enjoy the winter wonderland decorations that the resort sets up and take their meals in outdoor igloos.
The Resort also has a variety of family-friendly activities, including the outdoor pool, such as S'mores on the Porch, stargazing, and live music.
The nightly resort fee includes additional amenities like fitness classes for two, 15% off signature spa services, a free putter and balls at the putting green, and 10% off merchandise from the Golf Shop.
Hilton Sedona Resort at Bell Rock resides at 90 Ridge Trail Dr, Sedona, AZ 86351, and can be found online at their official website.
4. Poco Diablo Resort
Poco Diablo Resort is a great family resort because of its proximity to all that Sedona offers. While it doesn't have a kids club or a babysitting service, it's a great, relaxing hotel with private feeling accommodations with great views. Connecting rooms are available, ideal for small families.
If you're hoping to bring your fur baby along on your next trip, the Poco Diablo accommodates guests with pet-friendly rooms.
The whole family can appreciate the outdoor pool, which is heated year-round, and parents will love the pampering they can get from the resort spa.
The resort offers additional amenities, including the fitness centre, four onsite tennis courts, a full-service concierge who can assist in planning activities, and bicycle rentals.
Poco Diablo may not be the place for your family to stay if you're looking for a hotel with many amenities designed to entertain families and provide activities for children.
Instead, it relies on its proximity to Sedona landmarks and effective concierge service to ensure that guests get out into Sedona's natural areas and appreciate the unique Sedona landscape while providing a safe and gorgeous place to come home to at the end of the day.
Poco Diablo Resort resides at 1752 AZ-179, Sedona, AZ 86336, and can be found online at their official website.
5. Matterhorn Inn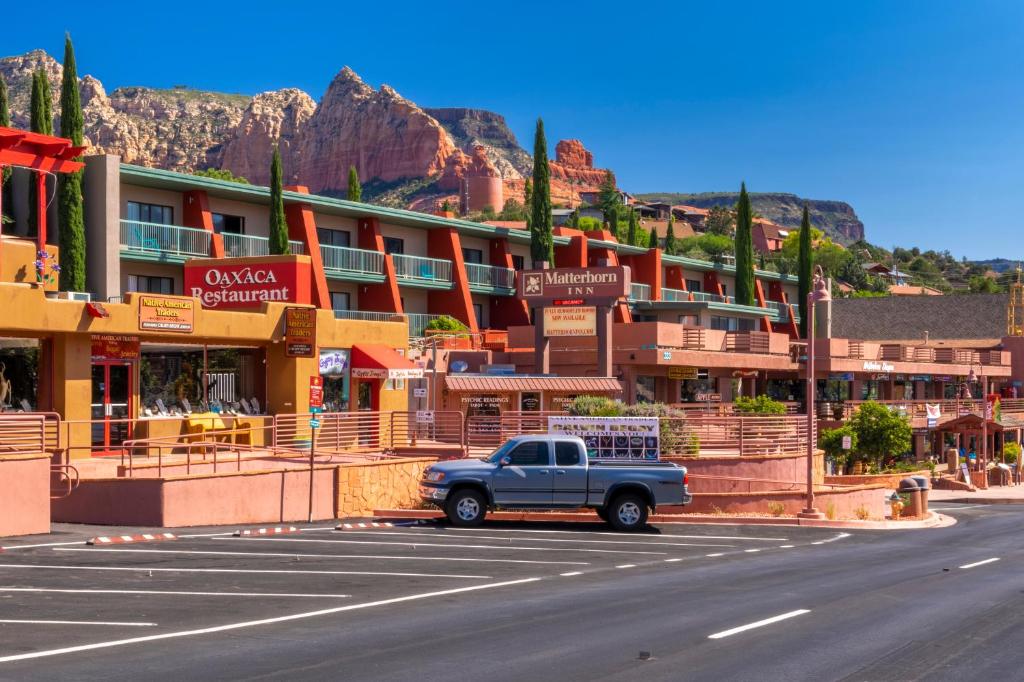 While the Matterhorn Inn may not have many of the bells and whistles that some of the other resorts on this list have, it more than makes up for this in its simplistic beauty and fantastic location.
Located directly in Sedona's prized Uptown district, the Matterhorn Inn understands that location is the most important factor to consider for some families, and walkability counts for a lot.
Aside from proximity to Uptown shops and restaurants, the Matterhorn is still close to great outdoor spaces, some of which are accessible on foot or by bicycle; others may require a car to get to.
Every single room in the Matterhorn has spectacular views of Sedona's red rocks, proving that you don't have to sacrifice an exceptional location for unbeatable views.
While the amenities at the Matterhorn Inn are slightly pared-down, the hotel still possesses a great outdoor pool and hot tub.
In addition, you and your family can enjoy fun lawn games like cornhole while taking in the views or borrow fun family-friendly games like Uno.
The Matterhorn Inn resides at 230 Apple Ave. Sedona, Arizona 86336, and can be found online at their official website.
6. Sedona Pines Resort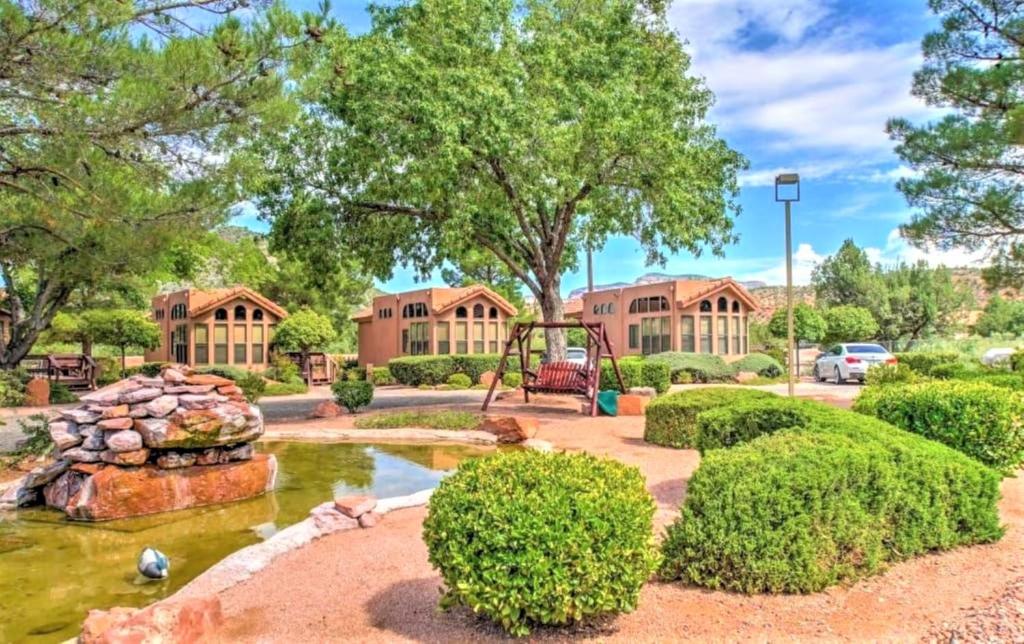 The Sedona Pines Resort is the ideal place for families visiting Sedona to stay and perfectly blends enough amenities onsite to make guests enjoy their time at the resort while maintaining proximity to all the nature that Sedona has to offer.
The gorgeous 19-acre property features one bedroom, one bathroom lodging, and two-bedroom, two-bathroom options, perfect for small families looking for a place to stay with enough room to spread out.
The resort features Sedona's largest heated outdoor pool, and you can enjoy the beautiful scenery as you take a swim or relax in the hot tub.
In addition, there are ample amenities onsite to keep kids entertained, including an 18-hole miniature golf course, a ping pong table, a basketball hoop, and a gated playground.
The whole family can enjoy the Barbeque picnic area where you can cook up a family meal and sit down outside to eat it.
If grilling isn't really your thing, you and your family can choose to dine at the onsite restaurant, offering fine dining Italian food instead.
Adults and children can appreciate the onsite fitness centre, as well as the full events calendar that the resort has, featuring activities like exercise classes and concerts.
Sedona Pines Resort resides at 6701 West Highway 89A, Sedona, AZ 46366, and can be found online at their official website.
7. Junipine Resort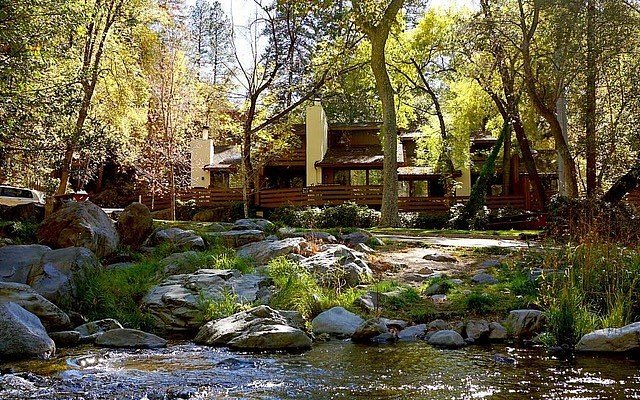 The Junipine Resort presents a unique experience for families looking to disconnect from their typical world and reconnect with one another and nature.
The resort is specifically designed to highlight the area's natural elements, and each unit has either forest views or creek views.
The resort is located on a 12-acre piece of property in Oak Creek Canyon, which is eight miles outside of Sedona. The resort's remoteness is one of its most significant charms, and you really will feel at peace in this tranquil, remote setting.
Each condo can sleep up to six people, and while there's not a pool onsite, many of the condos come equipped with outdoor private hot tubs. All rooms also feature an indoor wood-burning fireplace.
You can also relax and have dinner at the resort's onsite restaurant or enjoy cooking yourself on one of the outdoor grills.
Each room features a large screen television, and the resort offers guests the ability to take movies from the DVD library to watch in their rooms.
If you're looking for a tranquil resort that may not have some of the bells and whistles of other resorts but instead focuses on the hotel's proximity to natural features like Slide Rock State Park, this is the hotel for you.
Junipine Resort resides at 8351 AZ-89A, Sedona, AZ 86336, and can be found online at their official website.
8. Hyatt Residence Club Sedona, Piñon Pointe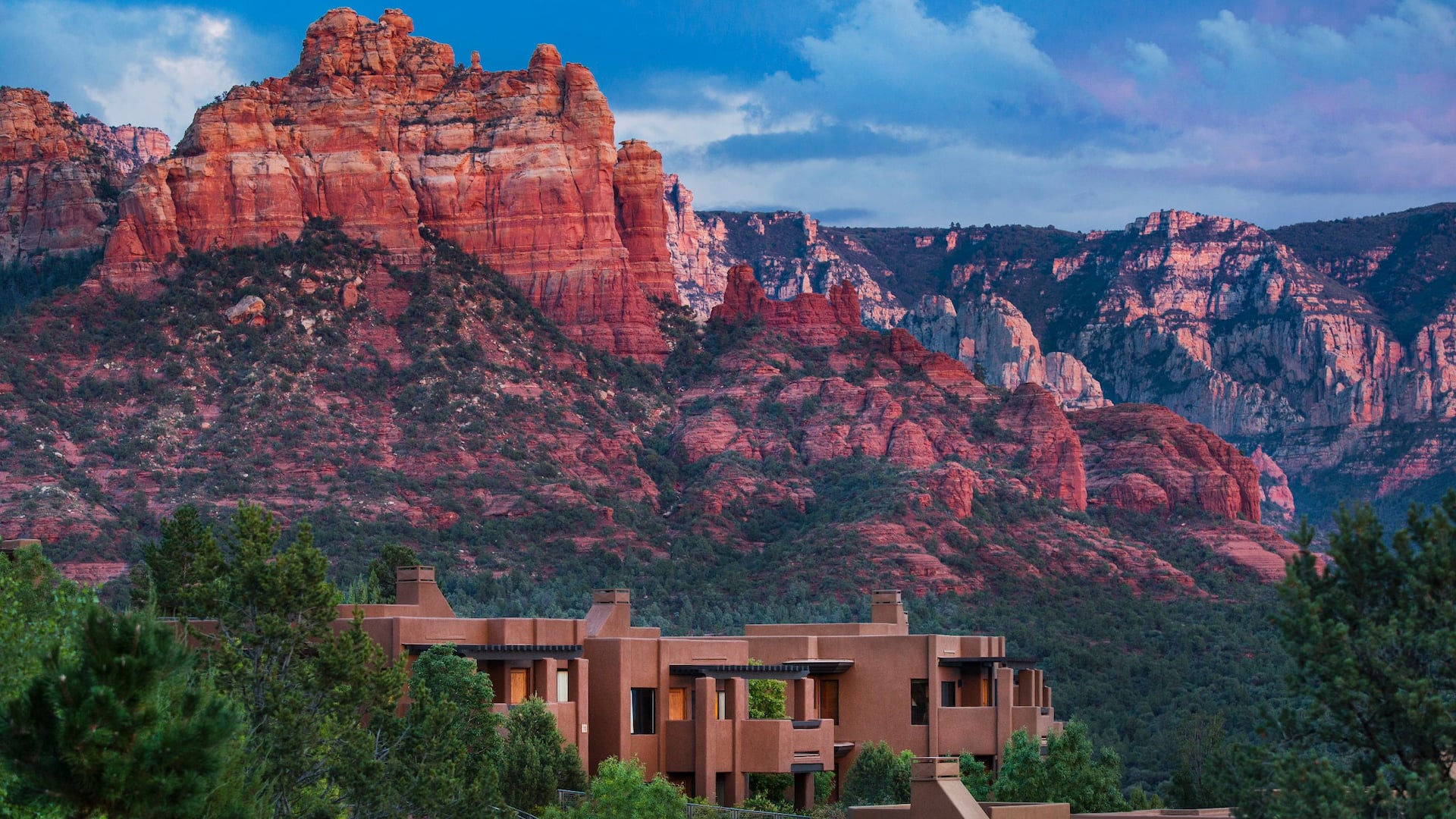 The Hyatt Residence Club Sedona, Piñon Pointe, is the last but not least resort on this list that is perfect for families looking to come to the area.
Accommodations at the resort include studios and condo-style one and two-bedroom suites with kitchenettes or full kitchens, perfect for staying in and cooking a warm meal.
The hotel is exceptionally accommodating to families and will provide guests items like cribs and high chairs upon request for people travelling with babies.
The Hyatt provides games, crafts, and indoor and outdoor activities for older kids at Camp Runamaka, the resort's kid's camp.
Parents can relax in one of the resort's steam rooms while their kids can make new friends at camp with other guests their age.
The whole family can enjoy the onsite tennis court, ping pong table, pool table, outdoor fire pit, heated pool, heated kiddie pool, or one of the hotel's two hot tubs.
When you're ready to leave the resort premises, the resort's full-service concierge can help you plan any activity.
Hyatt Residence Club Sedona, Piñon Pointe, resides at 1 N AZ, 89-ALT, Sedona, AZ 86336, and can be found online at their official website.
Conclusion
If you don't want to spend hours on the internet researching luxury hotels in Sedona that will be right for your next family vacation, you can rest easy knowing that one of the hotels on this list will be perfect for you and your family.
The hotels range from expansive resorts to private, tranquil settings, and each features different accommodations and amenities that may be of particular interest to you.
Whether your priority is a huge pool for your kids to spend their days splashing around in or proximity to great outdoor adventures, there's a luxury hotel on this list that is sure to be precisely what you're looking for.
Some more articles about the fantastic state of Arizona?
More about our TFVG Author
Karly is a The Family Vacation Guide guest travel contributor.