Known for its hot springs and the Clinton Presidential Center in the capital Little Rock, Arkansas, is a fascinating state. But, it's not a great location for a beach day with it being landlocked. So, where is the closest beach to Arkansas?
That's what we aim to answer right here, so we've put together 14 of the beaches that are closest to Arkansas. So, if you're craving a warm sunny day at the beach, scroll down and discover some beautiful new locations to whisk the family off to.
Beaches Close To Arkansas
To find the closest beach to Arkansas, take a look at our practical guide below. From Gulf Coast beaches to sunny Florida shores, you're sure to find the perfect location for a family getaway.
Biloxi Beach – Mississippi
Sitting along the Gulf Coast of Mississippi, Biloxi beach is affectionately known as the "playground of the south." It's best known for its many casinos, most of which can be found right on the shoreline.
There are lots of family-friendly activities to take part in, too, such as shopping, museum visits, and amusement parks. Biloxi also has many famous landmarks, such as the Biloxi Lighthouse. You can also visit Ship Island, which houses the historic Fort Massachusetts.
Gulfport – Mississippi
Sitting on the coast with white sand beaches and plenty of palm trees, Gulfport is a beach not to be missed. The city is incredibly diverse, with both a thriving tourist scene and local history.
One of the most frequented attractions is the Gulfport casino – players can enjoy the slots in the sun! Like most other Gulf Coast beaches, it consists of beautiful white sand, 6.2 miles in length.
As well as the entertainment and stunning beaches, this area is one of the most coveted Gulf Coast beaches for water sports.
East Beach – Galveston, Texas
East beach can be found on the eastern side of Galveston Island in Texas. Featuring a boardwalk, entertainment stage, children's playground, and a pavilion, it's a perfect spot for the family. You'll also find essential amenities, such as restrooms and chair rentals, for a convenient beach day experience.
East beach also hosts various concerts and events through the summer months. Don't forget to catch the annual sandcastle competition from the American Institute of Architects. There, 50 teams create sand designs and compete to win the Golden Bucket Award. The designs are judged on their originality, technique, execution, and how the area is utilized.
The huge beach is also a great spot for outdoor sports such as volleyball, horseback riding, and beachcombing. The outdoor pavilion and stage are great for corporate events and private parties too.
Ocean Springs – Mississippi Gulf Coast
A charming coastal town, Ocean Springs, Mississippi, can be found in the southeast corner of Magnolia State in Jackson County. It was founded by Lewis H. Minor and William C. C. Claiborne in 1854, with its moniker coming from the springs on the eastern side of the Biloxi River.
In the early 20th century, Ocean Springs was a busy resort community home to many of the richest families in the state. But today, it's a buzzing tourist destination known for its huge range of restaurants, art galleries, and shops.
History lovers will be pleased to know that it also boasts many historic buildings and homes, including:
The Mary C. O'Keefe Cultural Center
The Walter Anderson Museum of Art
The Ocean Springs Museum of History.
With endless beaches, Ocean Springs boasts photogenic scenery and water sports opportunities. For a peaceful family beach day, don't forget to visit Long Beach or Pass Christian!
Bay St Louis – Mississippi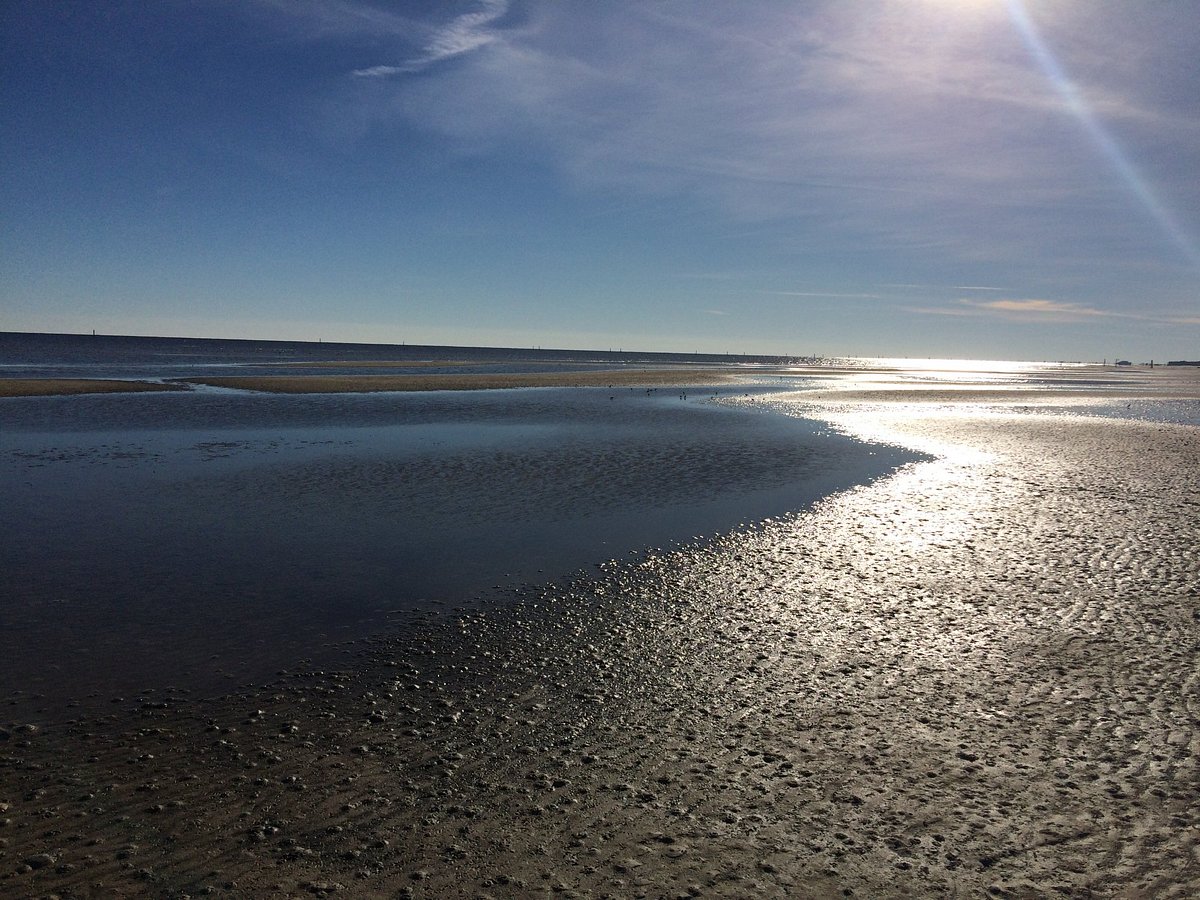 Bay St. Louis is a small town located on the Mississippi Gulf Coast that oozes charm and rich history. Sitting opposite the Gulf of Mexico, it's the closest saltwater beach to Arkansas. It's also known for its amazing fishing, delicious seafood, and glistening white sand beaches.
Don't forget to check out the town's historic buildings, such as:
The Bay St Louis Lighthouse
The Bay St Louis Train Depot
The Old Bank of Bay St Louis
The Bay St Louis City Hall
These days, Bay St Louis is a must-see location for tourists thanks to its huge mix of restaurants, shops, and art and cultural venues. Its relaxed atmosphere and affordable living costs also make it a great retirement destination.
Holly Beach – Louisiana
Holly Beach is a perfect destination for those who like peaceful beach days away from crowds and loud celebrations. If you're a frequent meditator or you enjoy quiet strolls, Holly Beach is a must-visit.
It's also great for shelling and fishing enthusiasts, thanks to its public crabbing sites. Bringing your four-legged friend with you? Then Holly Beach is perfect as it's dog friendly. Your canine companion will love the open space where they can safely burn off their energy.
If you visit Holly Beach, don't forget to take a trip up west to the Peveto Woods Bird Sanctuary. Here, you can see the migratory butterflies and songbirds, which is perfect if you have young children to entertain.
Galveston – Galveston Island State Park, Texas
A Historic port city on Galveston Island State Park, Galveston has one of the closest beaches to Arkansas. The city is renowned for its seafood, beaches, and annual Mardi Gras festivities.
At Galveston, take advantage of the many activities, including fishing, swimming, and sunbathing. Check out the historical attractions, too, such as the Galveston Seawall and the Strand Historic District.
One of the most popular attractions in Galveston is the Pleasure Pier. Built during the 1920s, the pier has been renovated and rebuilt various times over the years. The current pier's renovations were finished in 2006, and it's home to many amusement park attractions.
These include a roller coaster, carousel, and Ferris wheel. You can also find various shops and restaurants on the pier, so it's ideal for a family day out.
Sea Rim State Park – Texas
Head to the southeast corner of Texas, and you'll find the Sea Rim State Park, which offers loads of family fun. The shoreline of the park extends 5.2 miles across, and if you take a walk on the Gambusia Nature Trail, you can explore the 4000 acres of wetlands.
You'll find tons of activities for the whole family in Sea Rim Park. From horseback riding and kayaking to fishing and paddling, you'll never get bored! Planning to stay overnight? The many campsites and cabins have you covered, all complete with essential utilities.
When visiting this park, do keep in mind that it tends to get busy quickly, especially during summer, so try to get there early to avoid disappointment.
Fort Walton Beach – Florida
Situated between Panama City and Pensacola, Fort Walton is a sight to behold! Boasting a pristine white sand beach, crystal clear waters, and tons of family activities, it's not to be missed. This stunning beach has all the fun of the popular tourist spots but without the busy crowds.
Fort Walton is a family favorite for a reason! The attractions such as museums, aquariums, and parks mean it's easy for parents to entertain the little ones. Not only that, but the tranquil blue seas and white sand make for a peaceful beach day.
Grand Isle – Louisiana
Known as a "Sportsman's Paradise," Grand Isle is a tranquil oasis hidden by the endless shoreline of Louisiana. Known for its world-class fishing, this inhabited barrier island provides unspoiled views of the Gulf of Mexico.
You can also expect to see amazing wildlife and miles of white sand beaches. This, combined with delicious seafood and southern hospitality, means it's easy to see why visitors return again and again.
Don't forget to book one of the boat tours and keep a lookout for the Bottlenose dolphins! Another great attraction for animal lovers is the Annual Migratory Bird Festival in the spring.
There are birding trail maps and educational videos provided for a fun adventure. You can also witness the amazing waders, songbirds, and shorebirds.
Orange Beach Gulf Shores – Alabama
If you're looking for turquoise waters and glittering white sand beaches, look no further than Orange Beach, Alabama. The miles of pristine Gulf Coast beaches are the perfect setting for an unforgettable family vacation.
You can also go beyond Orange beach and enjoy water sports, festivals, and rich local history. If you're a music fan, a trip to the Wharf Outdoor Amphitheater is a must. One of the biggest music venues on the Gulf Coast, the Wharf hosts top performers of hip-hop, country, and rock and roll music.
With a wide range of activities, there's something to suit all ages and interests. From dolphin cruises to boat rentals and evening strolls on the sandy shores, there's something for everyone.
Even those averse to water activities will find something to do at Orange Beach. The town has various museums, such as the Orange Beach Indian and Sea Museum and the National Museum of Naval Aviation. This means culture vultures can get something out of the trip too.
Miramar Beach – Destin, Florida
Destin, Florida, is a stunning coastal city located in the Florida panhandle. Destin has been named the "world's luckiest fishing village," thanks to its fish-packed waters. This city is a much-loved destination for tourists and draws in around 80% of the Emerald Coast's visitors.
As well as its beautiful beaches, Destin is home to various golf courses and the local Henderson Beach State Park, where you can find natural dunes. Active beach-goers will love Big Kahuna's water park and the Destin Harbor Boardwalk.
There are also many rentals and resorts sitting along the shoreline that provide accommodation near the fun!
Navarre Beach – Florida
Navarre beach is much more than just its picturesque beaches – it's a hub for nature lovers and a chance for visitors to take part in agro and ecotourism. Many farms located near the shoreline host grand tours of peanut and berry processing.
For those wanting to learn more about the local flora, fauna, and ecosystem, a visit to the various facilities is essential. These include the Navarre Beach Marine Park and the Panhandle Butterfly House. Both parks have extensive facilities that provide valuable education to children and adults.
The outdoor fun at Navarre is endless, thanks to its hiking, diving, kayaking, and zip-lining opportunities. It's also home to the longest fishing pier on the Gulf Coast – perfect for fishing lovers.
Perdido Key Beach – Florida
If you enjoy relaxing and unwinding surrounded by the beauty of Mother Nature, Perdido Key Beach is for you! Considered to be one of the best-kept secrets on the Gulf Coast, Perdido provides some seriously stunning scenery. Expect a peaceful atmosphere, breathtaking shorelines, and a secluded waterfront.
The beach is around 16 miles in length and is protected by state and federal parks. This means that most of the area remains unspoiled and pure.
FAQs
What is the closest beach to Arkansas?
The closest beach to Arkansas is Ocean Springs, Mississippi. From Little Rock to Ocean Springs, it takes approximately 7 hours by car, so you may want to consider overnight accommodation.
Which Florida beach is closest to Arkansas?
The two closest Florida beaches to Arkansas are Pensacola beach and Fort Walton beach. Pensacola is around an eight-hour drive away, and Fort Walton takes around nine hours. With only around 45 minutes' distance between the two beaches, you could make a weekend of it and visit both of them!
Which Gulf Coast beaches are close to Arkansas?
The Gulf Coast beaches are simply stunning and are a must-visit for any family. Known as the "world's luckiest fishing village," Miramar beach is one of the closest Gulf Coast beaches to Arkansas.
There, you can get up close with sea life at the Marine Park, where you can feed the penguins and swim alongside stingrays and dolphins. Don't forget to take a walk along the harbor boardwalk too. Book onto a Buccaneer pirate cruise, pose for a caricature picture, and then sit and watch the sunset at the end of a busy family day.
More about our TFVG Author