In the last decade, Belize has been growing in popularity as a vacation destination as English-speaking travelers hunt for a safe and accommodating tropical paradise.
From its lush rainforests to its clear water, perfect for snorkeling, Belize has something for everyone.
Resorts are the perfect way for first-time and seasoned travelers alike to experience the beauty and magic of Belize from a safe and centralized location.
When traveling to a tropical resort, it's vital that there is something to do for everyone, and there's nothing worse than leaving an excellent hotel and finding unexpected costs on the bill at the end of your stay.
These ten resorts are great because they have something to do for every age group and are all-inclusive or come with an all-inclusive option.
1. SunBreeze Hotel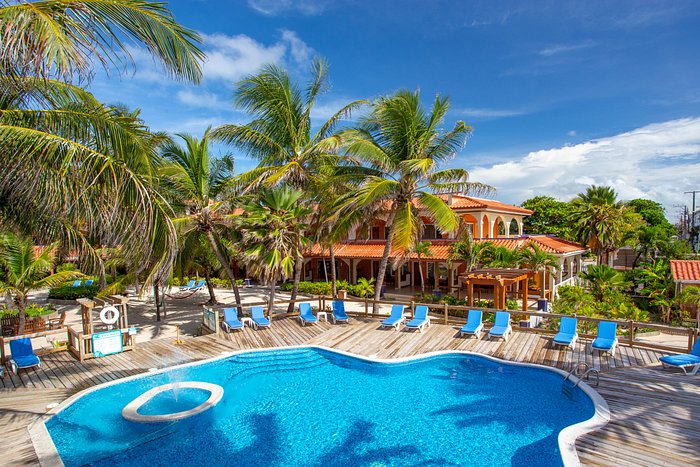 Located in San Pedro, Belize, the SunBreeze is a 43-room resort-style hotel. Even the standard two-bedrooms allow up to two adults and two children, making this an excellent choice for those who want an all-inclusive family getaway.
To be "all-inclusive" at this resort, you will need to buy it in a package. Here we will look at a stay at this resort purchased with a "family package." However, if your children are older, you may decide to look at the "adventure package" instead.
Water Access
This oceanside resort has beautifully maintained white sand beaches and an outdoor pool.
There is plenty of seating on the beach, but only light shade from the palm trees. There are plenty of outdoor pagodas and a few hammocks to enjoy the lovely view further from the sun.
For the Family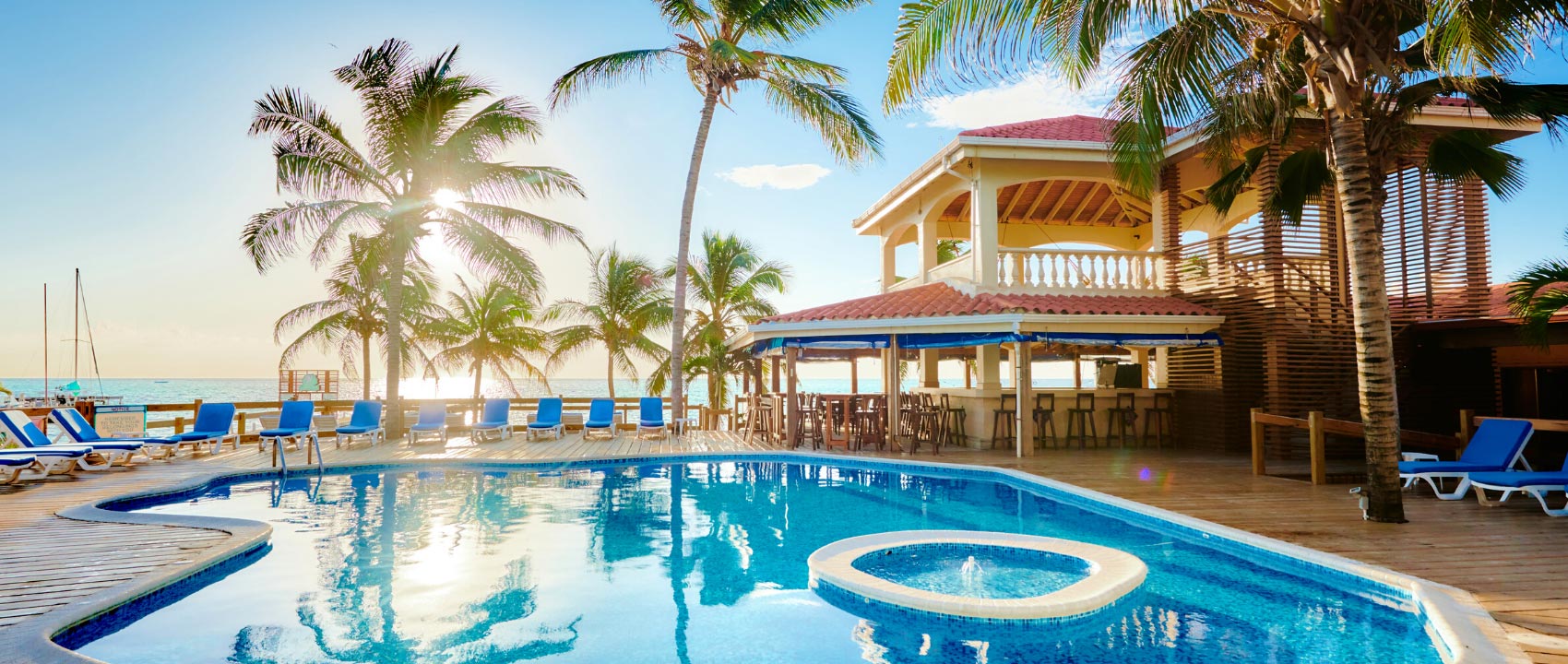 This resort prices events by package rather than by the number of people. The "family package" at this resort is an excellent option for those who want to spend most of their vacation time with their kids.
Enjoy reef fishing and a beach barbeque one day, then a private snorkeling trip on another (tour included in the all-inclusive package, but gear (currently 10 USD per person) is not included).
This package includes a chocolate-making class for the family. Schedule it on a rainy day and learn about the history of Mayan chocolate making.
Food Options
The family all-inclusive package only includes breakfast and dinner each day (plus a barbeque lunch for one day of the stay). Make sure that you add lunch to your package if you want a truly all-inclusive experience.
The restaurant at this resort is ocean-front and is known for its delicious and fresh options.
Things Nearby
This resort is close to the San Pedro Artisans Market, the Chocolate Company, and Ramon's Village Beach.
All of these are a short walk from the resort.
2. Laru Beya Resort & Villas
This resort in Placencia is a cute tropical retreat boasting 30 unique suites.
Their three-bedroom family suite option is an affordable, spacious choice that will fit the whole family.
The All-Inclusive Package includes three meals each day, unlimited alcoholic beverages (made with local liquors only), non-alcoholic beverages, snacks, and round-trip transportation to and from the BZE airport.
Water Access
Laru Beya is an ocean-front resort. In addition to the beach with ocean access, this resort boasts a small but lovely infinity pool that looks out at the Caribbean.
If you're more interested in water activities than sitting in a pool or on the beach, kayaks and water sports equipment are available.
For the Adults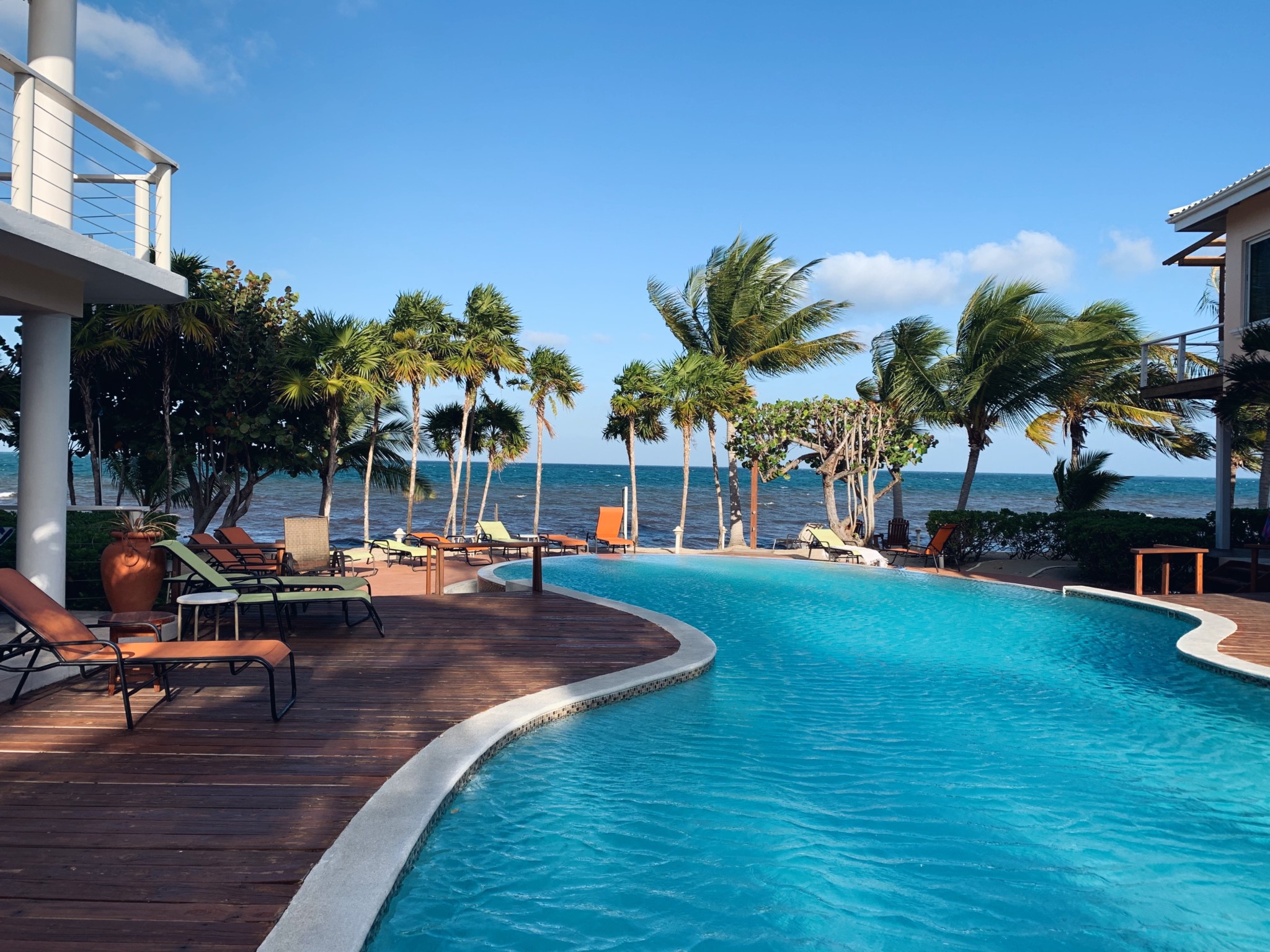 There are a ton of fun activities at this resort for adults to enjoy, including:
Enjoy a drink at the bar
Relax at the beach
Use one of the complimentary bicycles to enjoy a trip through the jungle
Rent a golf cart from the front desk to explore the city
Stop into the spa and ask about massages, facials, manicures, etc.
For the Kids
There are plenty of things to do with the kids as well, including:
Swimming in the infinity pool
Playing at the beach
Enjoying one of the resort's sponsored activities or tours
Depending on the ages of your children, some tours are more enjoyable than others. The Mayan Ruins tour is suitable for children old enough to go on long and challenging walks, and the Monkey River Boat Tour is more appropriate for adults and children of any age.
If you want to go on an adults-only adventure, Laru Beya offers a babysitting service.
Food Options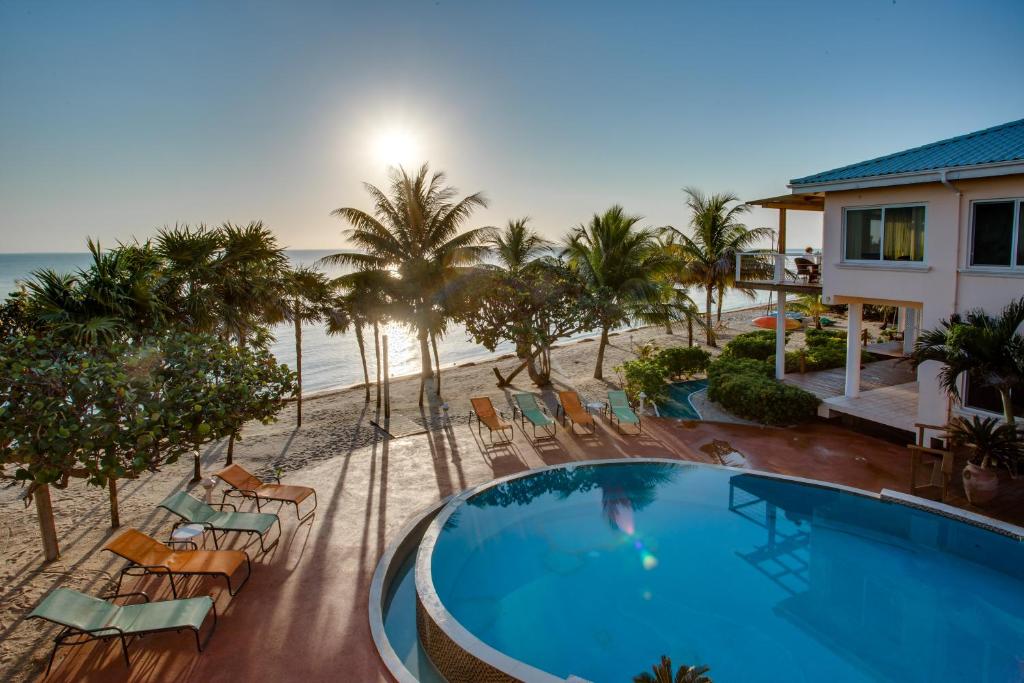 This resort has one bar and one restaurant on-site, and the restaurant is open from 7 am to 9 pm daily.
Laru Beya can accommodate vegan, vegetarian, and gluten-free dietary restrictions.
Things Nearby
Laru Beya is next to Placencia Beach and the Silk Caye National Park.
While there are also a ton of additional tours and activities near the resort, talking to the front desk is the best way to ensure you've seen all available options.
3. Las Terrazas Resort
This all-inclusive oceanside resort has 39 suites of varying sizes to fit up to two adults and four children.
Water Access
Las Terrazas is an oceanside resort. The water is clear and clean, and the seagrass is home to plenty of small fish.
The large outdoor saltwater pool is well-maintained and close to everything in the resort.
For the Adults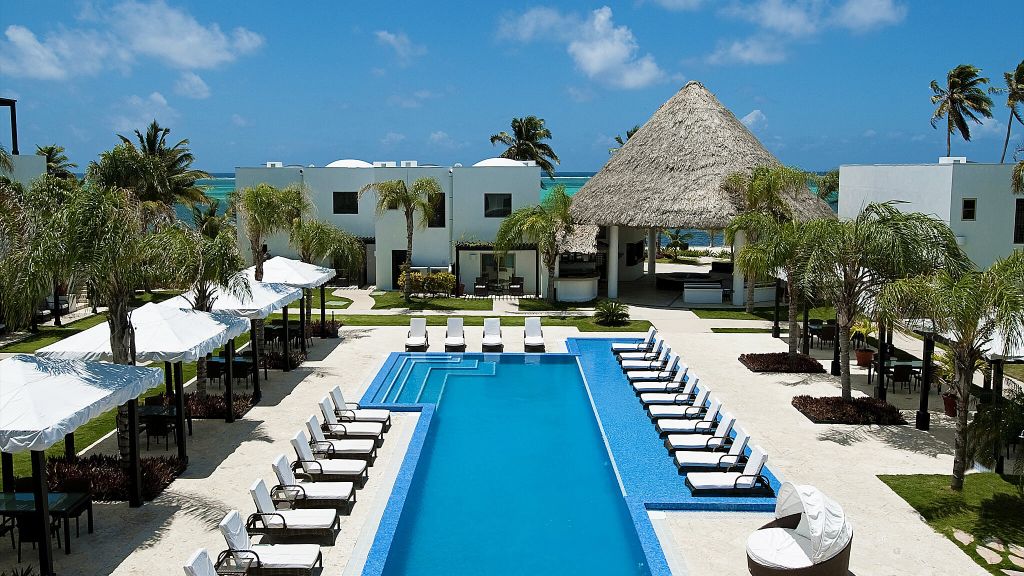 There are plenty of amenities for adults to enjoy, including:
The Jugo Poolside Bar
A Rooftop Sky Lounge
Yoga mats for outdoor exercise
A spa offering oceanside massages (for an additional fee)
The concierge can help you book Rainforest excursions
Jetski Rentals available
For the Kids
There are plenty of things for the kids as well, including:
Babysitting options are available if you need them.
Food Options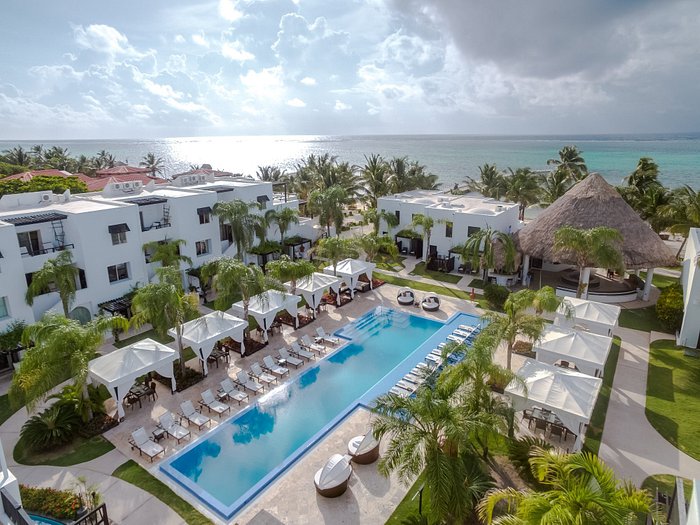 To make your vacation more "all-inclusive," buy a multi-day food plan option. These options cover three meals per person per day and non-alcoholic beverages, but they do not cover lobster dishes.
Otherwise, you can enjoy an a la carte menu at the three on-site restaurants at the standard price.
Some rooms have attached kitchens, and the resort offers a grocery service for anyone who wants to try their hand at cooking with the local fare.
Things Nearby
Las Terrazas is exceptionally close to the Belize Barrier Reef, and it is also near San Pedro Beach.
The Hol Chan Marine Reserve is a half-hour drive away, providing exceptional snorkeling options.
4. Robert's Grove Beach Resort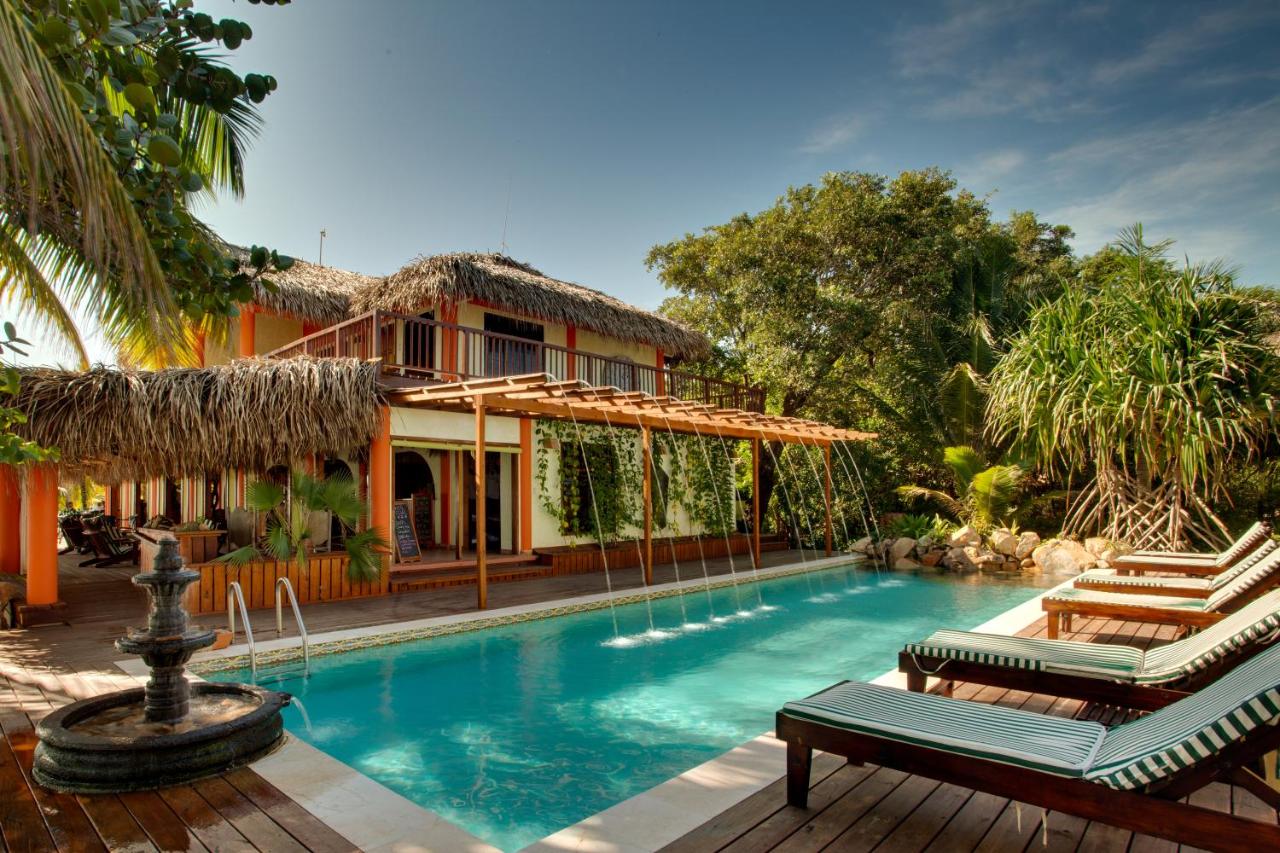 Robert's Grove is a 43 suite beach resort in Placencia, Belize. Robert's Grove has a wide variety of rooms great for small families or families with up to nine-member groups.
Whether your family is large or small, young or old, this resort has the space for you.
Water Access
Robert's Grove is an oceanside resort with two outdoor pools. The backside of the resort buts up against the marina, with several Marina View Villas available.
For the Family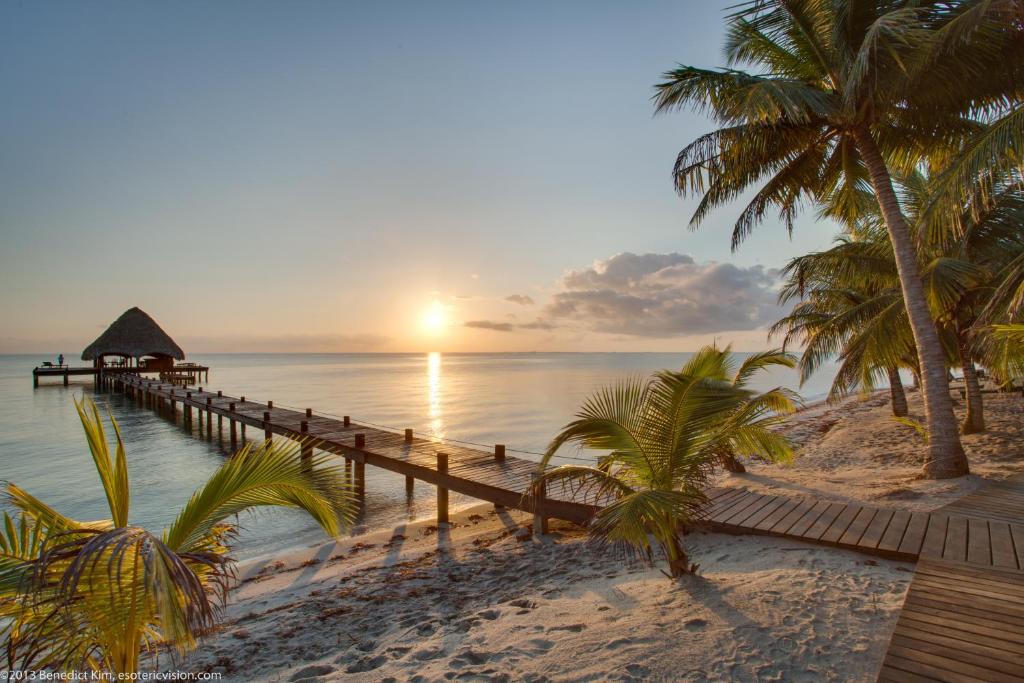 Like many other all-inclusive resorts in Belize, tours are included in specific packages. For younger children, consider purchasing the "Beachcombers Delight" package. This option includes a float and guided tour of the Monkey River.
For families with older and more adventurous members, consider the "Jungle and Sea" package. This option includes a bird walk and a visit to a butterfly farm, massages from the Robert's Grove Spa, a full-day snorkeling tour, and a tour of the Monkey River.
Food Options
Meal plans come with the purchase of any package at this resort. The meal plans include breakfast, lunch, and dinner, but not alcoholic beverages.
There are two restaurants on the resort. One is a Mexican Cafe, while the other is a Seaside restaurant specializing in local dishes.
Things Nearby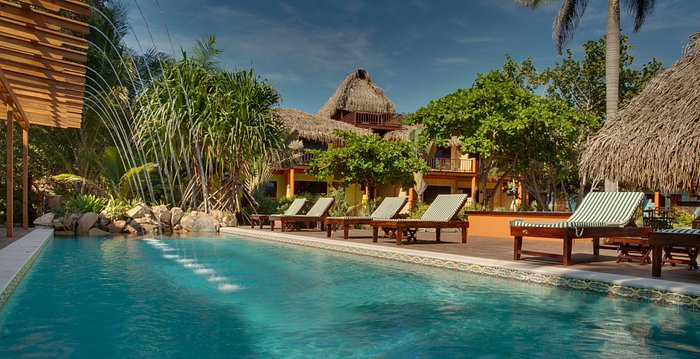 Robert's Grove is very close to the Laru Baya Resort and is similarly close to Placencia Beach and the Silk Caye National Park.
5. Bocawina Rainforest Resort
This resort, as the name suggests, is located in the rainforest. Unlike the other option on this list, there isn't ocean access.
However, this 14 suite hotel resort is still an excellent choice for the family.
For most all-inclusive resorts in Belize, tours and/or food are an extra charge or require an additional plan or package. However, this resort has food and activity prices included in the stay, making it very hassle-free.
Water Access
This resort does not have ocean access. However, because this resort is in the rainforest, it is close to many beautiful waterfalls and clear jungle pools.
Bocawina Falls is included in your stay and boasts a cute swimming area. Otherwise, hike up Antelope Falls and enjoy a swim at the end.
Guides are available for free to take you to these locations.
For the Adults
There are a lot of free excursions included in your stay at this resort. Some of the best for adults include:
Bocawina Ziplining
Antelope Waterfall Rappelling
Dark Night Jungle Adventure
Xunantunich Mayan Ruins & Inland Blue Hole (only one trip included with stay)
For the Kids
There are plenty of activities for the children as well. Some of the best are:
A "Discover Tour" of Bocawina National Park
Guided Birdwatching Tour
Antelope Trail Walk
Cave Tubing & Xunantunich Mayan Ruins (For older children, only one trip included with stay)
River Paddle, Maya Village, Chocolate, and Hopkins Beach Outing (For younger children, only one trip included with stay)
Food Options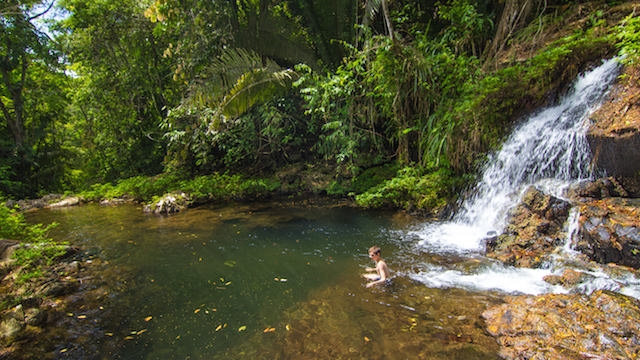 The resort has one dining option: The Wild Fig Bar. The resort provides breakfast, lunch, and dinner daily, but snacks and alcoholic beverages are only available at an extra cost.
The restaurant changes its style frequently, sometimes being a buffet, sometimes having a la carte options, and sometimes serving family-style barbeque.
The staff is very considerate regarding allergies and dietary restrictions, and they can accommodate almost any needs.
Things Nearby
The property is on the 7000-acre Bocawina Rainforest, but it is not close to anything else.
For an isolated retreat, this is excellent.
This isolation is not a good option for someone who enjoys walking into town while on vacation.
6. Blue Marlin Beach Resort
The Blue Marlin Beach Resort is a lovely destination on a 15-acre subdivided private island. This resort is very small, and because of that, it has excellent personalized service.
Rooms can hold up to four adults or two adults and three children.
Water Access
This resort has a gorgeous white sand beach with the perfect mix of sun and shade. Enjoy splashing in the water or relaxing in a hammock.
Either way, you won't be disappointed by the beach at this resort.
For the Adults
With the "Family Vacation Package" option, there are plenty of activities for adults to enjoy, including:
Advanced Diving
Sand Volleyball
Welcome Drinks
Kayaks
Paddleboards
For the Kids
There are also several things for the kids at The Blue Marlin. With the "family package," these options include:
An Island Garden
Beach Games
Pack N Plays
Off-dock snorkeling
Fishing
With the additional Add-On for younger children, parents can get some alone time while the children enjoy scrapbooking, scavenger hunts, or art classes.
Food Options
The All-Inclusive Family Vacation Package covers all meals and snacks. Blue Marlin can work around dietary restrictions, and they have special menus for children and picky eaters.
Dinner is a three-course meal, and when lobster is in season, the package does lobster dishes.
Sunset cruises and romantic couples' dinners are available at an additional cost.
Things Nearby
While Blue Marlin is on top of the Belize Barrier Reef, it's not possible to walk to any other locations as it is a private island.
However, the resort can transport families to the mainland for excursions and tours.
The Blue Marlin Beach Resort staff is happy to help with nature or cultural tours and helicopter tours of the islands.
In Conclusion
Belize is an excellent destination, especially for English-speaking travelers. There is a lot of beauty and a lot to experience.
There are many beautiful, family-friendly resorts in this country. While not many are all-inclusive as a default, plenty of resorts have all-inclusive packages.
The ones on this list are some of the best for various reasons. Regardless of which you and your family choose, you will have a phenomenal time at any of these resorts.
More about our TFVG Author
A seasoned traveller, Dad, and avid sports tourist, James foundered The Family Vacation Guide to share his expert vacation experiences- especially when it comes to being a travelling family man.
Featured in Travel articles such as Travel + Leisure, TripSavvy and SFGate, you know you're reading some of the best vacation tips online.