If you are looking for a warm and exotic place to take your family on vacation, Belize is a top choice. The Mayan culture is still prevalent in Belize. Your family will have an opportunity to take part in the fantastic history of the area.
Maya Ruins like Cuello, Altun Ha, Caracol, Xunantunich, and Lamanai are popular tourist destinations. Try to make time to see some – your hotel will be able to help you.
Belize has many resorts for families to choose from, so it can be difficult trying to pick one. Not only do these resorts come with luxurious room options, but there are also various activities for families to enjoy.
The following are 9 of the best resorts in Belize for families that you should consider.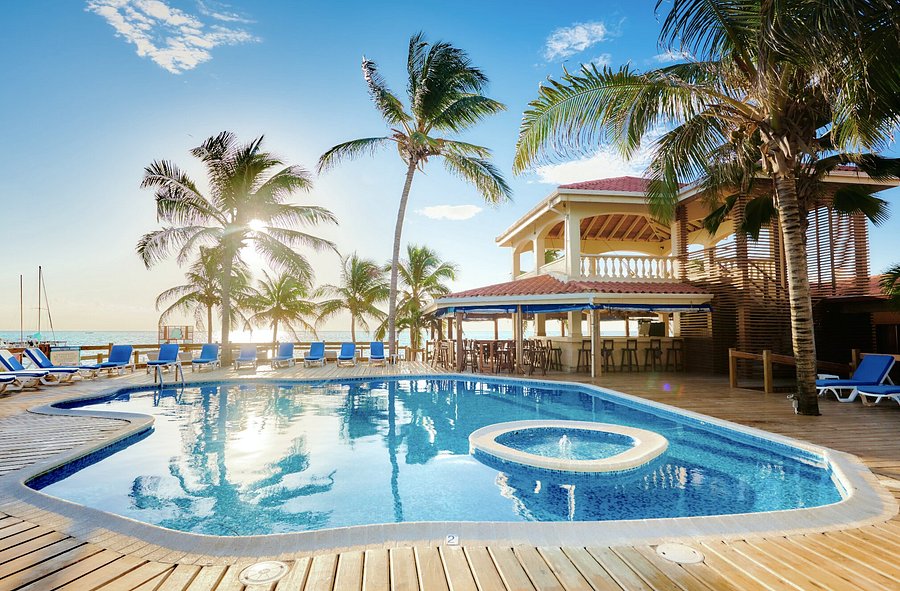 At the Sunbreeze hotel, kids get to stay for free! In addition to enjoying the amazing Caribbean sea, you and the family can relax and play in the beauty of the surrounding tropical gardens. While the hotel is away from the hustle of the town center, it is also close enough to quickly get there when needed. Families can enjoy family suites as well as separate interconnected rooms.
Fun water activities like diving, snorkeling, and fishing are at your disposal. Don't forget you can take your family hiking and windsurfing as well. Take advantage of the free bike rentals and enjoy scenic rides around the area as a family.
When you and the kids get tired after a long day of vigorous activity, come back to the hotel and enjoy some TV in the shared TV Lounge. Let the kids swim in the pool while the adults get massages, facials, and other spa treatments.
Take the kids out for chocolate at Belize Chocolate which is a six-minute walk away. Rent a golf cart at Avis Golf Cart Rental for easy transport during your time there.
7 Coconut Drive Beachfront, San Pedro, Ambergris Caye Belize
Bring the family to this all-inclusive luxury resort in Southern Belize. When it is time to take a dip, opt for the outdoor infinity pool or practice your backstroke on the surrounding secluded beach.
Everyone can enjoy a range of local and international dishes at the on-site restaurant called the Quarterdeck one. Don't worry if you have a picky eater on your hands at mealtime. Laru Beya has kid's meals as well as special diet menus.
There are activities specifically for kids while adults can enjoy happy hour. Burn off your meals every day and go biking or hiking.
If you want to see more of your local surroundings, utilize some of the local tours. Laru Beya resort has knowledgeable drivers and well-planned tours for the family.
Reviews mention the warmth and friendliness of the staff, who had no problem remembering guests' names very quickly. Apparently, rooms are very spacious and clean, and everyone will be able to enjoy delicious food and relaxation.
Placencia Road, Placencia 00501 Belize
The island of Ambergris Caye hosts this resort which just happens to be close to the world's second-largest natural barrier reef. There is plenty of room for everyone here – Mahogany Bay Resort and Beach Club hosts as many as 205 villa-style and cottage-style accommodations to choose from.
Whether you and your family want to relax or have adventures, this is the right place for you. The resort and Beach Club has Belize's only boat-access-only private beach club.
Take the kids out in kayaks, or enjoy weekly outdoor movies and events in Mahogany Bay Village. Relax on the white sand beaches as you get full service from the bar and grill.
As you venture more into the village, the family can enjoy different local food stands, eat at various cafes, and even try some sushi. Adults have plenty of bars and spas to choose from. You can even practice some yoga if you like.
Take advantage of water sport equipment rentals or stay fit at the on-site workout room. The little ones can enjoy the on-site swimming pool toys as well.
You and your family will stay looking sharp thanks to on-site laundry service, ironing service, as well as dry cleaning.
Sea Grape Drive, San Pedro, Ambergris Caye Belize
This resort is surrounded by the Mical River and sits on 30 acres of private reserve. If you want to introduce the kids to all types of exotic wildlife, this is an ideal location for your family vacation.
In addition to being surrounded by local farm life, you may see over 50 different species of birds such as Hummingbirds and Quetzal, just to name a few.
A family cottage can hold from 4 to 8 people, but you may also want to consider the two-bedroom house or 3-bedroom luxury house option as well. By the way, kids stay for free!
While it may be hard to leave your luxury housing, take the family out on on-site tours that are offered. There are tours that go to Mountain Pine Ridge or cave tubing. Explore the trail on the Nature Reserve or go on a family horseback ride.
If the kids need some indoor entertainment, luckily, there are some children's entertainment networks available on TV. While the kids are taking in a TV show, the adults may want to go for happy hour or a neck massage.
Branch Mouth Road, San Ignacio Belize
When you bring the family to this Resort, your crew can enjoy a one-bedroom, two-bedroom, or three-bedroom accommodation. Not only will you be close to the second largest Barrier Reef, but you will also even have a panoramic view of it from your room.
If you and the kids want to just relax inside, you will have plenty of in-room entertainment. There is internet service, docks for your iPods, as well as DVD players.
Couples and parents will enjoy a complimentary welcome drink upon arrival and take advantage of the rooftop bar or poolside bar. Everyone can enjoy complimentary tea as well as breakfast.
Amazing views at this resort continue whether you are swimming in the pool or you are dining. There's an outdoor dining area for your family to enjoy whenever you like.
Transport the family around in a rented golf cart and go on mainland excursions. When mom and dad want to get away for a happy hour or romantic dinner, don't worry, babysitting services are also available. Your concierge is available to arrange all of these things for you.
2 Miles North of San Pedro, San Pedro, Ambergris Caye Belize
At the Caribbean Villas Hotel, not only can the whole human family enjoy the exotic beauty of Belize, but your family pet can come to this resort as well. For your family's health and safety, the hotel is also non-smoking.
There are activities just for kids and a bar just for adults. The restaurant/bar even has live music to enjoy. Everyone can come together to go on snorkeling excursions, kayaking, windsurfing, and kite surfing. Go on some mainland tours at the Maya Ruins or zip-lining.
Kids will love the water slide – the only one on the island.
When the family is back in the room, enjoy some relaxation on the private balcony or take in some entertainment on the flat-screen TV.
According to reviews, the hotel food is way above average and comes in generous portions. You can even eat on the beach as the very friendly and accommodating staff serve you.
Sea Grape Drive, San Pedro, Ambergris Caye Belize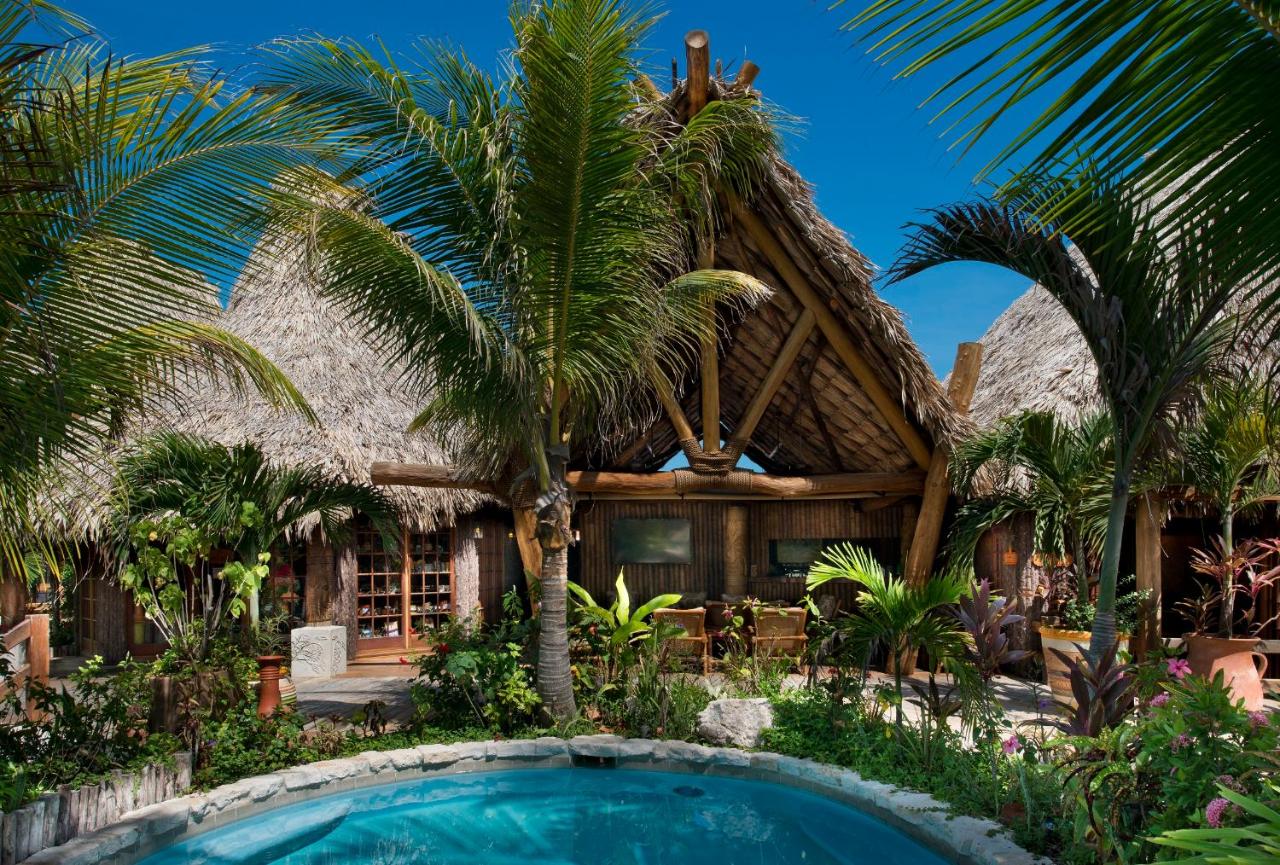 At Ramon's Village Resort, the family will have many activities and sites at their disposal. Immerse yourselves in both Mayan and Tahitian elements of the resort. The non-smoking hotel provides relaxation with yoga classes, a sun terrace, and various spa treatments like foot massages.
Room options are beachside or jungle side. There are special thatched jungle cabanas just for families. Keep your valuables in a room safe and enjoy private balconies.
For water-based fun, take the family scuba diving or enjoy swimming in the lagoon-style pool.
Pineapples On-The-Beach is an on-site open-air restaurant that provides stunning views of the Caribbean. Families can come for breakfast, lunch, or dinner. The restaurant menu includes kids' meals.
Take the family on a beach picnic ( a very popular option) and enjoy the beautiful coral. The entire family may love a sunset snorkel or sunset cruise in this scenic area.
Rest assured your family can get around easily as you will have free and secure parking. The resort also provides shuttle services, airport transportation, and car hire.
Coconut Drive, San Pedro, Ambergris Caye Belize
The resort is located on the most pristine strip of oceanfront property, with reef views from every room in the hotel. It is right on Boca del Rio Beach.
This is the perfect place for the family to go fishing, snorkeling, or diving. Ocean Tide Beach Resort even has its own dive shop.
In addition to various on-site activities, there are plenty of tour options to choose from as well. Explore the jungle or see Mayan ruins.
Take the family on a scenic walk downtown if you want to get off the resort grounds for a few hours.
For your comfort, all rooms come with cable TV, air conditioning for those hot Belize days, and free Wi-Fi access. Your bathrooms come with both bathing options, so you can take a shower or give the kids a comfortable bath. Enjoy poolside breakfast or lunch.
57 Boca Del Rio Drive, San Pedro, Ambergris Caye SP-00000 Belize
When you stay at Pelican Reef Villas resort, your family may stay in a 2 or 3 bedroom villa. It is a small resort that has only 24 suites, so rest assured that you and your family won't be overrun by a crowd of people. The hotel is also non-smoking.
You and the family can dine mere steps away from the beach at the Nest Grill until 3 pm. If your group wants some privacy, feel free to order food for delivery to your family suite. Breakfast is included in your resort package, while your family's lunch is reasonably priced.
If you want to combine some water fun with your mealtime, grab a meal and a fresh drink at the pool bar.
The kids and adults can enjoy snorkeling by the man-made reef, paddle boarding as well as kayaking. Get a massage on your private patio or on the beach itself.
When the kids need to go online for entertainment or if the adults need to get some work done, free high-speed internet is available.
If the seclusion becomes too much for the family, car hire is readily available for your convenience. Take a ride into the town, which is 2.5 miles away.
2.5 Miles South Beachfront, San Pedro, Ambergris Caye Belize
Belize Resorts And Activities Are For Family
Planning a family vacation may be stressful, depending on how many people you have in your family. When you're traveling with children, you want to make sure the kids will be happy, as well as the adults.
A family trip to Belize should solve that problem. This beautiful country has many things to offer locals and vacationers. There are several luxurious resorts with various room options that provide plenty of space and amenities for your family.
Explore the Caribbean Sea and go snorkeling by the Great Barrier Reef. Enjoy water-based activities like sailing, snorkeling, and windsurfing. See exotic animals and eat delicious local dining options. Wherever you stay and whatever you do, you and the family are bound to enjoy a fun and relaxing time at one of the best resorts in Belize for families.
More about our TFVG Author
A seasoned traveller, Dad, and avid sports tourist, James foundered The Family Vacation Guide to share his expert vacation experiences- especially when it comes to being a travelling family man.
Featured in Travel articles such as Travel + Leisure, TripSavvy and SFGate, you know you're reading some of the best vacation tips online.