The golden coast is your go-to destination if you are looking for a coastline with pristine beaches and plenty of amusements for a family getaway. For instance, a scenic drive along the Pacific coast highway will give you access to Half Moon Bay, Muir Woods, Dana Point, Ocean Beach, and other beautiful attractions along the coastline.
Additionally, the 800-mile coastline is also rich with world-class hotels, elegant restrooms, and thoughtful amenities that will make your travel experience in California memorable. 
If you are looking for a home away from home, here are the top eight golden coast hotels where you can stay with your family on your next vacation.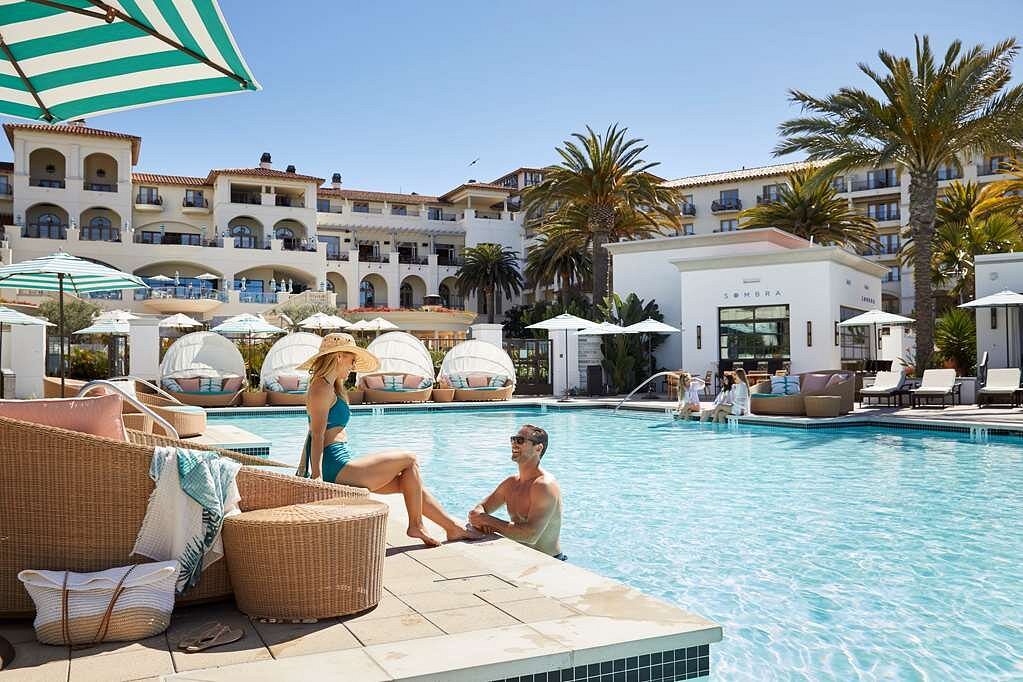 The Waldorf Astoria Monarch Beach Resort and Club lies 30 minutes away from John Wayne Airport and 82 kilometres from Los Angeles International Airport. It occupies approximately 175 acres of a seaside bluff at the height of 150 feet, Dana Point. 
The resort's strategic location allows you to enjoy eclectic views of the pacific coast, Dana Point harbour, beautiful marinas, salt creek beach, and other amenities in the resort and its surroundings from a private balcony in any of its guest rooms. 
The private balcony aside, the other features and amenities you can find in the guest rooms include a 50-inch LCD TV, where you can watch your favourite family shows. The guest rooms also feature spa-inspired bathrooms, a kitchenette, beautiful furnishings, and other polished touches to bring you the true experience of a luxurious home.
In the outdoors, the resort offers a wading pool, where your kids can swim as you watch them with your partner. There is also a lagoon pool and an outdoor pool with fully furnished cabanas to give you various recreation options.
However, pools are not the only amenities in the resort. If your family members are not water-friendly, you can set out for golfing at the featured golf course or go for an exploration walk along the ocean's sandy beaches.
If any of your kids are too small to engage in family sports, you can register them with the resort's monarch beach kids club. This program offers multiple children's services, including babysitting services.
The other amenities that you can enjoy in the Waldorf Astoria Monarch Beach Resort and Club include:
An onsite spa where you can get a full-body relaxation massage to relieve muscle strain and injuries you might have sustained from strenuous activities
Two in-house restaurants: Chef Michael Mina and 33°North and in-room dining service to offer you various dining options
Five bars/ lounges where you can take your family to view and listen to live music performances, enjoy favourite drinks, and other services that may be on offer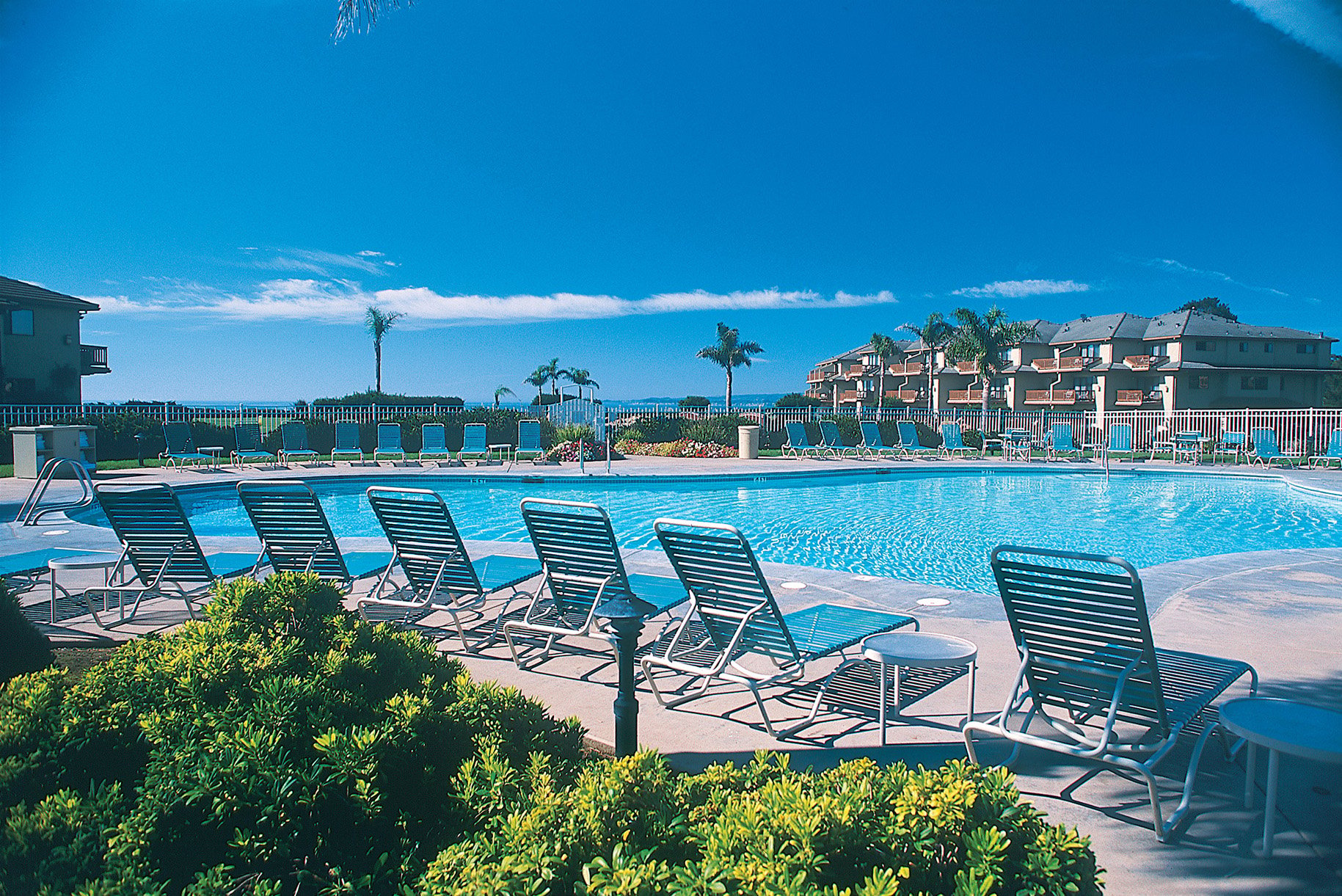 The Seascape Beach Resort is your go-to place if you are looking for a family getaway home where you will get the comfort of your home and the services of a luxurious hotel. It is located south of Santa Cruz, off the main highway 1.
The resort contains more than 280 different-sized suites to accommodate families of different sizes. If you are lucky to secure accommodation in this resort, you'll enjoy the resort's complimentary amenities like car parking, swimming pool, free high-speed Wi-Fi connection, and fitness centre, among other amenities in the outdoors.
Inside the suites is a kitchenette for preparing small meals, including the local cuisines. Also, the suites feature a fireplace, which you can use for heating the room should the night temperatures become unbearably cold. The suite's additional amenities that further enhance your indoor experience include ironing accessories, a microwave, a refrigerator, and a full-screen TV.
Included in the suites are private balconies to give you breathtaking views of the pacific coast, sandy beaches, and the various other attractions in Santa Cruz and its environs.
The resort has separate amusements to offer something for everyone. If you don't have plans for the day, why not spend the day with your family in the resort's swimming pool? Or, take your family for an exploration walk around Santa Cruz?
The resort is certified by the California Hotel and Lodging Association as a safe and clean partner, making it a favourite home for persons of all ages. Perhaps, safety, quality service, and thoughtful amenities are the key reasons the resort experiences return visitors. 
The Resort At Pelican Hill is your perfect home if you are looking for a getaway home for your family on the Southern California Coast. It is strategically perched along the coastline, at the south of Newport Beach, 10 miles drive away from John Wayne Airport in Orange County. It is a 10-minute drive away from the sandy beaches of Crystal Cove State Park. 
Location aside, the resort boasts more than 200 bungalow guest rooms, which you can book for a stay with your family. If the bungalow guest rooms are not up to your standards, you can book one of the 128 two, three, and four-bedroom villas designed for larger families or groups.
Each residential space is well decorated with light wood furnishings, wood-beam ceilings, and a soft brown palette. Additionally, each space features exceptional amenities like a kitchenette, Nespresso machine, luxurious bathtubs, a separate shower, a private terrace, etc., to give you the comfort of a home.
The resort has a lot to offer in the outdoors too. If you and your family members are golf enthusiasts, for instance, you can delight in golfing at pelican hill's 36-hole golf course. If you still have some more time, you can take your family to crystal cove state park, where you can enjoy watching scuba divers as they skillfully mingle with the sea life.
The cheapest way to navigate crystal cove state park is by using the resort's complimentary shuttle service, which is available upon request. 
After the day's activities, you can re-energize yourselves at one of the resort's in-house eateries, including the pelican grill, coliseum pool and grill, and Andrea Ristorante. In-room dining services are also available for 24 hours. So, the resort offers you two dining options to choose from.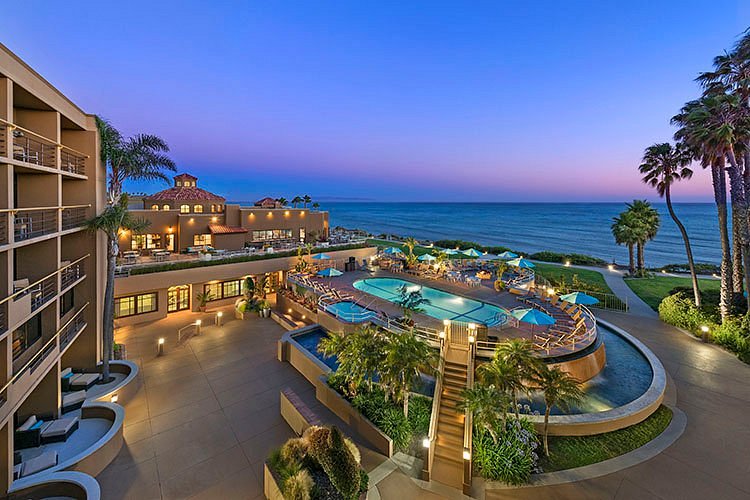 The Cliffs Hotel and Spa is located at the coastal cliffs of Pismo Beach, a nine-minute drive from Pismo Beach Pier, two minutes from Avila Hot Springs, and 11.3 miles from California State University. 
The resort is a premier home for a family getaway with more than 100 guest rooms, each with exceptional amenities that can enhance your travel experience while giving a home-like experience.
For instance, each guestroom features fast wireless internet access and flat-screen television to keep you connected to the world. In the bathrooms, you will find a luxurious tub where you can always soak yourself and relieve muscle tensions from the strains of the day. The bathrooms also feature a separate shower where you can take fast baths.
The other amenities that your family can enjoy in these rooms include hair dryers, coffee/tea makers, refrigerators, and ironing accessories, among others.
The conveniences in the rooms include safes to offer safe storage for your family's critical items and phones for contacting the hotel staff when need be.  
If your family needs outdoor recreation, you can take them swimming in the oceanfront outdoor swimming pool or experience a nice time in the featured hot tubs and saunas. Alternatively, you can take them for amusement at Pismo state beach, where they will enjoy taking family snaps at Dinosaur Caves Park and exploring the Pismo Beach Butterfly Grove.
After the day's activities, you can enjoy the coastal cuisines at the hotel's Marisol Restaurant or stay indoors and enjoy the hotel's in-room service.
If you still have some more days to explore the area, you can request the hotel's free shuttle service to take your family for exploration along the Amtrak drive. Driving along the Amtrak route will give your family access to scenic views of Muir Woods, Death Valley, Joshua Tree, Sequoia, and other attractions along the way.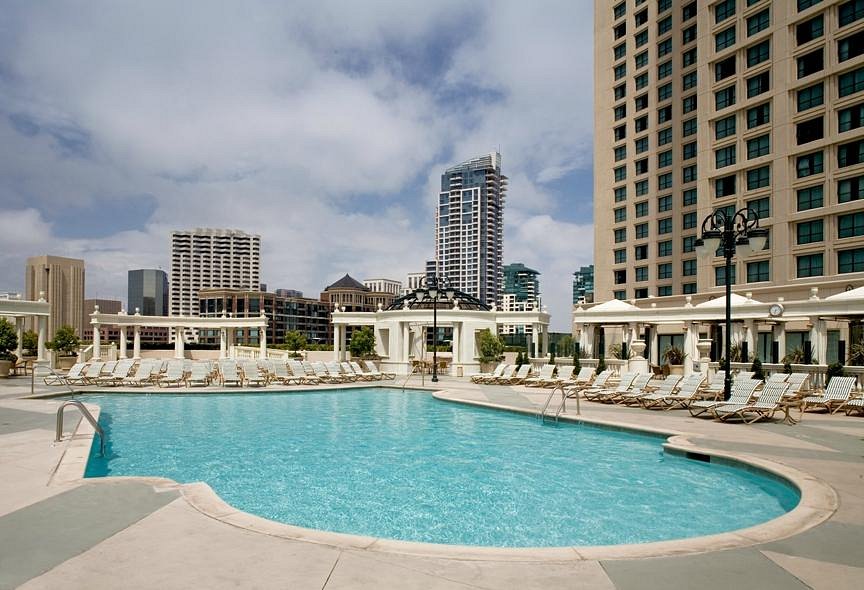 The next hotel on our list is the Manchester Grand Hyatt San Diego. It is located in downtown San Diego, a 10-minute drive away from San Diego International Airport.
The iconic hotel boasts more than 1,600 guest rooms, including ocean view rooms, pool view rooms, suites, non-smoking rooms, city view rooms, and family rooms.
Each of these living spaces features blackout curtains to enhance your indoor privacy. The spaces also feature air condition devices, a full-screen TV, seating area, coffee/ tea maker, radio, and a wardrobe closet to enhance your indoor comfort.
Moreover, you will also find safes, where you can secure your most important assets, including money, laptops, and other critical items. This is not forgetting the convenience services like telephones and alarm clocks the hotel staff place in each room.
The hotel offers two swimming pools to its clients – one for families and one for adults only. The family option is located on the fourth floor and is your best bet for family amusement. If you and your family are not swimming enthusiasts, then you can go for a nerve-tingling massage in the in-house Marilyn Monroe Spa.
After swimming or spa massage, head straight to the hotel's fire pit overlooking San Diego bay and enjoy the relaxing warmth from the fire pit.
If neither swimming nor the spa massage interests you, why don't you try uplifting body workouts at the onsite fitness centre?
You can take your family to Sally's Fish House & Bar or the top-floor bar for dinner, where they will enjoy the coastal cuisines as they take the panoramic view of Coronado Island.
Enjoy an unobstructed view of the Pacific coastline, the ocean, Scripps Park, and Lajolla village from any of Lajolla Cove's guest room balconies or the hotel rooftop. 
Besides the private balconies, each of the guestrooms features a kitchenette with complete accessories to let you prepare the local cuisines if your family is not for coastal cuisines. 
The guest rooms also include:
Air conditioning  to enhance your indoor air quality
A full-screen TV  to watch your favourite family shows
A safe  to secure your critical assets in one closet
Other amenities to give you a comfortable stay throughout your vacation
A phone to contact the hotel staff with ease
What's more, the rooms are of different sizes to host families of different sizes.
If your family is outdoorsy, you can set out for a sightseeing walk through Lajolla Village or enjoy viewing the majestic sea lions along the coastline. Alternatively, you can head straight to the Avenida De La Playa area, where you can engage in family kayaking competitions/ training.
If you don't feel like walking, head straight to the resort's heated saltwater pool and enjoy swimming or watching the rest of your family swim.
In the evening, you can take your family for coastal cuisine at one of the in-house restaurants or go for nightlife in the neighbouring inns.
The hotel offers fitness and wellness amenities to its clients too. So, you don't have to worry if you or a member of your family sustains injuries or muscle strains during the day's activities. All you need is to take them for a full body massage at the in-house spa or a medical checkup at the hotel's wellness centre.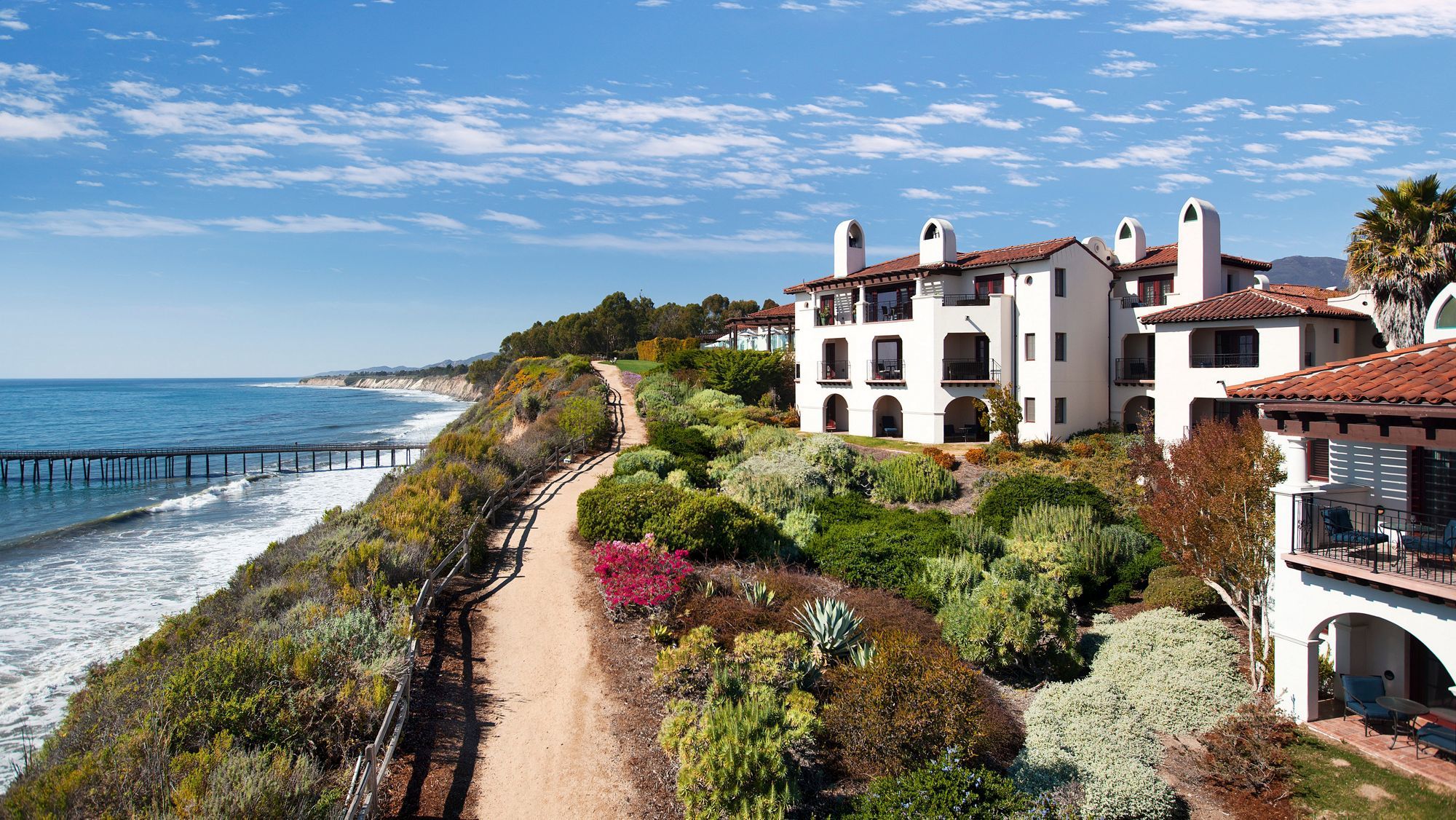 The Santa Barbara Inn is a premier hotel that rests between the Pacific Ocean and Santa Ynez mountains, a few meters away from Santa Barbara premier beach, 9-minute walk away from Santa Barbara zoo.
The resort boasts spacious guest rooms, each of which has a flat-screen TV and a private bathroom with a bathtub shower combination. The bathroom includes special amenities like complimentary toiletries, bathrobes, and a hairdryer to enhance your convenience in the bathroom.
Better still, some guest rooms feature a private balcony where you can enjoy the scenic view of the various attractions along the pacific coast. Let's not forget the hotel's wardrobe closet, telephone, refrigerator, alarm clock, and other comfort-enhancing amenities.
If your family is the outdoorsy type, you can engage in a family swimming competition at the hotel's outdoor heated swimming pool or set out to the onsite fitness centre for uplifting muscle workouts. Alternatively, you can engage in a two miles family walk to the Moxi Museum and enjoy the amusements at the place. 
Do not let your family go hungry during the vacation. If they love trying new cuisines, you can take them to Convivo, an onsite restaurant where they will try out new Italian cuisines. If you don't like taking your meals from the onsite restaurant, you can take your family for dinner in any of the neighbouring restaurants, including Santa Barbara FisHouse, Bluewater Grill, and Brophy Bros, among others.
Do not leave the pacific coast without picking a special art gallery or two from the Funk Zone for gifting your favourite friend back home.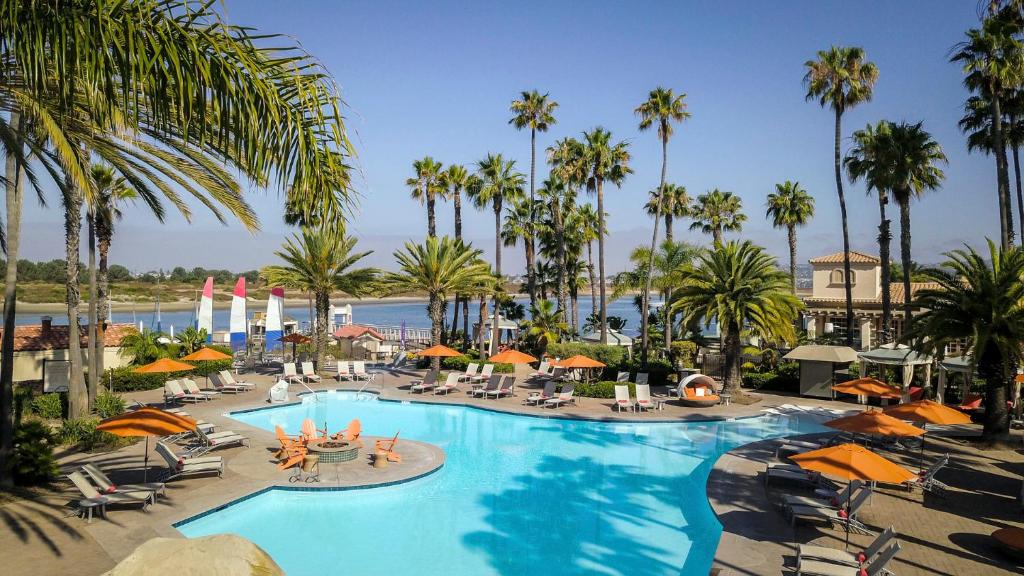 The San Diego Mission Bay Resort is the perfect hotel for a family getaway on the pacific coastline. It is perched at the heart of San Diego city, three miles away from the University of San Diego and about 2.5 miles from the San Diego State historic park.
The resort boasts of non-smoking rooms, suites, and family rooms, which come in varied sizes to fit the needs of different clients. Each of the above living spaces features air conditioners to improve your indoor air quality. They also feature a private balcony, where you can enjoy the scenic views of the pacific coast and its environs.
Examples of other amenities in these living spaces include a coffee/tea maker, bathtub, walk-in shower, telephone, ironing accessories, satellite TV, private bathroom, and a refrigerator. The onsite amenities that you can enjoy outside your space include swimming pools where you can delight in swimming with your kids.
There are also saunas, which can keep you warm, especially after soaking in the bathtub or swimming in cold water.
If you don't have plans for the day, you can stay indoors and enjoy surfing the internet for free or join the resort's yoga classes, where you and your family will train different body postures and exercises to enrich your health.
Finish your day in style by taking your family to one of the pool-side bars, where they will enjoy their favourite drinks and dance to live music. 
Final Words
As you can see, California has numerous beach hotels with beautiful guest rooms, suites, and family rooms of all sizes. Additionally, each hotel offers a unique combination of indoor and onsite amenities to enhance the stay of every member of your family.
Travelling as a family promotes self-confidence, interpersonal skills, and independence. Moreover, it educates children on the value of making memories and exploring what the world offers rather than wanting possessions only.
California beach has a lot to offer for families looking for adventure, and there's no other way to explore the beautiful beaches fully than to book your stay in one of these hotels.
Need more tips on vacationing in California?
More about our TFVG Author
Karly is a The Family Vacation Guide guest travel contributor.