Whether you're planning a fun-filled trip for all the family or taking your Disney-loving partner to their favorite amusement park in a surprise proposal, it's no secret that there are lots of activities to cover at Disneyland California.
From the different attractions to spectacular event programs, you'll want to make sure you plan your trip smartly, allowing enough days to cover everything you want to do.
If trip length is one logistical nightmare you just can't get your head around – you're in luck. This article will tell you all you need to know about the best ways to spend your days at Disneyland California.
Do you need help planning your ultimate family trip to Disneyland California? Our top tips will provide you with everything you need to know!
Read on to discover the magic!
Planning Your Disneyland Trip
Planning your Disneyland trip is the surest way to make time to ride all of your favorite rides. Whether that's checking out the new Star Wars Galaxy's Edge or riding classics like the Indiana Jones Adventure, a robust plan can help keep you on track.
Disneyland California consists of three separate areas, the main resort itself, Downtown Disney, and the Disney California Adventure. As these aren't all in the same location, you will want to decide beforehand if you wish to visit each one and for how long.
With the current guidelines in place in California, you will also want to plan to get your Covid-19 vaccines if you haven't already. Although you won't need to show proof upon entry, you must follow the Covid guidelines that are in place.
We've covered all you need to know about being vaccinated to go to Disneyland California, so be sure to read through our guide before your trip.
How Long Will You Need?: Factors To Consider
Before you book your trip to Disneyland California, you will want to consider various factors. Specific aspects of your trip can truly impact the length of your stay, especially when it comes to younger children and what rides you are planning on trying.
Here are a few of the most important factors to consider and how they will impact the length of your stay at Disneyland!
Young Children
If you have younger kids, you will generally want to spend more time at the Disneyland theme park. Young children will want to run around and see everything there is, as opposed to older kids who may have a smaller list of favorite rides and attractions.
As Disneyland California also includes a separate Disney California Adventure area, you will need to consider where your younger kids will enjoy the most. If you plan to take your children to both, consider staying an extra day or two.
You may also need to book a longer stay if you or your partner is pregnant. It can be extremely dangerous to rush around while pregnant, so a more extended stay will remove the need to do so. It will also give you or your partner more time to take regular breaks – which is highly sought after when pregnant!
Got a little one joining you on your trip? We've written a brilliant guide to give you the rundown on which rides babies can ride at Disneyland.
Where You're Staying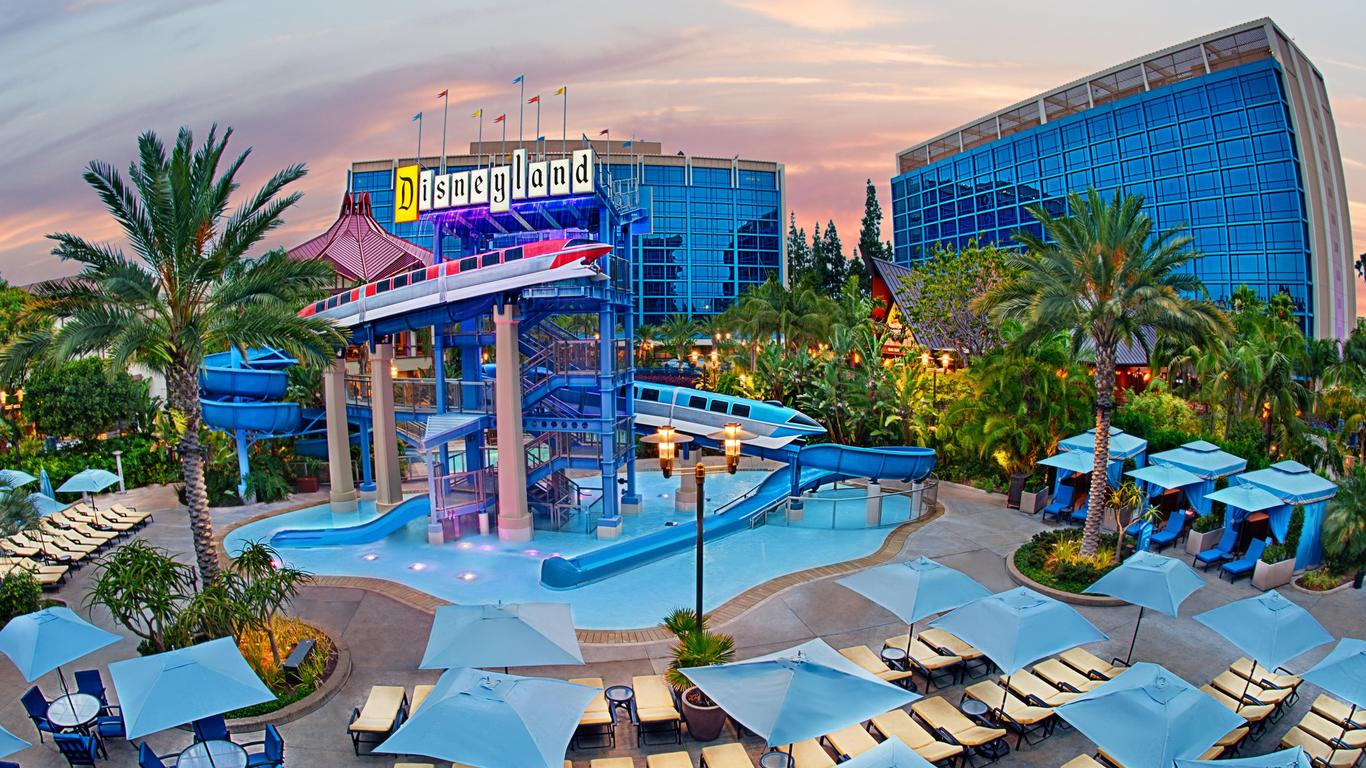 When planning how long you want to stay at Disneyland California, you will want to consider where you're staying. The closer you are to the theme park, the less time you will need to stay as travel won't be an issue. This is why the Disneyland Hotel is so popular.
However, if you are staying outside of the Walt Disney Company resort, you will need to take travel times into consideration. This will only add an extra day or two to your whole trip, but it will need to be considered before you book your stay.
The length will also be impacted depending on whether a trip to the Disneyland Resort is the primary purpose of your travel. If you are on a more extensive Southern California vacation, then you may not have enough time to visit the entirety of Disneyland.
Whether you're planning to stay for a couple of days or you want to make it a week-long holiday, we have a guide to some of the best hotels near Disneyland, Anaheim to inspire you ahead of your trip!
Or, if you're looking at staying on-site to get the full Disney experience, we have a fantastic guide that will tell you everything you need to know about Disneyland Grand Californian Hotel!
Your Priority Rides
As you might expect, some rides at the Californian Disneyland Resort are far more popular than others. This is especially true with the Star Wars Galaxy's Edge experience and the beloved Space Mountain facing some of the largest lines at Disney World.
When deciding the length of your stay, keep in mind which rides are your top priority and how popular you expect them to be. The more popular the ride is, the longer the line times will be, which may mean you will need to book an extra day.
You should also try to decide whether or not you wish to visit the nearby Disneyland California Adventure as this is separate from the resort. If you do, then walking distance will come into play which again may lead to you needing to book an extra night at your chosen hotel. 
Want to pick out your must-see rides before visiting? Our park breakdown of how many rides are in Disneyland and California Adventure will save you plenty of time!
Visiting For One Day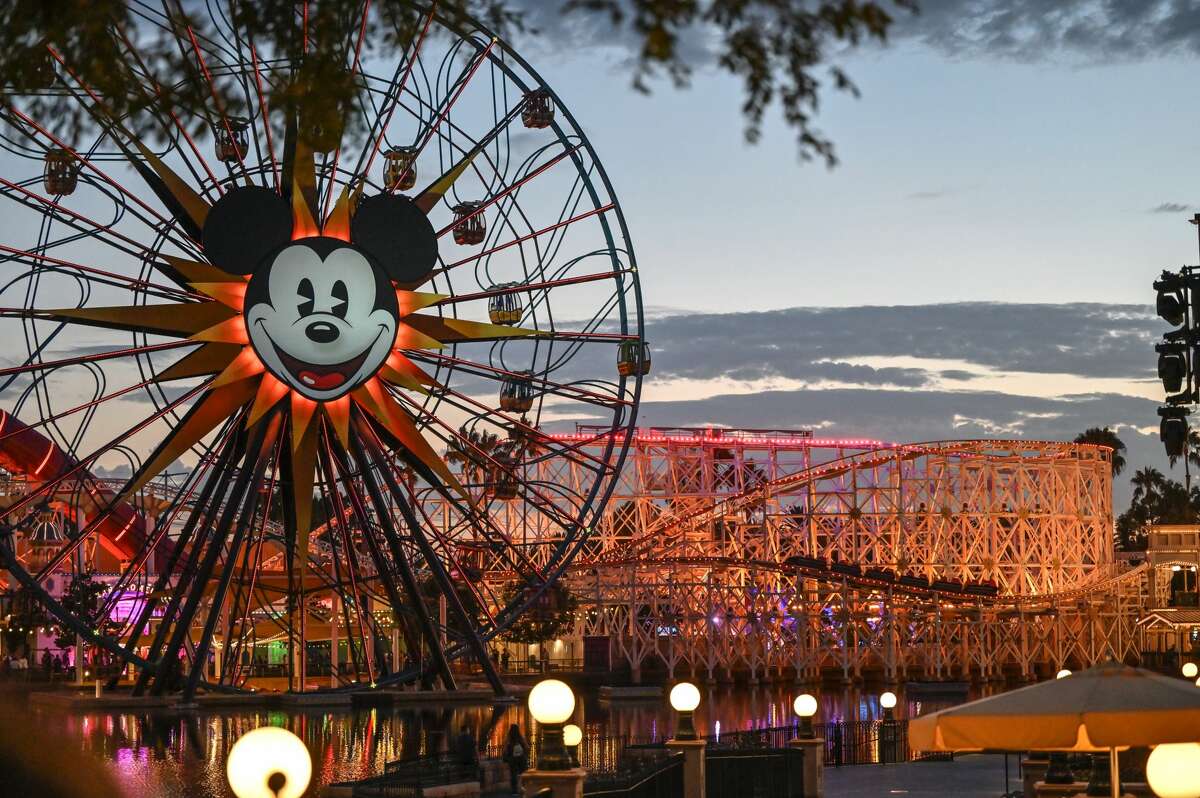 Although you may be tempted to visit for more than one day, you may not need to. A one-day trip is a perfect option if you only want to visit a single Disneyland Park and you live near the Southern California resort.
It is also perfect if you have been to Disneyland before and are just visiting to try some new rides or experiences. As long as you don't have the potential need to rush and plan your trip well, then a one-day visit may be the best option for you.
Pros
It will generally be cheaper than a multiple-day visit to Disneyland
Perfect if Disneyland is just an extra adventure when visiting California with kids
Enough time to experience your favorite rides
Cons
You may not have enough time to visit all the rides and attractions you had planned
It can cause you to feel rushed when trying to decide what rides to experience
Not enough time to visit both Disneyworld and the Disney California Adventure
Ticket Options
There are fewer options for one-day visits to Disneyland than other lengths of time. The main way to access Disneyland for a single day would be to purchase the Standard Park Ticket. This lets you choose the exact number of days you plan to visit Disneyland, with 5 days being the longest option.
Visiting For Three Days
A three-day trip to Disneyland is the best option if you want to visit both parks with a park hopper ticket. It is slightly cheaper than 5 full days at Disneyland whilst still offering you enough time to experience thrill rides and Disney experiences.
Three days at Disneyland California is also a great option if you are on vacation for 7 days, as you can still experience a range of Californian tourist hotspots.
If you can't decide whether you would like to spend a single day at Disneyland or the entire 5 days, this is the perfect middle ground!
Pros
It offers enough time to visit most of Disneyland attractions
Three days is the perfect middle ground between a single day trip and a 5 day holiday
It can be a great way to experience Disneyland without dedicating yourself to a full 5-day visit
Cons
It will be more expensive than only booking a one day Disneyland Vacation
You still might not have enough time to experience everything Disneyland has to offer
Ticket Options
A few ticket options are available when planning a 3 day Disneyland vacation. 3 days is a long enough stay for you to make use of the Park Hopper Ticket. This allows you to visit any linked Disneyland attraction in South California.
If you are a resident of South California then you can also purchase the South California Resident Weekday Ticket. This ticket offers Californian residents 3-day access to Disneyland with the only limit being you can only access one park per day.
On top of this, you can also choose to purchase the Standard Park Ticket. This lets you select how many days you wish to spend at Disneyland, with 3 days being an option. Remember that the more days you choose, the lower the cost per day!
Want to understand more about how much Disneyland California tickets cost? Our guide will tell you everything you need to know ahead of purchasing your tickets.
Visiting For Five Days
The longest stay possible at Disneyland California is five days. This will offer you enough time to enjoy every ride Disneyland has on offer as well as a range of nice extras such as Downtown Disney and their world-famous fireworks show.
If you have young children who want to create a memory of a lifetime, then you would be hard-pressed to find a better alternative than five days at Disneyland.
Just keep in mind that a five-day ticket is a lot more expensive than a single-day trip, so keep this in mind if you plan to visit Disneyland in the near future!
Pros
The perfect length of time to experience everything Disneyland Resort California has to offer
The lowest cost per day ratio
Offers young children the experience of a lifetime
Cons
It can be expensive for larger families with younger children
It can be too long if you only want to check out a few new rides
Ticket Options
There aren't as many options for a five-day trip to Disneyland as there are for three days. The main ticket that people will opt for is the Standard Park Ticket which gives you the option to choose how many days you spend at Disneyland. The 5-day standard ticket offers the cheapest price per day option.
Children under the age of 3 don't need a ticket, so keep this in mind when determining how much your Disneyland vacation will set you back.
How To Make The Most Of Your Time At Disney California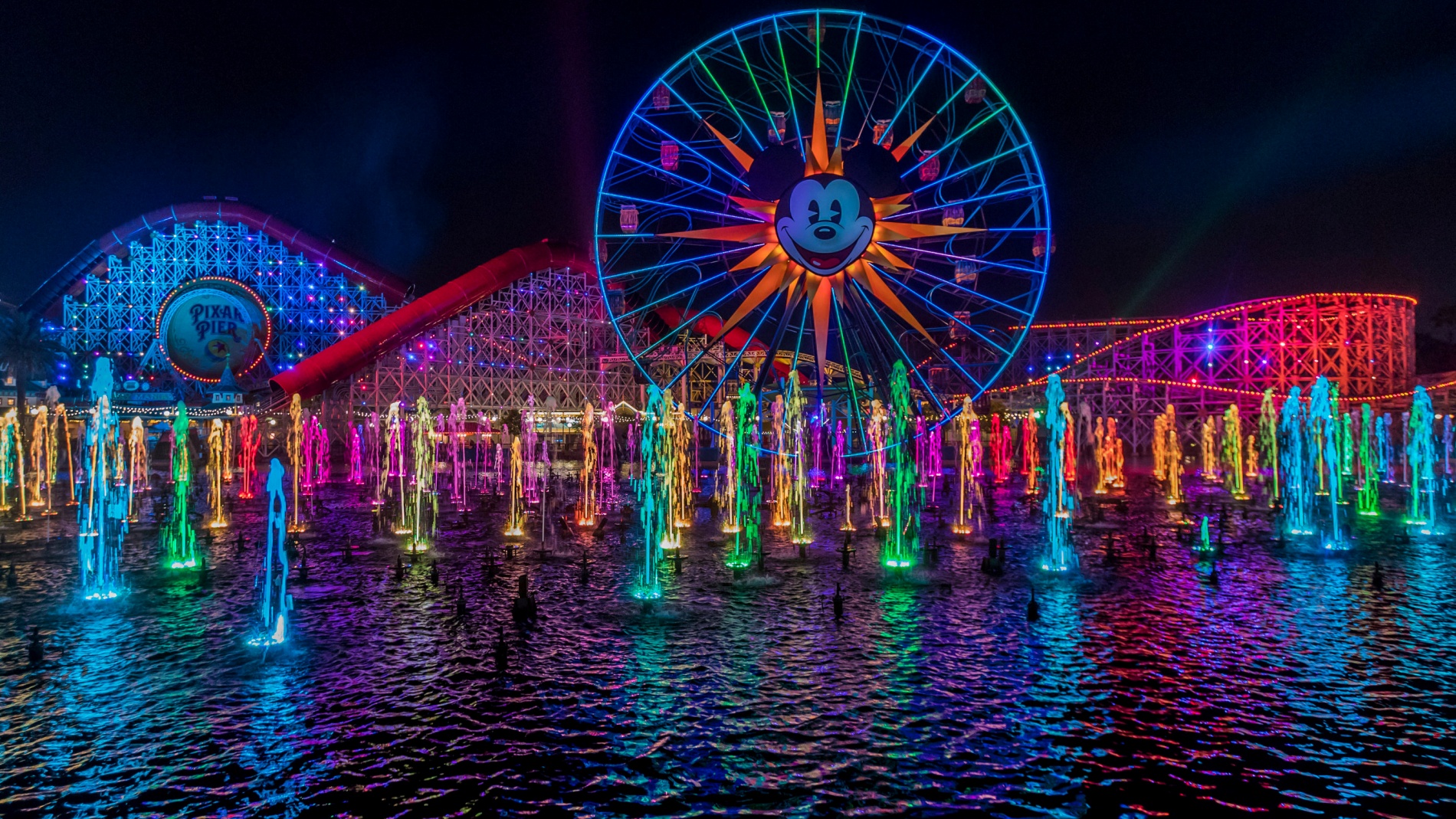 The best way to make the most of your time at Disneyland California is to have fun. A plan is always recommended, but sometimes the best times are experienced without expectations. This is especially true if you have younger children.
As long as you get to experience the top rides and are satisfied with your journey to Disneyland, you can't ask for more. We recommend checking out both the resort and the Disney California Adventure, as they offer unique experiences that you are sure to remember!
Common Mistakes To Avoid
When booking your trip to visit Disneyland, you are almost guaranteed to make mistakes unless you plan efficiently. This can lead you to miss out on more rides than you would if you took your time and figured out a schedule that works for you.
Here are a few of the most common mistakes people make when booking their park reservations!
Over-Packing Your Schedule
Disneyland is packed to the brim with fantastic rides and experiences for children and adults of all ages. This can lead you to over-packing your schedule as you try to experience every attraction they offer.
However, unless you plan to stay for 5 days, experiencing everything at Disneyland can be extremely difficult. The best way to avoid this issue is to select a few rides or attractions you are most interested in. This will help you manage your time and ensure you experience your favorite rides.
If you are struggling to pack everything into your visit, consider spending a little more for an extra day ticket. The more time you have at Disneyland, the easier it will be to experience most of its rides and attractions.
Not Factoring In Mealtimes
This will depend on what you choose to eat, but if you are the sort of family who likes to sit down when eating, you will definitely need to factor in mealtimes.
Mealtime length also goes hand-in-hand with the next mistakes people often make (underestimating waiting in line). Disney food stalls and even indoor eating will generally have lines in Disneyland due to the site's popularity as a whole.
Meals are a large part of any vacation, so we wouldn't recommend skipping out on your lunch just to get to a ride a little earlier. We highly recommend including mealtimes into any schedule you set up to ensure you have enough time to eat and appreciate all Disneyland has to offer.
Underestimating Waiting In Line
One of the most common mistakes people make when booking a trip to Walt Disney World is underestimating the line times. This is especially a problem when it comes to the most popular rides available at the resort.
Before you head off onto your next Disney adventure, take the time to determine which rides are your main priority. You may also want to look online to figure out which rides are currently popular and whether or not you can expect long lines.
Also, keep in mind that the lines will generally be pretty long in Disneyland, so try to organize your schedule around this!
FAQs
How many rides can you do in a day at Disneyland?
Although it is possible to hit every ride in Disneyland Resort California, it is challenging and may cause more stress than is necessary. Ideally, try to pick a few of your favorite rides that you must ride and spread it across a couple of days!
What day of the week is best to go to Disneyland?
In general, weekdays are far quieter than weekends at Walt Disney World. Monday to Thursday is perhaps the least busy period during the week, so if possible, try to book your Disneyland tickets for one of these days if you want to avoid busy crowds.
What is the cheapest month to go to Disneyland?
The cheapest time to visit Disneyland will be during school periods and between the period of Easter to May. Early February and early October are also some of the cheapest times to visit Disneyland as these are classes as off-peak seasons.
When booking your visit to Disneyland, try to compare a few months in advance to ensure you can find the cheapest ticket prices.
Final Thoughts
We hope this article has given you a little clarity on how many days at Disneyland you should spend. Whether you're a Star Wars fanatic or you have a child who loves Frozen, what matters is being able to see all of your favorite sites and rides.
It doesn't matter if you're spending 1, 3, or 5 days – there's no correct answer, you should simply aim to list the attractions you wish to visit and let that take center stage in your plans.
However long you choose to stay – you'll definitely want to go back!
Are you visiting the Golden State and looking for more family days out? We've compiled a list of the best theme parks in California to help you plan your trip!
More about our TFVG Author
Caitlin is one of The Family Vacation Guide's long standing contributors. She enjoys taking vacation to busy, vibrant cities and has stretched her traveling legs out towards Europe in recent months, enjoying new experiences in Barcelona in Spain, and Nice in France.