Who doesn't like to go to the enchanting Disneyland? Even grown-ups enjoy visiting it. Located in Anaheim, California, and filled with Disney characters, it's no wonder why it's called the happiest place on earth.
So, if you're planning a family trip, knowing the best family suites near Disneyland can save you a lot of time. To avoid that, below, you'll find five of the best family suites near Disneyland, so keep reading to discover them and everything each offers.
Anaheim is a safe and family-friendly city full of entertainment for the entire family. Among the many attractions this city offers its visitors, such as the House of Blues restaurant, Knotts Berry Farm theme park, the Aquarium of the Pacific, or the Fashion Island, Disneyland is still the main one.
Disneyland in Anaheim was the first theme park that opened on July 17, 1955, in Anaheim, California, and a place that everyone should visit at least once in their life.
So if you're thinking about going there with your family but worry about where you'll stay, this article will solve that problem. Below are five of the best family suites near Disneyland, so let's start.
If being close to Disneyland is the most important thing for you, the Camelot Inn & Suites location is perfect for you. This hotel is located across the Disneyland Resort, so you can visit Disneyland anytime the kids ask you.
Being close to Disneyland isn't the only advantage Camelot offers. All rooms are non-smoking, which is a big plus for families with kids. Also, this hotel has rooms and suites with accessibility features, welcoming guests with disabilities. Another essential point is that this hotel is a designated Disneyland® Resort Good Neighbor Hotel.
Suites and sleeping capacity
The rooms in Camelot hotel are equipped with all the necessities a family might need on their trip. So, you'll find free Wi-Fi, a microwave, a mini refrigerator, and an in-room safe.
If you're coming with a bigger family, you'll be delighted to know that the two-room family suite in this hotel can easily accommodate up to six people. This suite has two spacious rooms, with two queen beds and one king bed. You can ask for an additional single sleeper chair or a double sofa bed for an even larger sleeping capacity.
The suite Double Queen with Sleeper Chair easily provides enough space for five guests, thanks to the two queen beds and the pullout sleeper chair. The bathroom comes with a tub and shower combination and all the bathroom necessities, so you'll have everything a family might need on vacation.
Hotel amenities
The Camelot Inn & Suites has a terrace-level pool and jacuzzi to provide maximum relaxation. You can find on-site, coin-operated laundry facilities and even strollers and wheelchairs for rent. If you have questions or requests, you can always contact the hotel receptionists, as the front desk is available 24 hours.
Additional details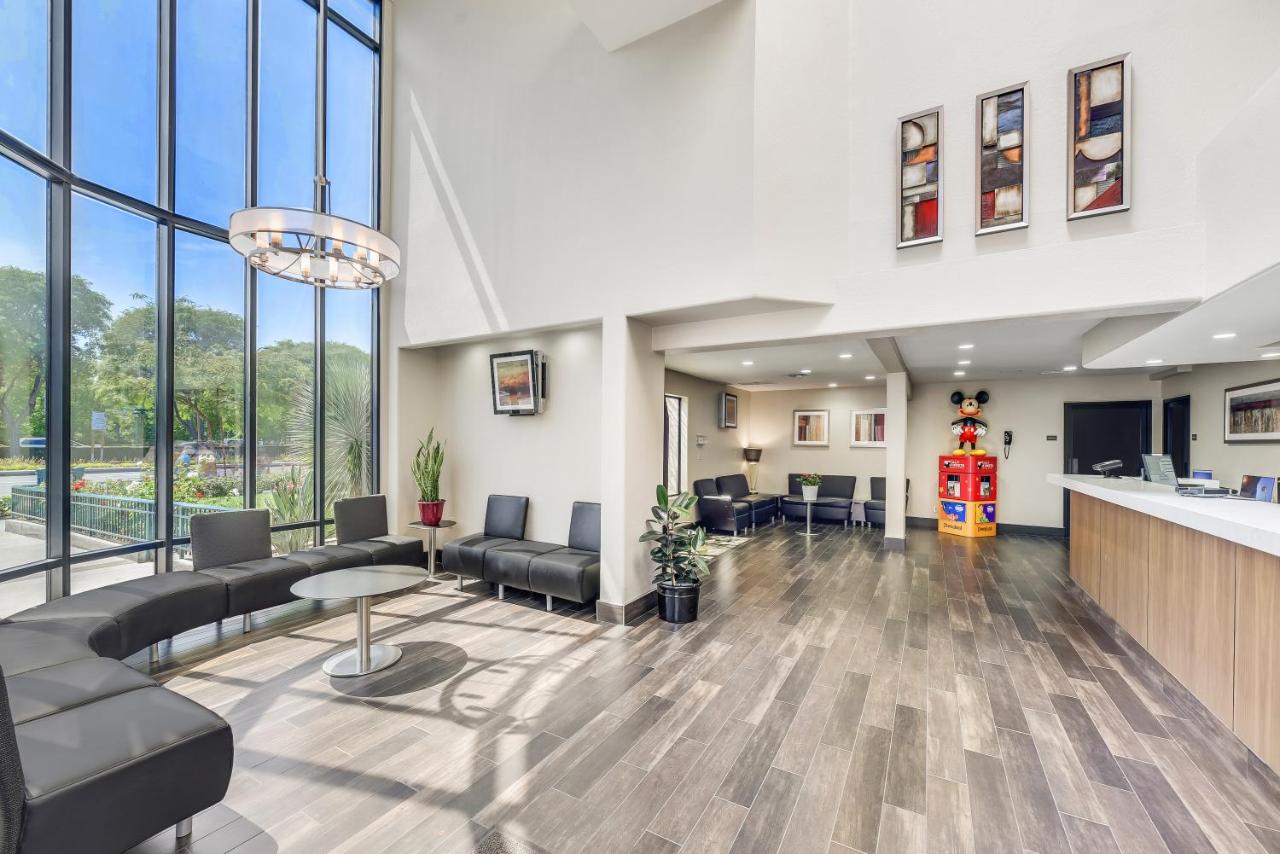 Located just across the street from the main entrance to Disneyland, the Desert Inn & Suites is the hotel you might be searching for. With different rooms that can accommodate families of ten, the nice staff and the friendly and welcoming atmosphere will make you feel amazing during your entire stay. The spacious rooms are ideal for your big family, and if you need them, cribs are also available.
Suites and sleeping capacity
Parlor Suite A
The Parlor Suite A has two rooms, two queen beds, and a queen sofa, so six guests can easily fit in this room. The suite has a microwave, a refrigerator, a hairdryer, and an in-room safe. Also, there are two LCD TVs with HD cable channels, so you can plan and enjoy a cozy movie night indoors.
B1 Family Suite and B2 Executive Family Suite
The B1 Family Suite is big enough for eight guests because it's a two-bedroom suite. With four queen beds and two bedrooms, everyone will have enough space. You have all of the essentials you'll need for your stay to be complete, such as a refrigerator, a microwave, and two LCD TVs.
The B2 Executive Family Suite has a sleeping capacity for up to ten guests, thanks to the four queen beds and the two full sofa sleepers across the two rooms. Also, it has two bathrooms, two LCD TVs, and an in-room safe for your valuables, so you'll be able to explore Disneyland carefree.
C1 Parlor Family Suite and C2 Parlor Family Suite
The C1 Parlor Family Suite has four queen beds and one-and-a-half bathrooms, making it great for a family of eight people. That means that one bathroom has a tub and the other doesn't. The suite has a sofa, fridge, microwave, two TVs, and A/C for maximum comfort.
The C2 Parlor Family Suite is great for up to ten guests because it consists of three rooms. So, by booking this suite, you'll enjoy two bedrooms with four queen beds and a living room with a queen sofa sleeper. This suite also has three LCD TVs and two bathrooms with all the needed essentials.
Hotel amenities
The Desert Inn & Suites offers a warm and delicious free continental breakfast, so make sure you don't miss it. You can always chill by the heated indoor pool and spa or relax on the rooftop sun deck. This hotel even has a business center if you plan to do some work on your trip.
Additional details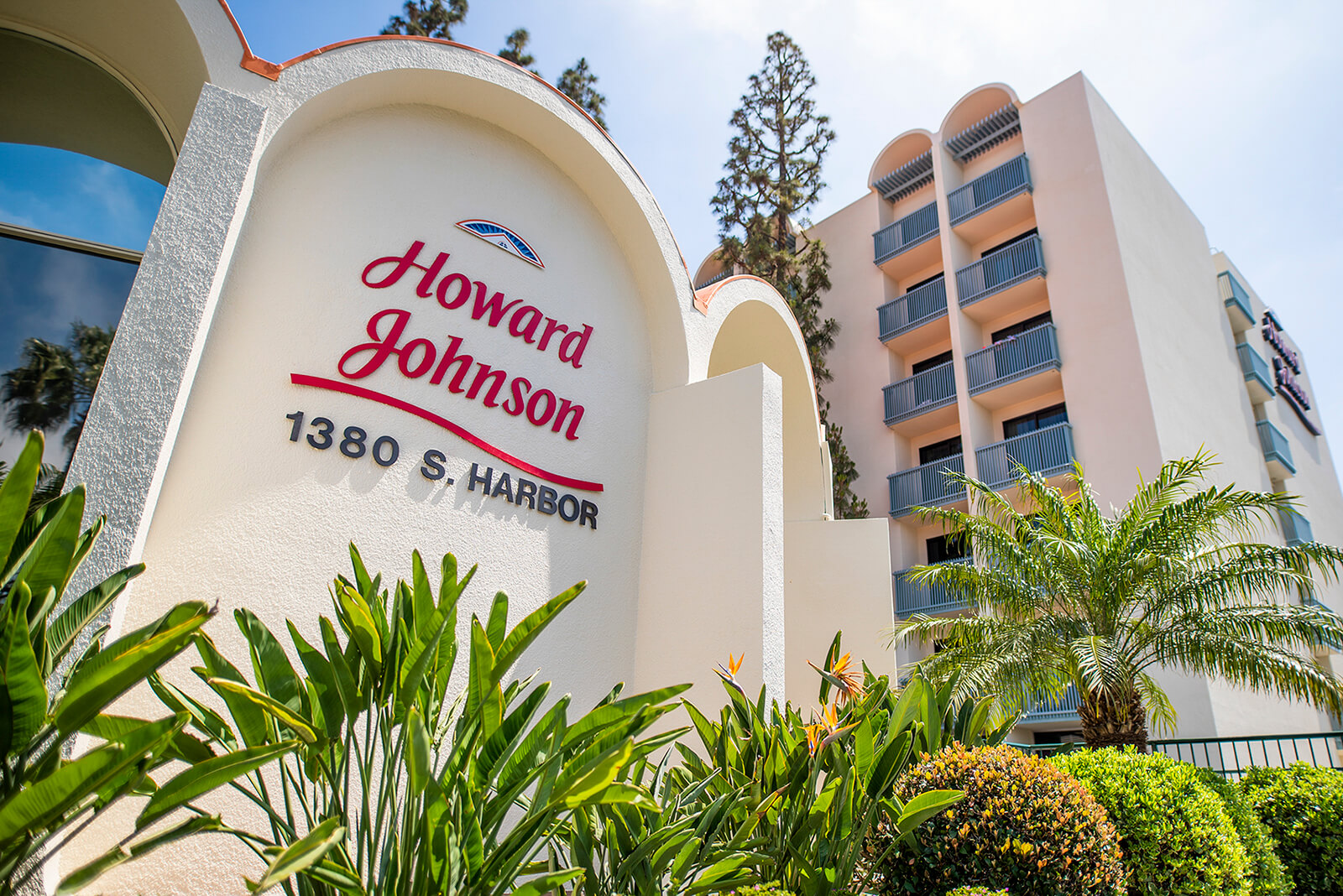 Howard Johnson is a hotel and water playground in Anaheim, only an eight-minute walk or a five-minute drive from Disneyland Park. This hotel has won TripAdvisor's Top Hotels for Families in the USA six times, so it's a great choice to book for your trip.
The rooms at the Howard Johnson hotel are designed for families, so every family member will feel comfortable and love staying there. Below, you can read about what type of rooms this hotel offers.
Suites and sleeping capacity
King Suite
The King Suite is a suite in which a family of five can comfortably fit and has everything you'll need for a safe and comfortable stay. There are two balconies, one king bed, and a queen-size sofa sleeper. You'll also find a microwave, mini-fridge, tea and coffee maker, hair dryer, and a laptop safe.
Located on the top of the building, there's no doubt that you'll get the best view of Disneyland from this hotel. Moreover, the room is pirate themed, so the whole family will have a lot of fun staying in it.
Kids Suite
The Kids Suite is also big enough for five persons and has two bedrooms, one with a king bed and the other room with twin bunk beds and a pull-out twin sofa sleeper. Staying in this room, you'll enjoy the premium TV channels, free Wi-Fi, and the fun pirate theme of the suite.
HOTRF Queen Suite
In this 700 square feet HOTRF Queen Suite can stay up to four people because it's equipped with two comfortable queen beds. Thanks to the Keurig coffee maker in the room, you can relax by drinking your morning coffee on the balcony and enjoying the incredible view of the Garden pool.
Standard, deluxe, and premium rooms
Besides the suites, there are many different standards, deluxe, and premium rooms.
The 2 Queens ADA B2, 1 Queen/Bunk ADA, 2 Queen/2 Room Bundle, 2 Double STD, 2 Queens DLX B1, 2 Queens DLX B2, and 2 Queens Prem are rooms that can easily accommodate a family of five.
Each has free Wi-Fi, a free laptop safe, a coffee and tea maker, ESPN & Golf Channel, Netflix, and, of course, the Disney channel.
Hotel amenities
Castaway Cove is a water playground in Howard Johnson that your kids will surely enjoy. This is a pirate-themed playground with lots of water slides, and there's even a toddler pool so kids of all ages can have fun.
Besides that, you can refresh in the Garden Pool from 10:00 AM to 10:00 PM every day. The heated pool is located outdoors, away from the water playground.
Additional details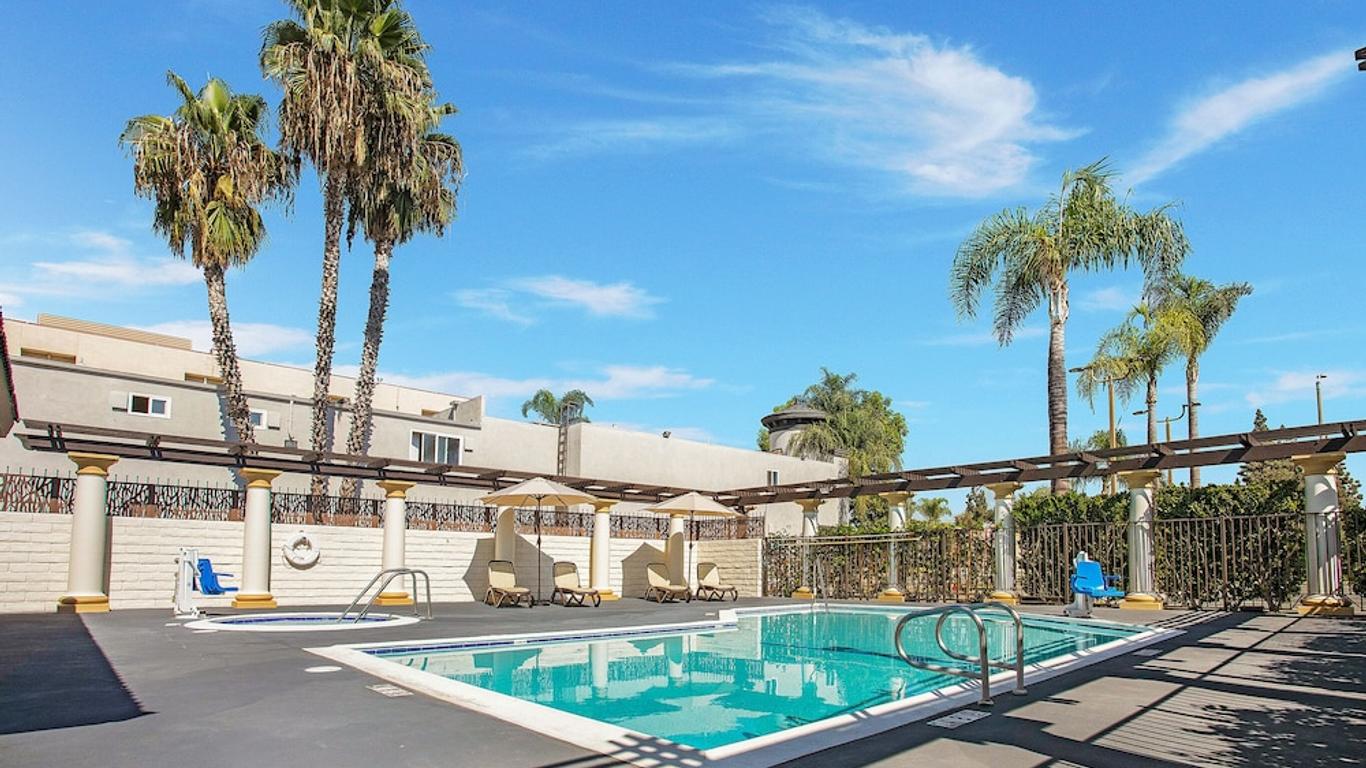 Another fantastic family-friendly hotel near Disneyland is Stanford Inn & Suites, located on South Harbor Blvd. If you decide to stay in this hotel, you'll be only seven minutes driving distance from Disneyland.
Furthermore, you'll be delighted to know that Stanford is an official Disneyland® Good Neighbor Hotel with a shuttle pick-up in front of the hotel.
Another amazing thing is that this hotel has very comfortable and cozy big rooms, even for a family of six. They have free Wi-Fi, flat-screen TVs, bath products, in-room refrigerators, and microwaves.
Suites and sleeping capacity
Single King and Double Queen rooms
The Single King and Double Queen rooms are big enough for families of four. The Single King room has one king-sized bed plus a sofa bed, and the Double Queen has two queen-sized beds.
Family Suite 1 Bathroom and Family Suite 2 Bathroom
Both suites can accommodate up to six people. The Family Suite 1 Bathroom has a separate room for the kids, with a TV and twin bunks beds. The other room has two queen beds, a bathroom and a TV.
The Family Suite 2 Bathroom has everything the Family Suite 1 Bathroom has, plus one bathroom. It's important to mention that this hotel also has ADA guest rooms.
Hotel amenities
The amazing outdoor heated, family-friendly pool and the jacuzzi will enrich your stay in the Stanford hotel and provide you with maximum comfort. The hotel also has a fitness center to help you maintain your form and routine.
Furthermore, don't forget to visit the buffet and treat yourself to a hot and tasty breakfast in the morning.
Additional details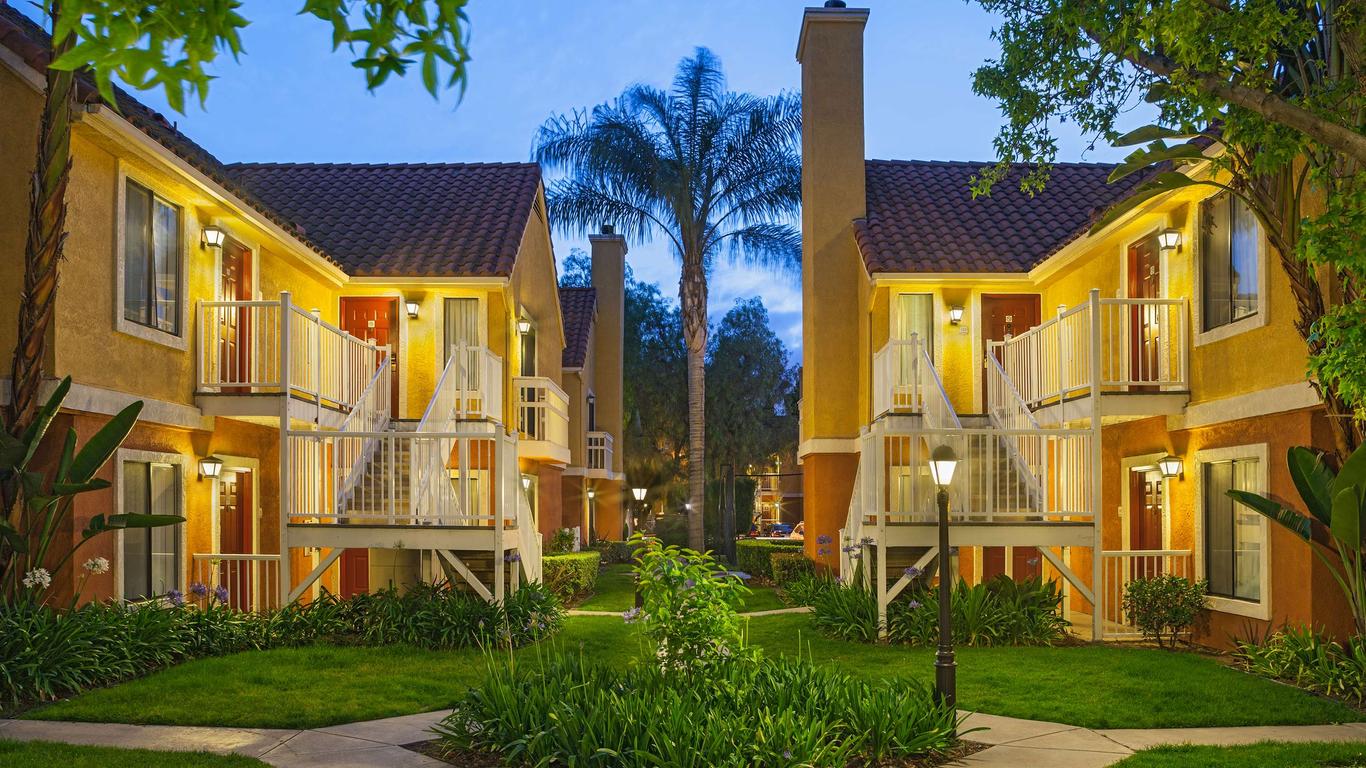 The Clementine Hotel & Suites is another Disneyland® Good Neighbor Hotel located near Disneyland and that you can book for your stay. To be more precise, you'll be a 15 minutes walking distance from Disneyland Park.
Even better, you can bring your furry friends with you. Besides being a highly family-friendly hotel, Clementine is also a pet-friendly one. More importantly, this hotel has many accessible features for guests with disabilities.
Suites and sleeping capacity
One Bedroom Suite
The one-bedroom suite comes with 500 square feet of space and two queen-sized beds. This suite has a separate living room, a dining table, two TVs, and even a fireplace, making this a cozy place for up to six people.
BI-Level Loft Suite
The BI-Level Loft Suite consists of one downstairs bedroom with two comfortable queen-sized beds and one loft bedroom with one king-sized bed. Thus, a family of eight can be easily accommodated. This suite is located on the second floor and has a separate living room, a fireplace, and of course, all of the standard amenities you might need for a perfect stay.
2-Bedroom Suite
The 2-Bedroom Suite can accommodate a family of eight and has two bedrooms, two bathrooms, and a patio, providing enough space and privacy for everyone.
One bedroom has one queen-sized bed, and the other has two queen-sized beds. So if you have a big family, this suite is spacious and will provide you with everything you'll need to feel comfortable.
Hotel amenities
A rich breakfast is served at the buffet, so make sure you try it before you hit the sports court and play your favorite game. The barbeque patio and a fire pit are also very useful amenities Clementine offers.
The heated pool outside is open every day from 9 AM to 9 PM, so you can always visit it for a refreshing swim. Also, the hotel offers free parking, depending on the type of room you're going to book.
Additional details
Final Words
Going to Anaheim to visit the charming Disneyland and spend fun and quality time with your family is an amazing experience, but discovering the family suites near Disneyland is crucial. Since you've reached the end of this article, now you know which are the best ones.
So, all that's left to do is to take another look at the rooms and quickly book the most suitable one for all of you. It's guaranteed that these family suites will provide you with the comfort and satisfaction you longed for. So start packing and have the most incredible trip ever!
More about our TFVG Author
A seasoned traveller, Dad, and avid sports tourist, James foundered The Family Vacation Guide to share his expert vacation experiences- especially when it comes to being a travelling family man.
Featured in Travel articles such as Travel + Leisure, TripSavvy and SFGate, you know you're reading some of the best vacation tips online.