Soaking in hot springs can be rejuvenating, relaxing, and a fun experience if you've never done it before. California has plenty of hot springs for you to soak in when you visit. Whether you're traveling to northern or southern California or anywhere in between, you can find all kinds of hot springs.
Soaking in hot springs has several benefits. It can help with high blood pressure, circulation, eczema, and more.
With so many hot springs to choose from, it can feel overwhelming when planning your visit.
Here are 15 of the best hot springs in California.
Sycamore Mineral Springs is in central California. It's in the town of San Luis Obispo, which is about 145 miles west of Bakersfield. The Sycamore Mineral Springs are inside the Sycamore Resort and Spa. Booking a room here will not disappoint you.
The resort is on 100 acres of land and offers plenty of relaxing and nature-centered activities. There are several hiking trails and beaches nearby for you to explore. People love this area because every room has a private hot tub on the balcony.
There are pools and other tubs on the resort's property, but staff will fill even the hot tubs on your balcony with mineral spring water. Having a private one on your balcony is unique, and it may let you relax more than you would in a communal hot spring.
Depending on the room you get, you may have a filled tub upon arrival at a set temperature. Other rooms have an empty hot tub when you arrive, so you can set the temperature to what you prefer. Something to note about this hot spring is that you cannot use them during the hotel's quiet hours.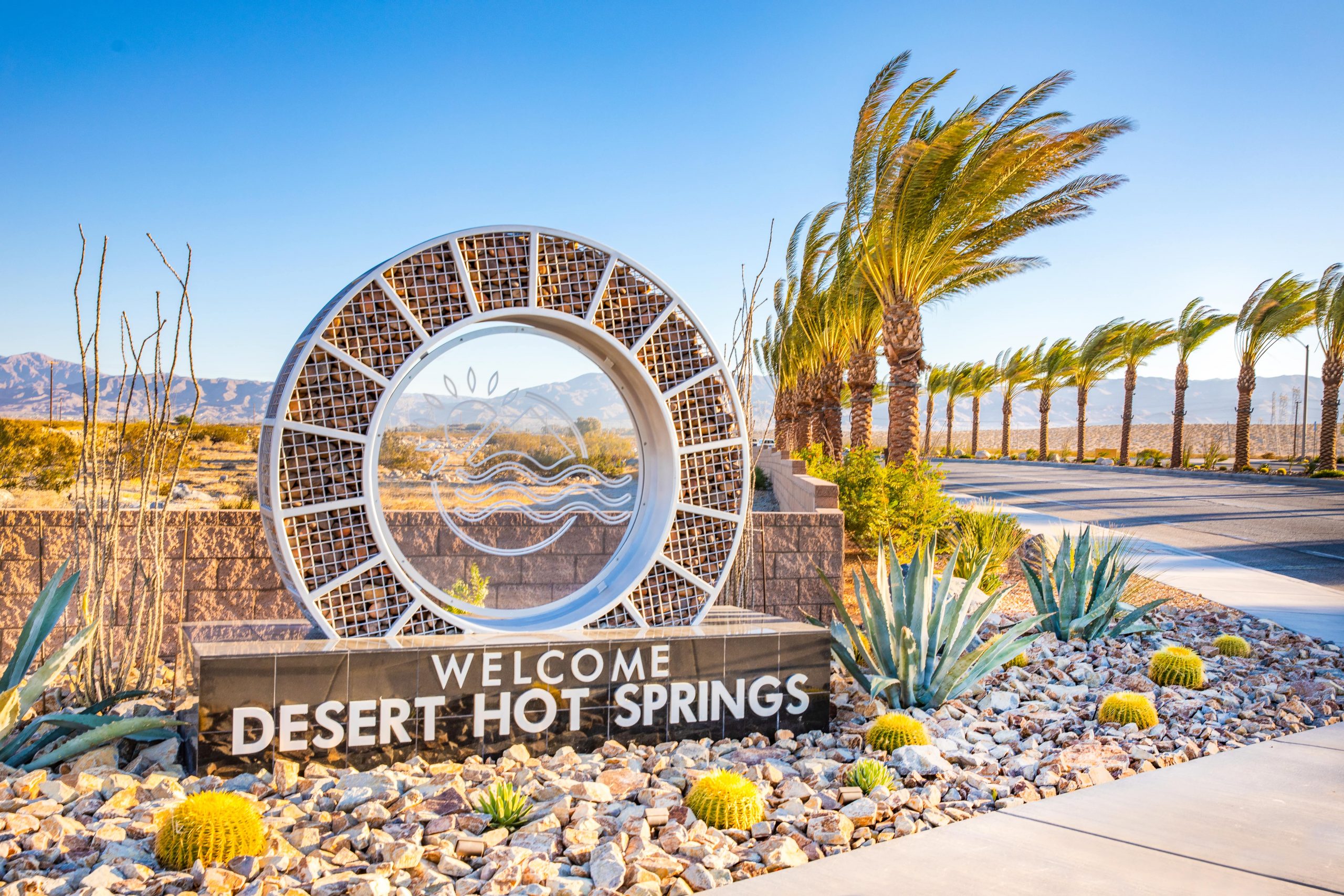 Nestled in the Coachella Valley is Desert Hot Springs. This town is home to more than 20 hot spring resorts in the area for you to choose from. This is the most extensive collection of hot springs in one place in the United States. Desert Hot Springs is a unique area because not only do they have hot springs, they're known for their cold springs, too.
Heading to Desert Hot Springs to soak is popular for those visiting Palm Springs, California, since it's about 20 minutes away. One of the best things about this area is that there are several excellent and affordable options for soaking in the mineral-rich waters.
While there are numerous budget-friendly options, you need to visit Two Bunch Palms if you're looking for a more luxurious experience. This resort and spa have their own hot springs, and they use the water to fill their private and communal baths.
They also offer some of the most amazing views when you're here. They offer facials, clay masks, and more for visitors. People love soaking in the hot springs in Desert Hot Springs because while others may smell like sulfur, the ones here are odorless.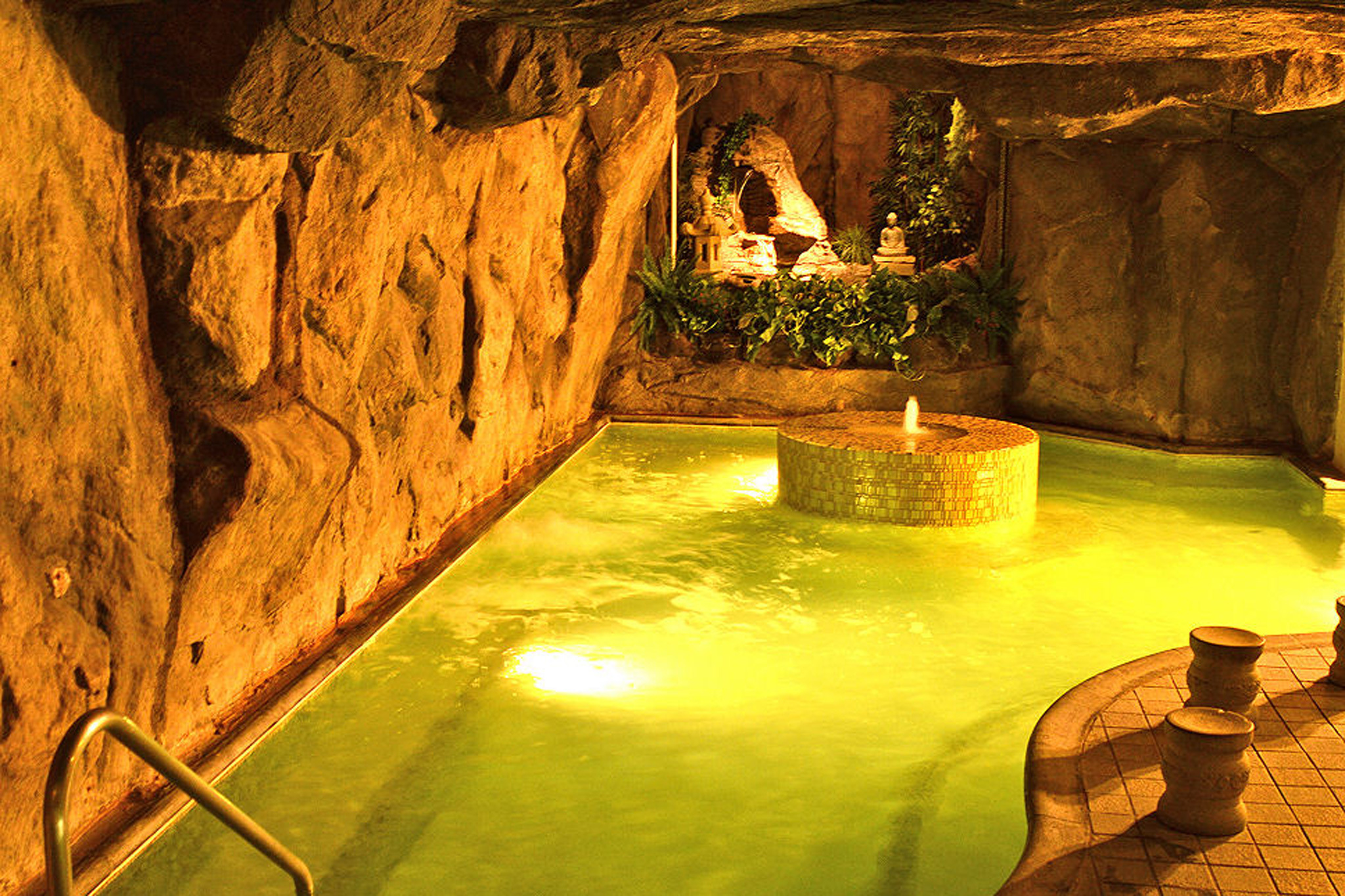 If you're heading to Los Angeles, you don't need to travel far to find a great hot spring. Beverly Hot Springs is the only geothermal hot spring in Los Angeles. The origin story of these hot springs is fascinating. In the 1920s, the hot spring was accidentally discovered when oil drillers drilled into it.
The water here is so rich in minerals that it was once sold in bottles for drinking water. The hot springs are on Oxford Avenue, near East Hollywood, making it easy to get to from most areas of the city.
There are several spa amenities you can take advantage of while you're here. In addition to soaking in their hot springs, you can visit the sauna, a cool plunge pool, and a steam room when you visit. All towels, soap, shampoo, and conditioner are complimentary.
You can also book other spa services like massages, facials, waxing services, and even spray tanning. You'll want to make an appointment if you plan on visiting and arriving about 15 minutes beforehand.
Travertine Hot Springs
About 192 miles west is Travertine Hot Springs near the Nevada border. These natural hot springs are in Bridgeport, California, and give new meaning to connecting with nature. Unlike many hot springs in the state, these are nestled between mountain peaks and on hiking trails.
The hot springs are only a few miles from Highway 395 and are the perfect way to relax after hiking all day. You can still visit the springs and take a dip without walking all day, though. The best part is that you can drive directly to many of the hot spring pools. Others require a little more hiking.
As you take a dip into these natural pools, you'll be able to take in the beauty of the surrounding mountains. You'll find hot springs with varying temperatures. If you're looking for the warmest one, it's closest to where people park. Before you get in, you may want to test the water to ensure it's not too warm for you.
The pools that are a little further away are cooler and are in a beautiful meadow. Every hot spring has a mud floor, which really brings you closer to nature.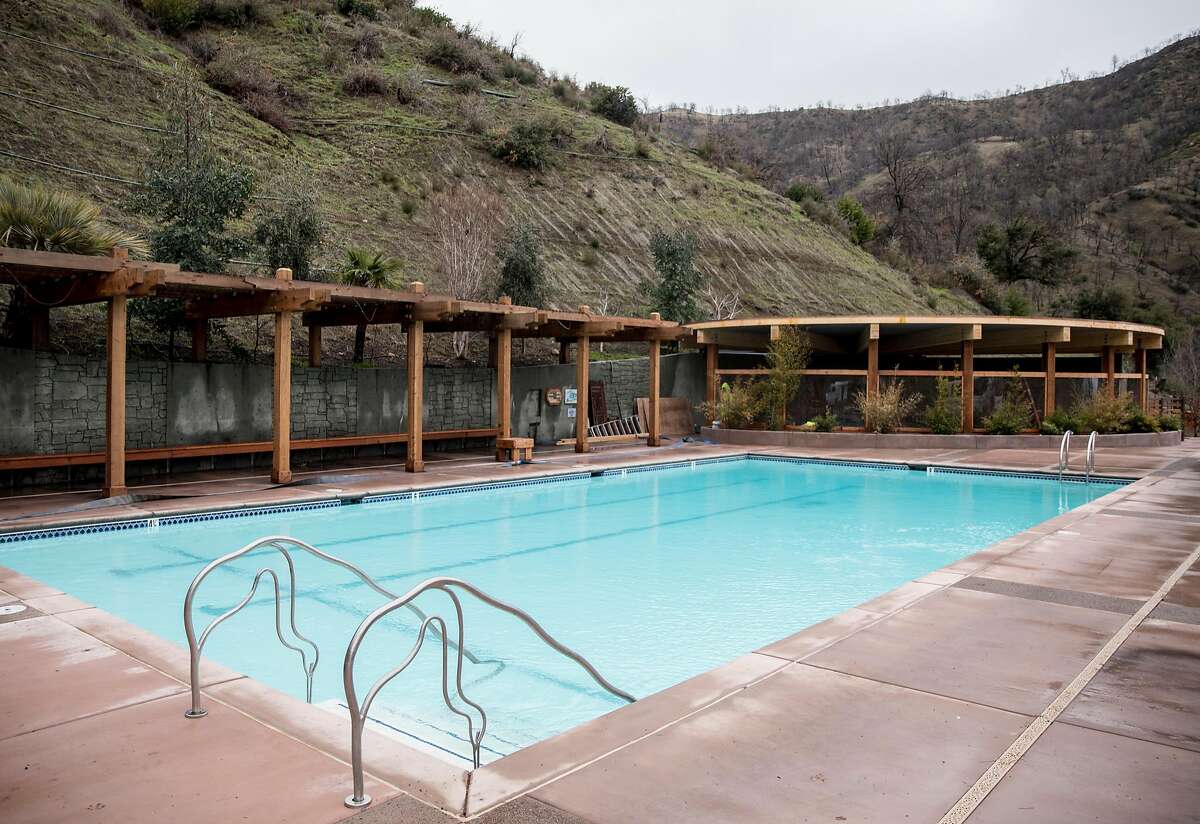 Harbin hot springs are a little bit north of Santa Rosa and San Francisco. It's in the small town of Middletown and features a fantastic non-profit spring retreat. The hot springs and resort are named after Matthew Harbin, who settled in the area and was a pioneer in getting the town off the ground.
Harbin hot springs is a beautiful wilderness retreat with meditation, hiking, workshops, yoga, spa services, and hot springs. There are three pools on the property that are filled with mineral-rich waters that flow underneath the ground. The traditional hot springs pool is extremely hot, a cold plunge option, and a warm one that most people prefer.
You can choose to stay here overnight or purchase a day pass to use the hot spring pools. You don't have to pick a certain time to soak when you book overnight stays. For those interested in day passes, you'll be restricted to certain times and certain days. As long as their specific options work for you, popping in is worth it.
Vichy Hot Springs has been a famous hot spring since opening in 1854. It's in a remote area of Mendocino County, California, about 150 miles northwest of Sacramento. It's a few miles down the road from the city center of the small town of Ukiah.
These hot springs are popular for tourists and have even hosted several famous people over the years. Some of the most notable people who have soaked in the warm waters here are Mark Twain and Teddy Roosevelt.
Most hot springs in North America are flat, but Vichy Springs' waters have earned the nickname champagne waters due to being carbonated. These are the only carbonated hot springs naturally warm on the continent.
The hot spring baths are 90 degrees Fahrenheit and are fed from a spring 30,000 feet below. You can choose an individual bath or a communal one. They have a few that are outside, but the majority of them are inside. All of them are wonderful, but the outdoor ones are a great way to connect with nature. A 30-minute soak is all you need to feel the positive effects.
About 90 minutes from Lake Tahoe is the Sierra Hot Springs Resort and Retreat Center. This is a spiritual, wellness, and healing space that sits on 700-acres. Before you go, you should know that you need to stay overnight here to use the hot springs. They don't allow people to drop in for a day.
You can stay in their hotel rooms or camp at their campsites. Either grant you hot spring privileges. Once you book your stay, you can use the hot springs whenever you want. They're open 24 hours a day, and you may find it hard not to spend all your time in them.
The hot pool has a sand bottom, and there are two cold pools if you need a break from the warm waters. They even have a meditation pool if you need some time to focus and recenter your energy.
While you're here, you can participate in plenty of other activities. You can sit in on seminars about mediation and wellness, go hiking, rent bikes, and go cross-country skiing during the winter.
You don't have to travel to the middle of nowhere in California to find an excellent hot spring. Glen Ivy is less than 60 miles east of Los Angeles in Corona. The proximity to Los Angeles makes a great day trip from the city if that's where you're visiting.
Even though Glen Ivy was around in the 1800s, it wasn't until 1970 that it expanded into the resort you see today. Back in the day, you could pay only a quarter to soak in the hot springs! Now it's more expensive but well worth it for the rejuvenating experience.
The property features 19 pools for you to soak in. These aren't private pools like many of the others in California, but beautiful gardens will surround you, and there's enough space so you don't feel too close to other soakers.
You're more than welcome to only soak in the hot springs, but you can customize your experience if you like. You can add clay masks and other spa services to your reservation if you're ready to treat yourself. Keep in mind that you have to make an appointment if you want to visit.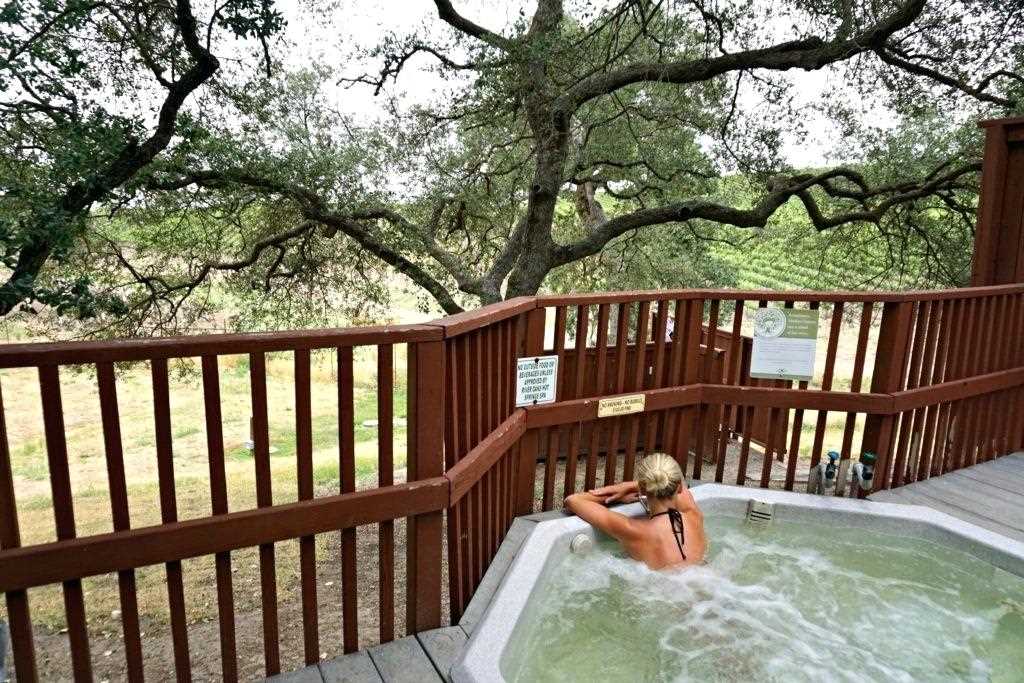 In the small town of Paso Robles is River Oaks Hot Springs Spa. This resort and hot spring are nestled amongst the vineyards in the area. It has been a retreat for rejuvenation for years. When you're in wine country, this is one of the best hot springs in the area.
The mineral-rich waters here are perfect for relaxing and improving your skin. You can book a session to soak in the private tubs or add on additional spa services. Most people love adding more services, including a soak and sip package where you can enjoy local wine.
The hot springs at River Oaks are in sauna-style tubs, allowing room for more than one person if you're traveling in a group or with a partner. All their hot spring tubs overlook the vineyards and other beautiful surroundings.
They offer facials, massages, and other spa services. If you book any spa service, you'll get a complimentary, 30-minute mineral soak before your services. It's worth looking into, and you can treat yourself to more than one relaxing activity.
It's no secret that California is loaded with national parks and forests. Grover Hot Springs State Park is within the network of natural areas that range from Tahoe National Forest to Yosemite National Park. It's just outside South Lake Tahoe and has been a popular spot for those visiting the area since opening in 1959.
People have been visiting Grover Hot Springs State Park for over a century to take a dip into the warm waters. You may notice that the hot springs might look green from certain angles, but don't worry. It's due to the mineral deposits, and it's not harmful to you.
Most people spend parts of their day hiking the trails in the park before dipping into the springs to soothe their muscles. You can also go fishing, bird watching, and participate in other outdoor activities in the park. There's even a swimming pool that you can use if you want to cool off after the hot springs.
There are several campgrounds in the park for you to use if you need a place to stay for the night.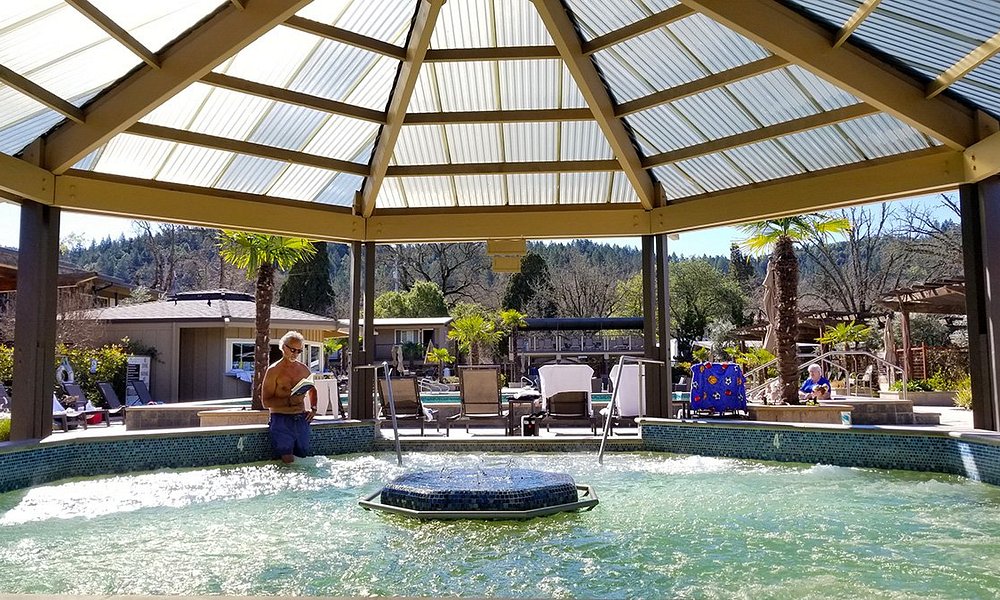 Calistoga is in northern California in the famous Napa Valley. The area has been a popular hot spring resort since the first hotel opened in the 1860s. Initially, it was a hot spot for the wealthy residents of San Francisco, but it attracts people from all over now. The city has a lot of small-town charm, and you can't find chain restaurants or fast food ones here.
If the name sounds familiar, it's because they've been bottling and selling their sparkling water for a century. There are several mineral baths around the city. They even have mud baths, too! One of the best parts is that many of the hot springs and mud baths don't require you to stay overnight at a specific accommodation.
If you're thinking about using one of the hot springs for day use, make sure you make an appointment at your place of choice.
Accommodation options range from low-key and affordable to luxurious options. While you're in town, you can't miss seeing the geyser. Did you know that there are only three natural geysers that erupt on a regular schedule around the world? Their geyser is called Little Old Faithful. You can see it erupt every 40 minutes.
Tecopa Hot Springs are in the small town of Tecopa. It's almost directly west of Los Angeles, but it's closer to Las Vegas, Nevada. This charming town is only an hour and a half from the busiest city in Nevada.
People head to Tecopa Hot Springs to soothe their aching muscles and joints and to simply relax. This isn't a luxury spa experience, but there's nothing wrong with that. Sometimes, all you want is a laid-back space to soak, and this is it.
You can stay overnight in their motel rooms, or if you have an RV, they offer RV parking nearby. Booking an overnight stay gives you complimentary access to their hot spring pools. You can soak as little or as often as you like when you book here.
The waters in their hot springs are very warm. They range between 101 to 104 degrees Fahrenheit, so you might not want to stay in them too long, but they're lovely while you soak. Something to keep in mind is that while they typically offer day passes for the hot spring, they're currently not. You can check the website for details on day passes before you visit.
You'll find Mercey Springs halfway between Los Angeles and San Francisco. This central location between two major California cities makes it a popular stopping point for people who need a break from driving.
The resort is an excellent option if you need a place to stay for the night, and you get to take advantage of the beautiful hot springs and other amenities. There are spa services, a restaurant, hot springs, and an RV park.
The area is also incredibly popular for bird watchers. It's a hot spot for several species, and the staff at the resort offer bird watching tours if you want to see some of the majestic birds in person. You do need to pay a fee if you want to go on one of their bird-watching tours.
As for their hot springs, you can use them if you're staying overnight or just passing through. If you're staying overnight, you can use the hot springs at any time. For those passing through or just looking for a day pass to the hot springs, you have to make a reservation and only go between 12 and 5 pm.
Avila Hot Springs are in central California along the coast. The springs were first discovered in 1907 and have become a popular spot for both tourists and locals alike. The springs were discovered by accident when people were drilling for oil.
This is more of a no-frills hot spring. You don't need to stay in a luxury hotel to soak in hot springs here. There are several hot springs in the area for you to soak in, and there's even a heated freshwater pool with slides and other water fun. You'll be surrounded by tall palm trees and the lovely ocean breeze.
People love going to Avila Hot Springs because of the laid-back vibe, and the best part is that they are family-friendly. Kids can experience the hot springs or play in the pool while you relax and soak up all the benefits hot springs provide.
These hot springs are pretty affordable. When you purchase a pass, it lasts for the whole day. You can buy multi-use passes, too, if you'll be in town for a little while.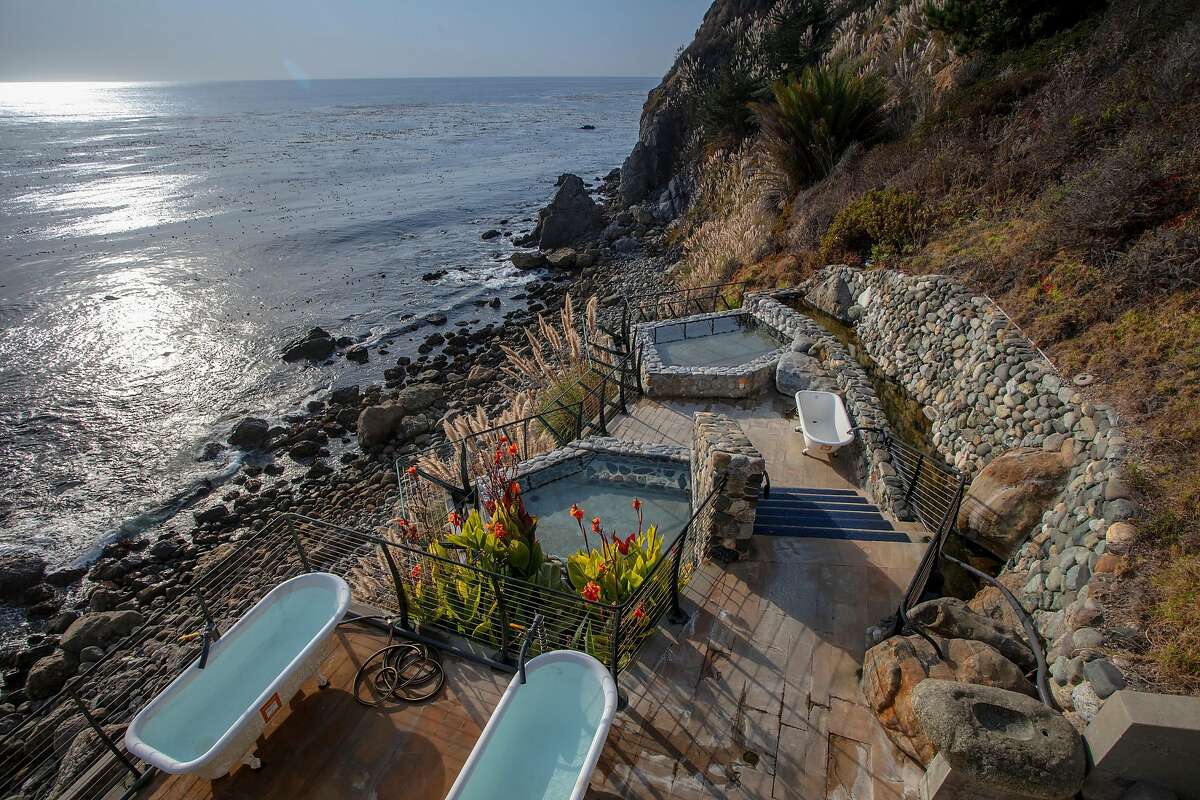 Big Sur is a beautiful coastal town in northern California. Most people head there for hiking and surfing, but Esalen Hot Springs is a main attraction in the area, too. Esalen is a campus that features workshops, spa services, meditation, and other wellness activities.
They take hot springs to a new level by offering spring-fed hot tubs on the cliffs. As you soak in the warm waters, you'll have some of the best views of one of Big Sur's rugged beach coves. People love these tubs because you can book a quiet one where you can speak with friends or a silent tub to be alone with your thoughts.
You don't need to stay on the campus to enjoy the hot springs. You will need to book a pass so you can use them, though. Their lodging options feature tiers that are worth looking into. Booking a stay there ensures you have access to the hot springs for the duration of your holiday instead of just when you purchase a day pass.
When you visit the hot springs, you can choose a solo tub or communal tubs if traveling with friends.
Final Thoughts
Whether you're looking to head to Los Angeles or somewhere more secluded, you'll find some unique hot springs in California. You can visit a resort, a spa, or experience an authentic hot spring in the middle of nature.
Whatever you prefer, you're in for a great experience when you visit the hot springs in California.
More about our TFVG Author
A seasoned traveller, Dad, and avid sports tourist, James foundered The Family Vacation Guide to share his expert vacation experiences- especially when it comes to being a travelling family man.
Featured in Travel articles such as Travel + Leisure, TripSavvy and SFGate, you know you're reading some of the best vacation tips online.