The Sonoma wine region in Northern California is a wine lover's playground with over 400 wineries ready for you to explore. Sonoma is a beautiful and historic area that attracts millions of visitors annually.
If you've been thinking about visiting Sonoma but aren't sure how your kids will enjoy it, you're not alone. While most people feel like they can't bring their kids along on a wine tasting or to a winery for dinner and drinks, Sonoma has a surprisingly large amount of kid-friendly wineries.
As you plan your dream trip with your kids, check out 10 of the best kid-friendly wineries in Sonoma.
Bartholomew Park Winery is a 22-acre winery in Sonoma that's perfect for both adults and children. The winery was originally built in 1922, but the owners recently renovated the space while keeping many aspects of the original structure. While the building has been around since 1922, the owner didn't start the winery until the 1940s.
While 22 acres may seem like a lot, they also opened a 375-acre park that's open to the public at no charge. You can enjoy tasting some of their fabulous wine while your kids play in the garden and enjoy the beautiful weather. When you choose to go for a wine tasting here, you'll get a flight of four wines of your choosing.
Before or after your wine tasting, you can go on a family hike in the area. The park encompasses several easy hiking trails that offer beautiful views of the winery. Bartholomew Park Winery even offers horseback riding sessions through the vineyards. When you book a horseback riding package, you'll get a bottle of wine to enjoy.
Another activity you and your kids can enjoy while visiting this winery is learning about the property's history. There's a museum where you can learn all about the historic site that the winery sits on, and even kids love it.
Francis Ford Coppola is the brilliant mind behind this winery. The winery is a stunning venue that features vineyards, gardens, an elegant building, and even a pool that you can use during the summer. Two tasting rooms offer daily tastings, and reservations are recommended.
The property is significant, and there's a rustic restaurant where you and your kids can enjoy a great meal of Italian dishes while you sip on their excellent wine. Some of their award-winning wines you have to try when you visit include their Archimedes, Eleanor red wine, and Mille Petite Sirah.
They have a lot more wines to choose from if you're looking for more options. The staff at the wine tasting rooms will help you choose which wines to taste, and they'll educate you about the process and what the wine pairs best with.
If you're traveling during the summer, you have to take your kids to their pool. They can swim and play while you relax in their lounge chairs, enjoying a glass of wine. Their Pool House wine collection is ideal for this since it's refreshing, but they also come in cans!
Last but not least, the museum on the property is a hit with kids. There are old-school cars, boats, and plenty to learn about the area.
Buena Vista Winery is another historic property and winery in Sonoma that you and your kids will love spending time at. The buildings are from 1857 and have been maintained to keep them in pristine condition for people to enjoy for generations. You'll feel like you've been transported back in time.
There are historic buildings, tasting rooms, and gardens for you to wander through when the weather is nice. They have a little bit of everything at this winery. You can sample their cabernets, sparkling rose, chardonnay, and so much more. Booking a tasting is the best way to do this.
You can take a tour of the property with your kids while you enjoy a glass of wine. You'll learn all about the winery, see the underground wine cave, and learn about the oldest commercial winery in California from a historian. The tour is about 45 minutes, but you're constantly moving so your kids won't get bored.
After you've enjoyed your wine tasting, you and your kids can get lost in the hedge maze. Don't worry. You won't actually get lost. It's a fun experience that your kids may not get to have anywhere else.
While most other wineries in the Sonoma region have buildings that are and look like they're from an ancient time, Scribe Winery's building is a hacienda-style building. You'll walk up a staircase to get to the front door while surrounded by large palm trees.
Scribe Winery offers wine flights which is a great way to try a few of their best wines. Or whatever wines you choose. Their 2021 Rose of Pinot Noir is a popular choice for the summer as it's refreshing and slightly fruity, but if rose wine isn't your preference, they have a little bit of something for everyone.
Unlike other wineries in the area, this one is relatively simple. There's not a pool or large garden for the kids to play in, but it's still a family-friendly spot for great food. They offer cuisine that changes with the season to ensure they're serving the freshest food and things that will pair well with their wines.
Your kids will love sitting at the outdoor picnic tables. You can order a picnic basket full of goodies, and there's a small area where they can play while you enjoy your time at the winery.
The Larson Family Winery is situated along Sonoma Creek in Sonoma County. As one of the most kid-friendly wineries in the region, the first thing you'll see when you arrive is a sign stating that all dogs have to be on a leash while leashes for kids are optional. They love having families with people of all ages visit the winery since they're a family-run business.
The winery's land used to be a dairy farm, then housed California's largest rodeo for almost thirty years, and then the first vineyard appeared in 1978. While the vineyard started in 1978, it wasn't for another decade that the winery people know and love today opened its doors.
For the adults, you can't visit without trying some of their award-winning wines. You can order it by the glass, the bottle, or choose to do a tasting so you can sample a few. You have to try their 2018 tempranillo or their 2019 sauvignon blanc. While you're doing this, your kids can play in the grass or enjoy snacks.
Other family-friendly things to do at Larson Family Winery that your kids will love include playing with the family dogs that roam the land, seeing the farm animals, and touring the vineyard with the rest of their family.
One of the best places to go with your kids in Sonoma is Cornerstone. This is technically a marketplace in the heart of Sonoma, but it features several wine tasting rooms, so you can try wine from the region's best wineries. It's an excellent option for sampling wine from a winery that isn't kid-friendly.
The tasting rooms feature wine from wineries like Meadowcroft Wines and Obsidian Wine Co. You can sample wines from these places before taking your kids to one of the several restaurants that have kid-friendly options.
Cornerstone Sonoma also has shops to browse, beautiful outdoor gardens to wander through, and they even offer tours where you can learn about everything they grow on the land.
The outdoor space is the main attraction because you can relax on the picnic tables and spend time as a family. There's a great outdoor bar near the gardens, too, so you don't need to go back inside if you want a glass of wine.
While you and your kids can walk through all the gardens on the property, they have one that's specific to children. The best part about Cornerstone and its large property is that even if your kids are a little restless and want to walk around, you can bring your wine with you.
This stunning winery sits on top of a hill where you and your kids can see down into the wetlands below. You may even see geese and other wildlife as you visit. One of the reasons people love visiting this winery is because it's only 35 minutes away from San Francisco.
Viansa Sonoma was founded in 1990 by the Sebastian family's strong roots in both the Sonoma Valley and Tuscany, Italy. Decades later, the winery is still being run by members of the Sebastian family who are passionate about sharing their wine with locals and visitors.
You and your kids can take a tour of the vineyard and see the plants that make the excellent wine that you can sample once the tour is over. You can go to their tasting room or grab a table with your kids. There are plenty of tables outside and a place nearby where you can grab picnic items to enjoy together.
People love that it's also a dog-friendly winery. The viewing deck is something you can't miss when you go to Viansa Sonoma. The wetlands you can see below cover 97 acres, and it's also an excellent spot for pictures with your kids to remember your trip for years to come. 
Cline Cellars is another fantastic kid-friendly winery in Sonoma County, California. The patriarch of the cline family started Cline Cellars in 1982 by planting the grapes for the vineyard. By 1989, he purchased a 350-acre property where he and his wife grew their winery.
This winery specializes in making Zinfandels and French Rhone-style wines. They have other kinds too, but since you're here, you might as well try some of the wines that they're known for. Other options include their pinot noir, chardonnay, and merlot.
It's one of the few wineries in Sonoma that offers a free tasting of five non-reserve wines. Now, if you want to try some of their aged and reserved wines, you'll need to pay for a tasting. It's worth it, though.
Cline Cellars prides itself on sustainability. They use solar panels for energy, and to learn more about their sustainability efforts, you can tour the property. Your kids will love taking a tour to see the plants and the beautiful landscape.
There are spring-fed ponds where you can feed the ducks, walking paths through the vineyards, and plenty of tables to sit down, relax, and enjoy a glass of wine. You can pack food for you and your kids or order food at the winery to bring on a picnic with you.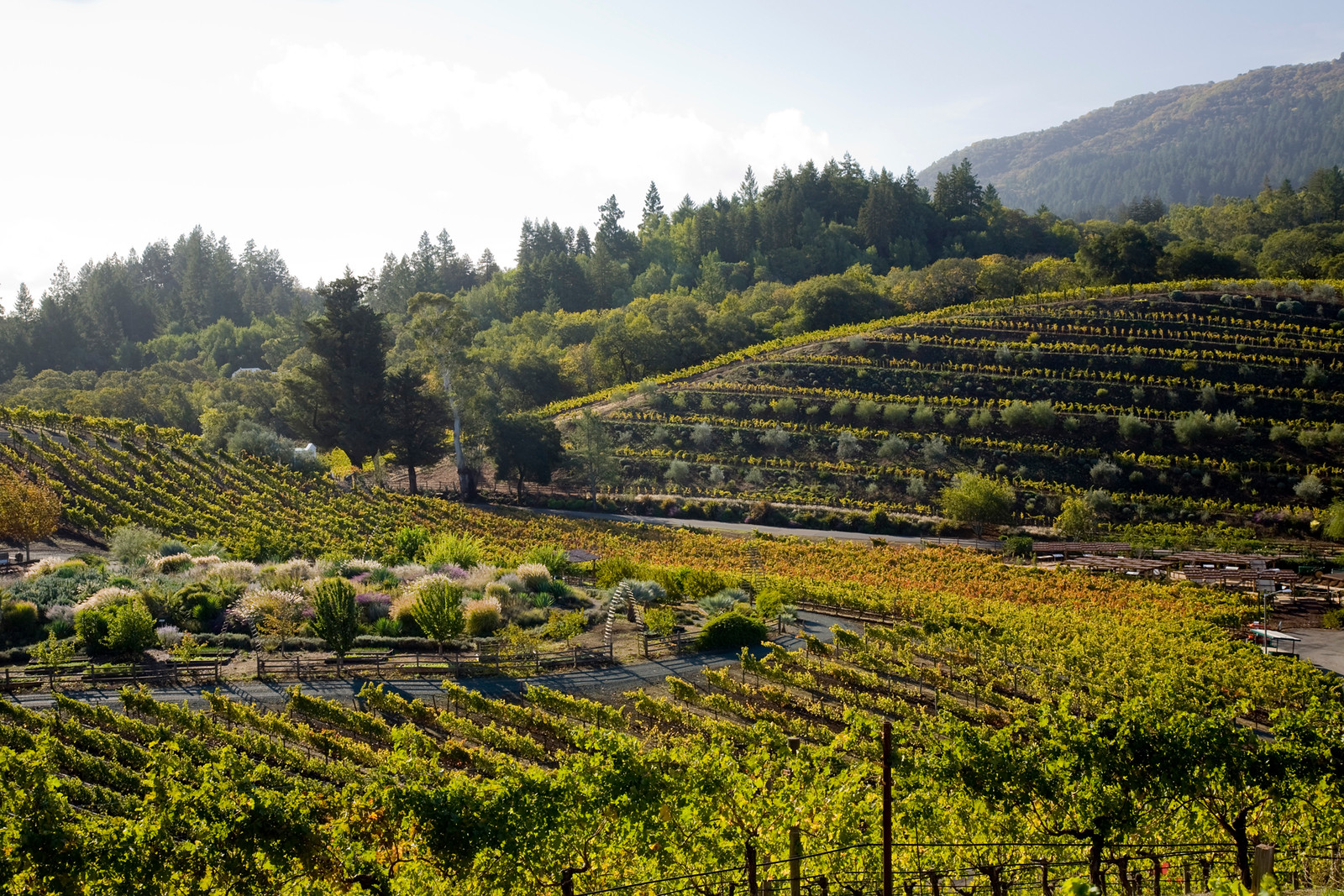 It's safe to say that most wineries with the word "family" in the name are family-friendly, and Benziger Family Winery is one of the best in Sonoma to bring kids to. The Benziger Family Winery land was purchased in 1980 and began their vineyard. The rest is history.
Something fun for the whole family at this winery is to take a tour. The winery takes pride in using only the most eco-friendly farming methods, and you and your kids can learn all about the process during the tour. Plus, you'll get to see the beautiful property as you walk through the fields.
Their tractor tram tour is even more fun because a tractor takes you around. It's great if you don't want to walk around and the kids think it's amazing. Be sure to check out their wine caves while you're here.
The tasting room is usually crowded, but you don't necessarily need a reservation for this. You can make one, but you don't have to have one. You can taste some fine wine like their Stone Dragon Syrah and their Sonoma Coast Pinot Noir.
Their outdoor space is popular to let the kids run around and sip great wine. There are several bocce ball courts too.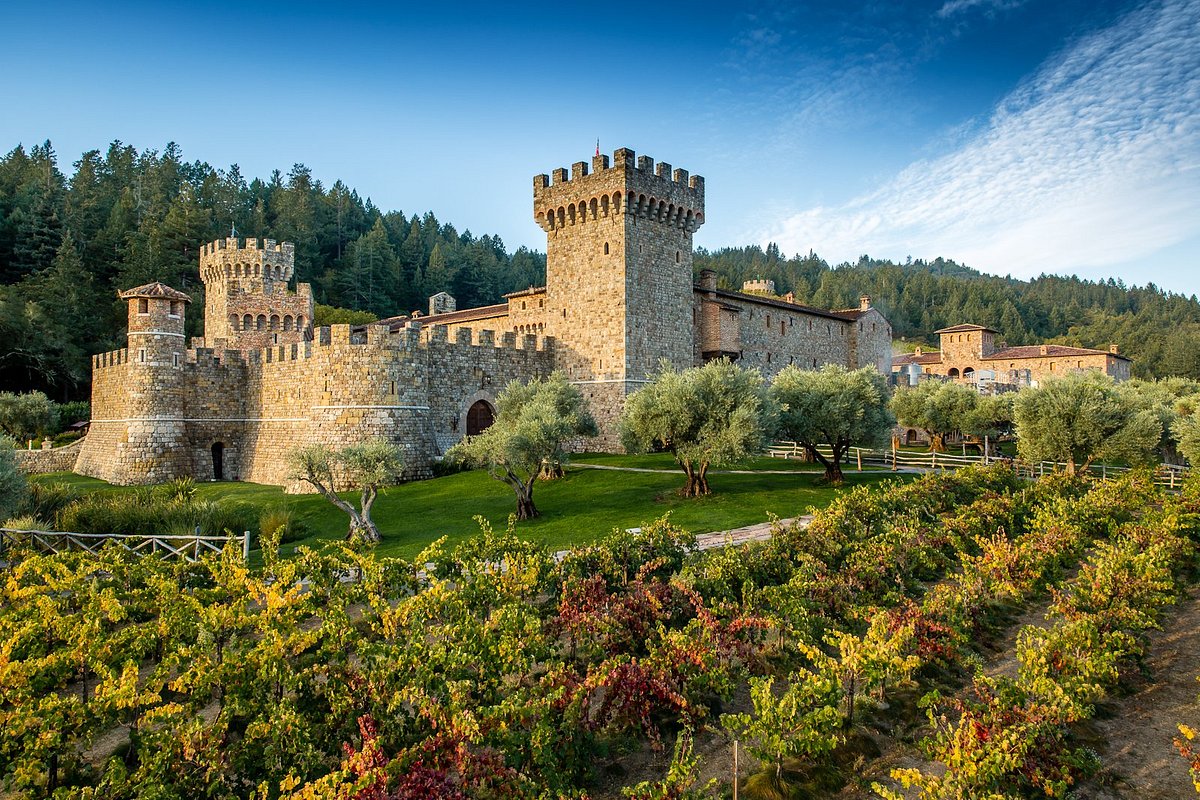 Last but not least, you can't miss taking your kids to Castello di Amorosa with you. This 13th-century-style winery looks like a castle from a fairytale, which is jaw-dropping even for the adults. Fields and fields of grapes surround this castle-like winery that they use to make their award-winning wine.
They have plenty of wine for you to taste. They have reds, whites, roses, and sweet wines paired with desserts. A tasting is the best way to sample a little bit of each kind. Before you head to this winery, you must make a reservation. It's not difficult to get one, but you can't visit at this time without one.
While you're most likely there for the wine, there are things your kids will love about this place too. First of all, they have grape juice that the kids can enjoy, which is delicious and makes them feel like they're doing their tasting.
There are also animals around the castle that adults and kids will love. They have dogs, cats, goats, peacocks, geese, emu, and sheep. They're all in pens, so viewing them and admiring them is safe. You can take your glass of wine with you as you explore the winery with your kids.
Final Thoughts
Just because you're traveling with your kids doesn't mean you have to miss out on trying some of the best wineries in Sonoma. These 11 wineries are more than happy to have you bring your kids along while you sip back and relax with a glass of wine.
You and your children can enjoy yummy snacks, play cornhole, or other games while exploring some of the best kid-friendly wineries in Sonoma.
More about our TFVG Author
A seasoned traveller, Dad, and avid sports tourist, James foundered The Family Vacation Guide to share his expert vacation experiences- especially when it comes to being a travelling family man.
Featured in Travel articles such as Travel + Leisure, TripSavvy and SFGate, you know you're reading some of the best vacation tips online.