California is one of the most fascinating places for ziplining you can ever visit. The state has many different zipline courses suitable for all levels of experience, from beginner to expert.
Zipliners can find themselves soaring through the Redwood Forests or even hiking to the tops of mountains to take in the views.
There are numerous places for ziplining & aerial adventures in California, but these 11 are some of our favorites.
Are you unsure of where in California you want to visit? Our guide to the best destinations for California family vacations should be the perfect read ahead of your trip.
Orange County Ropes Course
Not only does OC Zipline offer the best views of Anaheim and Disneyland, but it is also one of the few ziplining courses that allow you to do a tandem line with your partner.
This course has two different lines and two sky bridges, and obstacles soaring up to 60 feet into the air. This makes it perfect for people who want an aerial adventure but aren't sure they can try it alone.
If you want to apply what you've learned on the ropes course into real-world abilities, you can take a big-wall climbing class or join the team on an off-site canyon trek.
Ziplining in Orange County Ropes Course is a fantastic experience that everyone needs to have at least once.
Tahoe Treetop Adventure Parks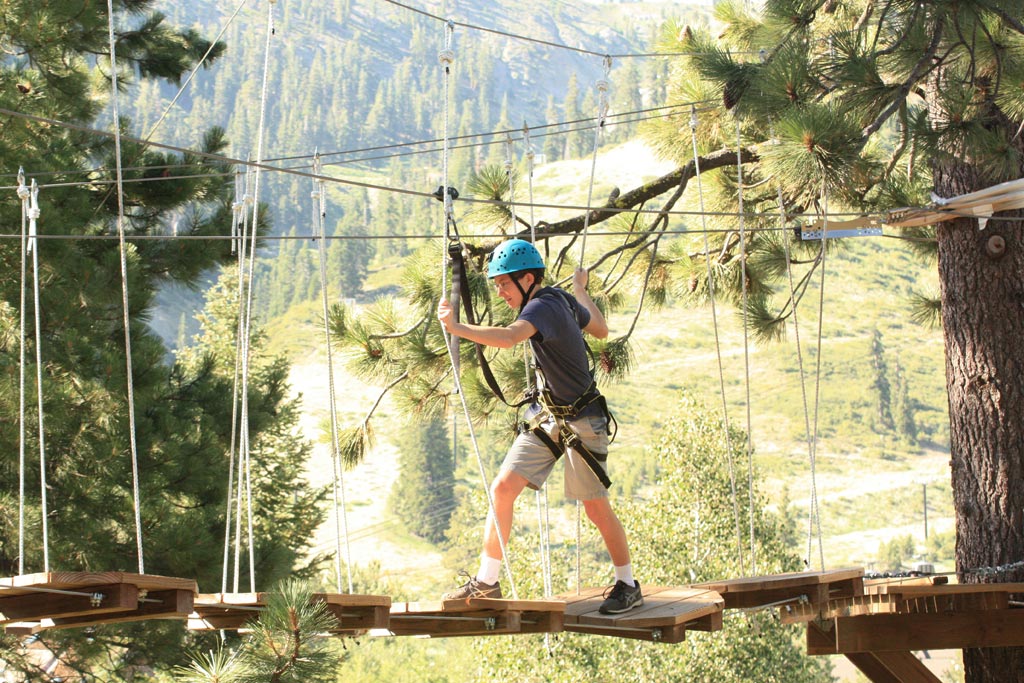 There's no better place to experience elevated aerial trekking courses that weave between towering Pine and Incense Red Cedar trees than at Tahoe Treetop Adventure Parks.
This park features ten courses; two for beginners, six for intermediaries, and two for advanced zipliners. Its 27 ziplines range from 30 inches to 200 inches high, making it perfect for the athlete and those looking to take it easy.
It is also an ideal park for those who cherish the aerial view of Lake Tahoe and surrounding mountains and valleys.
At Zipline Tahoe, you will be taught how to ride a zipline by the highly-trained staff properly.
You'll learn about harnessing up and clipping in before learning the proper way to land on a platform safely and correctly one foot at a time.
Sonoma Canopy Tours
On this tour, you will soar through treetops high above some of Northern California's most picturesque vineyards and forests, as well as Lake Sonoma.
The Zipline course is over a mile long with seven separate ziplines 250 feet above the forest floor, with the longest zipline being 1,500 feet long!
There are two sky bridges (110 feet high), a rappel, and a guide operating the brakes to make the whole adventure fun-filled and safe.
You can't have enough of the Forest Flight Tour that offers you a birds-eye view of some of Northern California's most stunning landscapes and the Redwoods 200 ft above the ground.
Located just a short drive from the quaint town of Healdsburg, Sonoma Canopy Tours is one of those places you must visit to experience Mother Nature at its finest.
Ziplines at Pacific Crest
Located just 75 miles from Los Angeles, Zipline at Pacific Crest boasts of being home to two of the unique zipline courses in the nation. It sits in the San Gabriel Mountains near Mountain High Resort and is located just north of Rancho Cucamonga.
Here, you will find fascinating courses, including the Zipline Canopy Tour, which lasts for 3.5 hours and has nine ziplines that are up to 1,500 feet long and 300 ft. above the forest ground.
You can also opt for the Zipline Mountain View Tour, which lasts for 2.5 hours and has six ziplines that are up to 1,100 ft. long and 150 ft. above the ground.
Alternatively, you can go for a whole day zipline adventure, including tours and lunch for all participants.
Ziplines at Pacific Crest is undoubtedly one of the most exciting zipline tours in California, one you can't fail to visit.
Mount Hermon Adventures
Mount Hermon Adventures hosts the Aerial Adventure Park, where you can try your hand at nine different challenges.
The first challenge is the Sequoia Aerial Adventure, on which participants enjoy a 2-hours long self-directed challenge activity along an 80-feet high zipline. There are two ziplines with 40 elements to enjoy in this course.
The second challenge is the Redwood Canopy Tour, which has six ziplines 150ft high from the ground. You'll need 2 hours to complete this fun-filled and irresistible challenge.
While they don't currently offer team-building challenges, team building is one of the greatest events you could visit Mount Hermon Adventures for.
Margarita Adventures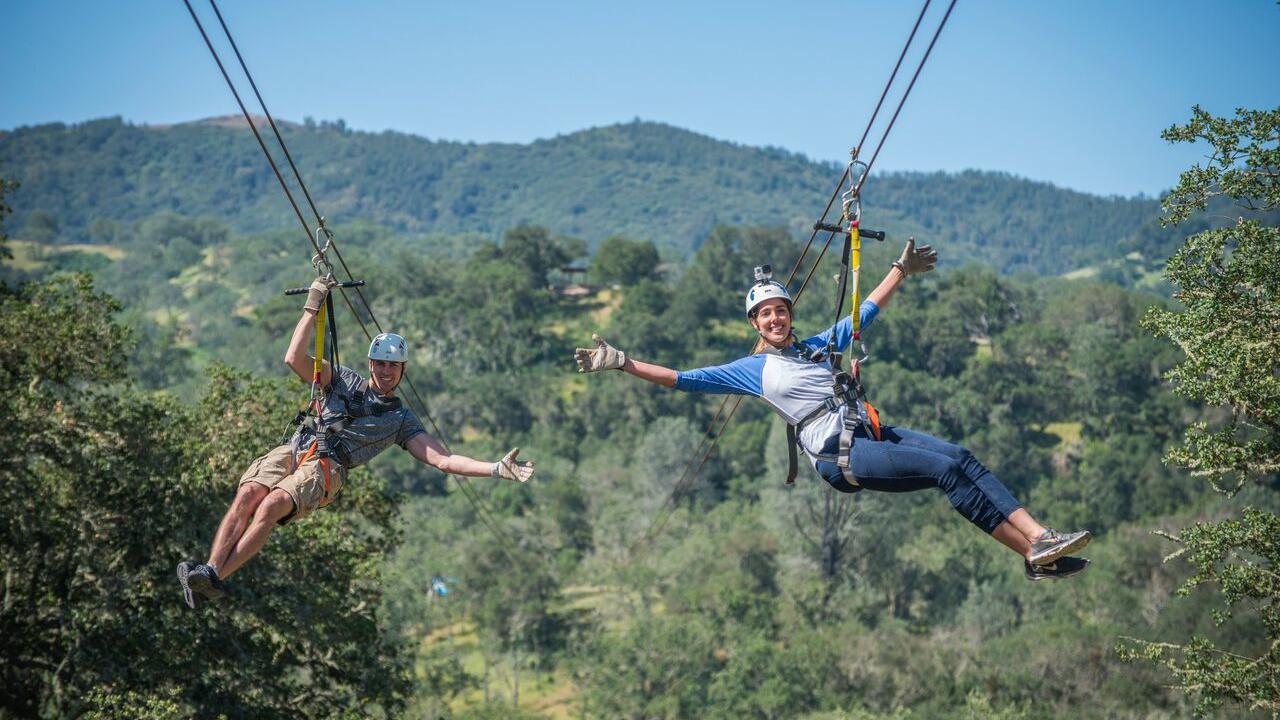 The Margarita Adventures ziplines offer participants one of the most unforgettable experiences of flying over the beautiful terrain of Santa Margarita.
Whether you're bringing your family, friends, or you and your partner, you will all enjoy yourselves as the guides take care of safety and fun.
They have an amazing Zipline Tour consisting of six ziplines, which can be a perfect fit when you bring your family or friends.
There's also a 300-foot suspension bridge with a panoramic view of the Santa Lucia Mountains, where you can take in all the beautiful sights.
You can never turn down a chance to visit this iconic ziplining and aerial adventure destination in California!
La Jolla Zip Zoom Zipline
There's no better place to experience the longest zipline in southern California than La Jolla Zip Zoom Zipline. The zipline lasts between 1.5 and two hours, and a tour guide takes you through all the processes to ensure you're always safe during the long glide.
The 6,273-foot layout has panoramic views of Palomar Mountain and Pauma Valley from the San Luis Rey River.
La Jolla offers three main courses ranging from 300 to 2,700 feet long and maximum speeds of 55 mph. The tour guides provide complete orientation to ready you for this long and adventurous glide above canopies and some meters beside the Palomar Mountain and Pauma Valley.
You'll have the best of times at La Jolla Zip Zoom Ziplines. Take time and visit this adventurous destination anytime you're in southern California.
Skull Canyon Ziplines
Located 60-minutes away from LA, this zipping and aerial adventure destination in California is a must-go.
Rentals are available for those who don't have their gear, while the guides will take care of safety and fun by giving you an exciting ride above the forest canopy.
You can choose from four different courses, including the Speed Run Zipline Course, a side-by-side zipline that extends for more than 1,700 feet across the forests.
For a higher and faster zipline course, you can choose the Extreme Zipline Course that consists of five ziplines, each with a length of 6,100 feet. The course takes 25 minutes and includes the Speed Run Zipline Course.
If you're looking for something even more extreme, then the Monster Course could be a great fit. The course is higher, faster, and longer than the Original Zipline Course. It has seven ziplines that are 300-feet high from the ground and 9,100 feet long. The hike takes a total of 55 minutes to complete.
Other courses you can try out are the Sky Gym Level 1 & 2 and the Original Zipline Course, which most hikers prefer.
Yosemite Ziplines and Adventure Ranch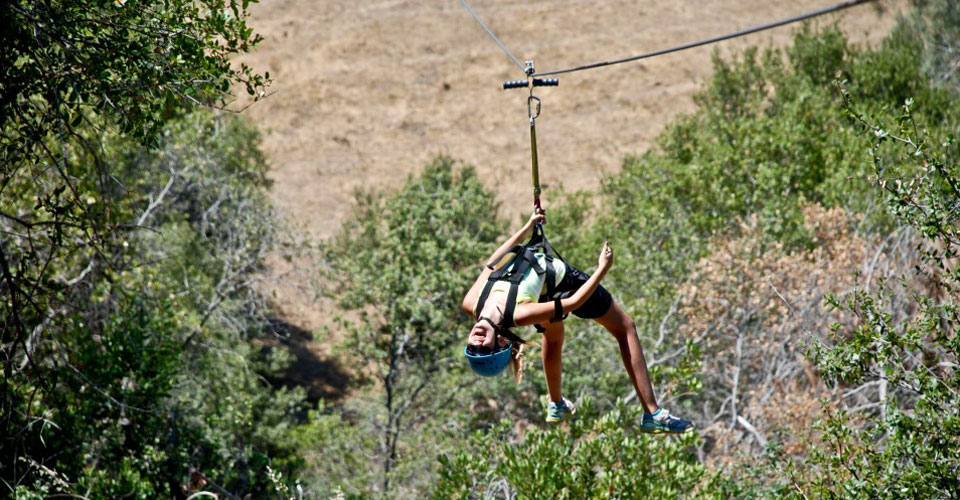 This is another admirable zipline and adventure ranch that offers some of the longest glides over beautiful nature and scenery. The over 2-hour zipline ride it provides is available in seven lines monitored by specially trained tour guides.
The participants begin their adventure on Line 1 with a short and easy ride that even children could easily participate in. As you advance to Line 2, the distance and height from the ground increase and the trend continue until you get to Line 7. This 7th line takes you through a tunnel in the woods and back to ground zero, where you began.
By the time you're done gliding over the seven ziplines, you'll have covered a total of 3,800 feet of ziplining length.
Despite remaining closed for the 2021 summer season, you can always visit the Yosemite Ziplines and Adventure Ranch anytime it's open.
Tahoe Vista Treetop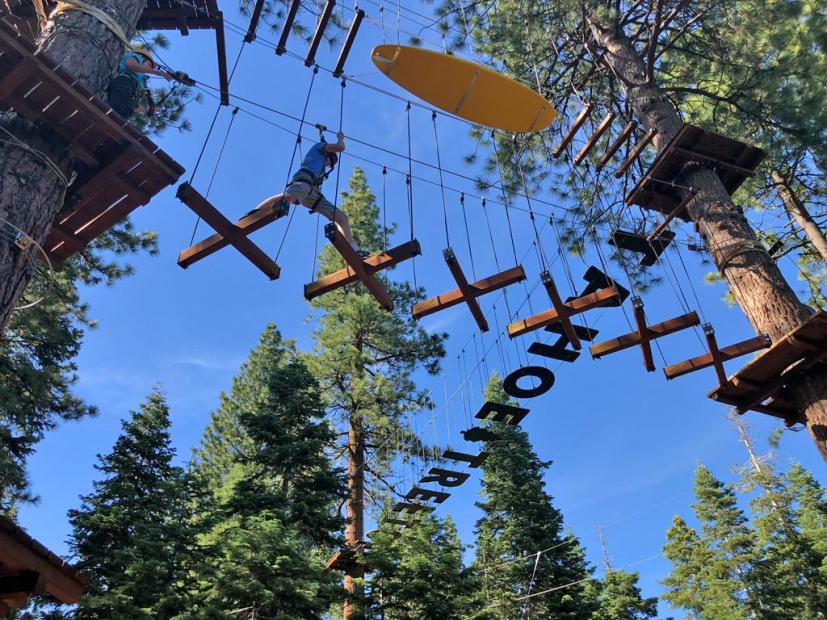 Tahoe Vista Treetop stands out as one of the best places in California for ziplining and aerial adventures, offering a variety of tours for people with different skill levels.
From beginners learning to walk on cables to veterans looking for some adrenaline-filled fun, Treetop is one place that has it all.
The course begins with its two beginner lines which users with minimal ziplining experience can easily traverse.
Located within a lush pine forest, you can expect to have unparalleled views of Lake Tahoe as well as the surrounding mountains while ziplining through Treetop's courses.
Trees will surround users with their beauty and might as they enjoy some fun time in one of California's best places for ziplining and aerial adventure. This is indeed an experience you won't just want to read on websites!
Vista Lago Adventure Park
Located 20 minutes drive from Pismo Beach, Vista Lago Adventure Park offers a variety of courses that will give you and your family some adrenaline-filled fun.
Whether you're an amateur learning how to zipline or a pro who needs something more challenging, you'll find your perfect match in the park's thrilling courses.
The CPR-certified facilitators are highly trained to help you have a safe and fun time. The park uses some of the most technologically advanced ropes and zipline course equipment for ultimate safety.
You can even take pictures while enjoying your flying adventure at Vista Lago Adventure Park.
Wrap Up
California is undisputedly one of the best cities in the world for family recreation and unwinding. Every holiday, you can always visit any of these ziplining courses and have the best of times with your loved ones. And you don't have to wait only for the holidays, you can come with your corporate team for team-building sessions and unwind from the hectic work routines.

Do you want to make out the most of this winter season? Check out these skiing resorts you can explore with friends and family.
More about our TFVG Author
A seasoned traveller, Dad, and avid sports tourist, James foundered The Family Vacation Guide to share his expert vacation experiences- especially when it comes to being a travelling family man.
Featured in Travel articles such as Travel + Leisure, TripSavvy and SFGate, you know you're reading some of the best vacation tips online.