When planning to visit San Francisco, California, the first question in your mind is, "What is the best place to stay?" The answer: everywhere. San Francisco is a highly multicultural city, and each of its various neighborhoods has a distinctive character that would suit diverse interests and purposes.
You want to look for a nice, family-friendly neighborhood during your San Francisco visit. Fortunately, the eye-catching city offers safe areas, a friendly vibe, and activities for people of all ages, making it a perfect fit for families with kids.
In this article, we have broken down the best places to stay in San Francisco for families to help you with your vacation plans. Read on to learn all the inside information about San Francisco's family-friendly neighborhoods, ensuring a smooth experience for you and your family!
Is San Francisco Ideal for Families With Kids?
A San Francisco vacation is well-recommended for families with kids, featuring many child-friendly amenities and activities. Also, San Francisco boasts an inviting atmosphere – the city will begin to feel much smaller as soon as you visit.
Most neighborhoods in San Francisco are like big families; you'll be surprised how soon you see familiar faces. Your kids will easily blend in with other kids, and once they hit social amenities, they can explore more mingling opportunities.
Moreover, San Francisco is the epitome of convenience. Being a big city, you won't have to go far to get essential supplies for your family. The city has widespread family-friendly amenities, so you'll skip the hassles of commuting for long hours to get fun-packed children's activities.
Finally, San Francisco's outdoor living is unmatched. The city is the first in the US to have a park within a 10-minutes walk from every home. The proximity to nature is essential to San Francisco being one of the fittest cities in the country. So, you don't have to worry about your kids constantly breathing in the smoky, dusty air of congested city streets.
Where To Stay in San Francisco: Best Neighborhoods for Families With Kids
We've created a neighborhood guide to make your visit to San Francisco excellent – a reliable go-to resource when choosing what works best for your family.
Here are 12 San Francisco neighborhoods to consider when visiting the city with a family with kids.
1. Bernal Heights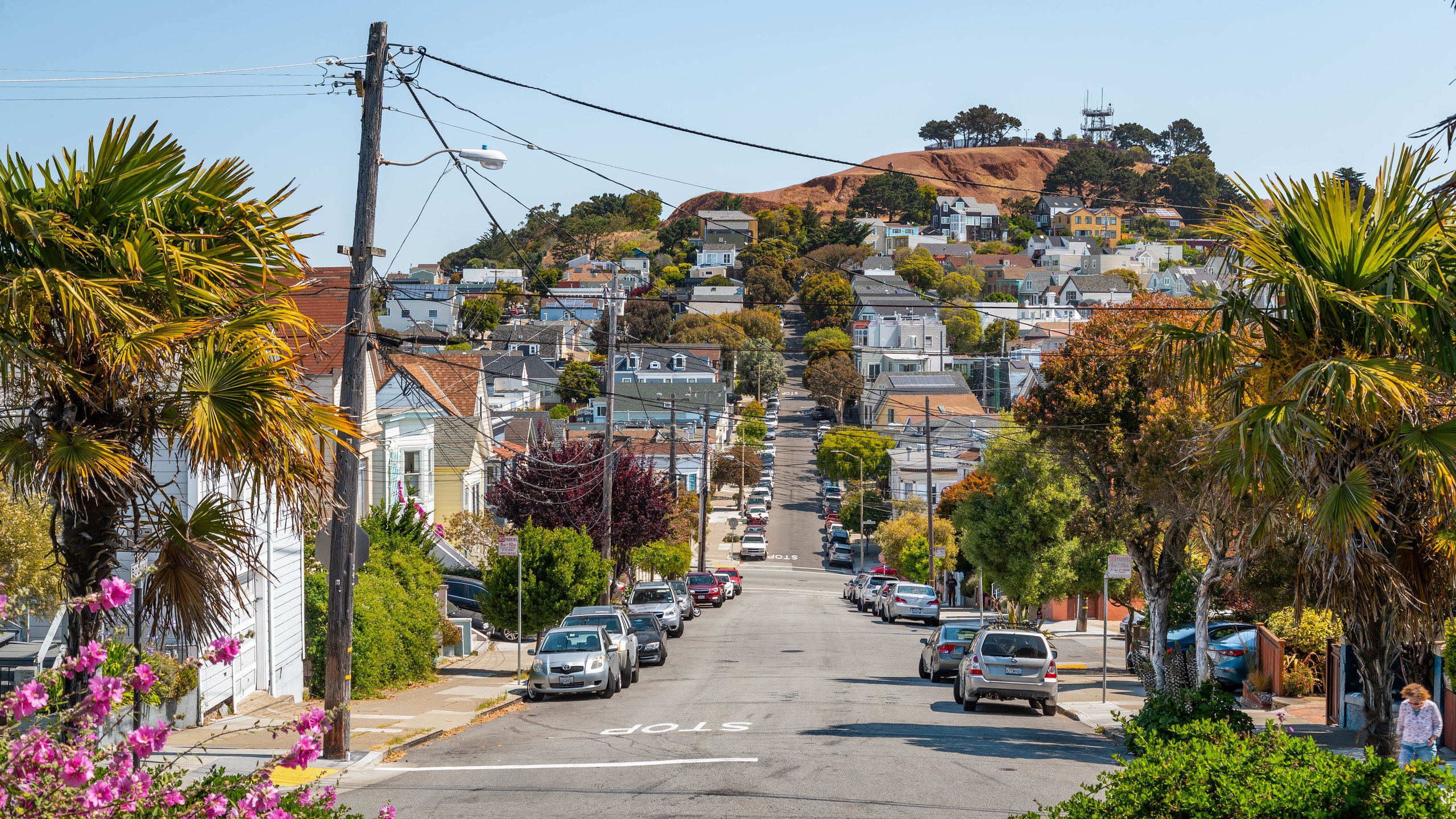 Bernal Heights is located on Mission Valley's Southern Edge, hosting many young families and dog enthusiasts. The accommodations in this neighborhood are reasonably priced and offer various spectacular hilltop views. Also, it boasts a lot of suns, bustling farmers' markets, a bohemian small-town feel, and tree-lined streets, to name a few.
Bernal Heights is renowned as one of the most family-oriented neighborhoods, which explains its "Maternal Heights" nickname. It is ideal for families with kids looking to visit San Francisco, offering a range of kid-friendly restaurants, multiple parks, and three main playgrounds.
The neighborhood is tranquil and walkable, with plenty of green space – providing an escape from the city's bustle, yet close enough for convenient access to San Francisco's amenities. Several events and numerous excellent hiking trails for thrilling outdoor activities with your small ones.
Below are more tidbits about Bernal Heights:
Nearby Parks
Bernal Heights Park
Esmeralda Corridor
Holly Park
Mullen Peralta Park
Precita Park
Family-Friendly Activities
Alemany Flea Market
Bernal Heights Recreation Center
Bernal Heights Outdoor Cinema,
Fiesta on the Hill
Tompkins Stairway Garden
2. Noe Valley
Noe Valley is a family-friendly neighborhood near the city center named after a Mexican mayor who owned it as a Rancho. It has steadily evolved from a working-class area to an upscale community preferred by professionals.
The prime central location of Now Valley makes it easy to move around the city, especially if you seek to tour exciting destinations away from central San Francisco.
Driving is not necessary when staying in Noe Valley since there are several Bart stations nearby. Also, everything is within bike or walking distance, so getting lots of exercise in the area is simple. This neighborhood is excellent for families with kids, as it is silent at night without a vibrant nightlife. The streets are child-friendly, and the area is secure.
Another perk of Noe Valley is its impressive low crime rate. Noe Valley's art-centric culture is a crucial lure for families visiting, as seen by its striking Edwardian, Victorian, and Contemporary condos and townhouses.
Here are some insightful things to know before moving to Noe Valley:
Nearby Parks
Noe Children's Playground
Corona Heights Park
Douglass Park
Noe Valley Town Square
Joby's Dog Run Area
Walter Haas Playground
Family-Friendly Activities
Clipper Community Garden
The Rabbit Hole Theater
Magic Garden
Spy Camp
Jamie's Martial Arts
3. Presidio Heights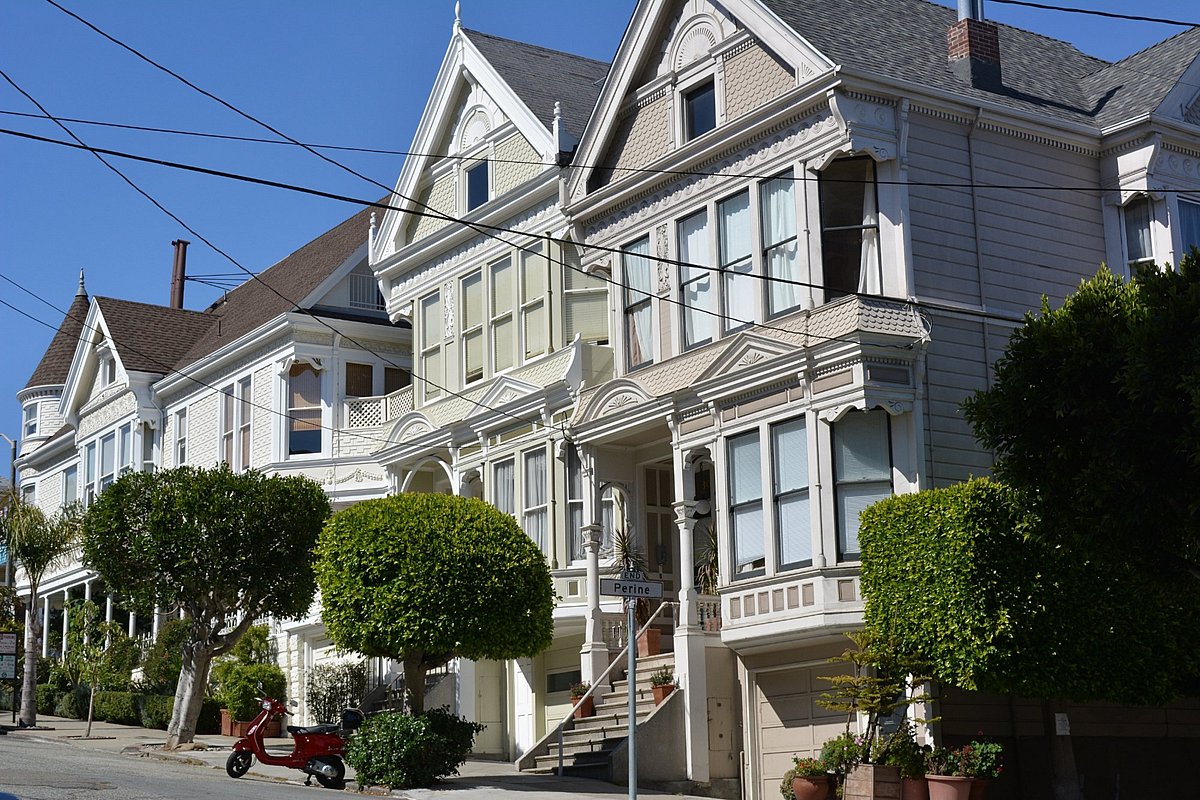 Presidio Heights is a perfect match if you want an affluent neighborhood in San Francisco. A few strides off the city center, Presidio Heights is a tranquil high-end neighborhood where Silicon Valley millionaires stay next to ordinary folks. Regardless of where you stay in this neighborhood, you can easily access several stores and restaurants.
Although prices in Presidio Heights are relatively costly, the neighborhood's beauty is second to none, from hiking trails to parks and outdoor activities. If you've been working all year and need somewhere nice and calming, you can't find much finer than Presidio Heights.
Below are more details about Presidio Heights:
Nearby Parks
Lafayette Park
Glen Canyon Park
Glen Park Greenway
Dorothy W Erskine Park
29th & Diamond Open Space
Walter Haas Playground
George Christopher Playground
Family-Friendly Activities
Presidio Golf Course
Glen Park Playground
Lombard Street
Glen Park Festival
Billy Goat Hill
Fairmont Plaza
Lucky Strike San Francisco
Alta Plaza Park
4. Richmond District
The Richmond district encompasses a broad region in San Francisco's northwest area, and residents distinguish it between Central, Outer, and Inner Richmond. Most visitors regard Outer Richmond as one of the best areas to stay in the district because of its lively merchant corridor and varied ethnicity.
This area features beautiful views of the Golden Gate Bridge and is only a few strides away from the park. Also, Richmond District is a fine mix of San Francisco natives and tourists, hosting many thrilling activities in a local clubhouse and a wide range of kid-friendly programs.
The critical incentive for vacationists in this neighborhood is free street parking.
Here are some more particulars you should know before moving to Richmond District:
Nearby Parks
Mountain Lake Park Playground
Rossi Playground
Mountain Lake Park
Golden Gate Park
Rochambeau Park
Sutro Heights Park
Family-Friendly Activities
Fort Miley Military Reservation
Lincoln Park and Golf Course
Imagination Playhouse
Golden State Fencing Academy
Ocean Beach
The neck of the Woods
5. West Portal
If you're visiting San Francisco with your family on a budget, consider staying at West Portal. Located in the southern part of San Francisco, away from the hustle and bustle of the city center, West Portal feels like a small town within a big city; it boasts the vibe of a little suburban town yet has all the amenities of a metropolis.
The area offers everything a family with kids needs and is relatively affordable. Compared to other communities, it has more long-term residents than visitors, strengthening the community atmosphere. Also, the West Portal MUNI metro stop in West Portal makes traveling downtown convenient.
It is readily accessible, close to just about everything, and its colorful suburban hotels and vacation rentals are roomy, providing visitors with more space for their money. A walk down the streets with your kids reveals the lovely neighborhood, breathtaking vistas, and parks surrounding West Portal.
Here are more specifics about life in West Portal:
Nearby Parks
Santa Monica Park
Terrace Green Park
West Portal Recreational Center
15th Avenue Steps Park
Family-Friendly Activities
West Portal Playground
Shaw's San Francisco
Ambassador Toys
Peek-A-Boo Factory
6. Marina District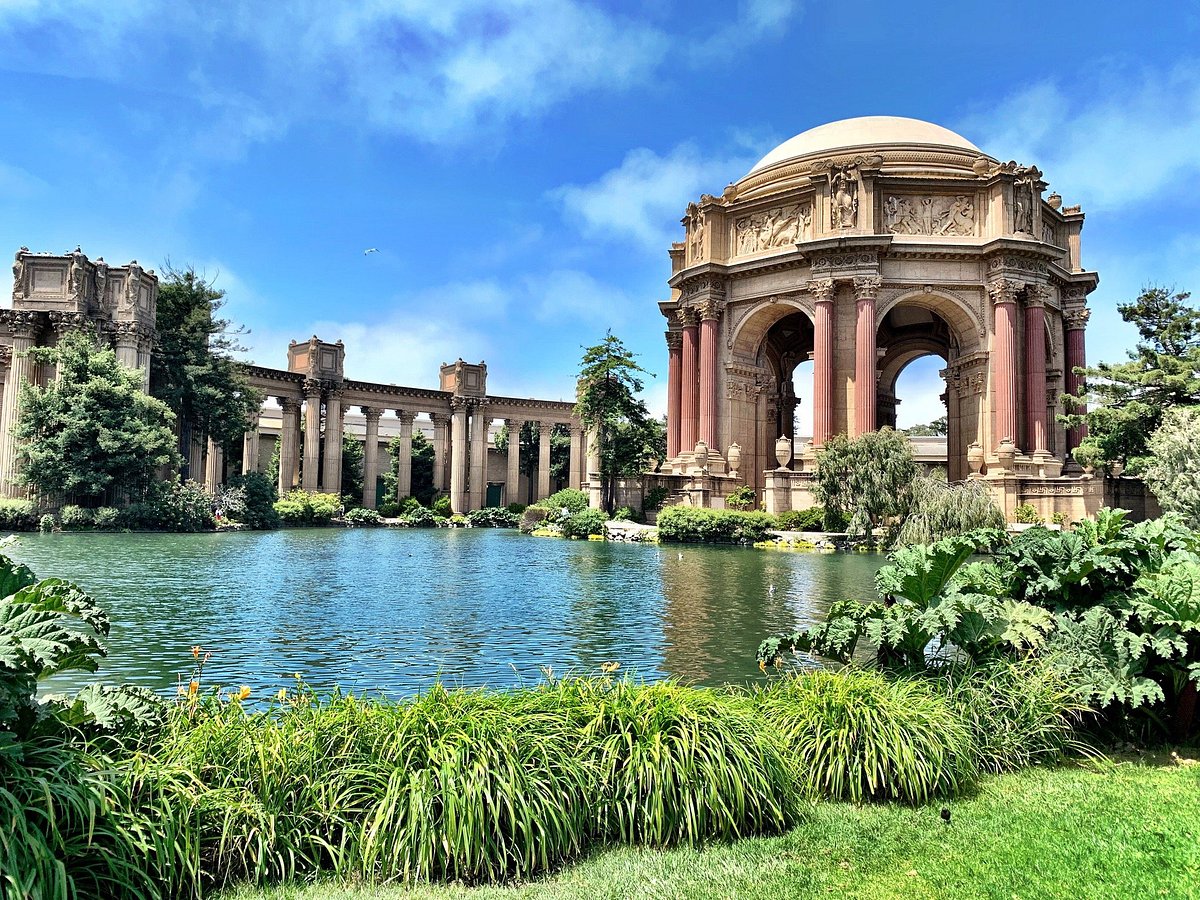 Marina District is the best place to stay in San Francisco if you enjoy a vacation by the waterfront and seek to live like a native. Perched on the north-central shore of the city, Marina District is a budget-friendly, beautiful neighborhood popular among singles and young families ready to have the best times of their lives.
The neighborhood appeals to families with children due to its central position and the largest population of white non-Hispanic individuals. Additionally, the district borders San Francisco Bay and is pretty flat, which makes it highly walkable.
The Palace of Fine Arts, which occupies much of the western half of the neighborhood, is the district's most recognized landmark. While the entire district is lovely, Marina Green-East is especially spectacular.
You'll like strolling around the pier where hundreds of boats are docked and showing your kids the array of vessels and the hilarious names assigned to some of them.
Below is more information on the essential amenities for families with kids in Marina District:
Nearby Parks
Golden Gate National Parks Conservancy
Little Marina Green Picnic Area
The Cannery Park
Family-Friendly Activities
Fort Mason Center for Arts & Culture
Marina Green Fleet Week
Palace of Fine Arts Center
7. NoPa
This neighborhood was initially known as Western Addition before acquiring its current name that corresponds with its location, north of the Panhandle. NoPa is an exciting rising star in the San Francisco tourist-beaten paths, and its central location in San Francisco city is the icing on the cake.
NoPa is the best place to stay in San Francisco for families with kids because of its proximity to everything, from social amenities to commercial areas and exciting attractions for children. The neighborhood features two merchant corridors, so you can get most essentials within walking distance. Also, the college residents in NoPa make for plenty of babysitting options.
NoPa has the most valuable asset any neighborhood could have: devoted and active individuals who work tirelessly to develop a close-knit community instead of just another district.
Among the neighborhood's various perks is the NoPa neighborhood association (NOPNA), which aims to improve life for all residents and visitors. The organization promotes activities for kids and parents to help build community bonds while enjoying neighborhood fun.
Below are more details about life in NoPa:
Nearby Parks
Golden Gate Park
Alamo Square
San Francisco Botanical Gardens
Family-Friendly Activities
USF Athletics
de Young Fine Arts Museum
California Academy of Sciences
Koret Children's Quarter Playground & Carousel
8. Russian Hill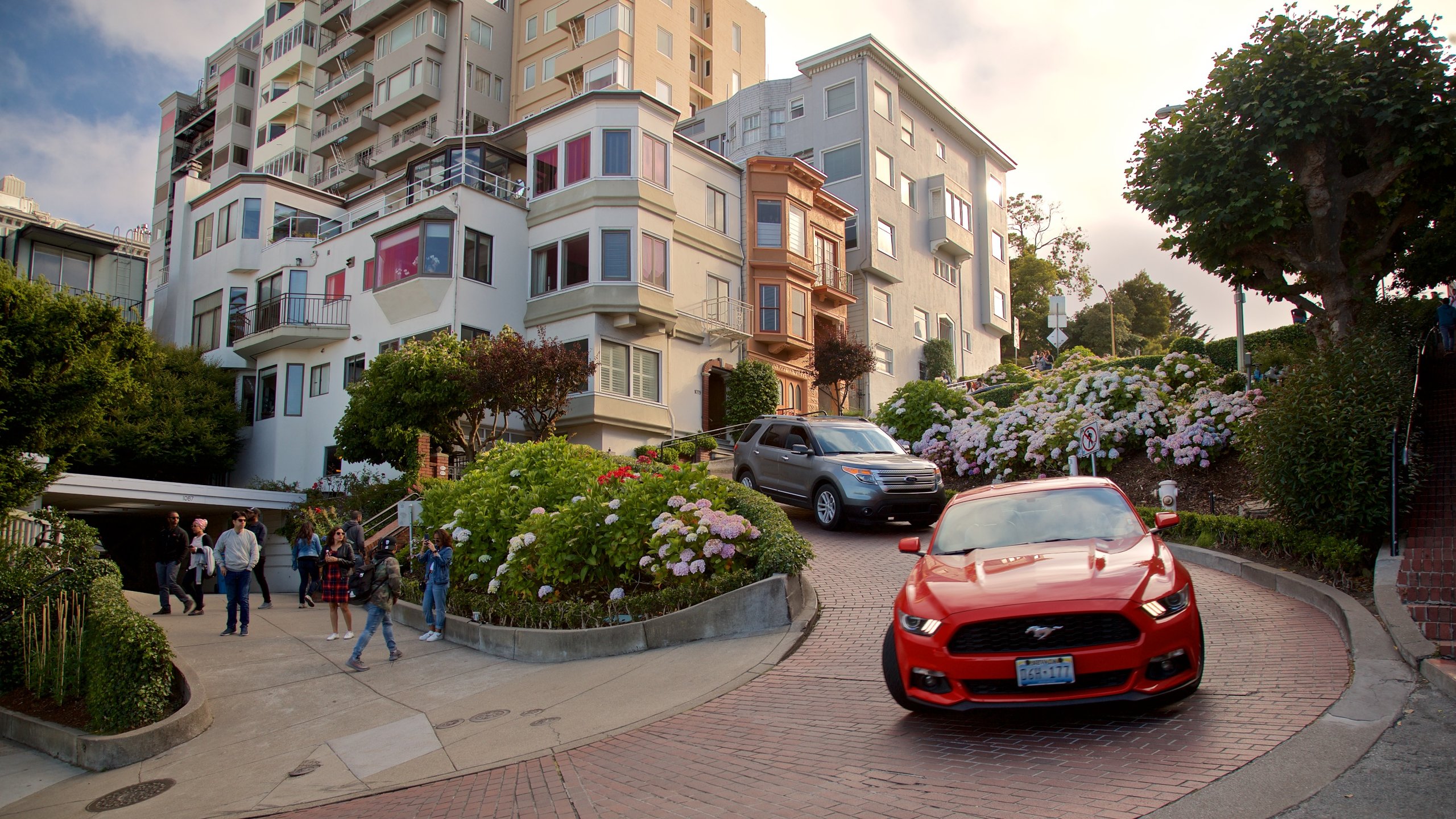 Russian Hill is the best place to stay in San Francisco if you enjoy hills, vistas, and winding streets. The high-end affluent neighborhood is perched on one of San Francisco's 44 hills. It got its name from settlers who uncovered a Russian graveyard on the hill's slopes during the California Gold Rush. Your kids will enjoy discovering the rich heritage in Russian Hill.
Several pedestrian paths and open green areas in the neighborhood make for an outdoorsy lifestyle, ideal for a great workout or walking your furry buddy with your kids.
Here are more details you should know about Russian Hill:
Nearby Parks
Inner Coolbrith Park
Russian Hill Park
George Sterling Park
Fay Park
Allyne Park
Francisco Park
Michelangelo Playground
Family-Friendly Activities
North Beach Museum
Peekadoodle Kids Club
Helen Wills Playground
Cable Car Riding
San Francisco Art Institute
9. Glen Park
If you seek to explore hidden gems in San Francisco, Glen Park is an excellent addition to your list of the best places to stay in San Francisco. For starters, the neighborhood is convenient to the BART and freeway, allowing you to commute easily.
While the area is relatively small, it has a vibrant commercial and nightlife scene, helping parents like you to unwind after a long day of touring the San Francisco attractions.
Glen Park is made up of hills and parks, providing excellent hiking and opportunities to enjoy the fresh air with your little ones. The neighborhood accommodates kids of all ages, and the local favorite Glen Canyon Park is a great spot for them to create those priceless childhood memories.
The neighborhood, located in south-central San Francisco, hosts contemporary and architecturally designed buildings.
Here are more details on Glen Park to keep in mind:
Nearby Parks
Glen Canyon Park
Glen Park Playground and Recreation Center
Dorothy W Erskine Park
Walter Haas Playground
George Christopher Playground
Christopher Playground
Family Friendly Activities
Glen Park Canyon
Twin Peaks
Glen Park Festival
Billy Goat Hill
Fairmont Plaza
Lucky Strike San Francisco
10. Inner Sunset
Inner Sunset – one of the four communities that form the Sunset District – is among the best places to stay in San Francisco for families with kids. Families who prefer roomy Victorian and Mediterranean-style accommodation close to the Sunset District's primary hub on 9th Avenue and Irving Street.
It is relatively more affordable to stay in Inner Sunset because of the reduced cost of living in this part of San Francisco. The neighborhood's distance from downtown San Francisco significantly affects its cost of living.
This area welcomes visiting families with a small-town feel and excellent facilities. You'll love staying at Inner Sunset if you appreciate the scenic outdoors and the ocean. The neighborhood has a strong sense of community, with relaxed individuals who get along with one another.
Check out more information about Inner Sunset below:
Nearby Parks
Sunset Heights Playground
Larsen Park
Golden Gate Heights Park
Sunset Reservoir Park
Grandview Park
15th Avenue Steps Park
Kezar Park, Golden Gate Park
Family-Friendly Activities
Inner Sunset Farmers' Market
Ocean Beach
16th Avenue Tiled Steps
Hidden Garden Stairs
AcroSports
11. North Beach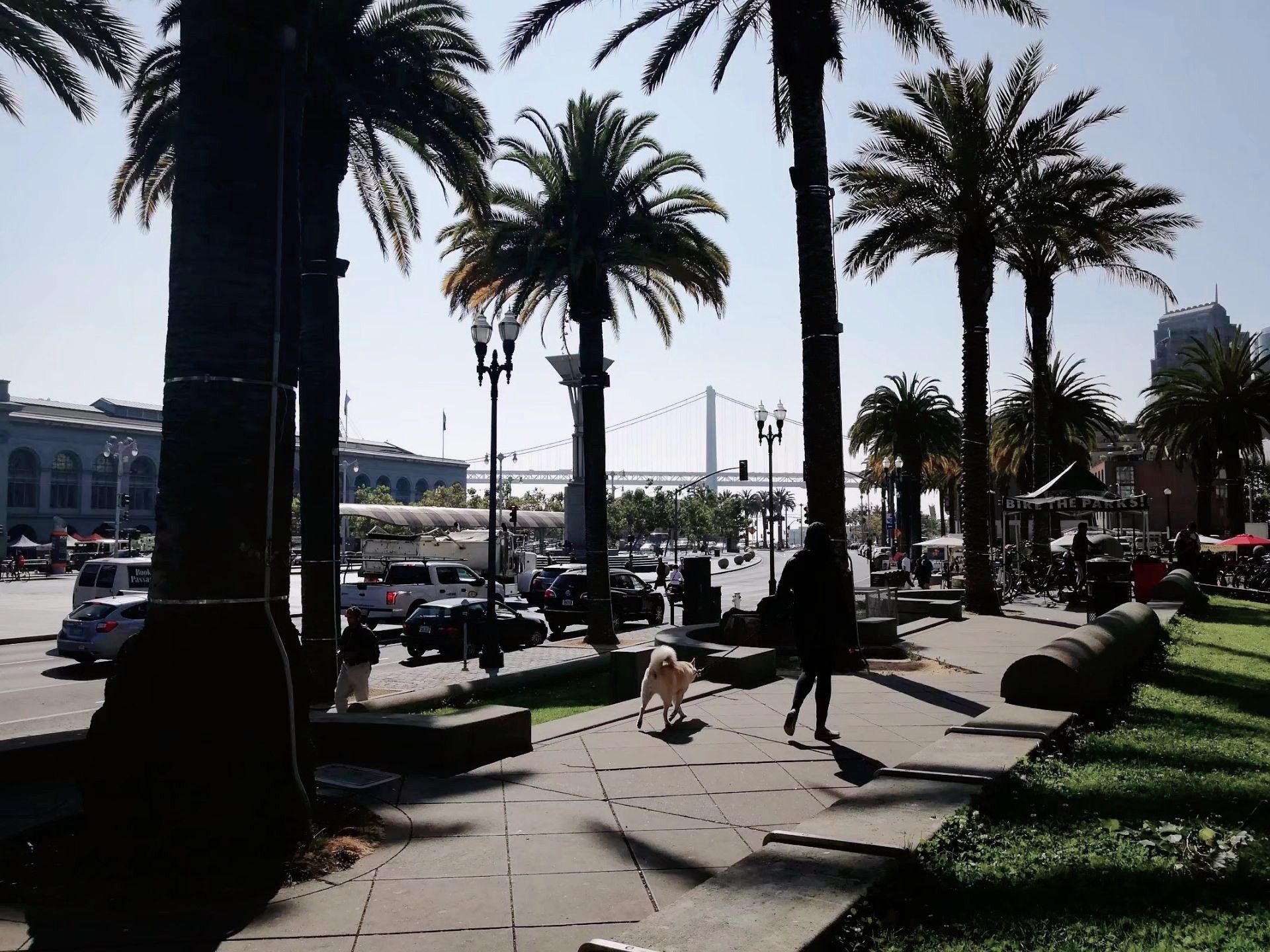 North Beach, popularly known as "Little Italy," hosts a large community of Italian Americans. It is situated in the hilly northeast end of San Francisco and is famous for its buzzing nightlife. While North Beach's nightlife is primarily adult-oriented, families with kids gladly stay here because of its architectural and natural charm.
North Beach is an excellent choice for visitors who wish to stay near the San Francisco Financial District and Chinatown. This inviting community features standard accommodations with a lovely ambiance. Up the hill, North Beach features more high-end hotels and vacation rentals. Despite some hills, North Beach is highly walkable, perfect for bonding on evening walks with your kids.
The community has moved to the top of the list of attractive neighborhoods for young families as vacationists prize it for its rich history and Italian background. Staying in this community means being surrounded by vast green areas, parks, and a plethora of family-friendly activities.
Below are more details about North Beach:
Nearby Parks
Washington Square Park
Pioneer Park
Joe DiMaggio Playground and Community Center
Jack Early Park
Jamestown LP
Sydney Rudy Waterfront Park
Family-Friendly Activities
Coit Tower
PIER 39
Ferry Building
North Beach Festival
Beat Museum
Lyle Tuttle's Tattoo Art Museum
12. Potrero Hill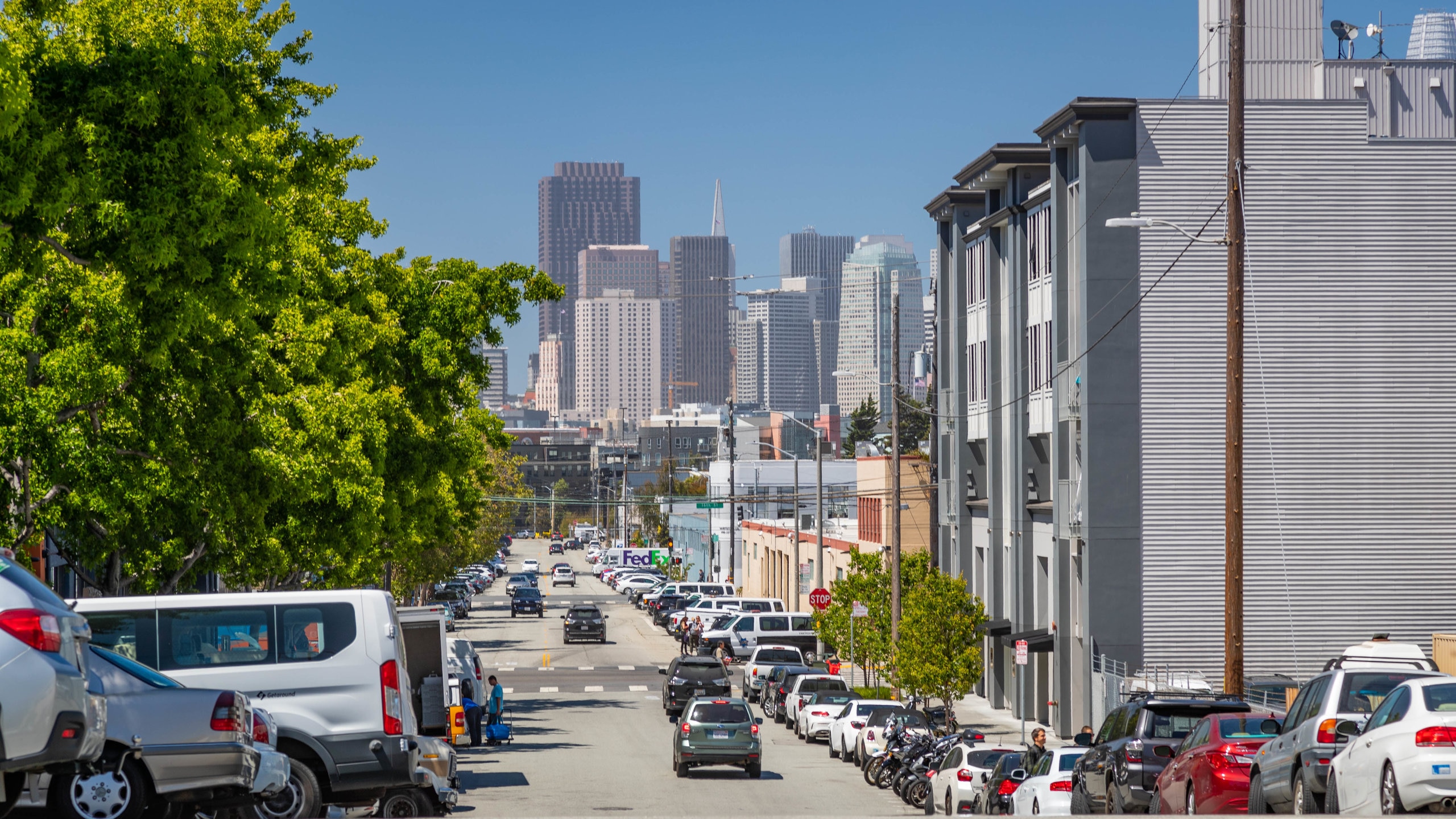 Potrero Hills sits in the eastern hills of San Francisco and is a popular neighborhood for its nice warm weather and awe-inspiring sceneries of the city and San Francisco Bay.
It is flanked by two freeways and a stretch of industrial land, curling it from the neighboring communities and giving it a community vibe. These freeways make commuting within and outside San Francisco easy. The crowning stroke is that Potrero Hill is pristine and feels more isolated from the city center.
The neighborhood has long boasted a family-friendly reputation, with several hotels dotting the hills. It has experienced tremendous growth in the past decade and currently hosts young families. Potrero Hill features a lively crowd during the day, and it becomes peaceful as the sun goes down, which is ideal for families with kids.
Here are more fine points about Potrero Hill:
Nearby Parks
Jackson Playground
Potrero Hill Playground and Recreation Center
Tunnel Top Park
Potrero del Sol Park
McKinley Square
Potrero Hill Community Garden
Family-Friendly Activities
Yggdrasil Urban Wildlife Rescue
Recess Urban Recreation
Letterform Archive
Romer Young Gallery
Museum of Craft and Design
Areas To Avoid When Staying in San Francisco
Like any other big city in the world, there's always the risk of crime and other activities in some neighborhoods that can affect your family's vacation experience in San Francisco.
We have highlighted some areas you should avoid in San Francisco – not to scare you from visiting with your kids but to help you make better accommodation choices.
Tenderloin District
Tenderloin District sits in downtown San Francisco encircled by some of the poshest neighborhoods in the city. However, it remains to lag because of the neighborhood's high crime rate and insecurity.
Various factors contribute to the crimes and insecurity in the Tenderloin District. The community is a hub for drug dealing, shootings, and killings.
Furthermore, the region is home to strip clubs and pubs, which can draw rowdy and intoxicated people more inclined to participate in violence. Prostitution is also rampant in Tenderloin, and it's not unusual to get mugged after being enticed into a hidden area. You don't want to stay with kids in a vice-laden community during your San Francisco vacation.
Bayview
Bayview is one of San Francisco's most important neighborhoods, with impressive cultural diversity and rich history. It's the neighborhood in the city with the highest percentage of minor communities. Bayview goes against the trend of rising accommodation costs in San Francisco, offering an opportunity to catch a breath if you're traveling on a budget.
Despite the relatively affordable accommodation costs, Bayview faces a significant safety threat with a higher crime rate than most neighborhoods in San Francisco. The area has a crime rate that is 141% higher than the national average, with over 20 crimes perpetrated per hundred thousand people.
South of Market Street (SoMa)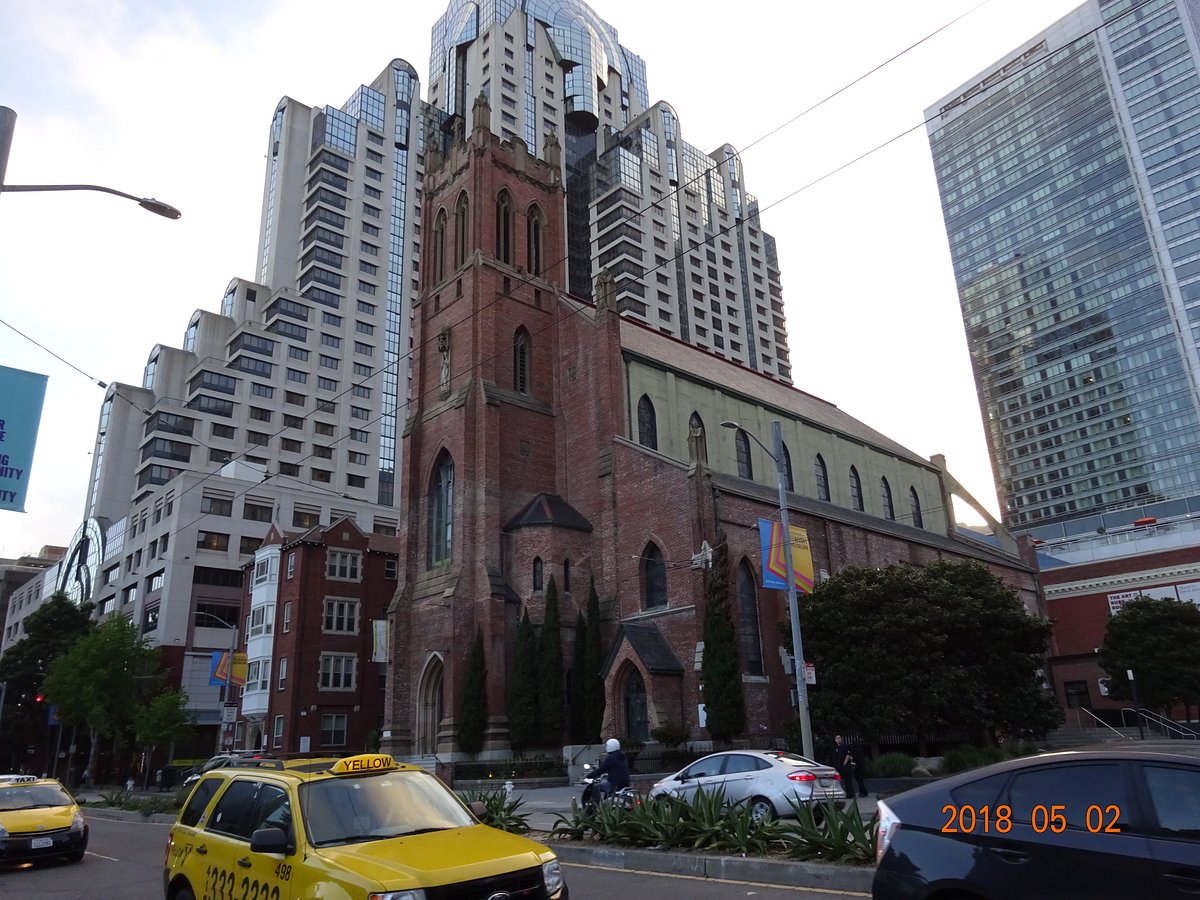 SoMa has a lot to offer visiting families with kids, especially those searching for an exciting shopping adventure and entertainment. Some of the neighborhood's most popular destinations include Union Square, the San Francisco Museum of Modern Art, and the Westfield Shopping Center. Also, SoMa is central to most other family-friendly attractions in Golden City, including SalesForce Park and the Embarcadero.
Nevertheless, like any other San Francisco neighborhood, you should constantly be conscious of your surroundings and avoid areas that do not appear secure. Despite well-intended efforts to rehabilitate the community, it remains incredibly unsafe, with a 67% higher crime rate than the national average. We recommend you be more cautious, especially if you visit south of the stretch between the 4th and 10th streets.
What To Expect When Visiting San Francisco With Kids
Expect a wide range of activities and family-friendly attractions when moving to San Francisco with kids – from museums to parks designed with kids in mind. Most neighborhoods in Golden City are family-friendly, and the best place to raise your kids will depend on your priorities and budget.
Some of the factors you should consider when choosing the best place to stay in San Francisco for your family include the following:
Access to outdoor space
Walkability
Access to mass transit
Commute times
Access to childcare
Safety
Aesthetics
Getting Around the City
The city's public transport connection is pretty reliable and convenient, but owning a car will make commuting within San Francisco easy. For a hassle-free public transit experience, consider getting a Clipper Card to help you get to, from, or around San Francisco.
A Clipper Card permits you to utilize Muni buses, BART, Metro, and cable cars to visit popular trails in San Francisco. When you board with your family, hold your Clipper Card over a scanner and wait for the beep to ensure that you have enough money on your card to cover your fare. You can purchase the card at various locations in the city and refill it at Muni/BART stations.
For a more personalized vacation experience in the Golden City, taxis and car rentals are ideal. Like most prominent cities in the US, you can use taxi apps or hail a taxi directly on the street. Getting a rental car is well-recommended to explore destinations beyond the beaten path of San Francisco.
However, like any other large metropolis, San Francisco has difficulties such as theft and vandalism. If you intend on getting a car rental, remember that no matter the time of the day or night you park your car, you must carry all your belongings to avoid becoming a victim of theft.
Tips for Families Visiting San Francisco
Whether you're visiting from within the US or across the world, you should know some insightful tips about San Francisco. Let's dig in.
Have Comfortable Clothing
Are you planning to do a lot of walking in San Francisco? Ensure you all wear incredibly comfortable shoes. Even with reliable public transportation in San Francisco, you will be climbing multiple steep hills and may find yourselves walking long stretches daily.
Go for the Best Hotel
Book a family-friendly hotel near iconic and safe attractions in the city. Besides ensuring a comfortable stay, it will place you a walking distance away from popular destinations in San Francisco, saving you transportation costs. You'll find some kid-friendly hotels in San Francisco near Fisherman's Wharf and Union Square.
Research Before Visiting
Do your research before visiting San Francisco with your kids. When your little ones read about a place before visiting, they'll get a greater connection and appreciation. There are several picture books and movies about the Golden City to help your kids prepare for the visit.
Safety Comes First
Always be cautious about your surroundings during your stay in San Francisco. While it is a world-class city, San Francisco still has a significant homeless population, and some bad areas are just a few moments away from fantastic ones. If you sense things are heading south, take a step back and leave that section of town.
Make Your Reservations Early Enough
If possible, make early dinner reservations. Restaurant goers in San Francisco take their dining experience seriously, so you might not be able to find a seat by just walking into a restaurant with your family. Forget about the cost. It will be a hassle-free and unforgettable experience.
Carry warm clothes and dress in layers for your San Francisco visit. The city can be chilly and foggy, but not always. You don't know when the sun will break through the clouds, so dress in layers to avoid discomfort when touring San Francisco.
Frequently Asked Questions
Here are some FAQs about the best places to stay in San Francisco for a family with kids.
Are there things to do in San Francisco at night for kids?
The good times don't have to stop when the sun sets in the Golden City. San Francisco is brimming with unique activities that will keep you entertained late into the night – even with little ones! From movie nights to family museums, family dining, dinner shows, and street food night markets, there are endless opportunities for families with kids visiting San Francisco.
Is San Francisco good to visit with kids?
Yes. There are several destinations and fun things to do in San Francisco for all ages, including kids. You can choose from boat trips around the bay to hitting the beach, green spaces, and other family-friendly attractions in the city.
When is the best time to visit San Francisco for families with kids?
If you're visiting San Francisco with kids, the best time is during the summer months. Schedule your family vacation between June and September to find the most family-friendly activities in the city.
Why is San Francisco so popular for family vacations?
San Francisco is well-known for being one of the first cities to develop in California during the Gold Rush era. In San Francisco, you can visit numerous historic locations, such as Alcatraz Island and the Golden Gate Bridge, as well as breathtaking scenery and fun-filled kid-friendly activities.
Should I choose a vacation rental or a hotel?
The type of accommodation you choose for your San Francisco vacation depends on your needs. A vacation rental is an excellent fit if you prioritize privacy and seek to enjoy a local experience.
Conversely, hotels provide a more consistent experience with family-friendly amenities and professional customer service. If you are traveling with a big family to San Francisco, a vacation rental will give you more comfort and space to create memories.
Where is the safe place to stay in San Francisco?
The safest neighborhoods in San Francisco are Nob Hill, Marina District, and North beach. These areas have exceptionally low crime rates, making them the best places to stay in San Francisco for families.
Final Thoughts
While it's not that big, San Francisco remains a popular vacation destination globally, especially for families. The city receives millions of visitors yearly and provides various accommodation options. At first, the sheer number of places to stay in San Francisco may seem overwhelming, but you're well covered by following our guide.
More about our TFVG Author