Suppose you're planning a trip to San Francisco with your family and are looking to book one of the best family hotels in San Francisco. As California's fourth most-populous city, tackling every attraction within this bustling cultural and commercial hub can feel daunting.
Thankfully, San Francisco has plenty of vibrant attractions and landmarks that can appeal to family members of any age. Like many other cities in California, San Francisco has plenty of parks and museums but also has a few landmarks that give the city a unique flair.
We compiled this list of famous landmarks in San Francisco if you're unsure which ones you should visit during your stay.
1. Ghirardelli Square
First up on our list of the top famous landmarks in San Francisco is Ghirardelli Square, one of the city's liveliest public centers. This area was once the headquarters of Ghirardelli Chocolate Company until the 1960s.
Then, in 1962, San Francisco locals purchased the property to prevent it from getting demolished for apartment complex spaces. In 1964, the square became open to the public.
Ghirardelli Square has a wide selection of shops and restaurants your family will enjoy. If you're in the mood for something sweet, stop by The Original Ghirardelli Ice Cream & Chocolate Shop for their signature hot fudge sundae. Stop by the square's seafood or pizza spots if you prefer something savory.
If you're looking for engaging games your family can enjoy while exploring the area, consider stopping by for a round of mini-golf, laser tag, or other virtual reality games.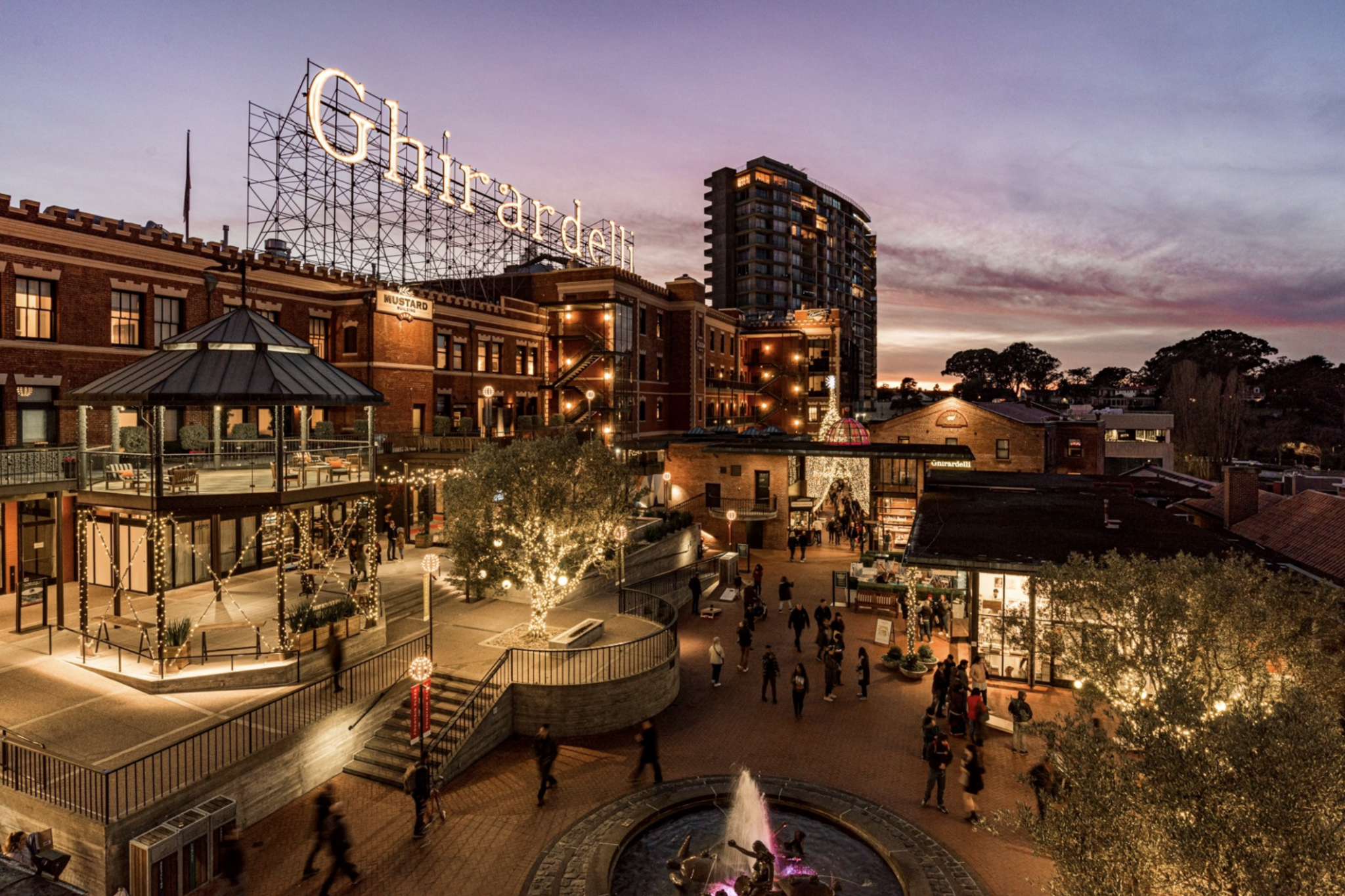 2. Golden Gate Bridge
Another one of the most famous landmarks in San Francisco you can't miss during your visit is the Golden Gate Bridge. This vibrant suspension bridge stretches over 1.7 miles over the Golden Gate, a one-mile strait connecting the Pacific Ocean and San Francisco Bay. Designed by Joseph Strauss in 1917, construction began in 1933 and opened in 1937.
Suppose you're interested in visiting this landmark. In that case, its Welcome Center, open daily from 9 AM to 6 PM, offers onsite exhibitions about the Golden Gate Bridge's history and engineering and free walking tours every Thursday and Sunday.

The Golden Gate Bridge also has several parks surrounding the area for anyone interested in taking in the city's sights. It also offers great waterfront views of other nearby landmarks.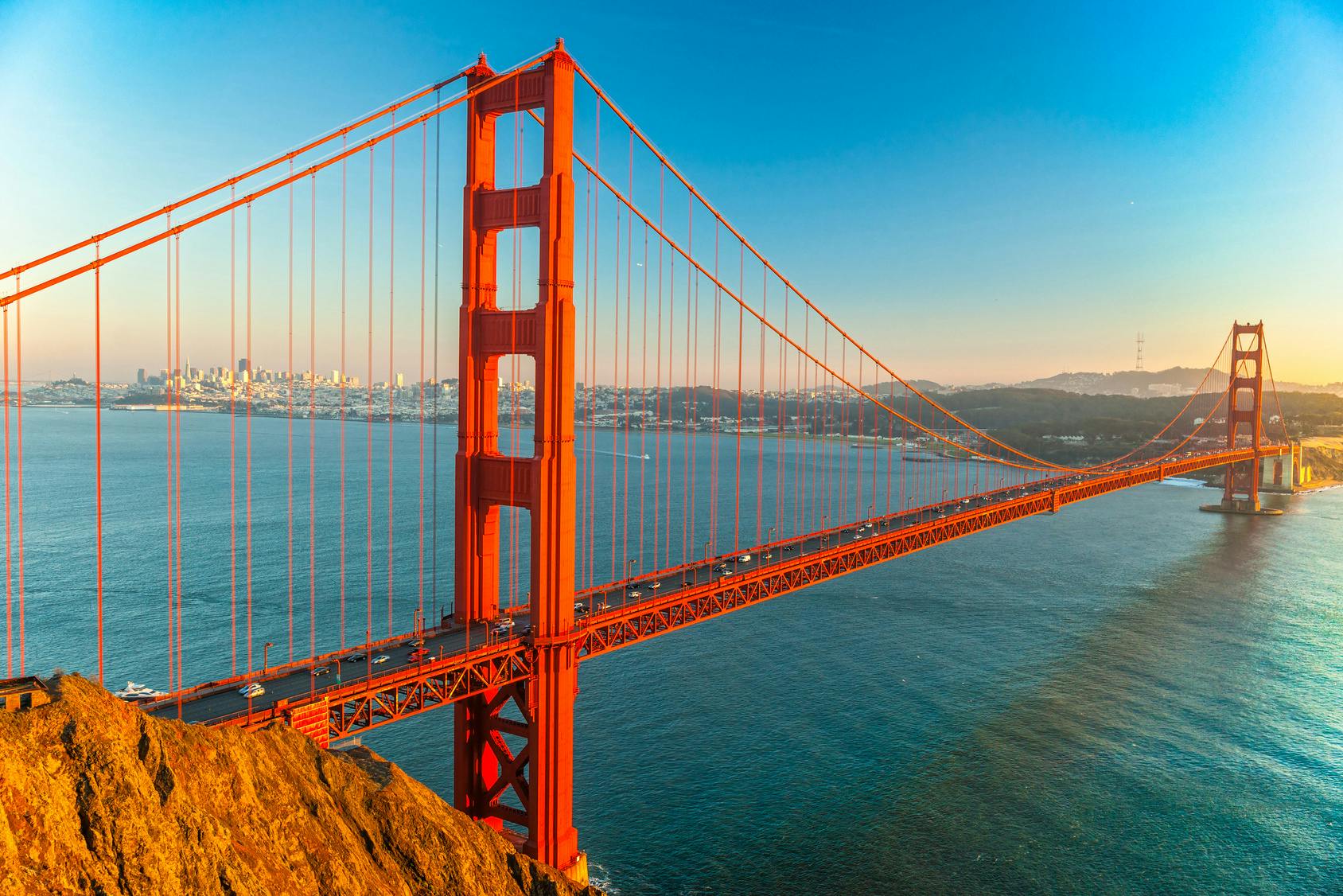 3. Coit Tower
Coit Tower, located in Pioneer Park, nestled within San Francisco's Telegraph Hill neighborhood, is another landmark you shouldn't skip while exploring the city. This tower, constructed between 1932 and 1933, offers panoramic views of the San Francisco Bay, its bridges, and several of the city's nearby counties.
It stands 210 feet tall and is made with reinforced concrete to ensure stability and durability against the outdoor elements. Named after Lillie Hitchcock Coit, a socialite who revered the city's firefighters, this tower also acts as a memorial for volunteer firefighters who lost their lives to San Francisco's five major fires. Coit's fortune provided funding for the tower for several years.
In addition to its white exterior, Coit Tower has vibrant murals decorating the walls of its base. These murals depict life in California during the Great Depression, painted by artists hired by the Public Works of Art Project in 1934.
They offer guided tours for groups of four to six people. These tours usually last 30 to 40 minutes. Tour prices with elevator access differ based on a person's age and whether or not they're a San Francisco resident. Children ages four and under can enter for free. 
If you're looking to explore more of California during your stay in San Francisco, discover the best free things to do in California with kids.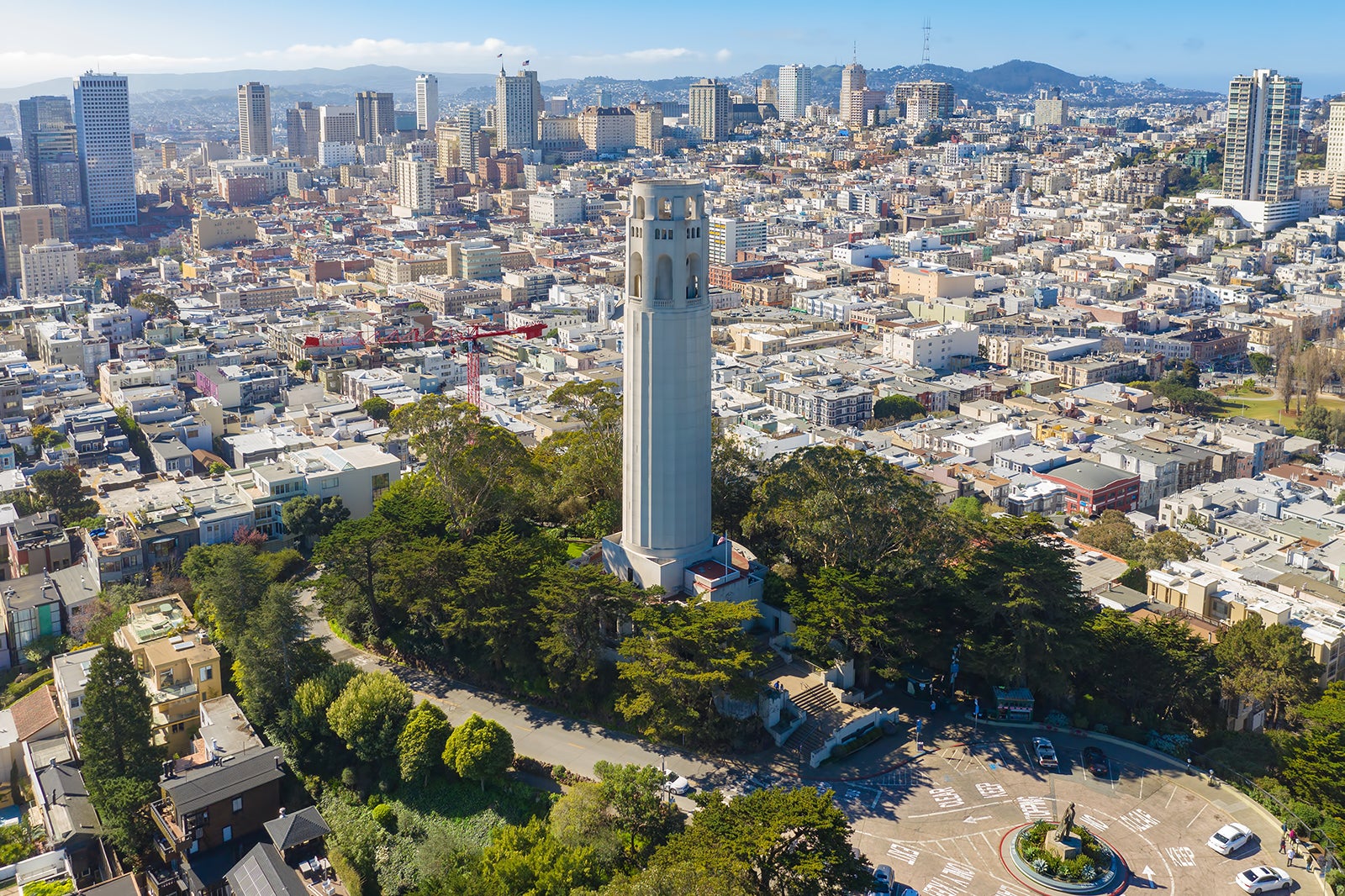 4. Cable Car Barn and Powerhouse
San Francisco is home to the world's last manually-operated cable car system, so why not take some time out of your stay to visit the Cable Car Barn and Powerhouse, a historic museum in San Francisco's Nob Hill neighborhood?
Established in 1974, this museum houses three antique cable cars dating back to the 1870s. We consider it a great place to take your family and learn more about these relics of San Francisco's growth in transportation. In addition, visitors can view the cable car's winding machinery and engines.
This museum has an expansive gift shop with cable car-themed books, cards, clothing, and memorabilia. We recommend bringing home an authentic cable car bell.
Entry to this museum is free, so you don't have to worry about spending extra money during a trip through the Nob Hill neighborhood. They're open every day, except on Mondays, Thanksgiving, Christmas, and New Year's Day.
5. Palace of Fine Arts
Located in the Marina District, the Palace of Fine Arts is an iconic structure overlooking an artificial lagoon. Initially built for the 1915 Panama-Pacific International Exhibition, this structure incorporates an open rotunda design and several colonnades that make it resemble Roman architecture.
It's a popular place for hosting a wide selection of special events, including but not limited to corporate events, weddings, galas, trade shows, and private parties. Although the rotunda structure was initially demolished in 1965 because of its deteriorating stability, San Francisco restored this structure in 2010.
Even if you aren't planning an event at this venue, it's always nice to stop by the Palace of Fine Arts and take a picture for your vacation album.
6. Oracle Park
If you have avid sports lovers in your family, Oracle Park is one of the most famous landmarks in San Francisco. It covers 12.5 acres of land and is a great place to watch an exciting baseball game.
There are other attractions you can visit at Oracle Park other than the baseball field. You can see a seasonally-rotating Giants memorabilia and history exhibit, play at the Fan Lot near the world's largest baseball glove, and sample quality pub fare at the famous Public House.
Oracle Park is also a notable venue for live music performances, so you're encouraged to purchase tickets if you're interested in attending these concerts.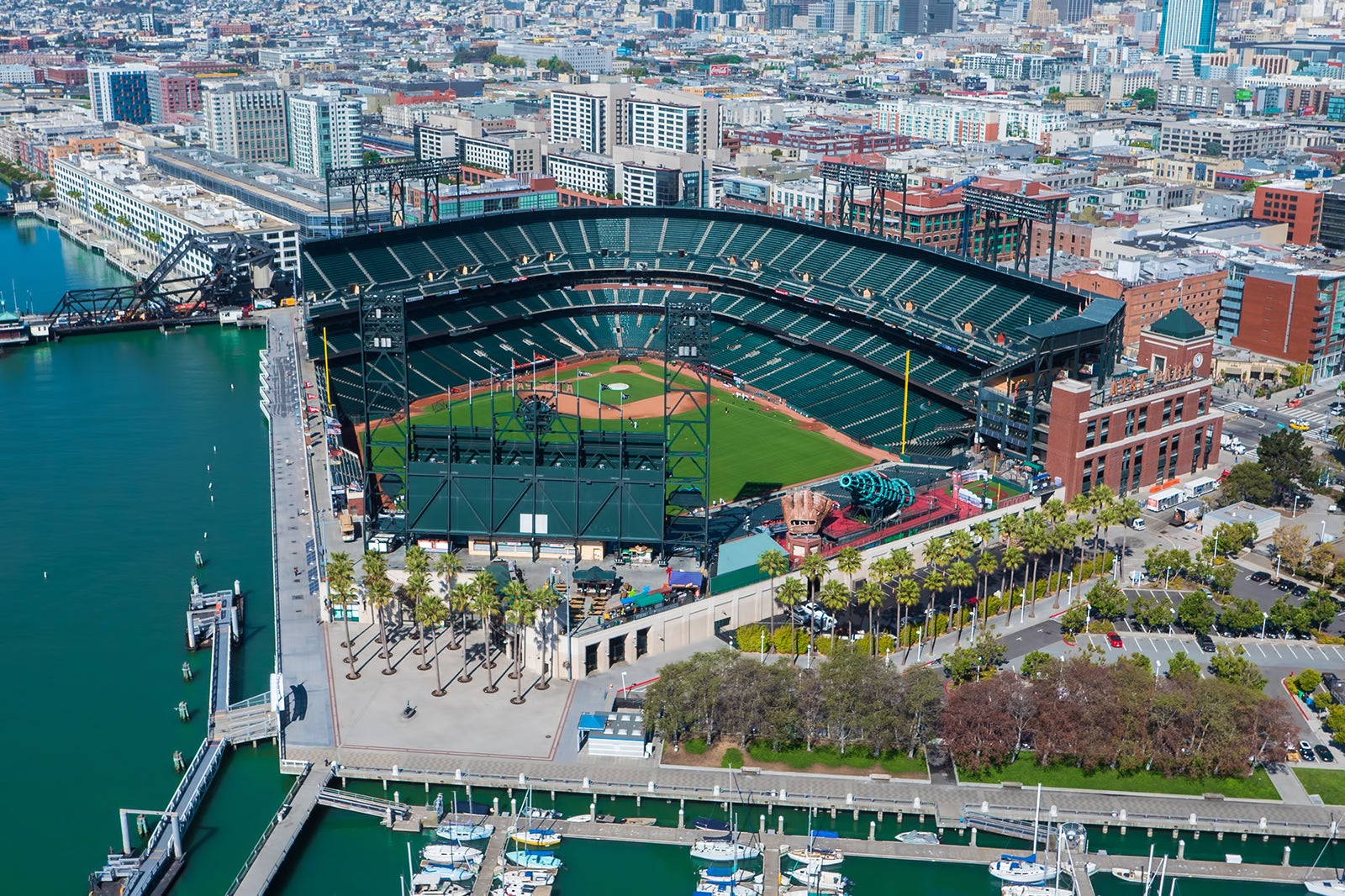 7. Pier 39
If you and your family are interested in spending a fun day near the bay, consider visiting the iconic Pier 39 for an unforgettable experience. It's a two-minute walk from Fisherman's Wharf and has provided quality entertainment for locals and tourists since 1978.
Pier 39 offers stunning bayfront views of the Golden Gate Bridge, Bay Bridge, Alcatraz, and the city's skyline. Its two-level shopping center has over 50 shops where you and your family can purchase several things, from candy and stuffed animals to seashell jewelry and wall art.
Surprise your kids by taking them to Pier 39's Aquarium by the Bay to see over 20,000 species of sea life. You can also see a few sea lions by West Marina and take a boating tour around the bay to observe whales.
Other attractions include the San Francisco Carousel, Magowan's Infinite Mirror Maze, the Bay Plunge, and the Players Sports Grill & Arcade.
8. Lombard Street
While some might argue that roads and streets don't qualify as noteworthy landmarks in bustling, populated cities like San Francisco, Lombard Street is one sight that attracts tourists from across the country.
This crooked street stretches three miles long, running from Pioneer Park to Lincoln Boulevard. It has eight hairpin turns that snake down a one-way hill. Pedestrians can watch the cars drive by as they walk on the side stairway.
If you plan on driving down Lombard Street with your car or a rental vehicle, you might experience long lines since many people want to stop by this twisted landmark. If you walk to the top of Lombard Street, you can get a lovely view of San Francisco Bay.
9. Alcatraz Island
Another one of the most famous landmarks in San Francisco that many people shouldn't miss during their trip is Alcatraz Island. You can spot this island in San Francisco Bay. This island once served as a federal prison for notorious criminals from 1934 to 1963, when it ceased operations because it was too expensive to run.
Visitors can access the island via a ferry ride, but we recommend reserving tickets in advance to avoid waiting in a long line to get them in person. Alcatraz Island has a few exhibits about the prison's history if you have family members interested in learning about this landmark. They also have guided audio tours.
If you're looking for other things to do besides tour the defunct prison, consider checking out the island's gardens. Its shrubberies, perennial flowers, and trees are breathtaking sights to see if you're walking to the lighthouse. The island is also a nesting zone for several waterbirds, including gulls, egrets, and cormorants.

10. Conservatory of Flowers
The Conservatory of Flowers, located within Golden Gate Park, is an expansive botanical garden and greenhouse showcasing a wide selection of rare and exotic plants. Constructed in 1879, it's the oldest building in Golden Gate Park. The main structure is wooden and has sturdy glass walls with a design invoking the Victorian era.
We consider it a great place to visit with your family if you're interested in seeing colorful plants you typically wouldn't find in your backyard.
The Conservatory of Flowers has five sections dedicated to different types of plants. Most of them originate from areas of South America. Each area has a set temperature to keep the flora thriving throughout the year.
These galleries include Potted Plants, Lowland Tropics, Aquatic Plants, and Highland Tropics. The West Wing houses a Corpse Flower and several types of ferns.
San Francisco residents with ID can visit the Conservatory of Flowers for free, but visitors from out of town need to pay an admission fee. This fee changes based on your age range and the time of year, but kids four and under can enter for free.
11. Mission Dolores
You can find Mission Dolores in the heart of the Mission District. This Spanish-California mission is the oldest structure in San Francisco, dating back to 1776. We consider it a great place to stop by if you and your family want to spend one day searching for the city's oldest buildings.
It's open daily and offers tours for anyone interested in seeing the old mission, cemetery, and gardens, so we recommend reserving one in advance to avoid delays during your stay. It was one of the few structures in San Francisco that withstood the 1906 earthquake and fire. The mission's tours also let you visit its nearby grand basilica church, constructed in 1918.
12. San Francisco Museum of Modern Art
If you and your family are in the SoMa neighborhood, don't miss out on a trip to the San Francisco Museum of Modern Art. Initially established in 1935 in the War Memorial Building, this modern and contemporary museum opened in 1995. Its exhibits showcase a vast collection of artwork from the 20th century.
Each art piece gets divided into specific galleries, including sculptures, contemporary art, architecture and design, paintings, photography, and film.
SFMOMA is a great place for family members of all ages to appreciate quality art. The museum also has a rooftop garden with an excellent view of San Francisco's skyline.
Every second Sunday of the month, SFMOMA offers interactive art sessions based on a specific art theme and artist for families with kids.
The museum has a few cafes where you and your family can unwind and enjoy a quick bite. They serve quality coffee, tea, sweet and savory pastries, and seasonal entrees.
13. Ferry Building Marketplace
If you're walking by Market Street, you don't want to miss out on visiting Ferry Building Marketplace, one of the city's most iconic waterfront landmarks. Its clocktower stands 245 feet tall and overlooks The Embarcadero area.
It opened in 1898 and was a critical transportation port for ferry boats until the 1930s. The city used it less frequently after constructing the Golden Gate Bridge and the Bay Bridge.
Although it spent several years as a corporate office space, it reopened in 2003 and is a central hub for food merchants. You can find a wide selection of shops and dining establishments serving international and local dishes. If you're interested in sampling the tastiest dishes in the area, we recommend stopping by after exploring other San Francisco areas.
14. Golden Gate Park
The best place to enjoy San Francisco's sunniest days is Golden Gate Park, located east of Ocean Beach. Initially opened in 1871, this urban park offers guests plenty of attractions to check out whenever they have free time during their stay in the city. It has 1,017 acres of land and is free to access, but you'll need to pay for a few attractions.
The park hosts a wide selection of events each month that keep people engaged at different times of the day. They also offer bike, segway, and electric scooter tours if you're interested in traversing the park in style.
Immerse yourself in the park's serene setting by exploring its gardens or boating on or relaxing near one of its ten lakes. Its botanical garden also offers a plant shop if you're interested in taking one of their flora home.
We recommend checking out other highlights of the park, including the Japanese Tea Garden, Strawberry Hills' waterfall, the Buffalo Paddock, and the De Young Museum. The park also has a few playgrounds and carousels for your children to enjoy.
15. USS Pampanito
If you're interested in taking your kids somewhere unique during your stay in San Francisco, one landmark you should consider visiting is the USS Pampanito, which is a submarine converted into a museum ship located near Fisherman's Wharf. This submarine went on six patrol missions during World War II.
After opening to the public in 1982, five years after getting converted into a museum, the National Register of Historic Places deemed it a National Historic Landmark in 1986.
Visitors can explore several of the Pampanito's rooms if they're interested in taking a tour. Some standout areas you should consider checking out include the crew's mess and galley, the forward torpedo room, the main deck, and the control room.
This museum also hosts several educational programs for younger visitors and their parents, letting them sleep overnight in the submarine's bunks. Most on-site tours last about an hour, so we recommend reserving your tickets in advance before stopping by the pier.
If you have anybody in your family interested in maritime vessels, this is the perfect place to surprise them during a family vacation.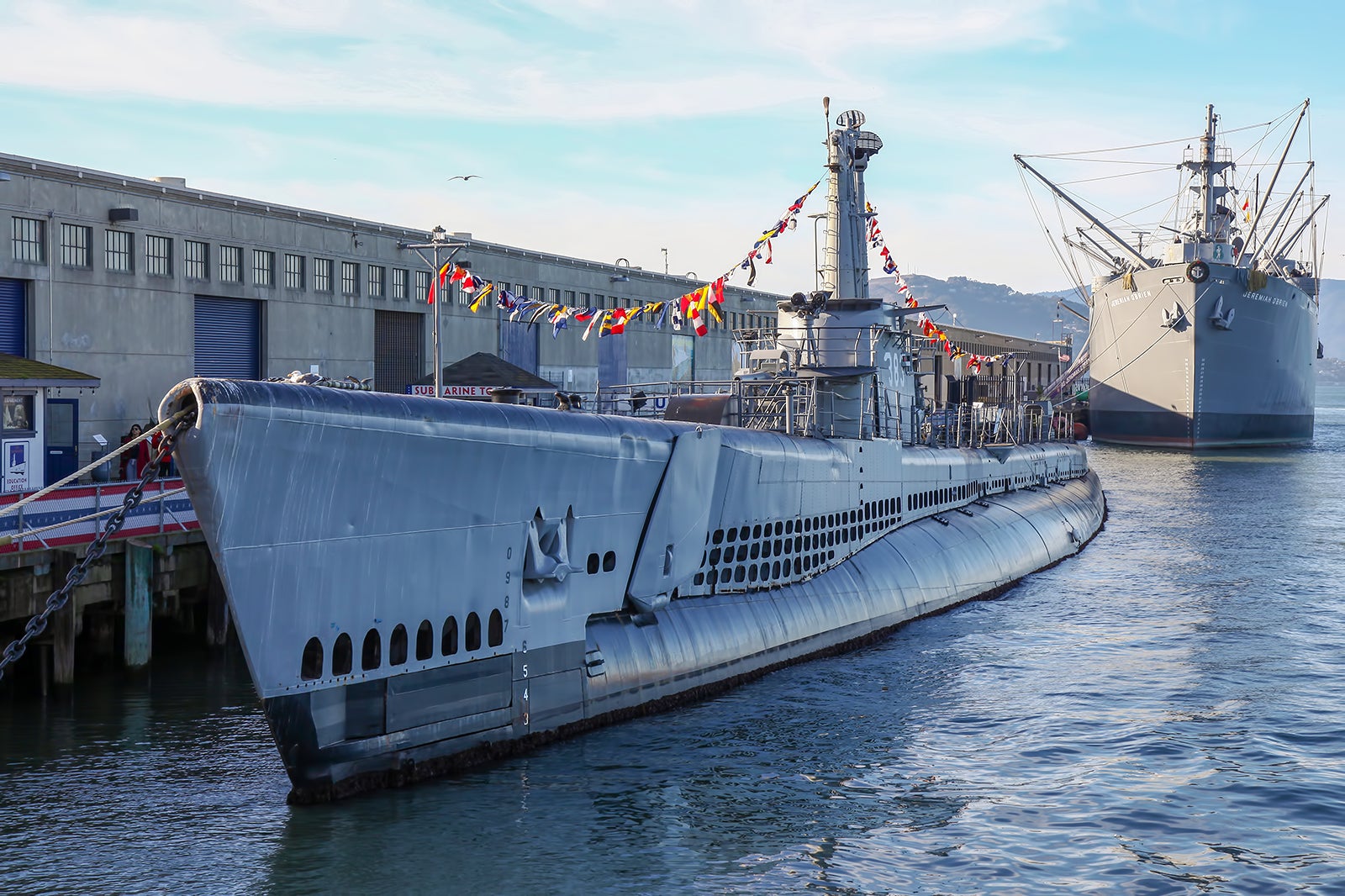 Conclusion
As you can see, there are plenty of famous landmarks in San Francisco for your family to enjoy if you're looking for something fun to do or prefer immersing yourself in the city's culture. Although some require reservations and entry fees, others are free to access.
So, whether you're in the mood for shopping, visiting some of the best family-friendly restaurants in San Francisco, playing a few games, or touring the bayside area, you can count on San Francisco's landmarks to make your trip unforgettable.
We hope this list can help you narrow down a few places you want to visit during your next vacation. But, of course, if you don't have time to visit them all, you can always stop by another time.
More about our TFVG Author
Caitlin is one of The Family Vacation Guide's long standing contributors. She enjoys taking vacation to busy, vibrant cities and has stretched her traveling legs out towards Europe in recent months, enjoying new experiences in Barcelona in Spain, and Nice in France.