Superstars and beloved characters can be found walking the streets of Hollywood, California, making it an ideal destination for families of all sizes. Make the most of your Tinseltown vacation and enjoy the best sights and sounds Hollywood has to offer.
An unforgettable holiday awaits, so keep reading to discover the best kid-friendly things in Hollywood.
Hollywood Walk of Fame
Hollywood Boulevard should be one of the first stops for families visiting Los Angeles. After all, this street is home to some of the most captivating attractions, including the Hollywood Walk of Fame. 
This stretch of sidewalk is covered in special plaques commemorating the most beloved Hollywood icons over the last century. You'll find stars dedicated to Golden Age Hollywood stars like Charlie Chaplin and Gary Cooper, as well as recent additions honoring actors like Don Cheadle and Salma Hayek.
With more than 2,700 stars to explore, you could spend an entire day strolling the Walk of Fame and taking pictures with your family.
The Hollywood/Vine Metro Station is only a short stroll away, making it easy to access this area from anywhere in the greater Los Angeles area. Just be sure to bring plenty of sunscreen, especially if you're visiting during the summer. Temperatures here can easily exceed 90℉!
Address: Hollywood Boulevard, Vine St, Los Angeles, CA 90028
The Hollywood Sign
The massive letters of The Hollywood Sign might be the most iconic landmark in Tinseltown. Standing 45ft tall and up to 39ft wide, it's hard to miss them! Still, this site isn't open to the public due to risks of vandalism, landslides, and serious injuries.
That said, you and your family can take in the beauty of this sign from a safe distance by visiting either the Griffith Observatory or the Hollywood & Highland Center. Both venues are open to the public during daytime hours and don't charge for admission.
And while you're snapping photos of the infamous sign, be sure to regale your little ones with the history of The Hollywood Sign!
They originally read as 'Hollywoodland' and the sign was lit using thousands of lightbulbs, making it a beacon of light in the darkness of early 1920s Los Angeles.
However, this original set of letters are long gone, eaten away by termites, fires, and time. The bright-white letters that now stand near the precipice of Mt. Lee were placed there in 1978.
Address: 2800 E Observatory Rd, Los Angeles, CA 90027 / 6801 Hollywood Blvd, Hollywood, CA 90028
Universal Studios Hollywood
While the Sunshine State might be home to some of the East Coast's most popular and entertaining theme parks, Los Angeles is its West Coast counterpart. Remember, the original Disneyland is only about a 30-minute drive south of Downtown LA!
Of course, Disneyland isn't everyone's cup of tea. But, fortunately, it's not the only LA theme park that's kid-friendly and full of fun. Universal Studios Hollywood is only about 11 miles north of Downtown LA, making it a closer (and potentially more affordable) option for thrill-seeking families.
While visiting the park, you'll be able to explore The Wizarding World of Harry Potter and all its magic, laugh it up at the 3D Despicable Me ride, and save the world with the help of some friendly Autobots!
Universal Studios Hollywood also offers areas that are friendly to younger children, with the Super Silly Fun Land being a prime example. Kids are bound to have a blast while dodging hidden fountains in the sidewalks or challenging family members to classic carnival games.
Address: 100 Universal City Plaza, Universal City, CA 91608
TCL Chinese Theatre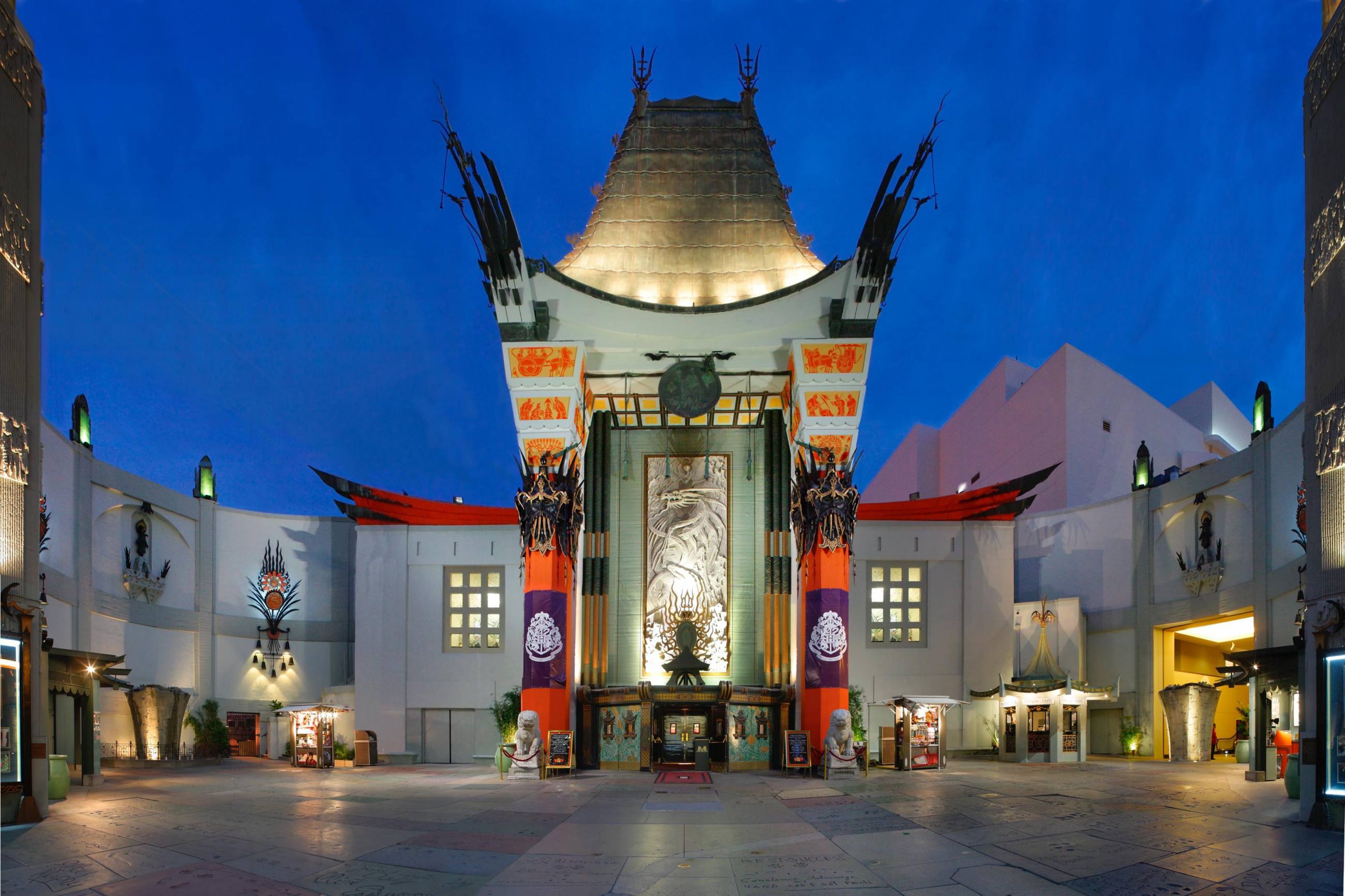 The TCL Chinese Theatre is famous for hosting some of the most star-studded movie premieres in the world. It also happens to be one of the oldest still-operating theaters in Los Angeles, boasting opulent Golden Age decor and high back red seats.
When you hear someone talk about walking the red carpet, they're referring to this venue.
VIP tours are available to guests interested in learning more about the theater's storied history, but kids may be far more interested in catching a show. Fortunately, movie tickets here are relatively affordable, and the film selection is one of the most diverse in the country.
So, if you need a little break from the Los Angeles sunshine and crowds, be sure to peek your head into this gorgeous and historical Golden Age Hollywood theater. It'll be an experience you won't soon forget!
Address: 6925 Hollywood Blvd, Hollywood, CA 90028
El Capitan Theatre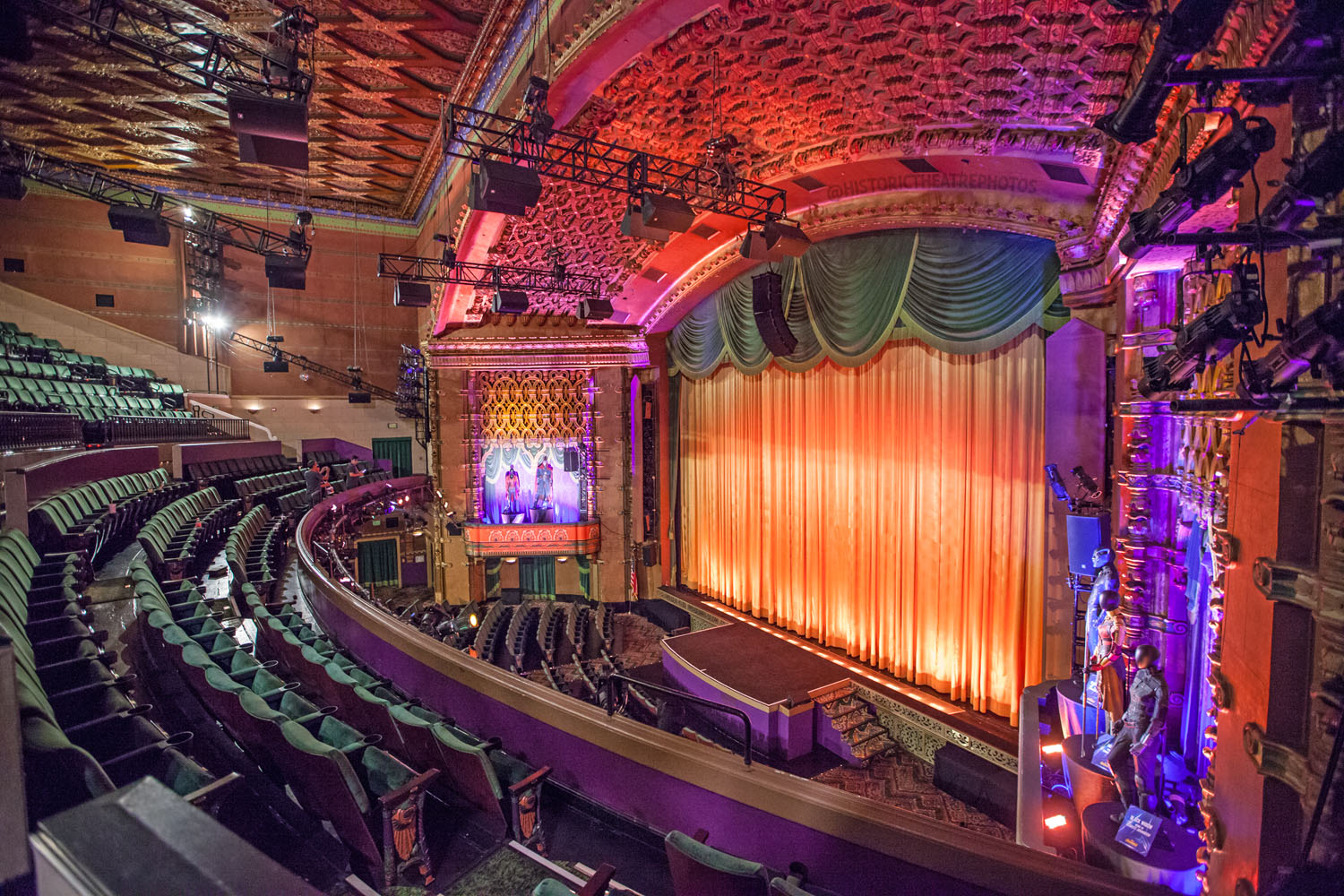 Though the TCL Chinese Theatre is one of the most recognizable Hollywood landmarks, it's not the only Golden Age theater that continues to draw in massive crowds of guests.
The El Capitan Theatre is just as splendid. Built by Charles Toberman and Sid Grauman (real estate developers who also financed the TCL Chinese Theatre) during the Roaring Twenties, the El Capitan Theatre features jaw-dropping embellished ceilings and austere balconies.
After stepping into this venue, you might feel like you've stepped back in time and into the Golden Age of Hollywood. This theater has a restored 1920s pipe organ that was once used to add live music to silent films!
Still, while adults might enjoy the elegant scenery and theater history, kids are far more likely to get excited about this venue's movie showings. That's because the El Capitan Theatre typically only offers recent, child-friendly Disney blockbusters.
Address: 6838 Hollywood Blvd, Los Angeles, CA 90028
Warner Bros Studio Tour
Have you ever wanted to tour a real, working movie studio? If you buy a ticket for the Warner Bros Studio Tour, you can!
The Warner Bros Studio has been actively producing movies and television shows since the 1920s (though, back then it was called the First National Studio), making it one of the oldest continually-operating studios in the US.
When you decide to take a tour here, you can sit back, relax, and enjoy an hour-long bus ride through various lots. There's truly no better way to experience the magic and chaos of moviemaking.
And once the bus-led portion of the tour is complete, you're welcome to wander around (within a specific area) the studio, grab a bite to eat, and pick up a souvenir or two. What could be better than that?
Address: 3400 Warner Blvd, Burbank, CA 91505
Guinness Book of Records Museum
The Guinness Book of Records Museum is one of the most interactive museums in all of Hollywood. Many of the exhibits here encourage visitors to touch, play, and have endless amounts of fun.
You and your family members can interact and compete in several games, including Fast Fists and Speed Tag. Your little one can let it all out at the 'loudest scream' exhibit, or challenge you to a trivia faceoff with the help of the onsite Quiz Bot.
With many wonderful things to do and see here, you'll want to put aside a whole day just for this museum.
Address: 6764 Hollywood Blvd, Los Angeles, CA 90028
Hollywood Museum
The Hollywood Museum is a must-see attraction for anyone with a passion for Old Hollywood movie stars, films, and aesthetics.
The building that houses the museum (called the Max Factor building) was built in the late 1920s and exudes a type of old-fashioned, Art Deco glamour that's rarely seen in new Hollywood venues.
With four floors of exhibits, you and your family can spend hours exploring relics of Hollywood's illustrious past. You can view recreations of old makeup rooms, wonder at medieval-looking beauty devices, and take in the rich splendor of the architecture and decor.
Because this attraction can be a time-consuming experience, it's recommended to be familiar with pre-teen and teenage children. That said, younger guests are also welcome.
Address: 1660 N Highland Ave, Hollywood, CA 90028
Ripley's Believe It or Not!
Believe it or not, there's Ripley's Believe It or Not! located on Hollywood Boulevard. And if you've never visited one of these stellar attractions, you won't want to miss out!
Ripley's Believe It or Not! Odditorium houses a unique collection of oddities that will grab your child's attention in a matter of seconds. Many of the exhibits here are partially interactive, making it easy for kids to get involved and stay focused while having a ton of fun.
However, this awesome attraction isn't specifically designed for children, and adults are sure to find themselves staring around in wonder at all the neat, eclectic, and unusual exhibits.
For example, you can measure yourself against a replica of the world's tallest man, view artwork made entirely of sequins, and see a real shrunken head!
Visitors aged 4 and up will need an admission ticket, but younger guests can enter for free.
Address: 6780 Hollywood Blvd, Hollywood, CA 90028
Griffith Observatory
Griffith Park is the largest park in Hollywood, spanning more than 4,000 acres of rolling green hillsides. You can enjoy a trip to the Los Angeles Zoo, ride an old-fashioned carousel, and go for a hike all in the same park!
Still, one of the most popular attractions for families is the Griffith Observatory. Built in the 1930s, this historic building has a distinctly Art Deco design that harkens back to the earliest days of Hollywood (or, should we say, Hollywoodland).
Additionally, the Griffith Observatory is located on one of the highest spots within the hilly park. As a result, it affords guests some of the most jaw-dropping views in all of Hollywood and Los Angeles.
You'll be able to take high-quality pictures of The Hollywood Sign, peer across the high-rise buildings in Downtown LA, and see the heavens come alight at the Griffith Observatory. The lush green lawns in the front are a great place for a picnic, so be sure to bring some snacks along for the ride!
Address: 2800 E Observatory Rd, Los Angeles, CA 90027
Madame Tussauds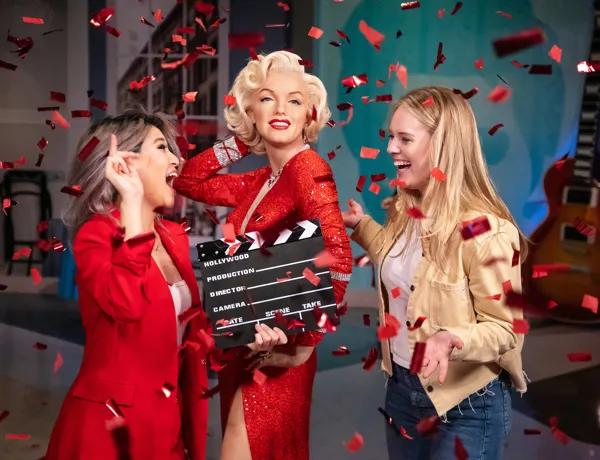 Nearly everyone who visits Hollywood, California dreams of running into their favorite celebrity, but few ever get the opportunity. Still, you can make your star-studded dreams come true when you visit the Madame Tussauds on Hollywood Boulevard.
This amazing attraction houses some of the world's most impressive and lifelike wax figures. You'll find Old Hollywood greats like Marilyn Monroe, Judy Garland, and Fred Astaire looking just as young and vibrant as they did more than half a century ago.
But you'll also be able to 'meet' modern stars like Tom Hanks and John Travolta. So, if you've ever wanted to take a selfie with some of the most recognized actors in Tinseltown, you won't want to skip Madame Tussauds.
Guests of all ages are welcome here, and kids under the age of three can enter for free!
Address: 6933 Hollywood Blvd, Hollywood, CA 90028
World of Illusions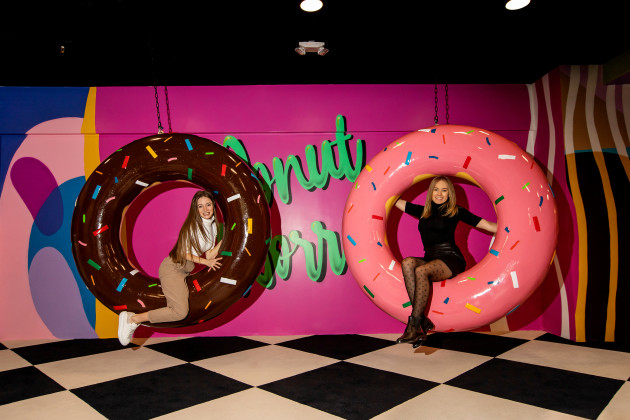 Have you ever wanted to fall down a magical rabbit hole, much in the style of a certain imaginative girl named Alice? If you answered 'yes' then you'll be glad to know such an experience is just around the corner at the World of Illusions.
You can enter upside-down rooms that make you feel like you're walking on the ceiling, avoid mind-bending painted hazards, and take plenty of pictures with your family. In fact, World of Illusions is one of the few Hollywood attractions that encourage visitors to take lots of pictures.
And, like many other top kid-friendly attractions, this venue is conveniently located on Hollywood Boulevard. So, if you're planning on visiting the Walk of Fame or Madame Tussauds, be sure to add World of Illusions to your itinerary.
Admission tickets vary depending on your chosen exhibits, but most visitors can expect to spend between $35 and $75 per person when visiting this wild land of imagination.
Address: 6751 Hollywood Blvd, Los Angeles, CA 90028
Autry Museum of the American West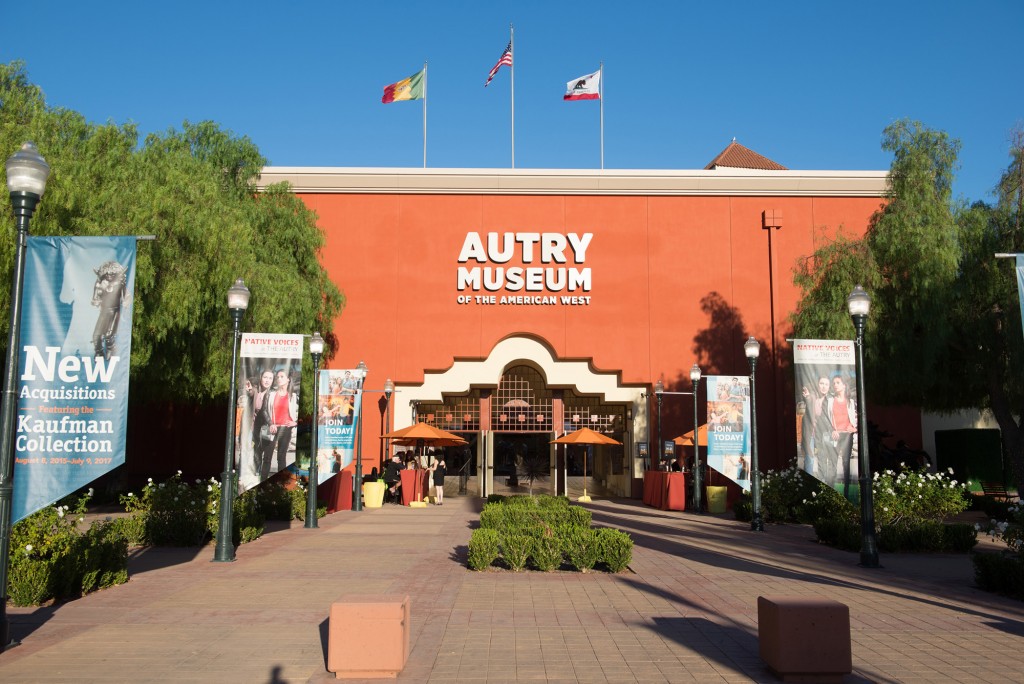 Families that love Westerns and the Old West aesthetic are bound to fall in love with the Autry Museum of the American West.
Not only is the venue brimming with authentic Western artwork and exhibits, but it also houses authentic weapons and outfits from Hollywood's Western-themed past. Named for Gene Autry, this museum could be the perfect way to wind down after a long afternoon out on the town.
If you visit during the second Tuesday of the month, you'll also get to enjoy a zero-dollar admission fee! With savings like that, you can afford to treat yourself (and your little ones) to a relaxing picnic on the sunny grounds of this one-of-kind museum.
Additionally, the palatial Los Angeles Zoo is only a short walk away! So, be sure to consider planning a fun day (or several) exploring all the sights and sounds of Griffith Park.
Address: Griffith Park, 4700 Western Heritage Way, Los Angeles, CA 90027
More about our TFVG Author
A seasoned traveller, Dad, and avid sports tourist, James foundered The Family Vacation Guide to share his expert vacation experiences- especially when it comes to being a travelling family man.
Featured in Travel articles such as Travel + Leisure, TripSavvy and SFGate, you know you're reading some of the best vacation tips online.