Away from LA's hustle and bustle is Ventura town.
This quaint and charming city is nestled between the Santa Clara River and Ventura River valleys in California and is an excellent destination for weekend getaways and vacations.
Whether traveling with kids or on a solo trip, it's full of things to do. On one side are scenic hilltops of Mt Pinos for those who love hiking or mountain climbing, and on the other side is a long stretch of the beach along the Pacific Coast full of water activities.
Read on to see highlights of the best things to do in Ventura with kids.
1. Discover the Unique Features of Ventura Harbor Village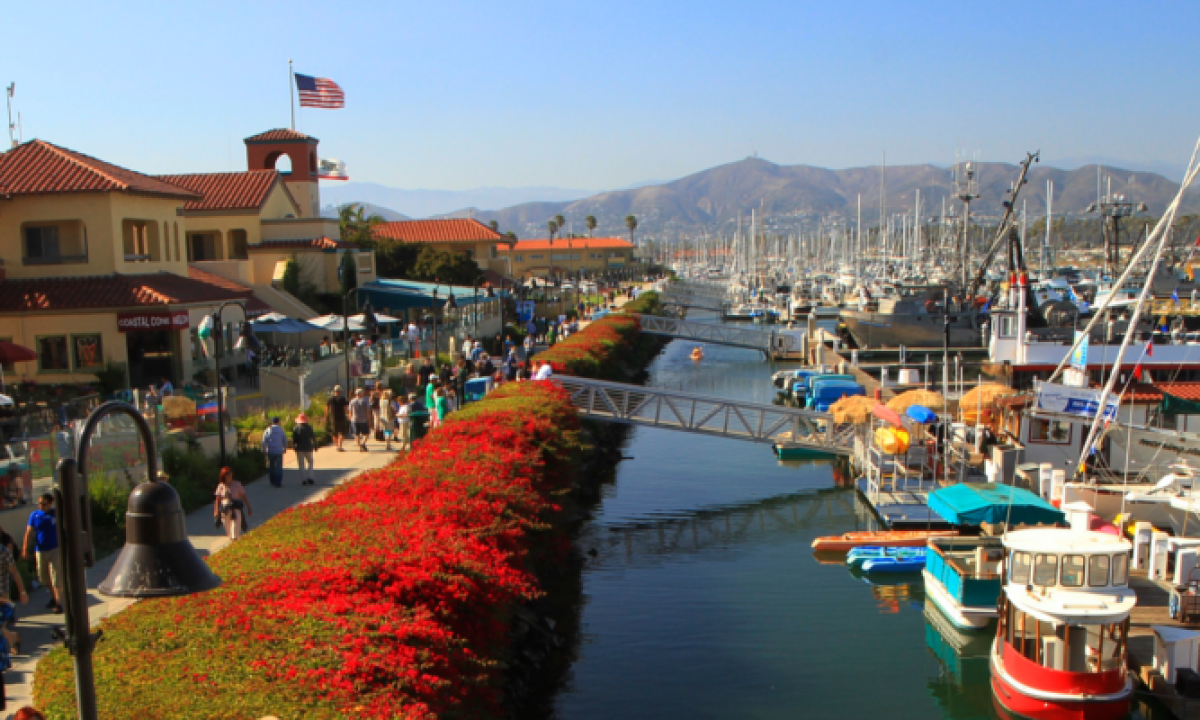 Harbor Village is a one-stop-shop for fun, adventure, and dining. Snuggled between the Pacific Ocean and a marina, it's one of the best places to enjoy a getaway with little driving.
There are many kid-friendly activities available here, including:
Paddle-boarding
Kayaking
Sportfishing
Whale watching
Dining cruises
Harbor tours
Daytime is a beehive of activities as tourists stream into art galleries, boutiques, cafes and attend festivals and concerts. The nightlife is also ecstatic here as families attend The Comedy Club after dinner or explore The Ultimate Escape Rooms. Since most hotels are adjacent to Harbor Village, you don't have to travel miles away to have lunch or dinner.
Other Kid-friendly Things to Do in Ventura Habor Village
Eat seafood, Italian, and Mexican delicacies
Take a day trip to the Channel Islands
Eat cake at the cafe bakery
Visit ice cream parlors
Shop at specialty shops
Visit the Fisherman's Market on Saturday
Play 36-horse carousel and arcade games
2. Go on a Maritime Treasure Hunt at the Channel Islands
A drive down from Harbor Village leads you to the famous Channel Islands Visitor Center. It's home to local marine life, a gift shop, a bookstore, and a live tidal pool.
Upon arrival, visitors watch a 25-minute movie called A Treasure in the Sea. Kids are also taken for a scavenger hunt as you climb up to the viewing tower to enjoy the breathtaking view of the Channel Islands.
The most exciting part of visiting the Visitor Center is exploring the model ship collection that includes elaboratory miniature ships made from real bones and wood. The entire visit lasts two hours, and there's free parking on the Island.
Other Kid-friendly Activities
Hike the two-mile trails on Santa Cruz
Explore the water in a kayak
Go snorkeling at Scorpion's Cove
3. Visit the Ventura Pier 
Your trip to Ventura County isn't complete without visiting the Pier. Constructed in 1872, Ventura Pier is an age-old symbol of the county's oil, farming, and construction history.
The Pier has had some changes over the years. It is now a lot shorter than once before. Its current length is 1700 feet, 300 feet shorter than the initial design but still one of the longest in the state.
Today it's the most visited place in the county as tourists throng here to admire Ventura's beautiful coastline, sunset, and the Channel Islands. There are seats for people to relax while watching the beautiful sunset and taking stunning photos.
The Pier is quite accessible, but you may need to walk a short distance depending on your parking spot. The southern part of the Pier is the closest parking spot to the main entrance, but you can park on the northern side where a parking structure has been set up.
Other Kid-friendly Things to Do
Watch the fishers cast nets
Go for a picnic at the beach
Grab a snack at the snack bar
Visit the brewery
Go surfing or swimming
4. Play Games at Zander's Game House
Kids are glued to their screens 24/7, but Zander's Game House teaches them how to play games without them. The game house has more than 850 card and board games for both kids and adults. In addition to tabletop games, the house hosts meet-ups for group gaming, Pokemon, Pathfinder, Trivia, to mention a few.
Zander's Game House is different from traditional gaming spaces as there are no screens. The only screens are for business or to enlighten players on technical games. The owner explains the idea was to establish a family-friendly gaming space by hosting cooperative games.
Visitors can also rent games to play back at the hotel for $5 (for three nights) and bring their games. There are plenty of snacks here and non-alcoholic beverages.
5. Visit Serra Cross Park
You'll find the cross built-in 1782 on this park. It has become a hotspot for tourists visiting Ventura because it's a designated historical landmark.
The park has a vast space where you and the kids can have picnics while taking photos to commemorate the visit to Serra Cross Park.
6. Go Cycling at Wheel Fun Rentals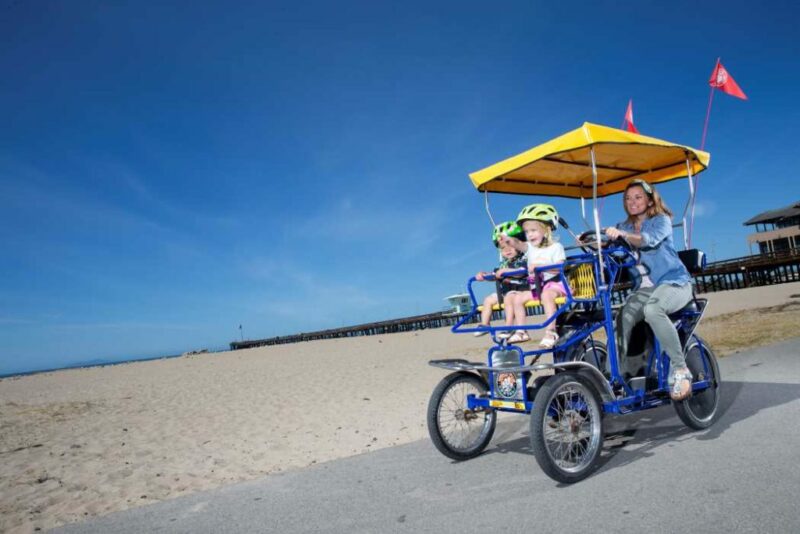 There's no better way to spend the afternoon than cycling on Wheel Fun Rentals' routes. The area was established and founded in 1987 to allow families to enjoy riding traditional bikes while exploring the Seaside.
You'll find specialty and electric bikes, mountain bikes, the iconic four-wheel Surrey cycles, swan pedal boats as well as moped and electric cars.
Wheel Fun Rentals has many outlets in Ventura, all offering the same services. Swan pedal boats are a classic piece of history that allows visitors to replicate their childhood with their young ones. The boats are equipped with a Bimini top for shade and life jackets, but visitors must bring their food and drinks.
On the other hand, electric vehicles are the best wheels to use to visit the Seaside Cove, the Sunset Boulevard, the local surf beach, and the Tillamook Head trail.
The trail leads you into Ecola State Park, which has more challenging hiking trails and stunning ocean views. More daring hikers follow the path that leads them to Cannon Beach.
7. Explore War Artifacts at the Seabee Museum
This museum is one of the oldest Navy museums in Navy history. It dates back to 1946 when Neil Kingsley, the then Navy commander, decided to set up a museum to display war artifacts. At the time, Seabees had abandoned extensive war materials.
After sifting through the collection of war items, Kingsley initiated a campaign to collect more Seabee-related artifacts. Locals brought cruise books, unit flags, photographs, and uniforms added to the collection to tell a complete story.
The Seabee Museum has been moved and renovated several times to accommodate the increasing flow of memorabilia. The most recent happened a decade ago, with a particular display area showcasing rarely seen artifacts and photos from the museum's creation in 1947.
8. Visit the Botanical Gardens
Sitting on an expansive 109 acres is Ventura's Botanical Garden. It was established in 2005 by a small group of people who wanted to enhance the city's appearance.
Today, Botanical Garden is home to 10,000 plants and trees consisting of 160 species of plants from the Mediterranean climate zone. Some parts of the garden comprise a Mediterranean pine forest of 60 trees and a small eucalyptus forest.
This world-class site is located behind City Hall foothills, where the trail begins showing off scenic views of the coastline, surrounding mountains, and the Channel Islands. The track is pretty wide and wheelchair accessible.
9. Visit Mission Basilica San Buenaventura
Visit the Mission Basilica San Buenaventura museum if your kids are history buffs. Established in 1782 by Priest Junipero Serra to convert natives to Catholicism, Mission Basilica San Buenaventura is a sight to behold.
Unfortunately, the parish was burned to the ground in 1809 and experienced a series of earthquakes, not to mention pirate attacks. It has since been renovated, featuring a magnificent museum open to Catholics and non-Catholics.
You will find an 1809 altar, significant art pieces, religious artifacts, and objects depicting the lives of people who spent their lives in and around the church.
10. Go Bird Watching at Surfers Point Beach
The beach is near Seaside Park at the helm of Ventura River, which flows behind the beach to form a lagoon. Different bird species perch here, attracting many visitors to the beach. They also surf on the high waves curling near the beach, and avid surfers ride boards to the famous Ventura City Pier.
The area has many beaches, including Emma Wood State Beach on the west side and Seaside Park and the Promenade on the east. There are many picnic tables and benches for families visiting Surfers Point Beach with kids to relax.
11.  Spend the Day at the Fun Village Carousel and Arcade
Your young ones will enjoy visiting this fun village, a great entertainment spot for families since the 1980s. Both locals and tourists visit Village Carousel and Arcade not only for a dose of nostalgia but also to play classic games like pinball, skeeball, and more.
The carousel is the village's main attraction, but the selection of prizes at the redemption booth is even more exciting. Plans to renovate the village are in the offing, seeing the area transformed into a modern entertainment hub.
The new owner wants to create an adult and kid-friendly space by installing multiple screens, virtual reality games, and serving European beers.
12.  Go Cycling on the Paved Ojai Bike Path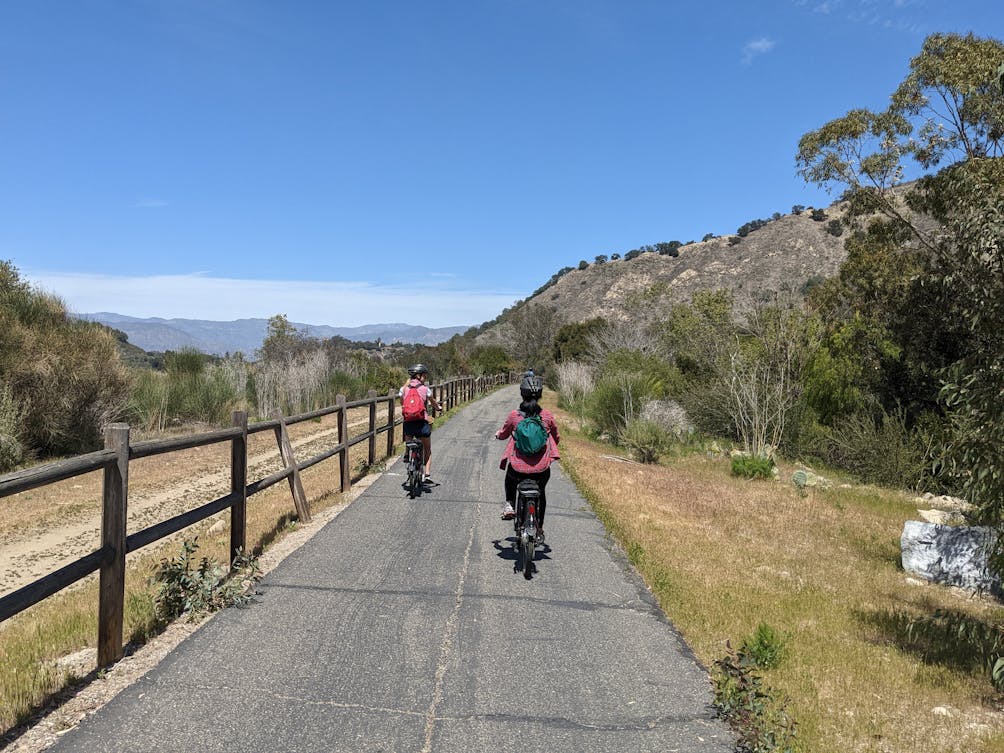 Kids who love cycling will have a lot of fun biking on the Ojai-Ventura Bike Path. The 24.1-kilometer trail is constructed on the old Ventura-Ojai railway line and is primarily used for walking, running, road, and mountain biking. It's also accessible year-round, and dogs can use the trail too (be sure to keep them on a leash).
A few miles of cycling leads you to the stunning Foster Park. This part of the trail is a little steep, so you may need to guide younger kids. The path then cuts off to Sulphur Road, a heavily inclined road with the most stunning views.
A few more miles lead you to Ojai, where you enjoy more breathtaking views. There are two accessible spaces on the paved parking lot off North Olive Street. Both are car-accessible. Although most of the trail is gentle, there are steeper sections of about 7.8-9.8 as you head north.
Trailers using a wheelchair and other mobility equipment may need help maneuvering the steeper sections. If you're not big on cycling, head to the nearby beach, resort, or hotel for more fun activities.
13. Go for a Gondola Ride
The activity is often associated with the hopeless romantic, but it provides a more relaxing way of exploring the canals around Coral Island. The owner and gondolier, Mark Schooling, has mastered the art of rowing a gondola, evident in the way he propels the structure under the bridges around the Island.
Mark mainly carries two people, but the gondola can carry up to six passengers at once. The first Gondola ride begins at 11:00 a.m. and the last at 9:00 p.m., but it's best to make a reservation beforehand because the spaces fill up pretty fast.
14.  Take a Whale Watching Cruise at Santa Barbara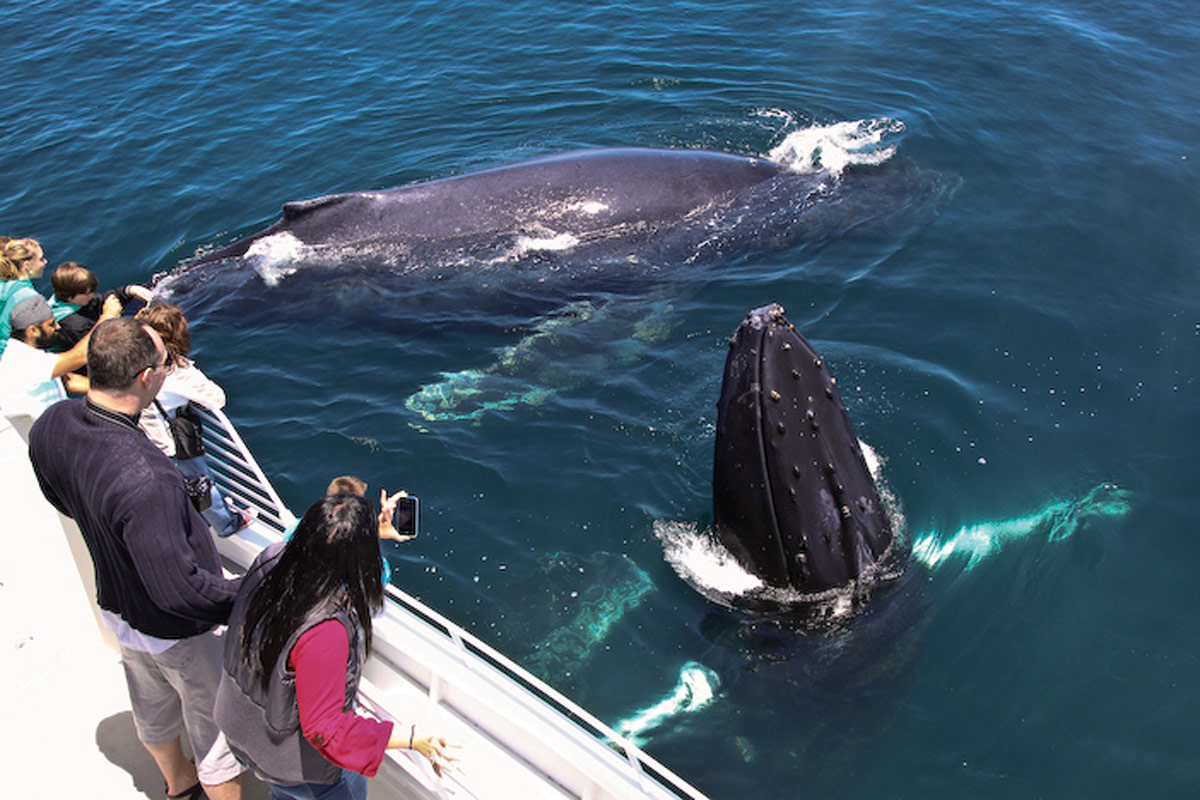 Fun fact: Ventura is home to 28 species of whales and dolphins. As such, this is one activity your kids shouldn't pass up when visiting Ventura.
Santa Barbara is particularly famous for having a tremendous marine mammal diversity, so you can set sail here. You can schedule a whale-watching cruise to see sea lions, a range of dolphin species, gray whales, and a few orca whale pods.
15. Make a Stop at Coastal Cone for Ice Cream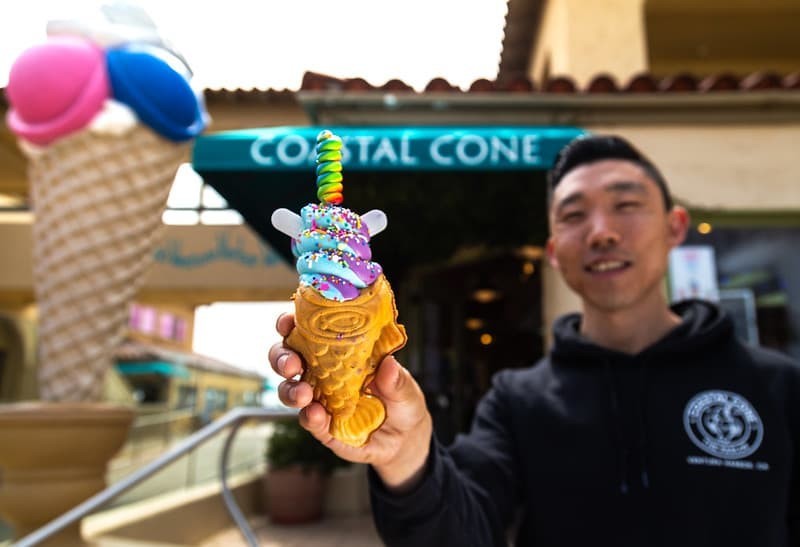 The establishment is famous for serving most kids' favorite treat-ice cream. Coastal Cone boasts a wide variety of ice cream flavors, including Cherry Vanilla, Coconut Pineapple, and more. The fish cone is the best-selling ice cream, and if you're not a fan of dairy products, you can order non-dairy flavors.
Conclusion
Without a doubt, Ventura is one of the best places to visit with kids in California. The numerous kid-friendly places and activities keep kids entertained, whether on a one-day trip or vacation. The best part is you can indulge in most of the activities.
Be sure to ask if the areas are pet-friendly if you are planning to bring one. Check us out for more inspiration on excellent places you can go for a vacation with your family.
More about our TFVG Author
Caitlin is one of The Family Vacation Guide's long standing contributors. She enjoys taking vacation to busy, vibrant cities and has stretched her traveling legs out towards Europe in recent months, enjoying new experiences in Barcelona in Spain, and Nice in France.