Disney's Paradise Pier Hotel is a fun and exciting place for you and your family to stay on your trip to Anaheim, California. There are many room options with different amenities at different prices.
The hotel has countless attractions, including Disney parks and other unique places in Anaheim. 
Location
The Paradise Pier Hotel sits at 1717 S. Disneyland Drive in Anaheim, California. This location is right across the street from Disney California Adventure Park.
It is an 11-minute walk from the Paradise Pier Hotel to both park entrances. The proximity to the park negates the necessity to drive and find parking at the park. Walking to and from your hotel will make your experience less stressful and cheaper.
Disney Paradise Pier Hotel is one of three official Disney California hotels. The other two are Disneyland Hotel and Disney's Grand Californian Hotel and Spa. The Paradise Pier hotel is the farthest walk from the park but also the cheapest.
There are 57 "Good Neighbor" hotels and the official Disney hotels. "Good Neighbor" hotels are normal hotels close to the park. Many of these hotels are across the street or less than a half mile from the park. These Good Neighbor hotels range from $660 to $1000 per night.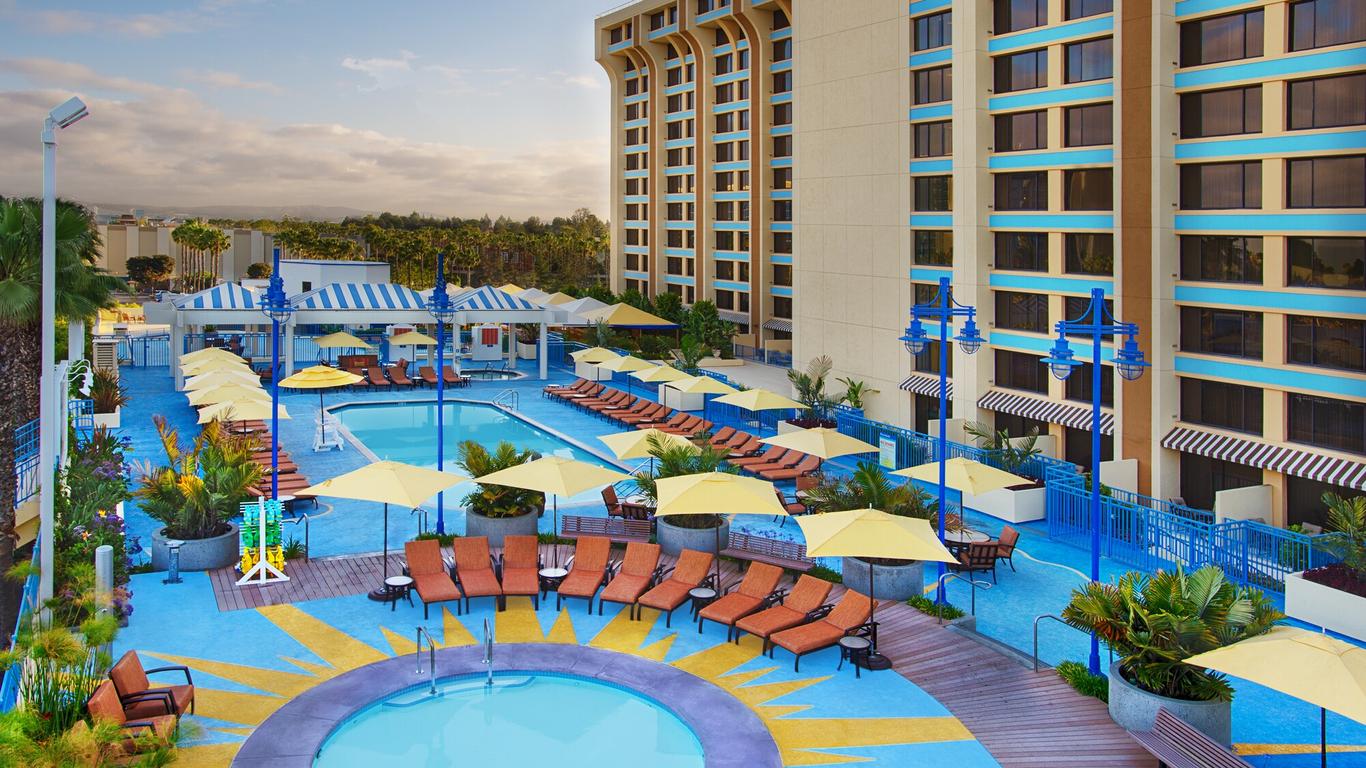 Rooms
The Disney Paradise Pier Hotel reflects a beachside hotel during the 1920s. The decorations and set-up of the hotel are dated but whimsical. Each room has unique Disney touches, such as Mickey ears, Disney-based art, and Mickey lamps and furniture. The rooms display bright, fun colors and beach vibes. Corona del Mar State Beach is only about a 30-minute drive from the hotel if these features put you in the mood for beach fun. 
There are many room tiers in the Paradise Pier Hotel. These room tiers range from the standard view room to suites to Club-level service rooms. These rooms include many typical hotel room amenities, including high-speed internet, an in-room safe, a refrigerator, and a coffee maker. You can also request a hotel Pack 'n Play for traveling with babies.
It might be challenging to know the differences between the different tiers of rooms at the hotel. Here are some details that might help you make the best decision for yourself and your party.
Standard View Room
The lowest and cheapest tier is the standard view room. The standard view rooms can sleep up to five adults. This room will have either a king-sized bed and a queen-sized sleeper sofa or two queen-sized beds and one day bed. The downfall of the standard view room is that your window faces either the road or parking lot, so you won't have dreamy Disney views. 
Premium View Room
The next tier is the premium view. This tier is the same room type as the standard view, but the window faces the park. This room sleeps up to five adults and has two queen beds and a day bed.
Suites
Another room tier is the suites. The Paradise Pier Hotel has a one-room suite and a two-room suite. These tiers have big family couches, dining room tables, and microwaves. The one-room suite sleeps six people with two queen-sized beds and one queen-sized sleeper sofa. The two-room suite can sleep up to 10 people and includes a king-sized bed, two queen beds, and two queen sleeper sofas.
Dana Point Signature Suites
The next tier is the Dana Point Signature Suites. These rooms have a nice sitting area, a large dining table, and a microwave. They also have an outdoor sitting area. These suites can be one-room, two-room, or three-room suites. They can sleep between 4 and 13 guests.
Huntington Signature Suites
Another tier that is similar to the Dana Point tier is the Huntington Signature Suite. This suite also has a nice sitting area, dining room table, and small kitchen area. You can get a one-bedroom or two-bedroom Huntington Signature Suite. These suites can sleep 6 or 11 guests.
Laguna Signature Suites
The Laguna Suites are very similar to the other suites in that they have a sitting area, dining room area, and small kitchen with a microwave and a full refrigerator. They can sleep up to 6 or 11 guests depending on whether it is a one-room or two-room suite. This suite also has a beautiful view of the Disney Parks.
Malibu Signature Suites
The Malibu Suites have one-room and two-room choices. They have sitting areas around an excellent television, a dining room and kitchen area, and many huge windows. These windows allow beautiful views of the Disney Parks and stunning natural lighting. The one-bedroom can house four guests, and the two-bedroom suite can have up to 9. 
Newport Signature Suites
The Newport Suites have indoor and outdoor sitting areas, a dining room, a kitchen with a microwave and a fridge. The suite also has a luxury bathroom, a jacuzzi tub, and a large shower area. The one-bedroom suite can sleep up to 6 people, and the two-bedroom can sleep up to 11 guests. 
Club-Level Service
The final tier is the one with the most amenities. These are the same rooms as the standard and premium view rooms. However, these rooms include what the Paradise Pier Hotel calls "club-level service."
Club-level service includes rentable DVDs, access to the Beachcomber Club, free drinks and appetizers from 5:00 to 7:00 pm, a turndown service, continental breakfast, help from the concierge staff, free desserts from 7:00 to 8:00 pm, and snacks from 10:00 am to 5:00 pm. These luxury amenities can make your Disney hotel stay amazing.
Cost
There is such a variety in costs depending on which level of room you reserve, the length of your stay, and the time of year you are there. The cheapest room option is $466 with the lowest tier of room, the standard view that can sleep up to 5 people. The two-bedroom Malibu Suite is $2,975 per night. Other suites and one-bedroom rooms cost somewhere between those two amounts.
Amenities
Disney is such a fun vacation destination! If you're spending the time and money to visit Disney California, you will want to weigh your options as to which hotel offers you the best amenities. Here are some of the fun experiences that Paradise Pier Hotel provides:
Rooftop Pool with Waterslide
Paradise Pier Hotel has a few different pool options, all found on the rooftop. There is a pool, a children's pool, and a whirlpool. The pools are a beautiful sight with colorful lounge spaces and an impressive waterslide.
Fireworks
On specific nights, Disneyland Park sets off fireworks shows. The rooftop pool gives a great view of these shows. Fireworks are only on particular nights, so check to ensure they are doing a firework show before you book your stay.
Fireworks shows include a Halloween show, Mickey's Mix Magic, a Christmas show, and a New Years' show.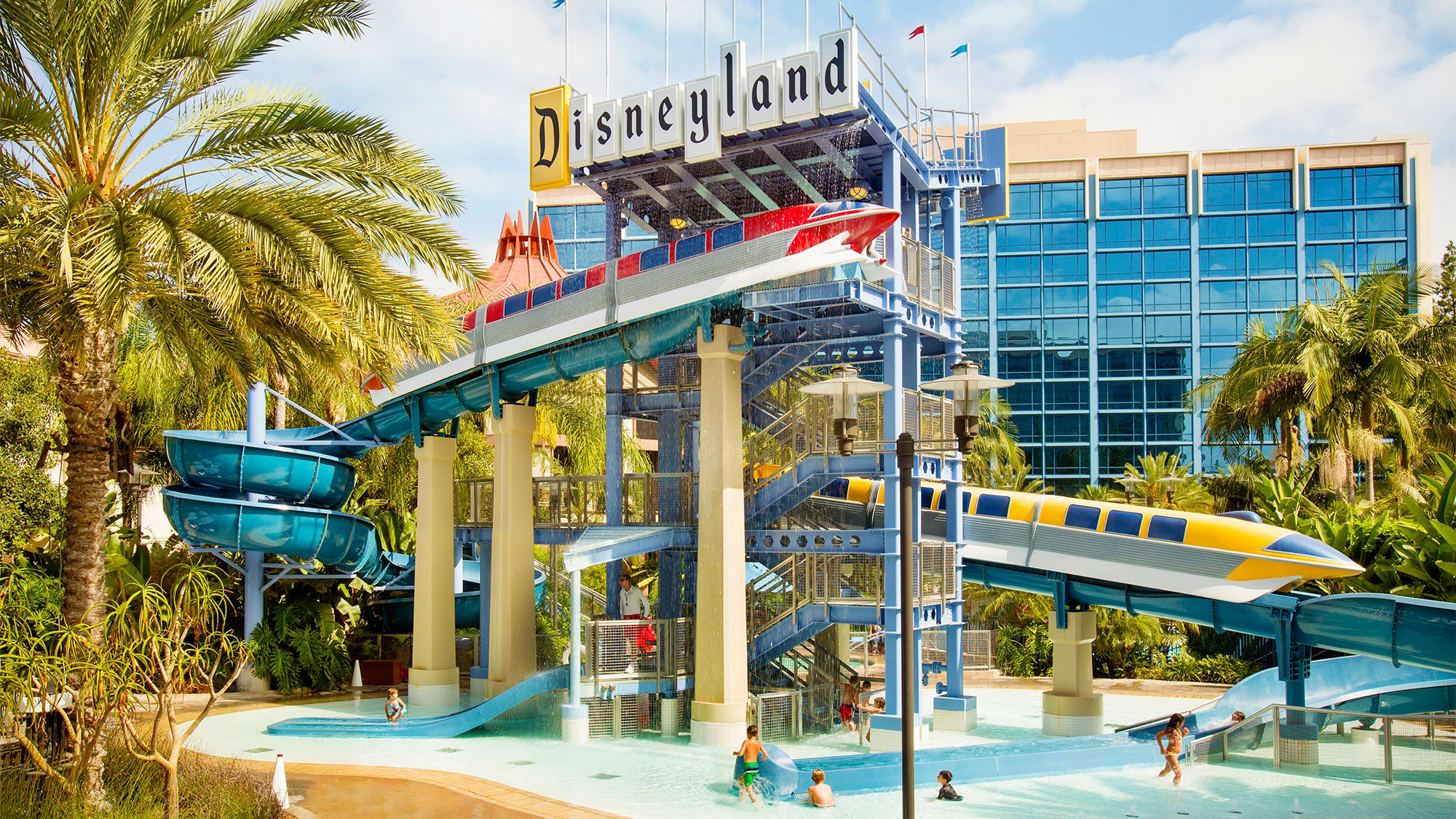 Early Entry to the Parks
All patrons of Disney hotels get the privilege of early entry into the parks. Early entry allows you to enter the park 30 minutes before the gate technically opens to enjoy a few different attractions without crowds and lines. This privilege might also help you avoid crowds while entering the park.
Package Delivery
No one wants to carry around a bunch of bags while they are walking around Disney Parks. By staying in the Disney hotel, you can avoid the hassle. If you buy a souvenir at the parks or the Downtown Disney District, they can deliver it to your room the next day. This package delivery allows you to enjoy all the souvenirs without lugging them around.
Guest Services
Paradise Pier Hotel also offers a concierge-type service that you can reference with any issues or questions you might have. They can help you with directions, activity ideas, restaurant recommendations, general Disney questions, and questions about the hotel. There is a guest service desk in the lobby, but the service can also be reached via your room phone.
Laundry
If you are traveling with little ones, Paradise Pier Hotel's laundry service might be a lifesaver for you. Kids are messy, especially on vacation. The messes will probably stain by the time you get home at the end of the week. This issue can be avoided by finding a hotel equipped with a laundry room.
Paradise Pier Hotel's laundry room is open 24 hours a day and 7 days a week. It is budget-friendly, and you can buy laundry soap using a debit or credit card in the laundry room. 
Restaurants inside
While the popular Surfside Lounge and the Sand Bar restaurants used to serve patrons of Paradise Pier Hotel, they have not reopened since shutting down during COVID-19. These restaurants are listed as "Temporarily Unavailable" on the Disney website, so we hope they will open back up soon.
Paradise Pier Hotel has a Self-Serve Market in the lobby with food and drinks if you need a quick snack. Also, if you are in a Club-Service Level room, you have access to the Beachcomber club, where you can get a continental breakfast and various beverages, snacks, and desserts throughout the day. 
Restaurants nearby
While there are not many open sit-down restaurants inside the hotel, plenty are within walking distance of the hotel!
Paradise Pier patrons are perfectly welcome to enjoy the restaurants of their neighbor, Disney's Grand Californian Hotel & Spa. This hotel has five restaurant options: the upscale Napa Rose, the homestyle Storytellers Cafe, the rustic Hearthside Lounge, the cozy GCH Craftsman Grill, and the poolside GCH Craftsman Bar.
Disneyland Hotel's restaurants are also open for visitors from Paradise Pier. Disneyland Hotel has four dining options. First is the Tangaroa Terrace Tropical Bar & Grill, an American-Polynesian restaurant that is very reasonably priced. Next is Trader Sam's Enchanted Tiki Bar, themed from the movie Jungle Cruise.
There are also countless dining options in Downtown Disney District. There are fine dining options that you can make reservations for, quick dining options, and character dining options. The Downtown Disney District is free to explore, with some great shopping options and restaurants. Downtown Disney District is about a 6-minute walk from the Paradise Pier Hotel. 
Attractions nearby
There is so much to do in Anaheim, California. You could easily make it a week-long summer vacation destination.
First and closest, of course, are the Disney parks. Two parks are right across the street from the Paradise Pier Hotel. The Disney California Adventure Park includes Cars Land, Avengers Campus, and Pixar Pier.
The second park is Disneyland Park, the only Disney park that Walt Disney designed and supervised himself. This park includes attractions such as Star Wars: Galaxy's Edge, Fantasyland, Tomorrowland, and Adventureland.
Another Disney attraction nearby is the Downtown Disney District. This neighborhood has tons of food options, many unique stores, and various entertainment choices. The district sits right next to the parks, and it is within walking distance of the Paradise Pier Hotel. 
A great non-Disney food attraction is the Anaheim Packing District. This renovated citrus-packing plant is a classy market for many Anaheim food vendors. It is a great place to grab upscale food and has great photo opportunities. Anaheim Packing District often holds farmers' markets, and on many weekend nights, it hosts live music concerts. 
Sports fans will jump at the opportunity to visit the Angel Stadium of Anaheim for an Angel's baseball game. There are many concession options, and they play games almost every night of the week. This is an excellent option for things to do on weeknights in Anaheim.
If you are looking for a non-Disney theme park, check out Adventure City. This theme park is a fairly cheap option at only $26.95 per ticket. Adventure City is a great option if you have young kids. It has a variety of kid rides with shorter lines. This park has rides, a petting zoo, an arcade, and live entertainment.
Center Street Promenade is another excellent option for food and entertainment. This street in Anaheim is home to many craft markets and craft restaurants. It is a great downtown area to be enjoyed by all different people.
Another great entertainment and dinner combo is Medieval Times California. This four-course dinner is accompanied by a show of knights, royalty, and fighting. It is also relatively affordable for the amount of food you will receive. Children under 12 cost about $43, and people over 12 cost $70.
Huntington City Beach is a beautiful beach near the Paradise Pier Hotel. This beach is a professional surf beach where you can enjoy the entertainment of watching people surf. You can even rent a surfboard and go surfing for yourself! There are sand volleyball courts, a beautiful pier, and many bonfire pits. There are many concession stands on the beach as well. Of course, the best part of this beach is the soft sand and rolling waves.
Rebranding
In the spring of 2022, Disney announced that they would be rebranding the Paradise Pier Hotel as a Pixar-themed hotel. We don't know much about this rebranding. We don't know when the work will start or much about what it will look like.
We do know, however, that there will be a lot of Pixar statues and related art pieces. They will be switching the theme from the beloved seaside bungalow concept to a brand new modern theme with Pixar art and characters around the hotel. They are also adding a walkway that will connect the hotel to the Disney parks for easier and safer walking access.
Final Thoughts
Disney's Paradise Pier Hotel is a beachfront-themed hotel with many thoughtful and fun references to Disney throughout the hotel. It is placed perfectly near both Disney parks in Anaheim, California. There are also plenty of things to do in Anaheim other than Disney. You can plan your Disney trip with options for breaks from the crowds. Non-Disney markets, restaurants, and fun attractions for kids are around every corner in Anaheim.
Paradise Pier Hotel is in a great spot in Anaheim as well. The hotel allows very easy access to the Downtown Disney District. It is the cheapest of all the Disney hotels in Anaheim. The hotel has a variety of room options that can host up to 13 guests.
There are a variety of amenities that would make your stay worthwhile, including next-day package delivery, the laundry room, early entry into the parks, and the beautiful view of Disney fireworks shows that can be viewed from the hotel's rooftop pool.
More about our TFVG Author
A seasoned traveller, Dad, and avid sports tourist, James foundered The Family Vacation Guide to share his expert vacation experiences- especially when it comes to being a travelling family man.
Featured in Travel articles such as Travel + Leisure, TripSavvy and SFGate, you know you're reading some of the best vacation tips online.