While many theme parks have begun to move toward going completely cashless, there is no need to panic if you prefer cash and want to head to Disneyland- the park will continue to take cash in 2023.
Almost every location within the park continues to accept cash, so don't fret if it's your preferred form of payment.
What Other Forms of Payment Does Disneyland Accept?
While almost every location at Disneyland accepts cash, it's nice to know you have a backup if you run out. Fortunately, Disneyland accepts all kinds of different forms of payment, so you'll have plenty of options while you're there.
Apple Pay in Disneyland
Apple Pay is accepted at many locations in Disneyland, so if you prefer not to carry your wallet all day in the Anaheim heat, you don't have to, as long as you're not planning on hitting a full-service restaurant. Apple Pay can be used in Disneyland at:
Quick service restaurants
Retail and merchandise locations
Kiosks and food carts
Some stores in the Downtown Disney District
You cannot use Apple Pay at full-service sit-down restaurants while at Disney.
Forms of Payment Disneyland Does Not Accept
While Disneyland tries to accommodate as many forms of payment as possible, there are a few forms of payment that are not accepted anywhere in the park. You cannot use these forms of payment in the park:
Personal Check: Unfortunately, personal checks tend to slow down lines and so Disneyland does accept them within the park
Money Transfer Apps: Disneyland does not accept payments from third-party apps except for Apple Pay. This includes:

Zelle
CashApp
Venmo
Paypal
Mobile Ordering
One of the most convenient ways to pay in Disneyland is using their official mobile app. You can order food and use merchandise mobile checkout in stores to buy souvenirs. The app also has tons of other information you will likely want to have while you're in the park, so it's a no-brainer to download before you go.
Merchandise Mobile Checkout
One of the easiest ways to shop at Disneyland is to use their mobile merchandise checkout. You will need to download the official Disneyland app to use this service, but it's worth the time you'll save standing in line.
To use the merchandise mobile checkout, you can open the app and scan in the items you want to buy as you walk around the store. Once you have filled up your cart with everything you want, you can pay for it with a credit card on your phone.
Then, all you have to do is show the QR code to a cast member waiting by the door, and you're all set—no need to wait in a checkout line while shopping at Disney ever again.
Can I Use Cash for Merchandise Mobile Checkout?
No. To use merchandise mobile checkout, you will have to pay in the app before you leave, which you cannot do with cash. However, similarly to mobile orders, there is a solution.
You can use cash to buy a Disneyland gift card at almost any shop. Then, you can enter the gift card into the app and use the merchandise mobile checkout like you would if you were using a credit or debit card.
Are There ATMs in Disneyland?
If you prefer cash but don't want to be carrying tons of it around, Disneyland has ATMs that you can use. They are available as long as the park is open and are scattered throughout the park.
If you plan on using the ATMs, note that anyone without a Chase card will be charged a small ATM fee as Chase has partnered with Disney for ATMs.
ATM locations are just inside the entrances to Disney California Adventure (DCA) and Disneyland Park. To avoid the busy entrance areas, you can use the ATM in Frontierland if you're in the main park or the ATM in the Bay Area if you're at DCA.
Here is a complete list of ATM locations provided by Disneyland Resort:
Disneyland Hotel
Disney's Paradise Pier Hotel
Disney's Grand Californian Hotel & Spa
Bay Area (DCA)
Buena Vista Street (DCA)
Main Street, U.S.A.
Esplanade/ The area between DCA and the main park
Frontierland (Main park)
You can use the following cards at ATMs in Disneyland:
American Express
MasterCard
Discover
Novus
Cirrus
Star
Honor
Plus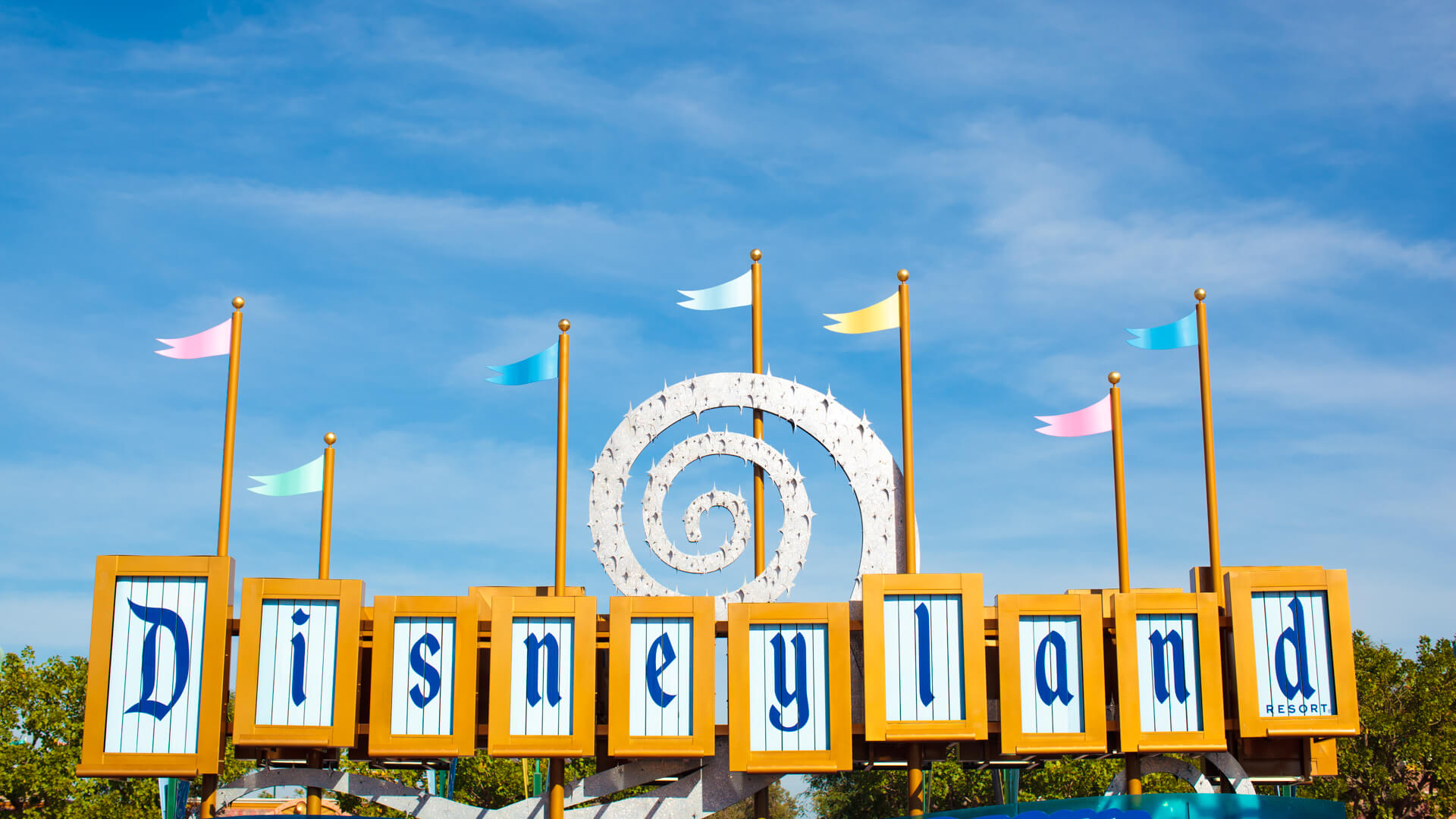 Can I Use Cash for Mobile Orders in Disneyland?
You must pay for mobile orders before picking them up, and the only way to pay for them is on your phone with a credit or debit card. You can, however, use cash to buy a Disneyland gift card and use that card to purchase things through mobile ordering.
Forms of Payment Disneyland Accepts
Here are all of the forms of payment that you can use at Disneyland in 2022:
Cash (most locations)
Credit card
Debit card
Traveler's checks
Disney gift cards
Disney Dollars
Visa/MasterCard gift cards
Room charges/ Magic Bands
Disney rewards dollars
Apple Pay (most locations)
Can I Pay for My Park Ticket in Cash
Yes! You can pay for your Disneyland park ticket in cash upon arrival at the front gates. Note that you will have to wait in line to pay instead of being able to walk right in.
You should be cautious if you plan on paying cash during the busy season as well. If Disneyland reaches capacity, you may be turned away at the gates. You can prevent this by buying online before you go, but you will have to use a card.
Paying with Disney Magic Bands
Magic Bands were recently implemented in Disneyland. They have been at Disney World for years but moved into Disneyland in 2022. You can use the bands to enter the park, get into your hotel room, and pay for goods inside the park.
They work similarly to Apple Pay on an Apple Watch. You can connect your phone to the band and add reservations, tickets, hotel rooms, and payment methods. Then you can tap your Magic Band at terminals throughout the park when you want to make a purchase.
Exchanging Currency at Disneyland
There's no need to stop at a bank before heading over to Disneyland from another country, as Disneyland has foreign currency exchange available in the park. In the main park, you can exchange currency at City Hall. At DCA, you can exchange currency at Guest Relations.
Where to Buy Disney Gift Cards
You can buy Disney gift cards from their official shop online. The cards can then be sent to you through the mail or email. If you plan on purchasing gift cards to use in the park and want a physical card, make sure you buy them far enough in advance for them to get to you, or purchase the card from another retailer in person.
You can also purchase Disney gift cards inside of Disneyland itself if you want to bring your cash into the park and then use a gift card. Additionally, other retail locations sell Disney gift cards, including:
Target
Walmart
Best Buy
Disney Stores
Staples
Remember, you can also use Visa or MasterCard gift cards in Disneyland. These gift cards are sold everywhere, including at gas stations and grocery stores.
Wrapping Up
While contactless payments are faster and preferred, Disneyland accepts cash in 2023, and will likely continue to accept cash for the foreseeable future. If you run out of cash, Disneyland has a few ATMs throughout the main park and DCA. You can also use a variety of other payments and exchange currency while at Disneyland. 
More about our TFVG Author
A seasoned traveller, Dad, and avid sports tourist, James foundered The Family Vacation Guide to share his expert vacation experiences- especially when it comes to being a travelling family man.
Featured in Travel articles such as Travel + Leisure, TripSavvy and SFGate, you know you're reading some of the best vacation tips online.