If you and your family are planning a trip to California, Disneyland will be pretty high on your list. However, you may not have heard about Southern California's other exciting and famous theme park: Knott's Berry Farm.
Incorporating Knott's Berry Farm into your theme park getaway is easy and convenient. Read on to learn more about the best route to and from Knott's Berry and Disneyland, and other helpful information for planning your trip.
Where is Knott's Berry Farm?
Knott's Berry Farm is an amusement and water park in Buena Park, California. Buena Park is a 20-minute drive from the coast and just 20 miles southeast of Los Angeles.
Knott's Berry Farm is close enough to L.A. that your family has plenty of options when you start planning your trip. You can stay in L.A., where you won't run out of spacious Airbnbs or high-quality hotels, or in Knott's Berry Farm's Hotel for total ease.
For the best of Knott's Berry Farm and Disneyland, there are plenty of hotels in northwest Anaheim, Anaheim Shores, and La Palma, which situate you between the two theme parks so you can maximize amusement park fun.
Knott's Berry Farm advertises itself as "California's Original Theme Park." With several high-thrill roller coasters and a water soak park, the park has activities for families with young children and teenagers.
Where is Disneyland?
Disneyland Park is in Anaheim, California, just ten minutes away from Buena Park and a half-hour drive from Los Angeles. Disneyland's name precedes it – at this amusement park, you can explore Disney classic attractions and rides that you and your family will recognize.
Disneyland's park edge buttresses up against I-5, so getting to and from Anaheim is convenient and quick. Themed hotels and spas surround the park, and there are plenty of parking lots either a walk or a tram service away.
If your family is interested in immersing themselves in the full Disneyland experience, then any of the park's hotels or lodging offers quick access for a multi-day park excursion. Similar to Knott's Berry Farm, however, your options for hotels in nearby Anaheim Shores, Hermosa Village, or La Palma are bountiful.
What's the Best Way to Get to Knott's Berry Farm From Disneyland?
The good news is that Knott's Berry Farm and Disneyland Park are just a stone throw's away from each other. A short distance of fewer than 7 miles separates the two amusement parks. Both amusement parks are conveniently located off of I-5, or the Santa Ana Freeway.
Best Route by Car
The most direct route to Knott's Berry Farm from Disneyland is on I-5. From Disneyland Drive merge right onto I-5 North towards Los Angeles. Drive three miles and take exit 113C for California 91 West/State Highway 91 West.
You're on California 91 West for just a mile and a half, after which you'll take exit 23B for Beach Boulevard or California 39.
Turn left onto California 39 or Beach Boulevard and drive just under a mile until Knott's Berry Farm will emerge on your right.
This trip will only take you 13 minutes if the traffic is mild. If you're averse to highway driving, you can always get off I-5 North at La Palma Ave (Exit 113A) to travel West on La Palma Ave. From that exit, you also have the option of driving south to turn right on Crescent Ave.
Both of these routes get you off the highway sooner, though they add a few minutes to your overall trip. Either way, traffic allowing, you should not be driving longer than 20 minutes to reach Knott's Berry Farm from Disneyland.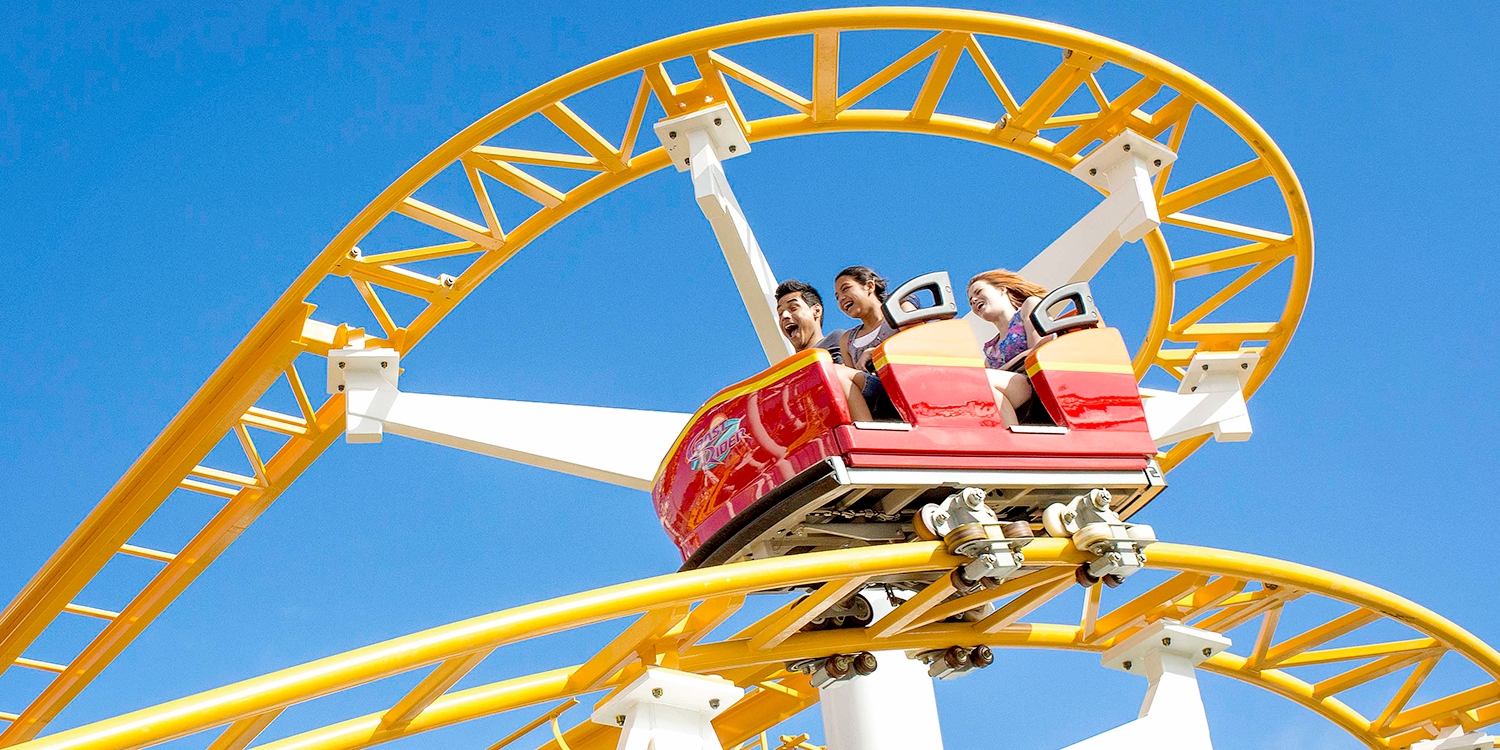 Best Route by Public Transportation
Though Southern California is not known for a robust public transportation system (in comparison to cities like New York or Chicago), there is a bus route that will take you directly to Knott's Berry Farm from Disneyland.
The L.A. County Metropolitan Transportation Authority bus route 460 serves the Orange County cities of Buena Park and Anaheim as well. The bus route makes for a quick and easy ride between the two amusement parks if you'd prefer to leave your car at your lodging.
The 460 bus stop at Disneyland is only about a five-minute walk from the park entrance. Take the bus heading towards Downtown LA and ride it for 15 stops (approximately 26 minutes), where it drops you off directly in front of Knott's Berry Farm.
Buses leave every half hour between the hours of 5:25 am and 7:36 pm. Before and after buses come once per hour. Buses do not run between 12:15 am and 4:00 am.
RideShare App
If loading your family onto a bus feels unlikely but you're also not renting or bringing your car with you on your trip, you always have the option of taking an Uber or a Lyft from Disneyland to Knott's Berry Farm.
Both Rideshare apps are convenient and safe. If you don't already have one of them downloaded on your phone, setting up your account and payment information is intuitive and quick. Prices range depending on the time of day and the standard rate in the area, but Ubering or Lyfting to Knott's Berry Farm is an easy way to make the trip short without worrying about parking.
As always, with any Rideshare app, it's important to take the necessary precautions to ensure that you and your family are safe. Never get into a vehicle that does not match the one listed on your app, and always confirm your driver's name before getting into their car.
Have Fun!
Southern California is a popular destination for tourists interested in checking out the local sites, as well as exploring some of the area's most treasured theme parks. Conveniently, you won't have to travel far or plan a longer trip to experience both Disneyland and Knott's Berry Farm.
With less than ten miles separating them, both amusement parks are convenient and accessible to families who like to travel in style, appreciate keeping things on a budget, or are simply curious to check out what all the fuss is about. Enjoy your theme park adventure!
More about our TFVG Author
A seasoned traveller, Dad, and avid sports tourist, James foundered The Family Vacation Guide to share his expert vacation experiences- especially when it comes to being a travelling family man.
Featured in Travel articles such as Travel + Leisure, TripSavvy and SFGate, you know you're reading some of the best vacation tips online.