Are you planning a trip to Hawaii? If San Diego in California is your starting point or a connecting destination in your itinerary, you might be interested in knowing your flight time. While your time in the air will depend on several factors, you're looking at an average of six hours and nine minutes. 
This timing is, of course, with a direct flight from San Diego to Hawaii. It's also assuming an average jetliner speed of 500 miles per hour, average air traffic, and favorable weather conditions. If you're making additional connections, your flight times could vary. 
Let's break down what contributes to your travel time and what you can do to shorten it.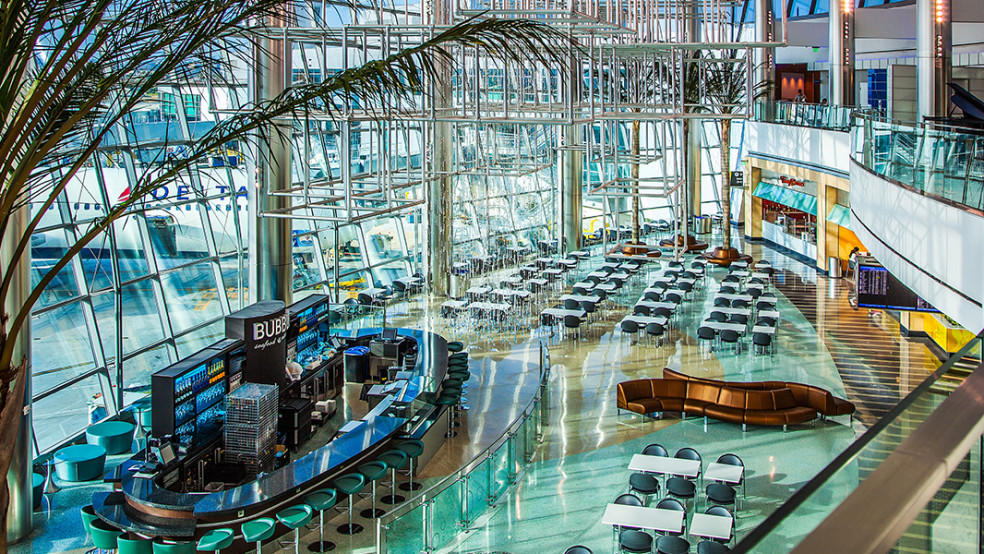 Average Direct Flight Times
The distance between San Diego and Hawaii is approximately 2,523 miles. Most direct flights from major international airports, such as San Diego, terminate at Honolulu International Airport.
The average time in the air once you take off from San Diego and land on the tarmac in Honolulu is six hours and nine minutes.
Your actual flight time could be slightly shorter or longer if the pilot flies faster or slower in the air. Congestion in the skies over San Diego, on the way, or near Honolulu can also impact your flight time. 
While you're in the air, poor weather conditions could also cause the pilots to request a different path. This change could add to your flight time.
Indirect Flights
Many travelers do not stay in Honolulu or have it as their final destination. They may be staying on a different island, such as Maui. In addition, some travelers do not book flights from San Diego to a Hawaiian airport. They first fly through a connecting airport in places like Seattle or Portland.
Connecting flights will obviously lengthen your flight time. You could spend as little as 30 minutes more in the air or over two more hours. This time does not count any layover time or the minutes you'll spend deplaning and reboarding.
What's Not Included in Flight Times
A lot of preparation and travel time goes into a trip. It's not just the duration of your flight, but the drive to the airport and the steps you take to check-in. If you're renting a car or taking a shuttle, there's the time it takes to get a vehicle or wait for the driver to pick up all the passengers.
Most airlines recommend arriving at the airport 90 minutes to two hours before your scheduled flight time. Not everyone lives within the San Diego area or is within close driving distance to the airport. So, you have to figure out how long it will take to drive to the airport or have a shuttle drive you.
If you drive yourself, you'll need to find parking and possibly take a parking lot's shuttle to the actual airport. Once you get there, you may need to wait in line to check luggage or print boarding passes from a kiosk.
After you complete these tasks, it's time to go through security. Depending on the number of travelers at the airport, you could be waiting in those lines for up to an hour. It may be significantly less if you have TSA Pre-Check or another means of shortening your time.
Once you get through security, you could be in for some walking or tram time to your gate. Once you're at the gate, you'll have to wait to board. You could be waiting for the plane to come in from another airport, and the airline will want to deplane the current passengers first and go through a cursory clean and pre-check. 
When Do I Have to Be at the Gate?
The majority of flights start boarding 30 minutes before their scheduled departure. Some travelers like to get to the gate a little sooner, so they have time to relax and get something to eat. Others press their luck and get there right when boarding begins. If you're not at the gate 10 to 15 minutes before departure time, you could get bumped.
Will Flight Time Include Sitting at the Gate?
Nearly everyone's been on a plane that seemed to sit at the gate forever. Or the flight was in a long line for takeoff on the airport's tarmac.
Flying or flight time does not calculate any of this. The actual flight time starts at launch and ends when the plane touches down on your destination airport's runway.
You have to take into account the processes of:
Boarding the plane
Luggage and packages getting put in the cargo
The ground crew performing a check
The pilots waiting for takeoff clearance
Once you're on the plane, it's a waiting game. Time to get out that book or travel guide and get reading! 

How Can I Shorten My Travel Time?
There is little you can do to impact your time in the air. That's up to the airline, the laws of physics, and aerodynamic forces. However, you can control some of the other aspects that contribute to your travel time.
If you can afford to fly on a private plane versus a commercial airline, you can save yourself time at the airport. You won't have to check bags or check in with an airline, wait in as long of security lines, or deal with the hassles of other passengers.
However, the reality is that most of us will fly commercial, so try to choose direct flights whenever you can. If feasible, choose early morning flights as these tend to have better on-time departure records than flights later in the day.
Also, drive yourself to the airport or have a trusted friend do it. Shuttles can be notorious for lateness since they're transporting multiple passengers. At your destination, choose a rental car company located at the airport.
Conclusion
Flying from San Diego to Hawaii takes slightly over six hours in the air. While this is a longer than average domestic flight, it's not as long as many international flight times. Enjoy your trip!
More about our TFVG Author
A seasoned traveller, Dad, and avid sports tourist, James foundered The Family Vacation Guide to share his expert vacation experiences- especially when it comes to being a travelling family man.
Featured in Travel articles such as Travel + Leisure, TripSavvy and SFGate, you know you're reading some of the best vacation tips online.