Are you planning on staying at the extraordinary Grand Californian Hotel and Spa for your Disneyland California, USA adventure? Prepare for a true escape from reality: a trip to a magical paradise!
Knowing how to find your way around both your chosen hotel and Disneyland Resort, including the various locations encompassed within the resort, will ensure that you make the very most of your time there!
Read on, and you'll be well-prepared for your stay at the Grand Californian. And, don't forget to check out 'The Family Vacation Guide' when looking for more exciting ideas to enhance your trip whilst visiting California with the family!
How Far Is Disneyland From Grand Californian Hotel?
Many families choose to stay at the Grand Californian Hotel for its convenient location. The hotel rooms are situated in close proximity to all of the Disneyland Resort theme parks, the Downtown Disney District, and the entirety of all the other Disneyland hotels.
Everything is within walking distance! Plus, guests staying at the Grand Californian Hotel can even enjoy easy access to Disney California Adventure Park through a special entrance located near the hotel pools. In fact, all of the resort's main attractions are within a 12 to 15-minute walk from the hotel.
Getting To Disneyland Park From Disney's Grand Californian Hotel
Take a Short Walk
The only way of getting from the Grand Californian Hotel to the main attractions in Disneyland Park is by walking. Since everything is in such close proximity, there are no buses, taxis, or trams running between the two locations!
You may be thinking, what about Disney's iconic Monorail? Well, the Monorail only runs through the Grand Californian Hotel – it doesn't make a stop there. But not to worry! Getting around on foot is quick and easy. No bother!
Getting Around From The Grand Californian
You can expect to receive a map of the Disneyland Resort area when you arrive, but to give you more of an idea, let's take a closer look at how you can get to your desired Disneyland destination.
You can also view the interactive map of the Disneyland Resort.
To Downtown Disney
If you want to go to Downtown Disney, turn right from the registration area and head toward the convention centre. From there, just follow the signs!
Before entering Downtown Disney, you need to pass through the security checkpoint (bag and metal detector).
When you are ready to return to the Grand Californian, it's best to turn between the Disney Dress Shop and Sephora, as the route back isn't well-marked.
To Disneyland
Getting to Disneyland is easy for hotel guests.
Simply walk towards Downtown Disney and turn right to the Main Entrance.
To Disney California Adventure Park
You'll be pleased to know that the Grand Californian Hotel has its very own private entrance next to Napa Rose. This makes going to the Disney California Adventure Park very convenient for guests!
To Disneyland Hotel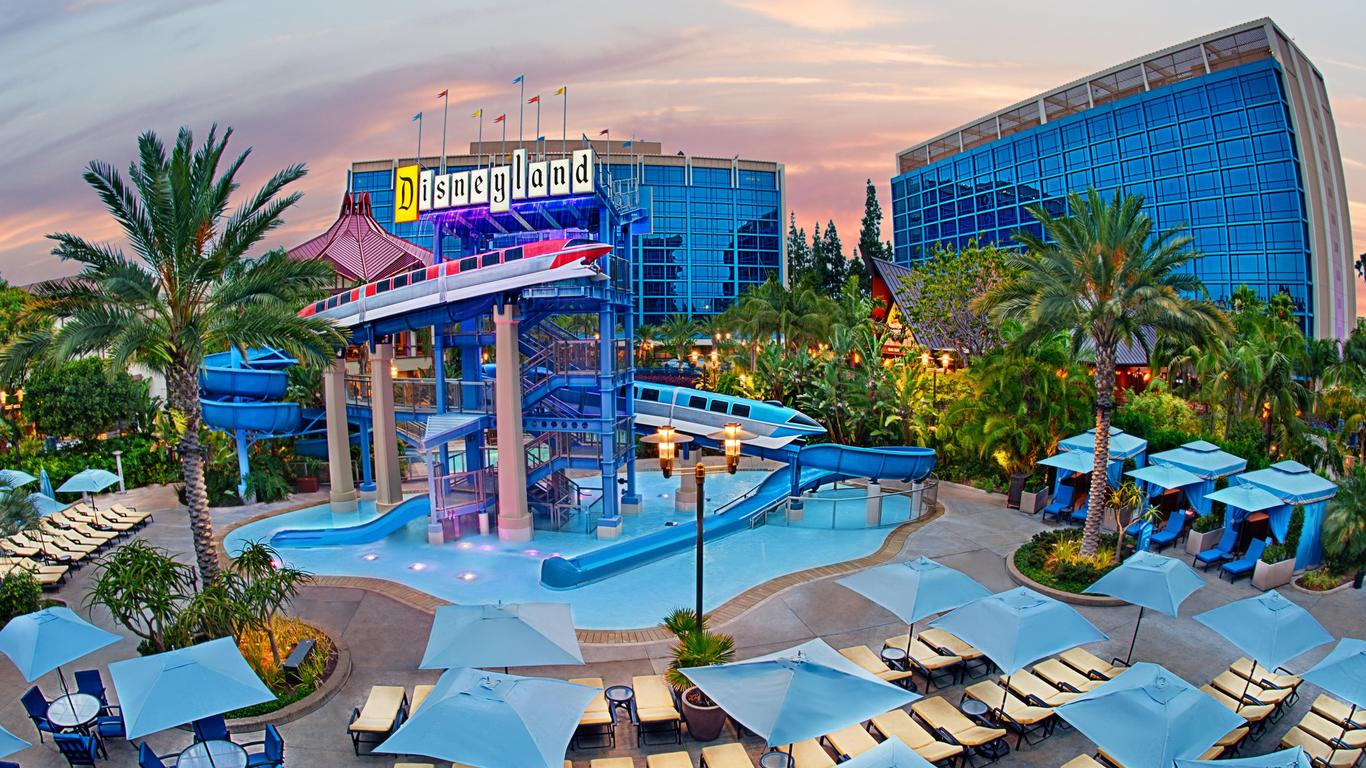 Once you've left the main entrance of Disney's Grand Californian Hotel, take a walk over Disneyland Drive. The Disneyland Hotel will be on your right with the Paradise Pier on your left.
Parking lot
The Grand Californian Hotel offers self-parking and valet parking for guests.
You will find the Grand Californian Parking Lot across from Disneyland Drive – it's the first lot on the right!
What Will You Need To Access The Grand Californian Hotel Private Park Entrance?
Ensure you have valid theme park tickets and an active Disney's Grand Californian Hotel room keycard to use the convenient exclusive entrance into Disney California Adventure Park!
Want to read some more articles about Disneyland Resort, California? Check out the ones linked below!
More about our TFVG Author
Karly is a The Family Vacation Guide guest travel contributor.