Vacationing at a Disneyland resort is the dream of every child. From interacting with costumed characters to spending each evening in a themed suite, it truly is an experience like no other. However, what defines both Disneyland Park and Disney California Adventure Park is the rides.
Disneyland Park and Disney California Adventure together boast a boundless array of attractions, giving you enough variety to keep your vacation exciting. Being just a short walk from each other, it's easy to get between the two parks but difficult to prioritize.
We've counted 61 different rides found across the two Anaheim parks. We've included seasonal rides as well as some other amusements.
To help organize your upcoming Disneyland adventure, we've compiled this list of all the rides that are currently open so that you can devise the ultimate Disney theme park itinerary!
Do you still need help planning your ultimate family trip to Disneyland California? Our top tips will help you every step of the way!
Disneyland Park Rides
Alice in Wonderland
If it's not broken, why fix it? The Alice in Wonderland ride has been enchanting park-goers since 1958. A caterpillar-shaped vehicle takes guests through Alice's surreal world, with the Mad Hatter, the White Rabbit, and the Cheshire Cat making appearances along the way. Although a slow ride aimed at kids, the bright colors and music make it an entertaining experience for all.
Mostly a dark ride, the Alice in Wonderland covers two stories and also an outdoor area. It is rightfully a centerpiece of Fantasyland and is also a California exclusive. This ride is open to all heights.
Astro Orbiter
The Astro Orbitor is one of the many spinning rides found in Disneyland Park, made unique by the views of Tomorrowland it offers. Guests get strapped into a two-person rocket, which rises and falls in height as the ride operates. Guests can control the altitude of their rocket by pulling a lever.
While the Astro Orbiter spins, an outer galaxy of planets comes to life. With lots of glowing lights, this ride is best experienced in the evening. The night sky makes the space adventure appear more realistic. Guests of all heights are welcome on the Orbiter.
Autopia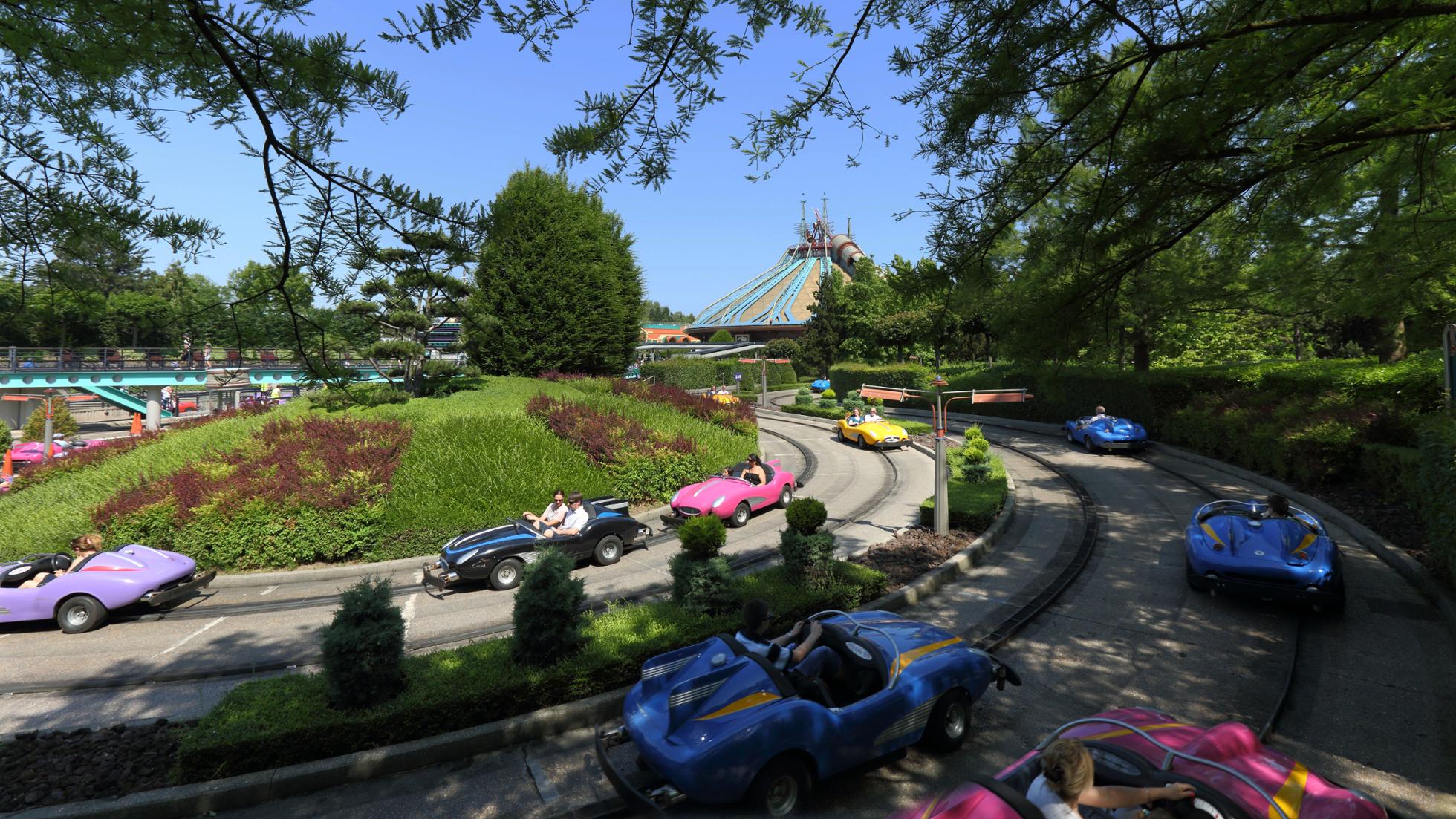 Another vintage attraction, Autopia, has satisfied kids' race car driving dreams since the theme park opened in 1955. Autopia cars come with a steering wheel and gas pedal, allowing young guests to experience the thrill of an actual track race. The track winds under bridges and makes occasional inclines.
The comfortable padded seats can accommodate either 2 adults or 3 children. Guests need to be at least 32 inches tall to drive an Autopia car. Bumpers on the front and rear ensure the safety of all passengers. Those who aren't driving can admire the bank greenery and the Tomorrowland skyline. The rumble of the cars will inspire excitement for most kids, but it can be a little noisy for others!
Big Thunder Mountain Railroad
This ride takes guests back in time to the Californian Gold Rush, as the cart follows the track deep into the mine of Thunder Mountain. This ride takes place primarily outside, but there are some dark stretches as the train descends into the cavern. Big Thunder Mountain Railroad is made all the more exciting with cascading waterfalls, dinosaur bones, and a rolling boulder that the train narrowly avoids!
Visually stunning, Big Thunder tends to be a hit with the whole family, with the minimum height requirement being 40 inches. It regularly reaches a top spot in Disneyland Park ride rankings, so it is not to be missed!
Buzz Lightyear Astro Busters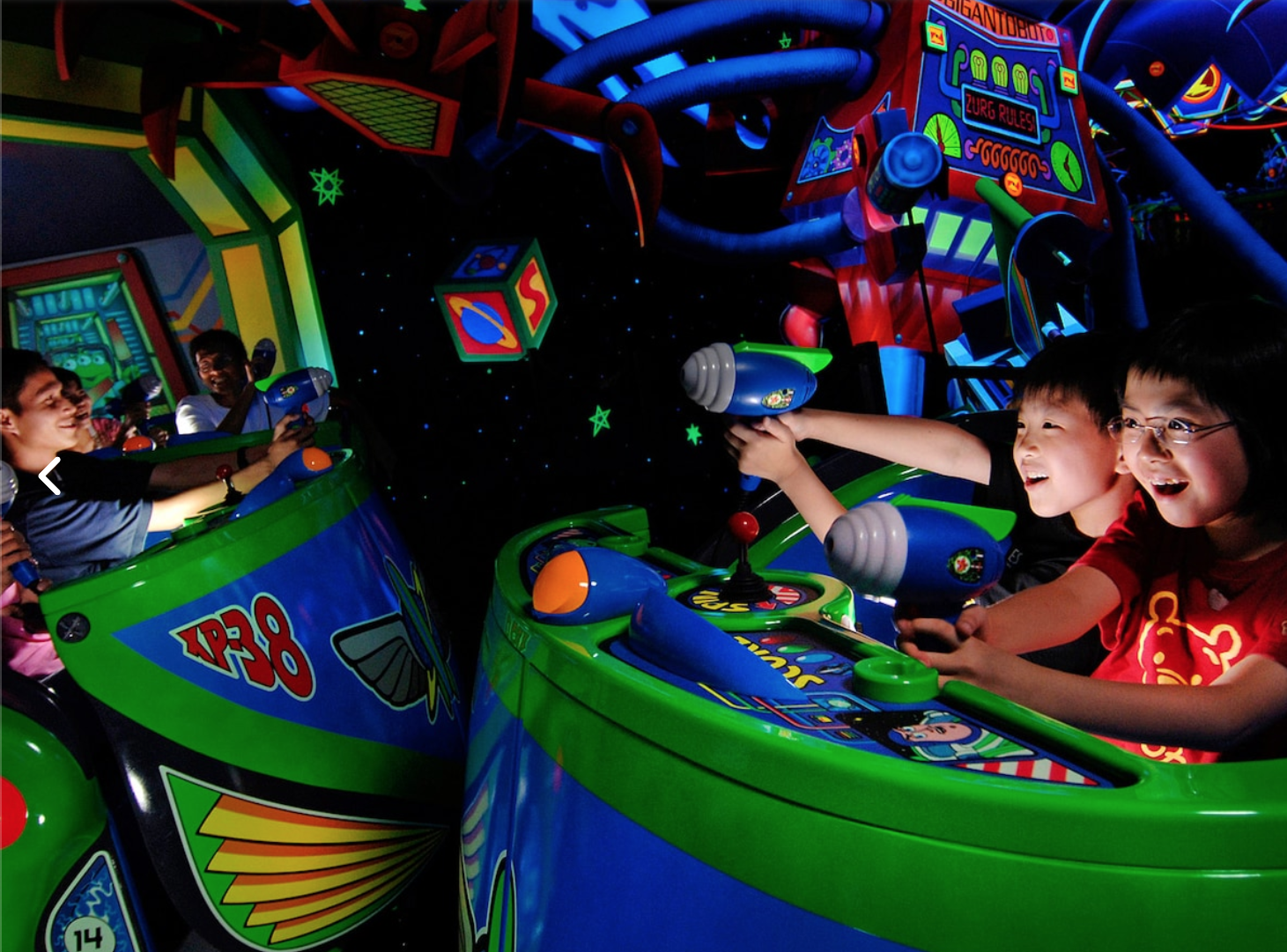 Kids of all ages can help Buzz lightyear take on Emperor Zurg in an interactive laser tag shoot-out! Teams of two can hop in an XP-40 space cruiser – in other words, an omnimover – and control the attached laser cannons. Moving targets will appear, as well as Zurg himself, with each target being worth a different value.
The space cruiser also displays a scoreboard, allowing passengers to compete against one another. A score and ranking will appear at the end. Rankings go from star cadet to galactic hero! Keep an eye out for plenty of other Toy Story references throughout the laser arena.
Casey Jr. Circus Train
Casey Jr. Circus Train is an original Disneyland Park ride and has endured so long due to its simple appeal to preschoolers. Kids can step into Dumbo's world by hopping on the train and selecting either a cart or a cage. As the train meanders through miniature towns (inspired by other classic Disney movies, such as Snow White), the train plays delightful tunes to keep little ones entertained.
Davy Crockett's Explorer Canoes
This attraction is for those who like to get active in the water. Davy Crockett's Explorer Canoes are 35-foot long, can accommodate 20 passengers, and are propelled along the Rivers of America by passenger-controlled oars. The canoes are designed to look and function exactly as they would have in Davey Crockett's day!
This water adventure will lead you past the waterfalls of Columbia Gorge, around Frontierland, and along New Orleans Square. Life jackets are supplied to younger kids, and all participants will receive a paddling lesson before they board. Children of all heights are welcome to join!
Disneyland Railroad
Traverse past the lakes of Rio Grande, Missouri, Columbia, and Mississippi in under 20 minutes on the Disneyland Railroad! America's major rivers inspire the scenery through which this railroad cuts through. It boasts exciting features such as cascading waterfalls, a replication of the Grand Canyon, and audio-animatronics dinosaurs.
Take advantage of the Disneyland Railroad to cut travel time between rides. With stations at Mainstreet, New Orleans Square, Mickey's Toontown, and Tomorrowland, theme park visitors can hop on and off as they please!
Dumbo the Flying Elephant
This Disneyland Park classic never fails to draw a smile as Dumbo flies passengers through the air on this spinning amusement ride. Like most Disney spinning rides, the ride vehicle height can be adjusted by pulling a lever. Slow-paced, this ride is a perfect first ride for young kids and has been since Disneyland resort opened.
With no height restrictions, this is also a recommended ride for those looking to slow the pace down after a particularly thrilling ride. It offers excellent views of Sleeping Beauty Castle, particularly in the evening.
Gadget's Go Coaster
Gadget's Go Coaster is a great rollercoaster option for your kids, being short and featuring only small drops. Still, this coaster packs enough thrills to keep all ages entertained, including the quick loop around Toon Lake. It's a good in-between if you're seeking something tamer than the Big Thunder Mountain but more exciting than a spinning ride.
Each acorn carriage can accommodate two passengers, who are both required to be above 35 inches.
Haunted Mansion
The Haunted Mansion lives up to its name, with plenty of ghosts, ghouls, and other surprises – but with added Disney! All the spirits that visitors encounter in the Haunted Mansion are more approachable than most – they want to befriend more than they want to scare!
Like any haunted mansion, visitors explore the house on a buggy, which takes them between the grand rooms of the stately building. A host will narrate the stories of the former occupiers of the house as you glide through this dark ride. The mansion is open to all, with no height restrictions.
Haunted Mansion Holiday
Normal services of the Haunted Mansion end in late August, after which it remains closed to complete festive renovations. Upon reopening, the attraction becomes the Haunted Mansion Holiday! Step right into Tim Burton's The Nightmare Before Christmas and enjoy the seasonal tour of the house, which runs from September right through to January.
The ride itself operates the same, and even explores the house following the same route but features added Christmas twists.
Indiana Jones™ Adventure
The Indiana Jones™ Adventure is a completely immersive experience. Delve into the depths of the Temple of the Forbidden Eye on a fast-paced and bumpy motor vehicle, as the scenery crumbles around you and booby traps hinder your movements! The pre-ride movie sets the tone for adventure, while John Williams' compositions create an atmosphere like no other.
All Disneyland Park visitors must visit the Indiana Jones™ Adventure at least once, as its car-based transport is unlike anything else you can find at the theme park. The ride can be loud, dark, and scary, but is mainly fun! Adventurers must be 46 inches or taller.
It's a Small World
This dream-like boat ride will take you around the world. If you've just arrived at Disneyland Park, this is a good place for you and your kids to start, as it truly sets a fun and whimsical tone to your Walt Disney adventure. As you float across the seven seas, animatronic dolls from around the globe sing 'It's a Small World (After All)' in chorus.
Cruising along, you'll encounter a whole cast of classic Disney characters, from Tinker Bell to Jiminy Cricket and some more recent additions, such as Lilo and Stitch. A Disneyland classic, this slow-paced ride is open to all!
Jungle Cruise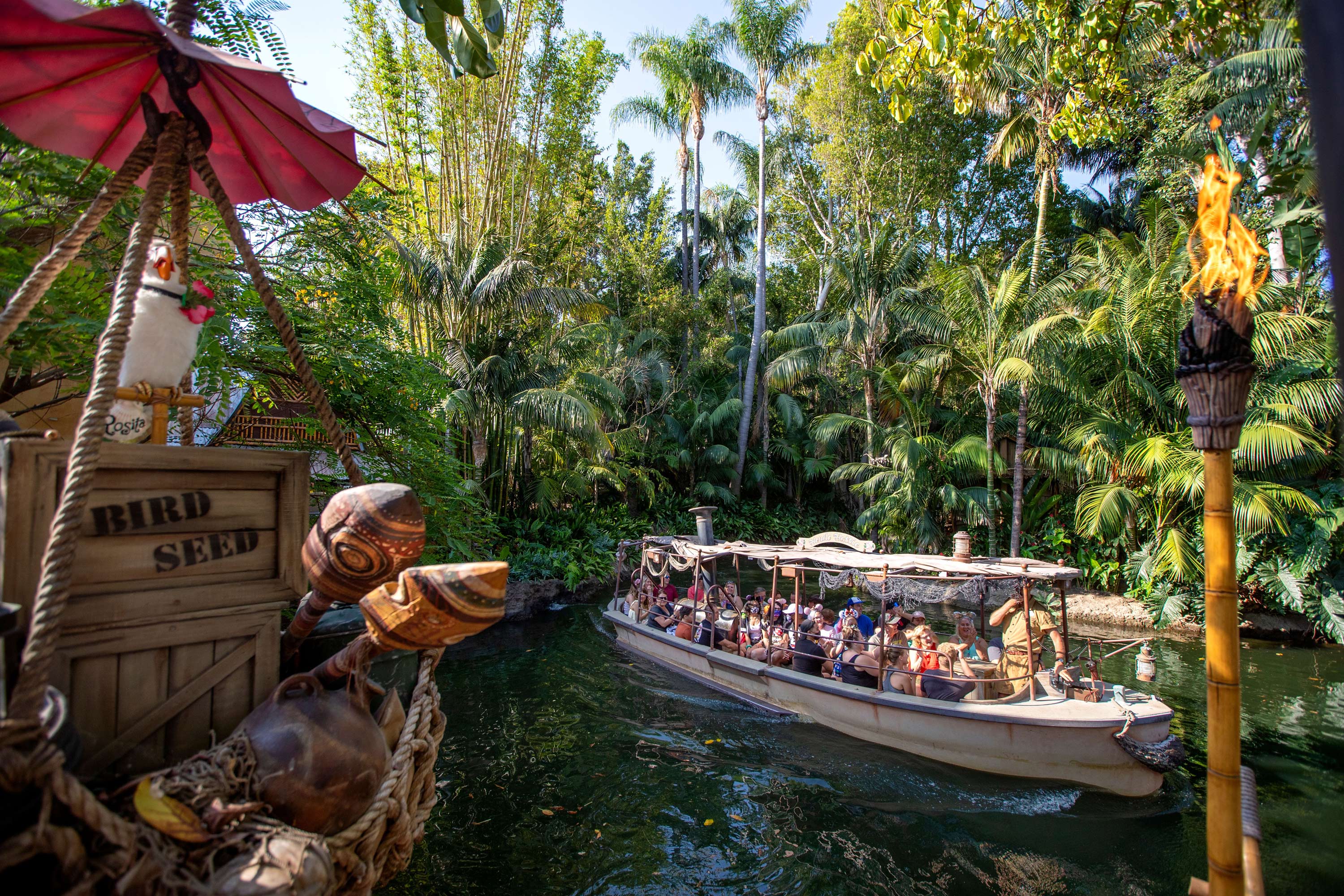 This steamboat adventure into the jungle was so popular at both Disneyland Park and Walt Disney World that it recently had a movie made inspired by it. With impressive faux jungle scenery, lively animatronic animals, and a hilarious skipper that navigates your vessel down the Adventureland river, Jungle Cruise is appealing to all ages!
Expect plenty of corny jokes and witty observations throughout the journey. Young kids will be mesmerized by the piranhas, monkeys, and hippos they encounter as the Jungle Cruise boat passes by Schweitzer Falls and the African Veldt. Suitable for all, this peaceful tropical cruise is an idyllic way to spend an afternoon at Disneyland Park.
King Arthur Carrousel
If you want to let your kids experience some traditional fairground fun, the King Arthur Carrousel never disappoints. This attraction predates the park, having been purchased from another amusement park by Walt Disney himself. King Arthur provides you with everything you'd want from a carrousel, from delicately hand-painted horses to the chariot cars.
Preschoolers will love riding their noble stead to the sound of classic Disney tunes, while Sleeping Beuty comes to life through the colorful lights and decorations.
Mad Tea Party
No trip to an amusement park is complete without a spin on the teacups, and Disneyland Park is no exception. Simple in design, the Mad Tea Party lets riders control their spin by turning the center wheel. This allows the party attendees to choose between a dizzying experience or a relaxing go-around.
Based on Mad Hatter's unbirthday celebrations from Alice in Wonderland, you can expect to hear and see plenty of references to wonderland residents throughout the ride.
Main Street Cinema
Step back in time at the Main Street Cinema with showings of classic short movies. This quaint cinema aims to give visitors an old-time theater experience, complete with a Victorian-era marquee.
Screening schedules are regularly changed, with new additions added regularly. Most of the movies are from the 1920s and 1930s, so many are in black and white. You can expect to see such influential classics as Steam Boat Willie, the Moose Hunt, and Mickey's Polo Team.
Main Street Vehicles
Disneyland Park features various Main Street Vehicles that park-goers can use to get from one ride to another. Vehicles include vintage fire engines, double-decker buses, Jitney automobiles, and even horse-drawn carts!
Explore the length of Main Street, USA from the comfort of a vehicle or your choice. You can hop on at either Town Square or in front of Sleeping Beauty Castle on Central Plaza.
The Many Adventures of Winnie the Pooh
Hop in the moving beehive and explore the Hundred Acre Wood. Many of Pooh's friends will make appearances throughout this slow dark ride, including Tigger, Piglet, Eeyore, and Roo. The ride playfully includes many of the events from the Many Adventures of Winnie the Pooh movie, such as the blustery day. Participants can follow Winnie through the woods as he tries to locate his missing honey pots.
The colors are bright, the songs are entertaining, and the characters are sure to hold the attention of even the youngest of park guests.
Mark Twain Riverboat
This grand steamship will impress moms and dads, and will also fascinate the kids. Take a few laps around Tom Sawyer Island on this recreation of a 19th century Mississippi riverboat, which boasts 4 separate decks and is 28 feet in height. The boat ride is narrated as it makes its way along the river, providing details of America's past, as well as the story of Mark Twain and his famous character, Huckleberry Finn!
Following a similar route to the Davy Crockett's Explorer Canoes, the Mark Twain Riverboat passes by the bank of Columbia Gorge, Pirate's Lair, and a pride of sun-basking mountain lions.
Matterhorn Bobsleds
In this ride, 6-person bobsleds circle an impressively to-scale model of the Matterhorn, one of the most iconic mountains in the alps! Riders can expect top speeds, slight drops, and an occasional appearance from the abominable snowman! Not only the first-ever rollercoaster addition to Disneyland Park, but Matterhorn was also the first tubular style ride in the world.
This ride is a real highlight for those who like admiring sweeping views. As the sleds make the 80-foot ascendance, riders can experience lofty views of Tomorrow and Adventureland. A height requirement of 42 inches is put in place for this ride.
Millennium Falcon: Smugglers Run
One of the newest editions to Disneyland Park, and the centerpiece of Star Wars: Galaxies Edge, the Millennium Falcon: Smuggler Run is an incredible visual experience. Star Wars fans will be highly impressed by the replication of Han Solo's famous cockpit, which riders sit in as they explore the galaxy. This is a fully interactive ride, as you pull levers and steer the ship clear of danger.
Even if you're not the biggest fan of the movie franchise, the authentic starship simulation is more than enough to keep you entertained. The whole ship vibrates when under attack and accurately sways in time with the visuals. The height requirement of this Star Wars ride is 38 inches.
Mr. Toad's Wild Ride
Toad Hall isn't your average country manor. Visitors can drive between rooms in an open-air buggy while avoiding traps and eluding an army of police officers. This original attraction features a zany premise based on the early Disney feature movie, The Adventures of Ichabod and Mr. Toad. Kids who aren't familiar with this movie will still find Mr. Toad's Wild Ride a blast, with plenty of surprises to find.
This dark car ride is open to all!
Peter Pan's Flight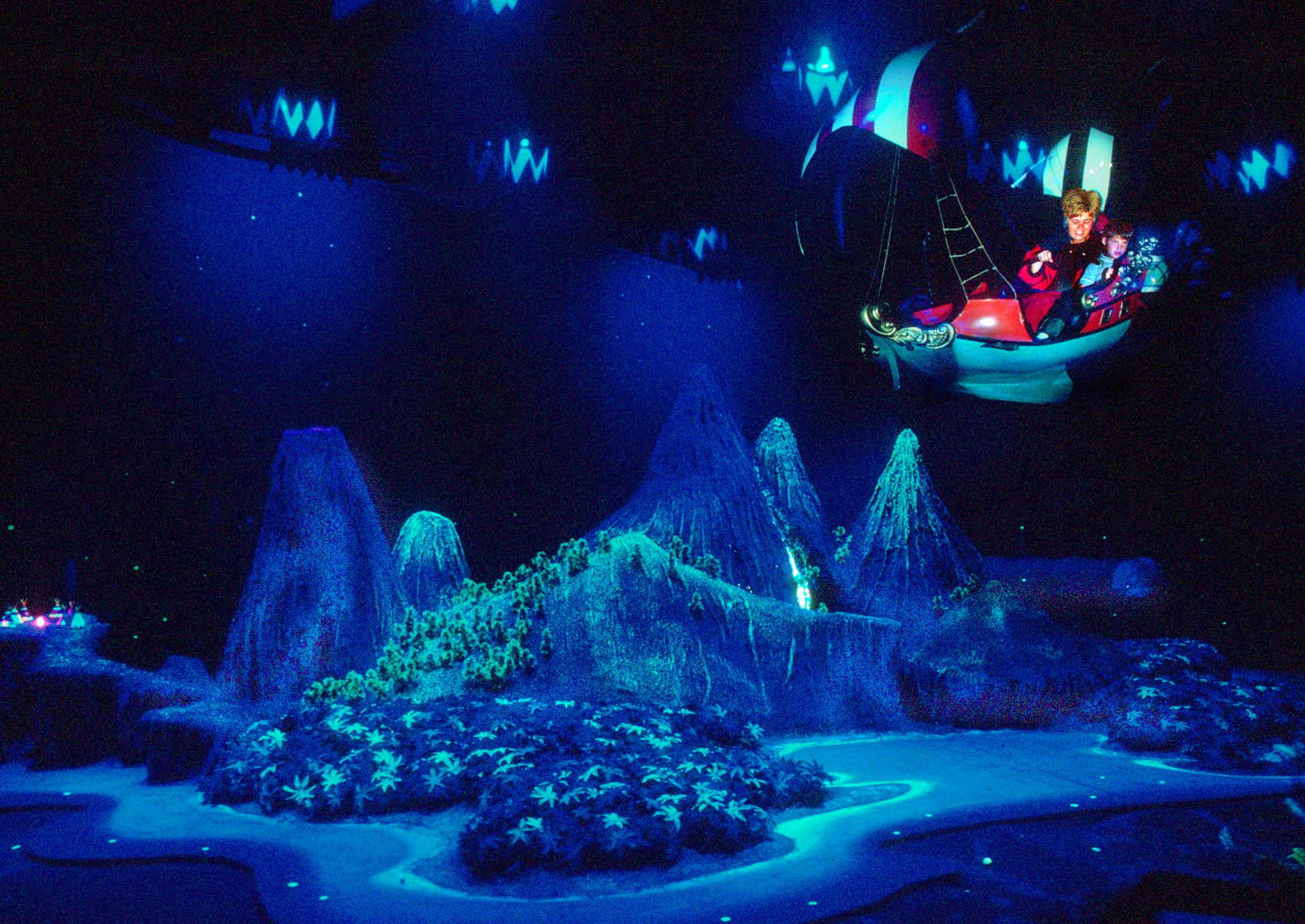 Join Wendy, John, and Michael for a Neverland adventure, as Peter Pan takes you high above London towards the land where you never grow up! Parents, too, will rediscover a piece of their childhood while riding on Peter Pan's Flight, which recreates some of the most memorable scenes from the original animated movie. All visitors have to do is hop in the magic sailboats and let Tinkerbell deal with the rest!
Watch as the plot unfolds, and Peter Pan takes on Captain Hook while avoiding the crocodile's jaws. Children of all ages can join in on this timeless adventure. It's slow-paced, which gives riders enough time to admire all the expertly painted scenes.
Pinnochio's Daring Journey
This dark ride uses holographic material to bring to life the world of Pinnochio, as a woodcarver cart leads you through some of the movie's defining scenes. Watch as Pinnochio escapes Stromboli the puppet master, befriends Jiminy Cricket, and seeks a way out of the Monstro the whale, who has swallowed him whole!
As entertaining as it gets, the ride features the voices of the original cast and instrumental versions of the main songs from the soundtrack. Pinnochio's Daring Journey is open to all ages.
Pirates of the Caribbean
An icon of this Walt Disney resort, the Pirates of the Caribbean ride has existed for over 50 years – long before the movie series hit the screens. The water ride explores a pirate's life, from sailing into the unknown to plundering a town. Riders can help lay siege to the enemy by controlling the canons and firing at will.
It's a high-action ride, with lots of explosions and sword fighting, following Jack Sparrow as he locates his spoils. Everyone is welcome to hop on the barge and join in the adventure. Plenty of water will splash into the boat as the vessel sails down small cascades, leaving some guests drenched!
Roger Rabbit Car Toon Spin
This is a fun ride for the whole family that is full of impressive scenery, whacky characters, and truly funny jokes. Grab a partner, hop in one of the two-person carts, and drive right into the zany cartoon world of Roger Rabbit. In terms of ride quality, it is a pretty simple slow ride, but massively entertaining nonetheless. It follows Roger Rabbit as he tries to locate Jessica Rabbit, dodging obstacles along the way.
Riders can elevate their roger rabbit fun by controlling the wheel and spinning their cart a full 360 degrees! This makes things extra interesting when the ride leads you into Bullinda's China Shop. With no height restrictions, little ones right up to parents can hop in and enjoy the colorful ride!
Want to know more about which rides babies can ride at Disneyland California? Our guide will tell you everything you need to know ahead of your trip.
Snow White's Enchanted Wish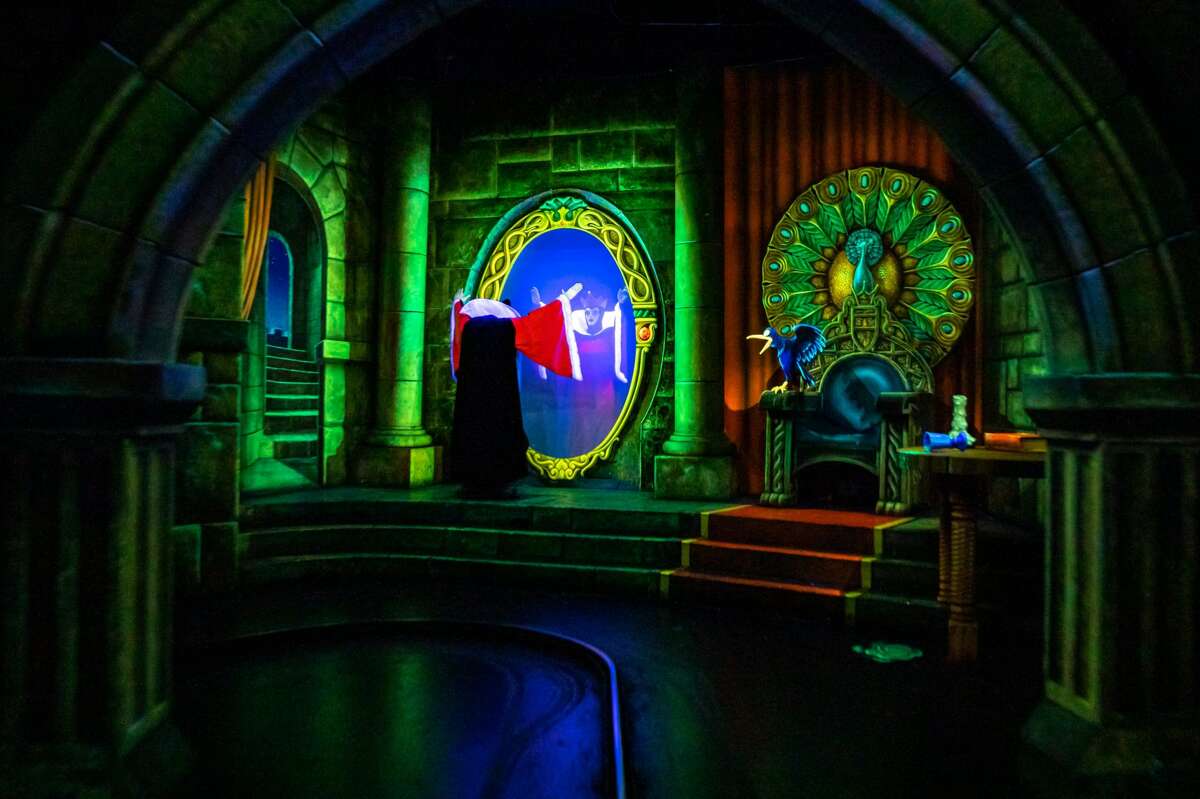 Snow White and the Seven Dwarves has been a family favorite movie for decades now, as has Snow White's Enchanted Wish ride at Disneyland Park! This ride underwent some minor renovations recently, which reestablished it as one of the most dazzling rides in the park. The wooden mine cart leads from the safety of the Seven Dwarf cottage, through the depths of the mines, and into the Evil Queen's lair.
The diamonds truly dazzle and the Queen's potions bubble, making the whole ride a visual delight.
Space Mountain
Space Mountain looks just as futuristic as it did when it first opened in 1977. Taking place entirely inside, this dark ride is full of drop thrills and speedy junctions, as the setting around you creates the illusion that you are hurtling through space. This coaster is intense, with excitement added through dramatic music and lights.
Although Space Mountain can be found at other Disney resorts, the Disneyland Park one is said to be far more exciting than the Walt Disney World version. Space cadets must be over 40 inches in height to qualify for this mission.
Star Tours – The Adventure Continues
This Star Wars motion simulator ride packs references to several different movies in the franchise and even incorporates elements of the latest addition, the Rise of Skywalker. The flight simulator uses 3D imagery to take you to a galaxy far, far away. Meet all your favorite characters in animatronic form, from Boba Fett to Princess Leia.
Accompanying you on your adventure into space is fan-favorite c3po, but even he's unsure of where you're headed. This ride is impressive as the narratives are random – you never know what you're in for when you step in the Starspeeder 1000! Due to the bumpiness of this vessel, a height restriction of 40 inches minimum has been imposed.
Star Wars – Rise of the Resistance
Star Wars – Rise of the Resistance is unlike any other ride in the galaxy. The queue itself becomes part of the show, where those anticipating a Star Wars adventure are treated as recruits to the resistance. Here, partakers will also receive a full briefing of their mission and inspect set pieces such as X-wing fighters.
Once the game gets going, visitors ride on a hijacked First Order Fleet Transport and are attacked by Storm Troopers, AT-AT pilots, and Kylo Ren himself. The set is boundless, both in scale and immersion, and truly feels like the future of theme parks. This thrill ride has several drops and has imposed a 40-inch minimum height requirement.
Finding Nemo Submarine Voyage
Explore the seabed of the Tomorrowland lagoon as part of the Finding Nemo Submarine Voyage. This unique attraction allows guests to board the yellow research submarine and look out through the portholes at the underwater wonders. Not only will characters from Finding Nemo come into view, but also other curiosities, including a sunken ship graveyard, a submerged civilization, and an erupting underwater volcano!
All are welcome onboard the Finding Nemo Submarine Voyage. However, if you are unable to board, you can have just as much fun helping in the search for Nemo on the Observation Outpost.
Sailing Ship Columbia
If you've already experienced the Mark Twain Riverboat and the Davey Crockett's Explorer Canoes, why not try the Sailing Ship Columbia? This vessel follows a similar route along the Rivers of America and around Tom Sawyer Island, except the aim of this voyage is to circle the world! This 3-masted sailing ship is a replica of the Columbia Rediviva – the first American ship to circumnavigate the globe.
Of course, this feat would be impossible to achieve in 15 minutes, but while on the deck, you can certainly pretend!
Splash Mountain
Splash Mountain manages to combine gentle sailing with a thrilling drop ride. The majority of this log flume ride consists of easy sailing, as you listen to animatronic critters performing renditions of classic Disney songs. Think How Do You Do and Zip-a-Dee-Doo-Dah. Although you'll experience the occasional dip, nothing will prepare you for what's to come for the ride's finale.
The 5-story drop is sure to liven things up, with most riders guaranteed to get soaked – especially those seated near the front! Due to the nature of this ride, a minimum height of 40 inches is required.
Tarzan's Treehouse
This Disneyland Park walkthrough adventure takes you high up in the trees that Tarzan swings from, exploring a sky canopy of treehouses and wooden bridges. Kids will be fascinated by these sky-high structures, and get excited as Tarzan movie references appear, including parts of the shipwreck that landed him in the jungle, as well as drawings from Jane's sketchbook.
Tarzan's Treehouse is open to all, and is a must for those who want to view Disneyland Park from a lofty height!
Great Moments with Mr. Lincoln
On Main Street, you can find the Disneyland classic attraction, Great Moments with Mr. Lincoln. It has educated countless guests since first being added to Disneyland Park in 1965 and features an audio-animatronic Abraham Lincoln detailing the great moments of his life. The presentation also includes an introduction movie and extracts from Lincoln's most famous speeches.
Disney California Adventure Park Rides
Golden Zephyr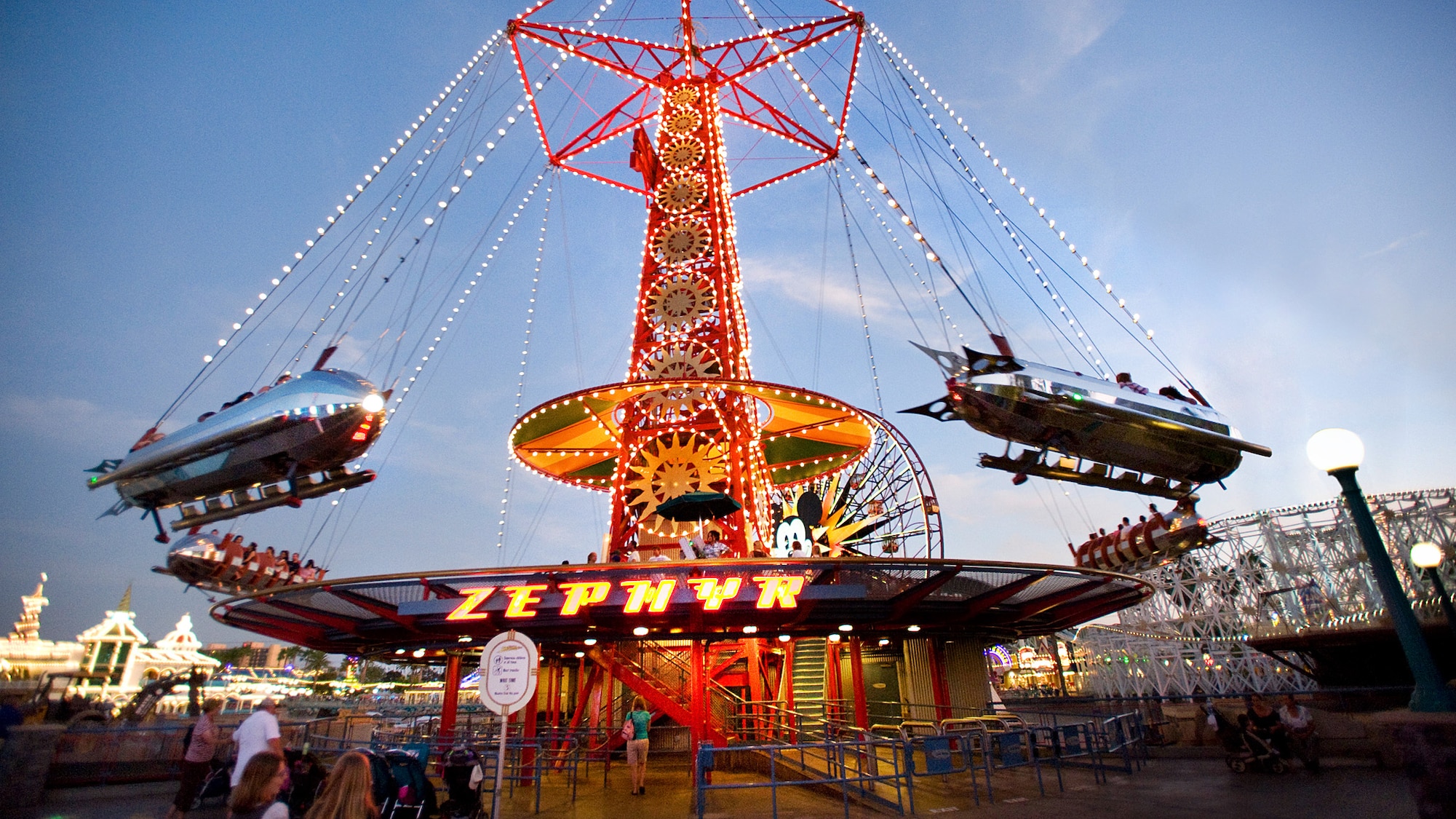 The spinning Golden Zephyr is best experienced at night to get picturesque sunset views of Pixar Pier. The vintage light display also looks best at twilight. Riders get strapped into galactic gondolas, which are reminiscent of Flash Gordon and Bucks Rogers set pieces. The ride itself is nice and gentle. There is no option to adjust the height. However, this allows you to sit back and enjoy the breeze!
The Golden Zephyr is open to all!
Goofy's Sky School
At Goofy's Sky School, visitors of Disney California Adventure can learn how to fly the 'Goofy' way! Based around the early Walt Disney cartoon Goofy's Glider, Goofy's Sky School is meant to be an unlicensed flight training facility. This is reflected in the zany rollercoaster layout and the unhelpful information boards positioned along the track.
Passengers get strapped in a flight vehicle, which follows an entirely unpredictable track leading in all directions. Flight trainees must be taller than 42 inches to take part.
Guardians of the Galaxy – Mission: BREAKOUT!
Taking the place of the Twilight Zone Tower of Terror, this Guardians of the Galaxy drop ride will thrill all who dare to venture inside. Can you help Rocket, Groot, Drax, Gamora, and Star-Lord escape the clutches of Taneleer Tivan, A.K.A, the Collector? Ride up and down the gantry lifts and help free the Guardians of the Galaxy and all the other creatures that the Collector has imprisoned.
With big drops and even bigger thrills, this Disney California Adventure ride has a minimum height requirement of 40 inches.
Guardians of the Galaxy – Monsters After Dark
During the Halloween season, Mission: BREAKOUT becomes Guardians of the Galaxy – Monsters After Dark when darkness descends on Disney California Adventure. With heightened security, it's more difficult for Rocket to break in and out of the Collector's Fortress. However, Groot has been left behind, and it's down to visitors of the ride to help get him back!
With several beasts to beat and elude, this ride is best for teens and adults.
Incredicoaster
The Incredibles need your help! The youngest member of the superhero family, Jack-Jack, has escaped and is destroying Pixar Pier. Strap into the high-speed Incredicoaster, and prepare to get equally as thrilled as you are soaked! People who have visited the theme park before may remember this ride as the California Screamin', which was improved to create the Incredicoaster.
With big special effects, tunnels, and major splash-inducing drops, the Incredicoaster is a real highlight of Disney California Adventure. For this ride, the minimum height imposed is 48 inches.
Jessie's Critter Carousel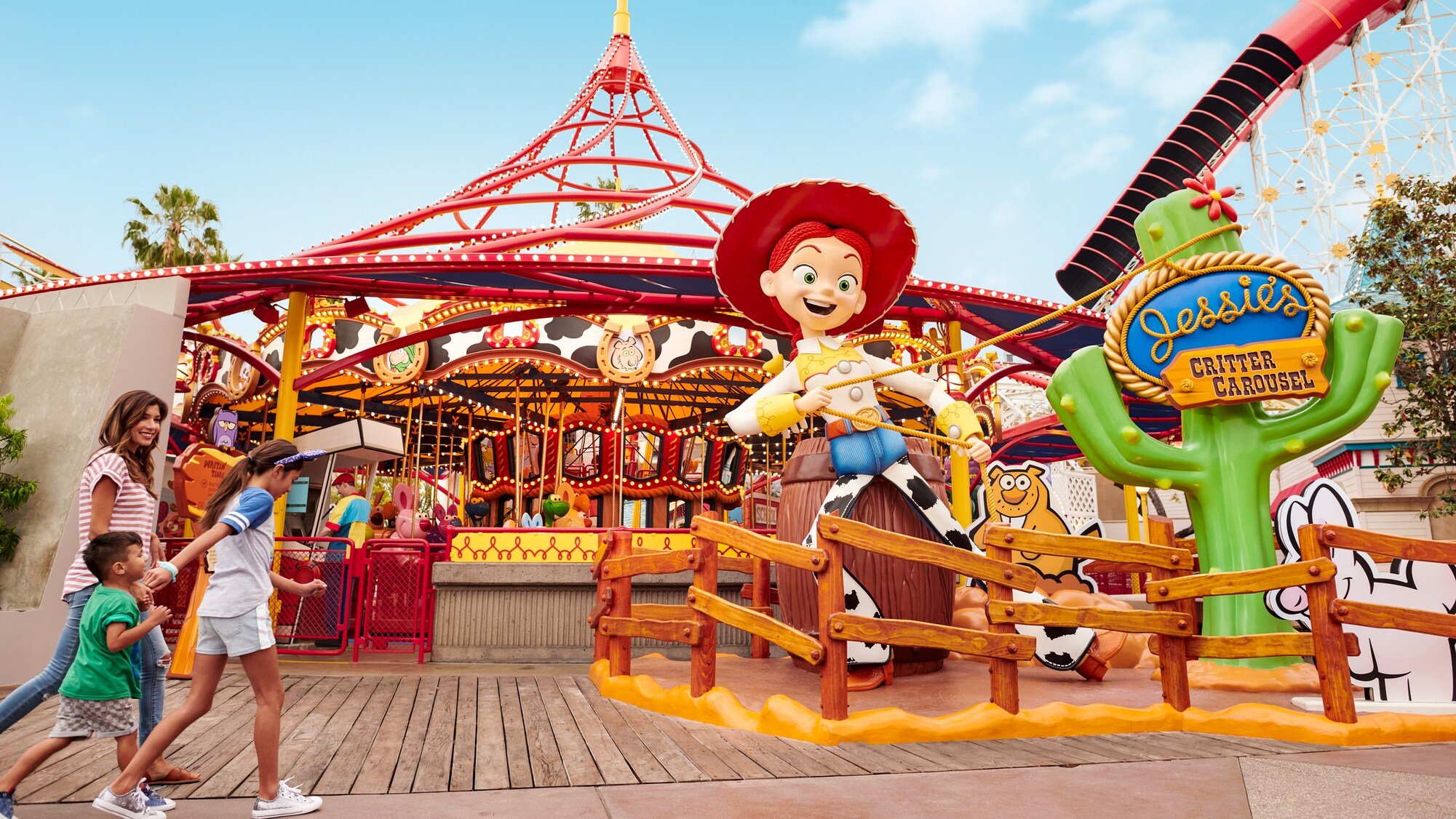 Young Disney fans will be delighted with Jessie's Critter Carousel, which puts a modern spin on the fairground classic. Based on Woody's Roundup from Toy Story 2, preschoolers can join Jessie the Yodelling Cowgirl for a colourful singalong in the Wild West.
Kids have an extensive choice of critters to enjoy the carousel alongside, including armadillos, bunnies, snakes, turtles, and skunks. Located on Pixar Pier, this setting makes Jessie's Critter Carousel reminiscent of an old seaside fairground attraction.
Jumpin' Jellyfish
Take in the sights and sounds of Disney California Adventure while attached to a Jumpin' Jellyfish! If you've got little kids (over the height of 40 inches) who want to experience the thrill of a drop ride, Jumpin' Jellyfish can give them a light introduction. These jellyfish gracefully rise and fall, giving riders a lofty view over the surrounding bay.
With little else to it, Jumpin' Jellyfish is a simple ride but highly enjoyable for kids!
The Little Mermaid – Ariel's Undersea Adventure
One of the few family-friendly slow rides found in Disney California Adventure, Ariel's Undersea Adventure takes riders around the world of the Little Mermaid in a clam-mobile. Located in Paradise Gardens Park, this ride is heavily entertainment-based, with the mobiles regularly stopping to hear what the characters have to say. A highlight is getting to spectate Sebastian conducting a band made up of crustaceans.
Open to everyone, riders can expect plenty of singalong opportunities.
Luigi's Rollickin' Roadsters
Take a spin in one of the characters from Cars on this trackless course, where each vehicle controls itself automatically and dances around Luigi's Casa Della Tires. To the instructions of Luigi's booming voice, the cars perform old Italian dance routines, to such songs as Mambo Italiano. This attraction replaced Luigi's Flying Tires and has been improved upon greatly.
Not just for kids, Luigi's instructions are highly entertaining for all! The minimum height permitted on this Disney California Adventure ride is 32 inches.
Luigi's Honkin' Haul-O-Ween
If you visit Disney California Adventure around Halloween, you can experience Luigi's Honkin' Haul-O-Ween! Luigi's Rollickin' Roadsters gets transformed into this Halloween-themed hoedown, set to the spooky music of the Chop Top of Carsoli and Terror-Antella.
With added decorations designed to scare, Luigi's Honkin' Haul-O-Ween is sure to get you in the mood for the season, which tends to run from mid-September till late October.
Mater's Junkyard Jamboree
Like Luigi's Roadsters, Mater's Junkyard Jamboree is a trackless ride. Hop in the back of one of the tractors found in the junkyard and let these lively vehicles do the steering for you! Mater commands the tractors to perform some traditional line dancing to the sound of old country music. The back trunk swings as the tractor swerve around the dancefloor, making this a ride full of unexpected twists and turn!
Matar's Junkyard Jamboree can be found in Cars Land, is open to all ages, and has a height minimum of 32 inches.
Mater's Graveyard JamBOOree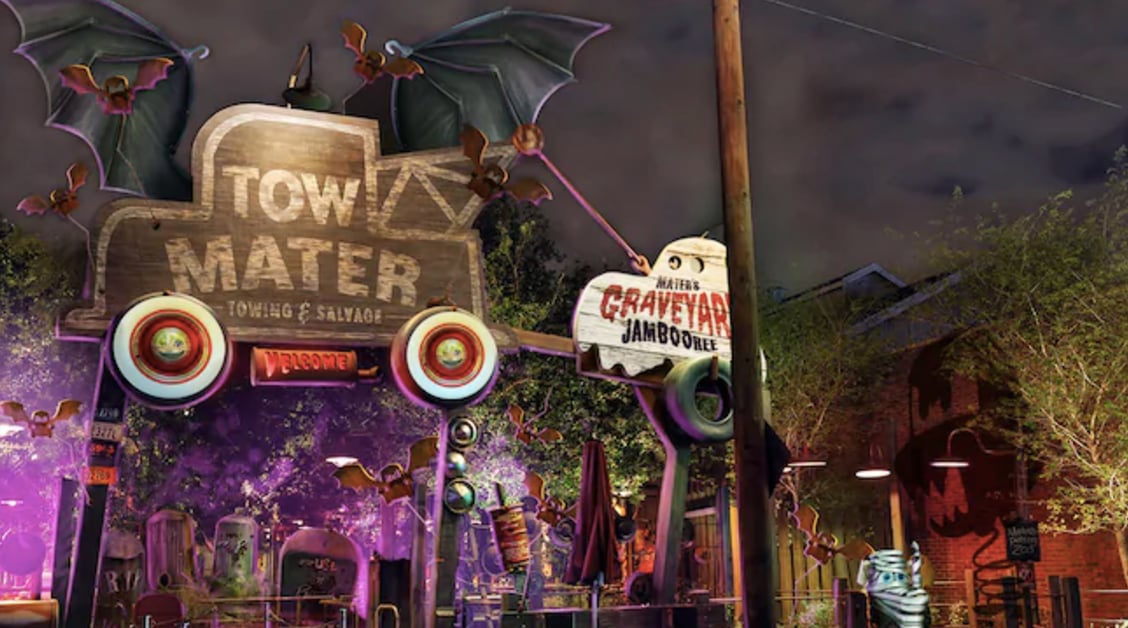 As with a lot of the attractions in Cars Land, Mater's Junkyard receives a seasonal makeover come Halloween and becomes the extra spooky Mater's Graveyard JamBOOree. The concept of the ride remains much the same, except it features added decorations and a slightly different soundtrack. At the Graveyard JamBOOree, Matar performs renditions of such songs as Monster Truck Smash and Welcome to Radiator Screams.
Mater's Jingle Jamboree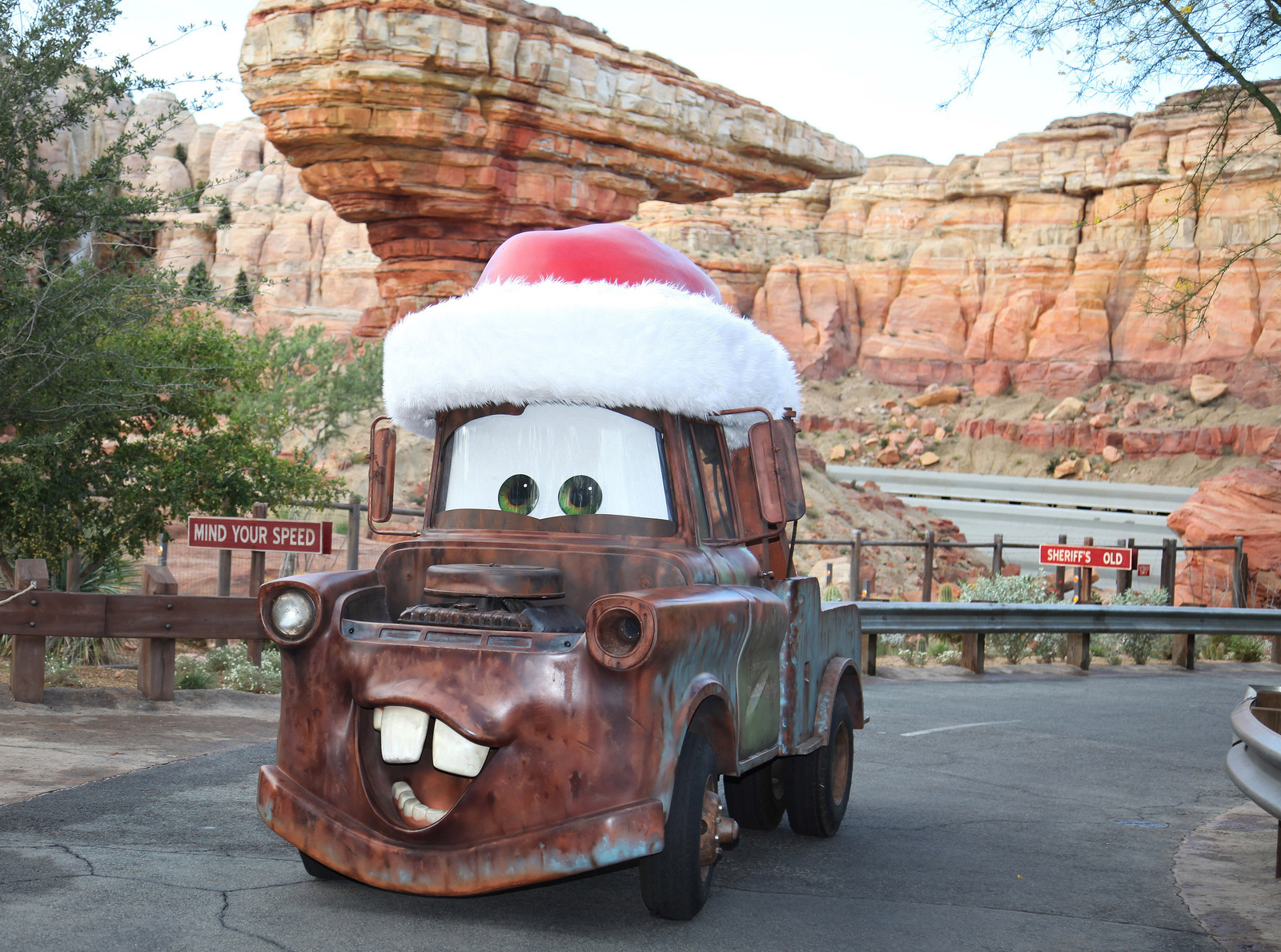 During the festive season at Disney California Adventure, Mater's Junkyard undergoes another transformation and becomes Mater's Jingle Jamboree! Near Christmas, Matar changes his setlist to include more festive songs, including an original song entitled Mater's Jingle Jamboree.
Monsters, Inc. Mike & Sulley to the Rescue!
One of the best dark rides found in Disney California Adventure, Mike & Sully to the Rescue takes you on an adventure right to the heart of Monstropolis. Fans of the Monsters, Inc. will be able to guess what's coming next throughout the ride, as it follows the movie's plot very closely. The queue is incorporated in the ride experience, posing as the bus stop for the city. Riders hop in a taxi and explore the world of monsters!
This slow ride makes various stops along the way, where guests can interact with characters from the movie. The purpose of the adventure is, like the movie, to get Boo back home! Directed at those looking for some light family fun, this ride is open to all!
Pixar Pal-A-Round
The Pixar Pal-A-Round is two rides in one, offering both swinging and non-swinging gondolas. If you choose a swinging gondola, be prepared for a more thrilling and unpredictable experience. Non-swinging Pixar Pal-A-Round seats are fixed and are more for people who just want to enjoy the view.
The view afforded is worth admiring, too, with spectacular views over the entirety of the Disneyland Resort, and even the nearby San Gabriel Mountains, which are beautiful. All ages and all heights are welcome!
Radiator Springs Racers
Radiator Springs Racers combines the excitement of a dark ride with the thrill of cruising through an open-air desert. Taking inspiration from Cars, the Radiator Springs Racers track zips through the incredibly scenic Ornament Valley, taking drivers sharply around hairpin turns into dark caverns and dusty deserts. The beautifully crafted Cadillac Range in the backdrop makes this automated journey more realistic.
One of the main highlights of Disney California Adventure, Radiator Springs Racers was one of the most expensive Walt Disney Company rides to build, which is reflected in the fantastic attention to detail in the scenery. To participate in the Radiator Springs Racers, park visitors must be over 40 inches in height.
Silly Symphony Swings
This simple spinning ride can be found in Paradise Gardens Park and is recommended for anyone who wants to catch some great views of Disney California Adventure. Inspired by the Band Concert, the 1935 short film that sees Mickey struggling to conduct an orchestra against a tornado threat, the Silly Symphony Swings is an absolute whirlwind of a time, with added big band music to heighten the excitement of the ride.
Guests who want to take on this ride solo must be a height of 48 inches minimum. However, guests that are 40-48 inches can ride alongside a parent.
Soarin' Around the World
Soarin' Around the World takes park-goers out of Disney California Adventure and high above the world's most iconic wonders. Soarin' straps guests into a winged glider and positions them above a domed screen, which plays a projection of aerial footage. This ride creates a natural flying sensation with added wind and sound effects as you glide above the Great Wall of China, the Eiffel Tower, and the Taj Mahal.
To ride in this flight motion simulator, guests need to be over 40 inches in height. You can find Soarin' at the Grizzly Peak Airfield.
Web Slingers: A Spider-Man Adventure
Assist Spider-Man to get his Spider-Bots under control on this exciting and fast-paced ride. Take a Web-Slinger vehicle to transport around the Avengers Campus and shoot webs at the Spider-Bots as they appear. This Disney California Adventure ride focuses on interactive fun, with excitement added by the swinging motion the vehicles make between scenes.
Fun for all, this Spider-Man ride is open to all heights and ages.
Grizzly River Run
Being the sole water raft ride at Disneyland Resort, Grizzly River Run delivers everything you'd expect. The peacefulness of this lazy river regularly gets interrupted by crashing dips, providing plenty of splashing and lots of spinning. The 8-person rafts sail through the fantastic scenery of Grizzly Peak Airfield, passing by awesome caverns and caves and an abandoned mining town.
Both kids and adults can hop aboard this ride, as long as they are over the height of 42 inches.
Inside Out Emotional Whirlwind
Inside Out Emotional Whirlwind is a spinning ride meant to replicate the range of emotions experienced by Inside Out's Riley. Each Memory Mover represents a different emotion and character from the movie, from Joy to Anger, which is represented by a different color. Inside each mover, riders are tasked with organizing Riley's memories as they are collected.
Any height is welcome to fly on this whimsical ride, which can be found on Pixar Pier in Disney California Adventure.
Red Car Trolley
The Red Car Trollies follow a track up and down Buena Vista Street and throughout Hollywood Land, making exploring the Golden Age-inspired area a breeze! To match the vintage theme of Hollywood Land and Buena Vista Street, the Red Car Trollies are inspired by the Pacific Electric Railway models that formerly transported Californians around Los Angeles between 1887 and 1961.
The trolly stops at the Disney California Adventure main entrance, Carthay Circle, Hollywood Boulevard, and Sunset Boulevard.
Disney Junior Dance Party
Get dancing with your favorite Disney Junior characters at the Dance Party, which takes place at Disney California Adventure. Faces kids will instantly recognize, such as Doc McStuffins and Vampirina, take to the stage, make some moves, and invite members of the audience to get involved! You might be treated to appearances by more iconic Disney characters, including Mickey himself!
This dance party has become a popular touring show and can be seen at other Disney Parks, such as Walt Disney World Resort. Be sure to catch the original show at Disney California Adventure!
Toy Story Midway Mania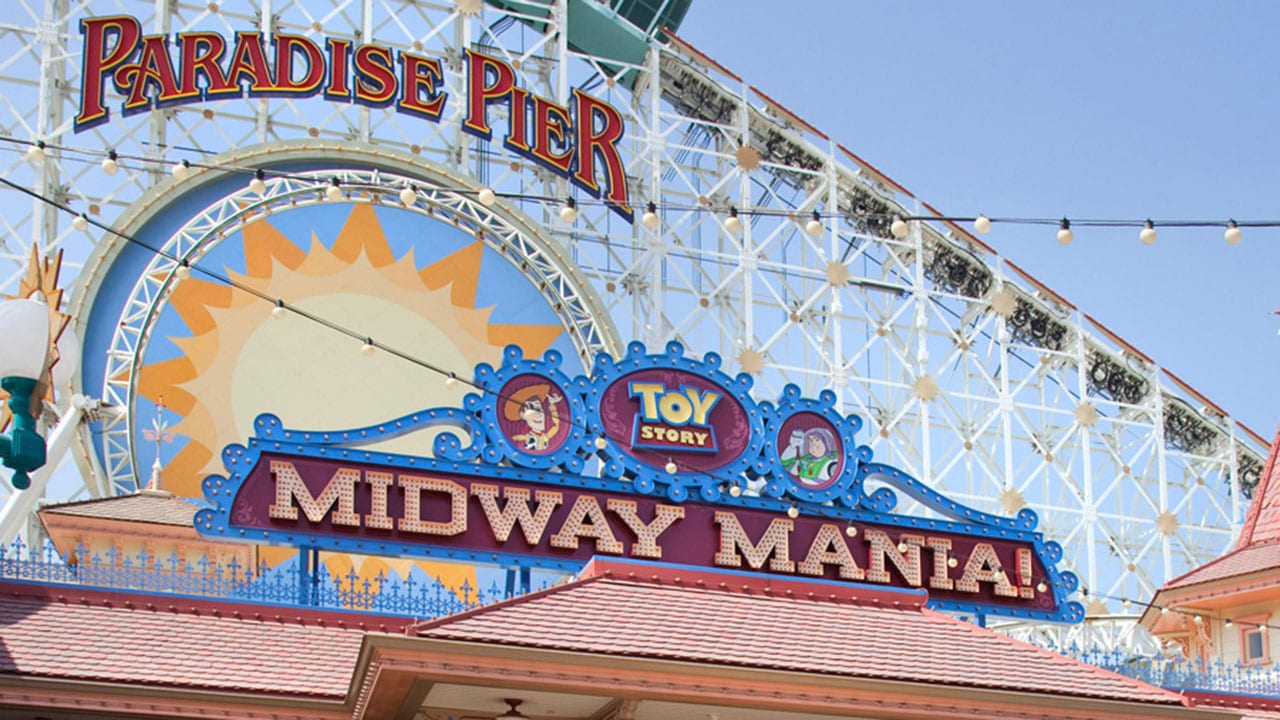 Toy Story Midway Mania is a 4D shooting game found on Pixar Pier, Disney California Adventure. Similar to attractions found at other Disney parks and the Wii game of the same title, this Toy Story game sees users fire eggs, darts, and baseballs at moving objects to beat other players on the scoreboard.
Guests of all ages and heights can join in on this fast-paced fun!
FAQs
What is the difference between Disneyland Park and Disney California Adventure Park?
Disneyland Park is where you'll find thrill rides based on classic Disney movies and characters, from Pinnochio to Peter Pan. Disney California Adventure is home to more high-adrenaline rides, based around Disney Pixar and Marvel characters.
Disneyland Park has more rides than Disney California Adventure.
When is the best time to visit Disney California Adventure?
The best time to visit Disney California Adventure would be off-season, ideally between September and October. Not only will there be fewer crowds, but you'll also benefit from cheaper rates and special Halloween-themed ride makeovers.
Both Disneyland Park and Disney California Adventure are at their busiest during spring break, summer vacation, Thanksgiving, and Christmas. It would be best to avoid these holidays when visiting California with kids to forgo long lines and expensive rates.
Are rides included in the ticket price?
The cost of the rides is included in the ticket price you pay for admission. This is the case at both Disney California Adventure and Disneyland Park. However, guests will still have to pay for attractions at the Boardwalk Games and Frontierland Shooting Gallery.
Need more information about tickets? Our guide which explores how much tickets to Disneyland California cost will prepare you ahead of time!
Which is the most popular ride at Disneyland Park?
The most popular rides at Disneyland Park remain to be Disneyland classics such as Pirates of the Caribbean, It's a Small World, and Big Thunder Mountain. This is because older rides tend to have shorter wait times.
Final Thoughts
Disneyland California Adventure and Disneyland Park are worth spending equal amounts of time in. Although they both contain a high volume of rides, it's easy to get around them all if you plan ahead.
When selecting rides for your itinerary, be sure to refer to this list to make the most out of your time at California's Disneyland Resort. Are you looking for the best hotels close near Disneyland, Anaheim or information regarding whether you have to be vaccinated to go to Disneyland California? We've got you covered!
More about our TFVG Author
Caitlin is one of The Family Vacation Guide's long standing contributors. She enjoys taking vacation to busy, vibrant cities and has stretched her traveling legs out towards Europe in recent months, enjoying new experiences in Barcelona in Spain, and Nice in France.