Disney's Grand Californian Hotel offers guests luxury accommodation and easy access to the Disney California Adventure Park.
If you plan to visit the Disney California Adventure Park or Disneyland, this guide will help you with everything you need to know about the Grand Californian Hotel. Or if you're still considering which accommodation to choose, check out our guide to the best hotels near Disneyland, Anaheim.
Need help planning the rest of your vacation? We've created an awesome guide to help you plan your ultimate family trip to Disneyland California.
The Grand Californian Hotel – Design and Style
Located in Anaheim, California, the Walt Disney Company built the hotel in 2001, with the early 1900s arts and crafts movement being a significant inspiration for the design.
Accommodation
Depending on your needs and preferences, there are various room types to choose from.
Room Types and Views
You can select from a variety of room views. This includes the pool, theme park, Downtown Disney District, Disneyland Drive, rooftops, the car park, the courtyard, or the woods.
Standard
Standard rooms vary in price depending on the view and can sleep up to five guests. All rooms will come with large smart TVs, a safe, internet access, balconies, and a turn-down service.
Suites
Suites are perfect for larger groups and can offer between one to three bedrooms. You will also enjoy additional amenities, including free wi-fi and a DVD player.
Club-Level Rooms
These rooms sleep up to five guests and include the standard room amenities. You will also have access to the veranda, where you will have a great spot to watch the Disneyland fireworks. You will be entitled to the continental breakfast, afternoon tea, cheese, and wine reception, and evening cookies and desserts.
Villas
For a bit more independence, one to three-bedroom villas can sleep from five to twelve guests. You will have your own kitchen for meal prep, as well as a dishwasher, washer and dryer, and whirlpool tub.
Are there any smoking rooms available?
Smoking is not permitted in hotel rooms or villas, Disneyland Park, Disney California Adventure Park, and the Downtown Disney District. However, designated smoking zones are available.
Amenities and Recreation
Visitors are offered a great selection of amenities to make their stay as comfortable and enjoyable as possible.
Amenities
A 24-hour ATM in the main lobby gives easy access to cash, and electric vehicle charging stations are available also. The Guest Services Desk will help guests with planning, reservations and directions, as well as any other queries they may have.
Guests will also have access to the laundry room, parking facilities, and services for guests with disabilities.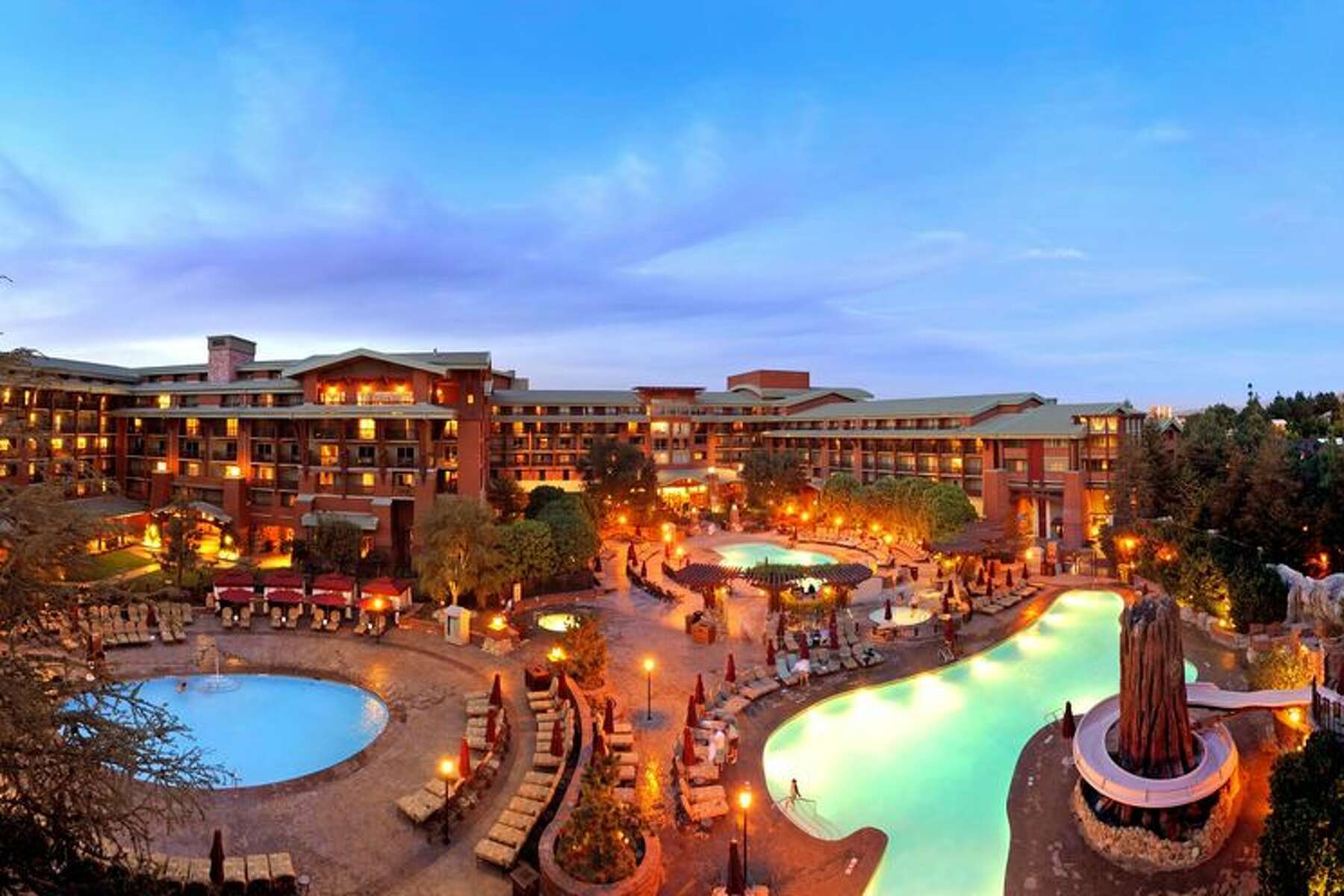 Recreation
Pools
Guests will undoubtedly make the most of Anaheim's theme parks and other attractions. There is plenty more to do at the Grand Californian, including slides and hot tubs at the Fountain, Mariposa, and Redwood Pools.
Poolside Cabanas
Poolside cabanas offer a level of luxury with lounge chairs, a TV, a ceiling fan, and a refrigerator, among other benefits available.
Fitness center and fitness classes
If you want to keep up with your fitness regime, the fitness center and classes will ensure there isn't too much catching up to do when you go back to day-to-day life.
Is a park ticket required to enter the hotel?
You will only need a park ticket when using the Disney California Adventure entrance at the hotel.
Parking
Disney Vacation Club members are entitled to free parking. Otherwise, guests will be charged $25 per day for self-parking or $35 for the valet parking service.
Check-in and Check-out Times
You will be able to check in to your room from 3:00 pm. The room must be vacated by 11:00 am for check-out.
Type of Concierge Service Available
The concierge lounge is open from 6:30 am to 10:00 pm and is located on the sixth floor. The concierge cast members can assist with all aspects of planning or reservations.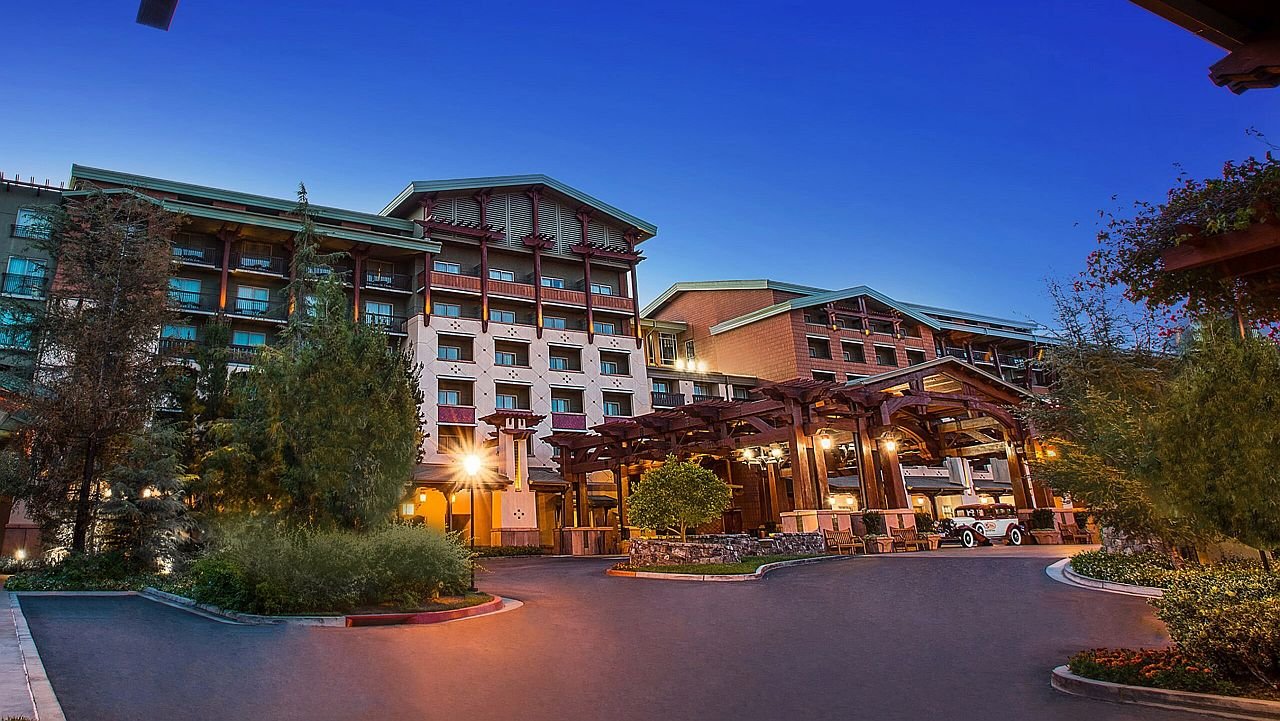 Finding Your Way Around
The main Disney attractions are within walking distance from the hotel. Disney offers no alternate means of transport.
Downtown Disney
To get to Downtown Disney from the Grand Californian Hotel, head towards the convention center where you can follow the signage.
Disneyland
When you get to Downtown Disney, turn right for the Disneyland main entrance or left for the monorail.
Disney California Adventure
The Grand Californian Hotel has a private entrance to the Disney California Adventure Park next to Napa Rose.
Disneyland Hotel and Paradise Pier Hotel
After leaving the main entrance, you should walk over Disneyland Drive. The Paradise Pier will be to your left, and the Disneyland Hotel will be on the right.
Self-parking lot
The Grand Californian parking is located across Disneyland Drive and is the first lot on the right. Check out our guide to parking at Disneyland California to discover your options.
Grand Californian Hotel Spa Treatments and Salon Services
Tenaya Stone Spa
The full-service spa offers many relaxing and rejuvenating treatments, including facials, massages, and herbal body treatments.
The salon services include the classic manicure and pedicure. An express service is available for those looking for a quicker option.
Dining at Disney's Grand Californian Hotel
Hearthstone Lounge
The Hearthstone Lounge is perfect for cocktails or snacks, or you can enjoy a continental breakfast in the rustic surroundings, complete with a gorgeous fireplace.
Napa Rose
Boasting an award-winning wine list and upscale American and Californian meals, Napa Rose is an excellent choice for on-site, fine dining.
Booking in advance is advised as it can get very busy. A cancellation fee will be charged if you cancel the day of the reservation.
Napa Rose Lounge
Inside the Napa Rose restaurant, you will find the Lounge, where you can enjoy snacks and drinks by the fire or outside on the terrace.
Storytellers Cafe
The Storytellers Cafe offers breakfast, lunch, and dinner buffet menus. Some of your favorite Disney Characters will even join you at breakfast or lunch.
GCH Craftsman & Bar Grill
Sit in and enjoy a great selection of meal choices throughout the day or choose from their grab 'n' go range to eat on the move from this great poolside choice.
In-Room Dining
A menu can be found in every room at the Grand Californian Hotel, as well as details on how you can order delicious meals straight to your room. Perfect for those who want to unwind after a day of fun and excitement.
Nearby Restaurants
As well as all the great dining options available at the Grand Californian Hotel, you also have easy access to the Hotels of Disneyland Resort and the fantastic opportunities at the Downtown Disney District.
Spend a Relaxing Night at the Movies
The Grand Californian Hotel offers 'A Night at the Movies' on selected nights where special screenings of Disney movies are available to watch under the stars.
Activities and Special Programs
There are several special programs and events the hotel puts on. Every evening you will receive a list of the following day's activities. These can include:
Get Up & Go Power Walk
Rise and Stretch with Pilates
The Beauty Studio at Sephora
Washcloth Creations
Learn to Draw Mickey Mouse Class
Art of the Craft Tour.
Acorns Gifts & Goods – The Grand Californian Hotel Gift Shop
Acorns Gifts & Goods has everything you need from souvenirs, clothing, and luggage, to essentials like toiletries, medication, drinks, and snacks.
The Perks of Staying at Disney's Grand Californian Hotel
One of the biggest perks of staying at the Disney Grand Californian Hotel is the private park entrance and Magic Hour early admittance. Hotel guests can enter the park one hour before the general public. This gives visitors an excellent opportunity to explore or enjoy attractions before the park gets busy.
Additional Charges to Be Aware Of
When booking at any hotel, you should always check what is included in the price and which facilities will incur an additional charge.
Parking, spa treatments, and meals will all cost extra depending on whether you are a Disney Vacation Club member or not. Speak to one of the cast members at the Guest Services desk or enquire with the concierge service if you have any queries.
How to Book at The Grand Californian Hotel and Spa
Booking a Disneyland resort hotel room is easy on the Disneyland site.
First, visit the site, then click on and enter the holiday details in the bar at the top. This will include check-in and check-out dates and the number of adults and children.
Next, select the Grand Californian Hotel in the drop-down and choose whether you need an accessible room.
Click the green button that says "Find Hotels."
You will then be redirected to the available rooms for your selected dates. You can choose your preferred view and see the price per night at this stage.
After selecting the room you want, you will be redirected to another screen. You can then choose whether you would like theme park tickets included. You can also select a park hopper ticket to Disney Genie+ Service that includes lightning lane access.
You will then be shown a preview of your order and be able to click on the green "Check Out" button to continue your purchase for the holiday of a lifetime.
Final Thoughts
A trip to Disneyland can often be a once-in-a-lifetime experience, so it is essential to get everything right. Booking a room at the Grand Californian not only offers a level of luxury for your visit, but it also offers visitors convenience thanks to its excellent location.
Enjoy the quick and easy access to the Disney California Adventure Park and the short walk to Disneyland Park and the Downtown Disney District.
You are also just a short drive from many great things to see and do in Anaheim, including excellent shopping facilities, exciting theme parks and water parks, and countless dining opportunities. If you are visiting California with kids, you will have a great choice of things to see and do.
If you plan to stay on-site, there are fantastic dining options for all tastes, as well as pools and other entertainment to keep your family busy and entertained.
Disney's Grand Californian Hotel and Spa is relatively expensive. However, to get your money's worth and have a family vacation to remember, make the most of everything the hotel has to offer.
FAQs
Does Disney's Grand Californian Hotel offer free breakfast?
Breakfast is not complimentary at Disney's Grand Californian Hotel, but plenty of on-site restaurants and cafes are available to explore. If you plan on setting yourself up for the day, The Storytellers Cafe breakfast buffet is perfect for both kids and adults.
Are there connecting rooms available at Disney's Grand Californian Hotel?
Connecting rooms are available at the Grand Californian, and you should request this during your booking process. Disney cannot guarantee adjoining rooms. However, they will try their best to accommodate you.
Alternatively, suites are available with one, two, or three bedrooms.
Is Disney's Grand Californian Hotel pet-friendly?
While pets are not permitted in Disneyland hotels, the Disneyland Resort Kennel Club does offer facilities to look after dogs during park hours at the cost of $20 per dog.
Are there heated pools at Disney's Grand Californian Hotel?
The Fountain, Redwood, and Mariposa pools are all heated to 82°F all year round, making it the perfect place to play no matter the temperature.
The pools will typically be open from 9 am to 9 pm. However, they can open as early as 8 am and close as late as midnight during busy spells. Lifeguards also keep the pools safe to give you peace of mind.
The Fountain Pool is a kids pool in the shape of Mickey Mouse and features a turtle fountain. You will also find the whirlpool hot tub close by.
The Mariposa features a whirlpool spa and offers a more relaxing alternative with lights and decorative butterflies.
The large water slide at the Redwood pool may appeal to you for a bit more excitement. There are also smaller slides for younger kids to enjoy here.
More about our TFVG Author
Caitlin is one of The Family Vacation Guide's long standing contributors. She enjoys taking vacation to busy, vibrant cities and has stretched her traveling legs out towards Europe in recent months, enjoying new experiences in Barcelona in Spain, and Nice in France.