If you are interested in taking a trip to Sequoia National Park, then you will want to know exactly how you can get there. Air travel is often the quickest way to reach a certain destination without going through any unnecessary stops or other delays, but finding the right airport matters a lot.
Choose an airport that is too far away, and you will have to struggle to find the route you need to take. On the other hand, identifying the closest airport is not always easy when you consider travel times, road layouts, and potential other stops you might have to make after landing.
Sequoia National Park in California is large, and it has multiple entrances that are all varying distances away from particular points. Some roads are only open during certain months, making it all far more complex. So, which airports are the ideal choices if you are planning to visit the park yourself?
Closest Airports to Sequoia National Park
In purely practical terms, the closest airports to Sequoia National Park (and Kings Canyon National Park) are Fresno Yosemite International Airpot and Visalia Municipal Airport. These are the closest you can get to landing at the park, but they are not equal distances away.
FAT
Fresno Yosemite International Airport is roughly 1 hour and 35 minutes from the park, going by way of Highway 198. You can rent cars to reach the park if you do not always have a transport option lined up, meaning that you have an easy way to get there, but it can still be a long drive.
VIS
Visalia Municipal Airport is only an hour from the park, also going by Highway 198. Not only can you rent a car here, but you can also take a bus during the summer months. This takes you directly to the Visalia Transit Center, where you can use the Sequoia Shuttle to head directly to the park.
The shuttle may take longer than just driving there yourself, but this depends on the road conditions and the exact route that you take. Either way, it is not hard to reach the park once you land, but it still takes some time.
Which Entrance?
The park has three main entrances, all of which have their own benefits in terms of where you will end up. While some may be closer in terms of driving time, they may also take you to a part of the park that you do not actually want to be in, so you should plan ahead and know which one to use.
Ash Mountain
Ash Mountain uses a narrow and winding road that connects almost directly to highway 198, meaning that you can easily enter from there without much hassle. However, the smaller road means that only some vehicles can safely navigate through this entrance.
You are not advised to use vehicles beyond 22 feet (roughly 6.7 meters) in length when taking this entrance, regardless of what type of vehicle you are using. This is even more important in bad weather since snow and rain can make the road a lot more slippery if you are using a large vehicle.
This is the fastest way to enter from Visalia Municipal Airport, so it can be a good option if you choose to use that airport.
Big Stump
The Big Stump entrance comes directly off of Highway 180, which is the highway that you will usually be using if you land at Fresno Yosemite International Airport. This makes it a very direct entrance, and it offers a very straight, shallow, and wide road to enter the park through.
This means that you will often want to use this entrance if you are bringing a larger, longer vehicle. This is especially true during snowfall or rainfall since the simpler road can help a lot in getting into the park safely.
If you landed at Visalia but want to take the Big Stump entrance, it's not hard to make a short detour. You can either drive up to highway 180 and then turn right or turn left on Highway 198 and drive north – both will get you to the same location.
Lookout Point
Lookout point is one of the lesser-known entrances, but it is still a very important one. It takes you directly to some more remote areas of the park (namely Mineral Kink), and you can access it directly from Highway 198 near Three Rivers. This is two miles before the Ash Mountain option, so you can use either.
This road is a lot less consistent, offering a narrow and very windy option that does not have paving in certain areas. There are also no roads from the Mineral King area to the rest of the park, so you would have to take trails.
This option can be the least convenient of the three, but that does not make it bad. In fact, its less popular and more obscure nature means that you are very likely to have spaces to park up there, and it connects directly to some nice trails, making it a favorite of serious hikers.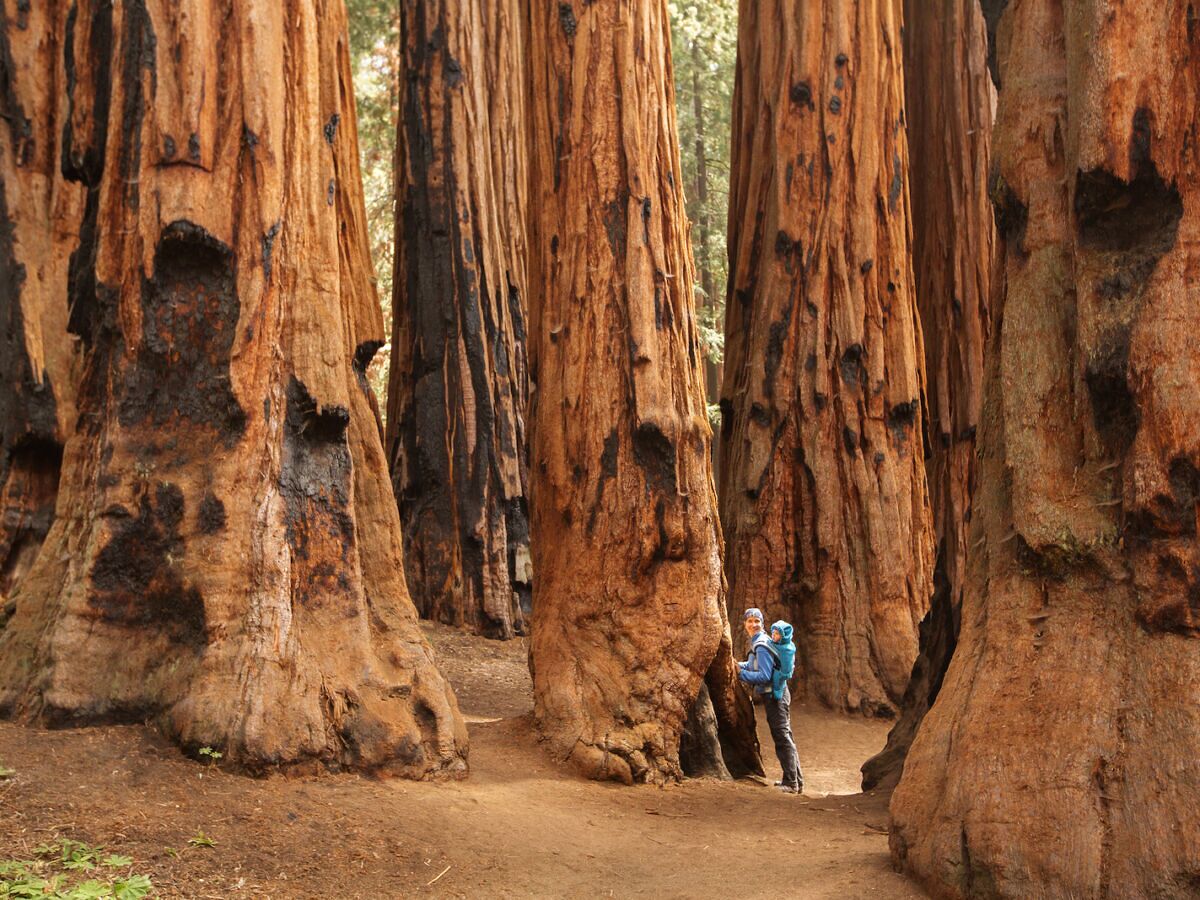 Which Airport Should You Use?
Both Fresno Yosemite International Airport and Visalia Municipal Airport are close to the park, with Fresno taking more time to drive there but delivering you right to the Big Stump entrance. The option that you choose heavily depends on where you plan to visit first.
If you want to go to the Big Stump entrance (which has a safer, shallower path down to the park but also more driving time involved), then Fresno is the best place to land. Visalia places you close to all three options, but the closest two are not meant for larger vehicles.
Either of those options will work, and the slight difference in driving time is still far better than using any other nearby airports (most of which are at least two or three hours away from the park). Of course, the vehicle you use to drive there will also impact the total driving time required to reach it.
If you want to use the southernmost entrance, use Visalia. Fresno is your best choice if you want to take the northernmost option.
More about our TFVG Author
A seasoned traveller, Dad, and avid sports tourist, James foundered The Family Vacation Guide to share his expert vacation experiences- especially when it comes to being a travelling family man.
Featured in Travel articles such as Travel + Leisure, TripSavvy and SFGate, you know you're reading some of the best vacation tips online.