Searching for a wonderful winter getaway? Interested in an accessible holiday location? Then the island of St. Thomas could be the perfect family vacation destination for you!
St. Thomas is one of a string of luxurious tropical islands that dot the Caribbean, with others including St. Croix and St. John. St. Thomas is the largest of the three islands in the Caribbean sea and offers many of the best all-inclusive resorts for families.
The island spans 32 square miles and has endless opportunities for the whole family, including activities such as scuba diving, golf, shopping, and plenty of white-sand beaches. Whatever you decide to do, it's a truly beautiful place for a getaway.
If you're looking to take the stress of planning out of your trip (or love the sound of unlimited cocktails), then you might be interested in the all-inclusive resorts on St. Thomas. We've rounded up the top eight resorts located on the island, so you can pick the best stay for the whole family.
The Emerald Beach Resort is located near Lindbergh Bay, on the edge of a white-sand beach and close to shopping facilities. This resort offers fun for the whole family and is one of the best all-inclusive resorts located on St. Thomas.
When staying at the Emerald Beach Resort, you can opt for an all-inclusive package, including full access to all facilities and vouchers for food and drinks every day to be used at the on-site restaurants and bars. This hotel is a true beachfront resort, offering 90 guest rooms that open up right onto the white sands of the bay – perfect for letting the kids run around!
Every room of this Lindbergh Bay hotel has spectacular views of the surrounding Caribbean location, with many useful facilities included in the price. These include WiFi, refrigerators, private balconies or patios, access to the beautifully landscaped pool, use of the on-site fitness center, and even a free hour of watersports daily!
Why not take a kayak and paddle through Lindbergh Bay or use the complimentary shuttle service to go shopping? It's a perfect location for a family vacation.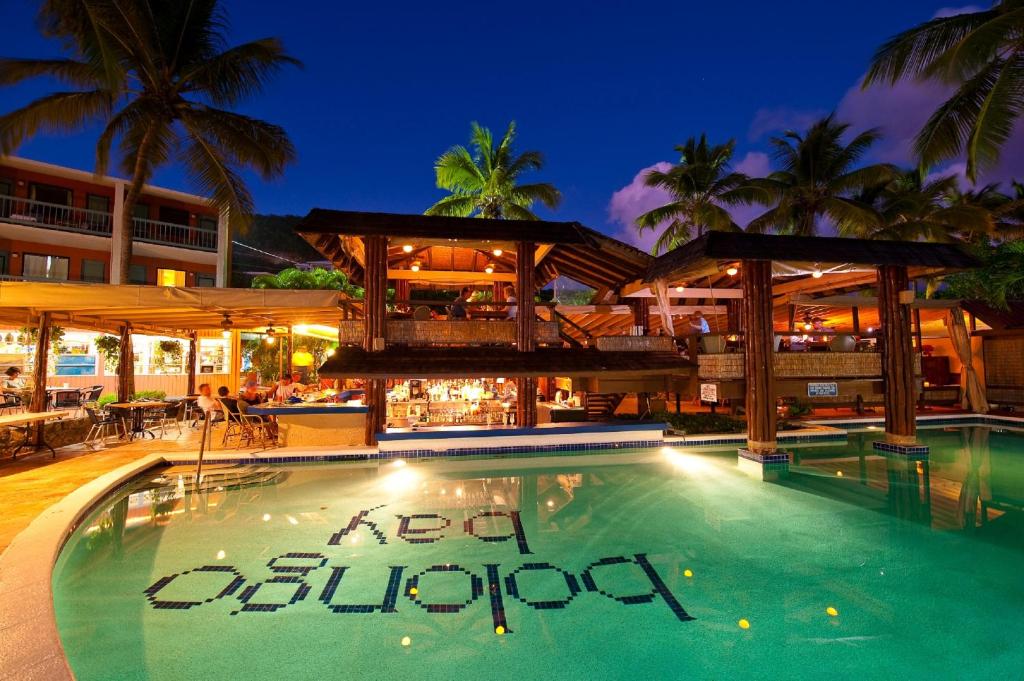 When looking for resorts in St. Thomas, it's impossible to forget the infamous Bolongo Bay Beach Resort. This resort was, in fact, the first all-inclusive resort to open on the island of St. Thomas, back in 1989. Since then, it's only ever been closed once, following Hurricane Irma in 2017.
So, when you stay at the Bolongo Bay Beach Resort, you're actually staying at a little part of the US Virgin Islands' history! This resort is excellent for those who prefer a smaller, more intimate hotel but are still interested in the wide range of activities and facilities that all-inclusive packages can offer – perfect for keeping the kids entertained.
The Bolongo Bay Beach Resort offers 25 fresh, clean, bohemian rooms that open directly onto the beach for a truly luxurious stay. Additionally, it boasts 39 ocean-view rooms with a private balcony, and ten value rooms (perfect for those on a budget), with views of the lovely landscaped gardens and pool.
If you stay at Bay Beach Resort, you'll have access to excellent facilities and a fantastic location, with 1,000 feet of prime beachfront right under your nose. Take advantage of all this location has to offer by going reef snorkeling, scuba diving, kayaking, or paddleboarding. You can even arrange to sail on the resort's very own catamaran, Heavenly Days.
Alternatively, take advantage of the poolside bar, kids club, and free WiFi with a day at the pool complex. The choice is yours!
While not strictly a fully all-inclusive resort, we had to include the Marriott's Frenchman's Cove, with its range of luxury holiday packages that will cater to many families' needs.
In this laid-back Caribbean resort, you can choose between two-bed and three-bed luxurious villas with full kitchens, living and dining areas. What's more, you'll have your very own private patio or balcony, free WiFi, and access to all of the facilities available for guests at the resort.
Settle into your very own home from home with a king bed and a 32-inch LED TV to keep the children quiet for a while. On-site facilities include an infinity pool, fitness center, water sports, a cinema, and arts and crafts room – which is great for young families.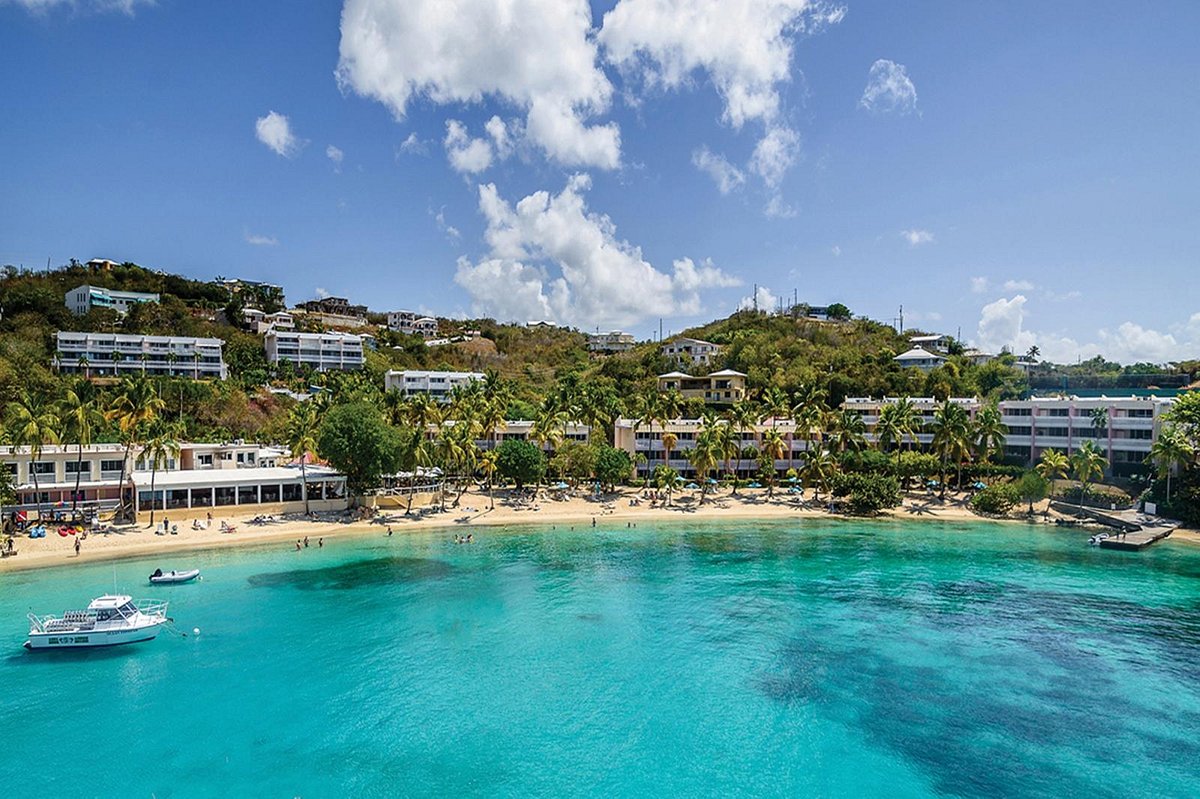 Think swaying palm trees, white-sand beaches, hammocks, and pristine water. That's what you'll find at the Secret Harbour Beach Resort, a deluxe destination for couples and families alike. Take the children to visit the Charlotte Amalie harbor and Blackbeard's Castle, or spend the day having sandcastle contests on the beach – the choice is yours!
This resort offers both one- and two-bedroom suites with boutique condominium-style accommodation. Your suite will be fully equipped with a kitchen, dining space, and private balcony or patio. Choose from 48 beachfront units or 20 hillside apartments, all with use of the freshwater pool and other facilities available at the resort.
For an all-inclusive package, use the daily housekeeping and grocery shopping services available, which can cater to even the fussiest eaters. The Secret Harbour Beach Resort is perfect for families who love to spend a lot of time at the beach!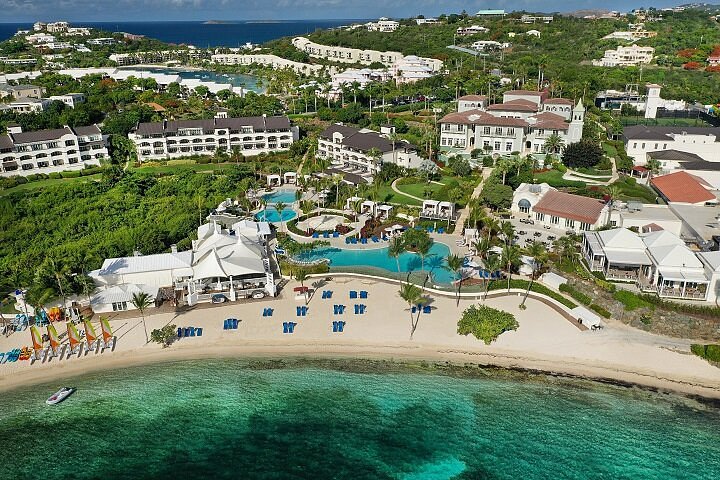 The Ritz-Carlton is one of the most luxurious St. Thomas all-inclusive family resorts, with 180 rooms and suites, a choice of four different restaurants, a private beach for guests, both motorized and non-motorized water sports, a kids club, babysitting service, and even a 60-foot luxury yacht (yes really).
As a guest at the family-friendly Ritz-Carlton, you'll have access to all these facilities and more, with its beachfront resort location allowing the whole family to experience the full beauty of the US Virgin Islands. You'll be staying in the tranquil and picturesque Turquoise Bay: a true gem of the island and perfect for children who love to play at the beach.
There are options for the whole family with activities including tennis courts and watersports, and four different restaurants to choose from (perfect for families with young children), making this one of the best all-inclusive resorts available on the island!
For those looking for a more low-key family holiday destination, the Mafolie Hotel is a great place to rest your head while you enjoy everything the Virgin Islands have to offer. With a fantastic location close to beautiful beaches and the center of Charlotte Amalie, it's an excellent base for a vacation full of sun, sea, and exploring – which will keep even the most boisterous kids entertained!
The Mafolie has a great family-friendly environment with a large pool, outdoor furniture, and sun loungers. What's more, you get a complimentary breakfast with every stay and a beautiful view of the nearby harbor, so you can relax in style while the children enjoy playing in the pool.
Stay at Flamboyan on the Bay resort, and you'll have access to a wide range of fantastic facilities, including three pools, free parking, two restaurants, tennis facilities, as well as beautiful Caribbean surroundings characteristic of the Virgin Islands. Your kids will love the beachside location and endless activities, so you can relax whilst they play.
Choose between studios and villas with fully equipped kitchenettes, microwaves, fridge freezers, and air conditioning, with two and three-bed options for all family sizes. You're likely to have a unit that faces Maegan Bay, all fitted with private balconies, making for beautiful sunsets over the sea.
Flamboyan on the Bay was recently awarded for its high-quality hospitality, so you can rest assured you're in for a wonderful stay.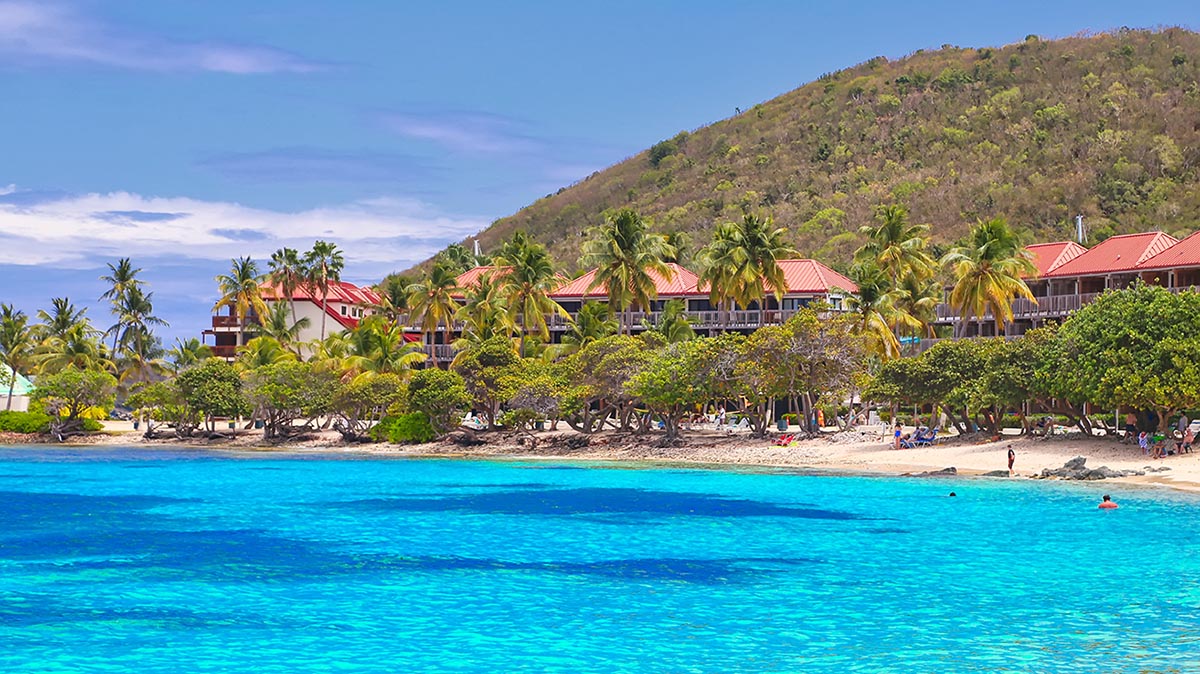 Sapphire Beach Condominium resort offers picturesque suites and villas situated right on, you guessed it, Sapphire Beach. Experience the crystal clear waters of the Virgin Islands with your very own beachfront accommodation, fully equipped with kitchen and living facilities – perfect for both adults and kids.
When you stay at Sapphire Beach, you'll have access to their on-site restaurant, pool, and water sports facilities. Those who enjoy taking the family on outdoor excursions will find much to love, with plenty of snorkel gear to use, as well as a walking and jogging trail right outside. Why not take the kids for an early morning dip, and see what wonderful sea life you can spot!
The location of this resort offers plenty of fun for families of all sizes and ages and could be a great option for anyone looking to vacation to the US Virgin Islands.
In Summary
For those looking for an easy family getaway, St. Thomas all-inclusive family resorts could offer the perfect balance of sun, sea, tranquility, and activity. What's more, if you're traveling from the US, you don't even need a passport!
Whether you're after total luxury from the Ritz-Carlton or a more boutique feel, such as at the Bolongo Bay Beach Resort, you'll be sure to find all-inclusive experiences on St. Thomas to match your family's needs. And, if you're interested in more Caribbean holiday destinations, check out our ultimate guides to visiting the Caribbean for all the information you might need!
More about our TFVG Author
A seasoned traveller, Dad, and avid sports tourist, James foundered The Family Vacation Guide to share his expert vacation experiences- especially when it comes to being a travelling family man.
Featured in Travel articles such as Travel + Leisure, TripSavvy and SFGate, you know you're reading some of the best vacation tips online.