The Caribbean nation of Saint Lucia is a popular destination for all types of tourists and travelers. It's also a fantastic spot to take your family to the all-inclusive resort of their dreams. St. Lucia truly has it all; the Piton mountains, gorgeous volcanic sand beaches, incredible reefs to explore, quaint fishing villages, and so much more.
There's also plenty of waterfalls on the island's interior, including Toraille, which stretches a total of 15 meters high. If you and your family love adventure and want to explore the tropics in style, head to St. Lucia!
Anse Chastanet
Location: 1 Anse Chastanet Road, Soufriere St. Lucia
Website: Anse Chastanet
Try the Anse Chastanet for an authentic taste of the Caribbean without the hustle and bustle of St. Lucia's busier cities and beaches. Anse Chastanet sits on the island's southwestern coast, where the vibe is a little slower and more laid back. This resort overlooks the gorgeous Piton mountains and the sea. Anse Chastanet's architect, Nick Troubezkoy, designed the resort to perfectly integrate all of the elements of nature.
Anse Chastanet's land is vast, sprawling over 600 acres with two beaches. There are also two bays and plenty of coral reefs right offshore of the resort itself. Anse Chastanet's land is part of a marine reserve, so adjacent waters contain tons of one-of-a-kind fish. Snorkeling and diving are two extremely popular activities at the Anse Chastanet.
This resort is on the smaller side, containing only about a dozen rooms, so if you and your family are looking for an intimate getaway, the Anse Chastanet is the right place. Activities include snorkeling, diving, yoga, tennis, sailing, sea kayaking, hiking, and biking through the jungle. In addition, the Anse Chastanet is the ideal place to take older, active children for a unique vacation.
Bay Gardens Beach Resort & Spa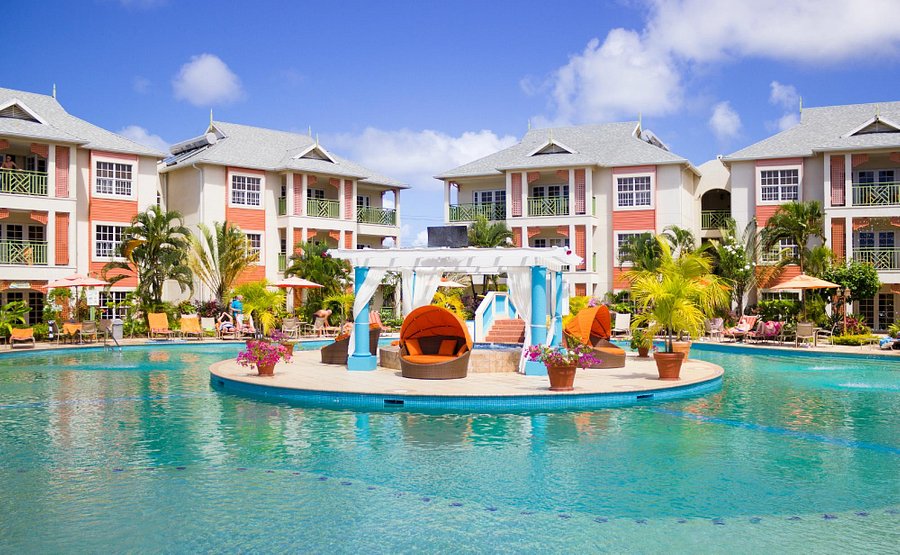 Location: Reduit Beach, Rodney Bay St. Lucia
Website: Bay Gardens Beach Resort & Spa
Bay Gardens Beach Resort & Spa is one of the country's premier resorts and offers everything you need to have the family vacation you've been waiting for. Bay Gardens Beach Resort & Spa is known for its fabulous on-site dining options, including Hi-Tide Restaurant and SeaGrapes Beach Bar & Restaurant. So even the pickiest eaters are sure to find something they can enjoy on the menu.
Bay Gardens Beach Resort & Spa has a massive on-site lagoon-style pool, plus a luxurious jacuzzi. Splash Island Water Park is also nearby, making Bay Gardens Beach Resort & Spa an excellent option for kids and adults. You certainly won't run out of things to do while you're enjoying every second of your time in paradise.
The resort also features a fitness center and business center, so you can get a little bit of work done if you have to. There's also a fabulous spa, La Mer Spa and Salon, featuring state-of-the-art spa treatments and massages. One of the biggest draws is the staff. Your caring, gracious hosts will warmly attend to every need.
Coconut Bay Resort & Spa
Location: Vieux Fort St. Lucia
Website: Coconut Bay Resort & Spa
Coconut Bay Resort & Spa sits on the southern part of St. Lucia, and it is spread across 85 acres of paradise. It's conveniently located right near the international airport and several of St. Lucia's best beaches, so you and your family will have the opportunity to do a little bit of convenient beach hopping while you're there.
This all-inclusive resort has it all with 250 well-appointed rooms, all with air conditioning and high-speed WiFi. There are also eight restaurants on-site featuring traditional Caribbean fare and international options. Adults will love the swim-up pool bar serving all of your tropical favorites expertly prepared by Coconut Bay Resort & Spa's team of mixologists.
Coconut Bay Resort & Spa has an on-site fitness center, a spa, and plenty of excursions and activities. There's entertainment every night. The Kidz Klub keeps your children busy while you get a pampering massage or enjoy a quiet stroll within one mile of the beach.
There's plenty of activities to do with your family too. Enjoy kitesurfing, snorkeling, yoga classes, sea kayaking, and paintball. On calm days, paddleboarding is available. Coconut Bay Resort & Spa stands out because of its commitment to providing great activities for children and adults alike.
BodyHoliday Le Sport
Location: Cariblue Beach, Cap Estate St. Lucia
Website: BodyHoliday Le Sport
This resort focuses on health and wellbeing and pampers you with rejuvenating spa treatments and fitness classes. If you and your family are interested in incorporating healthy living into your vacation, BodyHoliday Le Sport is truly the ideal spot.
Since it's a comparably smaller resort, most patrons make fast friends with others. BodyHoliday Le Sport allows you to take advantage of all of their all-inclusive offerings, even giving away one spa treatment a day, but you can also choose to relax and enjoy the beach. It's the ultimate place to customize your best family vacation.
In addition to BodyHoliday Le Sport's on-site fitness classes, tennis courts, Caribbean dance classes on the beach, and evening entertainment. Sign up for their Adventure Programme and enjoy incredible treks through the jungle, to waterfalls, and up parts of the nearby mountains. Although challenging, these treks are suitable for most skill sets and are an excellent way to bond with your family.
The Landings St. Lucia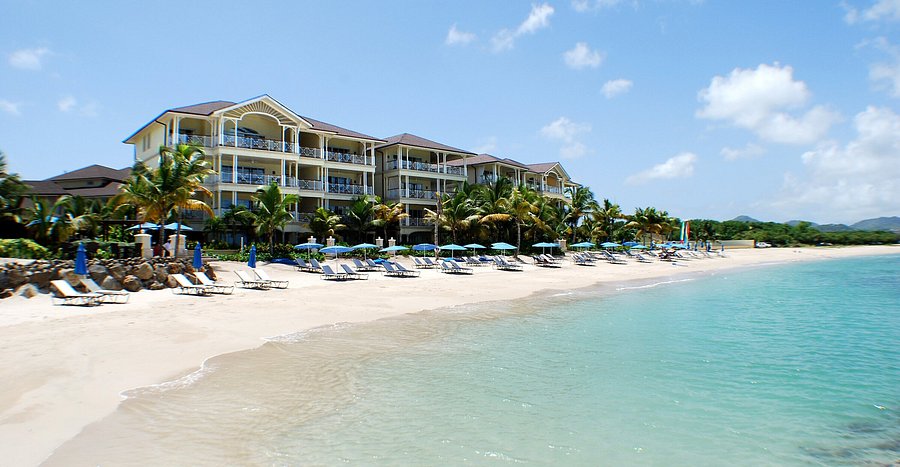 Location: Pigeon Island Causeway, Rodney Bay St. Lucia
Website: The Landings St. Lucia
This spectacular beach resort has state-of-the-art villas. Rent one, two, or three-bedroom villas complete with private balconies or terraces and kitchens. They are also stocked up with all of the amenities that you could want or need. You'll feel right at home in the heart of paradise! Some villas even have their own private pools. Check The Landings St. Lucia's website for more details.
There are plenty of activities suitable for both kids and adults. The resort has a kid's club, so you can drop off your little ones while you enjoy their luxury spa or have a little bit of quiet time on the beach. There's also non-motorized water sports available, free of charge.
Enjoy the private beach, or relax by one of the resort's four swimming pools. You can also dine in style at one of The Landings St. Lucia's multiple restaurant options, including a high-end restaurant. There are plenty of bars on site, too, perfect for those beautiful sunset drinks!
The staff at The Landings St. Lucia is exceptionally friendly and will be able to find you the perfect excursion for you and your family. Snorkeling, jungle hikes, or catamaran cruises are popular. But, if you're looking for something a little bit more unique, just ask.
James Club Morgan Bay
Location: Choc Bay, Choc, St Lucia
Website: St. James Club Morgan Bay
St. James Club Morgan Bay is a great resort located centrally in Choc Bay. Although the grounds are relatively large, St. James Club Morgan Bay's staff are constantly driving through the grounds with golf carts and are more than happy to give you a lift. One of the downsides to this resort is that you have to pay for WiFi in your room, but it's free in the lobby. Otherwise, St. James Club Morgan Bay is a wonderful option for families that want to unplug and relax.
There are several restaurants on-site, including a buffet option with a regularly rotating list of food items. They serve kid and adult-friendly fares like burgers, steaks, french toast, and scrambled eggs. Additionally, you can opt for Morgan's Pier, a seafood restaurant that serves gigantic portions of delicious seafood. Finally, Treetop Pizza is an excellent family-friendly dining choice, especially for those times when you come home ravenous after a long day of excursions.
If you want a sea-facing view with a balcony, remember to book early. St. James Club Morgan Bay tends to fill up quickly during high season, and you won't want to miss those blissful Caribbean views!
You and your family will certainly not get bored at this resort. There are plenty of daily activities like complimentary water sports, fitness classes, and a fantastic pool. At night, enjoy family-friendly entertainment by the pavilion bar.
Coco Palm Resort
Location: Rodney Bay LC02 501 St. Lucia
Website: Coco Palm Resort
Coco Palm Resort has won several awards for its beautiful blend of boutique hotel style and tropical ambiance. So if you're looking for a lovely place to spend your family vacation, this resort hits all the right marks. Choose between elegantly decorated suites or rooms, each with all of the amenities that you might expect from home and free high-speed WiFi.
The Coco Palm Resort specializes in Creole and international food with a distinctly Caribbean flair. Their Ti Bananne Caribbean Bistro is excellent, serving up inspired renditions of dishes from the region. Their menu is quite extensive, so even pickier eaters or small children will find something to please their palates.
There's an on-site gym where you can stay healthy and the Palm Spa, where you can pamper yourself with excellent treatments and holistic remedies from around the world. Additionally, Coco Palm Resort is a fantastic place to go if you and your family want to be close to the action. It's right in Rodney Bay Village, a very hip and exciting part of the island, close to Reduit Beach.
Oasis Marigot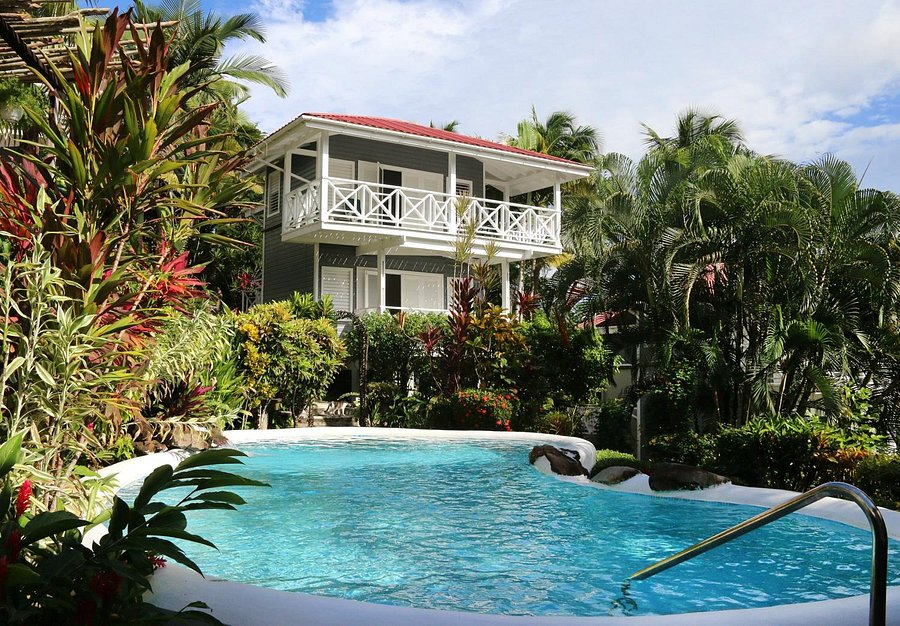 Location: 177 Seaview Avenue, Marigot Bay St. Lucia
Website: Oasis Marigot
Oasis Marigot has been serving St. Lucia's guests for more than 25 years, and they remain one of the top-rated resorts in the country. This family-owned and operated resort emphasizes hospitality and caters to families who want an authentic Caribbean experience. Located right on beautiful Marigot Bay, Oasis Marigot is a beautiful place to spend your family vacation.
One of the things that Oasis Marigot prides itself on is outstanding service. They go out of their way to ensure that you and your family have the best personalized care. Although their villas are private, Oasis Marigot makes sure that they are fully stocked with all amenities, and you'll get regular housekeeping services.
Each villa comes with a kitchen, which Oasis Marigot's expert staff will stock with groceries prior to your arrival. The entire experience is customized so that you feel as welcomed and supported as possible for your whole family vacation. Oasis Marigot doesn't offer as many entertainment options as some of the other resorts on our list, so it's suitable for families that want some bonding time while still experiencing genuine St. Lucian hospitality. Despite not having many entertainment options, it boasts many other features making it stand out.
Ti Kaye Resort & Spa
Location: Anse Cochon, Anse La Raye, St. Lucia
Website: Ti Kaye Resort & Spa
Ti Kaye Resort & Spa is on St. Lucia's west coast. It's a smaller resort, containing 33 rooms, so you know that you will get one-on-one treatment and service. If you are looking for a little more privacy and a local experience, Ti Kaye Resort & Spa is an excellent option. Relax in style and soak in the views of Anse Cochon Bay.
Ti Kaye Resort & Spa's two on-site restaurants serve both international and Caribbean cuisine, so you can try out new flavors while still getting all of the comforts of home. In addition, their Kai Koko Spa is spectacular, with rejuvenating treatments and massages that will keep you relaxed and pampered for your entire stay.
The kids will love Anse Cochon Bay, mainly because its clear Caribbean waters are teeming with fish. So take them out for a full day of snorkeling or try your hand at diving. The resort staff can also help you book any additional excursions that you'd like, using trusted local guides that are fluent in English.
Starfish St. Lucia
Location: Reduit Beach, Rodney Bay St. Lucia
Website: Starfish St. Lucia
Starfish St. Lucia sits right against a white sand beach. You and your family will love taking advantage of this pristine piece of sand, as well as the balmy waters of the Caribbean sea. Starfish St. Lucia offers all sorts of excursions and activities, including paddleboarding, kayaking, and sailing. Simply talk to their staff about what you're looking for, and they will gladly set up whatever you need.
It's unlikely that you and your family will get tired of the beach, but Starfish Saint Lucia has a gorgeous swimming pool if you do. Their attentive staff will ensure that you have everything that you need, from towels to fresh drinks.
The rooms are spacious, and all of them have plenty of ports and plugs for all of your devices. There's an outdoor play area specifically for the kids and babysitting services if you need some alone time. The staff can take care of your laundry and help you get anywhere you need to go on the island.
There are several dining options serving Caribbean and international cuisine and a golf course just a few minutes away. Starfish St. Lucia lets you customize your perfect St. Lucian family getaway by providing you with plenty of different options. So whether you want to relax by the pool or beach or head into the jungle for some exploring, this resort is the ideal place to make your dreams come true.
Windjammer Landing
Location: Labrelotte Bay, Castries St. Lucia
Website: Windjammer Landing
Windjammer Landing sits on 60 acres of beautifully maintained land and is one of the most unique options on our list. While most of the resorts we've featured are Caribbean-themed, this one is Mediterranean-themed. You'll stay in style in a perfect replica of a Mediterranean village, complete with individual villas and rooms. Each one has all of the classic comforts you can expect from a top-notch resort.
The all-inclusive package lets children under 11 eat for free, plus you can get complimentary snacks and drinks between each meal. With five restaurants and four bars to choose from, there will be something on the menu for every member of your family at Windjammer Landing.
Additionally, you can get free access to both motorized and non-motorized water sports. Since most resorts only offer complimentary access to non-motorized water sports, this is another perk that puts Windjammer Landing in a class all of its own.
There's also free fitness classes on-site and entertainment every night. If you want, you can follow the resort's suggested itinerary, or you can create your own. The flexibility and choice will put you in the driver's seat for your vacation and give you an experience that you will certainly remember forever.
If you truly want to have a remarkable family vacation, choose St. Lucia. This Caribbean country is welcoming, accessible and full of great activities that will be a delight to your entire family. Best of all, it's only a short flight from the United States, so you can put the money that you would be spending on airfare towards fun and unique excursions.
These eleven resorts will give you the absolute best deal for your dollar and offer incredible hospitality, amenities, location, and excursions.
Other destinations to consider for your all inclusive family holiday in the sun
If you're considering other resort options for your perfect family getaway, we're pulled the very best together for you below!
More about our TFVG Author
A seasoned traveller, Dad, and avid sports tourist, James foundered The Family Vacation Guide to share his expert vacation experiences- especially when it comes to being a travelling family man.
Featured in Travel articles such as Travel + Leisure, TripSavvy and SFGate, you know you're reading some of the best vacation tips online.