The Caribbean features many different islands, each with unique history, culture, and varied landscapes.
There's no shortage of activities for everyone to engage in on these islands, and families can choose from all-inclusive resorts or private rentals that suit their needs.
The Best Caribbean Islands for Families
Each Caribbean island offers slightly different activities and cultures. This variety makes these islands perfect for families who want to keep busy but want a unique experience.
If you're looking to learn more about the best spots in the Caribbean for families, why not take a look at our other guides:
U.S. Virgin Islands
The beautiful U.S. Virgin Islands consists of four islands and islets:
St. Croix
St. Thomas
St. John
Water Island
There are over fifty different islets and cays to explore, and since this area is a United States Territory, U.S. citizens don't need a passport. For non-U.S. citizens, the entry requirements are the same as they are for any other foreign destination, but you should check for COVID-19 guidance and screening procedures in advance.
The U.S. Virgin Islands begins just off the coast of Florida, so it's a short plane ride. These islands feature signature white-sand beaches, vibrant reefs for snorkeling, and picturesque nature everywhere you look. There's also a bit of history and culture in the towns Christiansted and Frederiksted in the south.
If you have active pre-teens or adventurous kids, the U.S. Virgin Islands offers several activities such as scuba diving, swimming, snorkeling, kayaking, turtle-spotting, and paddleboarding. There's also hiking, fabulous restaurants, and several historical sites that offer fun for the whole family.
Family-Friendly Things to Do
The best part about the U.S. Virgin Islands is the vast assortment of activities suitable for kids of all ages and families. The idyllic beaches provide ample opportunities for swimming and playing in the sparkly white sand, but you can also snorkel and scuba dive.
The waters here are relatively calm, which makes it an excellent option for relaxing, and you can hike around any of the islands and enjoy the rolling hills. There's a lot of native wildlife to take in on these islands, and travelers can also visit the Virgin Islands National Park, which covers 7,000+ acres and includes plantation sites, ancient petroglyphs from the Taino Indians, and turtle monitoring.
Where to Stay
The U.S. Virgin Islands host excellent hotels well-suited for families with kids of all ages. Check out The Buccaneer with its signature salmon and blue decor and on-site kids' camp, or Marriott's Frenchman's Cove hotel with villas that have fully equipped kitchens. Guests also find VRBO and Airbnb accommodations spread across the islands with several units available.
Cayman Islands
The Cayman Islands are a British Overseas Territory consisting of three islands. The caymans rest on the western side of the Caribbean Sea, and the largest island in this territory is called Grand Cayman.
The smallest island, called Little Cayman, hosts a highly diverse wildlife population that includes:
Turtles
Four species of harmless snakes
Several varieties of iguanas
Bats
Over 200 species of birds
This island is also home to Agoutis, which is a rabbit-sized rodent that eats snakes. It is rare to see one of these creatures, but the Hickatee, a type of turtle, is found in water and brackish ponds all over the island.
Family-Friendly Things to Do
The picturesque Seven Mile Beach is an excellent choice for families with its serene teal waters, but there's also swimming, boating, a shipwreck, and an artificial reef. Scuba diving is a good option here for adventurous teens as the Cayman Islands boast some of the best diving spots in the world.
In northern Grand Cayman, you can swim with giant stingrays, and you might even get to see massive cruise ships as this area is a prime stop for many cruise lines.
Where to Stay
Available accommodations include VRBO and Airbnb listings at prices comparable to the hotels but with more family-friendly amenities. Families can also consider the Kimpton Seafire Resort and Spa if you want luxurious accommodations and staff that treat you like royalty.
Smaller families that only need one or two bedrooms can take advantage of the Caribbean Club on Seven Mile Beach, which offers luxuriously sized rooms and villas with equipped kitchens.
For inspiration, take a look at our guide to the best Cayman Islands all-inclusive resorts for families.
Bahamas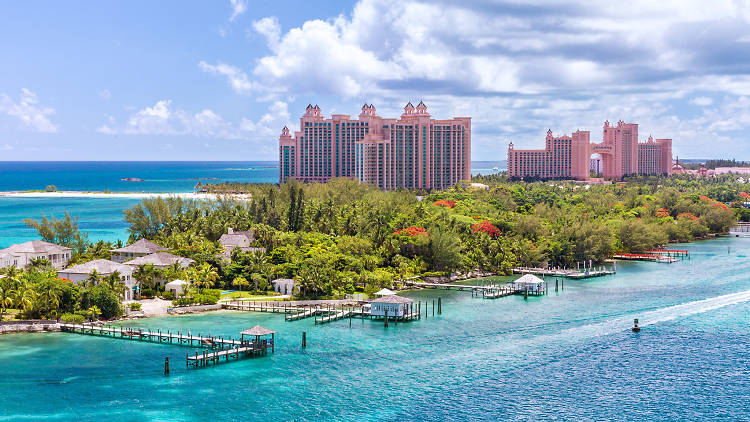 The Bahamas is actually around 700 islands, and they lure millions of travelers each year to relax on the white sand beaches, fish, dive and visit the shops. Duty-free shops are commonplace here as are luxurious accommodations at mega-resorts.
There are 16 major islands in the Bahamas and you'll find a diverse range of animal life and ample culture. Diving is big here but there are also several historic attractions and marketplaces.
Family-Friendly Things to Do
One unique feature of the Bahamas is the swimming pigs which entertain many visitors as part of group tours each year. There are also several coral reefs and other interesting diving locations and hiking. Kid-friendly options include a water park on Paradise Island, day excursions to smaller nearby islands, and Clifton Heritage National Park.
Another unique sightseeing destination is the Versailles Gardens which are privately owned and not always open to the public. For a lush oasis, check out the Leon Levy Native Plant Preserve where you'll find 25 acres of flora including orchids, palm trees, and mangroves.
Where to Stay
The Bahamas is full of resorts of all kinds so there are a number of different options for every budget. Top options include the Rosewood Baha Mar in Nassau and the Grand Isle Resort & Spa in Great Exuma. There are also many options for whole rental units on each of the major Bahamian islands on VRBO and Airbnb.
For inspiration, check out our guide to 12 of the best Bahamas resorts and hotels for families.
Barbados
Barbados is another excellent location with white sand beaches, duty-free shopping, and large golf courses. Barbados also features beautiful architecture, British traditions like afternoon tea, and multiple cultural influences.
In 1966 Barbados gained independence from Great Britain, but there are still themes of West African, Caribbean, and British culture around the island. You can enjoy calypso music, watch a cricket or polo match, and enjoy local rum and picturesque scenery all in the same afternoon.
This island also has a deep history with sugar cane and a lively sports culture in addition to the common fun-loving attitude of the locals. Families will find countless activities to keep them busy and kids of all ages will enjoy the several must-see beaches.
Family-Friendly Things to Do
Bathsheba Beach is free and one of the best beaches to visit even if you only have an hour or two. There's also Dover Beach in Oistins and Carlisle Bay on the southwestern coast. Hunte's Gardens has a gully and wide variety of plants just south of Bathsheba Beach, and there's also the Andromeda Botanic Gardens with over 600 plant specimens on display.
For adventurous families, Harrison's Cave is a limestone cave with several streams to explore and Animal Flower Cave boasts a population of anemones and is the only sea cave accessible in St. Lucy parish.
Other sightseeing options that work well for families include submarines and the Morgan Lewis Sugar mill run by the Barbados National Trust.
Where to Stay
Hotels like Sandy Lane and Cobblers Cove are traveler favorites but there's also the Fairmont Royal Pavilion in St. James and several options on Airbnb and VRBO. Hotels and resorts will cost more than private rentals but you'll miss out on some amenities.
Keep in mind that some resorts offer free breakfasts that are quite lavish which can make starting your day easier. A lot of these accommodations also offer free parking so you can rent a car and sightsee, or take the family hiking.
Jamaica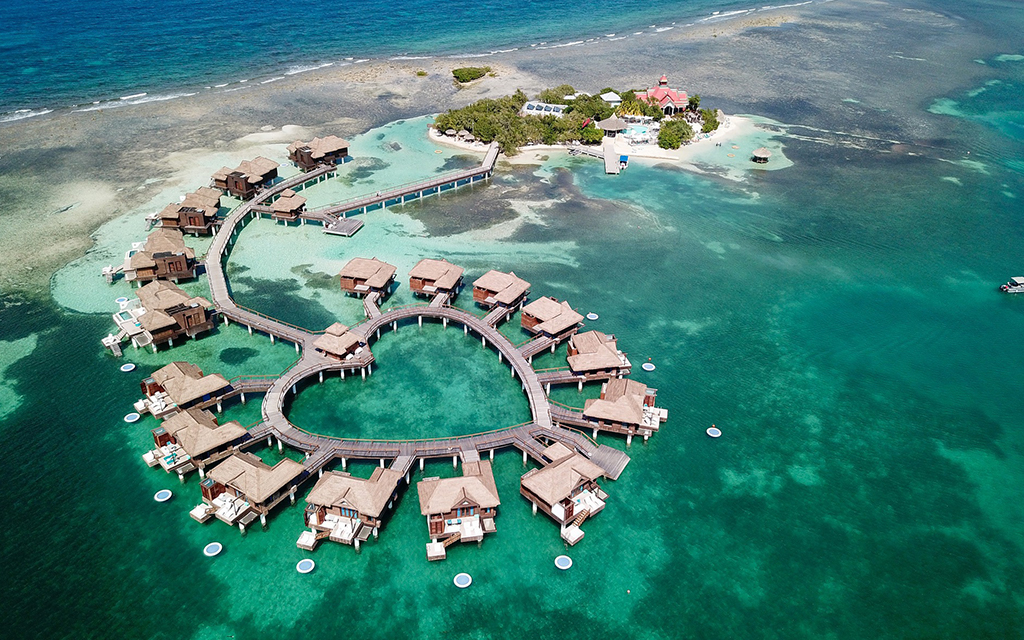 Jamaica is known for ultra lush mountainous land and rainforests inland and the beaches lined with colorful coral reefs. You'll find plenty of all-inclusive resorts on this island and historical British colonial architecture. Jamaica is also known as the birthplace of reggae music and you'll find interesting museums that are fun for everyone.
Jamaica is easily accessible by plane, and it's not difficult to get reasonable airfare rates. The island is also packed with family-friendly activities and social events in addition to excellent dining and several must-see outdoor sites like pristine beaches and adventure parks.
Family-Friendly Things to Do
Jamaica hosts a number of adventure parks that offer activities well suited to families. There's the very large Kool Runnings water park with go-kart racing and paintball, a park with zip lines, and mountain hiking with aerial views unseen with other tours.
The wildlife is plentiful all over the island and you can walk through rolling hills, down into valleys, and to the sea all during a single hike if you like. It's also possible to hike to the highest point in Jamaica, and there are also several caves to explore such as Green Grotto Caves, or Windsor Caves.
Other activities include swimming in waterfalls, surfing at a number of different beaches, river rafting, bobsledding, and horseback riding.
Where to Stay
Jamaica is full of good hotels in every price range, so you can choose whether you want to be in the city or near the beach. Each location offers several daily activities and you'll have access to the authentic local restaurants, and swim-up style bars.
Vacation apartments and private rentals offer several good options for families and often allow you to keep a more regular schedule and cook your meals. Fully equipped kitchens come standard with most rentals and they range in size from studio apartments to full penthouses with upscale amenities.
For inspiration, take a look at our guide to the best Jamaica all-inclusive resorts for families.
Puerto Rico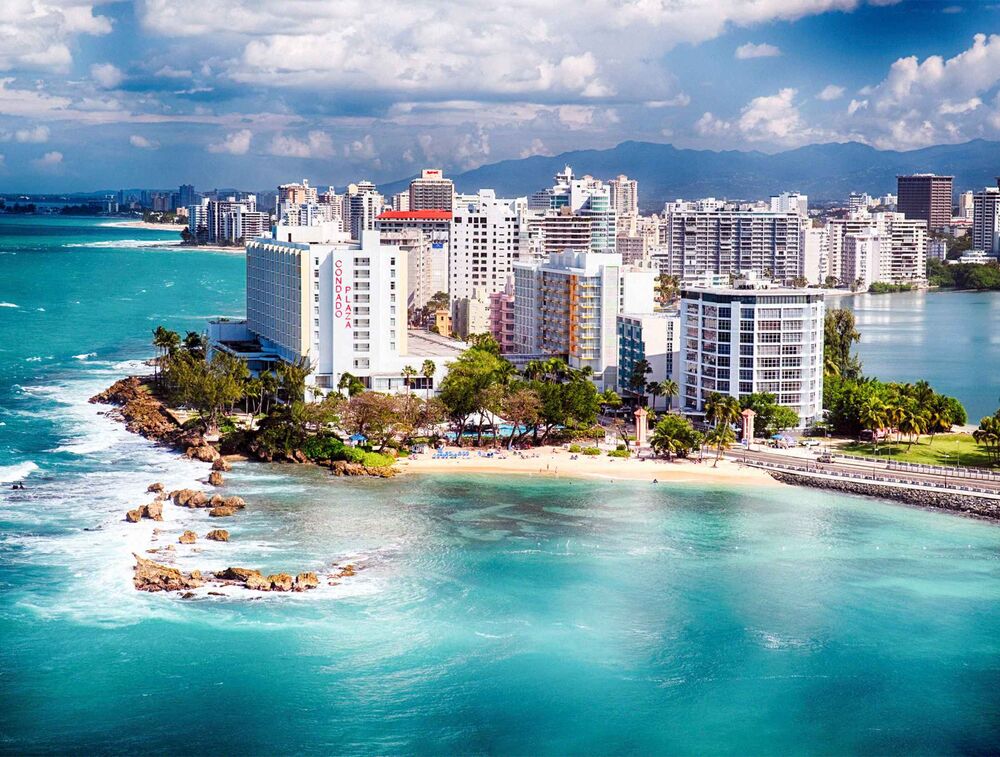 Puerto Rico features a lush green tropical landscape with many American conveniences that make vacationing as a family more accessible. There are several family-friendly beaches, coves, and other activities, and shallow waves so swimming is more comfortable. The cobblestone streets add to the ambiance as you make your way to the local restaurants.
Puerto Rico has taken major damage in recent years as several natural disasters ravage the island. In 2017 there was Hurricane Maria, in December 2019 and January 2020, there were several earthquakes, and while it's still safe to travel to Puerto Rico, tourism is helping the island to bounce back and recover.
Family-Friendly Things to Do
Puerto Rico is a popular wedding destination, so this island is accustomed to hosting families of all ages and sizes. One unique site is the Bioluminescent Mosquito Bay, where you can see the sand and water glow with tiny bioluminescent organisms called dinoflagellates. Old San Juan also offers up many sightseeing tours through areas, such as:
El Morro
Calle del Cristo
Calle de la Fortaleza
Castillo San Cristobal
To see some natural wonders, travelers can visit El Yunque National Forest for free, which offers days of exploration. There are also rum tours and coffee tours which take a couple of hours to half a day.
Where to Stay
Several five-star hotels reside in Puerto Rico, but there are accommodations for every budget ranging from $150 for a single room to $1200 a night. Private rentals tend to have cheaper nightly rates and you'll find most of these options on the beach or a short distance from the beach.
More unique options include Dome Homes and tiny houses spread across the island, however, these tend to accommodate two adult guests and one child. If you're outdoorsy you might also consider camping or glamping so you're close to nature or as a way to save money on accommodations near the bigger cities.
For inspiration, take a look at our guide to 10 of the best Puerto Rico all-inclusive resorts for families.
Aruba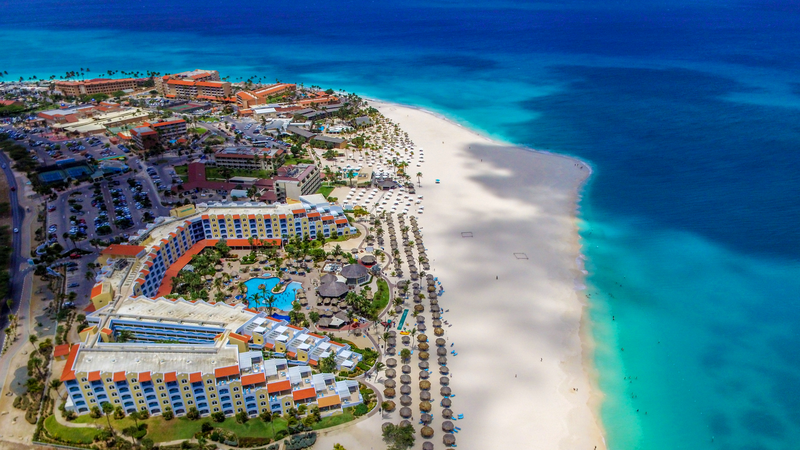 Aruba is considered the safest island in the Caribbean thanks in part to the low rates of petty and violent crimes on the island. Aruba is a bit pricier to visit than some of the other islands, but guests are well-rewarded with lots of amenities, supervised kids' programs, and excellent shopping opportunities.
Adults can gamble, golf, or enjoy a spa day, and the legal drinking age is 18, which makes this a fun option for spring break. The tap water here is safe for guests, there aren't usually hurricanes to worry about, and you can visit just about any time during the year between January and September.
You do need a passport to visit Aruba, but you don't need to have a visa. It's also possible to pay using U.S. currency or the local currency, and there's no need to speak the local language as most people here speak English. Aruba offers a lot of different activities, so it's easy to find several options that are entertaining for everyone in the family.
Family-Friendly Things to Do
There are several different beaches in Aruba in addition to excellent water conditions for swimming, windsurfing, and kitesurfing. There's also snorkeling, scuba diving, beachcombing, and local rum shops.
Guests can also take off-roading tours and ride Jeeps around Arikok National Park, enjoy local cuisine at small establishments all over the island, or try deep-sea fishing. If you want to see Flamingo Beach you'll want to stay at the Renaissance Aruba so you can avoid the hefty per-person fee and see it for free. Otherwise, you'll only get admitted when capacity allows.
Where to Stay
Some resorts are meant for adults only, but some resorts like Barcelo Aruba include a kid's camp or kid's club. These kid camps supervise your child and provide a wide range of age-appropriate activities. Many resorts also include casino's which aren't family-friendly but can provide entertainment while the kids are at camp.
Private rentals on Airbnb and VRBO offer slightly cheaper accommodations for travelers, although most options are at the northern end of the island, which is farther from Oranjestad and Arikok National Park.
For inspiration, take a look at our guide to 11 of the best all-inclusive resorts in Aruba for families.
Dominican Republic
The Dominican Republic offers travelers various all-inclusive resorts but is best known for the mountainous landscape and picturesque coastline. The Dominican Republic gets called the adventure capital of the Caribbean, and for good reason as families can book more activities here than on most of the other islands.
There are a few safety issues with less developed parts of this island, so families should find a resort or established private rental in a good area. As a perk, there is a long list of family-friendly activities to try, and you may not even need to leave the resort.
Family-Friendly Things to Do
For adventurous families, enjoy zip-lining at different parts of the island, and some resorts have zip-line courses on site. There's also windsurfing, swimming, snorkeling, kayaking, stand-up paddleboarding, and surfing. Other activities include an equestrian center, polo fields, tennis, and golf.
The more adventurous activities include rock climbing, hiking, or biking. In the mountainous regions of the island, visitors can see wildlife and lush landscape and try canyoning, caving, rafting, and rock climbing. When you stay at an all-inclusive resort, you get the convenience of choosing from these activities, and the resort handles transportation and guides.
Where to Stay
An all-inclusive resort is the best option for families that want to engage in a lot of local activities outside of the vast beaches. The Dominican Republic is not a very expensive Caribbean island to visit, and if you want to pack in multiple activities each day, the resort can handle the scheduling and make your families' lives easier.
Some of the top-rated options include the Nickelodeon Hotels & Resorts in Punta Cana which is ultra-kid friendly and features a kid's club. There's also the Club Med in Punta Cana with a private beach, several full-service restaurants, and a Circus School for kids where they can try trapeze, tightrope walking and juggling.
Martinique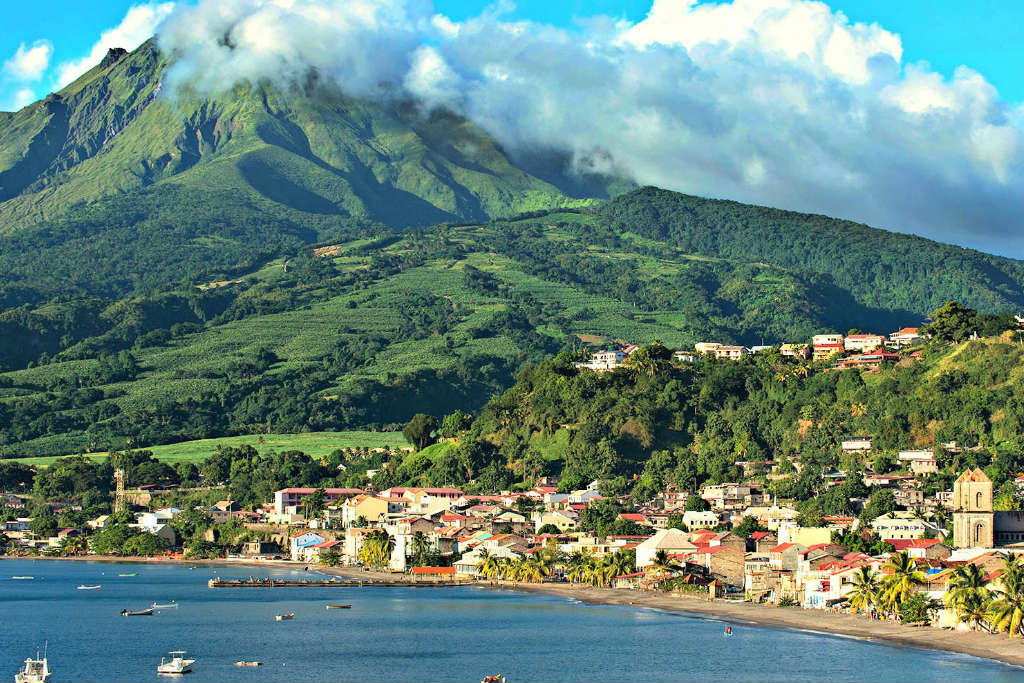 Martinique blends French culture with West Indian influences and boasts several beautiful Aruba shops and cafes. Martinique is one of the more pricey islands in the Caribbean, but it's a good and safe option for families that provides an exciting experience.
Martinique uses the Euro as currency, so U.S dollars don't go as far, and your trip will cost more during the winter months. This island offers a lot in the way of history and cultural sites in addition to the highly varied landscape, natural wonders, and wide variety of sightseeing tours.
Family-Friendly Things to Do
La Savane Park offers fun outdoor experiences and attractions for all ages. Visitors to the park may view the headless statue of Empress Josephine, who was the first wife of Napoleon Bonaparte. La Savane Park is also the home of several local crafters and vendors selling snacks and souvenirs.
Balata Gardens, called the "Isle of Flowers", is a private botanical garden that hosts an expansive collection of bamboo, begonias, bromeliads, and over 300 different types of palm trees. Other historical sites worth visiting include the St. Louis Cathedral and Schoelcher Library, which boast beautiful architectural design and interesting backstories.
There is also the Habitation Clement, which is part rum distillery and part museum and features gardens and outbuildings. Visiting Habitation Clement is a good family activity, but for a more unique hotspot, families should check out the volcano, Mont Pelee.
Mont Pelee is large and imposing, but that doesn't stop travelers from climbing up the sides to get a better look. There's plenty of beautiful scenery along the way and a parking lot about a mile from the top, so you can bring food and water and take in the view from the summit.
Where to Stay
Club Med Buccaneer's Creek is an excellent hotel option in Martinique and well-liked by travelers for the free parking, complimentary breakfast, and proximity to a coconut grove. This all-inclusive resort also offers a wide range of activities, a spa, authentic Creole food, and it's on a beach.
There are several other all-inclusive resorts for families to consider, but the private rental options on Airbnb and VRBO are also worth considering. Often these private rentals cost the same or slightly less than these larger resorts but offer better accommodations, food options, equipped kitchens, and privacy.
Keep in mind that if you choose a private rental, you'll have to pay and arrange for your activities on your own, but many families find this preferable if they only want to do a few activities, and prefer to cook meals at home.
Final Thoughts
The Caribbean is an excellent vacation option for families with kids of all ages, thanks in part to the expansive range of activities and kid's clubs that allow parents to engage in adult activities knowing their kids are safe.
The Caribbean is often cheaper than many other vacation spots, and expansive beaches, authentic food options, and unique landscape provide ample opportunities for exploration, culture, and general relaxation for everyone in the family.
More about our TFVG Author
A seasoned traveller, Dad, and avid sports tourist, James foundered The Family Vacation Guide to share his expert vacation experiences- especially when it comes to being a travelling family man.
Featured in Travel articles such as Travel + Leisure, TripSavvy and SFGate, you know you're reading some of the best vacation tips online.