Carnival Cruises are top-rated and known for being very family-friendly. You would be hard-pressed to find another cruise where you and your children can indulge in a whole spectrum of different activities both on the ship and at port. 
Although every Carnival ship is different, you can expect them all to have activities, excursions, and plenty of fun for the youngsters. 
Kids Camps
One thing that Carnival does exceptionally well is to provide camps and programs for the youngsters. This gives you a chance to relax at the spa or by one of the pools and also allows your kids to maximize the amount of fun they're having on their vacation.
Camp Ocean
Camp Ocean caters to kids between two to eleven years old. It's broken down into age-specific groups. The littlest ones, ages two to five, are Penguins. Stingrays are kids between six and eight years old, and Sharks are children between nine and eleven years old. This breakdown allows Carnival staff to put together age-specific activities for each group.
Penguins enjoy song time, face painting, and arts and crafts. The older kids might engage in trivia, video games, learning about sea animals, or scavenger hunts. Kid-friendly food like chicken nuggets and macaroni and cheese is provided.
Circle C
Younger teens have their own spot aboard Carnival cruises known as "Circle C." This exclusive teen lounge lets older kids connect with each other while enjoying fun games, activities, and dances. Circle C is exclusively for kids between ages twelve and fourteen.
Club O2
Older kids between ages fifteen and seventeen have Club O2, where they can play video games, have sing-alongs, and participate in sports. Club O2 is specifically designed to appeal to teenagers, and no non-teens are allowed. This gives you the peace of mind that your teen is being cared for in an environment that's specifically for them.
Night Owls
If you want to take in some more adult-centric activity aboard your Carnival cruise, like checking out the casino or visiting one of Carnival's many exclusive bars, Night Owls is at your service. Night Owls is an evening babysitting service for children eleven and under. Your kids will be fully supervised until the wee hours of the night, leaving you to enjoy evening activities on the ship.
Great Dining Options for Kids
While you can undoubtedly find world-class fare designed to appeal to an adult palate on any Carnival cruise, there are also excellent dining options available for the kids. There's no shortage of wonderful, child-friendly cuisine from the main dining rooms to the massive Lido deck buffet.
You'll find plenty of macaroni and cheese, chicken tender, spaghetti and meatballs, hot dogs, and sandwiches. There's also cut up fruit and vegetables with dip. All Carnival cruises have plenty of dessert stations, too, so your youngster can fill up on ice cream, brownies, and cookies.
There are also themed meals and kid-friendly restaurants located all over the ship. One of the most famous meals is the Green Eggs and Ham Breakfast, featuring Truffula Tree Pancakes and cereal-crusted french toast.
Specialty restaurants like Guy's Burger Joint serves up delicious, meaty burgers and sides that the whole family will love. Your kids can get a plain burger or one with all of the fixings, including onion rings and BBQ sauce.
Most Carnival ships also offer round-the-clock pizza. These kid-friendly slices are sure to keep you and your family satisfied at any time of day or night.
All-Ages Entertainment
Carnival offers fantastic all-ages entertainment, including the IMAX experience, featuring all of the latest Hollywood blockbusters and favorites. Additionally, there are Carnival's WaterWorks parks, full of heart-dropping rides like the Twister Waterslide and Speedway Splash.
Your kids will be entertained for hours while you relax on the deck and soak up all that beautiful tropical sunshine.
Character Interactions
Your kids can meet some of their favorite characters right out on the open sea. Carnival Cruise lines offer Dr. Seuss character interactions, including the Cat in the Hat, Red and Blue Fish, and Thing 1 and Thing 2. Your children will love seeing their favorite books come alive.
You can sign up for arts and crafts time, a character breakfast, or Seuss-a-palooza Story Time. During Seuss-a-palooza Story Time, characters will read classic Seuss books to their audience and even encourage participation. Carnival goes out of its way to make these storytime adventures as magical as possible, so don't be surprised if other characters or surprises appear.
The Green Eggs and Ham breakfast features the Cat in the Hat and a fun menu of Seuss-inspired dishes. Adults can opt for more standard breakfast fare if they would prefer. Of course, there are also plenty of photo opportunities available before, during, and after the meal.
Perks for Kids and Teens
Kids and teens are treated just like the valuable cruising guests that they are aboard all Carnival ships. With a mix of family-friendly activities and special camps and clubs like Camp Ocean and Club O2, your children shouldn't have a moment of boredom aboard Carnival ships.
In addition to communal activities, there are a few other perks for kids and teens that make Carnival the ideal cruise line for families of all sizes.
ZSPA
ZSPA is a teen-specific spa where your kid can relax and get pampered. This spa has all of the high-quality treatments that you would expect from Carnival's standard spas, but with a teen-appropriate focus. ZSPA offers facials, pedicures, manicures, and haircuts.
Your teen can also check out their fitness classes or relaxation therapy. If you want to treat your teen to something truly special, ZSPA is undoubtedly the spot.
Dr. Seuss Bookville
Does your kid love the written word? Dr. Seuss Bookville is a whimsical, fun corner of the ship where they can jump into their favorite book. Bookville is explicitly designed for kids, with plenty of colorful furniture and a cozy setup that allows them to relax and be transported to a whole new realm.
Cherry On Top
While there's no shortage of delicious food aboard Carnival, Cherry On Top offers cruisers a little something extra that's specifically for the kids. This old-fashioned candy store has all your favorite sweet treats.
Although it's made for the kids, adults will undoubtedly get a kick out of it too. Cherry On Top has a particular way of transporting you right back to your own childhood.
Video Arcade
What's a vacation if you can't play your favorite video games? Carnival ships have a video arcade that's open 24-hours a day, full of your favorite video games.
Family Fitness Fun
Although there's no doubt that you and your family will get your fill of relaxing by the pool, there's a good chance that you might want to do something athletic together as well. Fortunately, Carnival has you covered.
Zumbini
Zumbini is a class specifically designed for kids between two and five years old, full of moving around, instruments, and plenty of songs. Your kids can go by themselves, or you can participate in the Family Zumbini class.
SportSquare
Do you feel like some friendly family competition? SportSquare is an excellent way for families to bond over sports. Play basketball, ping-pong, pool, or foosball. You can also work out on stationary bikes or ellipticals or take a lap around the ship on the jogging track.
SkyZone
SkyZone is an excellent place for families to bond while blowing off a little energy while aboard the Carnival Panorama. Although other ships might have a version of SkyZone, if you want the real thing, book your tickets on the Panorama.
SkyZone is a trampoline park with plenty of activities and challenges, like basketball hoops. It's open to kids and adults of all ages. If you're interested in tapping back into your youth by bounding on a trampoline, this is the spot for you. The kids will love it too.
SkyRide
SkyRide gives you and the kids a birds' eye view of the ship and the ocean, thanks to a sky-high pedal bike. In addition to soaking in the best view on the whole ship, you'll get an excellent work out at the same time. SkyRide is perfectly safe for older children and adults and will undoubtedly be one of the highlights of your trip.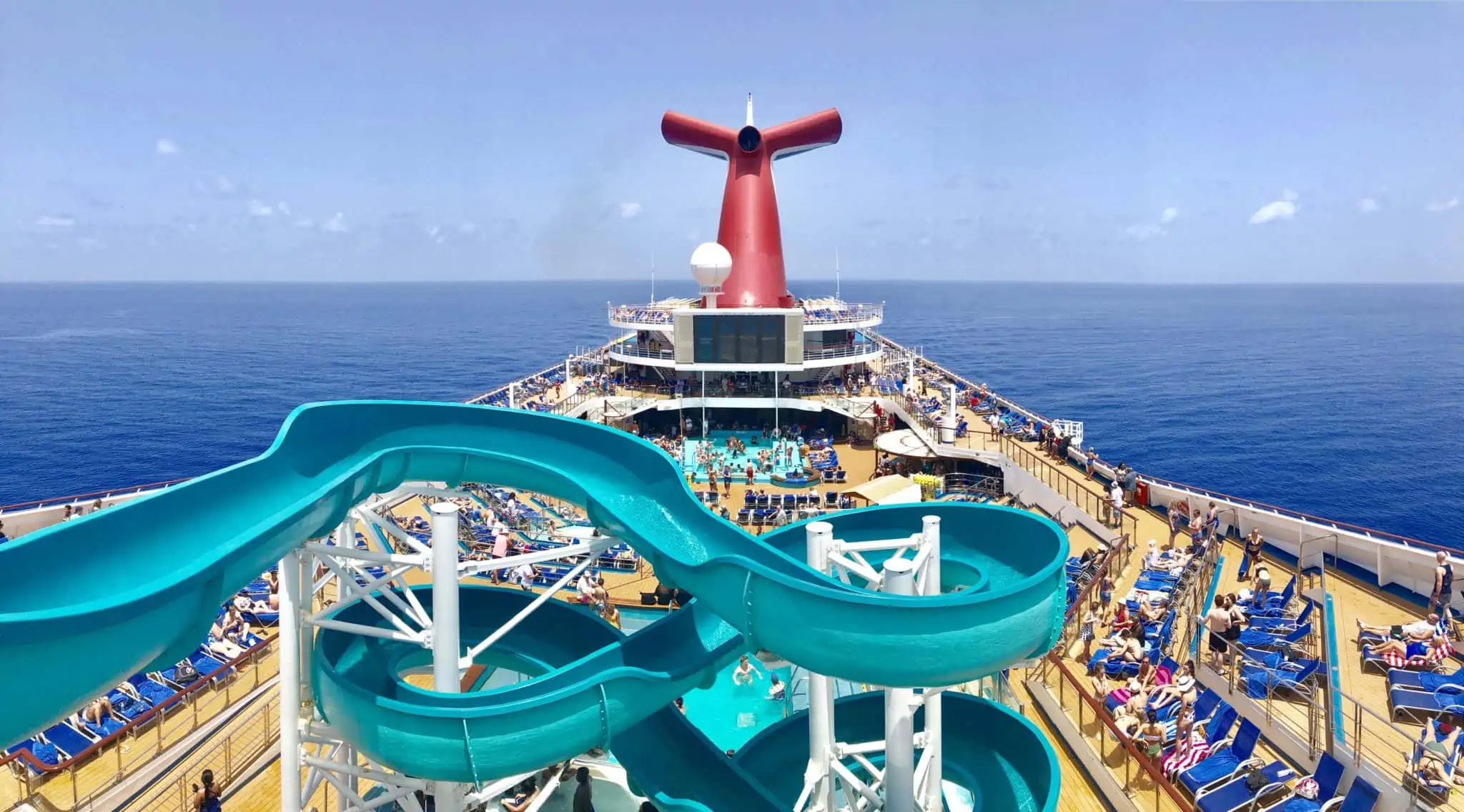 Having a Successful Cruise With Kids
Carnival cruises certainly cater to adults and kids of all ages with plenty of activities and clubs just for them. There's also no shortage of family-friendly entertainment and activities on all Carnival cruises.
In addition to taking advantage of the kids' clubs, character breakfasts, and activities, consider booking a family stateroom whenever possible. This will allow your kids to have ample downtime if they need it. Also, resist the urge to overbook your days. Although there are plenty of great activities to be had, flexibility is the key to having a fun, family vacation.
Carnival makes cruising with kids easier and more enjoyable. It's clear that they're an ideal cruise line to choose for your next family vacation.
More about our TFVG Author
A seasoned traveller, Dad, and avid sports tourist, James foundered The Family Vacation Guide to share his expert vacation experiences- especially when it comes to being a travelling family man.
Featured in Travel articles such as Travel + Leisure, TripSavvy and SFGate, you know you're reading some of the best vacation tips online.