Disney is one of the most iconic names in entertainment and vacations, being well-known for its high-quality service and all-inclusive experiences. This sterling reputation continues into their cruise line.
But, how much will a Disney cruise cost you? Are there any ways to help keep this cost down?
Let's look at what a Disney cruise offers for accommodations and what those accommodations will cost.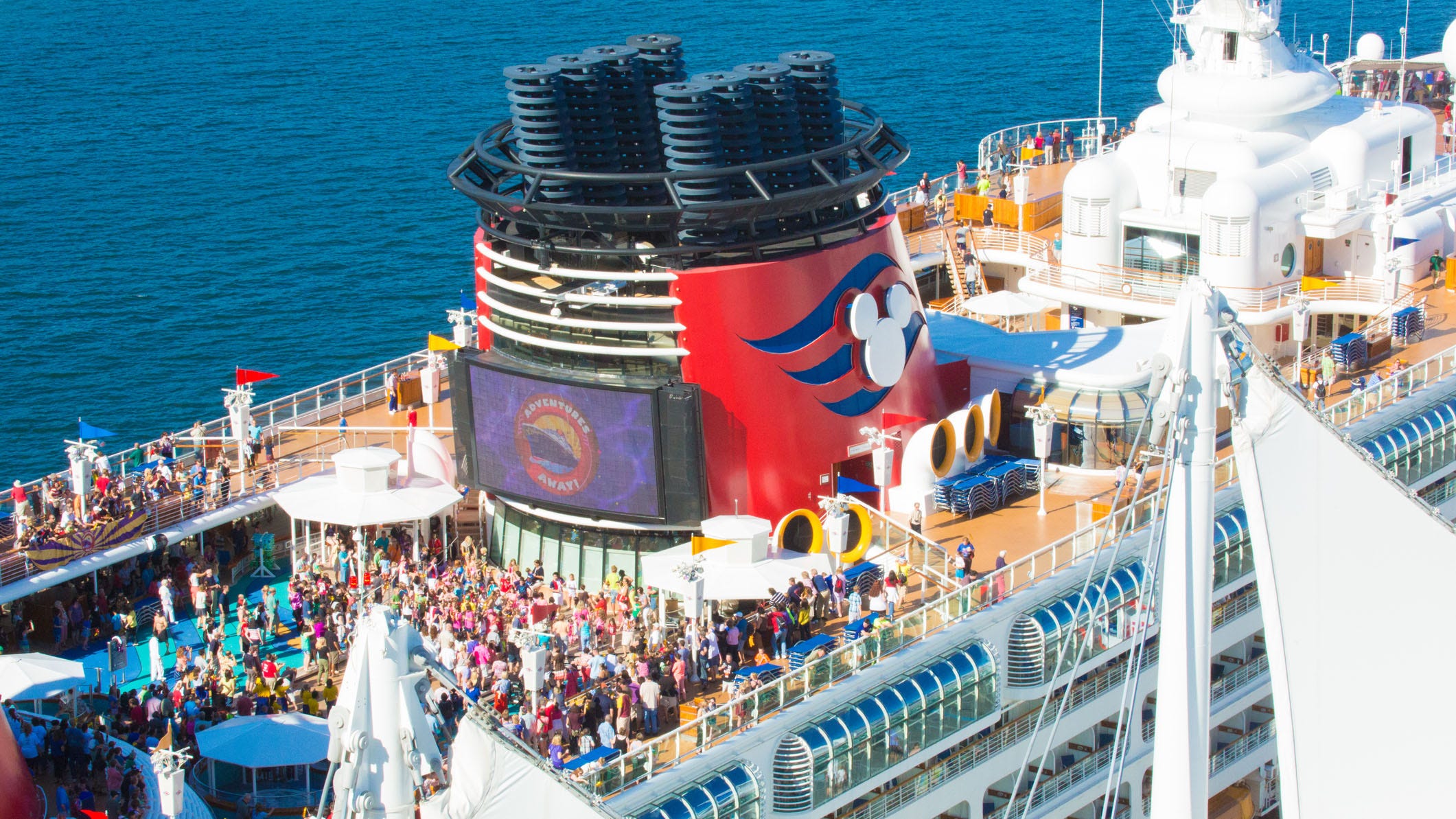 What Affects the Cost of Disney Cruises?
One of the significant factors in Disney cruise costs is the time of year. If you book a cruise for a busy time of the year, demand increases the price. Summer and spring break vacations will be more expensive than a family trip in the middle of January.
Disney currently has four cruise ships, meaning that there are not many staterooms to rent. Unlike bigger cruise lines, Disney cannot accommodate large numbers of people at once with a fleet of ships.
The length of your cruise affects the price, too. Longer cruises are significantly more expensive than shorter ones since you pay per person and per day for your stateroom. Food and drinks, plus whatever extras you add onto your cruise package, will cost more with every extra day you spend out at sea, too.
Disney also runs holiday-themed cruises, such as the Very Merrytime Cruise for Christmas. Because of the demand for staterooms on cruises, expect prices to be higher than normal.
On the Disney Cruise website, they have prices listed for their current cruises for 2022. The most inexpensive option right now for two guests on a three-night cruise is listed at almost $1,300. As you go up in accommodations or add on extras, the price can go up to hundreds or thousands of dollars. 
What Is Included In A Disney Cruise?
Disney includes a lot more into their base cruise accommodations than other cruise lines. This practice is part of their attempt to stand out from the other cruise lines and bring more joy to their customers.
Here's a list of the features and amenities you get with the baseline cruise package: 
Stateroom Accommodations
The staterooms on a Disney cruise are a little small, much like on other cruise lines. However, Disney has a few features to their staterooms that make them stand out.
The bathroom in the staterooms is a split bathroom, meaning that when you're traveling together, more people can get ready at the same time. Additionally, it has extra storage and seating compared to a standard stateroom.
All staterooms come with 24-hour room service, as well.
Musicals and Movies
Multiple theaters are scattered throughout each of the Disney cruise ships. These theaters run Disney Broadway shows and Disney movies, including first-run and 3D movies.
The Broadway shows are highly rated, and the movies that run can be new releases. You don't have to miss a blockbuster release from Disney while on a cruise!
Pools and Recreation
The pools and poolside entertainment are all part of the Disney cruise experience. The freshwater pools make for a great place to hang out between destinations and often have live music or entertainment nearby.
Trivia games, animation workshops, and other fun activities are spread out through the ships.
Nightclubs and Lounges
The Disney ships also have adult-only areas, such as adult-only swimming pools or bars. These are places where adults without kids can go and enjoy their cruise away from children if they wish.
Speaking of nighttime activities, fireworks and deck parties are unique to Disney cruises. Many nights out at sea will feature a fireworks show, done in the classic Disney way.
Dinings Options
Upscale dining, buffets, and family-focused restaurants are part of the Disney cruise dining experience. The base package provides three meals a day for each family member, plus unlimited snacks and servings from the buffets scattered across the cruise ship.
Servers from these restaurants can go with you from place to place to keep your service experience consistent and flowing well.
Youth Clubs
Play areas dedicated for children between ages three and seventeen are spread throughout the cruise ship. Here, Disney-trained counselors watch over and interact with the kids to ensure that they stay behaved and happy.
Character Experiences
It wouldn't be a Disney experience without the characters! Throughout the day and evening, character events are held across the cruise ship for families to stop by and take photos with their favorite Disney characters.
The characters have schedules for these photo ops. They can also be found walking around the ship in various outfits, so it's a good idea to keep an out for these characters.
Castaway Cay
Disneys's private island in the Bahamas, this resort is a big destination for their Caribbean cruises. A buffet barbecue lunch, beach access, refreshing treats, and character greetings are the main attractions at this destination.
Other activities associated with the Castaway Cay, like youth activities or photo ops, are included in the base cruise package. 
What Isn't Included In A Disney Cruise?
Much like with other cruises, you can have fun on a Disney cruise with just the baseline package.
However, if you want to experience more of what the cruise has to offer, then you'll have to spend a little more money. Here are the things that are not included in a Disney cruise package:
Internet or WiFi
Besides a limited amount of data on embarkation day, don't expect to be connected to the internet throughout your trip – Disney Cruises doesn't offer complimentary Wi-Fi. Instead, you have to purchase Wi-Fi data separately.
You can either pay a flat rate of $0.25 per megabyte or purchase different data packages. These packages are $19 for 100 megabytes, $39 for 300 megabytes, or $89 for a thousand megabytes.
Ground Transfers or Transportation
Disney offers transportation services for families trying to get to the port. However, these services are not included in the standard cruise package.
In general, these costs are $35 per person one way or $70 per person on a round-trip. Families using Disney cruise transportation to get to or from Walt Disney World also have to pay a fee.
Port Adventures or Cruise Experiences
Each port offers a suite of optional activities for families to enjoy. The cost of these will vary depending on what activity you choose to do. An inner tube rental for the waterslides won't be as expensive as a dedicated Port Adventure.
Gratuities or Extras
Disney expects that you pay gratuities to the staff members that help you with your dining and accommodations. However, these expenses aren't part of the base package that you buy for the cruise. Instead, you have two options.
The first option is to prepay gratuities at $12 per person per day for the cruise. With this, you prepay ahead of time, with the money being split between the cast members that assist you.
The second option is to pay after each service while on the cruise. You can also pay on the last day of the cruise when Disney sends the gratuities letters and recommendations to your room.
Spa Services
While spa treatments are common activity on cruises, they're not part of any of the baseline Disney cruise packages.
Spa treatments like facials, wraps, or massages will all be extra charges while on the cruise. Depending on how intricate the treatment is, you can expect to pay $100 or more per person.
Pirate and Princess Makeovers
Each of the Disney cruise ships has a shop called the Bibbidi Bobbidi Boutique. Here, families can bring their children to receive Pirate or Princess makeovers.
Depending on the package you purchase, a Princess Makeover can range from $64 to $199, while a Pirate Makeover runs between $44 and $100.
Alcohol
None of the baseline cruise packages from Disney include alcohol. Drinks such as alcoholic beverages, smoothies, specialty drinks, or specialty coffees will have a different price associated with them.
Also, just like the rest of the dining options, gratuity is not included. Rather, an automatic 15% gratuity will be added to the bill for the specialty drinks when you buy them.
Fine Dining
Depending on which Disney cruise ship you end up on, you'll have one or two options for fine dining: Remy or Palo. The Remy restaurant is found aboard the Disney Dream while Palo is on all four ships. Both restaurants have a $25 per person upcharge that isn't included as part of your cruise.
Nursery
For families with children between six months and three years old, Disney cruises offer a nursery service. This nursery service isn't part of the standard cruise package and must be booked in advance due to limited space.
Currently, the cost of using this nursery is nine dollars an hour for the first child and eight dollars an hour for each child after that.
Professional Photos
Each Disney cruise ship has an onboard photography shop called Shutters. At the shop, you can buy photos taken by Disney photographers as well as frames and accessories.
Photo packages can be bought in advance or on the cruise. You can also purchase individual photos on the cruise. The cost of these packages starts at around $200.
Optional Snacks
A number of the food shops on the cruise ships, such as Vanellope's Sweets and Treats, are not a part of the base food package. The same is true for specialty concessions stands, such as popcorn outside movie and musical theaters.
The cost of the snacks will depend on what you purchase and from where.
Souvenirs
Many souvenirs that you want to purchase to remember the cruise will be an extra cost out-of-pocket. Currently, Disney does not have a dedicated souvenir package that you can buy ahead of time.
The cost of the souvenirs will depend on what you purchase. Photo packages will go for much more than something like the Disney Cruise Refillable Mug.
How To Save Money On A Disney Cruise
While it's possible to enjoy a Disney cruise without spending a lot of money, it can still be a lot for some families to spend on a vacation. Here are some of the ways that we have found the help save some money when booking these wonderful vacations:
Use A Travel Agent
Travel agents make it their job to find the best deals possible for their clients. Helping their clients save on some money encourages folks to come back to them when booking vacations, earning them a commission.
With Disney cruises, most travel agents find a price similar to what you would get booking through Disney. However, many travel agents will offer shipboard credits or other perks for booking with them. These credits could help you save some money on extras aboard the ship, such as souvenirs or drinks.
Look Out For Special Offers
Now and again, Disney will do promotions for their cruises. These promotions might be centered around a particular type of cruise or a holiday discount.
The best way to keep abroad of the special offers is to pay attention to their website. Disney will post on the website when they're offering special offers and what dates those special offers can be used on.
Book During The Off-Season
Most of the pricing of a cruise comes down to demand. When more people want to sail aboard one of the Disney cruise ships, prices go up as the limited staterooms are highly desired.
Conversely, prices will be down during the off-season or times where cruises are less likely to be fully booked. If you book your cruise during the off-season, you can expect to pay a little bit less for your baseline package.
Book Early
As an incentive to get folks to sign up early, Disney offers its lowest prices for cruises when the itinerary is first released.
When Disney offers a cruise that interests you, it's best to book early if you want to save on pricing. This remains the case even when promotions are offered later on to fill out available spaces on a boat; you'll still end up paying more than if you had just booked early.
Rebook Onboard Your Current Cruise
Booking your next cruise while on a cruise comes with a couple of savings perks:
The listed cruise will be 10% off of its normal price
If you're booking a cruise that is seven nights or longer, you only have to put down a 10% deposit instead of 20%.
Disney has several agents on each cruise that will help you pick out the best options for you, including packages.
Disney Cruise Line Discounts
There are several other ways in which to get discounts on Disney cruises. For example, it's possible to place a $250 placeholder fee that can be used on a cruise within the next two years. This lets you bank some of the costs ahead of time until you find a cruise within your budget.
Also, Disney will sometimes run promotions for Canadian residents, Florida residents, and military members. Each of these tends to be a flat percentage of the cost of the cruise.
These promotions are part of the special offers page on the Disney Cruise website, so be sure to check that out regularly.
Is A Disney Cruise Worth It?
Most folks that go on a Disney cruise consider it to be a fantastic vacation and a wonderful experience. Disney goes out of its way to keep people happy and comfortable with their accommodations and offers things no other cruise line does.
Combining this cruise experience with the plethora of other Disney options, such as the theme parks and hotels in Orlando, means that you can have a Disney experience that traverses both land and sea.
However, it's worth noting that Disney cruises don't offer as many options as other cruises regarding the itinerary.
As a smaller cruise line, Disney is only able to offer so much on its four ships. Meanwhile, more prominent names in the cruise industry, such as Royal Caribbean, can offer a broader range of ship and port activities.
Disney cruises can also be a little more expensive than what other cruise lines offer. With a Disney cruise, you're paying for not just the cruise experience but a Disney experience. If you want to partake in a cruise but don't care much about the Disney character cast, another cruise line might be best for you.
Can You Make Payments On A Disney Cruise?
Outside of an initial deposit, Disney doesn't have any set payment plans for their cruises.
You might be able to work something out with a travel agent or agency. But, when you book with Disney, the only two times you pay are the initial deposit and the final payment before the cruise.
Summary
Disney cruises are wonderful vacations for families and traveling adults alike. Disney puts a lot of work into these cruises to ensure that you have a great combination of Disney and cruise experiences.
However, this combination means that you'll pay a little bit more than you would for a standard cruise. Still, Disney offers a cruise experience that can be within the budget for many families.
More about our TFVG Author
A seasoned traveller, Dad, and avid sports tourist, James foundered The Family Vacation Guide to share his expert vacation experiences- especially when it comes to being a travelling family man.
Featured in Travel articles such as Travel + Leisure, TripSavvy and SFGate, you know you're reading some of the best vacation tips online.