Washington D.C is a world-renowned destination for people eager to learn about America's political history. However, a little-known fact is that D.C. is also an excellent vacation spot for families. This Global city has over 175 embassies and international cultural centres. What's more, 15% of the population use foreign language instead of English.
If you're looking for a cosmopolitan destination to visit along with family, Washington DC ranks top. It offers unparalleled experiences that you and your loved ones will remember long after your vacation.
Iconic structures, glorious parks, monuments, museums, the rich culture and history hint at what this magnificent District has to give. Beyond fun with family, you want your kids to take many essential lessons back home. D.C. is an excellent choice if you and your loved ones are looking for an unforgettable family vacation and learning experience.
But where would you stay? Here are 12 of the best luxury hotels in D.C. for families.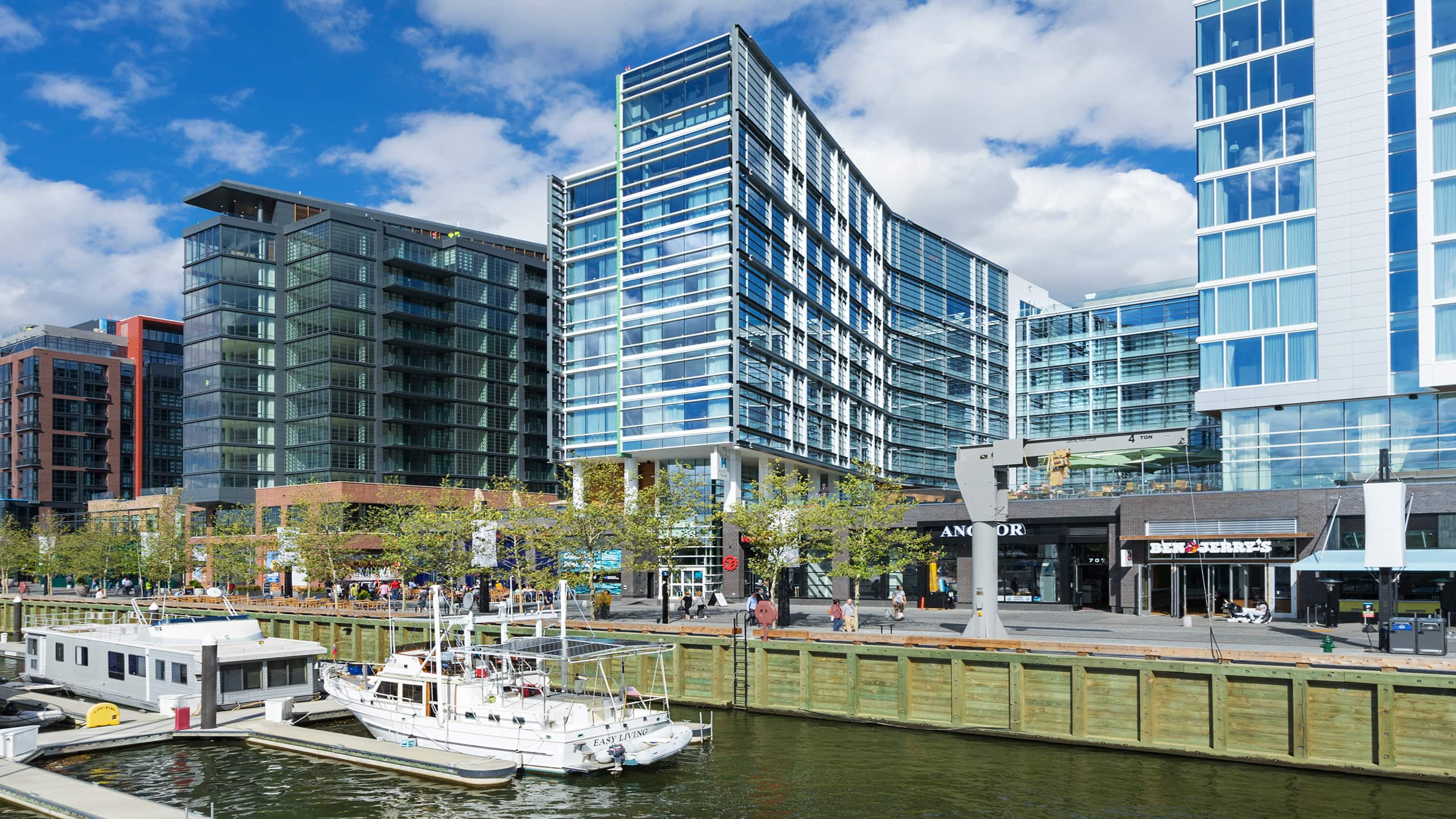 The Hyatt House is a Luxury hotel super close to most of the historical attractions you are likely to want to visit on your vacation. It has enchanting waterfront views and is easily accessible.
Nearby attractions include the National Mall, Potomac River, White House, and the L'Enfant Plaza Station, to mention but a few.
The Hyatt House has 237 guest rooms. You'll have unlimited access to the hotel's rooftop heated pool, elegant music venues, and over 20 restaurants during your stay here. Amenities that come with every guest room include:
Free Wi-Fi
Free Breakfast
Air conditioning
Room service
Safe
Tea/coffee making machines
Flat-screen TV
Laundry Services
The executive suites have additional perks such as microwaves and refrigerators, spacious sitting areas and dining areas, Kitchenettes, and round-the-clock room service. While the kids rest and watch T.V. in the rooms, mom and dad can dash off to the in-house 24-hour convenience store to replenish their personal supplies or blow some steam off at the fitness centre right before indulging in some cold drinks at the bar.
Your trip to Washington DC wouldn't be complete if you didn't spend at least a day at the grand Washington Marriott luxury hotel. Located strategically close to most of the attractions on your itinerary, this hotel is the perfect spot for a family.
There are numerous restaurants, shopping areas, and bars. Some of the attractions that are only a stone's throw away include the Capital One Arena, White House, U.S. Capitol, Metro Center, Smithsonian Institution, and National Air and Space Museum.
The Washington Marriott hotel at the Metro center has 459 standard rooms and suites. Amenities that come with every guest room include:
Free Wi-Fi
Flat-screen TV
Coffee maker
Working desks
Air Conditioning
Laundry services
Other perks include a large indoor pool, continental breakfast, Starbucks coffee shop, fitness centre, American restaurant, business centre, and evening appetizers.
This luxury hotel is an arm's length away from the Metro Center. Therefore, you always have fast and convenient transportation available at any time of the day or night.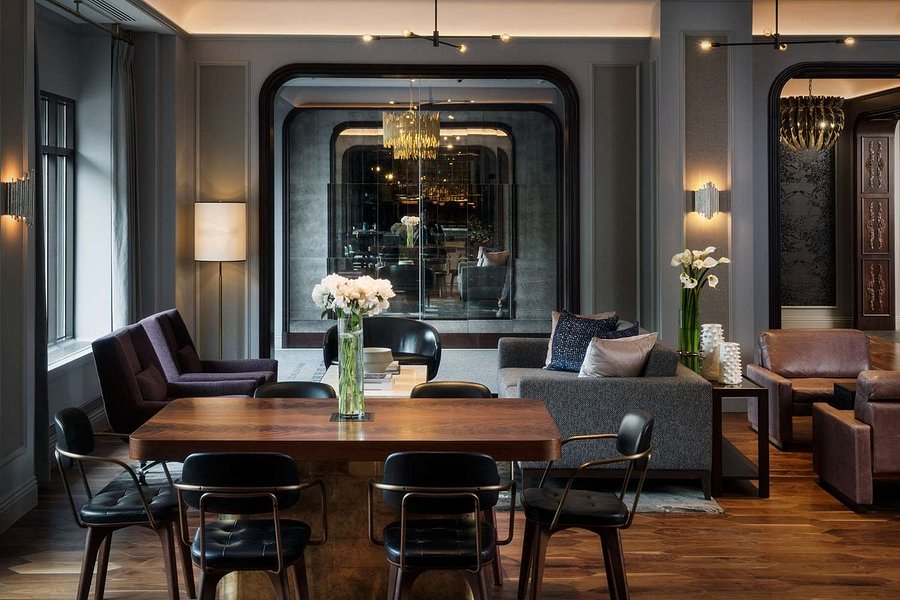 The Darcy Hotel in downtown Washington is where style and convenience meet. With your little ones in mind, the luxury hotel has a special kid's package that avails play tents, ice cream, and cream cookie sandwiches. There are four different tailor-made day packages for kids to visit some of D.C.'s main attractions.
The goal is for the hotel to get as much mental and physical load off of the parents. This way, you get to enjoy a fun time too.
The Darcy Hotel at the Metro center has 226 standard rooms and suites. Amenities that come with every guest room include:
Fitness centre
Paid parking
Marble bathrooms
Round the clock room service
Other perks include pet-friendly accommodation, an in-house restaurant, and a meeting and event space over 7,000 sq. ft. in size.
While looking for places to visit in Washington DC, count The Darcy Hotel as a destination worth its weight. Your time here will be etched in your mind for years. This boutique hotel enhances you and your family's vacation experience with unparalleled services and accommodation.
The possibilities are endless at the Capitol Hill Hotel. In a city bustling with activity, this hotel is an oasis where you can wind down over slow chats with family and some drinks in your room. It's the one place you can experience minimal street noise without having to tread too far away from the city centre.
For years, the Capitol Hill Hotel has served as the perfect hideout for numerous dignitaries and presidents in the U.S. It can now be a safe and peaceful temporary home for you and your family as you wait to unwrap what Washington DC offers.
The accommodation boasts outstanding facilities like large kitchenettes, big windows for natural lighting, a large living area, spacious closets, and work desks. Other standard amenities include:
Coffee making machine
Flat-screen TV
Free Wi-Fi
Business centre
Air conditioning
Free breakfast
High chairs, games, and roll-away beds for kids
Parking
An excellent choice for families, the Capitol Hill Hotel has fun programs that keep the kids active and engaged with fun activities. On the other hand, parents can enjoy their vacation without worrying too much about where the kids are or what they are doing.
With four diamonds on its collar, there's no doubt that the Fairmont Hotel in Washington D.C, Georgetown, is the best luxury hotel for your family to live in, albeit temporarily. Style and opulence are Fairmont's middle names.
Please don't be too intimidated by this hotel's sophisticated front. While plenty of luxurious images, items, and accessories adorn every corner of the hotel, it remains a top accommodation centre for vacationing families.
Nearby attractions include the age-old Georgetown Neighborhood, National Mall, and The White House. The hotel has a total of 415 exquisite rooms. The accommodations have a warm, welcoming atmosphere and feature Italian marble bathrooms.
Other standard amenities include:
Flat-screen TVs
Free Wi-Fi
Work desks
Indoor pool
Air conditioning
Separate sitting and dining areas (Suites only)
Some of the rooms have breathtaking views of the city or the courtyard. In addition to the amenities above, the hotel also features a trendy bar and restaurant, fitness centre, paid breakfast and parking, and business centre.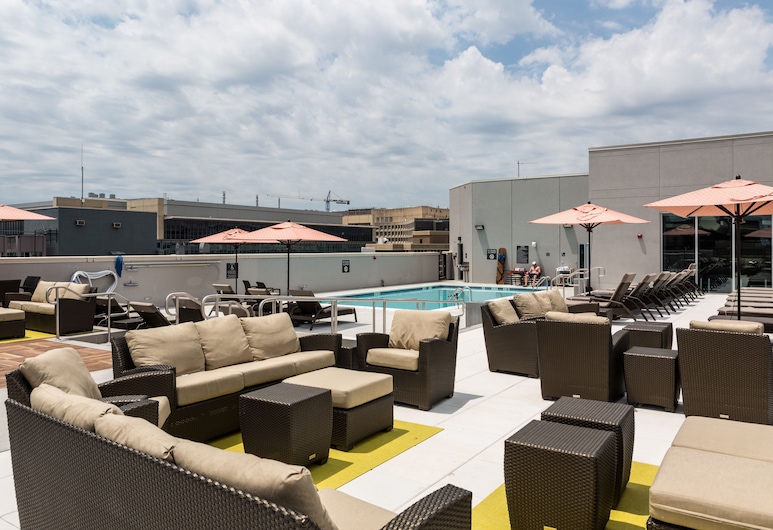 By far the worthiest consideration for families unwilling to compromise on convenience and comfort. This hotel aims to give you and your family nothing short of the best experience.
Some of the replete attractions a short distance away from the Holiday Inn Hotel include the Lincoln Memorial, Smithsonian National Air and Space Museum, Museum of the Bible, Museum of African American History and Culture, National Museum of Natural History, International Spy Museum, and, of course, the National Mall.
You may also want to view nearby monuments like the World War II Memorial, Washington Monument, and Jefferson Memorial. A perfect place where kids can learn tons and have plenty of fun. The hotel can arrange fun activities at the Wegman's Wonder place for kids aged up to six years. Alternatively, older kids in their teens can enjoy interactive tours in the many museums.
The hotel has 536 guest rooms and suites. Some of the amenities that come with every guest room include:
Coffee maker
Mini refrigerator
Safe
Fast, free Wi-Fi
You have unlimited access to the hotel's rooftop bar and pool, ample meeting space, and fitness centre during your stay.
Did you know that the cherry blossom trees lining the Tidal Basin a couple of blocks away from the Mandarin Oriental Hotel were a gift from the Mayor of Tokyo in 1912? The Mandarin Oriental is one of the hotels where you can see the pick blossoms in the full bloom and visit world-renowned attractions like the National Mall.
If you're looking for a hotel that will leave your kid's eyes wide with excitement, this hotel is it. The kids can play in the gigantic 50-foot indoor pool while you rest close by over a cool drink, snack, or online catch up with the day's trends.
The Mandarin hotel also has a spa and wellness centre. Treat yourself to a full massage at the hotel's holistic spa during your time here.
Nearby attractions include the Thomas Jefferson Memorial, White House, Marina, and Washington Monument.
The hotel has 400 guest rooms and suites. Some of the amenities that come with every guest room include:
Indoor pool
Free Wi-Fi
Flat-screen TV
Paid breakfast
Marble bathroom
Sofas
Most of the rooms have breathtaking views of the city and oversized balconies. Other amenities include a fitness centre, Asian restaurant, 16 meeting rooms, and a business centre.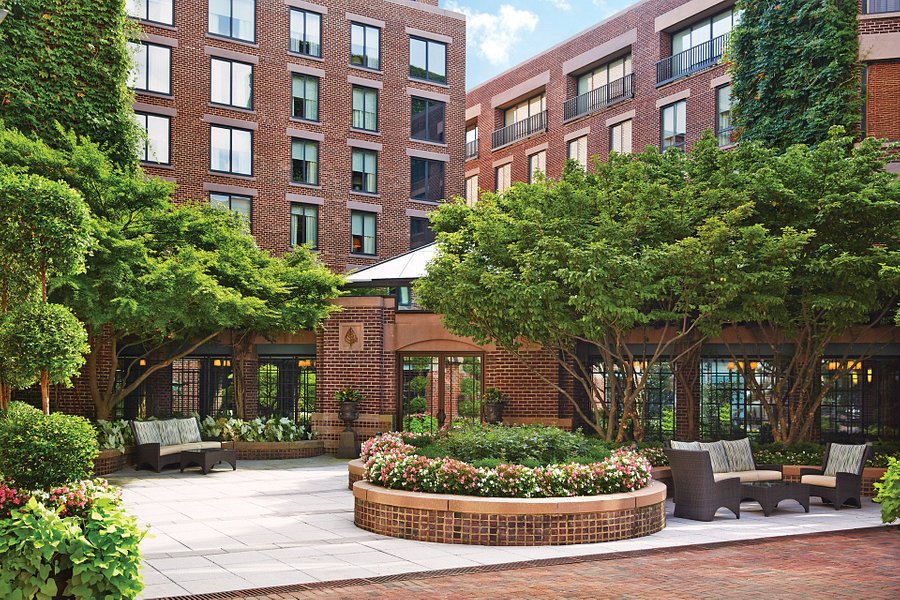 The Four Seasons is an established hotel brand that has spread its wings far and wide globally. A luxury hotel in its own right, few can compete with this hotel's premier services. The Four Seasons Hotel sits along Pennsylvania Avenue in Washington DC.
If you have a small child, you'll be glad to know that the hotel offers childcare items like diapers, baby monitors, strollers, organic bath products, bottle warmers, and more. The older kids haven't been left behind either.
They have plenty of board games and sports equipment to keep them occupied when they are not outside exploring what Washington D.C offers. The hotel provides reliable kid's concierge services when you want to relax and not worry about the kids.
Here, large and small families alike can find convenient amenities like:
Free Wi-Fi
Marble baths
Flat-screen T.V.
Comfy pull-out sofas
Minibar
Some guest rooms and suites have additional amenities like dining areas and furnished terraces. Guests also enjoy access to the hotel's modern steakhouse, international restaurant, fitness centre, indoor pool, sauna and hot tub, spa, and business centre.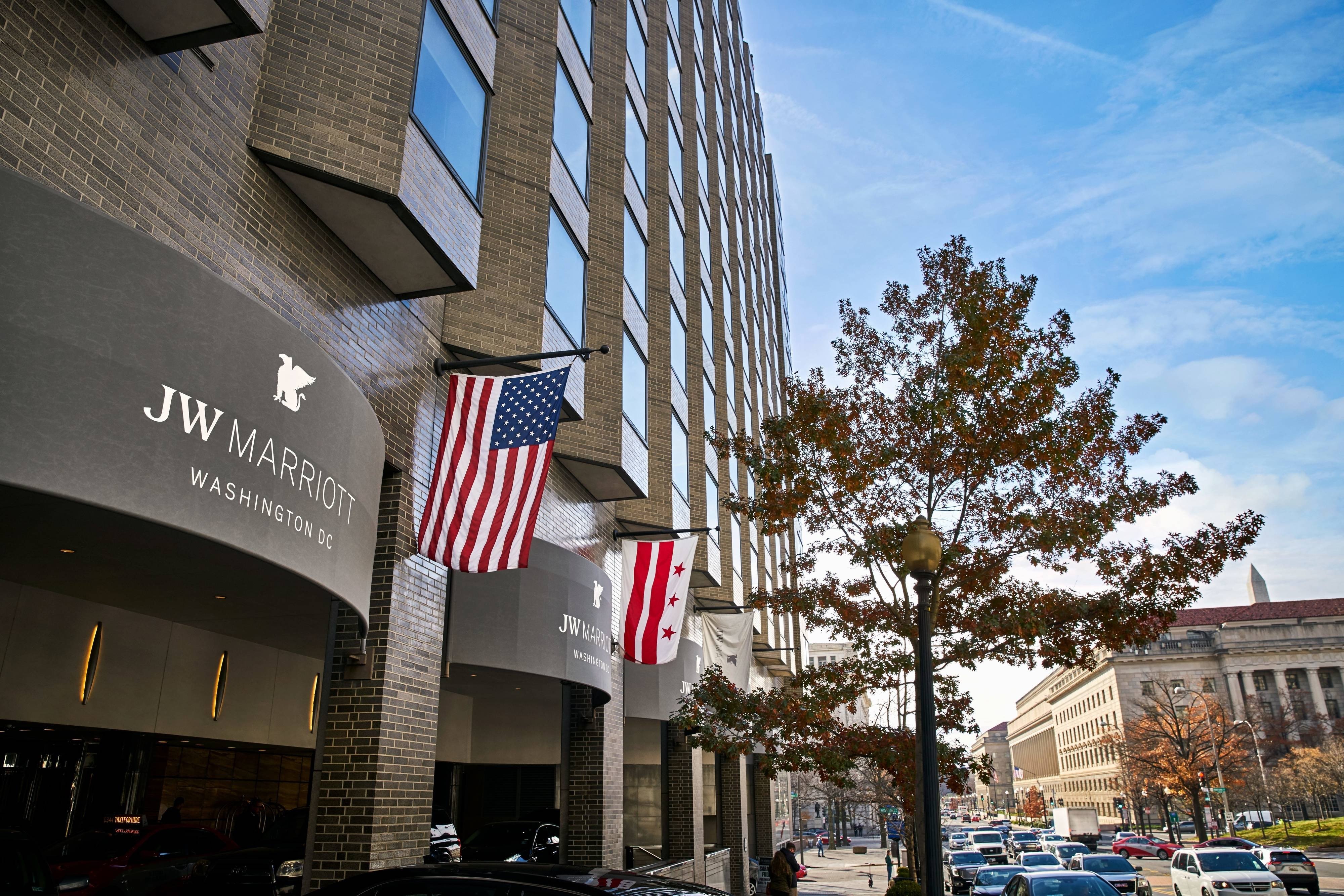 The Marriott brand is one that many luxury hotels across the globe are proud to own. The J.W. Marriot Hotel is undoubtedly a one-of-a-kind hotel that makes the Marriot Brand look good. This gorgeous hotel is right opposite Freedom Plaza, and the White House is a stone's throw away.
Other nearby attractions include the National Mall, Metro stop, National Theatre, and the National Portrait Gallery.
The hotel has a total of 777 guest rooms and suites. Some of the amenities that come with every guest room include:
Fast Wi-Fi
Flat-screen TV
Mini refrigerator
Laundry services
Paid parking
Coffee maker
Selected rooms have captivating city views and have living areas with comfortable sofas. You also have an adequate supply of snacks and drinks and can order a complimentary breakfast. The J.W. Marriot Hotel has in-house perks like the Starbucks, bar and grill, cocktail lounge, business centre, 21 meeting rooms, and a fitness centre.
Living in the Grand Hyatt Hotel is like living in the city centre. Every direction you look, there's something of interest. Guests here have easy access to places like the Metro Center, Capital One Area, National Mall, Smithsonian National Museum of Natural History, and the D.C. city centre.
This luxury hotel is surrounded by numerous high-end stores where you and your family can shop and treat yourselves.
What makes the accommodation stand out is the extent to which the hotel staff goes to keep you comfortable. The guest rooms here feature floor-to-ceiling windows that let you in on the beautiful sceneries this part of Washington has to offer.
The hotel has 897 rooms which come with features like:
Mini refrigerator
Coffee makers
Flat-screen TV
iPod docking station
Free Wi-Fi
Laundry services
Room service
Paid Parking
During your stay at the Grand Hyatt hotel, guests have unlimited access to the gym, a coffee shop and café, and a chic bistro.
In your quest to have the time of your lives, the Residence Inn Hotel goes above and beyond to boost your experience even further. The elegantly outfitted rooms are only one of the many reasons people don't think twice about choosing this hotel as their temporary home.
If you are working on a strict budget, the Residence Inn Hotel is an incredibly affordable hotel that doesn't double down on the service. Adding to its charms is a complimentary buffet breakfast and free food, not to mention polished accommodations.
This hotel has 233 spacious suites and guest rooms fit for individual tourists, business travellers, and families. The one or two-bedroom suites have amenities like:
Indoor heated pool
Fully equipped kitchen
Separate living area
Free Wi-Fi
Flat-screen TV
Working desk and chair
Paid parking
The Residence Inn Hotel is a short distance from the National Mall, Federal Center Metro Station, Smithsonian Museum, and White House. As guests here, you and your family will enjoy a free hot breakfast, 24/7 market, evening snacks, indoor pool, fitness centre, grocery delivery service, 6,400 sq. ft. of meeting space, and paid laundry facilities.
The Hilton brand means business by giving other major brands a run for their money. Any hotel associated with this brand will meet strict standards that cater to a unique set of clientele. Nothing spells luxury better than the Embassy Suites by Hilton in D.C. Everything about their services, accommodation, and overall facilities oozes elegance.
Vacationing as a family can be a tad bit hectic. But, staying in a hotel such as the Embassy Suites makes everything seem like a literal walk in the park. Not only do they have a custom menu for kids at the restaurants, but the hotel also features glass elevators, waterfalls, and a fishpond where kids are allowed to feed the fish. Your kids will love it; they'll never want to leave.
This hotel has 318 large guest rooms ideal for large and small families. As valued guests here, you and your loved ones will enjoy accommodation amenities like:
Refrigerator
Microwave
Two 32-inch flat-screen T.V.
Separate living room
Coffee maker
Pull out sofa
Fast Wi-Fi
Paid parking
Dining table/area
Upgraded suites have additional perks like wet bars and unlimited access to beverage centres. You also get complimentary appetizers and breakfast based on your orders. The hotel has an indoor pool, game room, restaurant and bar, fitness gym, meeting area, and business centre.
Final Thoughts
In your rigorous search for a place to stay in Washington DC, top concerns include; how big are the rooms? Is it kid-friendly? What's the hotel's reputation. It is not easy perusing through hundreds of hotels trying to pick the right one.
Lucky for you, we've done all the work on your behalf. The above-listed hotels have proven up to par and compliant with the land's set safety and quality standards. These twelve hotels are sure to check each of your boxes.
Washington D.C is an incredible place where kids and adults can learn much about America while simultaneously vacationing. The city makes for a fascinating destination that you and your family will treasure.
Want to read some more articles about Washington DC? Check these out!
More about our TFVG Author
Karly is a The Family Vacation Guide guest travel contributor.