Sometimes families planning their next vacations make their accommodation decisions based on particular locations, food interests, budget, combined interests, or available family-friendly activities.
While the factors above are crucial to consider when planning a family trip, some families have one significant priority that stands out above the rest. They want to know whether their hotel will have a rooftop pool!
This accommodation may seem slightly superficial at first, but booking a hotel with a rooftop pool provides many appealing aspects in one fell swoop.
A rooftop pool means that the hotel is likely more upscale, will provide views of your surrounding location, and offers an immediately enjoyable way to spend time with your family — before even having to plan anything else!
However, different families have different reasons for seeking these hotels, so we've categorized and described 15 of the best hotels with rooftop pools for families.
This article should help you better understand what exactly you're looking for and ultimately make the ideal decision for you and your family.
Best Hotels With Rooftop Pools for Families Looking for Fun Activities and Entertainment
The hotels listed below are outstanding for fun families who want to use their vacation time to play! In addition to the rooftop pool, these hotels offer ample ways to spend your time right on or near the hotel's premises.
Some of these hotels are also suitable for families who don't necessarily want or need to leave their hotel every single day and want accommodations that can provide convenient and accessible entertainment.
The Face Suites is a gorgeous hotel located in the bustling city of KL, offering even more stunning views of the city from the 39-meter long pool on the 51st floor.
If you want to be in an exciting environment, then mid-day pool time at this hotel is for you. However, if your family would prefer a more peaceful and calming environment, enjoying the pool in the earlier hours of the day is optimal.
Plus, families with young kids can appreciate this hotel for its sectioned-off children's wading pool.
In addition to hanging out at this infinity pool, there is a lot to do in the vicinity of the Face Suites Hotel. Your family can explore the Bukit Bintang and Suria KLCC areas for shopping, arts, culture, and entertainment.
If your family is into history, you'll enjoy the Merdeka Square area, where you can visit the Royal Selangor Club, the Sultan Abdul Samad Building, and the National History Museum.
All of the areas mentioned above are under 15 minutes by car. If you'd like to explore a little further but are looking for a convenient 30-minute car ride, you can visit the Batu Caves in Selangor. There are three main caves with temples, Hindu shrines, and paintings.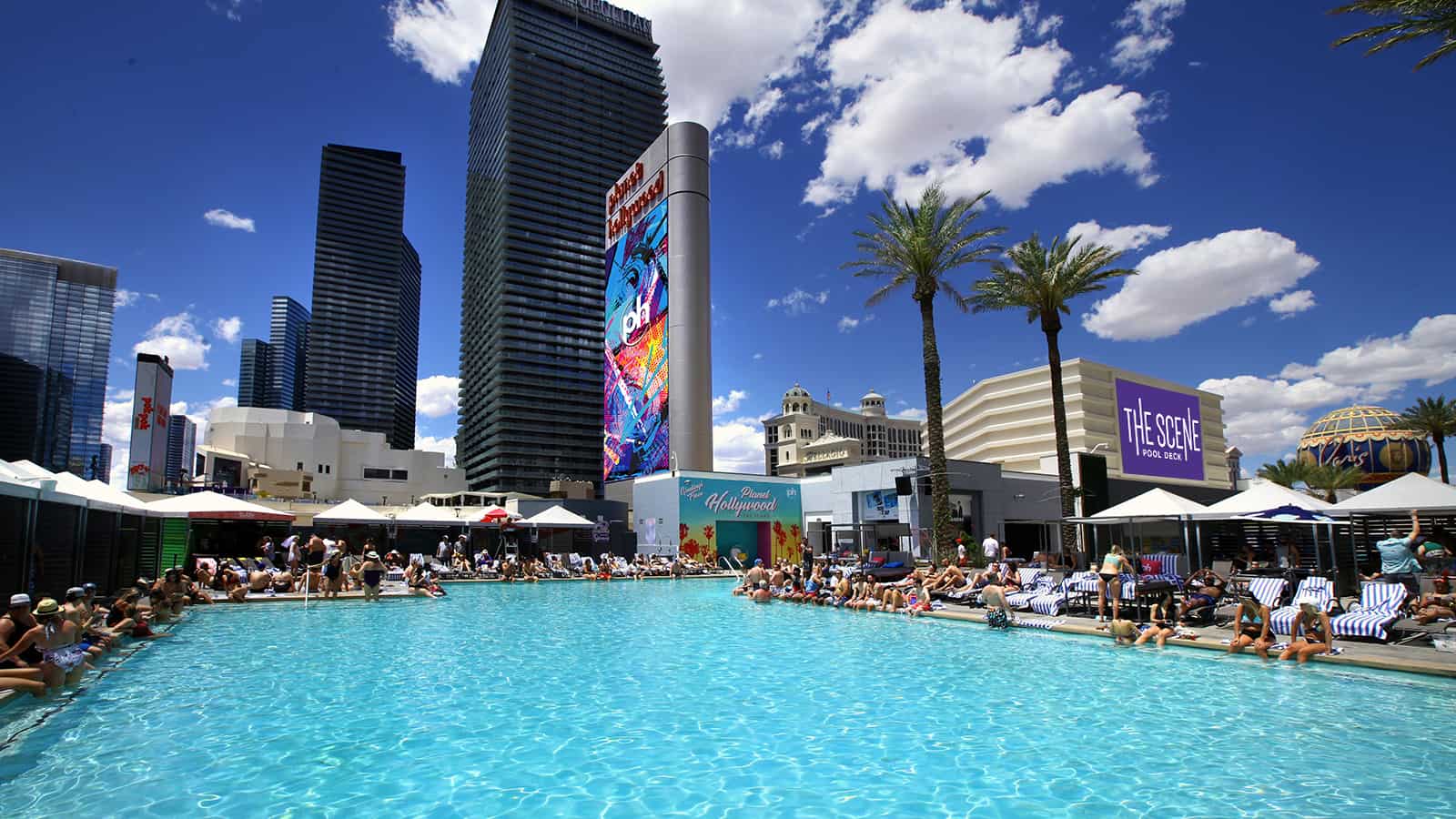 Las Vegas, Nevada is a land filled with entertainment, so it should be no surprise that Planet Hollywood in Las Vegas ended up in this category! 
This 4-star resort and casino offer a wide variety of ways to entertain the whole family, starting with not just one but two massive rooftop pool decks to swim in and pool bars to chill out at.
You'll also, of course, be able to go to the casino, but if you have young kids, there are more family-friendly activities as well.
Your family can:
Check out the FlowRider Wave-in-a-Box to try out surfing on the rooftop
Book tickets to a Planet Hollywood show for evening entertainment
Go shopping nearby
This resort has tens of thousand rave reviews, but to fully understand the appeal, you'll have to check it out for yourself!
The Hyatt Ziva offers a comprehensive, all-inclusive experience for your family so that you can thoroughly entertain each family member throughout your family trip to Cancun.
Firstly, there is a pool with stunning ocean views and fun beach vibes. You can get access to the semi-private rooftop infinity pool, a butler, and other VIP treatment if you book a Turquoize Sky Swim-Up room. These rooms, however, are adults-only, so it would only make sense if you have older children.
In addition to swimming in pools, there are countless things to do at this hotel, such as:
Watersports like kayaking or snorkeling
Fitness like weight training and beach yoga
Classes for Spanish and dance
Live entertainment every night
Families specifically appreciate this hotel for several reasons. There is a teens-only club called @Moods, a KidZ club featuring volleyball and a mini waterpark, and the alfresco amphitheater, which puts on family-friendly shows. There is a lot for families to enjoy at the Hyatt Ziva in Cancun. 
Why not check out our guide to the best all-inclusive resorts in Cancun for families for more inspiration?
Best Hotels With Rooftop Pools for Families Who Love Adventure
If live music and spas seem interesting, but you and your family are more into outdoor recreation and adventure, the following hotels should be right up your alley.
Exploring the outdoors, getting into nature, and partaking in thrilling adventure sports are easy to do from the following hotel location. The best part is that they'll all have a fantastic rooftop pool waiting for you when you return!
This hotel is open from April through the summer months. The Belmond Hotel Caruso offers exclusive, stunning views of the beautiful Amalfi Coast.
The infinity rooftop swimming pool is a jaw-dropping 1,000 feet above sea level, which gives guests spectacular, breathtaking views of the coast that are hard to beat. Plus, only guests will have access to this swimming pool, making the views even more exclusive and unique.
In addition to the pool views, families tend to enjoy the food, spa services, and experiences that this hotel offers. Because of the views, we were torn between including this in this category versus the next one. However, this hotel offers several unique tours that adventurous, energetic families love.
Starting right from the hotel, you can book:
Boat excursions
Culinary tours
Exploration of ruins
Art tours
Hiking adventures
Much more
They also offer a particularly unique and exciting experience for kids called "Make Your Own Film," where your children can spend the day acting and directing for their own "Hollywood movie trailer."
5. Diana Hotel – Zakynthos, Greece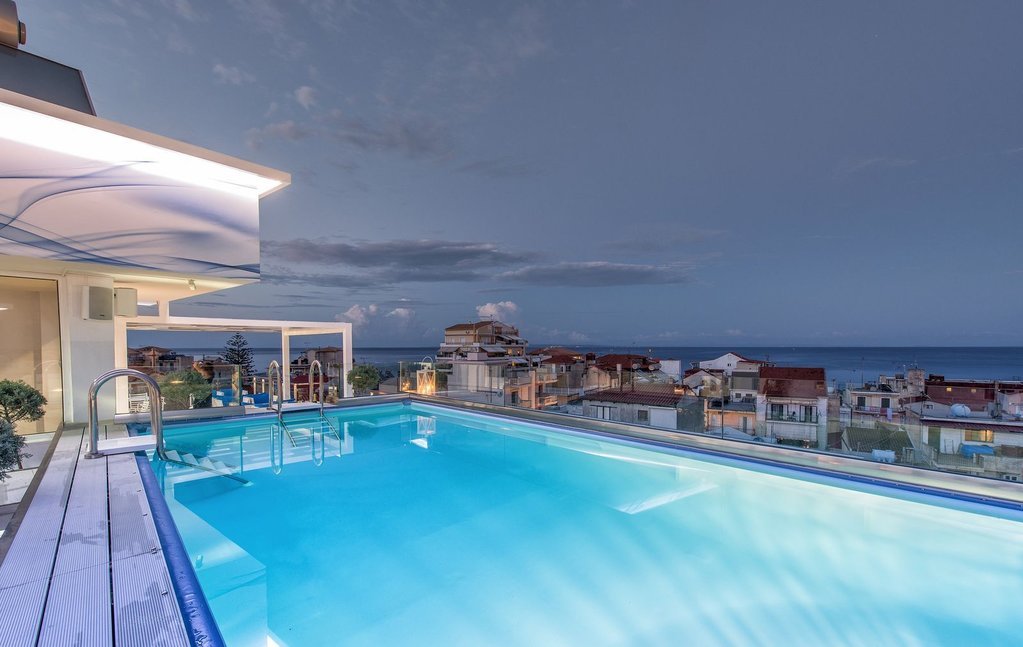 Suppose you care much less about the accommodation than you do about easy access and the opportunity to explore the beautiful Mediterranean island of Zakynthos. In that case, the Diana Hotel could be an excellent choice for your family vacation.
It is centrally located in the Venetian Square of St. Marcos, providing convenient access to beach hopping, sightseeing, and various nature activities.
Before enjoying the delightful rooftop pool at Diana, you can spend your days exploring famous sites like:
The turquoise cove and shipwreck at Navagio
The Keri Caves
The National Marine Park
Whether your family is in the mood for seaside hiking, turtle-spotting, cliff jumping, sunbathing, or something else, you'll have plenty of options from this hotel.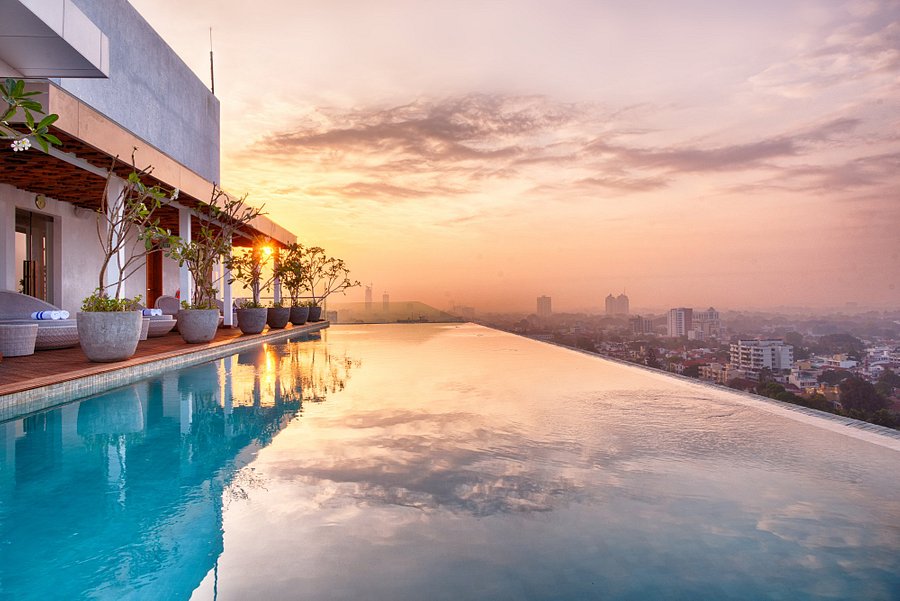 The Jetwing combines modern and rustic touches for its interior design, appealing to families who love both natural and elegant. Their rooftop pool is an infinity pool, offering lovely views of the surrounding town.
This hotel is appropriate for families who love a variety of urban adventures. Located in a prime spot in the cosmopolitan city of Colombo, you'll have access to all the shopping, dining, and sightseeing the city has to offer.
Your family can visit the Hindu temple called Captain's Garden Kovil, the national museum, the Cinnamon Gardens, and more. There are also spa treatments, wellness facilities, and two restaurants serving delicious international cuisine at this hotel.
Finally, if your family cares about adventure, you may care about sustaining our world's environment. Jetwing is dedicated to promoting and ensuring sustainable practices throughout the hotel.
Best Hotels With Rooftop Pools for Families Who Love Great Views
If you love nature and want to be able to view it from the top of a towering hotel, you're in for a treat.
You don't need to go into nature and explore on foot every day to feel immersed in your surrounding environment. These hotels with fantastic views will work wonderfully for you.
When you look up pictures of Singapore, the stunning, architecturally-genius hotel called Marina Bay Sands will likely pop up, with its boat-like structure sitting atop three skyscraper buildings. Marina Bay Sands, a luxury 5-star hotel, has the most famous rooftop pool in all of Singapore, and with good reason.
This rooftop pool is 150 meters long and 200 meters above sea level. Thus, the pool provides ample spaciousness for its guests and offers the most incredible views of the city.
The aesthetic appeal of the pool itself helps add to the fantastic views. The pool is lined with manicured palm trees and comfortable lounges. The Marina Bay Sands rooftop pool is family-friendly as well, as the pool is divided into different sections, including a family-friendly area and a children's pool.
This way, you can enjoy family time with your young ones without having to overlap with adult-oriented vacations.
8. Hotel Fasano — Rio de Janeiro, Brazil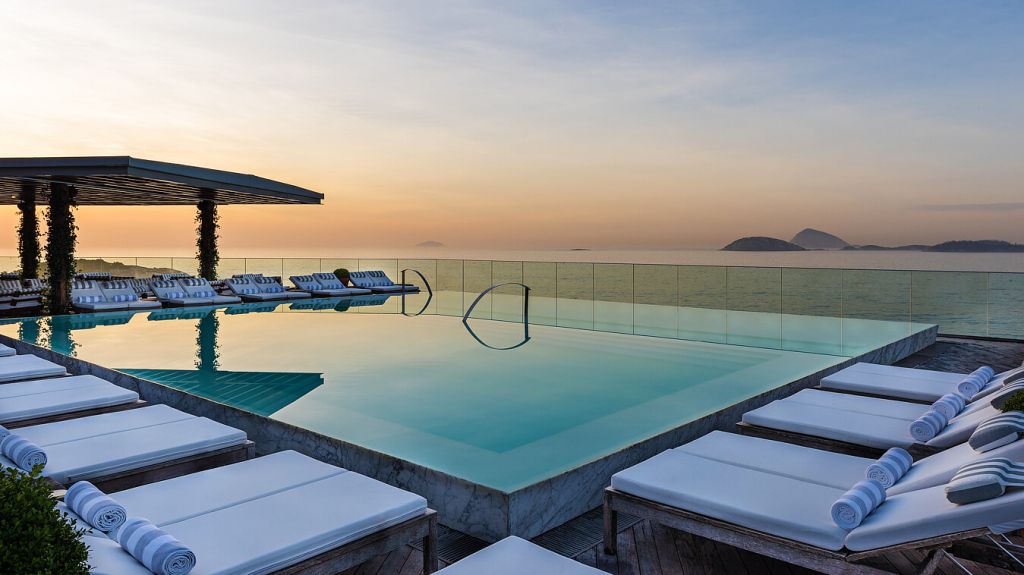 Guests at Hotel Fasano love the friendly service, the surrounding nature, and the chic atmosphere at this 5-star hotel in Brazil. However, the most standout aspect of the hotel by far is the gorgeous pool that gives guests stunning views of the beach, the sea, mountains, and other natural features. 
Although it's located on the eighth floor of the hotel, which allows for all the stunning views, the color of the water and the hotel's location right on top of Ipanema Beach give you the sense of feeling close and connected to the sea.
Families who love both ocean views and stunning sunset views will get exactly what they're looking for at Hotel Fasano. It's also ideal for families concerned with safety, as the pool is exclusive for hotel guests only.
In addition, this hotel offers incredibly cozy, warm-toned rooms as well.
The Address Beach Resort is an architecturally stunning, family-friendly resort in Dubai that offers the self-proclaimed world's tallest infinity pools — at 94.84 meters high — and spectacular city and beach views right from the rooms.
What's unique about the views at Address Beach Resort is that the hotel is facing city views in addition to the Jumeirah Beach for beachfront. Although the rooftop pool is for adults only, there is also a family pool and a kids splash pad that the whole family can enjoy.
Additionally, this hotel features a kids club — the Qix Kids Club – to ensure your young ones are thoroughly pleased with their vacations.
Best Hotels With Rooftop Pools for Families Looking for Relaxation and Comfort
The following hotels would be a fantastic choice of accommodation for families who need a relaxing break from their hectic lives! A rooftop pool is a feature that can provide families with relaxation, but other amenities like spas and wellness centers can help out as well.
Families who desire a cozy and relaxing room, setting, services, or surrounding town will admire these hotels.
10. The Silo Hotel —Cape Town, South Africa
The Silo Hotel, named one of the best hotels in Africa, provides a relaxing environment surrounded by city and nature views.
Specifically, its rooftop pool offers incredible 360 views of the town, including the mountainside, the harbor, and the waterfront. In this way, each family member can have a visual scene that helps them relax and wind down.
Plus, the rooftop bar is open to the public, but the pool itself is only available to guests. This rule ensures guests can relax in the pool without sharing the space with hundreds of others.
Additionally, treatments at this hotel's spa are popular, as they are of high quality and make guests feel like royalty. You can soak up wellness treatments in the Silo Hotel's tranquil spa and indulge yourself with full-body massages, scrubs, and more.
There's also a sauna, gym, and a designated mani-pedi area.
We recommend this calming hotel for older families who deserve a break from their bustling lives!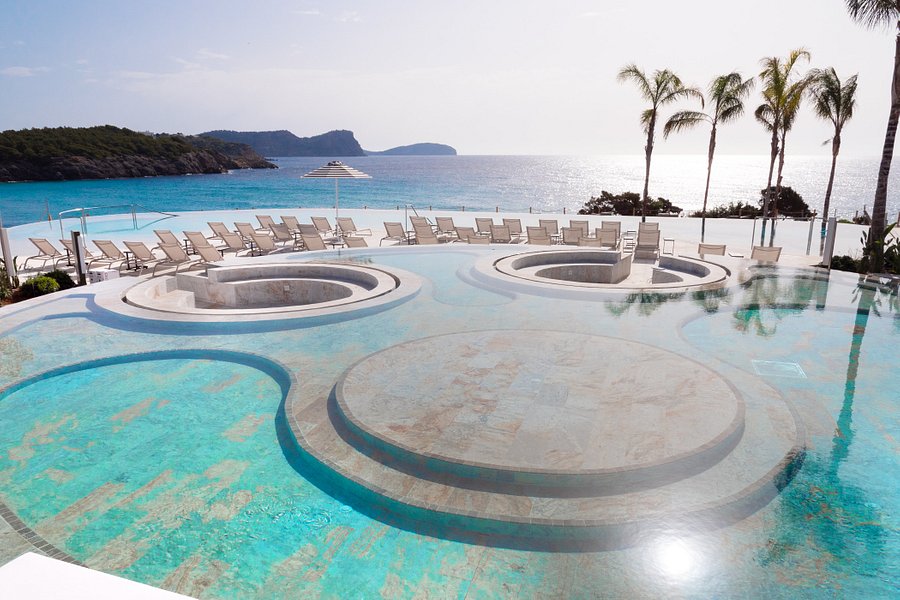 At the Bless Hotel, guests genuinely feel blessed by the hotel's gorgeous natural surroundings and serene overall atmosphere. This hotel is located in a prime spot right in front of a sandy, easily accessible beach with turquoise waters.
There are several pools at this hotel, but the rooftop pool and terrace area are where you can go to relax and rejuvenate while lying on comfortable sunbeds and enjoying exceptional sea views. There are no pool day passes, so only guests at the hotel will have access to this beautiful pool.
The rooms have a calming, elegant feel, with a Mediterranean-inspired interior design. All of the rooms have relaxing views, but you can request a sea view room if you want to keep your eyes on the horizon.
If eating good food is your family's idea of relaxation, then you'll be thoroughly impressed by the dining experience at Cala Nova. This restaurant is run by Martín Berasategui, Spain's famous Michelin-star chef, so you surely won't be disappointed.
Finally, if stunning sea views and soft sunbeds aren't enough, your family can head into the Magness Soulful Spa.
This spa & salon is a wellness space offering a wide range of rejuvenating treatments, including but not limited to:
Saunas
Massages
Hydrotherapy
Aromatherapy
12. The W — Hong Kong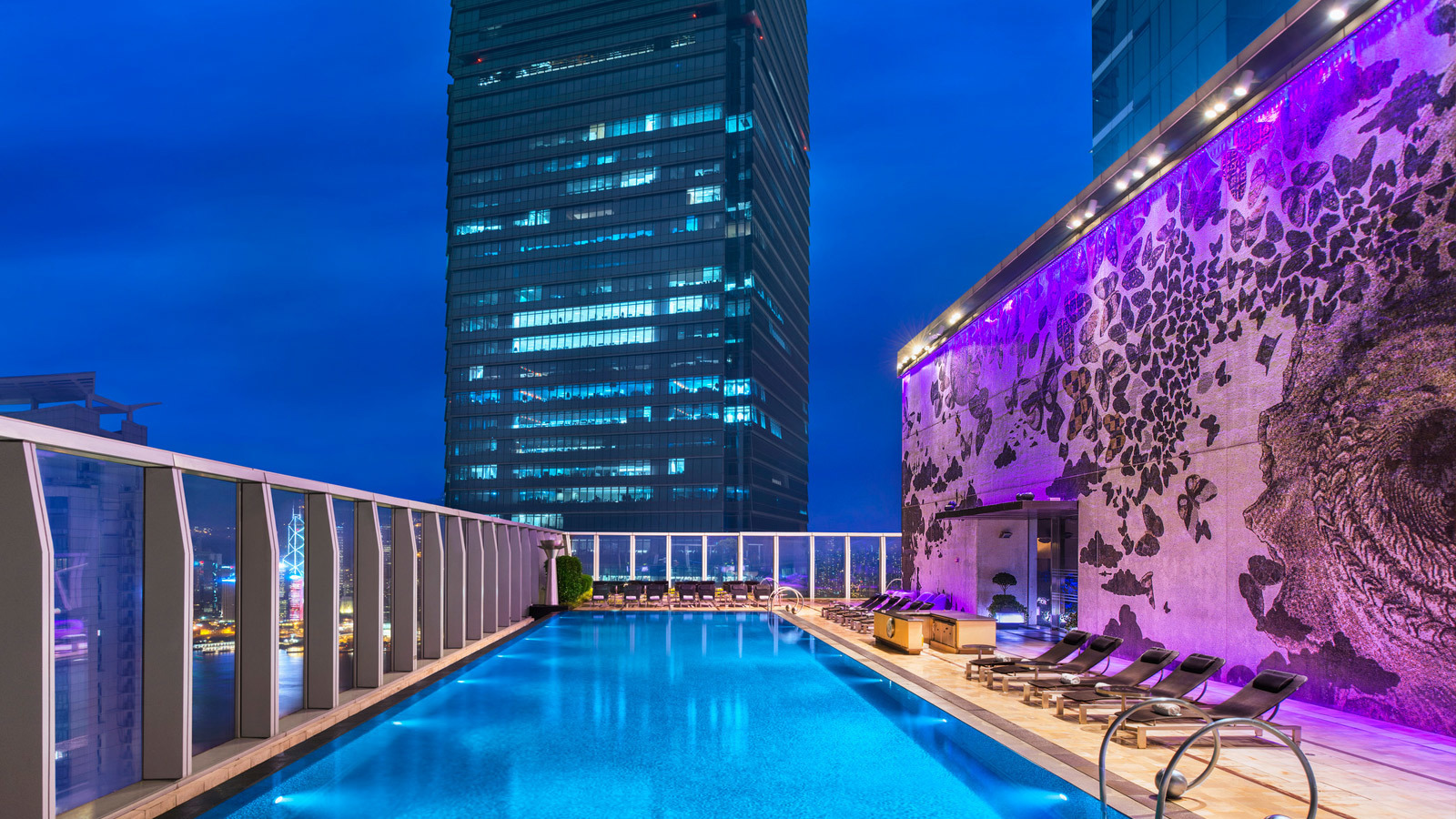 Marriott's W Hotel in Hong Kong is a dream for families who love relaxing with water and spa treatments.
Their rooftop swimming pool, appropriately named WET, is astonishingly located on the 76th floor, making it one of the tallest rooftop pools in the world. Not only does swimming this elevated provide beautiful views, but it also offers a relaxing experience for many.
You can relax with heat and water with aromatherapy showers, steam rooms, saunas, and a vitality pool.
The spa also offers over 100 rejuvenating treatments, including the unique and ultra-luxurious Caviar & Collagen Cocoon Face and Body Experience that exfoliates and detoxifies your entire body.
Best Hotels With Rooftop Pools for Food-Loving Families
If your ideal vacation involves swimming, eating, swimming again, then eating again, these rooftop pool hotels will serve you well!
These hotels provide access to an incredible dining experience — either offering several restaurant options, a high-quality restaurant option, proximity to a food-focused town, or all three!
137 Pillars is a highly-rated 5-star hotel in Bangkok, Thailand, known for its incredibly delicious and variable dining options. At the hotel, your family will have access to five different restaurant or bar experiences, so you'll be sure to find something to suit your taste buds.
First up is Bangkok Trading Post, a lounge and bar with a chic, cozy, and welcoming feel located beside the lobby entrance to the hotel. You can order both Western and Asian bistro meals and feel assured that you'll get locally grown organic meats and vegetables here. This restaurant is also an excellent spot for coffee and tea, wine, and signature cocktails.
Nimitr is the hotel's main restaurant which offers a fine dining option for your stay. It's on the 27th floor, offering sprawling views of the city along with its top-notch Asian fare.
You can eat at the hotel's gorgeous three-edge infinity pool as well! At the pool bar, you can enjoy the pool's 360 views at the pool bar with refreshing cocktails, kid-friendly juices, and small eats on hand.
The adults can enjoy a nightcap at Jack Bain's Bar, and the family can enjoy private dinners booked ahead of time.
Finally, you and your family can enjoy excellent eats outside of the hotel, too, as you'll be well-located in Bangkok near highly praised restaurants such as Karmakamet Diner, Suhring, and Sri Tat.
Another fantastic location for a genuine food-lover in Italy, and your tastebuds will thank you for staying at the Grand Hotel Principe di Piemonte in Viareggio.
Not only will you feel like you're in heaven swimming in the gorgeous, crystal clear rooftop pool, but you'll feel like you're in heaven biting into the delicious meals at each of the two highly-rated restaurants on the property.
Il Piccolo Principe is a 2 Michelin-star restaurant that offers simple yet elegant, aesthetically appealing menu items and exceptional service. There is also a top-notch wine list available at this restaurant.
The Maitò Viareggio Restaurant is a fish restaurant offering local and delectable seafood items and a gorgeous terrace to appreciate the Italian city and sea.
Plus, you'll get access to two bars, the Rooftop Bar and Bar del Piccolo, that serve delicious appetizers and snack items as well.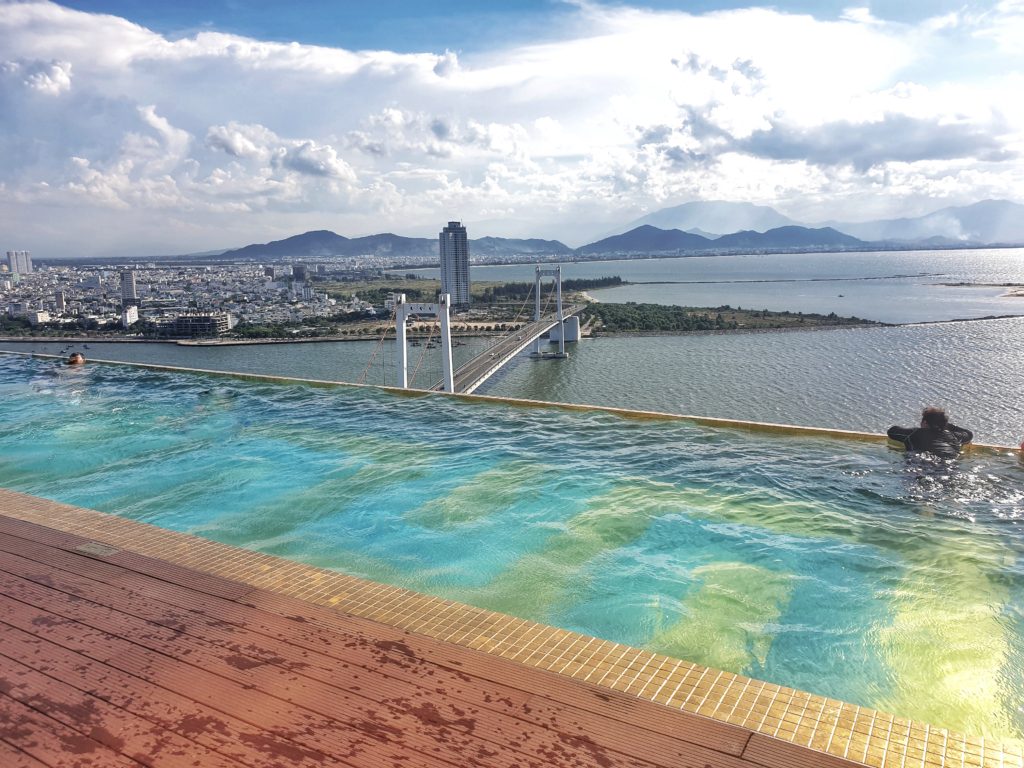 Danang Golden Bay is an elegant, golden hotel with a rooftop pool that looks exactly the same, if not better, than its internet photos. You'll get the best views of the city from this gigantic pool.
With all that swimming, your family will surely need a lot to eat! This hotel has got you covered, with seven fantastic dining options within the hotel.
You can check out The Horizon Restaurant for international all-day cuisine, the Golden Pool Bar for refreshments by the Golden Infinity Pool, and the Sugar Lounge for afternoon tea and treats.
Further, you can indulge in authentic Halal cuisine at Balanga Bay, enjoy Vietnamese dishes at the Golden Square, and eat seafood at the Golden Beer Garden. Guests also love the breakfast buffets to start their vacation days.
Finally, if your family is staying in an Executive Room or President Suite, you can enjoy meals and drinks within the exclusive Executive Lounge.
One thing is sure — your family will not go hungry at this hotel!
Alternative Hotel Options
If none of the hotels mentioned above appeal to you, or you would like alternative options in different locations than the ones listed above, we've got your back.
Here are a few other hotels with rooftop pools that may better suit your family's location desires and other preferences: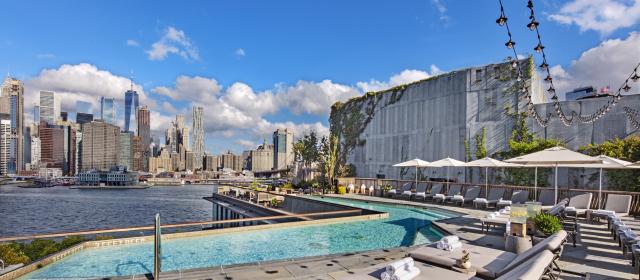 This hotel has helpful staff, a heated pool, and a welcoming, family-oriented ambiance. 
The pool is sunny at this hotel, and they provide thoughtful touches like complimentary welcome drinks.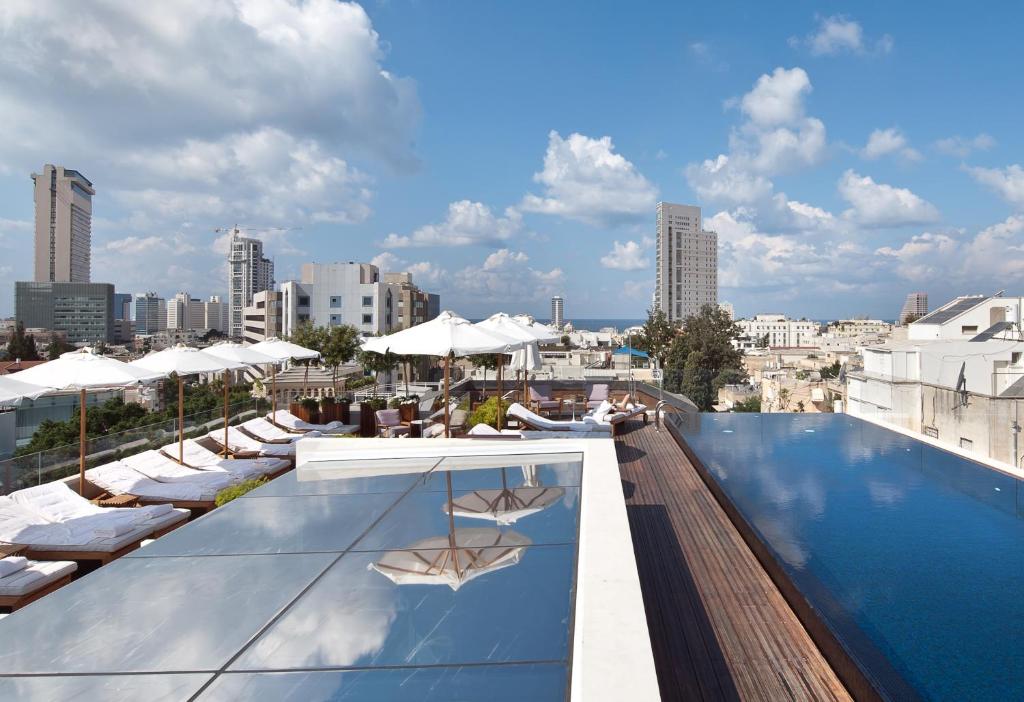 This hotel has an excellent breakfast buffet, yoga classes, and quality spa and wellness treatments.
This hotel offers easy beach access, excellent service, and plenty of restaurant options within walking distance.
Conclusion
There are innumerable options for hotels with rooftop pools across the globe, which may make selecting the right one for your family become a challenge.
However, with proper consideration of other features that your family will enjoy, you can begin to narrow down which of the best hotels with rooftop pools for families will be perfect for your specific trip.
We hope that this list helps you find what you're looking for, or at least narrow down some of the aspects that may be important to you, such as access to activities, adventure, relaxation, stunning views, and delicious eats.
Wherever you decide to stay, we hope you have a marvelous, memorable trip!