Orlando, Florida, is one of the top destinations in the state for the perfect family vacation. This central Florida city is the world's theme park capital, and besides the several great theme parks, there are plenty of fun activities to keep you and your family busy throughout your stay. 
Since Orlando and the surrounding areas see millions of visitors every year, there are more than enough places to stay that can accommodate you and your family's vacation. There are hundreds of hotels on and off the theme park properties, but Airbnbs can make for a unique getaway.
Airbnbs in Orlando offer something for every family size. Whether you're a family of three or a family of 15, you'll find a stunning Airbnb for your vacation.
Check out 12 of the best Airbnbs in Orlando, Florida, for families.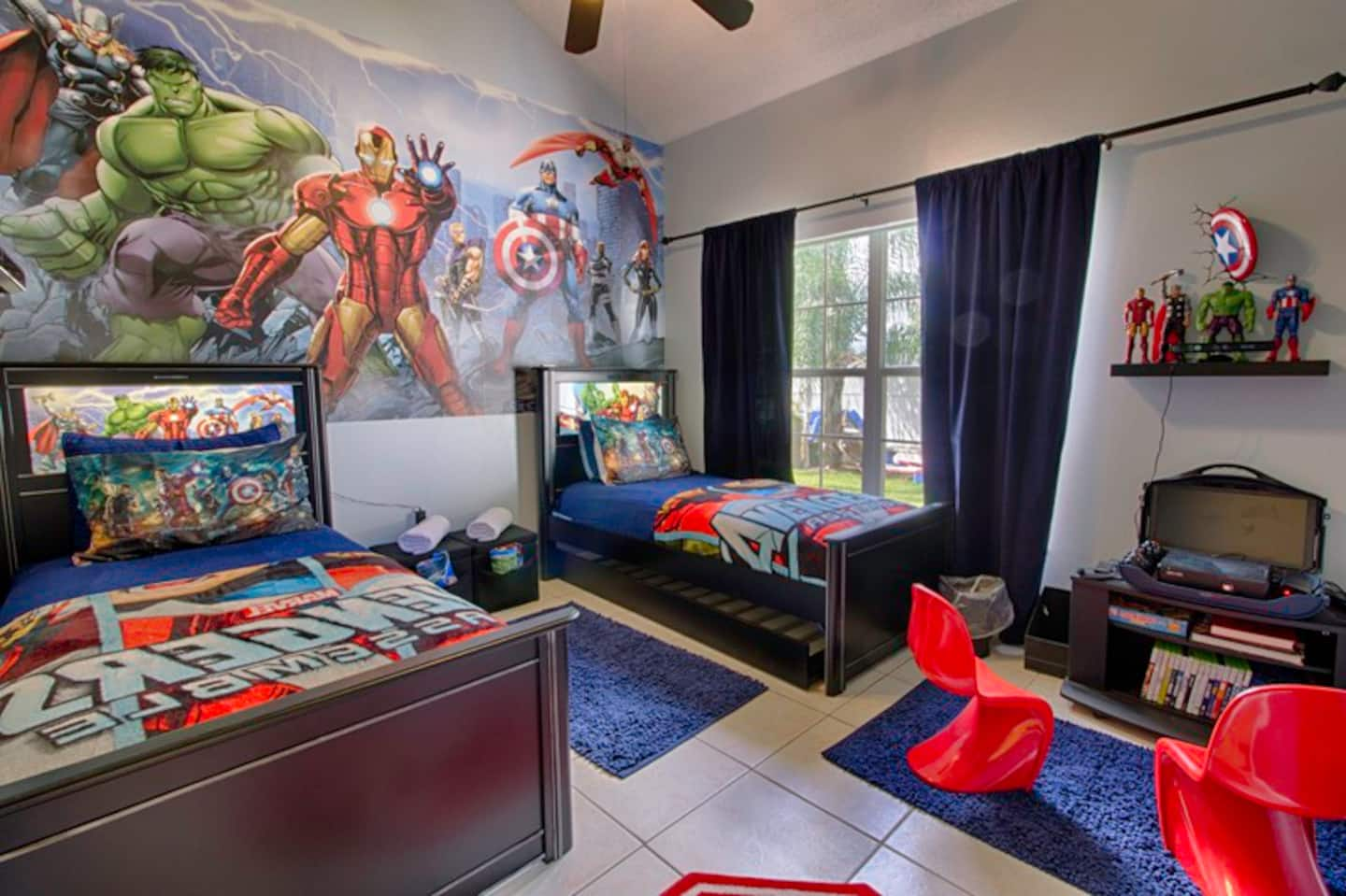 In Kissimmee, Florida, outside Orlando is this stunning, themed Airbnb for you and your family. Each room in this house has a different theme, and you and your family will love exploring the place and seeing what it holds.
This RU Incredible Parents Airbnb has seven bedrooms, four and a half bathrooms, and can easily sleep up to 16 people. Some of the themed bedrooms you'll find feature Gryffindor and Slytherin from Harry Potter, Frozen, Star Wars, Marvel characters, and more.
One of the biggest hits of his Airbnb is the Mickey Mouse-themed dining nook. It's the perfect theme for being in the Orlando area. The Pirates of the Caribbean-themed living room is another excellent touch. When you're not spending the day exploring all the theme parks in the area, you can lounge by the large pool in the backyard, watch movies, and enjoy the beautiful house.
This house's amenities include free parking, a washer and dryer, a private hot tub, free Wi-Fi, extra bed linens and pillows, a crib, pack and play, and a high chair for toddlers.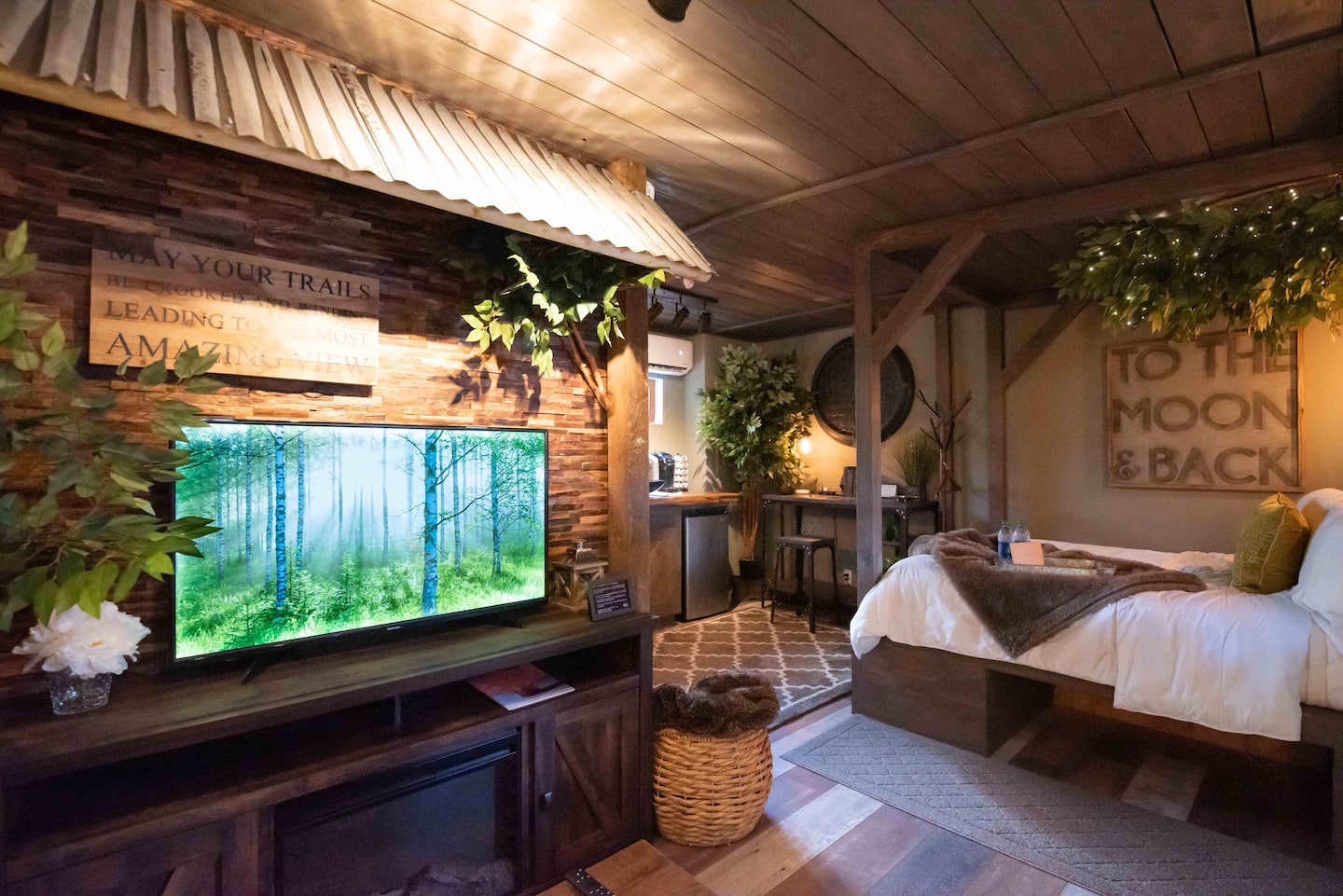 This Little Treehouse is one of the best Airbnbs in Orlando for a family getaway. It may even be a great option if you're thinking of sneaking away with your kid for the weekend or going on a duo trip. This beautiful little Airbnb is located in the safe neighborhood of the Country Club of Orlando.
When you arrive, you're greeted by lush green grass, a beautiful lime green door, and a sign saying "Little Treehouse." The space sleeps two people comfortably in a comfortable Queen-sized bed. There's also a couch in the living space that someone can sleep on, too.
The treehouse features one bathroom, a kitchenette, and the decor makes you feel like you're high up in the treetops in a jungle and not Orlando. There's plenty of greenery on the inside, and the backyard features plenty of grassy play areas.
When you stay at this Airbnb, you'll be about 15 minutes from Universal Studios and 25 minutes to Disney's parks. Other amenities at this spot include luggage drop-off, a fireplace, Wi-Fi, free street parking, and toiletries you need for your trip.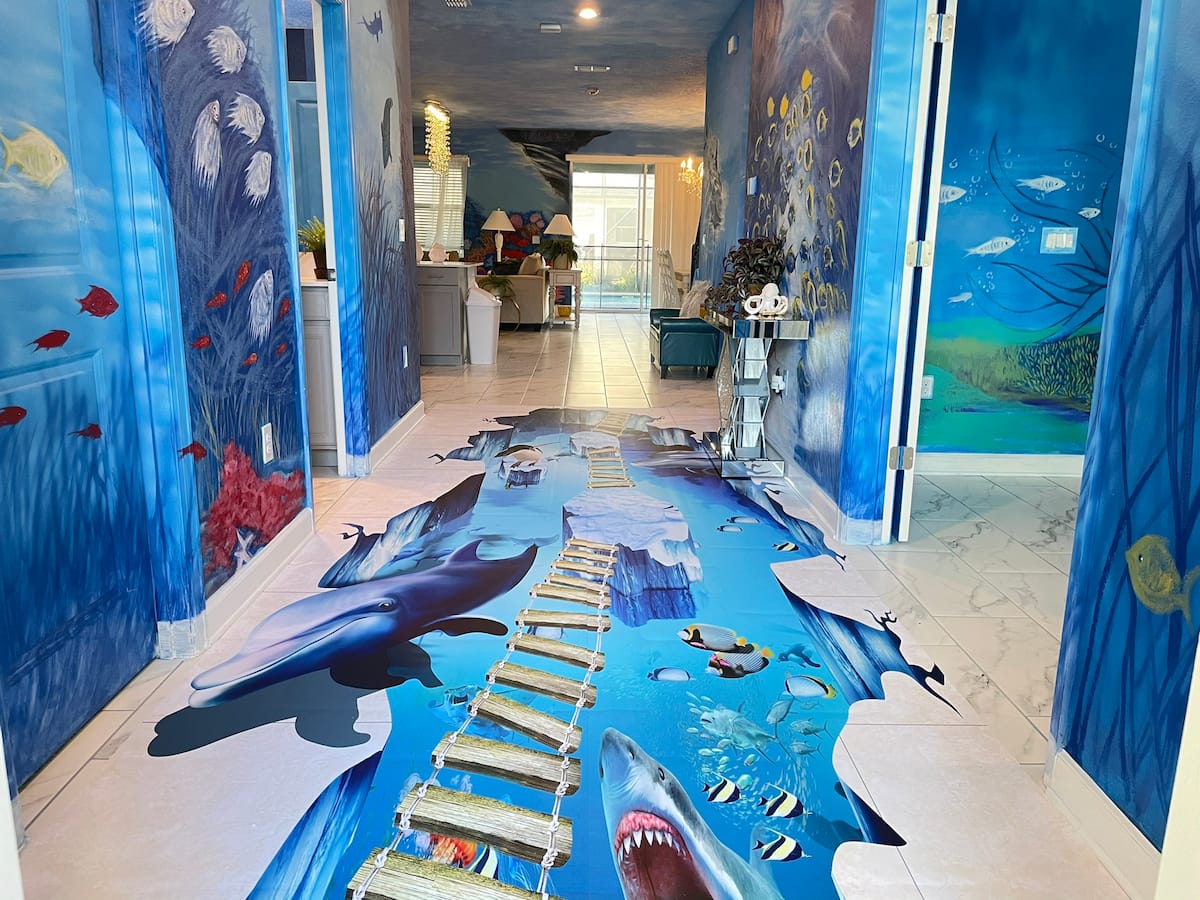 Orlando and the surrounding areas don't have a shortage of large Airbnbs that can accommodate larger families. Ocean House is another beautiful Airbnb that's large enough for a family of 16 but also makes you feel like you're having a luxurious vacation.
Ocean House is in Kissimmee, Florida, making it an ideal Airbnb if you're planning on hitting any of the theme parks on your Orlando getaway. There are eight bedrooms with 12 beds and five bathrooms for you and your family.
As you may have guessed by the name of the Airbnb, the entire home has an ocean theme. It looks like a standard home on the outside, but you'll feel like you're underwater when you walk inside. There are stunning murals along the walls and even one on the white tile floor featuring whales and other sea life.
When you're not exploring the city, you can hang out at your private pool, on the lake, or in the exciting game room in the house. Amenities here include free parking, a full kitchen, a washer and dryer, a private hot tub, and more.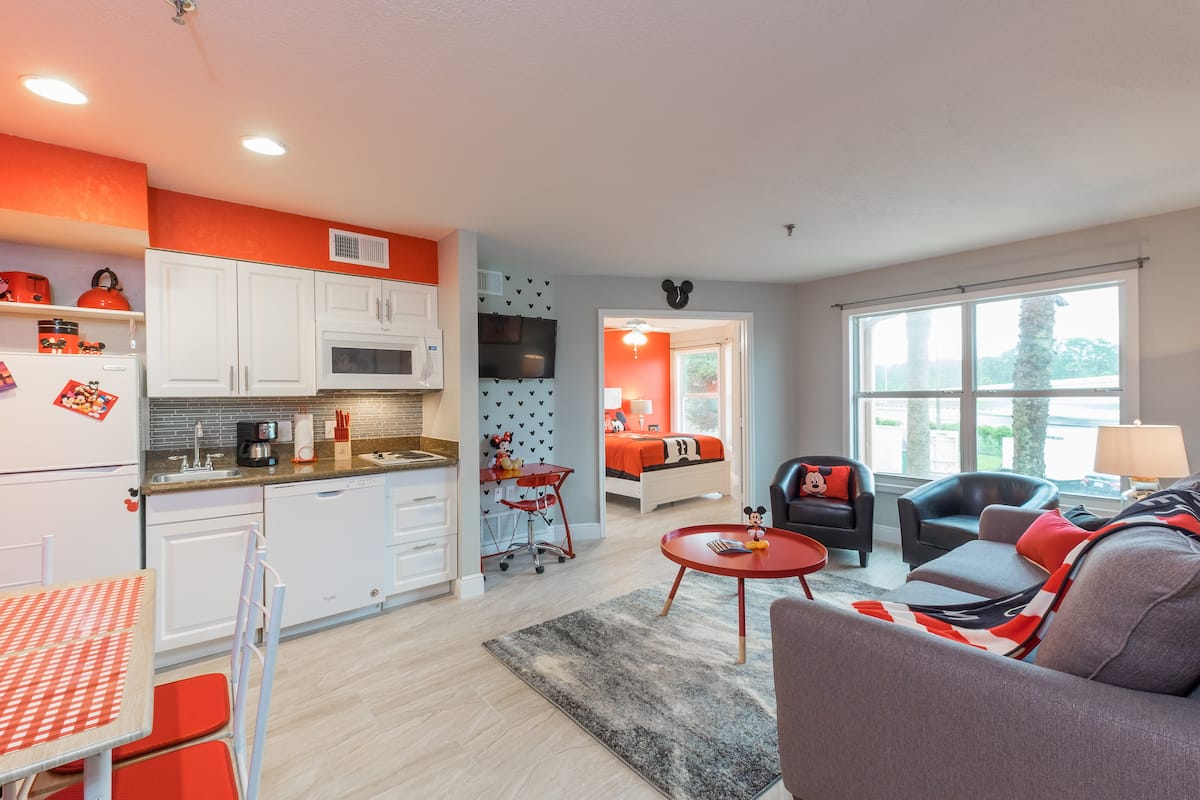 We can't talk about amazing family Airbnbs without mentioning at least one Mickey Mouse-themed stay. This Mickey Mouse Themed Getaway Airbnb is one of the best Airbnbs in Orlando for families! Whether you're visiting the Disney parks or not, who doesn't love a fun-themed place to stay?
The Airbnb features one bedroom but has enough beds to sleep four people comfortably. Four guests will share one bathroom, but that should be adequate for your stay. The home is decorated with reds, whites, and blacks to mimic the famous mouse.
There are Mickey photos throughout the home and other decor items that feature the mouse. The location of this Airbnb puts you in great proximity to visit any of the theme parks and attractions on International Drive. You can utilize their full kitchen during your stay if you want to make your own meals and lounge by the pool to soak up the Florida sun.
You don't need to use their kitchen, though. You're within ten minutes of some of Orlando's best restaurants. The host makes sure everyone is comfortable and provides hairdryers, Wi-Fi, all linens, air conditioning, and a washer and dryer.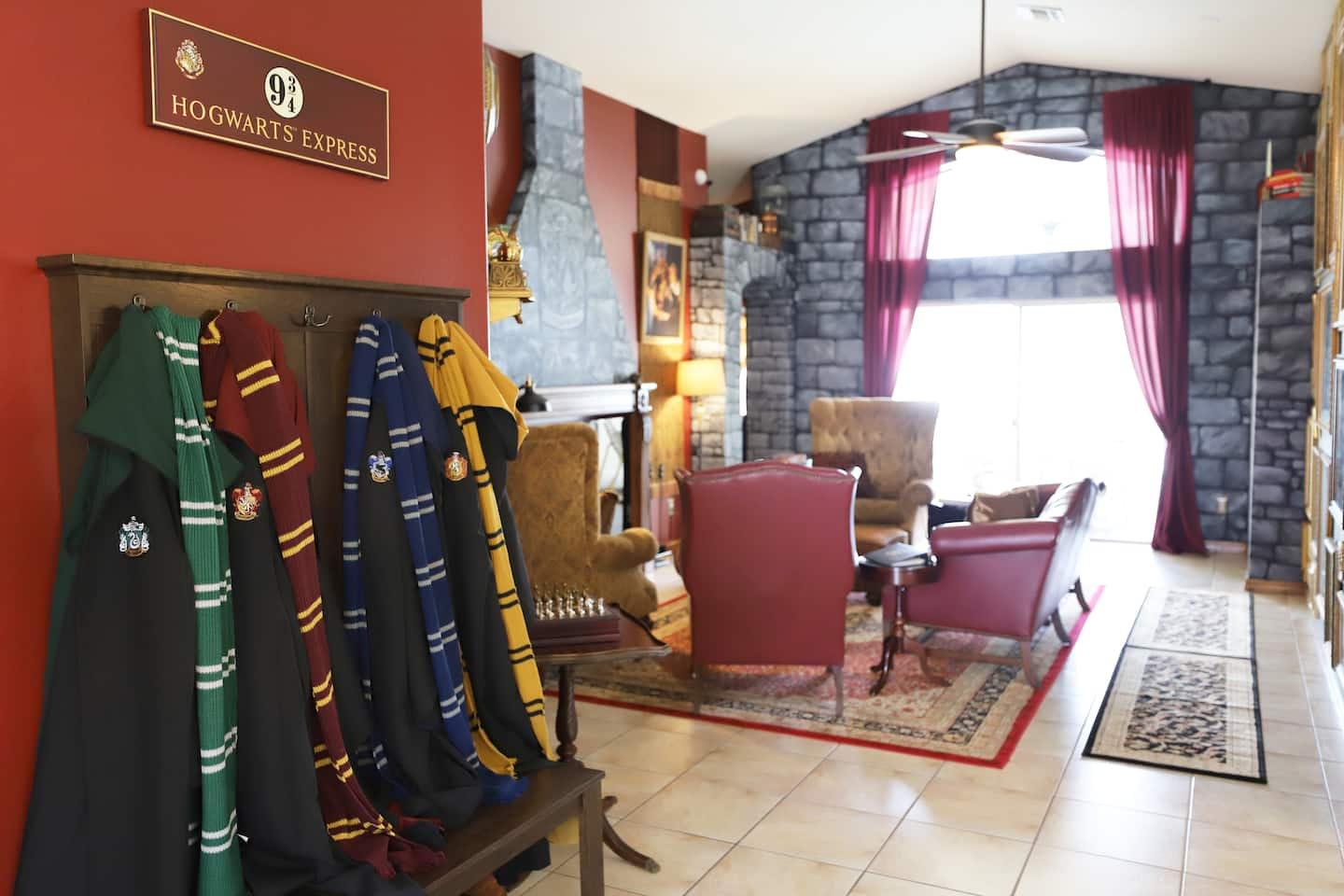 Disney isn't the only popular theme park in Orlando, and for all you Harry Potter fans, you and your family can stay in the Wizarding Home, ten minutes away from Universal Studios and Islands of Adventure. Harry Potter fans will be obsessed with this stay, and even if you're not a huge fan, it's still a wonderful Airbnb in Orlando.
This large villa has five bedrooms and three bathrooms inside. In the five bedrooms, eight beds can sleep 13 people easily. This giant Airbnb is perfect for an extended family vacation or if you have a larger family.
The entire house features Harry Potter-themed decor that makes you feel like you've stepped into Hogwarts or a movie set. The home features a full kitchen and dining room if you don't want to eat all of your meals out, a swimming pool, hot tub, gaming systems, and televisions with Netflix, Disney+, and other streaming services.
The host provides shampoo, conditioner, and all cleaning products you may need. You'll have access to two accessible parking spaces, reading material, board games, a pack and play, a high chair, and fireplace guards.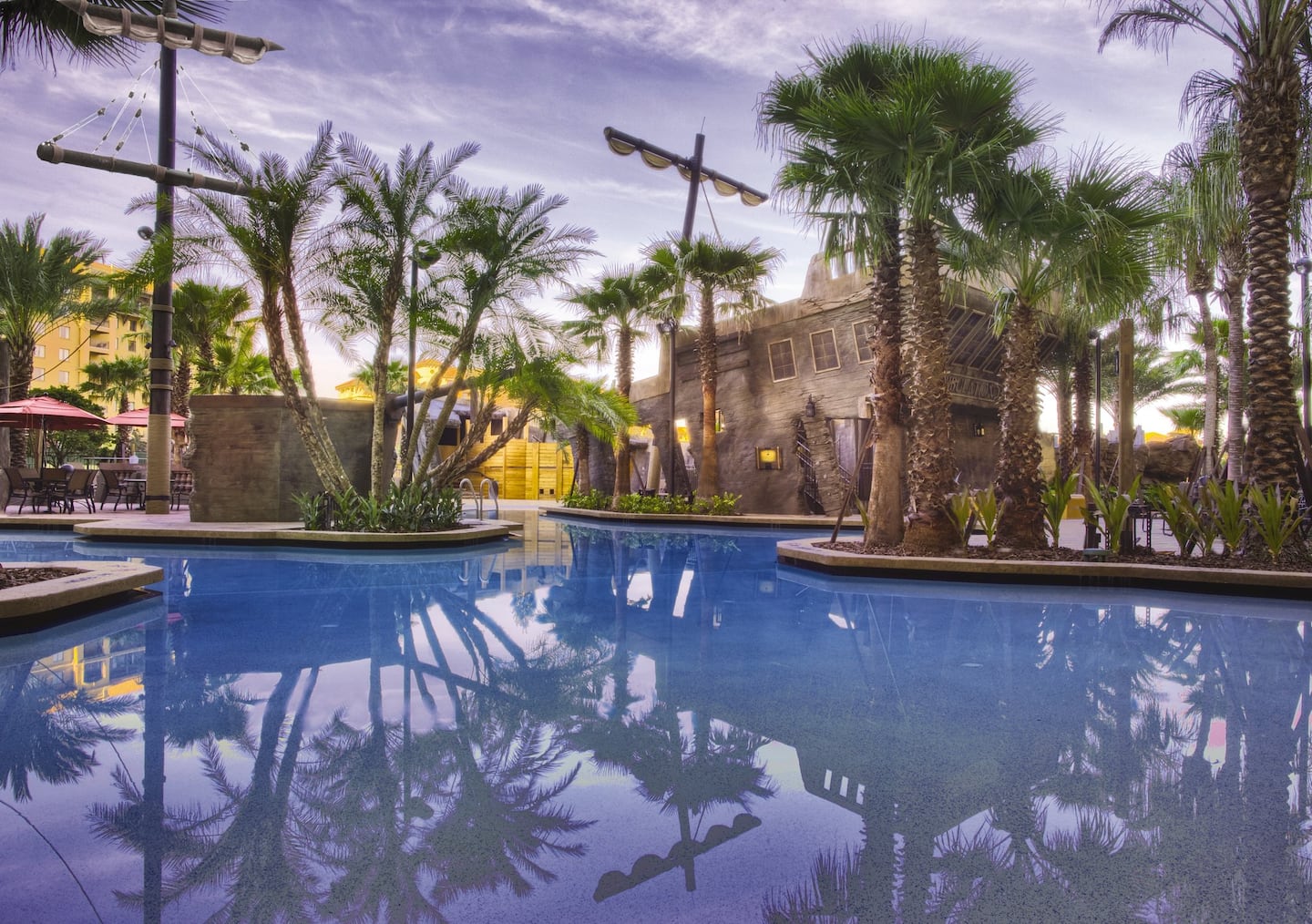 If you've ever looked into booking a hotel at one of the several Disney properties, you know that they're not always the most affordable option. This two-bedroom condo is the perfect option for families who are dying to stay on Disney property but don't want to pay an arm and a leg.
The condo features two bedrooms with four beds, which is enough for eight guests. There are two bathrooms, a balcony where you can watch the Disney fireworks every night, and so much more. This Airbnb sits within the resort complex and features five heated pools, hot tubs, and a lazy river to relax in.
When you're not off exploring Disney, Universal, or other attractions in Orlando, you won't want to leave this Airbnb. You'll find three world-class restaurants that offer plenty of kid-friendly options on the property. There's also a game room, mini-golf course, and plenty of children's play areas for the younger travelers.
One of the best amenities at this Airbnb is that you get access to shuttle service to and from the area's theme parks and limited attractions.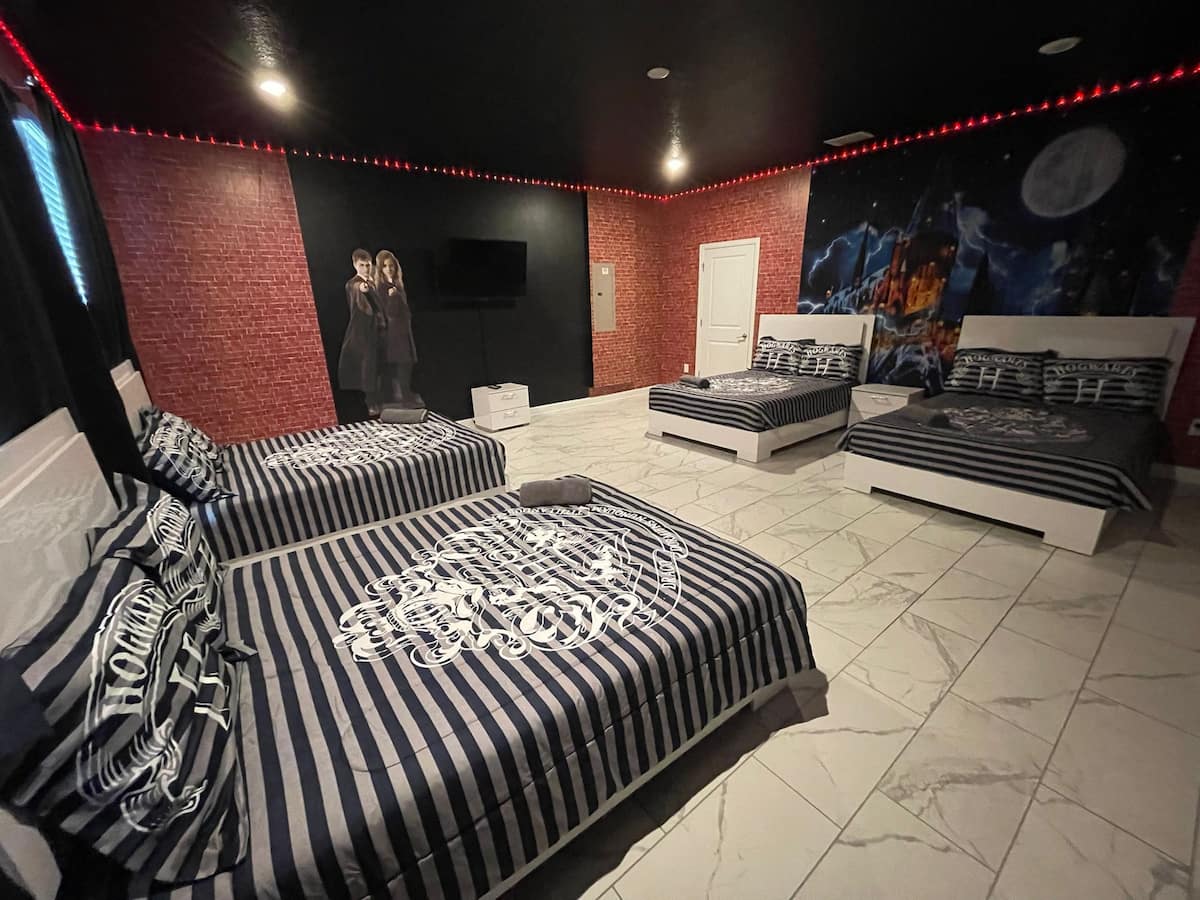 This lakefront mansion is just outside of Orlando in Kissimmee. It's another larger Airbnb that's perfect for larger families or even a small family reunion to the Sunshine State. You'll find the Airbnb in the Storey Lake Resort, and every room has a different and exciting theme.
We already mentioned that this Airbnb is ideal for larger families. The reason for this is that there are nine bedrooms with 14 beds and five bathrooms. You can easily sleep up to 16 guests here comfortably. There are plenty of bedrooms for adults and older children and rooms that have twin beds for the young ones.
Some of the themes you'll find here are Disney Princesses, Harry Potter, Mickey Mouse, Star Wars, and Marvel. While many of the rooms have themes, they have traditional rooms too if that's more your style. You'll have access to a pool with a water slide, hot tub, sauna, and a game room that people of all ages will enjoy.
The location of the Airbnb puts you nearby all the theme parks, International Drive, and great shopping and restaurants to try. Other amenities included in your stay are free parking, a washer and dryer, and Wi-Fi.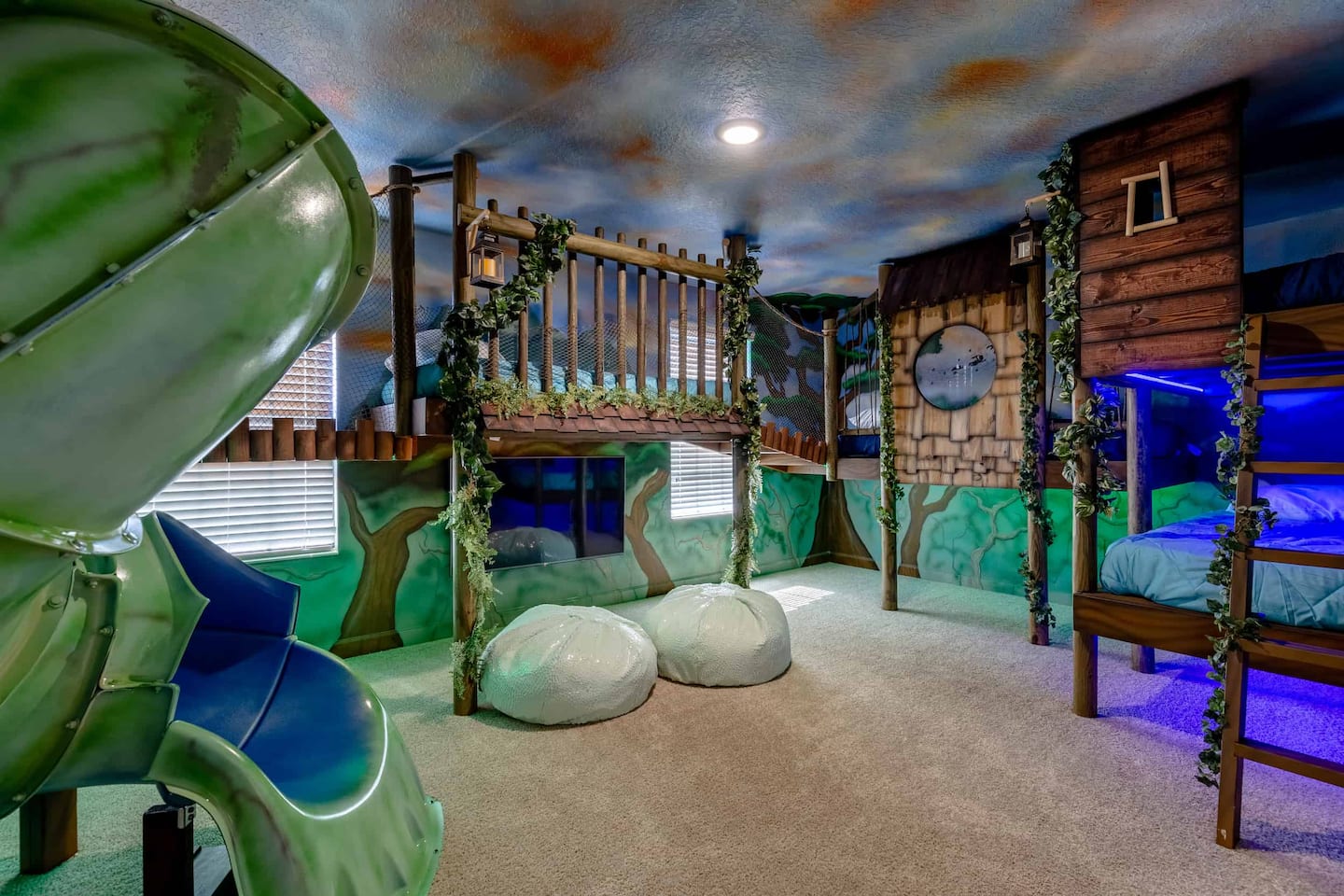 Anyone who's looked into booking a stay in Orlando knows that Champions Gate is a wonderful community that people love. Now, you can stay in this Peter Pan Villa within the community. The location puts you right near all the action you and your family came to Orlando for. You'll be 15 minutes from Disney and around 30 from Universal.
The Peter Pan Villa looks like any typical house on the outside, but many of the rooms are whimsical and appeal to anyone's inner child when you walk inside. The house has nine bedrooms with 15 beds and five bathrooms for up to 16 guests to share.
One of the children's rooms makes it look like the bunk beds are floating in the treetops! Kids will not only love sleeping here, but their imagination can run wild with the decor surrounding them. It even has a slide in the bedroom!
Regardless of your age, everyone will love the private pool and hot tub as well as the authentic game room. It even has the neon carpet you see in old-school arcades. There's an outstanding 18-hole golf course within the community that you may want to try out during your stay.
Nestled in a quiet community is this Ultimate Cinderella Castle Airbnb. When you arrive, it's a gorgeous modern family home, and the inside is as elegant as ever. The best part and why this Airbnb got its name is the Cinderella-themed rooms throughout.
Not every room has a Cinderella theme, but there's a Cinderella-theme bedroom where your kids can sleep in a carriage similar to the film. The entire house features eight bedrooms with 11 beds and nine bathrooms and can easily sleep 16 or more people.
This Ultimate Cinderella Castle has a beautiful pool and hot tub outside, a theater room with dozens of film options, an arcade for the kids and kids at heart, and a wet bar for the adults. The theater features zero-gravity massage chairs that are so comfortable; it may be hard to get out of them.
Staying in this Airbnb grants you access to the community amenities, like their fitness center and golf course. The amenities list at this Airbnb is a long one. Some of the most important are room darkening shades, children's dinnerware, a barbeque grill, a gaming console, and Wi-Fi.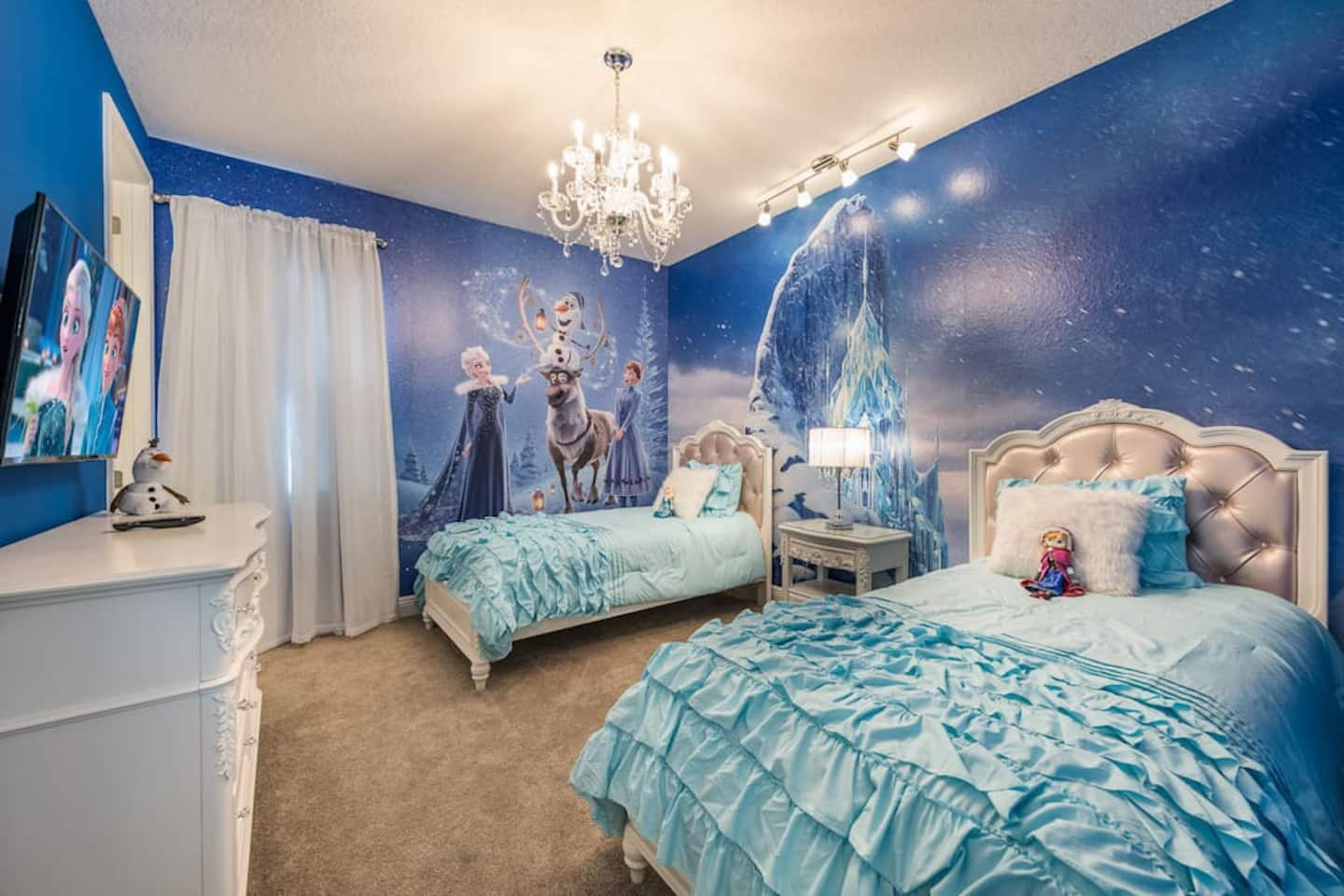 Less than a ten-minute drive to Walt Disney World is the Encore Resort Airbnb. It's another excellent stay if you have kids or want to delight your inner child. Many of the rooms have themes like Frozen, Star Wars, and Harry Potter. The rest of the rooms have your traditional yet modern appearance.
If you don't feel like getting tickets to the waterparks in the area, you'll have access to a large, private pool at this Airbnb. Even a hot tub flows into the pool that you can heat up if you choose. You can grill out and enjoy hotdogs and hamburgers while everyone splashes around and plays in the sun.
After a long day at the amusement parks, you and your family can cuddle up on the couch and watch movies on any of the streaming services. There's also a pool table and air hockey table for some friendly competition.
Encore Resort has everything you need to enjoy a wonderful family getaway in Orlando. If you're traveling with toddlers or babies, they offer a high chair, crib, and baby bathtub that you can use instead of bringing your own.
The Mickey Mouse Clubhouse is yet another beautifully designed and well taken care of Airbnb in the Orlando area for your vacation. Like many other Airbnbs in the area, this Airbnb has several themed rooms for you and your family to enjoy.
This Airbnb comes with eight bedrooms with 15 beds, and there are five bathrooms. There's more than enough room to sleep 16 people at the Mickey Mouse Clubhouse. The Mickey Mouse Clubhouse room features two sets of bunk beds with a fun slide in the middle that kids will love. The other rooms have Marvel, Harry Potter, and other exciting themes.
The game room is a sure-fire hit with a pool table, gaming console, and board games with a Marvel theme. It's a great way to relax after a long day exploring, or you can always hop into the crystal clear pool.
This Airbnb has everything you need for your getaway. There's a full kitchen, dining table, barbeque, a hairdryer in every bathroom, blackout curtains, and more. The best part is that they're pet-friendly, so your furry friend doesn't have to miss out on the family vacation.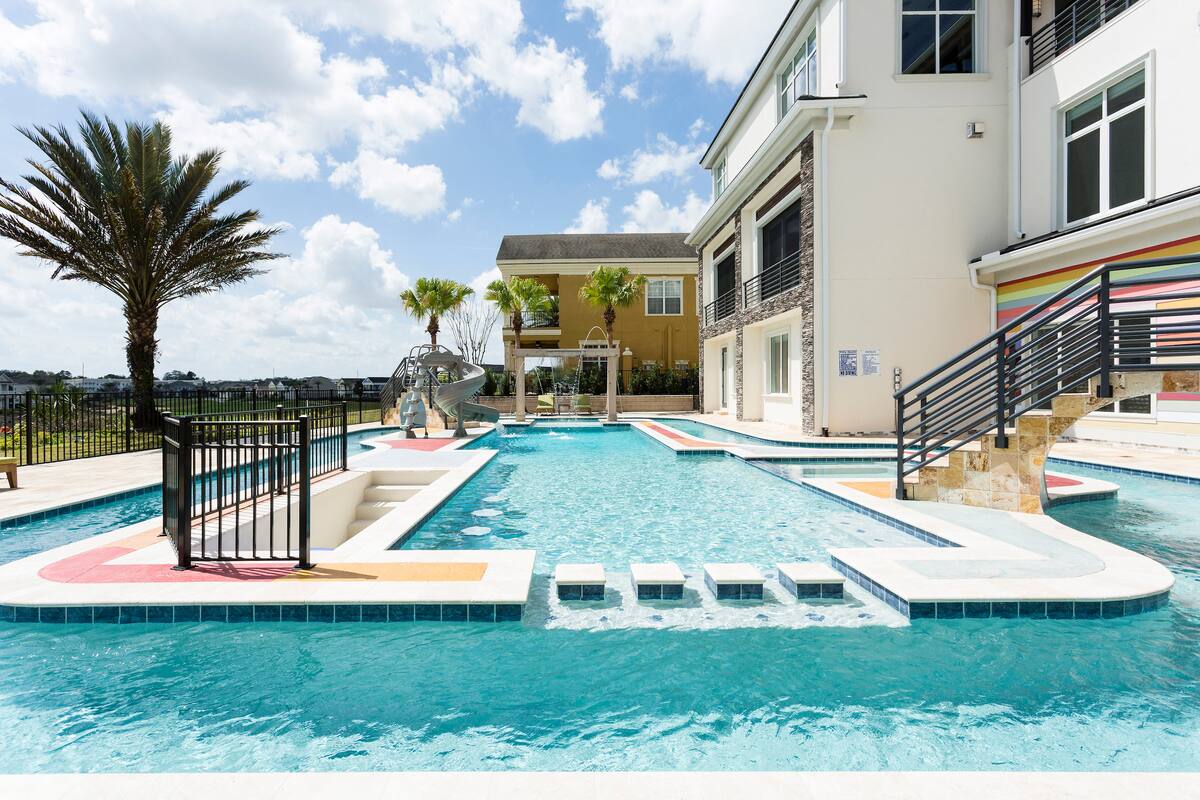 We've saved the best for last, or the largest for last, at least. If you want to treat your family to a luxurious stay, this Luxe Mansion with a lazy river is one you have to look into. The entire mansion covers over 25,000 square feet and might as well be an attraction in Orlando on its own.
There are 14 bedrooms with 15 beds and then 16 bathrooms in total. All this space means you can sleep up to 30 people here without having everyone tripping over one another. A large pool in the backyard features a lazy river you can float around for hours.
The large pool in the backyard isn't the only pool on the property. There's even a rooftop pool that faces the front yard. When you're not swimming in one of the two pools, there's a bowling alley, lounge, private gym, sauna, spa, movie theater, and game room for everyone to enjoy.
Other amenities that you'll find here include free parking, an elevator to get from floor to floor, a crib, and a high chair for little ones.
Final Thoughts
Orlando is filled with Disney and Harry Potter-themed Airbnbs that you and your family will love staying at. Whether you're looking for something in the heart of the action or a little off the beaten path, booking a stay at one of the best Airbnbs in Orlando for your family vacation is one way to ensure the whole family will have the time of their lives.
More about our TFVG Author
A seasoned traveller, Dad, and avid sports tourist, James foundered The Family Vacation Guide to share his expert vacation experiences- especially when it comes to being a travelling family man.
Featured in Travel articles such as Travel + Leisure, TripSavvy and SFGate, you know you're reading some of the best vacation tips online.