Are there Crocodiles in Florida?

If you've ever had the pleasure of visiting Florida, you may have been lucky enough to catch a glimpse of one of the earth's oldest creatures lounging in the mud or sunbathing on the beach. 
Crocodiles are large reptiles found worldwide, particularly in warm, tropical areas of Africa, Australia, and Asia. There is a wide range of species with different sizes, color markings, and communication habits. They are also found in a very specific area of the United States. 

Are There Crocodiles in Florida?
Crocodiles have lived along the coast in southern Florida for millions of years. Early settlers first spotted the prehistoric creatures in the late 1800s, and they have been a topic of great interest ever since. 
Crocodiles in Florida are found in Everglades National Park between Cape Sable and Biscayne Bay and between Sanibel Island and Shark River. They typically nest along the coast.
Due to their vulnerability and loss of habitat, mainly because of human land development, crocodiles in the United States have been categorized as an endangered species since the 1970s. The National Park Service created a crocodile sanctuary in Florida Bay in response.
Other regulatory agencies such as the Florida Power and Light Company and the Florida Fish and Wildlife Conservation Commission have worked for decades to help preserve the crocodile's natural habitat and help the species bounce back.
Another critical aspect of preserving the crocodiles in Florida is public education, especially as crocodiles are commonly confused for alligators, which are more frequently seen in the state.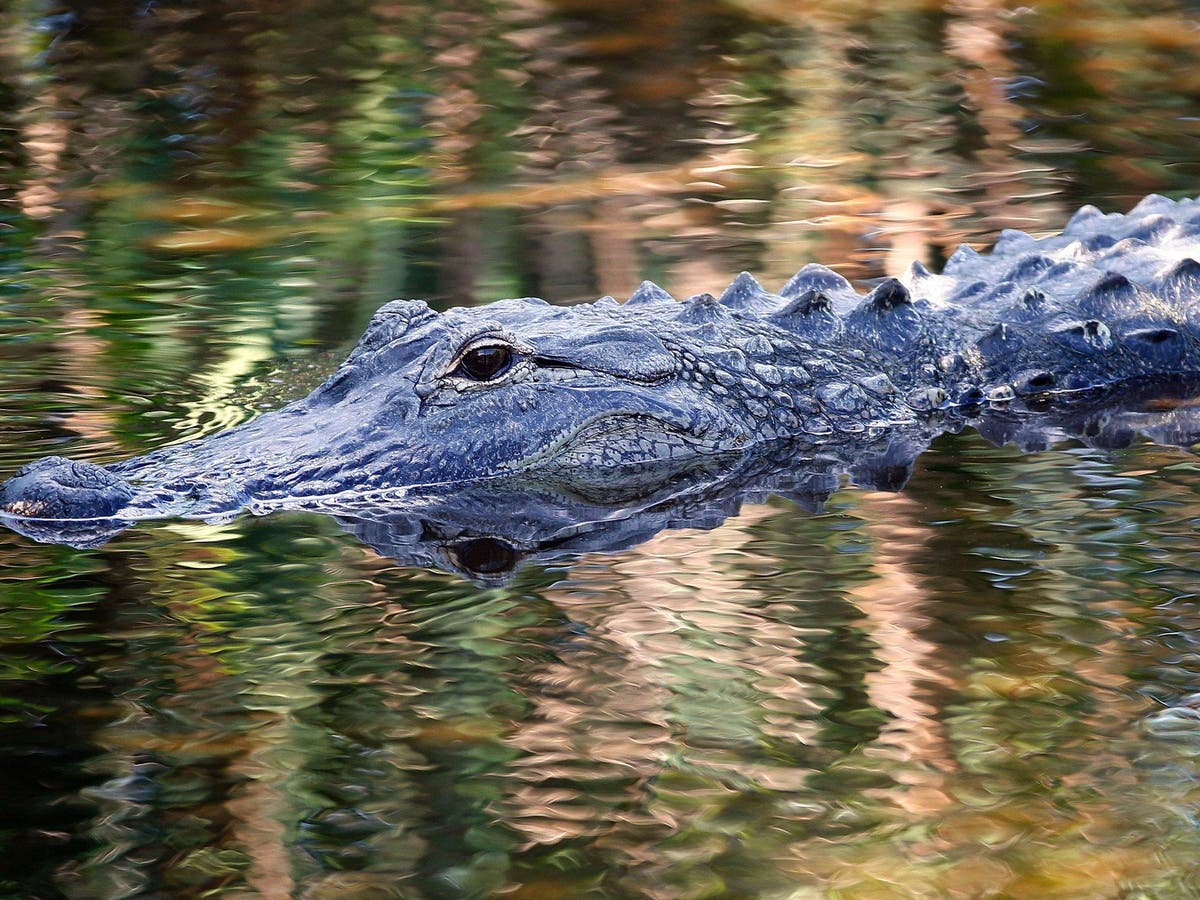 Places to Visit to Watch Crocodiles
Want to admire these magnificent animals, but from a safe distance? Here are some of our recommended places to visit to get up close to a croc – safely!
Crocodile Lake National Wildlife Refuge
Address: 10750 County Road 905Key Largo, FL33037-0370
Phone: (305) 451-4223
Website: www.fws.gov/refuge/crocodile-lake/visit-us
Big Cypress Preserve: OASIS VISITOR CENTER
Address: 52105 Tamiami Trail East Ochopee, FL 34141
Phone: 239 695-2000
Website: www.nps.gov/bicy/
Gatorland
Address: 14501 S. Orange Blossom Trail Orlando, Florida 32837
Phone: 407.855.5496
Website: www.gatorland.com/
Croc Encounters
Address: 8703 Bowles Rd, Tampa, FL 33637
Phone: (813) 217-4400
Website: www.crocencounters.com/
Crocodile Facts
It can be challenging to differentiate between a crocodile and an alligator. Not only do they both reside in southern states like Florida, but they are also similar in size and appearance. Both species are a part of the Crocodilia order; however, they belong to different families.
There are a few subtle differences, though, even a layperson can use to identify whether they're looking at a crocodile or an alligator. In addition to their location, color, and size, each species also has defining snout and facial features that help tell them apart.
Location
For starters, crocodiles in the United States live in the southernmost tip of Florida only. They like the marshy wetlands and saltwater of the area and can be frequently found in canals, coves, and ponds that make up the natural habitat. The environmental conditions in south Florida are the northernmost extreme of their comfortable range. 
Size
At first glance, it may seem that alligators and crocodiles are of the same size, which makes it one of the most challenging ways to identify them by sight. However, crocodiles are several feet longer and generally heavier than their alligator cousins.
The average male American crocodile is 17 feet long and weighs up to 1000 pounds. This is 4 to 6 feet longer than an American alligator and up to 300 pounds heavier. Female crocodiles in the wild range from 8 to 12 feet long.
Crocodiles are also often described as being more lizard-shaped thanks to their thick, muscular tail and short legs.
Color
One of the easiest ways to differentiate between crocodiles and alligators is by observing their color.
Although their coloring can be affected by their environment, Crocodiles generally have a light grey color with a yellowish-white belly that allows them to blend into the water while they hunt. 
There are some exceptions to this rule. For example, Saltwater crocodiles can look a little greener than their American counterparts, and the infamous Nile crocodile is a mixture of dark brown and dark green. 
Snout and Teeth
Observing its snout shape and visible teeth is the best way to know whether you're looking at a crocodile or an alligator.
A crocodile will have a pointy, triangular, or v-shaped snout that can vary in width. It will also close from the top-down and leave a line of four to five jagged bottom teeth visible.
Speed
An alligator has a significant advantage in a foot race between the two. They can reach speeds of 30 miles per hour when on land compared to crocodiles, which can only manage short distances at up to 20 miles per hour.
Alligators are also faster than crocodiles in the water. They can swim up to 25 miles per hour versus the 18 miles per hour of a swimming crocodile.
Despite their differences, crocodiles generally timid creatures that aren't known to be hazardous to humans when left alone. The adage, "they are more scared of you than you are of them," rings true here. 
With that said, no matter which species you encounter in the wild, you should always err on the side of caution and keep your distance.
What Kinds of Crocodiles Live in Florida?
There are 24 different crocodilian species worldwide and 14 types of crocodiles. However, only the American Crocodile calls Florida home.
American Crocodile
The Crocodylus acutus, commonly known as the American Crocodile, is the most widespread crocodilian species. In the United States, they are exclusively found on the coasts of Florida, although they live throughout the Caribbean as well.
Much of what we know about the American Crocodile is by studying them in captivity, mostly because studying them in their natural habitat is too dangerous. However, what research has been documented has painted a picture of the crocodile's mating, social, and parenting behaviors.
Mating
The American Crocodile mating season occurs from February through May. Breeding males will establish a breeding territory during this time which they defend aggressively from other males through tail waving, vocalizations, and infrasonic pulses. On the other hand, females are free to roam from territory to territory.
Crocodiles are polygynous, which means that breeding males can mate with several females can't Thanksalistic courtship sequence before mating, which can last upward of two months, and involves relatively tender touch. The male crocodile will rub their jaws against the female, blow bubbles, and perform vocalizations. When a willing female indicates she would like to mate with the male, the pair mate underwater. 
Raising Young
After mating, a female will seek out a place to build her nest. Nesting areas are typically well above the water level and have well-drained sandy areas with abundant moss, marl, and peat. If a nest cannot be built, the female will gather vegetation to build a nest and dig a hole to lay her eggs inside of it.
The female crocodile will usually lay between 8 to 56 eggs. This group of eggs is called a clutch. It takes 86 days for a clutch to incubate, during which time the mother will periodically visit and occasionally defend from predators. At the end of the 86 days, the mother returns to her nest to help excavate her new hatchlings, which they cannot do by themselves.
There are no documented cases of mothers caring for their young after they have hatched. Consequently, there is a high mortality rate of the young, as they do not possess the size or strength to protect themselves from predators like raccoons.
Social Behaviors
American crocodiles spend most of their lives alone. They shy away from anything that startles or disturbs them and usually avoid conflict. However, crocodiles can exhibit aggressive behavior such as tail thrashing when threatened.
They are the most active at night, which is also when they hunt. During the day, they spend their time regulating their body temperature by basking in the sun, floating in the water, or burying themselves in mud.
They communicate with other crocodiles through vocalizations. This can include roaring or infrasonic rumbling, depending on whether they are attempting to attract a mate or defend their mating territory. In addition, crocodiles slap the water with their heads, butt heads, and thrash their tails.
There is also evidence that crocodiles use chemosensory cues to communicate. These are chemical stimulus cues that many animals use to communicate or identify one another. There has been significant research on this phenomenon in alligators, but limited research exists for the American Crocodile.
Lifespan
Crocodiles in Florida can live to be 100 years old; however, most live to be between 60 and 70 years old. They are only in danger of being hunted as younglings, and other than accidents involving humans and motor vehicles, they have no natural predators.
Are Crocodiles Dangerous?
Although skittish and timid creatures, Crocodiles should never be underestimated. They are prehistoric predators with unparalleled hunting skills and ancient instincts.
In general, crocodiles found in Florida are uninterested in humans. They will not attack humans unless provoked, and they will not hunt them for dinner. When an accident involving a crocodile and a human occurs, it is often due to a lack of education on the human's part on how to interact–or not interact–with the crocodile.
Crocodiles have one of the strongest bites of any animal. A single bite has over 500 pounds of force per square inch. To put that in perspective, the average human has a bite force of 162 pounds per square inch.
Generally speaking, you don't need to be afraid of crocodiles. They prefer to be left alone and don't have much interest in humans. They are also not as aggressive as other similar species. That being said, they are wild animals with a ferocious bite that should be respected and left to their own devices.
What Do Crocodiles Eat?
Crocodiles are carnivores, but they are not picky eaters. They typically subsist on a diet of fish, turtles, frogs, and small mammals. They are also known to eat birds when they can catch them and carrion in emergencies.
Crocodiles commonly feast on snakes, lizards, crustaceans, and large fish in Florida. Their young learn to hunt by eating insects and locusts. In captivity, crocodiles often eat pre-killed mammals like rats and mice.
Crocodiles prefer to hunt at night. They capture their prey by floating motionless in the water, sneaking up on their meal. When they attack, they grab the animal and complete what is called a "death roll" to drown it before eating.
Crocodiles also have been known to swallow stones to help them float in the water and aid in digestion. This is because crocodiles can't chew their food, so they swallow their prey whole. The rocks help break up the food into more digestible pieces.
Although crocodiles are adept at hunting and often consume up to 50 meals a year, they can go a long time between meals. In fact, thanks to their highly-efficient ectothermic metabolism, adult crocodiles can survive up to a full year without eating a single meal. Their bodies store almost all of the food that they eat, and they can successfully survive on their own body tissue in times of stress or famine.
The Conclusion
Crocodiles are magnificent creatures that have walked the earth for hundreds of millions of years. In that time, they have established themselves as top-predators who are surprisingly solitary and timid. They live their lives in relative solitude and have an average lifespan comparable to a human's.
Florida is home to approximately 1,000 American Crocodiles that are endangered. Active efforts by Florida wildlife and governmental agencies and public education efforts are making strides to preserve the American Crocodile's Florida habitat and remove them from the endangered species list.
More about our TFVG Author
A seasoned traveller, Dad, and avid sports tourist, James foundered The Family Vacation Guide to share his expert vacation experiences- especially when it comes to being a travelling family man.
Featured in Travel articles such as Travel + Leisure, TripSavvy and SFGate, you know you're reading some of the best vacation tips online.