If you're looking for more fun during your trip to Florida, staying in a Disney hotel while you visit the park adds another layer of magic that can make your personal Disney dream come true!
Disney has a number of options for their hotels and resorts, with Moderate resorts often turning out to be fantastic value for money and a fun place to stay.
There are perks to staying in a Disney hotel that is hard to pass up, and they can make your visit much better. Early entry into the parks is just one example!
Imagine being at the front of the queue when the ride starts just because you chose to stay in a Disney-owned hotel… Hopefully, you can now see where we're going with this when we say staying at a Moderate resort can be an absolute dream!
As each resort is thematically distinct with different amenities, dining options and perks, we'll be breaking down our top picks to ensure your family have the most magical stay!
Disney World Moderate Resorts: An Overview
Disney Moderate resorts are the middle-tier option for hotels at Disney World.
The Deluxe resort option offers more convenience and luxury, while Value Resorts lets you know that you are still in one of Disney's lodgings without the huge price tag.
Having said that, Value and Moderate Disney resorts have a lot in common.
Both will have arcades, playgrounds, and movies every night. They both have running trails and at least two swimming pools for those who want to stay fit on holiday.
This is in addition to food courts with quick and easy food options! Pizza delivery to your room is always available for those who want to stay in.
Moderate and Value resorts resemble "motel" style rooms where the doors lead directly outdoors with no internal corridors.
However, because Moderate and Value share these similarities, there are quite a few differences that make Moderate a slightly more favourable choice.
Depending on your plans and the perks on offer, booking a Moderate Disney resort can be a superb deal for many families!
Why Choose a Moderate Resort for Your Disney Vacation?
Disney's Moderate resorts are some of the larger Disney destinations, but despite their popularity, they still offer their unique oasis away from the world.
It can feel like you're staying on your all-inclusive island, as there are loads of trails and landscaping keeping everything and everyone spread out and away from the hustle of the main park.
Moderate-tier resorts often offer the ideal combination of theming, affordability, and amenities and are great value for families and adults travelling without kids.
Yes, Value Resorts cost a lot less, and you definitely pay for what you get in a Deluxe Resort. However, for most of us with families in tow, there are compromises we're willing to make to have a great holiday and get the maximum return for our hard-earned dollars.
The Moderate resort will have plenty of variety in dining options, amenities, transport, and layout, but obviously won't have all the bells and whistles that the Deluxe ones have.
Moderate resorts are a unique middle ground that most will be happy with and enjoy their stay at! They have a retreat-like feel, perfect after a long day at the Park.
A Few Things to Consider
Food Options
If you are going to eat at the parks all day, every day, a Value resort will probably work best for you.
However, if you like to dine as a family for breakfast and dinner, a Moderate resort will give you many more options than you might think in the food area.
Moderate resorts also have more bars, lounges, and at least one table service restaurant.
You can still dine food court-style when you're in the mood, but the range and styles of food options are bigger and better at the Moderate offerings!
Transport Options
While car parking at Moderate resorts isn't free, parking at the Theme Park for resort guests is- something worth considering if you prefer to travel by your vehicle to the main attraction.
In most cases, your car can be parked- for a fee– quite close to your room.
The variety of transport options is also much better at a Moderate Resort.
All Disney Resorts have free transport between the resort and the Park, but some have some entertaining options that make getting to the park nearly as much fun as being there.
For example- one of the resorts offers transportation via the Skyliner– a gondola-style option- while others have boats that can drop you off within the park!
The Amenities
Moderate resorts are built around lakes and have a much bigger ground area to explore than their Value counterparts.
You won't find giant colourful figurines here, as the environmental elements are chosen to match the theme of the resort rather than to replicate a Disney world.
These resorts are also beautifully landscaped, with lush plantings on larger grounds giving you quiet places to relax and refresh.
The pools are bigger and better at a Moderate resort, so if you plan a day on the poolside in between park visits, Moderate resorts definitely make more sense.
The larger Moderate resorts also have non-themed pools that are quieter and out of the way, which adults travelling without children will surely appreciate.
One point of appeal is that Moderate resorts tend to be more spread out, so they don't feel as dominated by kids as the Value resorts.
The Rooms
Determining how much of the actual amusement park you're going to be visiting each day will also help you decide whether the Queen size beds and larger rooms that the Moderate resorts offer will be worth your investment.
The larger Moderate resort rooms will work if you need that extra space for a more prominent family or relax after a long day.
The Moderate resort bathrooms also have a double sink, making bedtime so much easier if you have lots of kids ready for bed each night.
I'm sure you know that sharing a sink doesn't work so well at the end of a long day!
Moderate resorts also have better overall theming, with each building, shop, and reception area staying true to its substance.
The rooms in a moderate Resort tend to drift away from the loud and in-your-face to more restful and adult tastes- a deliberate design choice that helps you avoid Disney overload during your stay.
Disney World Moderate Resorts: Ranked & Revealed
There are five moderate-tier Disney Resorts, each with its own theme, character, ambience, and slightly different amenities. They are:
Port Orleans French Quarter: 19th century New Orleans
Port Orleans Riverside: Louisiana Plantation and Bayou-side Retreat
Coronado Springs: American South West and Northern Mexican Theme
Caribbean Beach: Caribbean Islands
The Cabins at Fort Wilderness: Rustic Frontier
It can be not easy to choose between amenities and options, so we have thoroughly reviewed each of the above for you to compile a list that may help you decide.
We've set out the features that might appeal to families, couples, and independent travellers looking for good value for money.
The themes, layout, and ambience of each resort are distinct, and each one does feel like its own world- which is something Disney does so well.
Let's now look at the five Moderate Disney World Resorts and see which appeals to you on your trip to the world where all dreams come true!
Disney's Port Orleans Resort- French Quarter
This is one of the smaller resorts– but what it lacks in size, it certainly makes up for in ambience!
This resort is themed around the romance and tranquillity of the French Quarter. It is situated on the Sassagoula River, with plenty of lush landscaping and cobblestones that create an intimate feel of their own.
If you love gas lamps, wrought iron fences, and magnolia trees, then you will be charmed by the theming of this Port Orleans Resort.
Take a riverboat ferry on the Sassagoula River, enjoy the Scat Cat Lounge Jazz Club, or take a stroll along the riverside pathway.
You can watch the water wheel that powers a working cotton mill turn and churn, making you feel like you have stepped back in time!
Adding to the theme is the New Orleans-style cuisine with Jambalaya, shrimp, and grits on the menu. The food is authentic in New Orleans, and you'll want to eat until you explode at every meal.
This is not the most kid-friendly Disney resort, but it's perfect for adults and those who enjoy their theming quaint and immersive- rather than in-your-face bold!
If you bring your kids, they will enjoy the Doubloon Lagoon, a 225,000-gallon swimming pool with its own sea serpent-themed water slide. Fantasia Gators are all dressed up poolside and ready to party!
Other Jazz elements that these Moderate resort offers are sprinkled all around, with Mardi Gras icons to find while exploring the facilities.
Horse-drawn carriages, painting, fishing, arcades, and playgrounds are why you'll want to stay at this New Orleans-themed destination.
The short but lovely river cruise will take you directly to Disney Springs and all its dining and shopping options, opening up another world to guests who choose to spend their holiday here.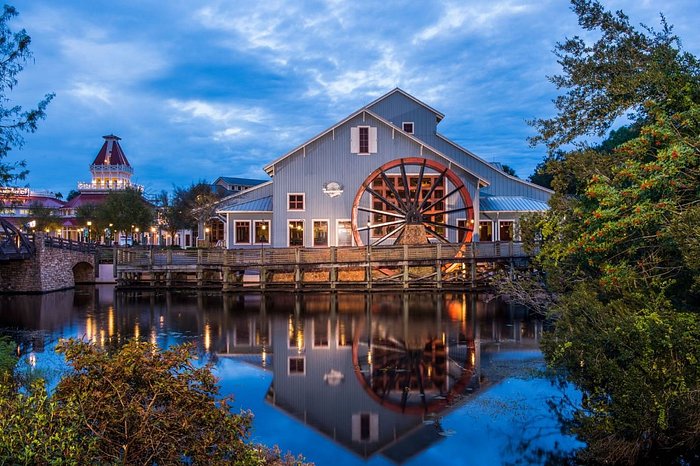 Being a smaller resort, it's also quicker to get to your room- which is no minor consideration if you have heavy bags to carry!
It is also fun-sized enough to have just a single bus stop, which makes the ride into the Park friendly and quick each morning.
Disney's Port Orleans Resort- Riverside
This moderate Disney Resort features rustic weathered lodges and buildings that mimic the grand homes of the old Southern plantations.
Many scenic pathways stretch through the bayou wilderness, making you think you could be in an 1880s Lousianna port and not a modern-day Disney facility.
It's very well done here and quite remarkable in scope. Riverside will be especially appreciated by adults or families with older kids and teenagers.
The landscaping is fantastic, especially with the mansions in the background providing an elegant old-world feel.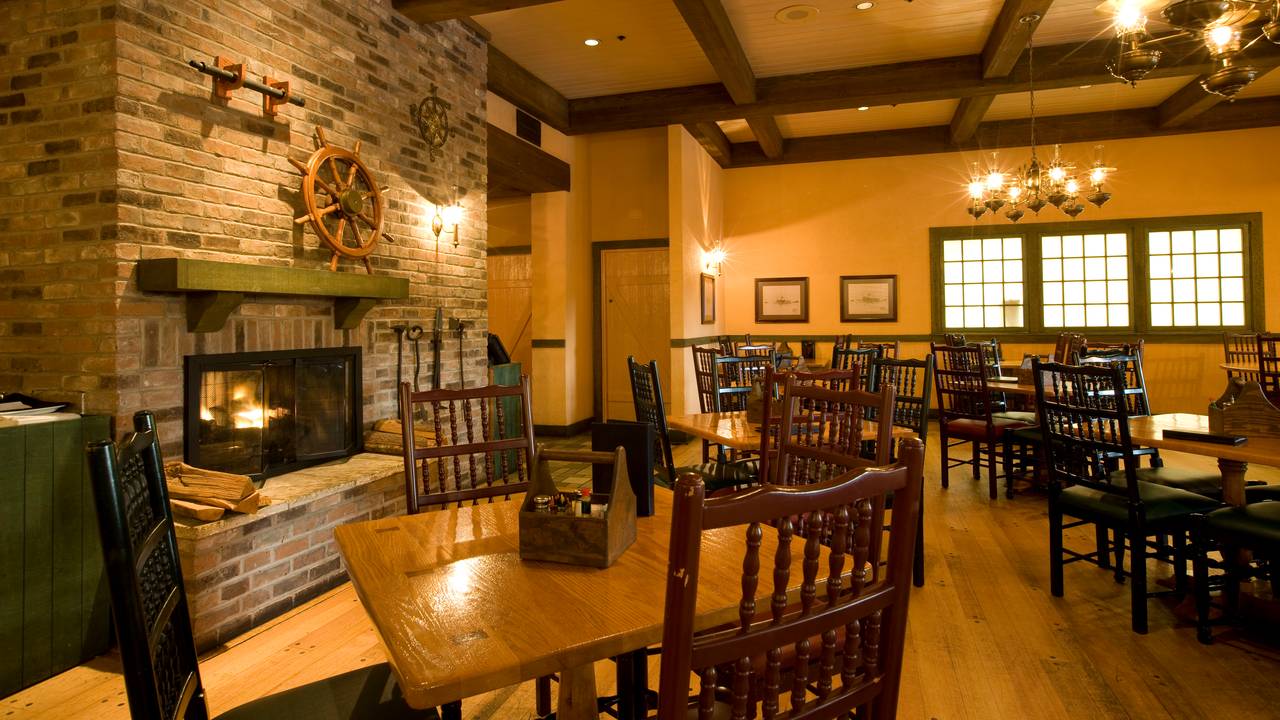 It's quite a large resort so wandering around the pathways and promenades on the river gives you a chance to unwind and immerse in the atmosphere they have so painstakingly created.
Disney's Coronado Springs Resort
This Mexican/American South West themed resort incorporates bright Spanish-influenced colours and architecture.
It has three separate areas- Casitas, Ranchos, and Cabanas- with exciting designs and stucco exteriors.
The Moderate resorts are probably the ones with the best amenities. These include a full-service spa and salon, two 24-hour gyms, jogging trails, painting classes, and a 22-person hot tub!
The pool is built around an impressive 50-foot Mayan pyramid replica, and the Latin fusion grill is also worth dining in!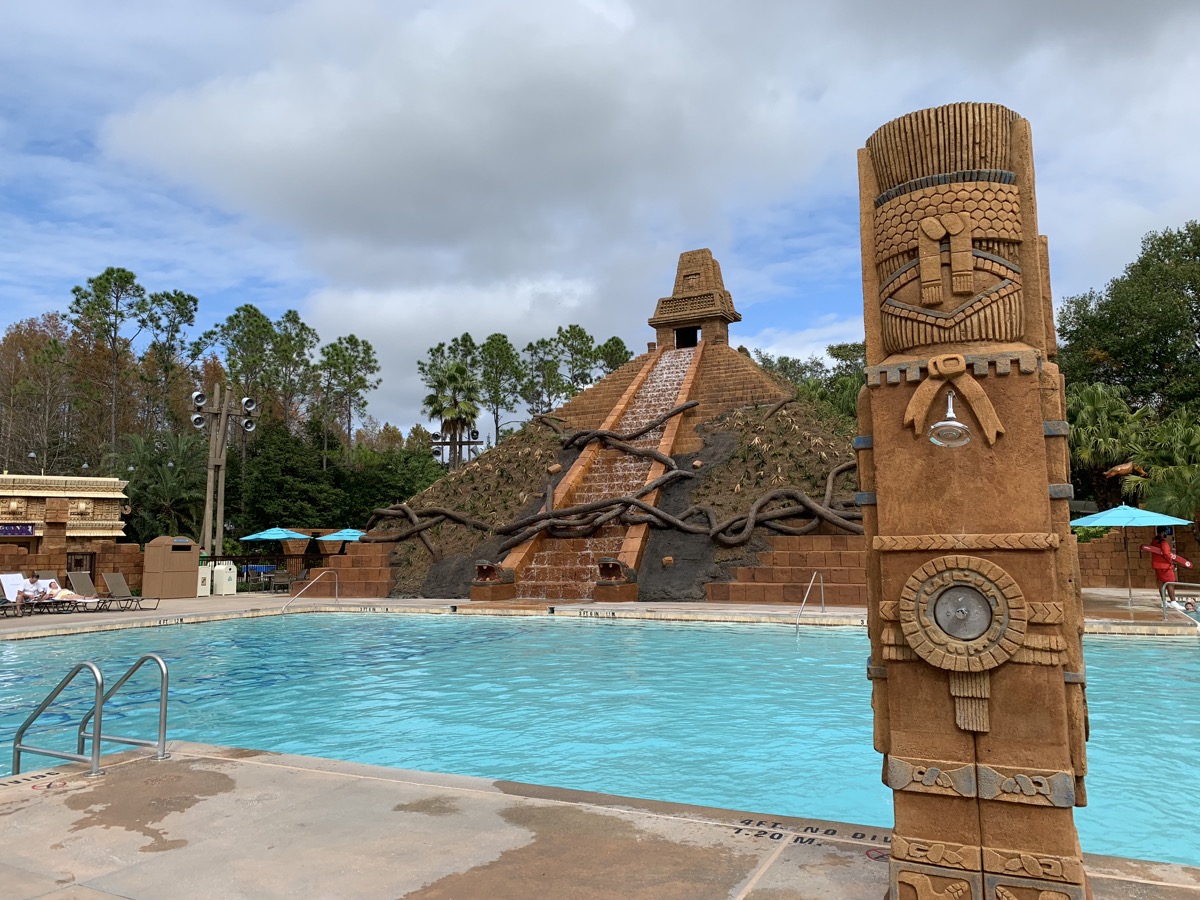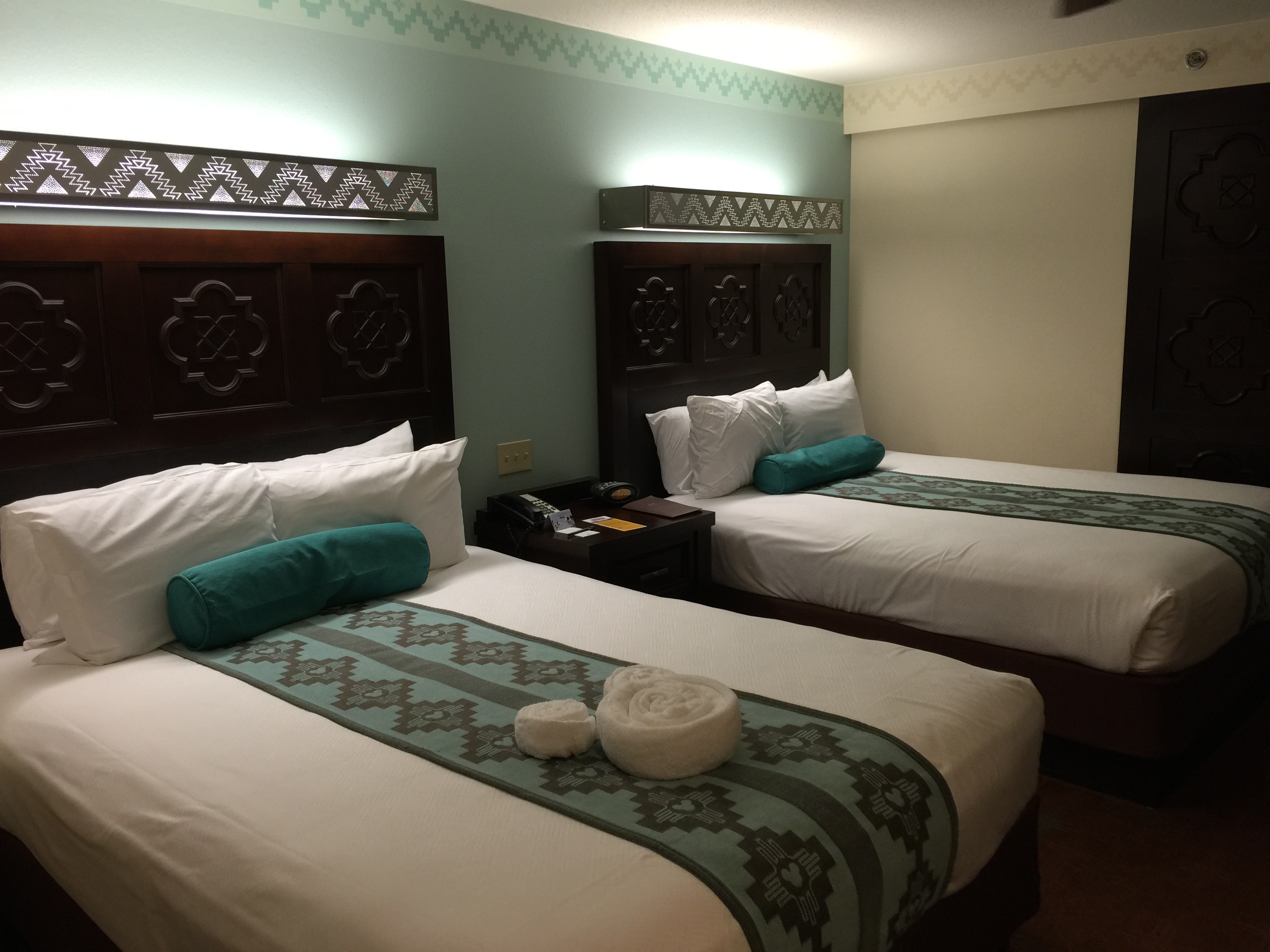 Make sure to try Toledo Tapas Steak & Seafood while you're here- a restaurant situated on a rooftop opening up to expansive views of Walt Disney World while you dine.
This is also the only Disney Resort with a convention centre, so that you may find people here for business and pleasure. Some people might even feel they're staying in Vegas, not a Disney resort!
It is strongly geared towards convention guests and has amenities like Rix Sports Bar and Grill, which you don't usually expect to see inside a Disney Hotel.
On the accommodation side of things, Riverside has undergone an upgrade recently, and the rooms are top-notch.
The resort itself is vast, however, with multiple bus stops- making the trip into the park a lot longer than you'd want it to be in the mornings.
It's slightly more expensive than the other Moderate resorts, but you get a bunch more amenities for that extra cost.
Disney's Caribbean Beach Resort
With its six separate villages (each named after a Caribbean Island) around the 45-acre lake, you'll feel like you are on a Caribbean Island when you arrive here!
The central lake, known as Barefoot Bay, is surrounded by villages. It has tracks and paths leading from one to another, perfect for strolling, jogging, and biking.
Right in the centre of the lake and accessible by a footbridge is Caribbean Cay, a playground for children and a family picnic area.
Suppose you are travelling with small kids or teenagers and want something that will appeal to everybody; this resort nails it with everything from water activities to beach bars. It even has pirate-themed bedrooms that the kids (and big kids like you) will love!
The pool is modelled on an old Spanish fort with an 82-foot water slide that starts inside the fort and comes out into the reservoir through a hole in the wall.
The shoreline also provides ample space to play beach volleyball and rent watercraft. You could also choose to relax in one of the pool bars or grab a bite to eat at the quick service and dine-in restaurants dotted along the sandy beaches.
The food here is delicious, with classic food court options and the Caribbean and Latin-based cuisine that fits in seamlessly with the overall theme. Check out the Banana Cabana for a fun option too!
Each of the six villages has a themed swimming pool, complete with water slides, cannons, and even waterfalls.
This is a fun and affordable resort that comes complimentary with a view of the Epcot fireworks in the evening, and it has less of a motel feel than the Value resorts.
This resort is also the "home" of the Disney Skyliner, which is the perfect way to get to Epcot and Hollywood Studios.
The drawback is that there are seven bus stops if you choose to catch the bus to the park each day.
The Cabins at Disney's Fort Wilderness Resort
If the great outdoors appeals to your family- this is the resort for you!
At this Resort, you'll find the cabins spread out through 750 acres of Fort Wilderness' "Frontier".
You'll be able to enjoy complete privacy and feel separated from the other guests when you retreat to your log cabin each evening.
This Moderate resort is considered the most expensive of the Five, but you get a private cabin and a ton of activities to do on-site daily.
Each cabin sleeps six, which is excellent for more prominent families. Each also contains a full-sized kitchen, queen size bed, bunks, and a double sofa sleeper.
You can pre-order a pantry full of food before arrival if you like to cook!
This resort allows kids to get out into nature and ride their bikes around the campground. It's also dog-friendly for those who want to bring the family pup along on holiday.
Some unique activities available at the resort, such as boat and bike rentals, hiking trails to explore, pony rides and a campfire sing-along, are also available for the cowboys and girls.
This resort also has a pool with a corkscrew water slide, a whirlpool spa, and a country-themed show called the Hoop-Dee-Doo Musical Revue that comes with an all-you-can-eat meal as well!
Regarding making your way around the resort: The size of the campground is excellent for kids, but it can make getting around by bus a touch slow.
You can also decide to rent out a golf cart to travel in or go on a fantastic boat ride if you want an alternative travel experience
Conclusion
Choosing a Disney Moderate Resort isn't always easy.
They're all quite different and have unique advantages and disadvantages. Their themes can also vary from something you'll either adore adamantly- or thoroughly dislike.
We hope that a closer look at what each resort in this category offers will help you decide which of the five Moderate resorts will suit your once-in-a-lifetime trip the best.
Or, just maybe- we've helped you decide that you'll have a holiday at each of them!
What we can assure you of is that you'll love them all, no matter which one you ultimately choose this time round.
May all your dreams come true very soon in a Disney Moderate Resort!
More about our TFVG Author