Florida is among most families' favorite travel destinations, and it's all for good reasons. From natural wonders to historic stops, the Sunshine City offers limitless fun things to do for outdoor lovers. 
For many travelers, playing golf is on top of their to-do lists in Florida, alongside visiting theme parks or watching gators. But with so many golf resorts, finding a family-friendly option becomes a challenge.
We have compiled a list of the top 9 family-friendly golf resorts in Florida to simplify your search.
Hilton Sandestin Golf and Beach Resort
Sandestin Golf and Beach Resort is a 4-star resort, thanks to their fantastic customer services and affordable prices.  What we loved most about this resort is that it's just a few meters from Miramar Beach. So, you will always have somewhere to go cool off on the sugar-white sands after the game.
Hilton Sandestin always has amazing family deals. They have a family package that lets your whole family enjoy the game at affordable rates. Even better, the resort provides junior golf programs. Therefore, you don't have to worry about your young one getting bored as the rest of you enjoy the game.
Their package includes unlimited use of their facility for practice before the game. Children below 12 years can have endless fun at Baytown at no charge.
Sandestin has babysitting services, something that you will barely find in other resorts. You can dive into deep fun with your older kids and spouse, with peace of mind knowing that your little one is in good hands.
The resort features a family-friendly pool, a fitness center, and ample accommodation options. All the rooms have AC to keep your entire family comfortable despite the steamy weather in Florida. You will love their family meals options. The best part is kids below 10 get complimentary breakfast, which saves you some bucks.
You can quickly notice the cleanliness of the entire facility, including the pools and decks. You will definitely feel safe throughout your stay.
PGA National Resort & Spa
PGA should be on top of your list if you are looking for a quiet yet fun family getaway destination. The resort is a few meters from Palm Beach for fantastic scenery and breeze.
PGA is mainly known for the infamous Bear Trap and Honda Classic. They recently updated their games to offer a more challenging yet fun playing experience. Luxury in this resort is a standard, and golf is not just a game but a lifestyle.
The resort offers six championship golf courses. They pride themselves in top-class facilities to accommodate families, regardless of the age of the kids. The main thing that attracted us to this resort is that it's pet-friendly. This is not something that you can easily find in other resorts, which forces families to leave their fur friends behind.
Besides golf, PGA has a tennis court, a bar, a fitness center, and a pool. You will always be occupied with fun things to do with your family throughout your stay. The staff is professional but friendly – always ready to help. Their meals suit all family members, and they have a section for kids' fun time like the swimming pool, and they may also learn how to play golf.
After a tiresome game, the resort has a SPA that offers unlimited treatments. They have a private lounge equipped with a sauna and steam.
You may choose to head downtime for fun in the evening or stay at the resort for a sumptuous dinner followed by cocktails as you wind up the day.
PGA Village
PGA Village made it to the top 75 resorts in America, credits to its amazing customer services and ambiance. Located in Port St. Lucie, this resort has a golf club run by the PGA of America. Therefore, if you are a beginner hoping to learn golf or join veterans to guide you in the amazing journey, this is the place to be.
The resort offers six courses that include the PGA Country Club and the short course. The best part is you don't have to pay a penny for the short course. They also have a kids' golf program, which features shorter tees than the standard adult tees.
PGA Village is also an excellent spot for family lunch. The people and the views are lovable, and the ambiance is just what you need for a relaxed afternoon with family.
The courses are a bit challenging, but this makes them interesting to play. You will always want to go back to improve your skills and meet new people.
The most outstanding aspect of this resort, besides the golf course, is the greens. We have to admit that it is the most mature green we've come across. The prices are also quite reasonable.
Be sure to carry lots of golf balls and, if possible, get a playing partner who understands the course. That's all you need for a day filled with fun and thrill.
Origins Golf Club
Origins Golf Club is along the Emerald Coast. You will love the breeze and scenery from the resort, making it the perfect destination after a long, tiresome weekend. The club is open to guests, Watersound Club Members, and the public.
The golf club features a six-hole regulation course. Depending on your skills, you may choose the executive course that features nine holes or the ten-hole oar course. The course is made with juniors' best interests at heart. You can take your kids there during free days to keep them engaged and help them acquire a skill.
Although the course is a bit tough for beginners, you're guaranteed a lot of fun and thrill as you shape your skills.
We loved that there were no houses on the course, making it natural and easy to play. The course is reasonably priced, especially if you wish to play for a couple of hours. The double greens and track make playing in the Origins Golf Club more interesting.
The staff is quite friendly and accommodating. You can count on them for help when you feel stuck. The club is quiet and never crowded, well-groomed, and clean to make you feel safe.
After a few rounds of golf, head to the diner in Watersound Origins. Although it's small, their meals at the diner are tasty and family-friendly. Their sandwiches are fresh, and so is everything else. The diner has a great outdoor porch where you can relax as you catch up with your family.
Innisbrook Golf Resort
Located in Tampa, FL, there is everything to love about Innisbrook Golf Resort. Not only was this golf resort among the top 75 golf resorts in America, but also, it appeared among the top '100 Courses You Can Play on the Golf Magazine.
Innisbrook is among a few of the celebrated golf resorts in Florida. It gets even better with the recent multi-million renovations aimed to make the facility a better and more family-friendly destination. The resort features a spa for treatment after several rounds of golf, kids-friendly swimming pools, ponds, bars, and tons of fun activities.
They recently added a restaurant, upgraded the clubhouses, golf courses, lodging, and more recreational activities like tennis.
Innisbrook is your ideal destination for unique, challenging, yet exciting courses. Each of the courses features unique personalities.
Some of the aspects that you will notice in all courses include the perfect lush, colorful and well-maintained landscape, unique putting surfaces, presence of wildlife such as alligators and squirrels, rolling fairways, and spectacular scenery.
Innisbrook reflects a setting of nature and its beauty. It is an excellent place for fun with family as you relax after a long week. Besides the exciting golf courses, we loved the spacious accommodation rooms to give you a home away from home kind of experience.
What's more? You will love their cuisine that ranges from light salads to seafood and steaks. Their meals are prepared with everyone's needs at heart, including the kids.
The resort is a perfect venue for fun events such as birthday parties and weddings. Their friendly staff can prepare custom picnic baskets.
Later in the day, head to Osprey Bar for drinks and further entertainment. You also get to catch the sunset with your loved ones.
Sandpiper Bay
Sandpiper Bay is an all-inclusive resort known for convenience, comfort, and familiarity. The resort is amid spectacular lush vegetation along the St. Lucie River. We mostly loved the climate that makes any day a perfect golf moment.
Sandpiper Bay is a suitable destination for an active family getaway. It has an adult-exclusive pool with a bar and tons of fun activities for kids.
For bread lovers, you should purposely head to Sandpiper to try out their chocolate bread. You are even allowed to carry some slices or get their recipe to try at home.
Besides golf, the resort offers a morning yoga session at the zen pool. The site is surrounded by sounds and sights of the spectacular Florida morning as the sun rises.
Evenings are set for catching sunsets. Hop on the Floridian Sunset Cruise along St. Lucie River with your loved ones as you end the day.
The resort offers babysitting services to allow you to have all fun without worrying about your little one. They also have a fitness center, air conditioning, and free breakfast.
Make the most out of your getaway to discover golf, tennis, and fitness with the amazing and trained coaches from Club Med Academies. The resort has fantastic and accommodating staff. Their food is spot on, and you will mostly love their hybrid buffet.
You may take a stroll outside the resort and head to the palm beaches with your kids. You'll be making unforgettable memories.
Omni Amelia Island Resort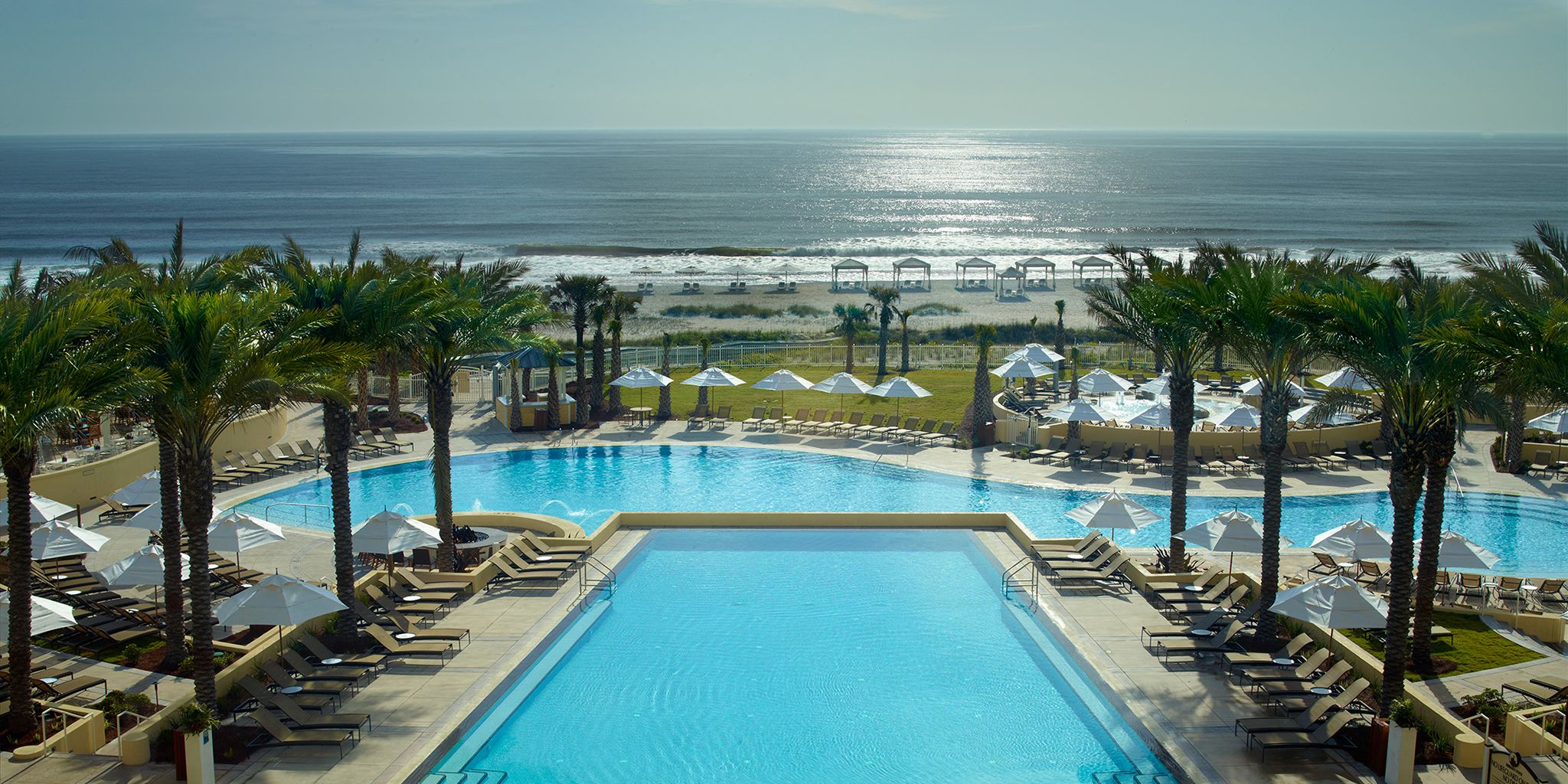 This 4.5 star rated golf resort was also among the Top 75 Resort Courses in America. The resort strives to offer a first-class golf experience that's inclusive for everyone regardless of their age.
Omni Amelia Island Resort features a Pete Dye-designed golf course. It provides guests with an exclusive course with top-class features. If you are a golf beginner, this is the perfect place to improve your skills. They offer private instructions, a golf pro-shop, and a range of rental equipment to ease your learning process.
The resort features a Spa and Salon to keep your family happy and relaxed. Moreover, you will find a fitness center to help you stay active and 23-tennis courts for unending fun.
One of the things that stood out to us was the kids club, where parents or guardians can drop their kids and go about their fun activities on the other side of the resort. Furthermore, they have a splash pad and a video game lounge, where you stay active after a tiresome round at the golf course.
Their prices are reasonable, and you are sure to get the best value for your money. Dining and accommodation in this resort are top-rated.
The property is well-maintained. And the fact that it's located right on the beach is a plus. The ambiance and atmosphere are precisely what you need to unwind and get away from the work, school, and home chaos.
The drink services at the resort pools are to die for. You may head out to eat or dine at 5je Oceanside or Steak & Chop for deliciously satisfying meals.
The facility is quite spacious. It takes a decent walk from the hotel room to the restaurant or the pool.
Ponte Vedra Inn & Club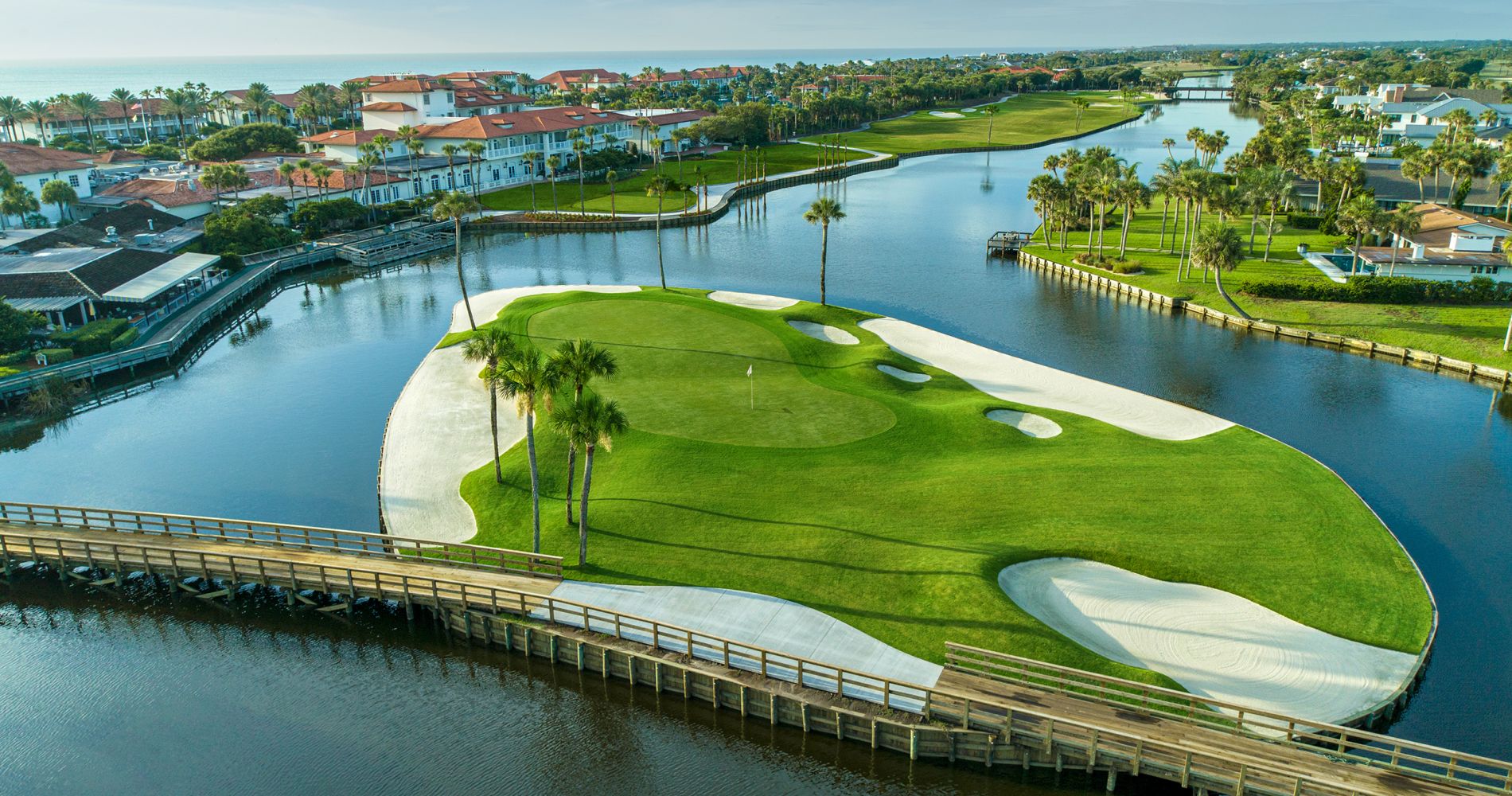 Ponte Vedra is probably one of the oldest resorts that have maintained its reputation to date. The resort has been known for offering luxurious and family-friendly activities for over 90 years.
Ponte Vedra is on the northwest coast of Florida along Ponte Vedra Beach. It is a suitable destination for families looking for an elevated coastal retreat. The atmosphere is all you need for a romantic getaway with your loved one or to relax on holiday after a couple of chaotic months.
From golf to tennis, Ponte Vedra offers endless amenities and fun activities for families. Treat your loved ones to a sensational and relaxing day at the spa or get active on the resort's beach, which stretches for miles.
Your stay at Ponte Vedra is not complete without checking in at the Ponte Vedra Inn & Club for dinner with a view. You may choose to either dine at their property or head to one of the numerous casual restaurants, bars and lounges around.
Don't miss out on the oceanfront golf at the Lagoon and Ocean courses. The courses offer players unique challenges such as dramatic contours and water obstacles. This is a chance to try something different and challenge your skills.
The resort offers rental bicycles, a fitness center, and beach access for active families, all with kid-friendly activities.
You should check in at The Seahorse Grille for a once-in-a-lifetime treat. The food and the Atlantic coastline views will complete your visit to the resort.
The Ritz – Carlton Orlando, Grande Lakes
You cannot afford to miss the 18-hole championship course at the Ritz Carlton Orlando. The resort has been a go-to destination for golf players and spectators for years, and this is a chance for you to create life-long memories with your family.
Their golf course is challenging but playable by all skill levels. It features detailed instructions, a golf shop, and practice facilities to make it less challenging.
Give yourself and your loved ones a sensational treat at their oasis-like spa. Experience first-hand luxury through the limitless amenities and bespoke amenities that you can barely find elsewhere.
After several rounds of golf, you may head to the Shingle Pond for fishing. Soak into nature on the professionally contoured greens. The resort offers convenient rental packages to enable everyone to play.
Other fun activities to engage in include pedal boating, bocce ball, surrey bikes, and Kayaking. Take the boat and tour through Shingle Creek. And head to the resort's private pool cabanas for an inspiring experience.
Kids will love it here. They get a chance to learn and understand the history of Florida. The kids' experience is based on environmental responsibility, water, and land. The hotel provides a captivating chance for the kids through arts and crafts, storytelling, and physical activities. The kids' program has a range of activities designed for children aged 4-12.
Ritz – Carlton is located only a few miles from Walt Disney World, and you know what that means if you have your kids along. You can make their dream come true on your way to or from the resort.
Their meals are made to accommodate everyone. The resort offers brasserie, Italian, and sushi cuisines. Their services are spot on, and they have an oversize hot tub where you can spend as much time as you need to relax.
The resort has incredible accommodation. The rooms have air-conditioning, are spotlessly clean and well-kept.
A visit to Ritz Carlton is your chance to upgrade your club experience. Enjoy complimentary meals and beverages. The staff is professional and accommodating. You will undoubtedly want to go back.
More about our TFVG Author
Karly is a The Family Vacation Guide guest travel contributor.