The Sunshine State isn't only known for its warm rays; it's also the global mecca for theme parks. The biggest brands all make their home in Florida, including Walt Disney World Resort, Universal Orlando Resort, Busch Gardens, and LEGOLAND.
And whilst Orlando is undoubtedly Florida's theme park capital, it's the perfect place to base yourself during your vacation, whether that's in one of the hotels near Disney World or a little further away (International Drive comes highly recommended for families, too).
When you're planning a vacation, though, you have to make tough choices about how to spend your time. That's why we've compiled this ranking of the ten best theme parks throughout the entire state.
We'll highlight the overall feel of the park, key attractions, and more, so you can make the best choices for your exciting vacation!
If you're a fan of the theme parks, you'll also love our guide to Florida's best waterparks and our guide to the best things to do in Florida with kids.
1. Walt Disney's Magic Kingdom
1-Day Tickets: $109
First on our list of Florida's theme parks is Disney's Magic Kingdom. From its iconic, towering castle to the attractions we've loved for decades, the original is truly the best when it comes to Florida theme parks. It isn't just that the Magic Kingdom is beloved for its nostalgic quality, though. It exceeds our expectations for a theme park across the board.
Disney's Magic Kingdom is separated into six distinct areas (called "lands"), which extend out and around Main Street, U.S.A., and the park's entrance. Each is impeccably themed, and the transitions between them are so seamless, you'll scarcely know you've made a transition. There's Adventure Land, Tomorrow Land, Fantasy Land, Frontier Land, and Liberty Square, in addition to Main Street.
One of the best things about Magic Kingdom is that it truly is enjoyable for all age groups. Some of the park's most beloved attractions, including Pirates of the Caribbean, the Jungle Cruise, and the Haunted Mansion, are appropriate for all ages and people with physical limitations. For thrill-seekers, tackle the three mountains: Space, Big Thunder, and Splash.
The Magic Kingdom has several sit-down restaurants and many quick-serve options for meals, snacks, and special treats. There are also several themed shops for lovers of everything from the princesses to outer space. You can visit meet-and-greets with some of your favorite classic Disney characters.
No trip to the greater Orlando area is complete without visiting the Magic Kingdom. It's an absolute must-see for visitors of all ages, no matter if it's your first or 10th time.
Check out our guide to how many days you need for Disney World to help you plan your visit without missing out on the park's top attractions.
2. Disney's Animal Kingdom
1-Day Tickets: $109
While Magic Kingdom is Disney's original park, Disney's Animal Kingdom is its newest. It was a longtime aspiration of Walt Disney himself to reimagine the traditional zoo. His dream finally came true on Earth Day in 1998, when the company that he began opened this beautiful park.
Disney's "Imagineers" paid meticulous attention to detail when they created Animal Kingdom. Everything from the carefully curated plant life to the markings on the sidewalks is designed to create a completely immersive experience.
The best part about Disney's Animal Kingdom is the animals themselves. Board a safari truck to see giraffes, rhinos, crocodiles, elephants, and much more. Watch a fantastic bird show, or walk one of the park's many walking trails to see gorillas, tigers, and other exotic animals around every corner. Disney consistently has a solid reputation for how they care for the animals.
There are plenty of rides, as well. Disney has recreated the fantastical land of Pandora, where Flight of Passage offers a thrilling, one-of-a-kind attraction. Expedition Everest roller coaster is incredibly smooth but scary, and Dinosaur transports you back in time millions of years to encounter the last moments of the dinosaurs.
Some of the Resort's favorite live entertainment is at Animal Kingdom as well. The Broadway-style Finding Nemo show and the Festival of the Lion King play to packed theaters several times each day.
There's plenty of delicious treats to be had throughout the park. Several spots feature unique Asian and African flavors and kid favorites like pizza and barbecue. Unusual shops also offer some of the best in-park shopping for decorative items especially.
3. Disney's Hollywood Studios
1-Day Tickets: $109
A few years ago, we may have listed Epcot ahead of Disney's Hollywood Studios, but since then, Disney has almost doubled the size of the park, adding multiple amazing attractions as well as Toy Story Land and, most significantly, Star Wars Galaxy's Edge. Now, it's home to some of Want Disney World Resort's most innovative attractions and is a must-visit for your next trip to Florida.
The park has some fabulous new attractions featuring some of Disney's most beloved characters. Ride Slinky Dog Dash in Toy Story Land or take a dream ride on the Millenium Falcon. Visitors love Mickey and Minnie's Runaway Railway, a new ride in the park's central plaza.
Finally, don't miss your chance to ride Rise of the Resistance, Disney's new and incredibly innovative attraction experience in Galaxy's Edge. It's unlike any other ride you've ever done before.
Don't forget about some of your old favorites with all of the new. You can still ride the Twilight Zone Tower of Terror, Rock'n Roller Coaster, and others. And speaking of classics, sample some classic California cuisine in old Hollywood style at the Brown Derby restaurant.
There are plenty of other places to grab a bite to eat in the park. Oga's Cantina has Star Wars and other-worldly beverages and snacks. There are several quick-serve counters as well that are convenient for families. A cult classic in the park is the creamy, delicious ice cream at Hollywood Scoops. 
4. Disney's Epcot
1-Day Tickets: $109
Disney's Epcot Park is undergoing several renovations, updates and will have several new attractions soon as well. Until then, though, it's our lowest-ranking of the Disney parks. That being said, it's still better than any of the other parks in the state.
Currently, Epcot is separated into two distinct areas: the World Showcase and FutureWorld. FutureWorld holds some of Disney's most thrilling rides, Mission: Space and Soarin' Around the World.
The World Showcase features 11 pavilions representing 11 countries, with representatives from all over the world staffing them. You can sample the flavors and dishes of each country, which almost all have sit-down and to-go restaurants. Each pavilion also features some kind of attraction that showcases the culture or history of the country too.
Back at the front of the park, kids will love the Journey Into Imagination and Spaceship Earth, the attraction located inside the large geosphere. Getting to go inside is cool enough!
Disney has very much designed Epcot to be a foodie destination. There are dozens of acclaimed restaurants throughout the park, and Disney's chefs have worked hard to curate specialty menus.
In the coming several months and years, many new attractions will open at Epcot, as well as a partial redesign of the entryway and much of the park itself.
5. Universal's Islands of Adventure
2-Park 1-Day Tickets
Adults: $164
Children: $159
Universal's Islands of Adventure theme park and its sister park, Universal Studios Florida, are Disney's biggest competitors in central Florida. First and foremost, Islands of Adventure is a roller coaster park, and some of the most exciting attractions are inside its gates.
The Incredible Hulk Coaster is one of the most exciting for sure, but even it pales in comparison to the Jurassic World VelociCoaster, Florida's tallest launch coaster which just opened in 2021. You'll experience the sheer adrenaline of being involved in a race for your life from velociraptors.
Islands of Adventure is also home to one part of the Wizarding World of Harry Potter. You'll be in awe as Hogwarts School of Witchcraft and Wizardry appear on the horizon in the village of Hogsmead. Walk through the castle in line to ride Harry Potter and the Forbidden Journey. Walk the streets of Hogsmeade and browse its shops and restaurants. You can even purchase your own wand and become part of the magic yourself.
Harry Potter fans should be sure not to miss Hagrid's Magical Creatures Motorbike Adventure, one of the most thrilling experiences in all ten parks on this list. When you've had your fill, you can ride the Hogwarts Express back to King's Cross Station to visit Diagon Alley (admission to both parks required).
There are many other rides and attractions for all of your family members, in addition to multiple dining options, shows, shops, and more.
6. Universal Studios Florida
2-Park 1-Day Tickets
Adults: $164
Children: $159
Universal Studios Florida is located directly next door to Islands of Adventure. The two are connected by walking paths and the two halves of the Wizarding World of Harry Potter. Outside of this popular area of the park, there is plenty else to see and do.
Universal Studios focuses more on films and Hollywood-style attractions, much like its predecessor, Universal Studios Hollywood. The whole family will love Despicable Me Minion Mayhem and Shrek 4-D. You can also transport yourself into the world of The Simpsons.
Thrill-seekers will love Revenge of the Mummy and Hollywood Rip Ride Rocket. The famous Wizarding World of Harry Potter attraction Escape from Gringotts is also located in Universal Studios. When you're done, be sure to walk through Diagon Alley and perhaps take a wrong turn down Knockturn Alley, if you dare.
You can enjoy a hot meal and Butterbeer at the Leaky Cauldron or dine at one of the park's other dozens of restaurants, quick counters, or eateries, such as Cafe La Bamba or the Duff Brewery. Don't miss shows, character meet-and-greets, and much more, as well as special annual events.
Nearby to these two theme parks are also several hotels owned and managed by Universal with special in-park perks and Volcano Bay, Universal's waterpark meant for kids and adults alike.
7. Busch Gardens Tampa Bay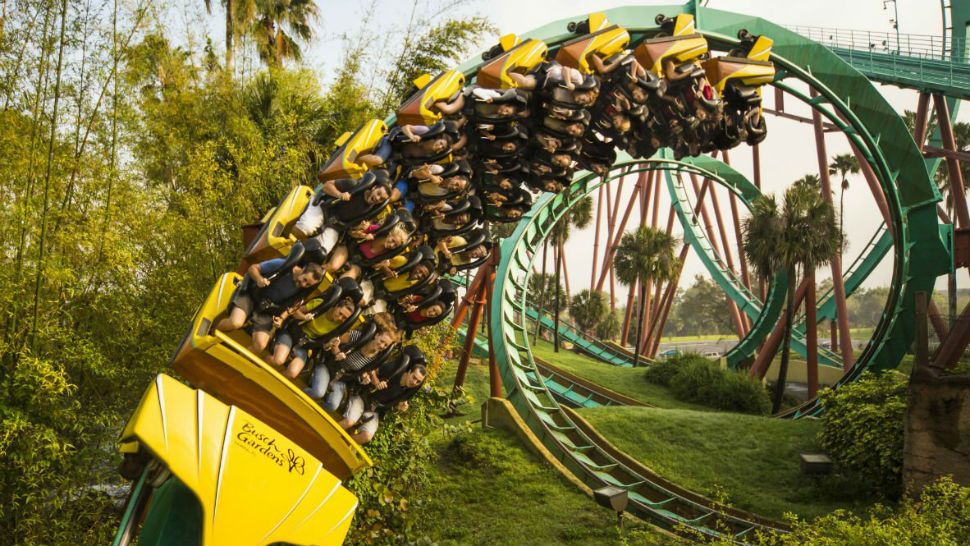 1-Day Ticket: $89.99
1-Day Ticket + Dining: $119.99
Unlike most of the other parks on this list, Busch Gardens Tampa Bay isn't located in central Florida. You'll have to make your way to the Gulf Coast and Tampa to visit, but it's well worth the trip. This animal theme park is 335 acres and African-themed.
Busch Gardens Parks are at least in part known for their incredible roller coasters, and its Tampa park does not disappoint. More than ten coasters in the park include Kumba, Montu, Tigris, and the brand-new Iron Gwazi, the world's fastest and tallest hybrid coaster.
There are plenty of attractions for less adventurous visitors, as well, including the Wild Surge, Stanley Falls Flume, and more. Best of all, there are many opportunities to see exotic and unusual animals, such as sloths, cheetahs, gorillas, elephants, penguins, flamingos, and much more.
If you want to impress your family and create memories to last a lifetime, you can book an animal experience, tour, or encounter. Imagine the beautiful family portraits! There are also several shows and special events almost every day of the year. Visit in the fall for Howl-O-Scream, summertime for Summer Nights, or check out their website for more special events.
Busch Gardens offers many dining options, including snacks, bars, quick-serve restaurants, and full-service restaurants. You can also purchase a quick queue pass, which allows you to bypass the lines for some of the park's most popular attractions.
8. SeaWorld Orlando
1-Day Ticket: $89.99
SeaWorld is known for blending the classic theme park with rides and an incredible aquarium experience for its visitors. SeaWorld is perhaps best known for its famous shows featuring whales, dolphins, and other marine animals. However, they've also worked to repair damage to our oceans and protect sea life in recent years.
In terms of rides, there are perfect attractions for both little kids and roller coaster junkies. Face the mighty Kraken coaster, the Manta, where you'll fly through the air like a stingray swims, and Journey to Atlantis, the towering centerpiece of the park. Fitting with the theme, there are several water attractions as well, such as Infinity Falls.
We love Super Grover's Box Car Derby or the Sea Carousel for the whole family, and be sure to stop by Sesame Street Land to meet all your favorite characters. Best of all are the animal shows and experiences. Favorites include the Orca Encounter, Dolphin Adventures, and Rescue Tails.
You can also encounter amazing animals at the Jewel of the Sea Aquarium, the Penguin Empire, and the Manatee Rehabilitation Area. Don't miss Ignite, the Fireworks Spectacular. There are several dining options at SeaWorld as well, including fifteen dining spots.
Grab a sit-down meal at Voyager's Smokehouse or the Waterway Grille. There are several quick-service restaurants to feed the family, grab a cold drink or cup of coffee, and several bars for mom and dad to cool off.
9. LEGOLAND Florida Resort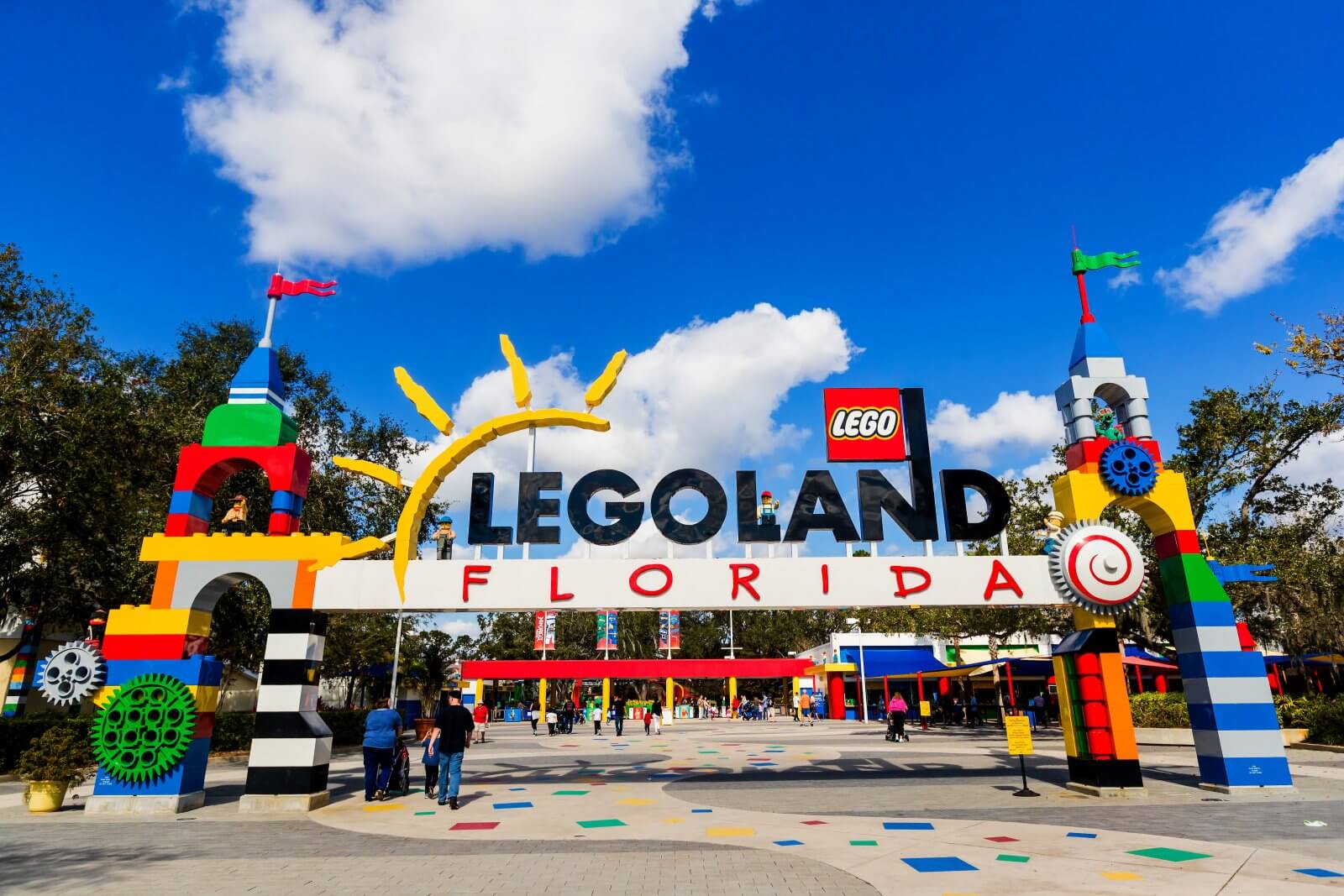 1-Day Park + Water Park Ticket: $109.99
1-Day Park Ticket: $84.99
Located in Winter Haven, LEGOLAND Florida Resort is about 45 minutes from the other central Florida theme parks. The LEGOLAND brand of theme parks has grown significantly in popularity in the last decade, and it's easy to see why.
LEGOLAND Florida Resort has several exciting thrill rides, but they mainly appeal to families with younger children. Many of their rides are on the milder side, most shows and attractions aren't especially frightening, and they have lots of interactive stuff going on.
Another reason parents love LEGOLAND is that its creators designed the hands-on parts of the park to be both fun and educational. Where else can you build your raft to float down a lazy river? It's located in LEGOLAND's water park. Many families with little ones like to go from the theme park to the water park. They spend a couple of hours tiring everyone out on rides and then spend some relaxing time by the water.
The theme park has more than 50 attractions, so it's more than possible to spend a couple of days there. Some of our favorites include the Coastersaurus, a gentle wooden roller coaster that's a great first for little ones. In addition, don't miss NINJAGO, an interactive 3-D ride that's one of a kind. There's also Masters of Flight, the Grand Carousel, the Lost Kingdom Adventure, and many more.
LEGOLAND Florida Resort offers an all-inclusive option that is unique among Florida theme parks. They have several of their own hotels that are also LEGO-themed. It's the perfect park for your toy-crazed kids.
10. Fun Spot America Theme Parks
1-Day Ticket: $48.95
1-Day Ticket + Sky-coaster Ride: $54.95
Fun Spot America Theme Parks have two park locations, both in central Florida. The first is in Orlando, and the other is in Kissimmee, closer to the Disney parks. Fun Spot offers a bit of a different experience from the others; in some ways, it is closer to a state fair atmosphere than a major corporate theme park.
Fun Spot differentiates itself from the major theme parks with which it knows it is competing. Instead of trying to be something they're not, though, Fun Spot embraces its carnivalesque atmosphere. It invites families to spend a day away from the intensity of the major theme parks to enjoy free parking, free admission, tickets for under $45, very short wait times, and a plethora of free events.
Don't get us wrong; Fun Spot still has some fantastic rides and attractions. For one thing, they boast the world's tallest sky coaster. There are other classics, such as bumper cars, a carousel, a wooden roller coaster, etc. They also have plenty of thrill junkies to love, too.
You can also visit Gatorland, home to hundreds of alligators and crocodiles. Or play games in the arcade with your family. Fun Spot is a perfect day trip for locals, and we recommend it for out-of-towners, too.
More about our TFVG Author
A seasoned traveller, Dad, and avid sports tourist, James foundered The Family Vacation Guide to share his expert vacation experiences- especially when it comes to being a travelling family man.
Featured in Travel articles such as Travel + Leisure, TripSavvy and SFGate, you know you're reading some of the best vacation tips online.