Since its opening in 2011, LEGOLAND has been one of the highlights for theme park enthusiasts who travel to what is arguably the world's most popular theme park location, Orlando, Florida.
Thrill rides, a LEGO-themed waterpark, and Duplo Valley for the younger kiddos are among the attractions that make LEGOLAND so much fun for the whole family. Also, the incredible Miniland is a sight to behold for LEGO enthusiasts, which features scale models of New York City, Washington DCs Mall, the space shuttle, and more.
LEGOLAND's popularity continues to grow year after year. In 2019, Legoland saw a near doubling of its attendance from 2011 to 15.7 million visitors. Naturally, several hotels cater to LEGOLAND's visitor traffic, and it can be hard to figure out which hotel might be best for you and your family to enjoy during your trip.
If you're planning a trip to LEGOLAND, arguably one of the best things to do with kids in Florida, you'll want to look for hotels near to the park. We've found the ten of the best hotels near LEGOLAND, Florida, to help you choose which one fits your family's needs, wants, and budget. 
1. LEGOLAND Florida Hotel
Do you want to be fully immersed in your LEGOLAND vacation? Then look no further than the LEGOLAND Florida Hotel. Situated inside the LEGOLAND park, this hotel keeps your LEGOLAND experience going throughout your stay.
Located just 130 steps from the park entrance, LEGOLAND Florida Hotel also includes a host of amenities, including free breakfast, free parking, LEGO-themed restaurants, and a LEGO-themed resort-style pool. In addition to these, LEGOLAND Florida Hotel also offers a host of genuinely unique perks, which include:
Separate kid's sleeping quarters in every room
All rooms LEGO-themed: Kingdom, Pirate, Adventure, LEGO Friends, or LEGO Movie
In-room scavenger hunt each day with prizes
Master LEGO builder workshop included
Nightly entertainment for kids

Room prices fluctuate with seasonal demand, and you can save money by purchasing all-inclusive hotel and resort ticket packages. For convenience and family fun, this is one to check out.
2. LEGOLAND Pirate Island Hotel
If you and your family dream of buried treasure and adventure on the high seas LEGO style, then the LEGOLAND Pirate Island Hotel would be a good place to stay. Pirate Island is not a place for scurvy landlubbers. It has everything you could want in a pirate-themed LEGOLAND vacation.
Like the LEGOLAND Florida Hotel, the Pirate Island Hotel is located on the LEGOLAND park site, and you have only a short walk to get to the park entrance. Your stay includes free breakfast, free parking, and easy access to the park. Also included on your voyage:
Pirate-themed rooms with separate kids sleeping quarters
In-room pirate treasure hunt for the kids
Nightly kid-themed entertainment
LEGO Master Builder workshop where you create your own lego masterpiece
Pirate-themed resort pool
LEGOLAND Pirate Island offers special all-inclusive package deals for its guests, which can include free souvenirs and admittance to the nearby Wildside Mini golf course. It's an all-around LEGO experience you and your family will remember.
3. LEGOLAND Beach Retreat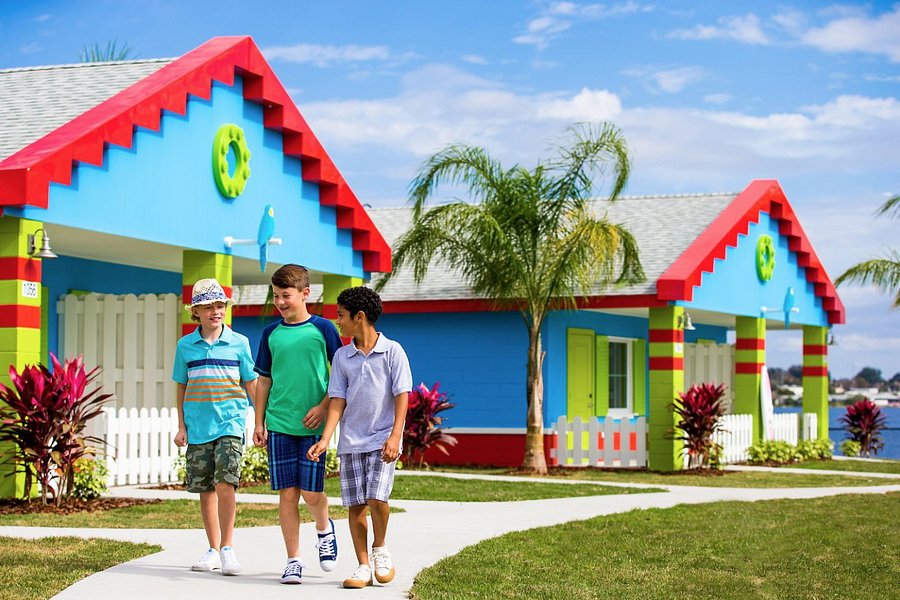 If you want a laid-back beach vibe for your LEGOLAND vacation, check out the LEGOLAND Beach Retreat. Situated on the shore of Lake Dexter, LEGOLAND Beach Retreat features cabana-style rooms, laid out in groups around a kids playground "cove". 
The pool area continues the beach theme with a sandy beach area and fire pit, and kids activities abound throughout the property. Free breakfast and parking are part of the hotel's amenities. A free shuttle service delivers guests to and from the park throughout the day, and the ride is just a couple of minutes each way.
Amenities include:
Free breakfast
Individual cabana-style rooms
Giant resort-style pool
Kids play area in each cabana cove
Free shuttle to LEGOLAND
Each room is its own cabana and features a separate kids' sleeping area. Like the other LEGOLAND Resort hotels, all-inclusive package deals are available.
LEGOLAND Beach Retreat is a seasonal hotel, so check availability for the dates you want to stay.
4. Holiday Inn Winter Haven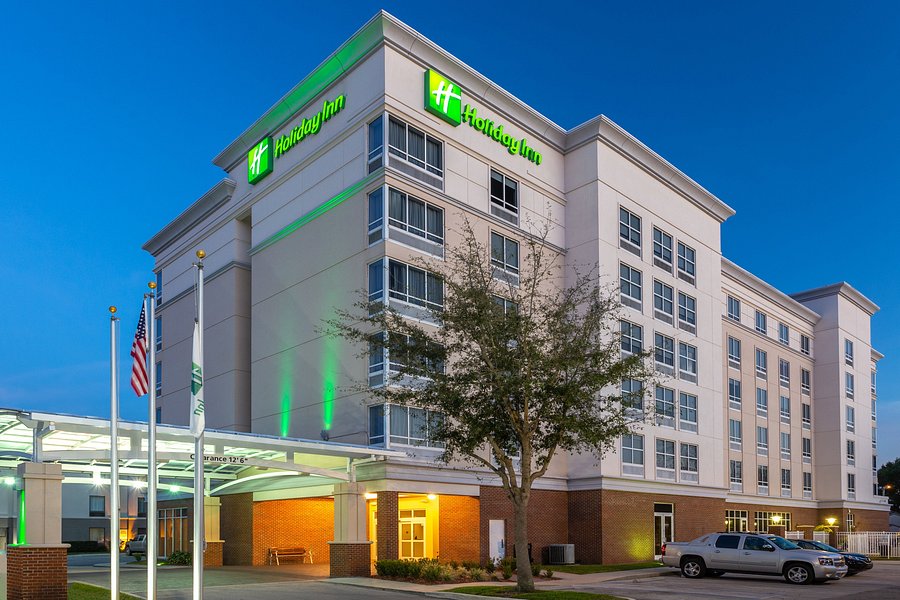 Located in close proximity to LEGOLAND, Holiday Inn Winter Haven is worth a look for those families looking for a hotel with ample amenities that are conveniently near your LEGOLAND vacation.
In addition to being close to LEGOLAND, the Holiday Inn Winter Haven provides easy access to both Orlando and Tampa. You can also purchase discounted tickets to the LEGOLAND theme park from the front desk, which will save you time and money.
They offer a number of room and suite options, and you can earn reward points and perks with your IHG Rewards membership. Some of the features of the Holiday Winter Haven include:
Discounted LEGOLAND tickets at the front desk
Free WiFi
Free parking
Free meals for children under 11
Outdoor pool
Fitness center
Conference room access
Hotel restaurant and bar with room service
This hotel is a good, budget-friendly option for those who plan on checking out more of the Orlando area.
5. Hampton Inn Winter Haven
Another solid choice for convenience, comfort, and accessibility is the Hampton Inn Winter Haven. Part of the Hilton Hotel group, the Hampton Inn Winter Haven is located just a few minutes drive from LEGOLAND, and has all the creature comforts you look for in a vacation stay.
While there, you can enjoy the fitness center, outdoor pool, and complimentary breakfast. Discounted LEGOLAND tickets are available at the front desk, and you can use your Hilton Honors rewards program to earn points and even free nights. At The Hampton In Winter Haven, you will find:
Free breakfast
Free in-room WiFi
Free Parking
Discounted LEGOLAND tickets
Outdoor pool
Fitness center
Business center
All rooms are non-smoking and recently updated.
6. Courtyard by Marriott Winter Haven 
Located on the shore of Lake Dexter and within walking distance to the LEGOLAND park entrance, the Courtyard by Marriott Winter Haven provides a beautiful and convenient setting for your LEGOLAND getaway.
At the hotel, you will find an outdoor pool set on the shore of Lake Dexter, a fitness center, and a 24-hour grab-and-go market for treats and sundries. The hotel has a bistro that offers breakfast options and signature Starbucks drinks for your morning and an evening cocktail bar and dinner fare. Local restaurant delivery to your room is available, and parking and WiFi are free.
Use your Marriott rewards to earn free nights while you enjoy the following offerings from The Courtyard by Marriott Winter Haven Hotel:
Free WiFi
Free Parking
Lakeside Pool
24-hour Fitness center
Outdoor cocktail bar
24-hour grab-and-go market
The Winter Haven is a good hotel to look at if you want an idyllic setting that's within walking distance to the LEGOLAND park. It has a sleek, contemporary feel, spacious rooms, and an outdoor cocktail bar.
7. Holiday Inn Express Lake Wales N- Winter Haven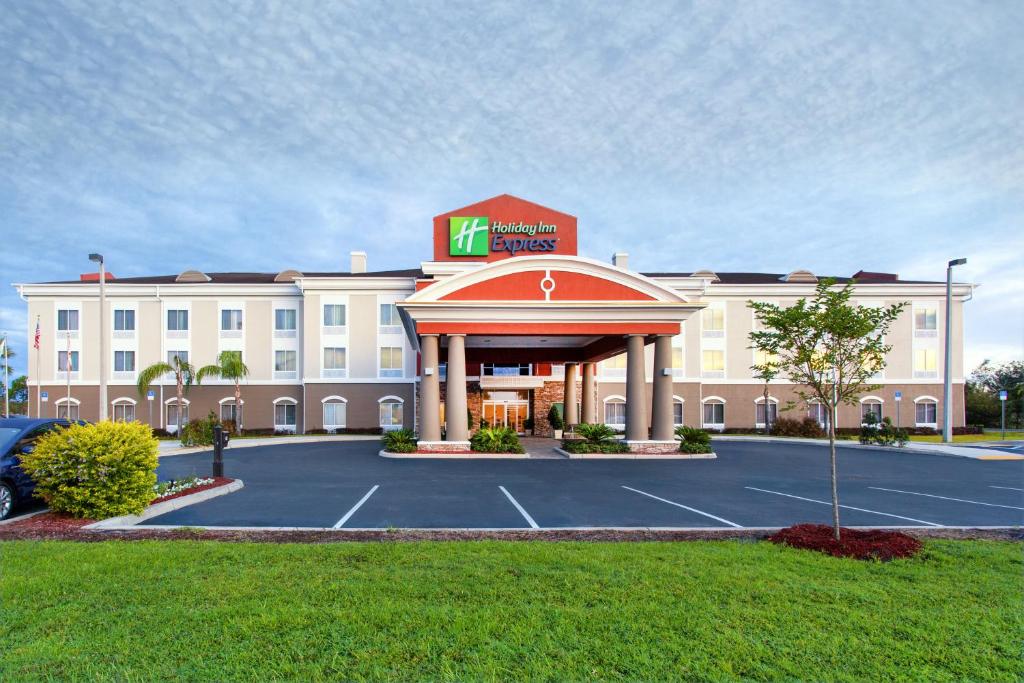 If you're looking for hotels near LEGOLAND, Florida, another option from the IHG hotel group is the Holiday Inn Express Lake Wales N- Winter Haven. It offers up all the quality and comfort you come to expect from a Holiday Inn, along with a great price and some good perks.
Located about a 10-minute drive from LEGOLAND, the Holiday Inn Express has everything you need to be comfortable for your stay in Orlando. It features a fitness center and outdoor pool, a free breakfast bar, and free WiFi and parking. A number of restaurants are within walking distance, and several have delivery service available straight to your room.
Multiple pillow options and a waffle bar are a couple of the fun things that Holiday Inn Express offers. Here is what else you can find at the Holiday Inn Express Lake Wales N- Winter Haven:

Free Parking
Free WiFi
Free Breakfast
Outdoor Pool
Fitness Center
Close-by restaurants for dine-in or delivery
Also, just like all Holiday Inn hotels and resorts, you can use your IHG rewards for room discounts or other exclusive offers.
8. Lake Roy Beach Inn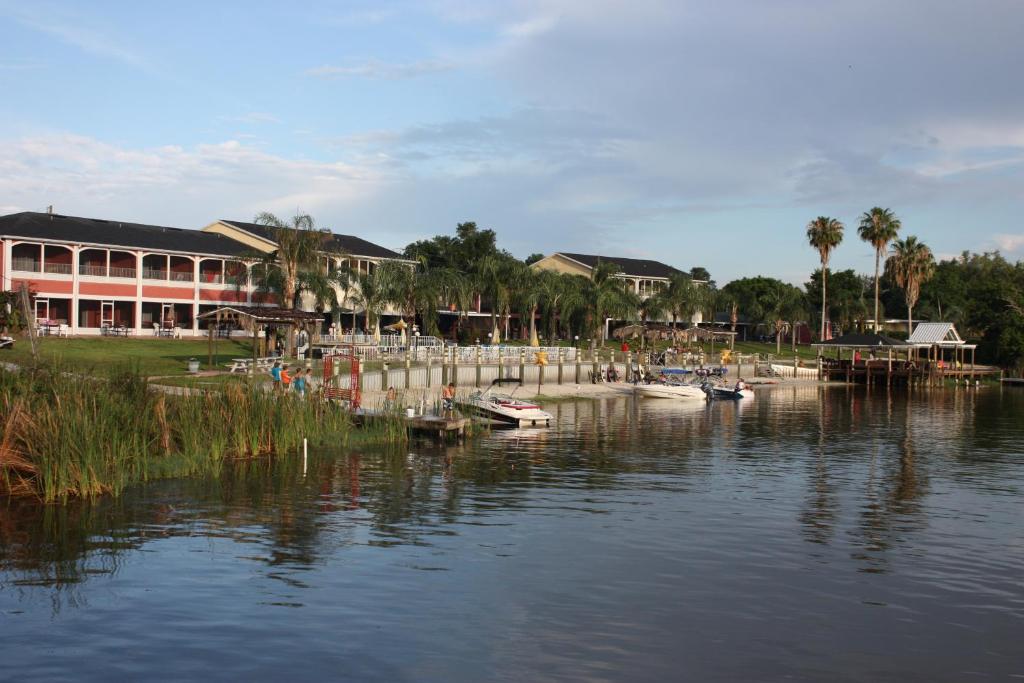 Strewn among the national chain hotels and situated on the shore of Lake Roy, the Lake Roy Beach Inn will give you a unique experience in a beautiful setting. Located just a couple of minutes from LEGOLAND, the Lake Roy Beach Inn has some amenities that no other hotel on the list offers.
You can sit by the lake on a private beach, enjoy the lakeside pool, or bring your boat out on the lake from the hotel's private boat launch. Lake Roy Beach Inn also offers several different room types, from a standard king or double room at competitive rates to a room that includes a kitchen to a deluxe townhouse suite that features a kitchen, private balconies, and multiple bathrooms.
Lake Roy Beach Inn offers:
Free parking
Free Boat and trailer parking
Private boat launch
Private beach on Lake Roy
Lakeside pool
In-room kitchens available
Lakeside gazebo for weddings or other events
Single floor layout
On-site laundry
For those families that want a more homey feel for their stay with the ability to cook their own meals, Lake Roy Beach Inn is a great choice. Also, if you have a boat and you want to enjoy a cruise on the lake, this hotel can accommodate you.
9. Winter Haven Gardens Inn and Banquet Center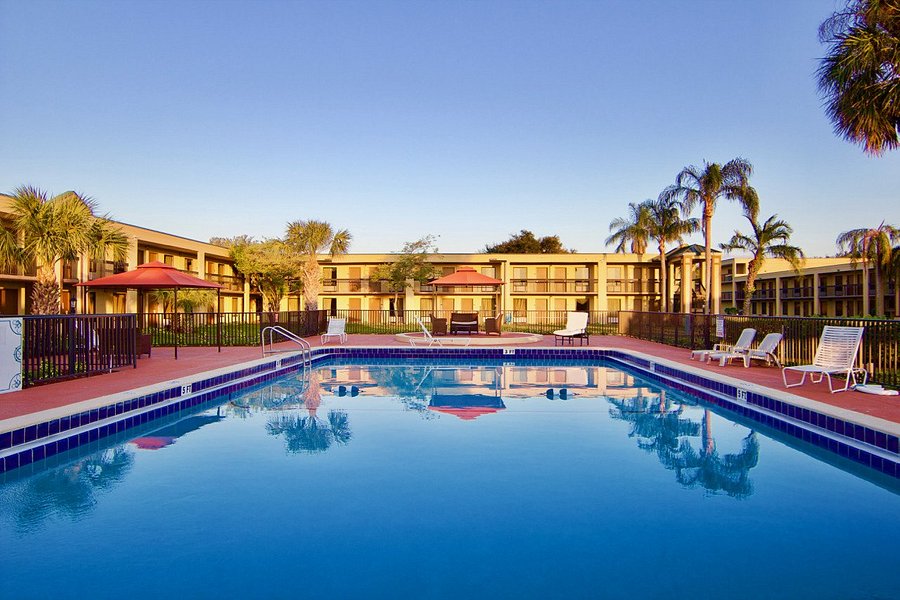 For a hotel with oodles of local charm and historic pedigree,  Winter Haven Gardens Inn and Banquet Center is worth a look. This unique property also boasts the lowest rates of all the hotels on the list.
Located just a few minutes from LEGOLAND, the Winter Haven Gardens Inn is a real charmer. Although the hotel is under renovation to provide modern comfort and style, it still retains its historic charm as the former residency for the Boston Red Sox during spring training. In its heyday, it was also a social hotspot during the bustle of spring training, a place where people would come to dine and dance with the players.
In its former capacity as an extended residence hotel for pro baseball teams, the Winter Haven Gardens Inn provides some extra features that make it special:
Large banquet hall for parties and events
Outdoor BBQ
Laundry facilities
Large rooms with refrigerators and microwaves
Free breakfast
Outdoor pool and tropical gardens on-site
This hotel would be worth considering if you are budget conscious, interested in historic landmarks, or need a place to host a special event while in town.
10. Howard Johnson by Wyndham Winter Haven
Finally on our list is the Howard Johnson by Wyndham Winter Haven. The thing that sets this hotel apart from all the others is that it is a pet-friendly hotel. If your furry companion is with you on your LEGOLAND adventure, consider this hotel.
This budget-friendly option is just a few minutes away from LEGOLAND and downtown Orlando and has all the qualities and amenities you look for in a vacation stay. Pets are welcome, plus they offer mobile check-in, free breakfast, an outdoor pool, and room service from their House of Wings restaurant. You can also use Wyndham rewards to save money and earn rewards points.
Here's what Howard Johnson Winter Garden has to offer:
Pet friendly
Mobile check-in
Free parking
Free breakfast
Outdoor pool
Free WiFi
Room service
Fitness center
It's got everything you look for in comfort and convenience, and they welcome pets to stay. So, if pets are part of the picture in your vacation plan, take a look at the Howard Johnson by Wyndham Winter Haven.
Conclusion
Are you looking for hotels near LEGOLAND, Florida? Whether you want a 24/7 LEGO experience with your hotel, are looking to relax on the shores of a picturesque lake, or have a stay in a historic hotel, we've got you covered. If you want to rack up rewards points with your favorite hotel chain, or if your family pet is in the picture for the holiday foray, we have an option. These hotels cover a wide array of budgets, amenities, and styles, so you are sure to find one that fits your family's individual tastes.
Check out each of these properties, they all have something special to offer and make your LEGOLAND Florida vacation one to remember.
More about our TFVG Author
A seasoned traveller, Dad, and avid sports tourist, James foundered The Family Vacation Guide to share his expert vacation experiences- especially when it comes to being a travelling family man.
Featured in Travel articles such as Travel + Leisure, TripSavvy and SFGate, you know you're reading some of the best vacation tips online.