The Magic Kingdom Theme Park- the first to be built at Walt Disney World located in Florida – is without a single doubt the place to visit!
You'll certainly not want to miss out on the music-filled parade hosted by Disney characters, or the captivating fireworks show in front of Cinderella's iconic, lit-up castle.
If you're about to visit the Magic Kingdom, deciding which attractions to try and what items to pack will undoubtedly take up the large majority of your planning time. Choosing between countless hotel options can become an afterthought!
Comfortable accommodation can make or break your visit, and you certainly wouldn't want to ruin your vacation.
Instead of stressing over what hotels to stay in, why don't you check out our recommendations below?
In this article, we're giving you a rundown of what we consider to be 7 of the best hotels near Magic Kingdom!
Four Seasons Resort Orlando at Walt Disney World Resort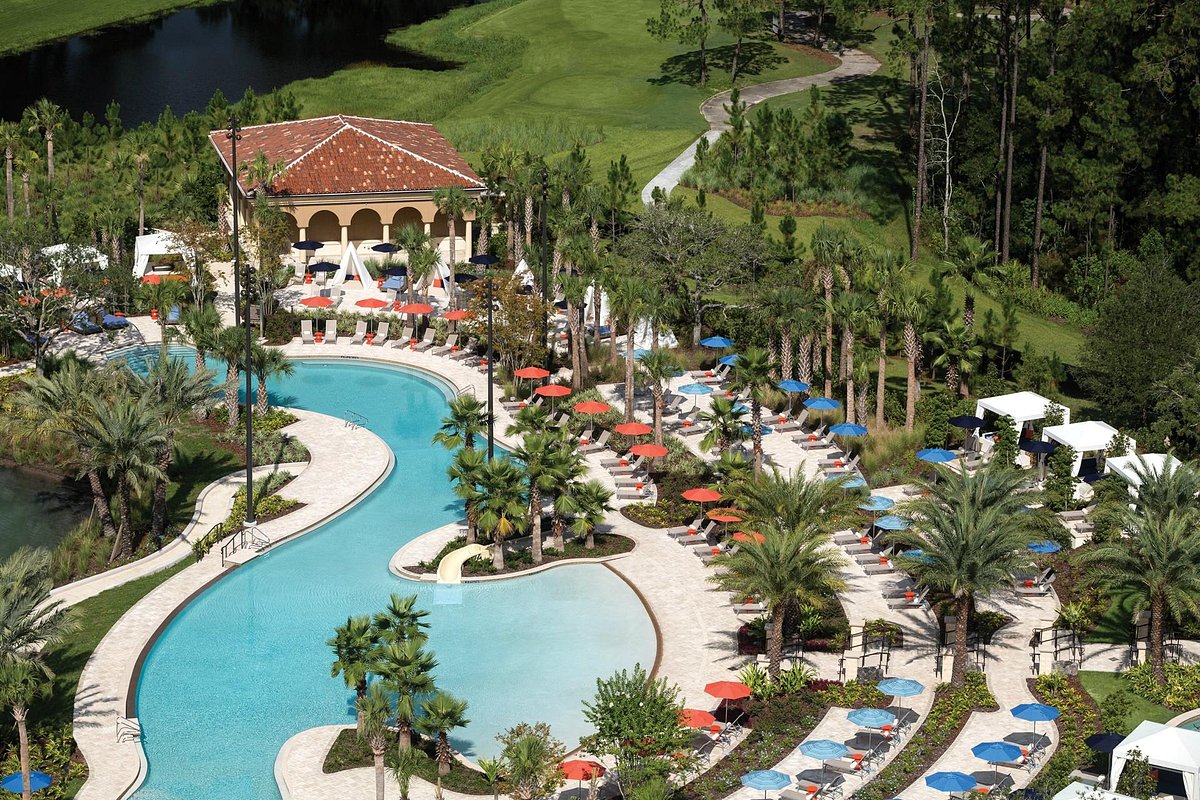 (10100 Dream Tree Blvd, Lake Buena Vista, Florida 32836 U.S.A)
If you're on the lookout for a highly personalized and premium stay with a Walt Disney World Fireworks view, book a stay at the Four Seasons Resort Orlando at Walt Disney World Resort!
Located only about four miles away from Magic Kingdom, the hotel's proximity provides an easier travel option for families after spending a full day at the park.
There's no need to worry about a long transit with exhausted kids back to the resort; Four Seasons Orlando offers complimentary transportation to and from the Ticket & Transportation Center, where you can then take a short monorail ride to Magic Kingdom!
Four Seasons Orlando, being affiliated with Walt Disney World, has a range of exclusive Disney perk experiences.
These perks include a Disney Planning Center in their lobby to help you sort out every detail of your stay, as well as a breakfast buffet that Disney characters visit twice a week.
Known for its high-end customer service, Four Seasons Orlando will also help keep the magic of Disney alive during your stay with personalized Disney character decorations on request. You can also book a one-to-one Disney character experience– a perfect treat for the kids!
Combining fun and relaxation, Four Seasons Orlando presents its guests with a variety of services and amenities unlike any other.
With its 24-hour fitness center, spa treatment rooms, golf course, tennis courts, and five-acre water park, adults and kids alike will always be able to find something entertaining to do!
Best for Immersive Disney Experiences, Luxurious Relaxation, Varied Recreation
Residence Inn by Marriott Orlando at Flamingo Crossings Town Center
(2111 Flagler Avenue, Winter Garden, Florida, USA, 34787)
On a budget, but still, want comfort? Residence Inn by Marriott Orlando at Flamingo Crossings Town Center is the choice for you!
Located only about six miles from Magic Kingdom, Residence Inn is both accessible and affordable.
The hotel offers a wide range of rooms that cater to different guests: Singles, couples, families with kids, and those on an extended stay.
For example, their two-bedroom suite with a maximum occupancy of six people is perfect for two parents and 2-4 kids– all while providing some much-needed privacy and quiet time for the adults!
Upon request, Residence Inn can also supply free cribs as well as organize connecting rooms for big groups or families.
At Residence Inn, you'll have the opportunity to be fully independent with their cozy, comfortable rooms and amenities. From full-sized kitchens and roomy work desks to ergonomic chairs, you'll feel right at home!
There's also an outdoor pool and fitness center available if you're interested, while active guests can also try out the multi-sport courts.
Not in the mood to cook in the morning? No problem. Just head to their free, full American-style breakfast buffet from 6:30 am to 10 am!
Best for Affordable Stay, Homey Atmosphere, Proximity to Walt Disney World
Homewood Suites by Hilton Orlando at Flamingo Crossings Town Center
(411 Flagler Ave, Winter Garden, FL 34787, USA)
Situated only 10 minutes from Walt Disney World's west entrance, Homewood Suites by Hilton Orlando at Flamingo Crossings Town Center is also an excellent, accessible option if you're on a budget.
Homewood Suites has three different styles of rooms for reservation, all of which include a sofa bed for extra lodging.
With the same amenities as the Residence Inn (full-sized kitchens, connecting rooms, and high-speed internet), Homewood Suites also provides a "sleepover" quality to your stay. Additionally, feel free to bring your furry best pal, as the rooms are pet-friendly!
Before heading to the Magic Kingdom, you can also enjoy a complimentary hot breakfast every morning during your stay at the Suites.
After a day at the theme park, feel free to relax in the freeform outdoor pool, shoot some hoops on the basketball court, or burn some energy on the soccer field.
For those who are more mindful of their security, Homewood Suites dedicates itself to service and safety through its "Confidence Amenities". These include a wide-angle door viewer, and an automatic door closer with double-locking doors– just to name a few unique features!
Best for Affordable Stay, Traveling With Pets, Security, and Peace of Mind
Disney's Wilderness Lodge
(901 Timberline Drive, Lake Buena Vista, Florida 32830-8426)
Keep the magic going by resting from your adventure at Disney's Wilderness Lodge!
This gorgeous resort hotel emulates the rustic majesty of American National Park Lodges and features nature trails, campfire fun, fishing, and more– giving you a truly authentic wilderness experience.
There's something here for the whole family, from a full-service fitness center and sauna to an arcade room and two stunning pool areas that house a 67-foot waterslide!
Stay immersed in the Disney experience while enjoying the Story Book Dinner, which features appearances from famous Snow White characters.
At just a six-minute drive from Magic Kingdom park, the Wilderness Lodge keeps you close to the main adventure. Guests can also easily access Disney's Minnie Van service, take a quick cruise via water taxi, or hop on a complimentary bus to reach the park.
Free Wi-Fi is available throughout the resort and park, and guests will also have access to designated smoking areas, 24-hour ATM, laundry access, and a range of other Disney signature services.
You also get to decide how your accommodation suits your needs, thanks to a range of options from standard rooms to suites– and even three-bedroom villas!
Best for Nature Lovers, Immersive Disney Magic, Unique Stays
Disney's Contemporary Resort
(4600 North World Drive, Lake Buena Vista, Florida 32830-8413)
Rest and relax in style in this "ultra-modern" luxury resort that's still within walking distance from Magic Kingdom!
Disney's Contemporary Resort offers an ideal spot to rejuvenate from your travels with its two themed pools, waterslide and spas, range of high-end dining options– and even an arcade and basketball court ready for anyone with energy left to burn!
Like Disney's Wilderness Lodge, Disney's Contemporary Resort also offers a range of rooms from standard offerings to three-bedroom grand villas.
This resort is just a ten-minute walk from Magic Kingdom, but it also offers a monorail, bus, and Minnie Van service right from the doors to the park or EPCOT if you really don't feel like walking.
Complimentary Wi-Fi, banking services, designated smoking areas, and laundry are also available, as well as a business center and meeting rooms for working on the go.
The highlight of your stay at the Resort may just be the poolside cabana rentals, complete with complimentary beverages, television and speaker, and delicious meals.
Dining options include Steakhouse 71 for a hearty, seventies-inspired experience, gourmet cuisine with a view at California Grill, and scrumptious family-style offerings at Chef Mickey's which also includes surprise visits from the all-star Disney crew!
Advance reservations are recommended, as these restaurants are in constant high demand.
Best for: Fun in the Sun, Working on the Go, Dining in Style
The Delaney Hotel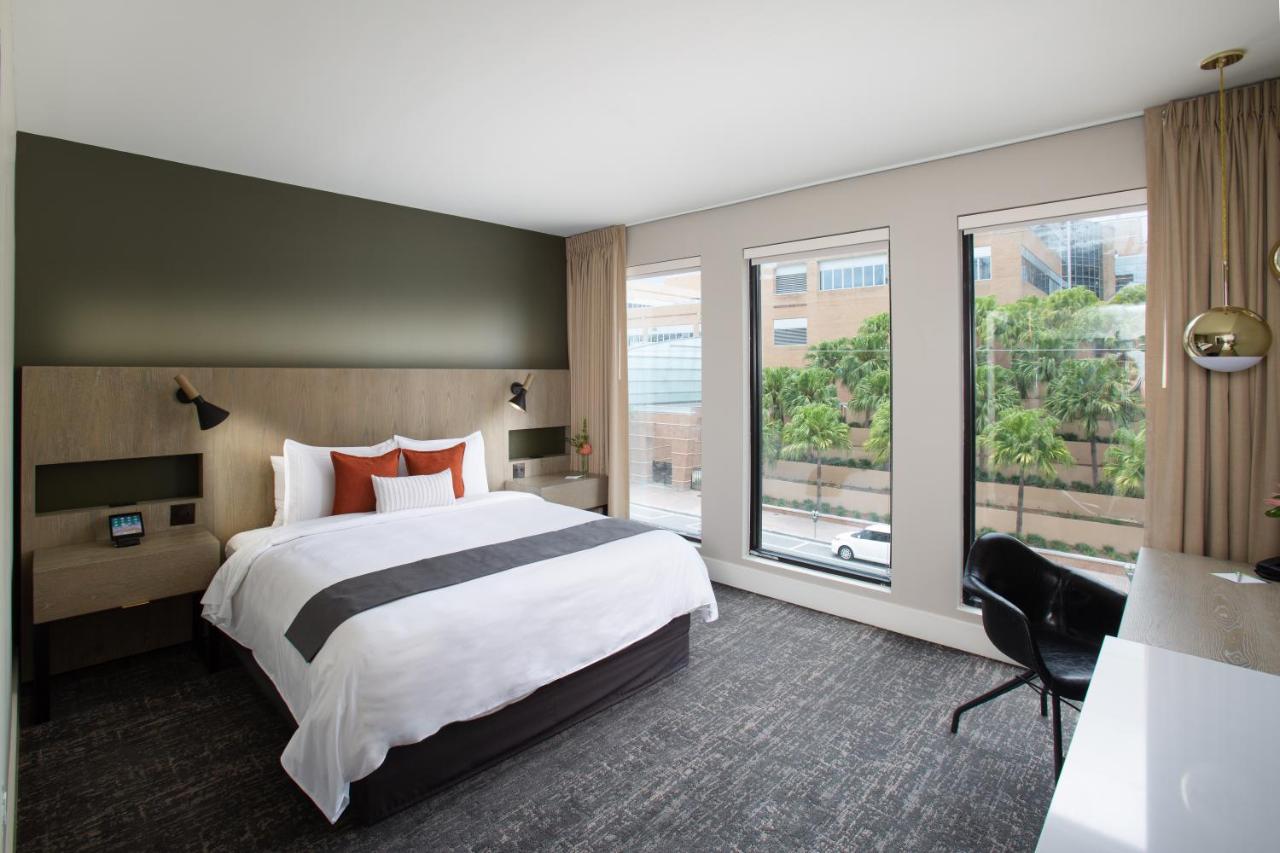 (1315 S. Orange Avenue, Orlando, FL 32806)
Get a break from the chaos, and enjoy your home away from home at this boutique hotel!
The Delaney features classic hotel facilities enhanced to the highest level, with flat-screen televisions, complimentary Wi-Fi, room service, access to a gourmet coffee maker, and herbal bath amenities.
Enjoy gourmet onsite dining at the Delaney tavern– one of the top restaurants in Orlando, no less– featuring a range of appetizers, cocktails, and craft beers. The tavern also offers an inclusive menu with delicious and creative meals for vegans and meat lovers alike!
With its location in downtown Orlando, your stay will be in the heart of the city with easy access to local restaurants and attractions.
While slightly farther from Magic Kingdom than other hotels, the Delaney is still only a half-hour drive away! This central location also puts you closer to other parks such as Sea World and Universal Studios, making for a varied stay.
Best for Foodies, Visiting Multiple Parks, Relaxing Vibes
Element Orlando Universal BLVD
(8278 Universal Boulevard, Orlando, Florida 32819-9363 USA)
For a beautiful and luxurious experience that's budget-friendly, Element Orlando Universal BLVD is a top choice!
Standard and Deluxe suites are on offer, as well as studios with full kitchens that are perfect for traveling families or anyone looking for a longer stay. Element is also fully pet-friendly and has all of the creature comforts that your furry friends could require.
A number of exclusive amenities are available such as mobile check-in, a fully equipped gym, and a heated outdoor pool that is open year-round!
On top of that, Element also provides complimentary breakfast for all of its guests, as well as an evening relaxation reception with provided snacks and local beer or wine.
Accessibility is Element's key selling point. Situated along Universal Boulevard, Element is less than 10 minutes away from Universal Studios, Sea World, and other parks and attractions, and is just a quick 20-minute drive to Magic Kingdom!
Finally, this central location also provides travelers with a range of nearby dining options and the very best shopping opportunities.
Best for: Longer Stays, Traveling with Pets, Budget-Conscious Luxury
***
Thanks to Magic Kingdom's massive popularity, fantastic accommodation options all with different and unique offerings have popped up around the area.
There's sure to be a place to suit your exact needs, whether you're looking for a luxurious stay or something more budget-friendly.
Your hotel choice should also take into account whether you want to explore other nearby parks, or if you simply want to have an exclusive and magical Disney experience.
Well, what are you waiting for? Magic Kingdom awaits!
More about our TFVG Author