No matter what you have got planned for your trip to Florida, it's undoubtedly the resort that sets the tone for your travels so why not pick one with multiple pools and a lazy river?
A lazy river is the epitome of relaxation, and getting to experience one without the theme park hubbub is a dream come true. 
We've gathered 15 of the best Orlando hotels with a lazy river, so you don't have to scour the internet for them.
Most of them also include additional amenities like waterparks with exhilarating slides for adrenaline seekers, kids clubs, and golf courses for you and your little ones.
Continue reading to learn more about these fantastic resorts.
Four Seasons Resort Orlando at Walt Disney World
The Four Seasons Resort Orlando is one of Disney's top resorts and is well known for the unforgettable experiences it provides families. The resort, which spans over 26 acres of land, features a five-acre waterpark, spas, an adult-only zone, a kids club, and five restaurants. It also offers a free shuttle service to and from Disney World.
Its mini waterpark, Explorer Island, consists of two infinity pools, a kid-friendly zero-entry pool with underwater music, a low-depth splash pad, more than one exhilarating 242-foot waterslides, and you guessed it – a lazy river. With interactive waterfalls, rapids, and water cannons that make for an unending trail of fun, this 720-foot lazy river is one of the best in Florida. It's nestled in lush greenery and offers plenty of isolated areas for your family to unwind and even squeeze in a game of water volleyball.
Four Seasons' rooms are divided into guest rooms and suites, both of which are spacious and comfortable. Furthermore, most of the accommodations here have a private balcony with views of Disney World, making them ideal for catching the fireworks without any of the hassle.
Other family-friendly amenities include The Kids for All Seasons program for kids aged 4 to 12, which offers supervised activities like crafts and games. Ravello's Disney-themed breakfast with Goofy and His Pals is another experience that is specially designed for families.
Find the resort at: 10100 Dream Tree Blvd, Lake Buena Vista, FL 32836
Reunion Resort, A Salamander Golf & Spa Resort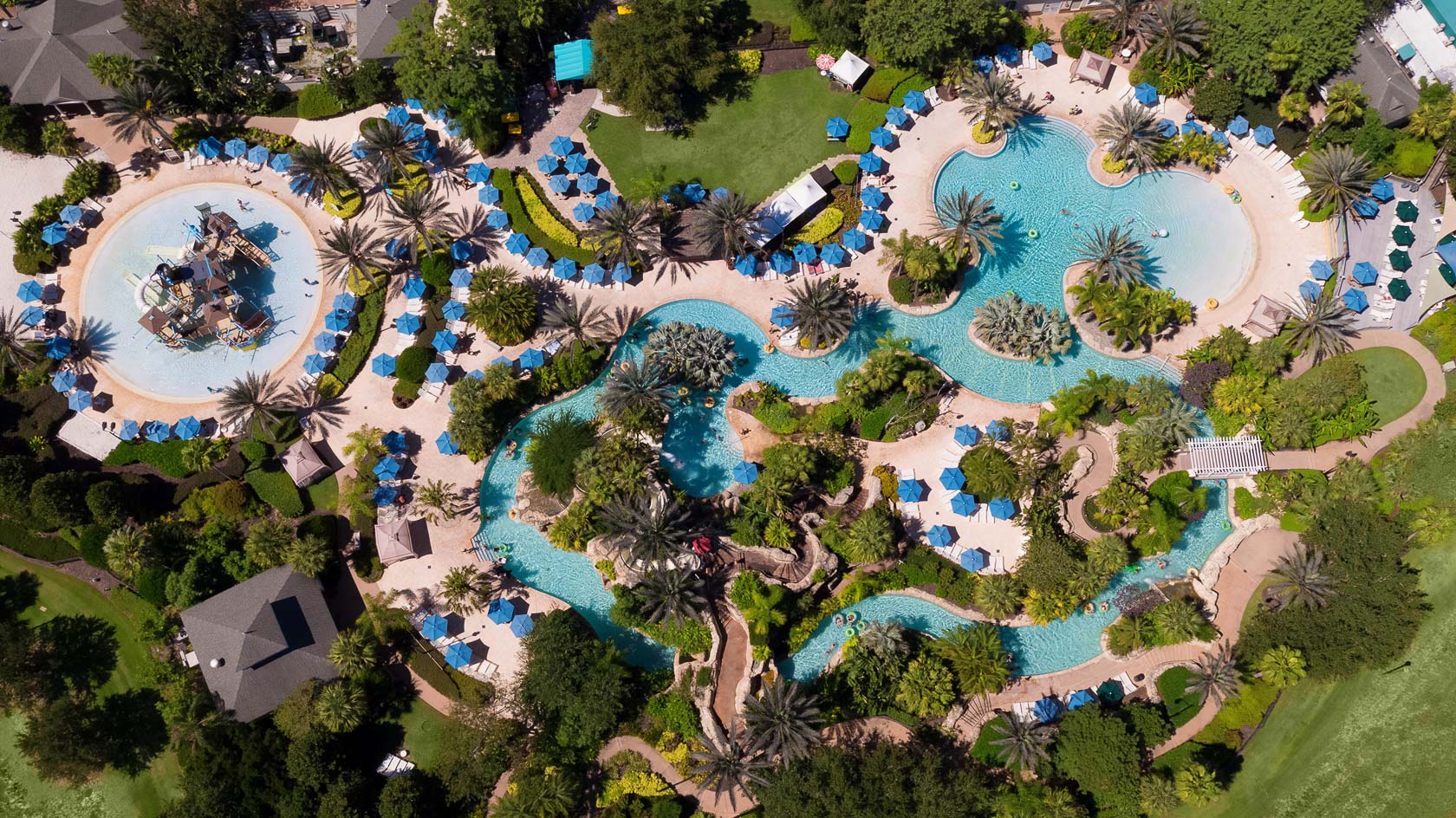 Nothing says luxury like the Reunion Resort. Located in the heart of Florida and just a few miles from Disney World, the resort is home to three signature golf courses, a five-acre water park, tennis fields, and seven community pools.
If you're looking for some action, head to the Aquatic Playground. It has everything from waterslides, cannons, sprayers, and an exquisite rope bridge to even a giant pool-side Connect Four game. Loosen up in the 1000-foot lazy river that features multiple waterfalls and a water slide. Its size and comfortable temperature make it ideal for children. Adults who would much rather stay dry head to one of the resort's many golf courses. Play games like footgolf and miniature golf, or rent a golf car or bicycle to enjoy a ride around the entire property.
The Reunion Resort has accommodation options for families of all sizes, from one-bedroom villas to luxury, all-inclusive, twelve-bedroom mansions. The homes come with Disney-themed children's bedrooms. Some even include private amenities like backyard pools, hot tubs, home theaters, at-home bars, and game rooms.
Find the resort at: 7593 Gathering Dr, Kissimmee, FL 34747
The Grove Resort & Spa Orlando
If you're looking for a resort that is close to Florida's tourist attractions that's also secluded from the crowds, visit The Grove Resort & Spa Orlando. Relatively new, this lakeside suite-only resort is all but fifteen minutes from the Disney Theme Parks and offers extra-large rooms, separate living and dining spaces, a kitchen, and a private balcony with beautiful views.
This resort's amenities make for the ultimate staycation in Orlando. The waterpark is open to all Grove guests and features a 700-foot long lazy river. Grab a tube and hop in to laze in the river surrounded by pretty waterfalls, cannons, and bridges. Lifejackets are provided for children, which is a bonus.
Aside from the impressive lazy river, the water park also offers splash zones, slides, a kids activity pool, and a surf simulator. If you want to keep an eye on the kids without getting in the water, kick back and relax in one of the private cabanas. The Grove also has a private pier on Lake Austin that provides picturesque views, as well as boating and fishing each at an additional cost.
Find the resort at: 14501 Grove Resort Ave, Winter Garden, FL 34787
Ritz-Carlton Orlando Grande Lakes
The Ritz-Carlton is a classic luxury hotel that has everything a family needs for a vacation. It has a great location, plenty of amenities, numerous lodging options, as well as plenty to do for both kids and parents.
The large family pool is a calm and serene spot to swim or sunbathe while indulging in food from Bleu, the poolside café. Families are welcome to use the lazy river that is shared with the JW Marriott next door, but should be aware that it will be crowded most of the time.
The Ritz Kids Club is a highlight, with a variety of activities, workshops, and lessons on animal care complete with friendly animals that enjoy a good scratch. While your kids are occupied, visit the 40,000 square-foot spa for a relaxing massage or break a sweat at the tennis court.
Pre-book kayaking, fishing, or an eco-tour at the reception if you want to spend some quality time with your family outdoors.
Find the resort at: 4012 Central Florida Pkwy, Orlando, FL 32837
Universal's Cabana Bay Beach Resort
Universal's Cabana Bay Beach Resort is a truly stunning mid-century-modern-themed hotel. When compared to Disney hotels, this resort's attention to detail in creating a fantasy land that invokes impressions of the time period is unparalleled.
The resort offers two large pools with water slides and a splash zone. The lazy river is a part of the smaller pool and is ideal for families looking to let loose. It should be noted that the tubes for the lazy river are not included and are required to be purchased from the store.
Reminiscent of vintage 1950s beach resorts, this hotel is complete with pleasant suites and expansive views of Universal Studios Florida. There are two restaurants, one lounge, and two poolside eateries that serve a variety of cuisines. The hotel also has a game arcade, beach pavilions, a bowling alley, and a fitness studio. If you want a low-cost hotel with stellar amenities, this is the one for you.
Find the resort at: 6550 Adventure Way, Orlando, FL 32819
Disney's Yacht Club Resort
Disney's deluxe hotels are the easiest choice if you're set on having a theme park vacation. The Yacht Club is a New-England style lakeside resort and a sister hotel to Disney's Beach Club Resort. The two hotels share their amenities, including the adventure-packed Stormalong Bay waterpark. The park offers a pool, slides, and a lazy river for those who want to tube down a river while soaking in the Florida sun.
A short walk will get you to Disney's Epcot and Hollywood Studios in no time, but the boat ride to these attractions is very popular with children. Families also enjoy activities like Campfire, Movie Under the Stars, and fishing at the resort. The Pirate Adventure Cruise in particular will be a hit with your little ones.
The rooms at this deluxe hotel are spacious and well maintained. Additionally, the resort boasts a variety of dining options, with Martha's Vineyard and Beaches being a crowd favorite.
Find the resort at: 1700 Epcot Resorts Blvd, Lake Buena Vista, FL 32830
Omni Orlando Resort at ChampionsGate
The Omni Orlando Resort is a one-of-a-kind lavish Florida resort that features some of the most tranquil pools. It's also one of the rare resorts in Florida that have both a wave pool and a lazy river. The lazy river is over 1000 feet long and is known for its varied currents and unexpected water sprayers and cannons. After a relaxing dip, you can also rent private cabanas to lounge in with your family.
Omni accommodates every type of family by offering everything from charming deluxe rooms to opulent villas. The deluxe rooms include all of the essential utilities and are ideal for a family of three but if you're looking for a little extra pizzaz, upgrade to the sunset lodges. These villas have a private bar and patio just a few steps from the pool.
The resort also boasts a beautiful golf course, multiple fitness centers, and a serene spa. For some downtime without the kids, sign them up for the Kids Escape Programme and head to Croc's to grab their signature cocktails.
Find the resort at: 1500 Masters Blvd, Championsgate, FL 33896
Hilton Orlando Bonnet Creek
The Hilton Orlando Bonnet Creek is a brilliant choice for guests looking for the best of both worlds – entertainment and value. Not only is it conveniently located in the Epcot neighborhood, but also offers a wide range of fun activities for families. In addition to this, it even provides its guests with early admission and Fastpass+ benefits to Disney World.
Hilton Bonnet Creek's pool and lazy river have won numerous awards and it's easy to see why. The large pool area is surrounded by a 1000-foot lazy river that is ideal for whiling away those hot Florida days. The water temperature is warm and comforting for kids, and while the lazy river has multiple entry points, the pool is zero-entry making it perfectly safe for young ones. After a pleasant time at the pool, head to the Beech for tasty tuna tacos.
The resort offers eight multi-cuisine restaurants, a beautiful golf course, a spa, and a fitness facility with top-notch equipment. The rooms are adequate and clean, with a comfortable bed, a television, a mini-fridge, and a large bathroom. Select rooms on the upper floors to get fantastic views of Disney's fireworks!
Find the resort at: 14100 Bonnet Creek Resort Ln, Orlando, FL 32821
JW Marriott Orlando Grande Lakes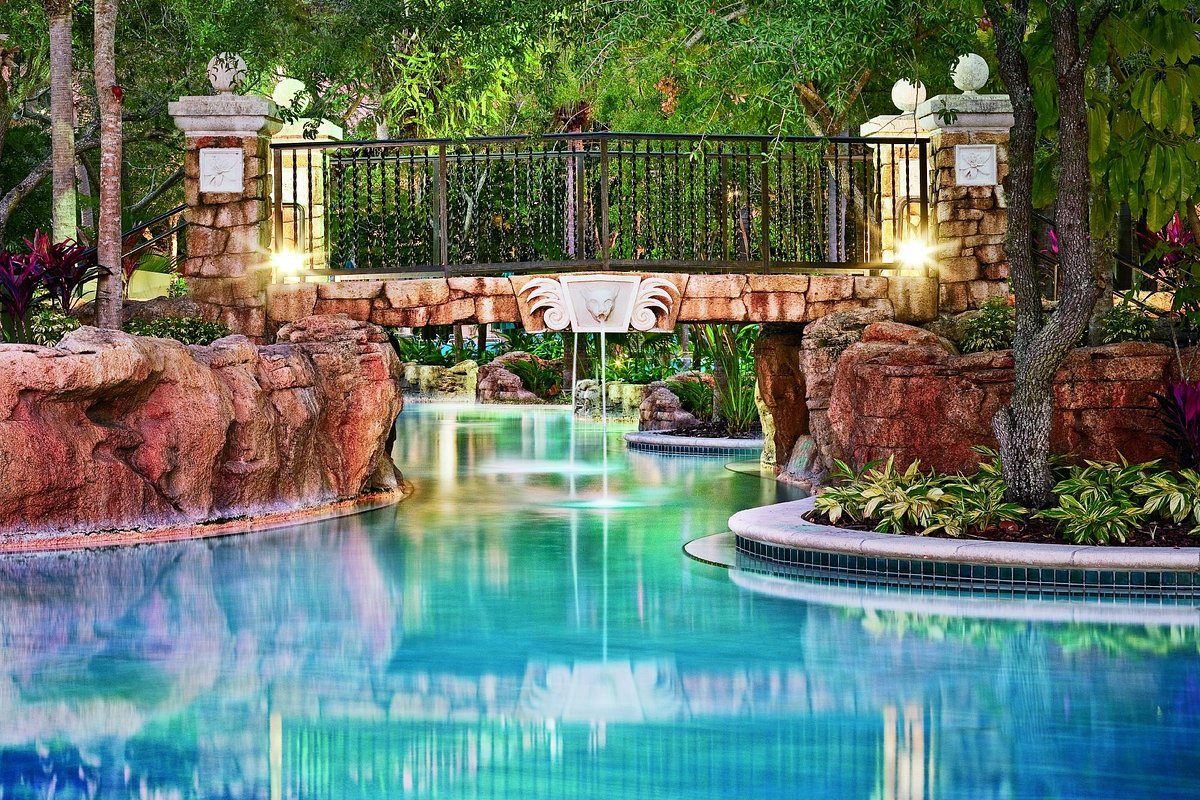 There's no way we can talk about luxury hotels without mentioning JW Marriot, and this one located at Grande Lakes in Orlando is nothing short of a haven. The majestic, family-friendly hotel features luxury décor and breathtaking views and is situated only about 20 minutes away from SeaWorld.
Many amenities are shared with Ritz, which is a good thing with over 500 acres to explore. You'll have a fantastic time whether you choose to tube down the lazy river or spend the afternoon on the golf course. The resort also offers its guests specialized kayaking, fishing, and eco-tours, which are required to be reserved in advance.
The rooms are opulent, with full marble bathrooms and large bathtubs. The presidential suites provide a magnificent view of the Orlando skyline at night.
It goes without saying that dining at the JW Marriot is a treat in and of itself. The hotel serves incredible food and Prima is their best restaurant, serving delicious Italian fares.
Find the resort at: 4040 Central Florida Pkwy, Orlando, FL 32837
Villas at Regal Palms Resort & Spa
If you want a villa with great amenities without having to spend too much, look no further. The Villas at Regal Palms is an exclusive townhouse community in Florida that offers big, well-kept residences with all of the facilities that you would expect from a resort. The villas feature various rooms, a kitchen, a washing machine and dryer, and a private terrace.
Swim in their peaceful pool or float down the lazy river in a tube. Either way, you're guaranteed hours of private quality time with your family. The pirate-themed game room is a big favorite with the kids.
Find the resort at: 2700 Sand Mine Rd, Davenport, FL 33897
Hilton Orlando
Hilton Orlando is a vibrant contemporary resort that is located conveniently close to Universal Orlando, SeaWorld, and Walt Disney World. The lodgings are divided into guest rooms and suites, which guests can choose between based on their comfort and budget.
The pool area is a tropical wonderland with two pools, a lazy river, waterslides, and a splash pad. The 800-foot, gently meandering lazy river has a gorgeous course that includes numerous cascades and fountains. While you're there, stop by the Tropics pool bar and grill for some delectable food. Between here and the hotel's other four restaurants, you will be satisfying your hunger with a different cuisine at every meal!
If you're looking for a brain teaser while on vacation, put on your detective hats for the resort's escape room experience that transforms the whole property into a mystery case.
Find the resort at: 6001 Destination Pkwy, Orlando, FL 32819
Holiday Inn Club Vacations at Orange Lake Resort
The Holiday Inn at Orange Lake Resort is a pleasant change from the hustle and bustle of amusement parks. Here, you and your family can have fun in the endless lazy river, seven pools, and exhilarating rides without having to wait in huge lines. A must-do activity during your vacation at this resort is floating down the 1200-foot lazy river.
The hotel also offers outstanding golf courses, sports courts, arcade games, and a movie theater room for families. The Swampy's Adventure Club is ideal for kids and teens, with activities ranging from crafts to video games.
Holiday Inn allows you to select the room that best suits your budget without sacrificing amenities. After you've had a long day of swimming, golfing, and vacationing, sit back at one of the resort's many on-site restaurants and tuck into a tasty, wholesome meal.
Find the resort at: 8505 W Irlo Bronson Memorial Hwy, Kissimmee, FL 34747
Marriott's Lakeshore Reserve
Marriott's Lakeshore Reserve is a tranquil 500-acre resort featuring one of Orlando's top pools. Your family will have plenty of entertainment as the amenities are shared with the JW and Ritz. The resort is also conveniently located near Orlando's major theme parks.
The massive, heated lazy river-style pool is lush and tropical, includes two waterslides, and offers a pleasant balance of relaxation and pleasure.
The treehouse activity center is suitable for children of all ages and will keep them entertained for several hours. While your kids are having fun, you can go golfing at the Ritz-Carlton Golf Club or have an American-style date night at Citron.
Find the resort at: 11248 Lakeshore Reserve Dr, Orlando, FL 32837
Wyndham Grand Orlando Resort Bonnet Creek
If you're looking for a Disney World Property Resort that's hidden and surrounded by greenery, there's no better place than Wyndham Grand Bonnet Creek. This modern Mediterranean-style hotel, surrounded by 500 acres of woodlands and a 10-acre gorgeous lake, is rated as one of the best family resorts in the area. It's only a few minutes away from Disney and offers free shuttle service to and from the parks.
Kids are often delighted to hear that the property contains not one, but two lazy rivers and a pirate ship pool. The resort also has multiple other pools and hot tubs. On rainy days, the indoor game room offers ping pong, shuffleboard, and other games.
The rooms at this resort are contemporary, clean, and inviting and are held in particularly high regard for the exceptional housekeeping services offered. Consider booking a room with bunk beds if yours is a family with young kids.
Find the resort at: 14651 Chelonia Pkwy, Orlando, FL 32821
FantasyWorld Resort
Another excellent option for families who wish to stay in a villa but are on a shoestring, Fantasy World Resort is one of the few budget-friendly resorts that offers all of the amenities of a high-end resort.
It offers two huge pools, a winding lazy river, three hot tubs, and a kids splash area. Children's playgrounds, mini-golf, bocce ball, tennis, and basketball are other outdoor activities for families. The resort appeals to all types of families and hosts a variety of poolside contests, bingo, and trivia evenings.
Their two-story Mediterranean-style villas can sleep up to six people and feature separate bedrooms with TVs, a fully supplied kitchen, a living area, and a large patio. Pet-owners will be pleased to know that this resort also welcomes furry friends, allowing you to spend quality time with the entire family.
Find the resort at: 5005 Kyngs Heath Rd, Kissimmee, FL 34746
More about our TFVG Author
A seasoned traveller, Dad, and avid sports tourist, James foundered The Family Vacation Guide to share his expert vacation experiences- especially when it comes to being a travelling family man.
Featured in Travel articles such as Travel + Leisure, TripSavvy and SFGate, you know you're reading some of the best vacation tips online.