The Sunshine State is home to some great attractions that include plenty of sunshine, Disney World, NASCAR, and miles of white sandy beaches. Visitors flock to Florida in the summer, and part-time residents always return in the winter. While these are a few of the attractions that draw people back to the state, you can't forget about the shopping.
Some of the best outlet malls are in Florida, and you won't believe the deals you can find. Top brands have outlets and factory stores located throughout the state offering deep discounts on their merchandise.
Here are 16 of the best outlet malls in Florida you should visit.
You can also check out our guides on which Florida key has the best beaches, the best Zoos in Florida, and best things to do in Florida with kids.
Orlando International Premium Outlets
When it comes to the number of outlet malls in a city, it's hard to beat Orlando. It is better known for Disney and Seaworld Parks, but it's also home to Orlando International Premium Outlets.
You can expect to find around 180 stores, all offering incredible bargains on your favorite brands. The expansive mall has something for everyone, from American Eagle, Lacoste, Lauren, and Nike to steaks from Texas de Brazil.
With around 200 stores to visit, you are going to get hungry. The Orlando Outlet Mall offers over 20 restaurants featuring cuisines from around the world. With so many options, the only problem is deciding on the meal.
The outlet mall is on International Drive and offers free parking for visitors.
Ellenton Premium Outlets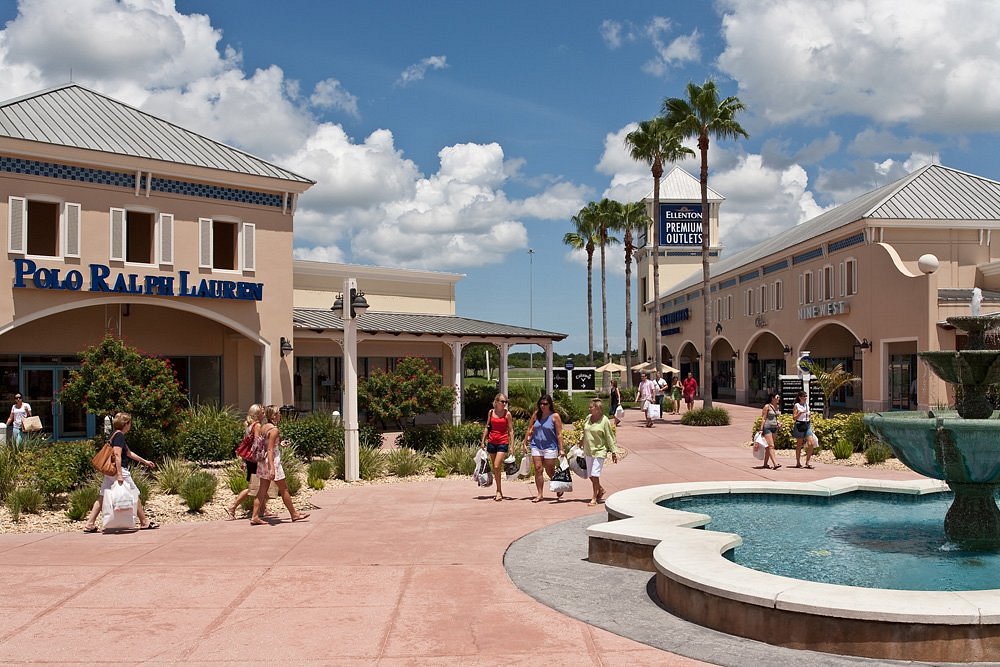 Florida's east coast isn't the only place to look for outlet malls. Ellenton Premium Outlets houses around 130 designer and factory stores in the mall. Located on the west coast of Florida, in Manatee County, the outlet boasts top brands like Kate Spade and Aeropostale.
You can get shoes at Nike and a new Coach bag for bargain-low prices. You can also find designer clothes from Ralph Lauren and Brooks Bros, to name a few. Don't worry if you get hungry. You can grab a pretzel at Auntie Anne's or head to the food court.
Along with the fabulous stores, the outlet mall has a design that is worth the visit. Florida's weather allows for open walkways throughout the mall. You can enjoy the fresh air and lush landscaping on your way to the next store.
Orlando Vineland Premium Outlets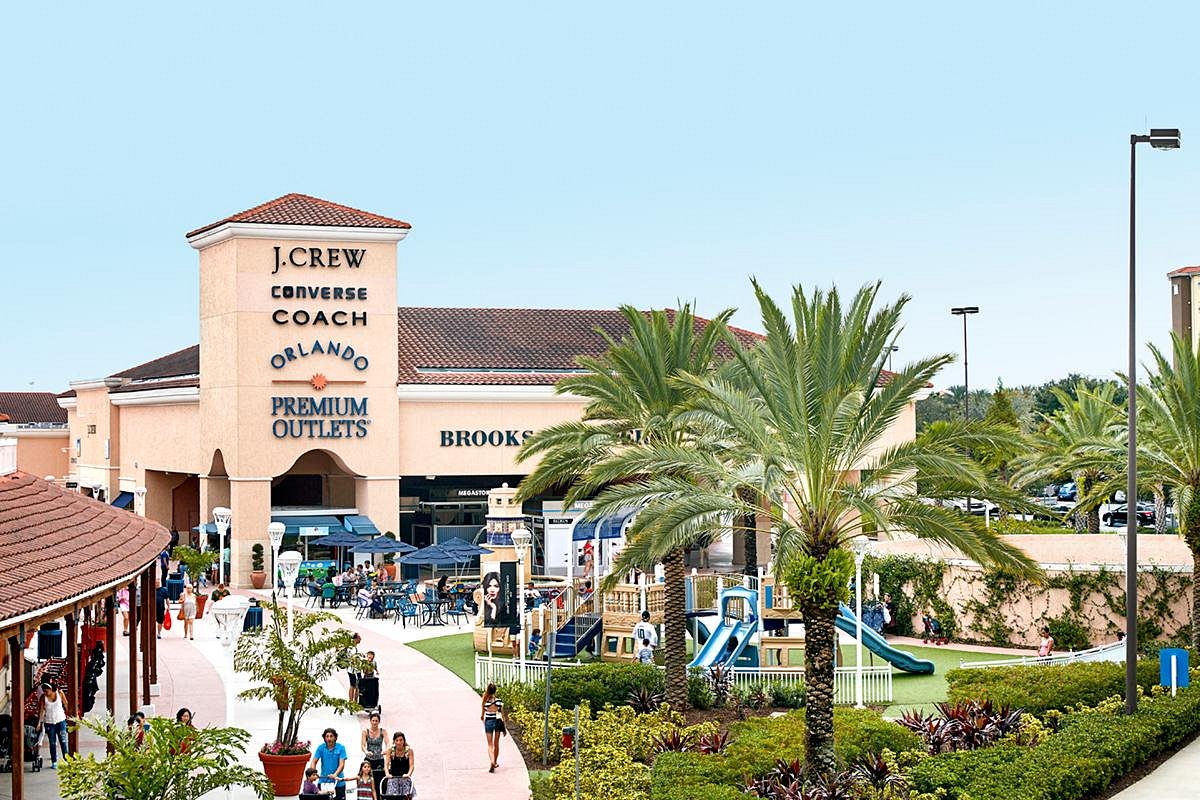 Located not far from Walt Disney World is Orlando Vineland Premium Outlets. Boasting around 150 luxury and factory stores, the outlet mall offers plenty of shopping opportunities at bargain-low prices.
You can find everything from home goods to high fashion and jewelry at prices you won't believe. Cole Haan, Nautica, and Polo Ralph Lauren are a few brands in the outlet mall. Younger shoppers will love the deals they find in Forever 21, along with the styles.
Something first-time visitors should know in advance is how the merchandise is displayed. Clothing retailers often forego hangers, tables, and shelves, opting for bins. Using bins helps keep costs incredibly low, but you will need patience. Digging through the bins takes a while, but you will find plenty of great deals.
Silver Sands Premium Outlets
Destin, FL, boasts some of the best beaches in the state. The oceanside city is also home to Silver Sands Premium Outlets. The dress code is casual and beachy, which also applies to some of the stores.
If beachwear isn't interesting, several luxury brands have shops in the outlet mall. You can find Kate Spade and Michael Kors, along with Vera Bradley and Tory Burch at 65% off. Sometimes, the deals are even higher.
Expect to do some walking. Silver Sands Premium Outlets is expansive, but you won't have a problem finding a place to eat. Throughout the mall and the surrounding area, you'll find cafes and restaurants.
Tampa Premium Outlets
Busch Gardens is the first attraction that comes to mind in association with Tampa, along with the Museum of Science and Industry. This Florida city is also known for the Tampa Premium Outlet Mall.
Lovers of high fashion will find their must-have items at bargain prices. It's easy to afford luxury items when prices are around 65% off. The outlet mall has over 120 stores, with more brands coming soon. Shop Marc Jacobs, Boss, Coach, and others to create your perfect high-powered wardrobe.
The mall's unique open-air design encourages lingering. The walkways allow shoppers to enjoy the fresh air in between shops. When you get hungry, stop in one of the mall's restaurants or cafes.
St Augustine Premium Outlets
You don't have to be in the mood for shopping to enjoy spending time at St Augustine Premium Outlets. While the mall is known for its big sales of back-to-school clothing, it also has several amazing restaurants. Come in for a meal and stay for the shopping or plan to make a day of your visit the next time.
The mall doesn't only cater to children – you can also find bargains on luxury brands. Adidas, Michael Kors, Under Armour, and Ecco are only a few stores in the outlet mall.
Sawgrass Mills and The Colonnade Outlets
Sawgrass Mills and The Colonnade is a combination indoor/outdoor mall offering something for everyone. Located in Sunrise, FL, brands range from bargain to luxury offering everything from clothing to home goods and shoes.
Gucci, Michael Kors, and Tory Burch have shops in the mall, where you will find unbeatable deals on the latest styles. Budget-conscious shoppers will want to stop by Primark. The brand is famous for its budget finds.
You don't want to shop on an empty stomach, so take a break in one of the cafes or restaurants. Choose indoor or outdoor dining, depending on if you are in Sawgrass Mills or the Colonnade.
Vero Beach Outlets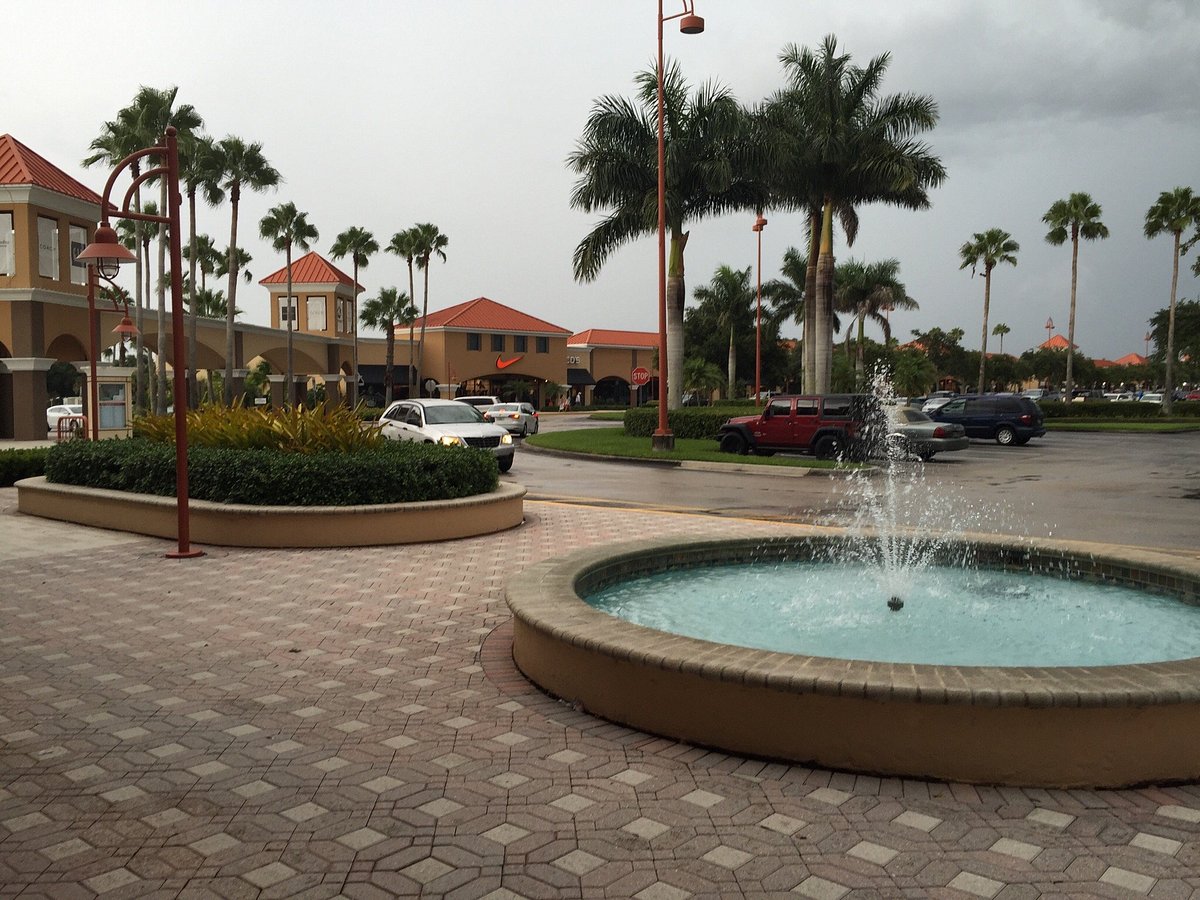 If you love designer brands but don't always have the budget, Vero Beach Outlets is the place to shop. Compared to some other outlet malls, Vero Beach Outlets is relatively small with 60 stores, but they all offer luxury clothing at unbelievably low prices.
Along with designer brands, the outlet mall has plenty of green space for relaxing. Grab a smoothie from the juice bar and relax in one of the lawn chairs.
Parking is a rare problem, even during tourist season. The outlet mall has plenty of free parking to accommodate everyone.
Florida Keys Outlet Marketplace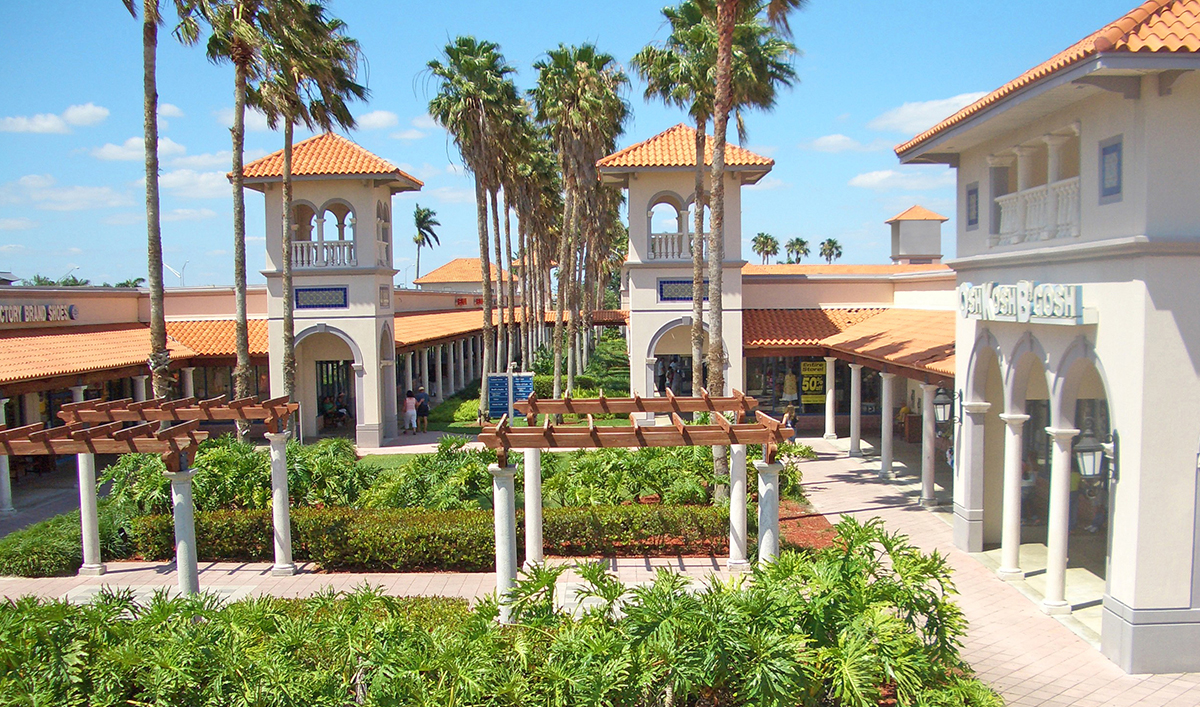 The Florida Keys and Everglades might be better known for water activities, but the area is also home to some great bargain shopping opportunities. The Florida Keys Outlet Marketplace offers a unique shopping experience. Think of the Mediterranean with open-air walkways and fresh breezes throughout the outlet mall.
Grab a bite to eat in the Food Court before, during, or after shopping. You'll find your favorite food cravings at one of the restaurants.
Located in Florida City, FL, the outlet marketplace boasts factory stores from some of the biggest brands. Nike, Guess, and Coach has stores in the mall, along with Tommy Hilfiger and Aeropostale.
Aventura Mall
One of the best places to find bargains on top luxury brands is at Miami's Aventura Mall. Every aspect of the mall is designed to inspire and delight. Browse and shop the mall's art collection. You might find a piece for your home.
Along with luxury brands and trending fashion lines, the mall also has a world-famous Farmer's Market. Residents shop weekly for fruits, vegetables, and more. Visitors can find great deals on local produce.
Fine dining is something else you find at Aventura Mall. The international restaurants offer something for every palate. Choose from indoor or outdoor dining and relax after spending the day shopping at your favorite brands.
Tanger Outlets
Daytona, FL, is known for its beaches, NASCAR races, and bike rallies, but it also has great shopping destination. You can also find deals at the beachside shops, but you want to go to Tanger Outlets for savings on luxury brands.
Located outside of Daytona, the expansive outlet mall is directly off the freeway. With exits marked, you won't miss the turn. Parking also isn't a problem – just remember the row and aisle. The mall has a huge parking lot, and it's easy to forget where you left your vehicle.
The mall has 49 stores with brands ranging from high-fashion to casual and budget-friendly. Old Navy, J Crew, and Vineyard Vines are a few of the clothing brands. Nike and Vans ensure your shoes look as good as your outfit. The outlet mall also boasts a few jewelry stores where you can add some sparkle to your look.
Miromar Outlets
There is a lot to like about Miromar Outlets, starting with the savings on top brands. You can save up to 70% on some of the latest styles.
Some of the brands you'll find include White House Black Market, H&M, Journeys, and Center Stage. When you get hungry, stop in one of the mall's restaurants. You have plenty to choose from, ensuring you'll find something to satisfy your cravings.
Miromar Outlets is more than a place to shop and eat. It also offers several fun activities for kids and adults. Go rock climbing at 16 FunWalls or try an experiment at the IMAG History & Science Center. There's even bird watching with the mall's adorable Pekin ducks.
Factory Stores of America – Graceville
Graceville, FL, is a small city that's close to the Alabama state line, but it has a great attraction for bargain-hunting shoppers. Factory Stores of America has a location in Graceville, offering great deals on clothing, shoes, and home goods.
It is one of the smallest outlet malls in the state with under ten stores, but it is still worth the visit. Everyone needs a new pair of Lee or Wrangler jeans, and you won't find any prices better than these.
Even though you probably aren't going to get hungry with only a few stores to browse, the mall does offer dining at nearby eateries. You can find everything from fine dining to Korean food and sub shops.
Naples Outlet Center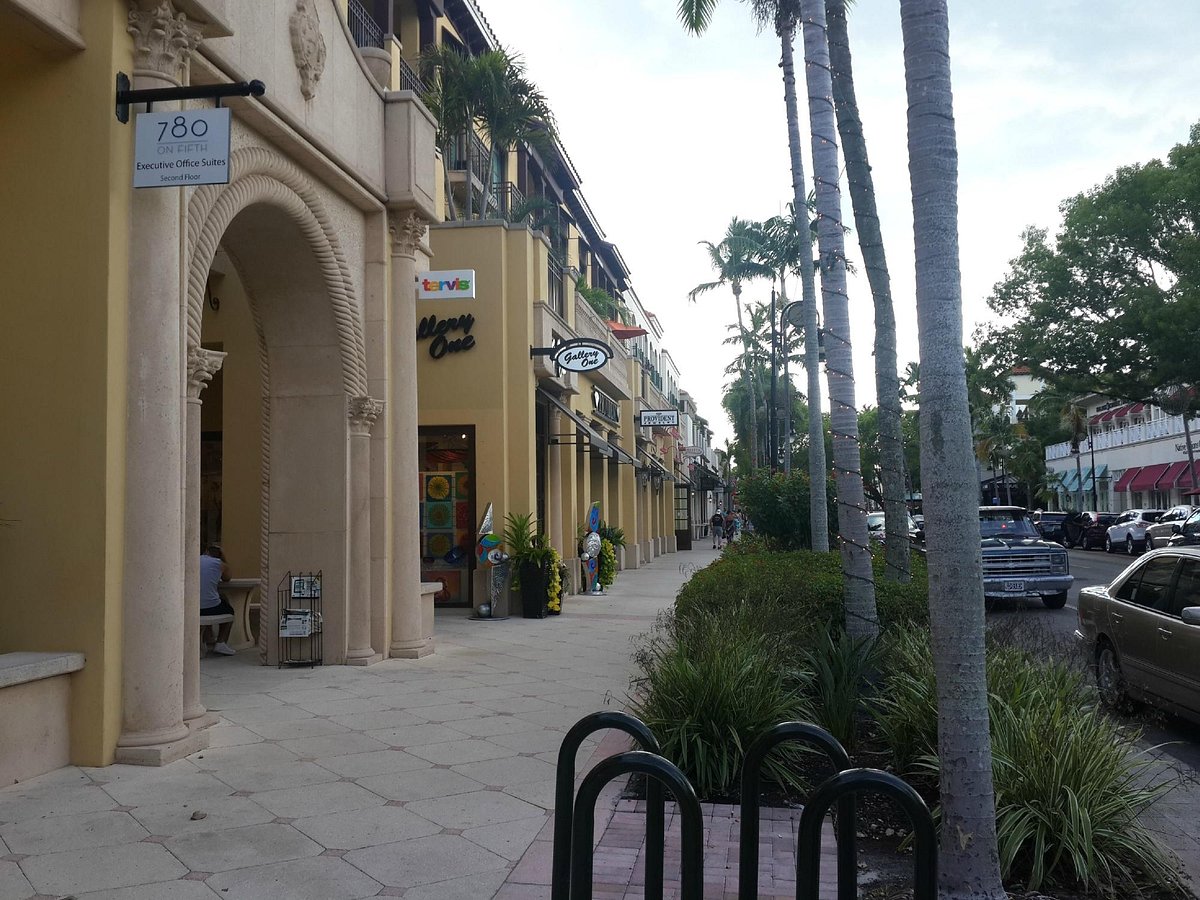 Not far from Marco Island is the Naples Outlet Center. It is another small outlet mall with 27 stores in the retail space. Even though you have fewer stores to explore, you aren't going to have a problem finding bargain prices on some of your favorite clothing brands.
Shop Bass, Coach, and Ann Taylor, along with Samsonite and Loft, to name a few. You can find something for almost any style at prices you won't believe. Some brands are discounted up to 65% – and don't forget about the coupons and sales. You will always find the best low prices at the Naples Outlet Center.
Dolphin Mall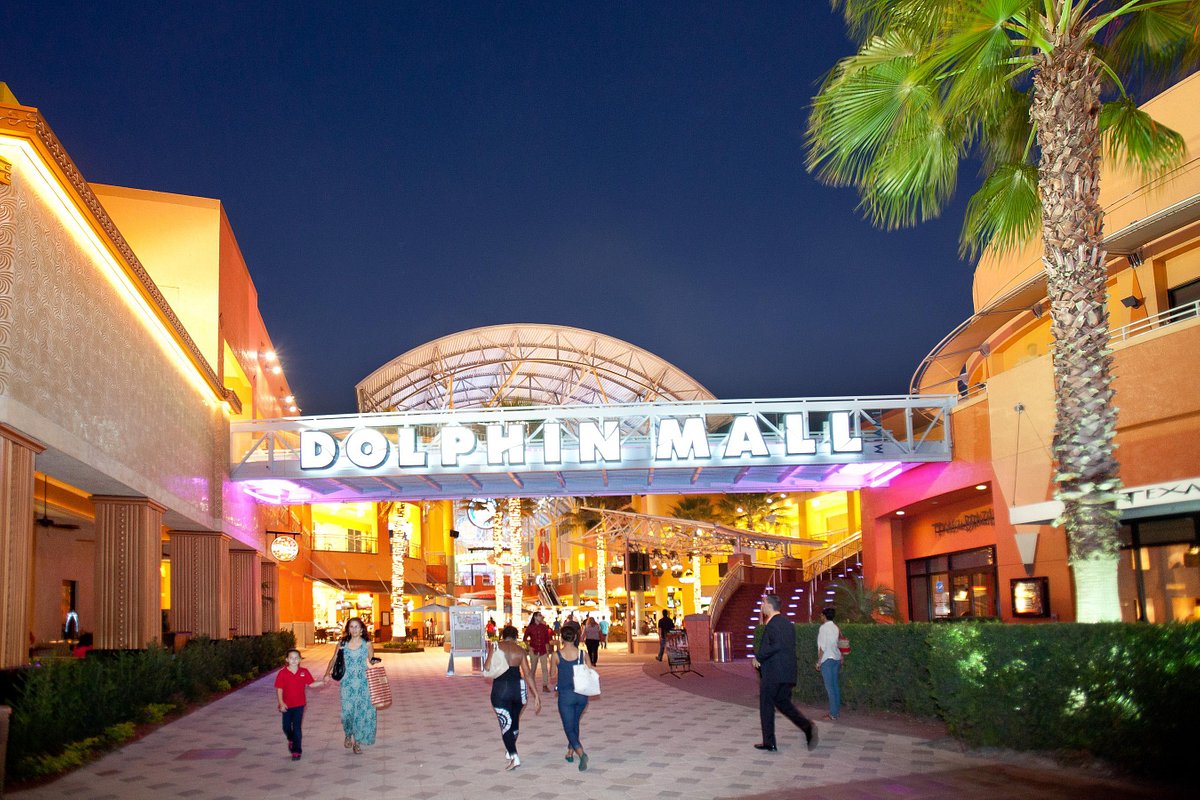 Miami is home to luxury boutiques offering luxury fashion at high prices. You can still dress like the rich and famous, even if you are on a budget. The Dolphin Mall offers one of the best shopping experiences for budget-minded consumers.
The outlet mall has over 240 stores filled with bargain and luxury brands. Michael Kors, Adidas, Columbia, and Gap are a few names in the mall. Don't forget to check the current sales and offers – there are always great deals for shoppers to use.
If not everyone in your group wants to go shopping, there is plenty of entertainment to keep them happy and occupied. You can shop while the others play. Afterward, meet up at one of the mall's restaurants for some Mexican food or a slice of cheesecake.
Palm Beach Outlets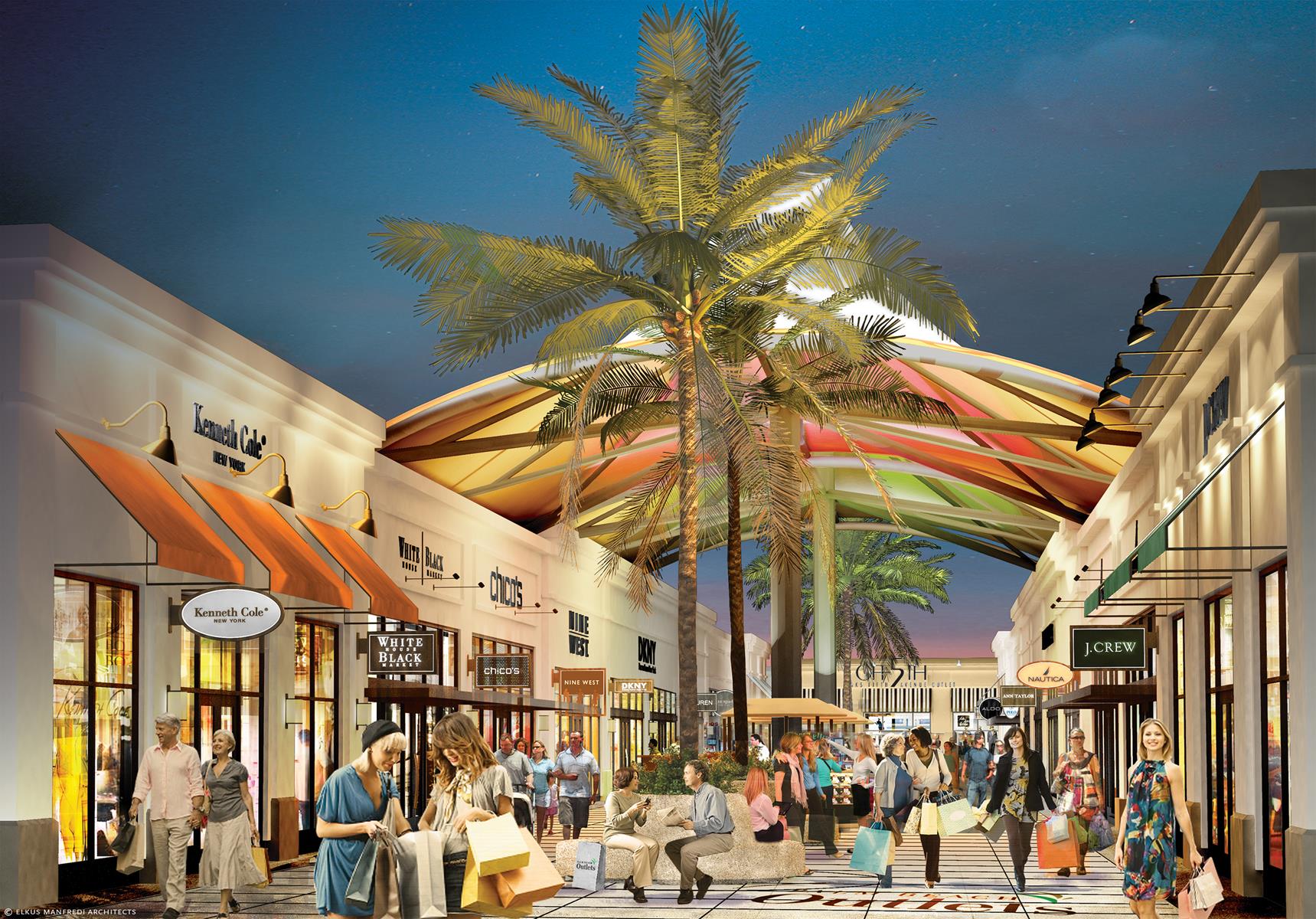 About a ten-minute drive from Palm Beach is the area's outlet mall. Palm Beach Outlets is more than an outlet mall – it offers something for everyone. Enjoy the entertainment opportunities in between shopping trips.
Coach, Converse, and Express are a few of the brands in the mall. Along with over 100 shops, there are also around 20 restaurants for you to try.
Conclusion
Florida has plenty to offer residents and tourists, including some of the best shopping opportunities. You don't need to pay full price to wear some of your favorite luxury brands. The state is home to some of the best outlet malls in the nation, all offering deep savings.