Florida has at least one zoo in almost every major city, making it a prime vacation spot for people who want to learn more about the natural wildlife around them.
However, this wealth of zoos means that it can actually be quite hard to choose one if you are not simply defaulting to the closest zoo you can find.
With so many different options in driving distance for most Florida residents or tourists, it can be tough to decide which zoo is ideal for you.
Whether you are going alone, bringing a friend, or visiting as a family, they can all offer something unique and special, so there are no wrong choices.
Brevard Zoo
Brevard Zoo is one of the many zoos in the US that has a core focus on conservation, offering plenty of ways to participate and educate yourself on what animal conservation actually is. Most of the zoo itself is spread out over a large area, meaning that you get plenty of trails to walk during your visit.
If you are not fond of walking, or you have somebody with you that can't stand long hikes, then it actually offers its own train system that can take you all around the core parts of the zoo's grounds. You are not just moving between different pens, either – there is a lot going on.
For starters, you can take a kayaking session or feed some of the more docile animals from within special areas. If you want to get much more personal, then you can go on a few special animal encounters, whether that is seeing a rhino up close or taking a tour through a wilder section of the zoo.
There is a lot to like about Brevard Zoo, and the variety is part of it. There are animals from the Caribbean, Africa, Australia, and even from Florida's wilderness itself, all kept in their own habitats where you can watch plenty of natural interactions taking place.
If you want something large-scale but straightforward, then Brevard Zoo is an ideal choice and a great place to bring family or take a trip on your own.
Central Florida Zoo and Botanical Gardens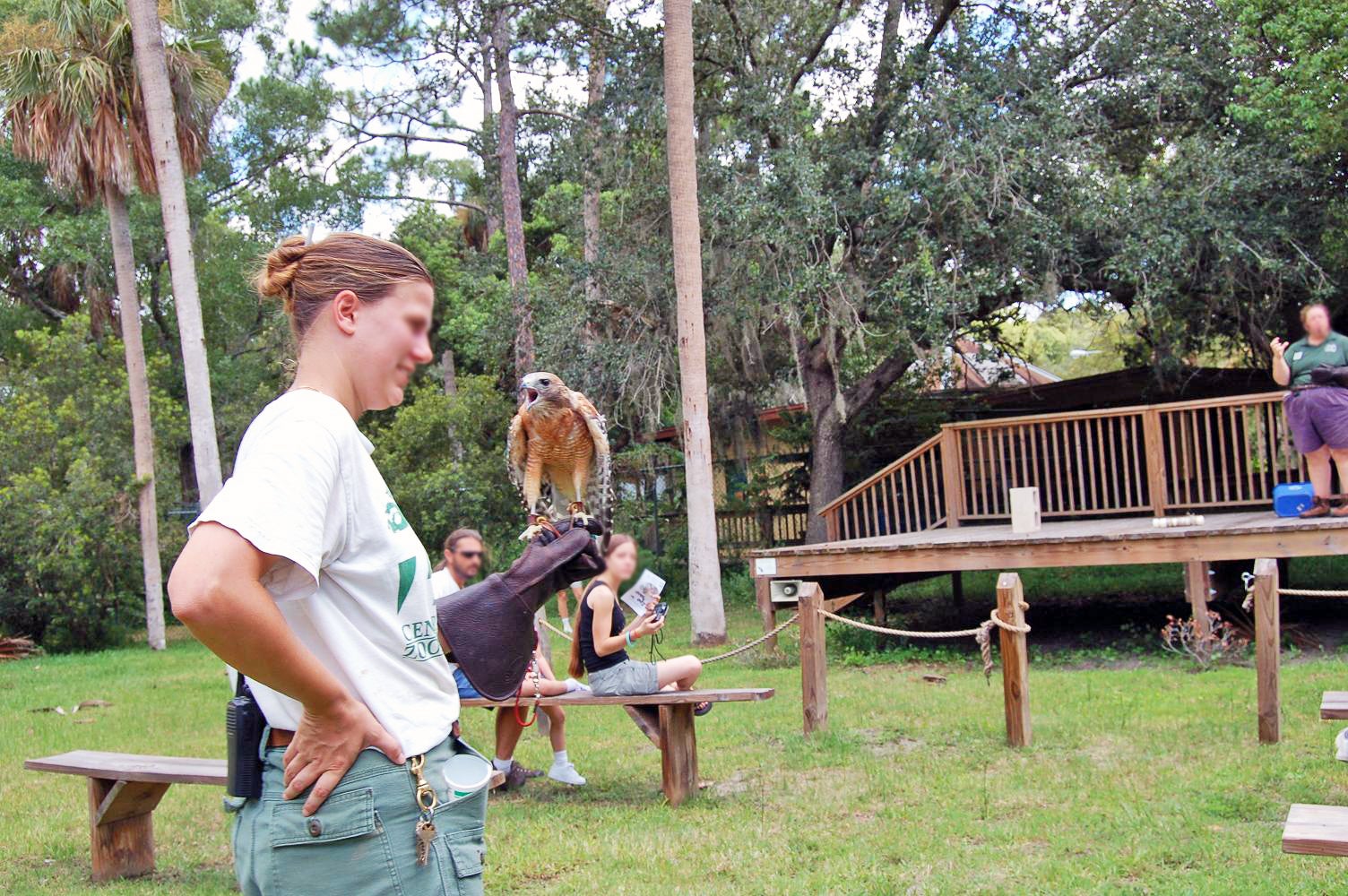 The Central Florida Zoo and Botanical Gardens offer over 400 individual animals, representing over 200 species in total. With so many birds, mammals, reptiles, and countless other creatures on display, it is hard to run out of new things to see during your trip there.
Not only does the zoo hold multiple rare and endangered animals, but it even has its own conservation facility dedicated to the Eastern Indigo Snake. If you are a fan of snakes (and reptiles in general), then this is an ideal place to learn more about some very uncommon examples.
The Barnyard Buddies Children's Zoo is a much more passive space, somewhere that children can engage with safer animals directly and even feed them on occasion. Zookeeper chats are held every day, giving visitors a chance to learn more about their favorite animals and how they are kept.
Beyond that, children can also enjoy various other attractions, from the Tropical Splash Ground and Ariel Adventure course to the Animal Carousel. All of these make it an ideal place to take family, but if you are going without the kids, there is still plenty to do and see.
Gatorland
As the name might suggest, Gatorland is very focused on crocodilians and reptiles. If you have ever wanted to learn all about the scaled side of the natural world, then you will want to visit Gatorland, the 'Alligator Capital of the World'.
It is not all just about the gators, though. The park has a huge range of unique animals from all over the world, ranging from gators and snakes to birds and wild cats. Beyond that, there is a petting zoo, a free-flight aviary, and multiple animal shows that let you see the natural side of animal life.
If the zoo is not quite thrilling enough, then you can enjoy a lot of intense activities instead: the Stompin' Gator Off-Road Adventure, the Gator Gauntlet, and the well-named Gator Zip Line. If you are feeling brave, you can even try the Adventure Hour, getting up close to some giant gators for photos.
Of course, there is also the Gator Wrestling Show, as well as the Trainer-for-a-Day program that teaches you all about the care involved in keeping so many big, tough animals all in one place. Late at night, there is the Gator Night Shine, the perfect time to see how allegators behave when there are treats on the line.
Lion Country Safari
Lion Country Safari is exactly what you would expect – an excellent drive-through safari experience. However, it is also attached to a walk-through amusement park, meaning that you get quite a variety of different activities to enjoy during your time there.
With over 1,000 individual animals roaming through different parts of the zoo, it is easy to see the appeal. Even if some are kept to their own areas for safety, you can still see them in a more natural state, with plenty of ground for them to explore and things for them to react to.
Naturally, this also opens up the chance of seeing them during feeding time, something that can be incredibly interesting to anybody with an interest in animal behavior. If you are bringing kids, you can take them to the petting zoo instead, a tame spot that lets them enjoy the company of some sheep and goats.
Aiming for education above all else, Lion Country Safari offers a Safari Queen boat ride that takes you through some specific areas of the park, teaching you all about spider monkeys, siamangs, and countless other creatures. Alternatively, you can take one of the paddleboats and follow your own path.
The rides in the park are a nice way to de-stress or cap off the night. Not only do you get five major rides, but there is mini-golf, a train, a maze, and multiple shops. You are not likely to get bored at Lion Country Safari, even when you are finished with the Safari portion of the zoo.
Palm Beach Zoo
Palm Beach Zoo is an interesting zoo that had to start from the bottom, going from little more than farmland to a 500-animal zoo. The zoo's core focus is on sustaining wildlife and taking action to benefit the natural world, so you can expect plenty of education and personal experiences while you are there.
For example, you can buy some nectar to feed the birds during the Lorikeet Loft experience or see some sloths up close. There are also specially-designed experiences for meeting giant anteaters, koalas, flamingos, tortoises, and even capybaras.
If that is not enough, there are daily shows that all focus on different animals, as well as publicly-viewable feedings for each type of animal. The Safari Train and Wildlife Carousel keeps things moving if you want to take a break from waking, too.
Kids can enjoy the Play Fountain and Nature Play Pavillion, helping them cool off during hot days or get some exercise while the rest of the family takes a moment to plan their next stop. It is a simple park, but it has noble goals and a lot of interesting experiences to offer its visitors.
Busch Gardens Tampa
Busch Gardens Tampa is a zoo at heart, but it has so many different activities that it almost feels like something else entirely. With more than 12,000 animals roaming around the various habitats, it is easy to explore at your own pace and constantly find new things to look at, especially during your first visit.
Multiple scheduled shows run throughout the day, and you can get multiple up-close experiences with some of the safer animals, like hand-f-feeding them yourself. The Animal Care Center lets you witness the effort that goes into tending to each animal, something that really stands out from other zoos.
If you just want to appreciate the animals in a safe, normal environment, then you can head to the Serengeti Plain: 65 acres of open space for them to roam. You can either sign up for a self-led safari or take a guided tour, depending on which you would find most comfortable.
That is not the only tour, either. You can go on the Penguin Insider Tour or Elephant Insider Tour, seeing both animals in a new light. Alternatively, take the Keeper for a Day tour to learn what goes into keeping the animals and how much it takes to keep them safe and healthy.
These are not even all of the tours, either. There are a lot of specialized choices that really help you see your favorite animals in a completely different way and expose you to new ones that you may never have seen before.
Alternatively, you can try some of the many rollercoasters and other rides attached to Busch Gardens Tampa. If you are a thrill-seeker, then it is a great place to cap off the day, but those who prefer something slower may enjoy the all-age shows – some with animals and some without.
Disney's Animal Kingdom
It is hard to list zoos without mentioning Disney's Animal Kingdom. While it obviously has the usual Disney twist, there are still a lot of excellent activities here, ranging from the Caring for the Giants behind-the-scenes tour to the Wild Africa Trek.
The Animal Kindom is exactly what the name implies: an excellent place to see all kinds of animals, from rhinos and elephants to gorillas and assorted exotic birds. The zoo is not dedicated to a specific kind of animal, but all animals, mostly those that both children and adults, can find fascinating.
There are regular Disney-themed shows, as well as the typical Disney dining options, to tie it back into their popular parks. However, you also get a lot of normal animal-related shows and trails, as well as some unique ways to experience the animals up close.
All of the Disney quality that you would expect is here, meaning that it should be a great experience for groups or families of any size. Even if you are going alone, you can enjoy your time there, and being a Disney fan only makes everything much, much more enjoyable.
While you might not think of a Disney park as the ideal place to find a zoo, it is definitely one of the best options in terms of sheer quality. Yes, it might not feel like a typical zoo, but that does not matter much when you are getting to see so many amazing animals all in one place.
Jacksonville Zoo and Gardens
The Jacksonville Zoo and Gardens is a great place to find educational, interactive experiences that can really teach you some new things about the world around you. With over 2,000 animals and more than 1,000 types of plants, there is a lot on offer compared to many smaller zoos.
The animal exhibits are separated not by type but by location, giving you little pieces of places like East Africa, wild Florida, River Valley, or even Australia. Conservation is a core focus of the park, and children can become invested in educational programs all about endangered species within the zoo itself.
On top of that, there is a whole host of other places to explore, with exhibits ranging from reptiles and fish to mammals and birds. There is also a range of excellent activities that can be done individually or as a family, including guided tours and scavenger hunts.
Every ticket bought sends part of the funds directly to the zoo's conservation efforts, mostly focused on amphibians. You can even visit the Safe The Frogs! Amphibian Conservation Center to see exactly what they are protecting and learn more about the process.
This is a great park for any family that wants something fun and educational, but without the two being separate. You can have a great time at Jacksonville Zoo and Gardens but still walk away with a head full of brand new knowledge about our world and the rare species within it.
Remember that plants are part of the focus here, too. It can be interesting to learn about the plants themselves and the way that they are necessary for certain habitats, something that many other zoos overlook or do not linger on for very long.
Other fantastic zoos to consider
If you're hoping to find more fantastic zoos that the whole family will enjoy, take a look at our roundup of zoos in other locations!
More about our TFVG Author
A seasoned traveller, Dad, and avid sports tourist, James foundered The Family Vacation Guide to share his expert vacation experiences- especially when it comes to being a travelling family man.
Featured in Travel articles such as Travel + Leisure, TripSavvy and SFGate, you know you're reading some of the best vacation tips online.