Taking a vacation to the beach is a dream come true for many, especially when there is pure white sand and clear blue water. Of course, having perfect weather is a bonus too!
But when you are taking a family vacation to the beach, you need to think about what locations will be the best fit for people of all ages. While some beaches cater more to adults, many in Florida are an excellent option for families. 
This guide provides a comprehensive list of 14 of the best white sand beaches in Florida for families. Continue reading to learn more!
Siesta Key Beach
One of the most excellent features of Siesta Key Beach is the ability to observe the area from the comfort of your own home! Yes, you can view a live stream of the beach from your personal computer! Having this ability allows you to see if it's a beach experience that you desire to have.
With that being said, many families love Siesta Key Beach in Sarasota due to its beautiful sand, concession stands, ample parking, and even a free trolley that takes you around the island. It's a great location to spend a few hours or even all day! In addition, there are many great accommodations nearby to stay at, and the city provides a free app to get up-to-date information on wave conditions.
The beach is in close proximity to many great attractions. You can find Siesta Key Beach online at their official website. The physical address for the vicinity of the beach is 948 Beach Rd, Sarasota, FL 34242.
Clearwater Beach
Located in Clearwater, Florida, Clearwater Beach is well known for its super clear and shallow water. Having these two characteristics lets parents feel better about their children being in the water. Located next to the beach is the Promenade, which offers a variety of fun activities and family-friendly restaurants for when kiddos are feeling water-logged and need a break from the beach and sand.
As a long and narrow island, Clearwater is small in size but offers many fun options for families to take part in, including the Clearwater Marine Aquarium. While there, the family can learn about the different fish and sea life that live in the waters around them. They won't even realize that they are learning on vacation because they will be having so much fun!
There are many ways to gain access to the water while in Clearwater. You can find Clearwater Beach online at their official website. The physical address for the vicinity of the beach is 112 S. Osceola Avenue, Clearwater, FL. 33756
Pensacola Beach
Visitors to Pensacola Beach love it for its proximity to fun activities and downtown Pensacola. Many restaurants near the beach are known for being family-friendly. A boardwalk near the water provides an opportunity for water breaks and a large pier extending out into the Gulf of Mexico for optimal viewing.
Additionally, it is surrounded by various accommodations, including campgrounds, vacation rentals, and hotels. Therefore, you will not have any difficulty finding a great place to stay during your vacation and will be surrounded by many amenities for your time there.
The beach itself is known for being very clean and with beautiful, clear waters. Parts of the beach are also pet-friendly, which allows you to bring your furry family members along for fun as well!
You can find Pensacola Beach online at their official website. The physical address for the vicinity of the beach is 400 Quietwater Beach Rd. Pensacola Beach, FL 32561.
Navarre Beach
Another beach option in Pensacola is Navarre Beach. Those who have visited the area refer to the city of Navarre as the most relaxing place in Florida. Because of that, many people flock to Navarre Beach for its lazy beach town atmosphere. It's the perfect place for families to have some downtime and relax while enjoying the sun, sand, and water.
While Navarre Beach has its fair share of restaurants and fun activities, they aren't as plentiful as other beaches. Many people choose Navarre because they want to get away from the hustle and bustle and be present with their family.
Located at the top left corner of the state in Santa Rosa County, it resides in an uncrowded and unspoiled area of land that will provide an oasis for your vacation memories. There are many access points for the beach, with its lengthy waterfront.
You can find Navarre Beach online at their official website. The physical address for the vicinity of the beach is 2034 Anchor Dr. Navarre, FL 32566.
Perdido Key
There is a reason that Perdido Key has the name it does. With the meaning of "lost," the word Perdido is the perfect descriptor of this particular Florida beach. Nestled in a quiet sanctuary near the Alabama border, Perdido Key is a hidden gem when it comes to family-friendly beaches.
The beach stretches a narrow 16-mile line, runs through Florida and Alabama cities, and has several access points in each state. Additionally, 60% of the beach is located within federal or state parks. Therefore, it is one of the most significant pieces of unblemished wilderness in the Panhandles.
While there are activities to participate in during your stay at Perdido Key, the focus is truly on the beach and the beautiful water you are surrounded by. With ample accommodations, you are sure to find a great spot to stay in for your visit.
Everyone in your family will leave this beach town with many wonderful memories. You can find Perdido Key online at their official website. The physical address for the vicinity of the beach is 15500 Perdido Key Dr. Pensacola, FL 32507.
Fort Walton Beach
If you enjoy a round of golf and want a beach vacation but with the addition of other activities to participate in, Fort Walton Beach is an excellent option for you. With beautiful white sand and emerald water, your time playing in the Gulf of Mexico will be memorable and fun. However, the time spent out of the water will be just as exciting.
While Fort Walton Beach is home to great golf, you can also take a trip to the Gulfarium Marine Adventure Park to see all of the sea life that lives in the water around you. Not only will you get the opportunity to see and learn about dolphins, but you can also see a shark and stingray show while you're there!
There are a few different access points for the public to utilize for beach access. You can find Fort Walton Beach online at their official website. The physical address for the vicinity of the beach is 107 Miracle Strip Parkway SW Fort Walton Beach, FL 32548.
Destin Beach
A family favorite for many years, Destin Beach is an excellent combination of beautiful water fun and exciting downtown activities. With many rental houses and hotels in the area, groups can gather with extended family and friends in a fun and picturesque setting.
The waterfront hosts expansive sand-filled beaches for hours of sandcastle building, swimming, sunbathing, and relaxing. After everyone has had their fill, you can take a break to go shopping at the collection of local boutiques or outlet malls.
Additionally, you can go on a sailing excursion or travel around on a tiki cruise. The options are neverending at Destin Beach! There are many public access points to enter the beach, the largest of which is Henderson State Park. There is an entry fee to get in, but you can enjoy pavilions, picnic tables, and a playground while you're there.
You can find Destin Beach online at their official website. The physical address for the vicinity of the beach is 17000 Emerald Coast Parkway Destin, FL 32541.
Grayton Beach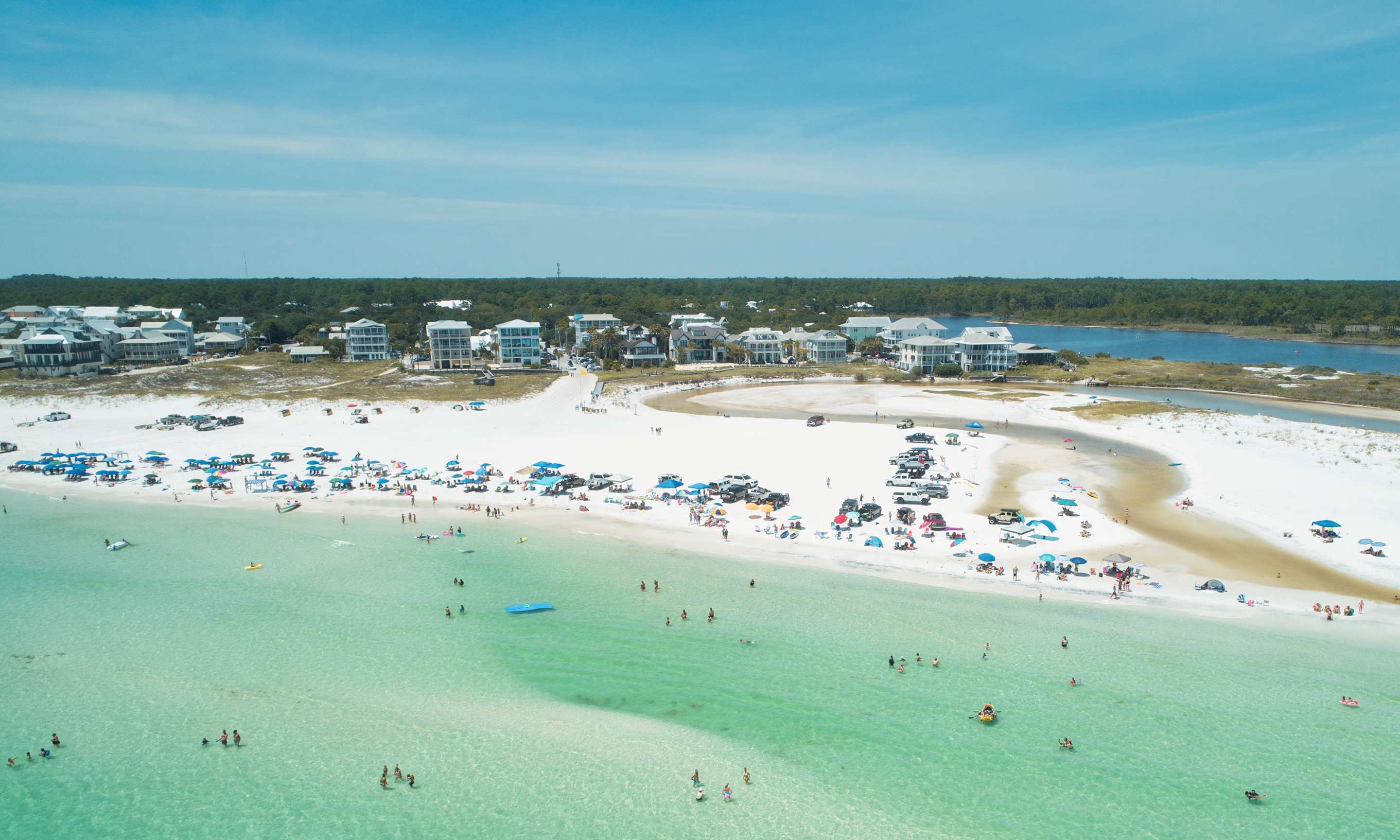 Referred to as a "nature wonderland," Grayton Beach in Santa Rosa Beach, Florida, is excellent for the adventurist and nature lover. The state park that houses the beach is over 2,000 acres and provides cabins and camping sites for travelers to stay in during their visit.
However, Grayton Beach offers more than just swimming and beach activities. They also have bicycling, boating, bird watching, hiking, fishing, paddling, and wildlife viewing. With all the fun options, nobody in your group will find themselves bored.
There is a small entry fee for those not staying on-site to gain admission to the state park and the beach. However, once inside, you have access to all of the amenities that the campers do.
You can find Grayton Beach online at their official website. The physical address for the vicinity of the beach is 357 Main Park Rd, Santa Rosa Beach, FL 32459.
Santa Rosa Beach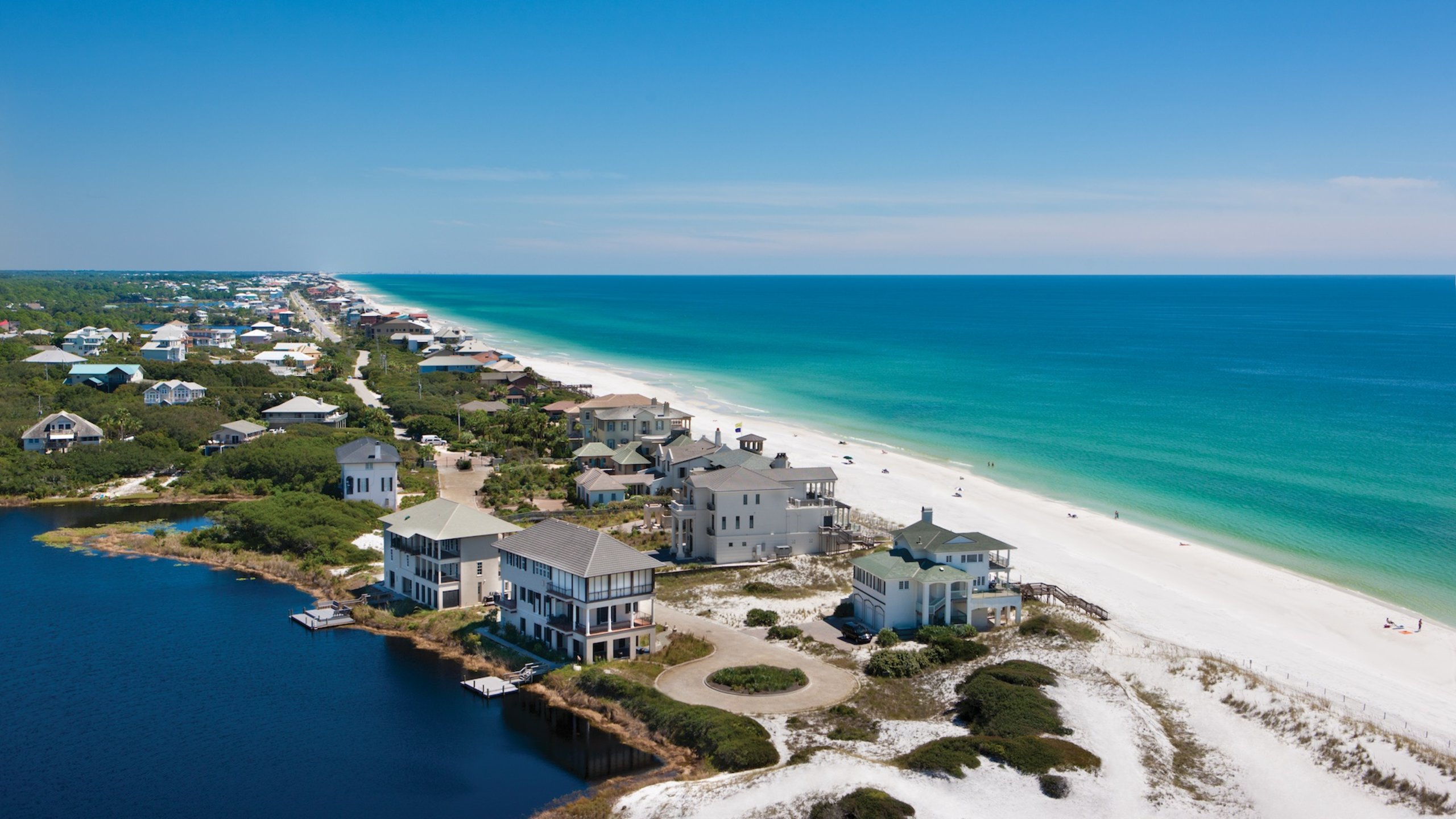 With a reputation as one of the "best beaches on earth," Santa Rosa Beach brings joy to many who visit. Having miles upon miles of uninterrupted sand and water gives visitors plenty of space to spread out and enjoy each other's company.
Additionally, many large rental houses have locations mere steps from the beach. There are also so many hotels in the area, ensuring no shortage of places to stay while visiting the best beach on earth. You can also enjoy multiple public access points to get to the beach, so you won't have to travel far to enjoy all it has to offer.
Santa Rosa Beach has many local restaurants and boutiques for perusing during your stay. With a strong focus on seafood, many of the restaurants will offer mouth-watering entrees that you'll never forget. However, being a family-friendly area, there are lots of kid's menu items available as well!
You can find Santa Rosa Beach online at their official website. The physical address for the vicinity of the beach is 52 South Andalusia Street, Santa Rosa Beach, FL 32459.
St. Pete Beach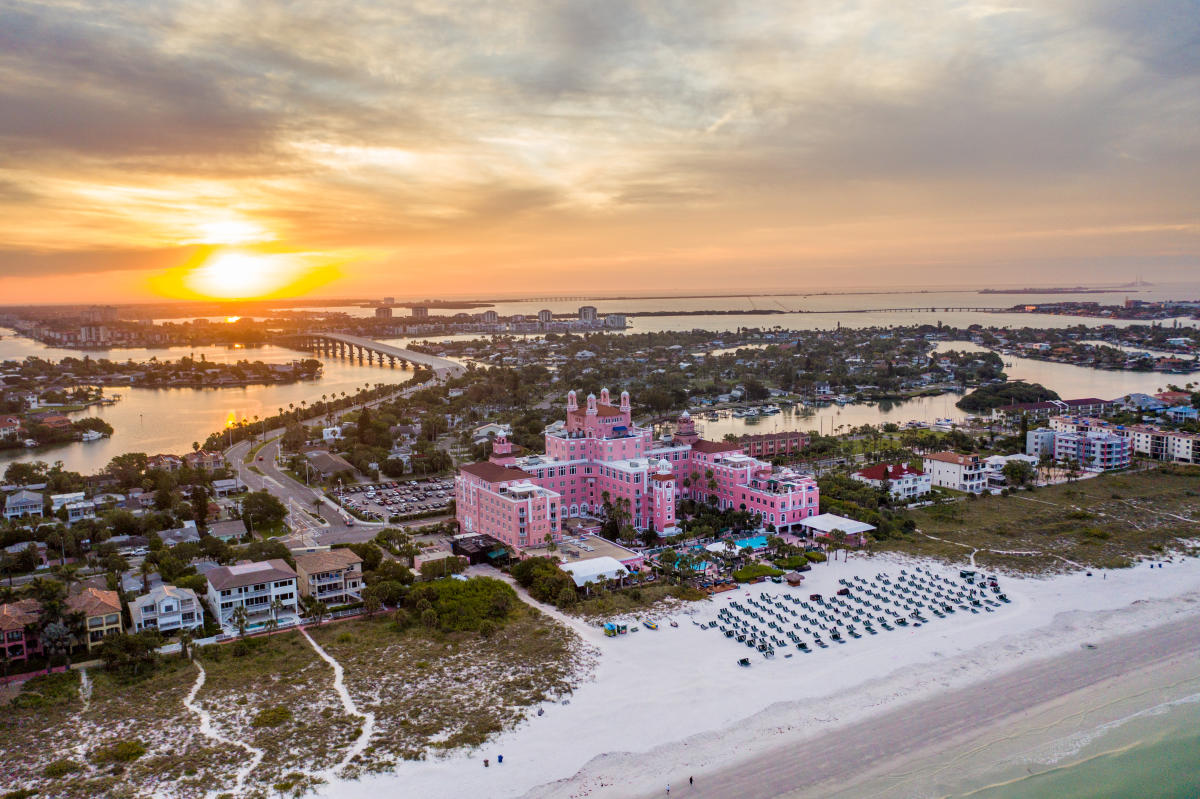 St. Pete Beach is located in a resort town that has a strong focus on hospitality and tourism. With many luxurious hotels and rental houses, the area is known for its high-end experience. With that, visitors to St. Pete Beach don't just get the fun that comes with the beautiful sand and clear water, but with all the additional activities that the town offers as well.
St. Pete Beach has a thriving cultural scene with many different art exhibits and museums to enjoy on your visit. Additionally, there is a comedy club, shopping, hiking trails, and various beachfront bars and restaurants to visit.
Most accommodations have a designated access point to the beach. However, if you stay off the water, there are many public access spots to utilize.
You can find St. Pete Beach online at their official website. The physical address for the vicinity of the beach is 4700 Gulf Blvd, St Pete Beach, FL 33706.
Anna Maria Island
While traversing up and down the many sand dunes that Anna Maria Island has to offer, your children and family members will find joy in nature's hidden pleasures. After a dip in the water and some sandcastle making, they will be worn out from the sun and fun all day.
You can sit down to dinner in a rental home or dine in one of the many restaurants that the island offers. Then, the next day you can choose to do it all over again or participate in one of the many activities. Feel like shopping? There's a flea market and many shops. Maybe you're feeling crafty? There's a DIY sign shop on the island too. You can also take tram tours or get tickets to a baseball game!
You can find Anna Maria Island beach online at their official website. The physical address for the vicinity of the beach is 5313 Gulf Drive, Holmes Beach, FL 34217.
Longboat Key
There are many spots to enjoy the beach at Longboat Key, with 12 public access points in total for all to use. Located in both Sarasota and Manatee counties, there is an extended length of miles upon miles of uninterrupted sand and water for you and your family to enjoy during your vacation.
The city of Longboat Key takes significant measures to keep its beaches clean and provide safety for the sea life. There are many sea turtles and shorebirds in the area, so there are multiple rules and regulations to keep them and the humans who visit as safe as possible.
With a location in between both Bradenton and Sarasota, there are many options for entertainment and restaurants. Additionally, you can choose from many different resorts, hotels, and vacation rental houses for your stay in Longboat Key.
Everyone will have a blast during their time in this beach town. You can find Longboat Key Beach online at their official website. The physical address for the vicinity of the beach is 2825 Gulf of Mexico Drive. Longboat Key, FL 34228.
Fort Myers Beach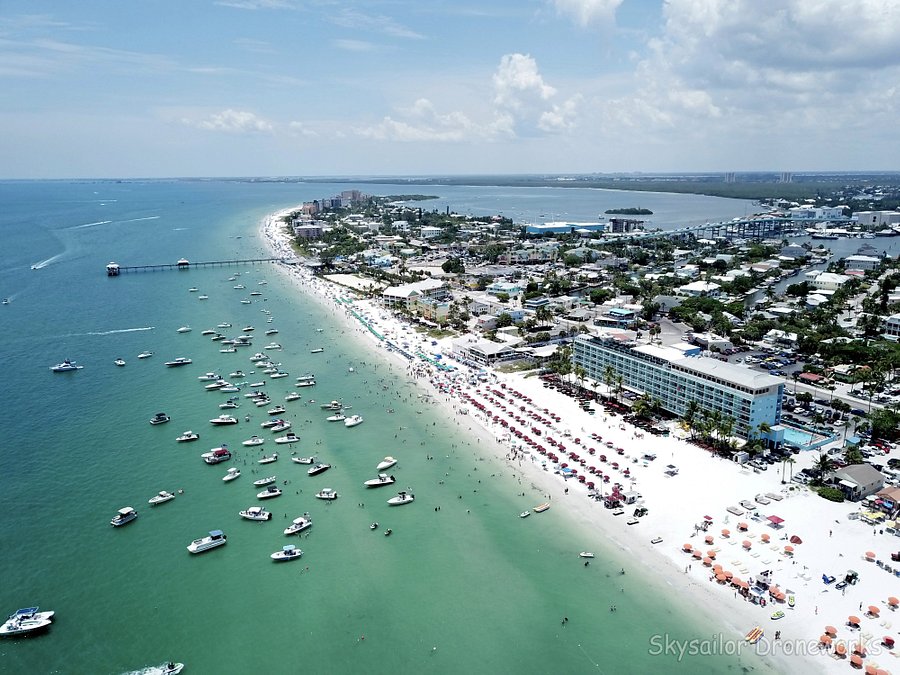 A hot spot for tourism, the town of Fort Myers Beach on Estero Island has a lot to offer in terms of entertainment and dining. However, it is also home to the Fort Myers Beach waterfront, one of the best family-friendly beaches in Florida.
Many people love the area for its excellent fishing and wide-open waters. Others love it for its proximity to many stores and restaurants and its large selection of hotels, resorts, and vacation rental houses. Located near Sanibel Island, another popular vacation destination in Florida, it's easy to go back and forth between the cities and take in all the area offers.
Many of the access points offer picnic areas, pavilions, and playgrounds for all to use. Additionally, many places provide water sports equipment rental. With the large fishing crowd, you can also take a charter fishing trip for the day or rent your boat to take out on your own.
You can find Fort Myers Beach online at their official website. The physical address for the vicinity of the beach is 8700 Estero Blvd. Fort Myers Beach FL 33931.
In Summary
There are many great beaches in Florida. However, not all of them are as family-friendly as others. When traveling with a big group, especially with children, finding a conducive spot for your needs is essential. There is nothing worse than being on a trip and being miserable because the environment isn't favorable to your family's requirements.
While some people prefer to stay in the sun during their entire stay at the beach, others require respite from the heat. Additionally, when the weather turns rainy or you find yourself waterlogged, it's nice to have options for indoor activities or outside adventures that aren't water-focused.
This list of 14 of the best white sand beaches in Florida for families provides many beaches that can fit your family's needs during your next trip. While some offer a variety of activities and adventures, others primarily focus on the beach and offer very little in terms of additional amenities.
Regardless, each option on this list has a lot to offer and will provide an excellent vacation experience with lots of memories made.
More about our TFVG Author
A seasoned traveller, Dad, and avid sports tourist, James foundered The Family Vacation Guide to share his expert vacation experiences- especially when it comes to being a travelling family man.
Featured in Travel articles such as Travel + Leisure, TripSavvy and SFGate, you know you're reading some of the best vacation tips online.