Camping is a great way to spend your vacation, either alone or with friends and family. However, it also relies on you finding good campgrounds to enjoy, especially if you are planning to spend most of your time in nature rather than relying on nearby attractions.
Florida Keys has a whole host of different camping areas to enjoy, from humble campsites to luxury RV spaces that offer their own amenities and high-quality services. While not all camping spaces are equal, it is often a good idea to find the one that suits you best.
But which of the campsites might be ideal for you, and what kind of camping atmosphere matches best into your vacation plans? The more you know about the campgrounds on offer, the easier it becomes to find one that is a perfect fit for your vacation style – whether you are alone or travelling as a group.
Here are some of the best places to go camping in the Florida Keys, along with some details as to why they are so good. Remember, none of these are the best – all of them have value to the right kind of person, and no two of them are identical.
Sunshine Key RV Resort and Marina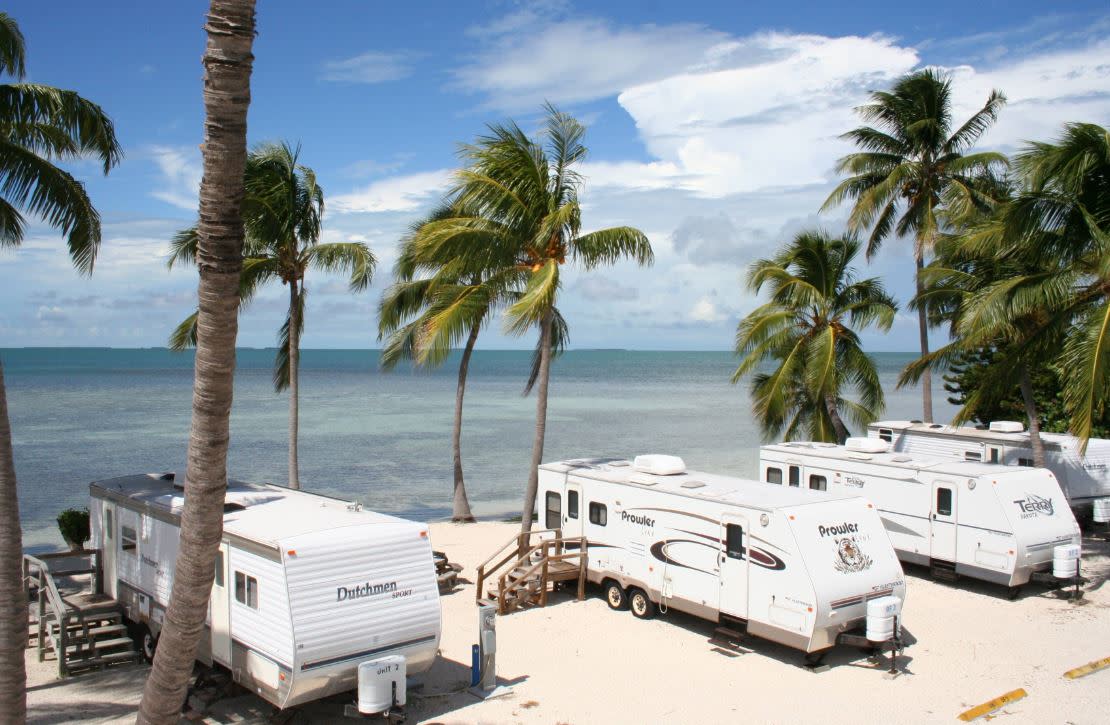 Sunshine Key is a nice addition to the 75-acre island of Ohio Key, giving you plenty of space to move around and explore without being too large to get lost in. The RV resort is connected to a private marina, allowing for some excellent views at any time of the day.
The resort offers plenty of different sites, ranging from smaller tent spaces to massive RVs. All of them have easy access to electricity, running water, grills, and even picnic tables to make eating a much simpler experience – you will not have to sit on the floor and so can avoid bugs and pests.
There are also restrooms, hot showers, a dump station, laundry options, washers, dryers, a whole swimming pool, and multiple dedicated spaces for different kinds of shopping or recreation. If you want to explore the waters, then there are fishing charters, kayaks, and snorkelling tours to enjoy as well. 
Sigsbee Campground
Sigsbee Campground is a waterside camping spot that keeps you hooked up to electricity, water, sewage disposal, and even cable television. With over 500 spaces, it is quite a large and well-packed campground, making it a great option for people who do not mind getting social.
The children's playground and simple coin-operated laundry options mean that it is ideal for a family trip, but you can also have a lot of fun there yourself. Whether you stay in the campground or go for walks in the nearby wilderness, there is plenty to see and do at your own comfortable pace.
Bayside Bahia State Park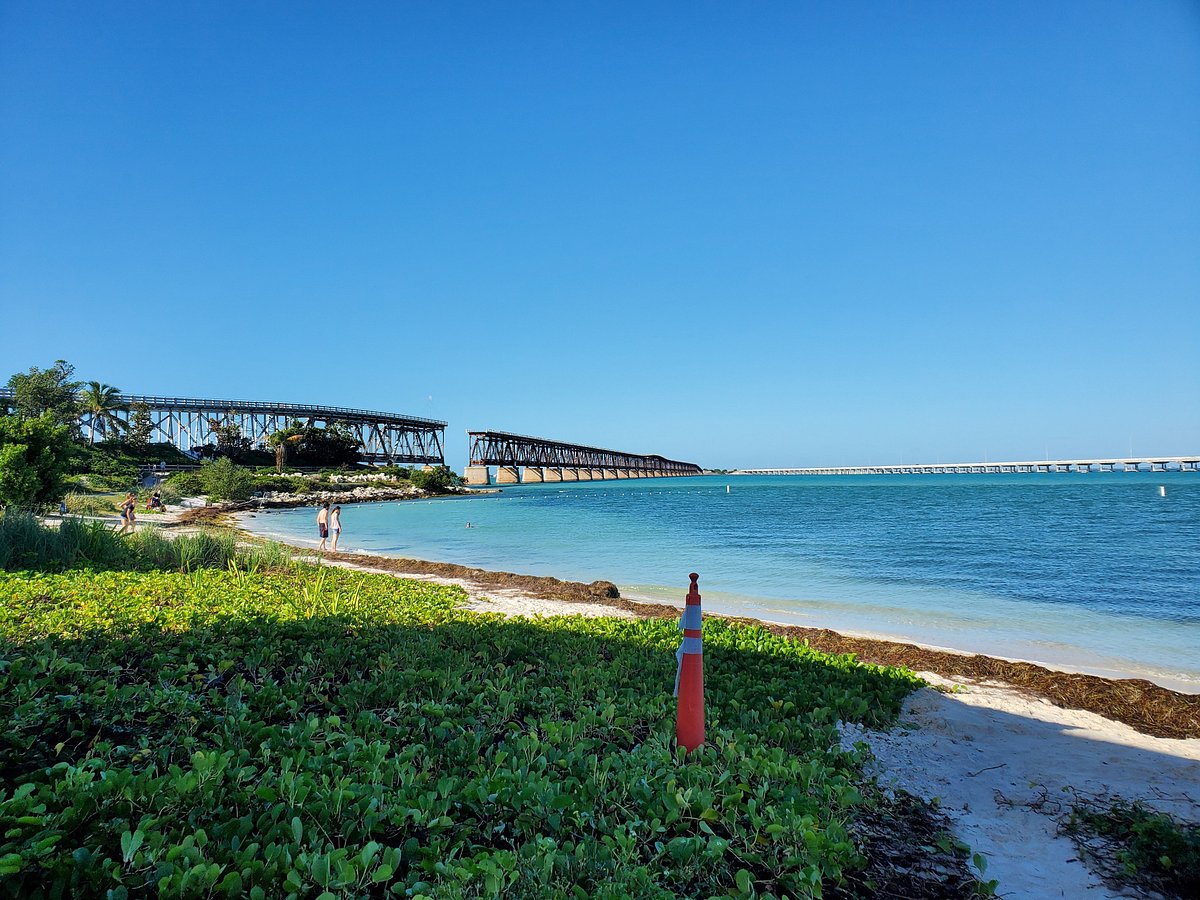 Bayside Bahia State Park is an ideal place to spend your vacation, offering world-class attractions and an excellent set of camping options that can keep you safe, comfortable, and very happy with your choice. Split into two campsites, each one offers something completely different from the other.
Buttonwood Campsite is meant for RVs and tents that have full connectivity, meaning that you get electricity, water, bathhouses with their own showers and toilets, and even places to dump waste reliably. Bayside Campsite is much smaller, aiming for a non-electric experience with fewer amenities.
Either way, you are situated right next to some major attractions and can easily become invested in the local area. If you just want to sit there and relax, though, then you do not have anything stopping you from putting your feet up, grabbing a drink, and grilling up some food for yourself instead.
Big Pine Key Fishing Lodge
The BPKFL is a ten-acre space that gives you a great view of the Atlantic Ocean and the Gulf of Mexico, with even your accommodation letting you see far off into the distance. The campsite has multiple different accommodation options, as well as all of the amenities that you would expect.
Fire pits, cable television, picnic tables, water, and power – it is all there, meaning that you can ease into camping if you have never been to a place like this before. Thanks to the waterfront location, you can also launch boats very easily or even arrive in one if you have that planned ahead of time.
The giant camp store nearby allows you to stock up on camping tools and essentials if you are running low, so you will never be stuck looking for that last tent peg or having to make do with a damaged old coat. You also have access to a big rooftop swimming pool, something that can really shake things up if you are looking for a fun way to relax in the water.
Biscayne National Park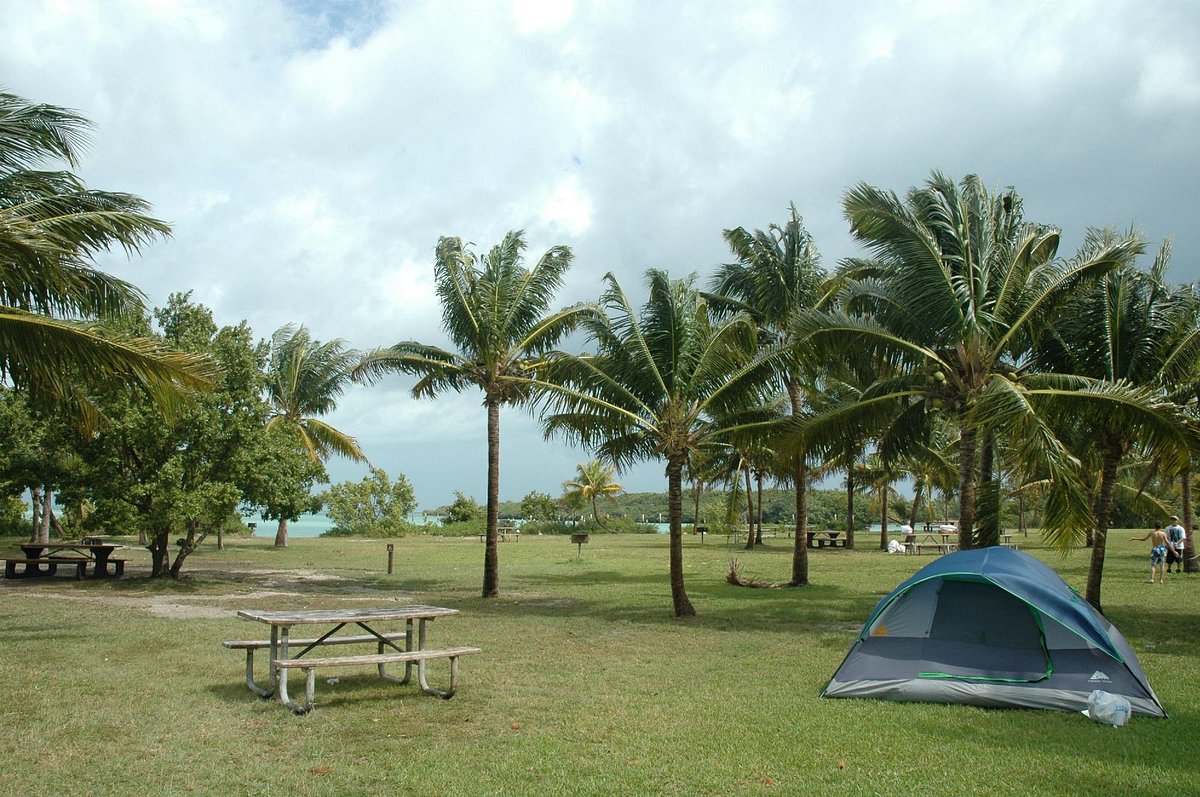 Biscayne National Park is an excellent space to explore with a massive variety of above-ground and underwater features to explore. Not only can you wander around the small uninhabited islands or isolated forests of the park itself, but there are entire fields of coral just below the shore, all full of active marine life.
While the park itself is accessible only by boat, this adds to the mystique of it all. Both campgrounds – Elliot Key and the grassier Boca Chita Key – are great spots to stay at, and you can get a lot of mileage out of even the simplest walking trail.
Remember that you are very near the shore, meaning that you get to enjoy the beaches and the water as much as you like. This can be the ideal place to go if you want to experience an island paradise without actually being isolated from the rest of the world.
As a side note, look out for the many shipwrecks near the island. They are an interesting piece of history and something that you should not just ignore. They can also be very fun to try and snap unique pictures of, especially if there are parts jutting out near the sand that make a nice backdrop.
Bluewater Key RV Resort
Bluewater Key RV Resort is a great home base for exploring the rest of Florida Keys, giving you a comfortable set of shore-based sites that are all fully equipped for even the most casual of campers. Complimentary cable and wireless internet mean that you can stay connected while you are camping there, and some sites even have private docks for holding onto boats.
Bluewater is very close to a range of interesting spots that could make for a great night out, but even if you do not leave the campground, you can get a lot of fun out of your time there. It is easy to rest, relax, sit back, and enjoy your time in the sun at your leisure.
Boca Chita Key Campground
Boca Chita Key Campground is a very family-friendly site that is defined by the historic lighthouse at the edge, something that is still being used to guide hundreds of boats to the park. Accessible only by boat, it is easily one of the most popular sites within the Biscayne National Park grounds.
If you are heading here, keep in mind that it is an intentionally primitive experience. You are getting no restrooms, no electricity, and only standard vault toilets – it is a very straightforward, basic camping experience that purists will love and dedicated outdoor-loving vacationers can get a kick out of.
It will not be for everybody – especially since pets are not allowed at the site – but it can be a nice change of pace from the luxury grounds that other sites and islands offer. If you want somewhere basic that lets you take care of yourself, then Boca Chita Key is a good choice.
Boyd's Key West Campground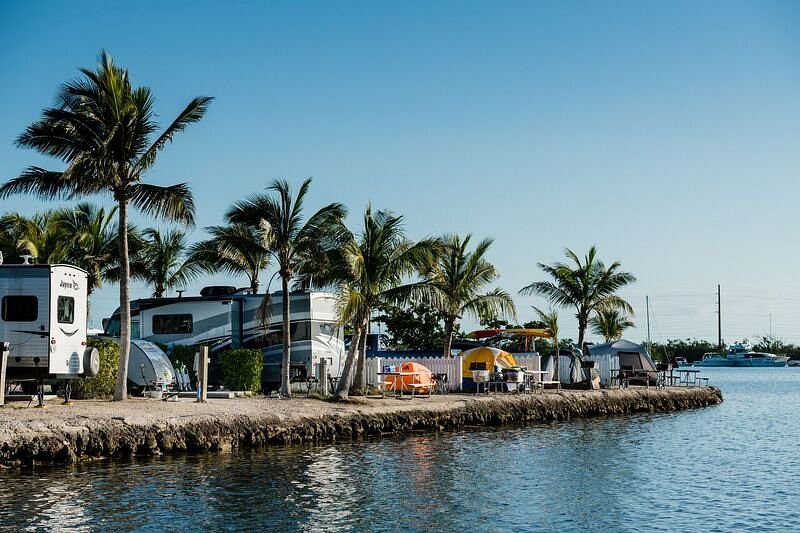 Boyd's Key West Campground has been operating for over 50 years and is very receptive to all kinds of heavier vehicles. There are spaces for RVs, camper vans, and even big rig trucks, meaning that it can be a great spot to stop if you come in a vehicle.
Every site has electricity, water, sewer, restrooms, toilets, and covered picnic areas that make it easier to eat while the rain is falling. You can also get some deluxe amenities, such as dry cleaning, washers, and even multiple recreational halls or buildings to keep you entertained when all else fails.
Thanks to all of this, it can be a great family campground, making it easier to keep younger children from getting bored while also avoiding more hardcore camping conditions.
Buttonwood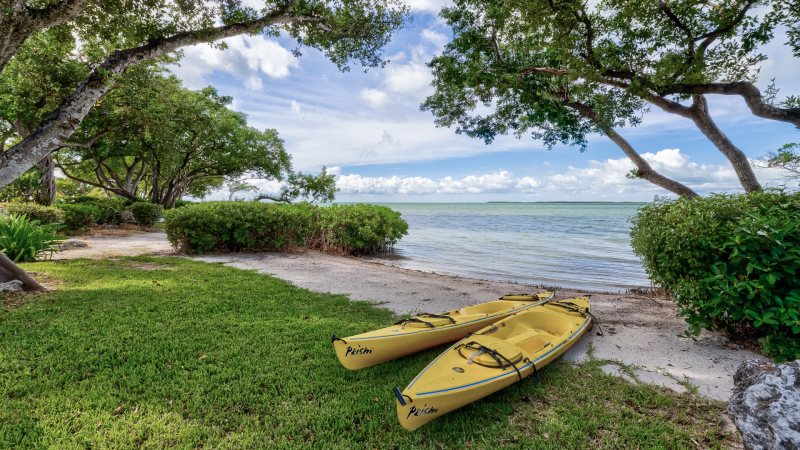 Buttonwood is part of the island of Bahia Honda and is found within Bahia Honda State Park. This park is famous for its excellent snorkelling and diving options, as well as the amazing white beaches that it can offer to all visitors. 
If you are staying here, then you can use either tents or RVs, both of which have a connection to both the water system and electricity grid. Restrooms, showers, and dump stations are also available, as well as a range of different outdoor activities that you can enjoy at the park itself.
Curry Hammock State Park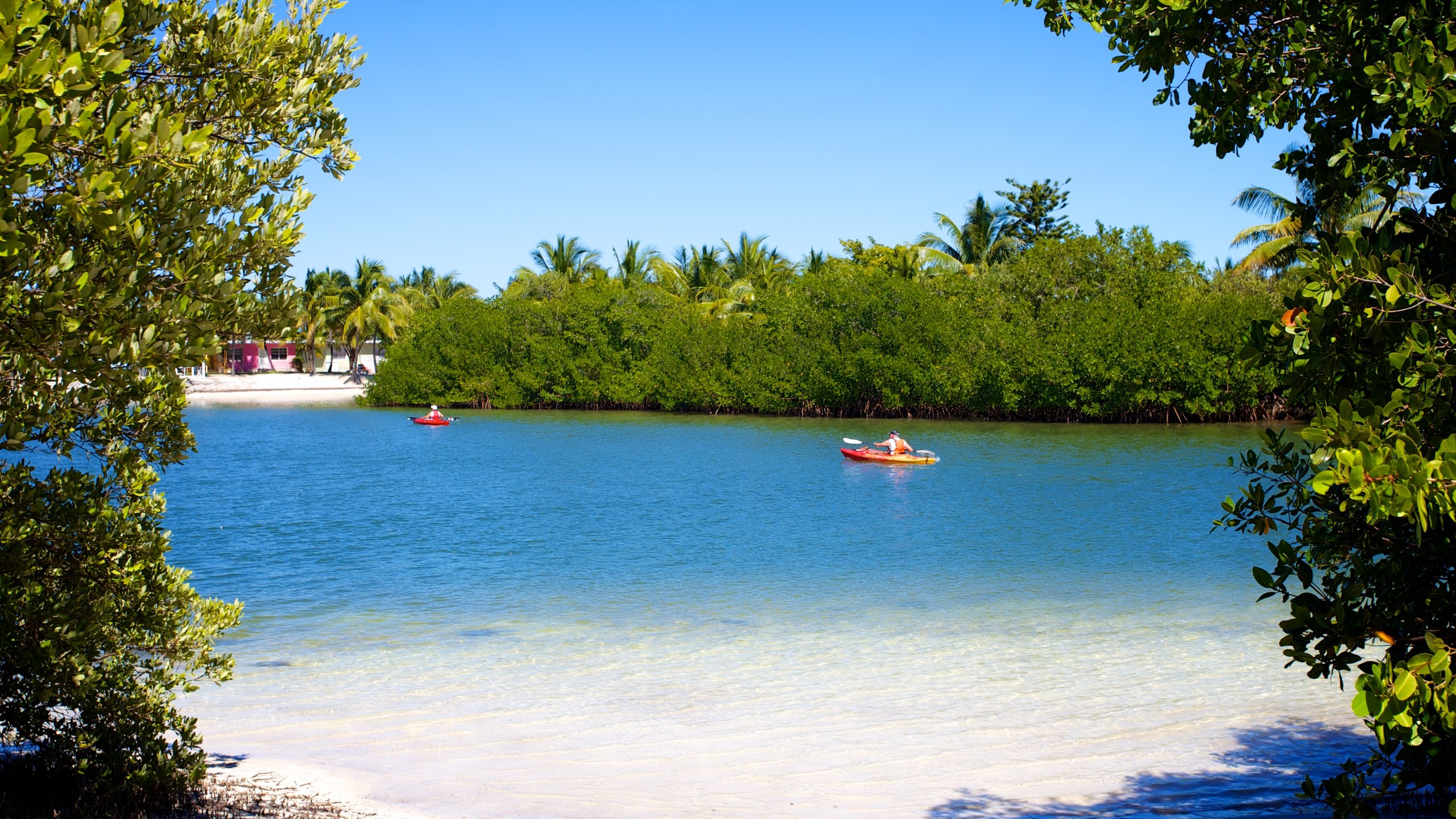 Curry Hammock State Park is a very unique space, covering multiple different types of land despite being such a small 28-site campground option. The oceanfront view makes it great for people who love to watch the waves, but it also has enough amenities to keep you happy and healthy as a casual camper.
Thanks to the fairly small and relatively isolated space, it is an interesting change from larger and more urban-focused areas. Still, you can go hiking and mountain biking whenever you feel like it, and there are boating, canoeing, kayaking, powerboating, and fishing opportunities on every shore.
Dry Tortugas National Park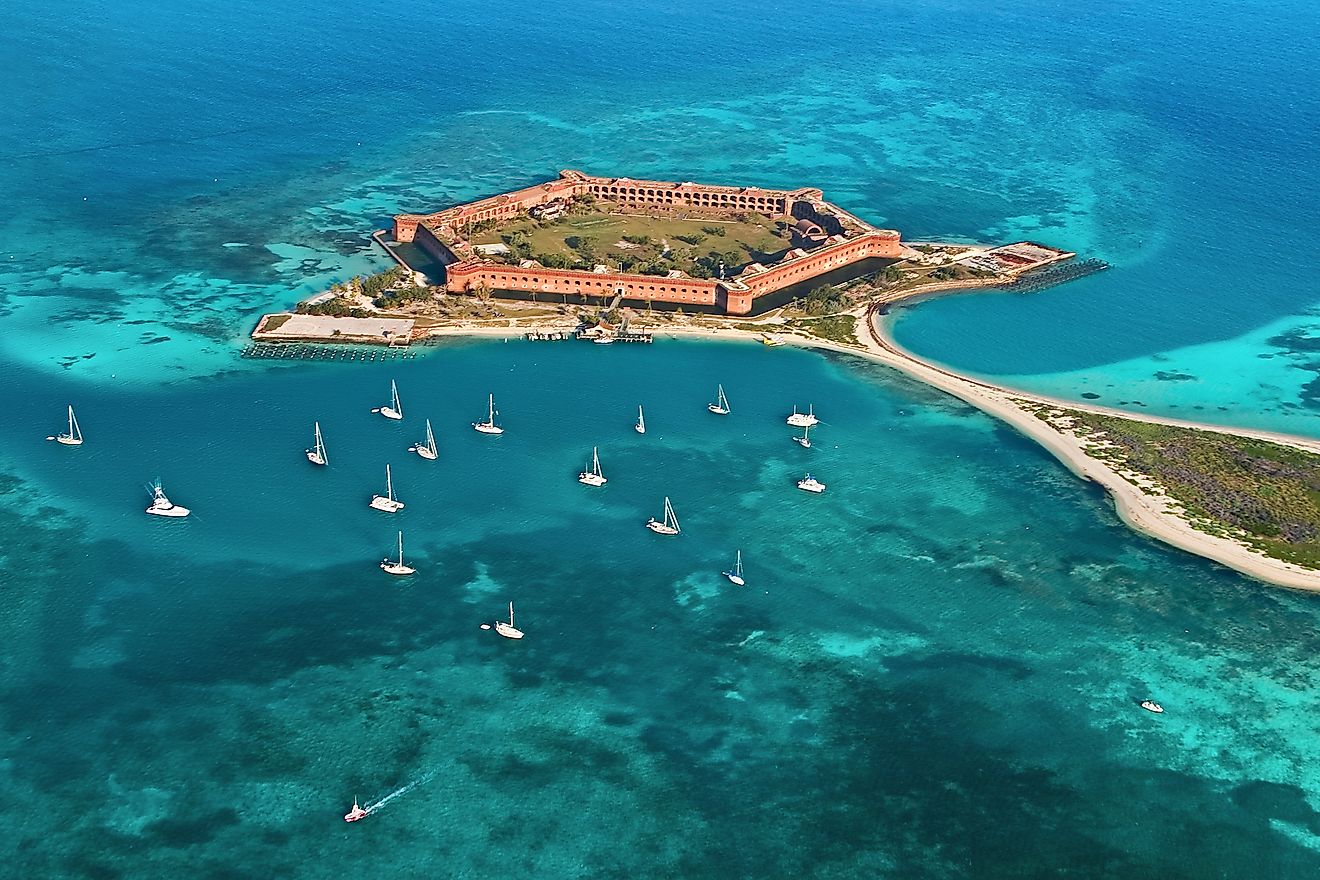 Dry Tortugas National Park protects seven of the Dry Tortuga Islands, which are some of the most isolated islands in the Florida Keys. It also covers Fort Jefferson, a major landmark worth visiting. This combination makes it a great campground for people who prefer iconic spaces or unconventional hikes through historic locations.
The variety of activities on offer makes this an instantly accessible classic, from camping and having picnics to snorkelling and scuba diving. You also have multiple ways to go canoeing and kayaking, and birdwatching is quite a popular pastime around the grounds as well.
Like many island campgrounds, it is only accessible by boat, although you can also use a seaplane to get there in style if you prefer.
Fiesta Key RV Resort & Marina
The Fiesta Key RV Resort & Marina is an open 28-acre resort that has a lot of incredible views, letting you get some great lines of sight to the Gulf of Mexico. The on-site marina and restaurant make it a much more casual and relaxed experience, but you can also enjoy a range of other attractions and features.
For example, you have access to a luxury spa, an on-beach bar, a swimming pool, electricity, water, and grills for each of the camping spaces. Hot showers and modern restrooms are also available, no matter which spot you choose.
There are also multiple popular attractions near the park itself, such as the Long Key State Park, the Bud 'N' Mary fishing marine, and the Dolphin Research Center. This makes it one of the better campsites for people who want something more location-specific to enjoy while they are there.
Geiger Key Marina & RV Campground
The secluded Geiger Key Marina & RV Campground provides a great oceanside space for all kinds of camping experiences, with a massive range of different activities to keep you engaged. This includes both recreational and educational options, keeping it family-friendly no matter what you decide to do.
The park is open all year round and has full access to power, water, and sewer. Guests also get internet access to plenty of other comfort-focused features to help them enjoy themselves, such as boat launches and direct beach access.
Grassy Key RV Park & Resort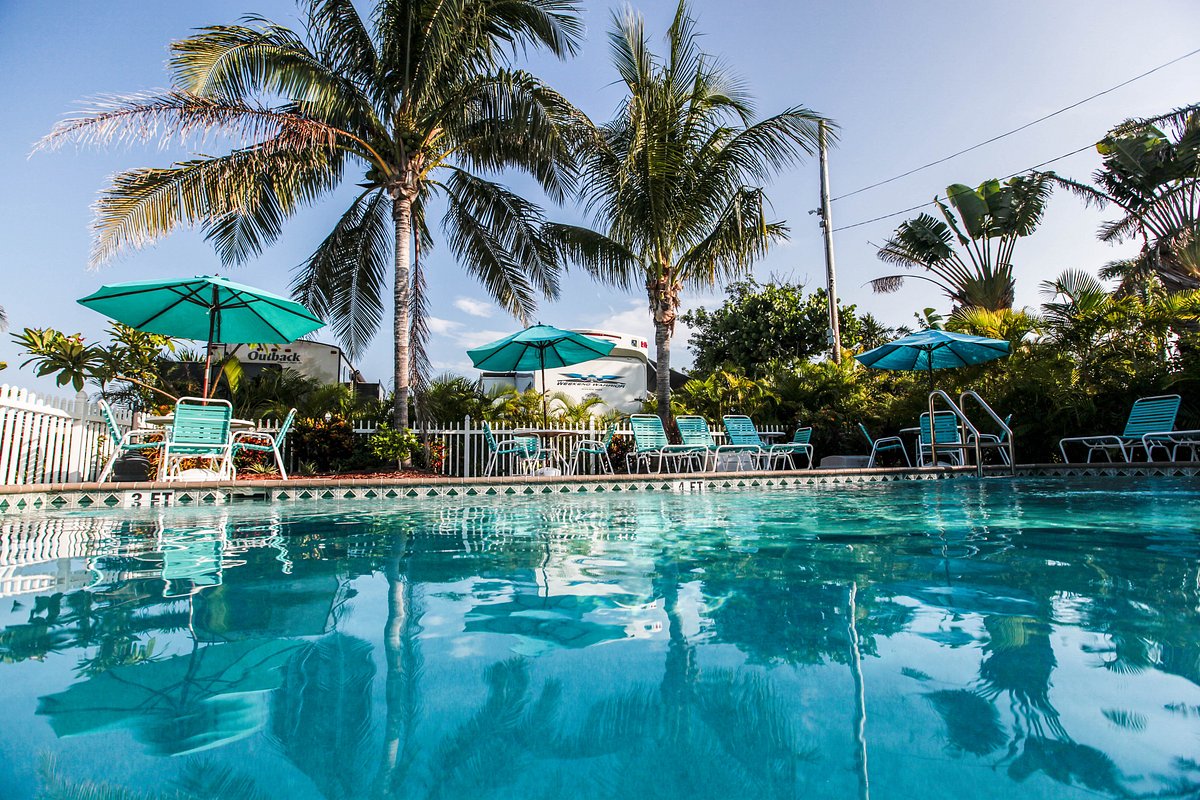 Grassy Key is, as the name suggests, full of excellent plant life. However, it also offers full laundry facilities, an excellent swimming pool, planned activities in the recreation hall, a specialized games room, and even a camp store in case you run out of anything vital.
The park itself is easy to access and offers some great views, feeling natural even if you are staying there in an RV or big rig. The abundance of plants makes it a much nicer space than some other paved-over parks, and there are a lot of things to enjoy while you are spending your time there.
John Pennekamp Coral Reef State Park
John Pennekamp Coral Reef State Park is a great undersea park, spanning well over 70 square nautical miles in the Atlantic Ocean. However, the shore areas of it are ideal for camping, giving you cable television and internet access as well as a very natural-feeling experience.
Once you are there, you can have plenty of fun taking long hikes around the park, having picnics on the flatter areas, or even going snorkelling and scuba diving to see the coral up close. Whatever you choose, though, you will always be only a short distance away from the beach.
Where should I choose?
There is not a perfect place to take your camping trip, and the site that you use makes a huge difference in what you get. For some people, having all of the important amenities available is just what they want, but for others, it would be ideal to have nothing but the tools they brought with them.
Make sure you research each site that you are considering before you make a final decision just so you know the ins and outs of what is on offer. A particular park might not allow pets or might be missing one final thing that you were really hoping it would offer, so knowing what you are getting into ahead of time helps you avoid bad decisions.
Really, though, every campsite is perfect for somebody. Consider your preferences and limits, as well as the preferred camping style of the friends or family that are coming with you. If you do not plan ahead, then you will not know what kind of campsite you are going to, so it is a good idea to know what is coming.
What Now?
If you are sure that you have found the perfect campsite for your next vacation or trip to the Florida Keys, then you will want to start planning! Make sure that you understand what the site does and does not offer, and look at the activities or spaces that you could enjoy in the surrounding area.
Always pick a campsite that you can keep yourself entertained at. If you want constant new things to do, then do not pick an isolated camp – but on the other hand, if you want to forge your own path, do not choose a campsite that gives you all the amenities you could ever want.
Whatever you choose, the Florida Keys are full of excellent camping spots. No matter where you go, you can have a great time and snap some incredible photos, as well as make memories that can last a lifetime.
Check out these other articles about vacationing in Florida:
More about our TFVG Author
Karly is a The Family Vacation Guide guest travel contributor.