With all of that queuing and walking you'll be doing at a Disney theme park, it sure can work up an appetite!
Luckily, within Magic Kingdom at Disney World in Orlando, Florida, there are plenty of opportunities for you to refuel, from kiosks to full-service restaurants.
In this article, we're going to focus on 10 of the best quick service restaurants within the park!
These are restaurants where you place your order at the counter, pick up your food, and then sit down to eat.
While some of the quick service restaurants that were available pre-pandemic have yet to come back, there are still loads of great options.
So, what are you waiting for? Read on to find out which quick service restaurants are worth your time and hard-earned cash!
Or if you're not pushed for time, why not check out our guide to the Magic Kingdom's best restaurants for more ideas?
How Many Quick Service Restaurants are in Magic Kingdom?
There are currently around 22 quick service restaurants listed on the Walt Disney World website.
At this time, there are no food trucks available in this list (though 9 are available for Mobile Ordering, as well as in-person).
This will allow you to skip the line, which is quite handy, indeed – especially on a busy day!
Some of the quick service options have more drinks and snacks than full menu options.
Others will only be operating during the busy season, so it's always best to check online before you visit.
Recommended: Magic Kingdom's Best Quick Service Restaurants
With so many options to choose from, quality will invariably vary. Lucky for you, we're here to establish the cream of the crop.
In no particular order, here are our top 10 quick service restaurants at Magic Kingdom!
Casey's Corner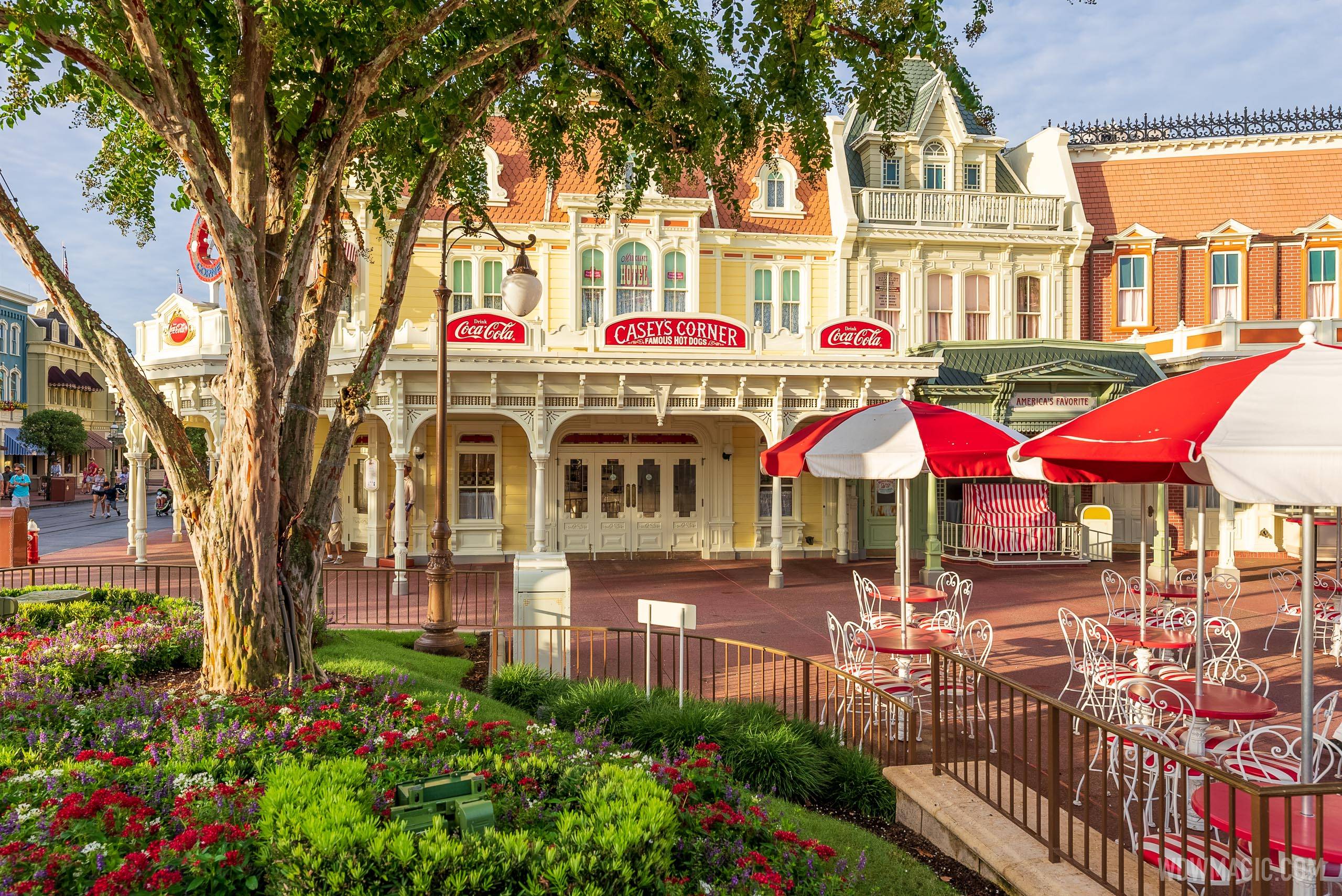 With a vintage retro feel and baseball theme (it is, after all, named after Disney's Casey at the Bat), Casey's Corner specializes in all-beef hot dogs of all shapes and sizes.
Easily located on Main Street U.S.A, you'll be hard-pressed to find a better place in Magic Kingdom if dogs are what you're craving!
With a menu currently boasting ten unique dogs (including two plant-based, and two Halloween exclusives), there's bound to be something to your taste.
How about a classic foot-long, topped with chili and cheese? Or, an all-beef dog, topped with strawberry-bacon jam, funnel cake pieces, and powdered sugar?
Do the fan-favorite corn dog nuggets tickle your fancy? You can find it all at Casey's Corner.
And all of that's before we even reach the snack portion of the menu! Indulge in french fries, as is or loaded, or a Pressed Penny Silk Pie.
The beverage options have all of the usual fountain sodas, as well as coffee, hot cocoa, and juice.
Casey's Corner is a popular and well-known choice, so it's no wonder that they have long lines.
They are also one of the latest openings at Magic Kingdom (they're open until midnight, most nights), so if you've been caught up in the rest of the park, you can always grab a bite here to close out your day.
With the option to either sit inside or out, many patrons prefer to sit outside.
How else would you be able to watch the action on Main Street U.S.A. and listen to the live piano stylings of Casey's Corner Pianist?
With toe-tapping ragtime music and a good ol' fashioned hot dog, this makes Casey's Corner a solid choice at Magic Kingdom.
Cosmic Ray's Starlight Café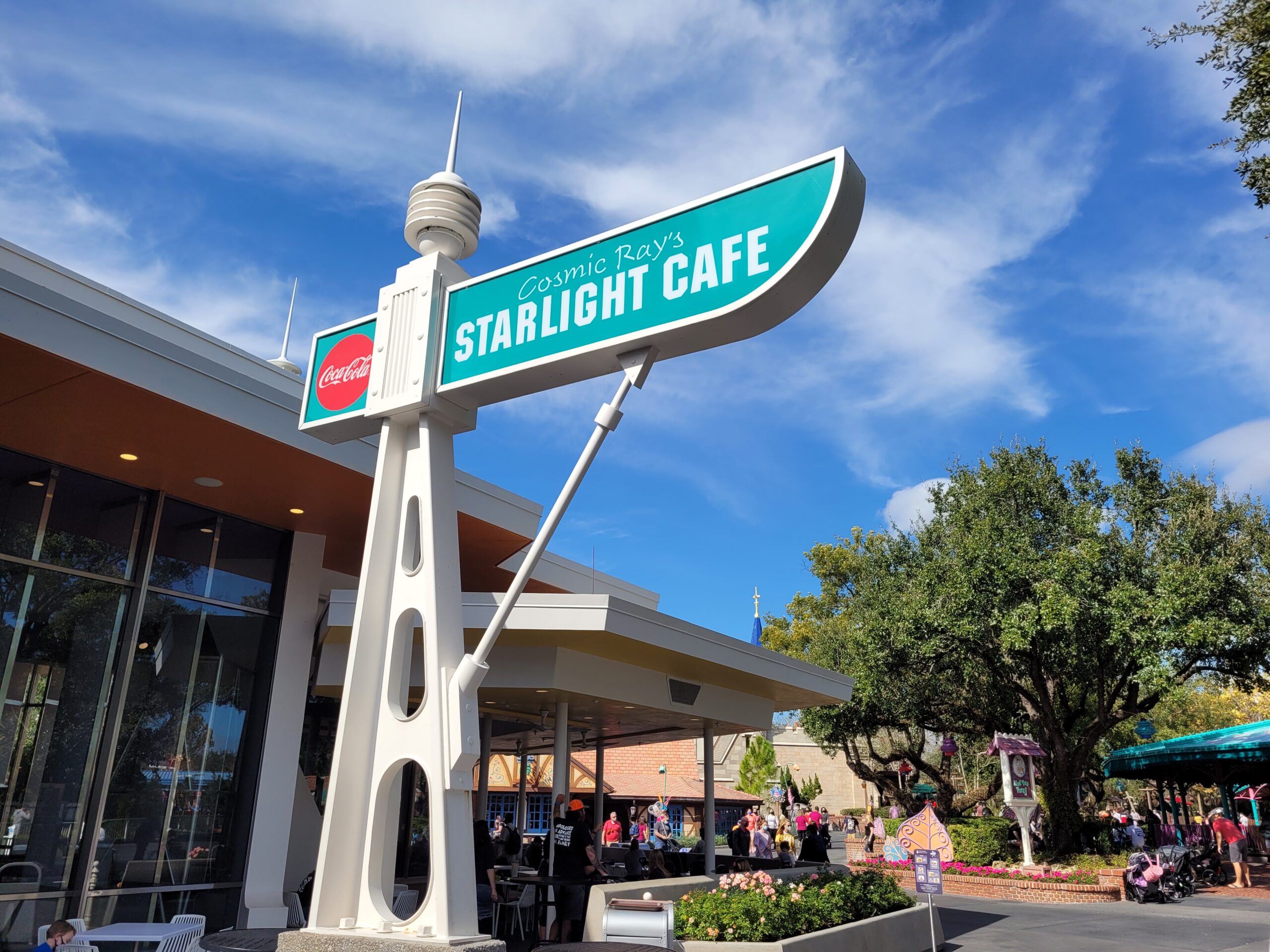 Located in Tomorrowland, across from Mad Tea Party and Tomorrowland Speedway, Cosmic Ray's Starlight Café is a classic Magic Kingdom institute.
Serving an all-American menu of burgers, Greek Salad, Chicken Strips, a Kids' menu, and more, Cosmic Ray's has a variety of offerings which will keep you full.
Notably, the menu has 6 sections catering to all different allergies- we love to see it!
Whether you're gluten-free, egg-free, soy-free, milk-free, seafood-free, or nut-free, Cosmic Ray's has an option for you.
An Impossible(™) Burger is also available as a plant-based option. It's packed to the brim with tomato, guacamole and cabbage slaw, and finished off with a serving of French Fries!
With a loose intergalactic theme, the café's decorative style is straight out of an episode of The Jetsons.
Sit on the correct side of the restaurant, and there are even floor-to-ceiling glass windows looking out over the park and Cinderella's Castle! You can also sit outside on a sunny day.
Cosmic Ray's used to boast a toppings bar, which you could use to customize your meal.
Sadly, in these Covid times, the toppings bar is no more, but that doesn't stop the pull of diners.
Why? Because the real star of Cosmic Ray's is Sonny Eclipse: the in-house alien entertainment!
Sonny Eclipse, an Audio Animatronics alien, plays a 25 minute looped set on his Astro Organ, with back-up vocals from his Space Angels.
Broken up with jokes, Sonny's set is a favorite amongst Magic Kingdom regulars, keeping them coming back time and time again.
Be sure to grab a seat where you can watch and hear his show, while you chow down on a burger and slushy!
Gaston's Tavern
With a fountain topped with a statue of LeFou and Gaston outside, you can hardly miss Gaston's Tavern- located in the Beauty and the Beast area of Fantasyland.
The tavern is straight out of the picturesque French village of the Disney animation, and inside you'll find all of those same details you know and love. See if you can spot them all, and get the kids to make a list while you wait for your food!
The menu at Gaston's Tavern is more focussed on snacks and drinks, with a Ham, Provolone, and Swiss Sandwich now the only available savory item (R.I.P. the legendary Pork Shank).
Our top tip? Come by for a huge Warm Cinnamon Roll for breakfast, when the buns are fresh and toasty.
It's truly the ideal breakfast for a morning at Magic Kingdom! If you wait until later in the day, you may be in for disappointment.
You'll find all the usual beverage options on the menu, from sodas to tea and coffee. What you won't be able to find anywhere else, however, is LeFou's brew.
Consisting of frozen apple juice with a hint of toasted marshmallow, the refreshing beverage is then topped with a passion fruit-mango foam.
Want to feel even more like one of the characters in Belle's storybook town? Get your beverage in a souvenir stein and cheer your foam into the air while singing 'Gaston'!
We love Gaston's Tavern for all of its little quirks and ambience.
It's an iconic place to visit in Magic Kingdom and, if you're lucky, you may even get to meet Gaston himself!
Keep an eye out, especially now that characters are roaming around the park again.
While the dining options at Gaston's Tavern are a little thin on the ground, the ambience alone makes this one of our must-visits in Magic Kingdom.
The latest opening time here is 8pm, otherwise Gaston's Tavern typically closes at 3pm. Be sure to check the calendar on the Walt Disney World website to confirm before you visit.
The Friar's Nook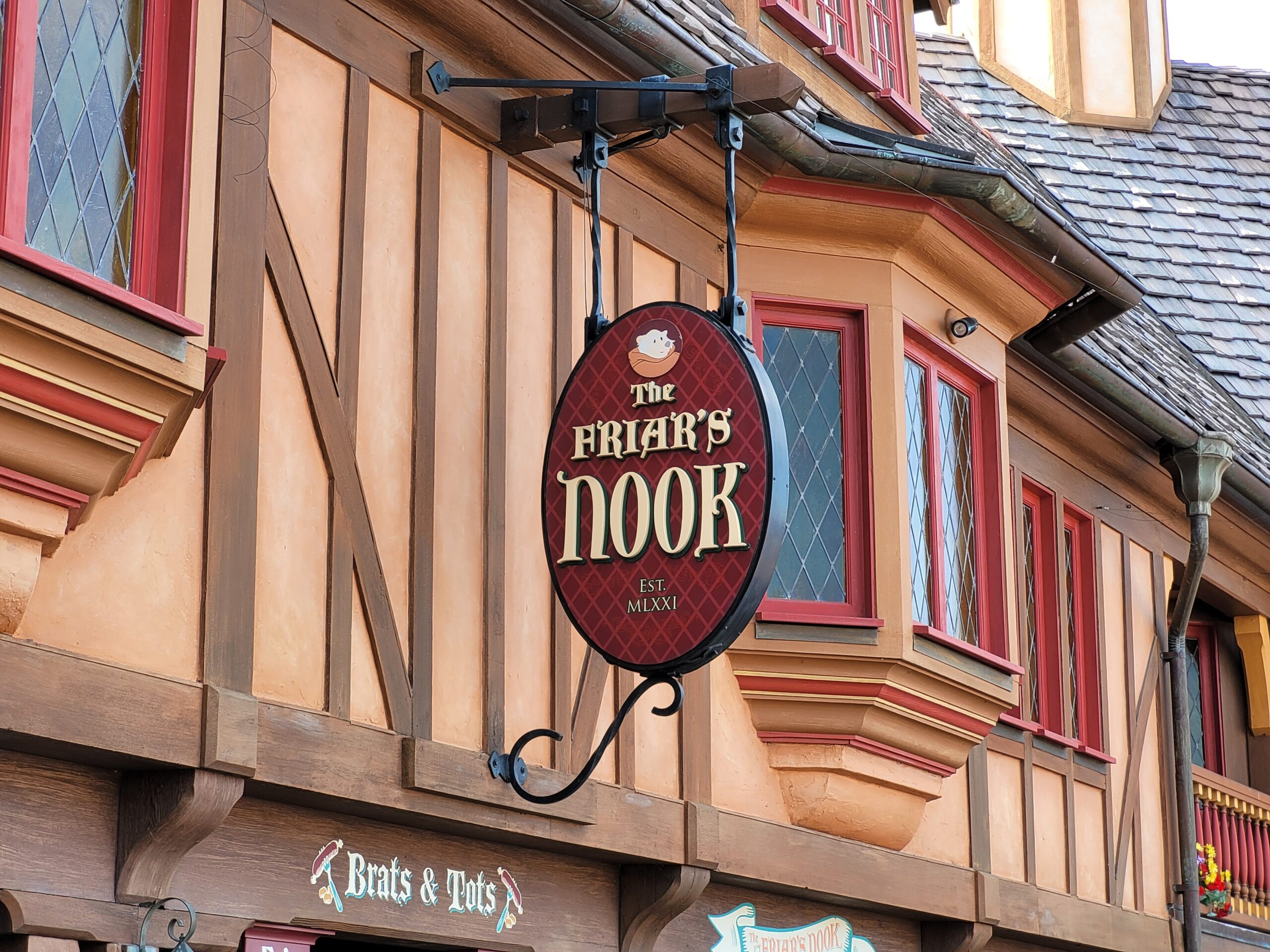 Also located in Fantasyland, The Friar's Nook serves up a limited breakfast menu, and then a slightly larger lunch and dinner offering.
Tater tots are the name of the game here, with breakfast tots, served with sausage and gravy, as well as plant-based Bratwurst (served again with tots).
Interestingly, Friar's Nook in its current iteration opened in 2009, and focuses on macaroni, cheese, bacon, and potatoes. The menu here changes often, so it's always worth popping in for a look.
Currently, for the 50th Anniversary of Walt Disney World, there are a few Mr. Toad's Wild Ride inspired dishes.
Fun, flavorful, and unique, it's worth checking out The Friar's Nook for these alone!
Head over to The Friar's Nook for breakfast (bacon, egg, and cheddar served on a multigrain croissant with tots sounds like the perfect on-the-go morning meal), or grab a burger or snack a little later in the day from the kiosk counter.
The Friar's Nook is a cozy spot with only some outdoor seating available, so you'll want to head here nice and early to grab a spot.
Beware in summer, however, as it can get pretty steamy sitting out in the hot Florida sun!
Generally, The Friar's Nook closes around 5pm, but there are the odd days when this small quick service eatery is open in the evening until midnight.
Check your ticket details and the Walt Disney World website before you visit to see if you're eligible for late-night admission.
Tortuga Tavern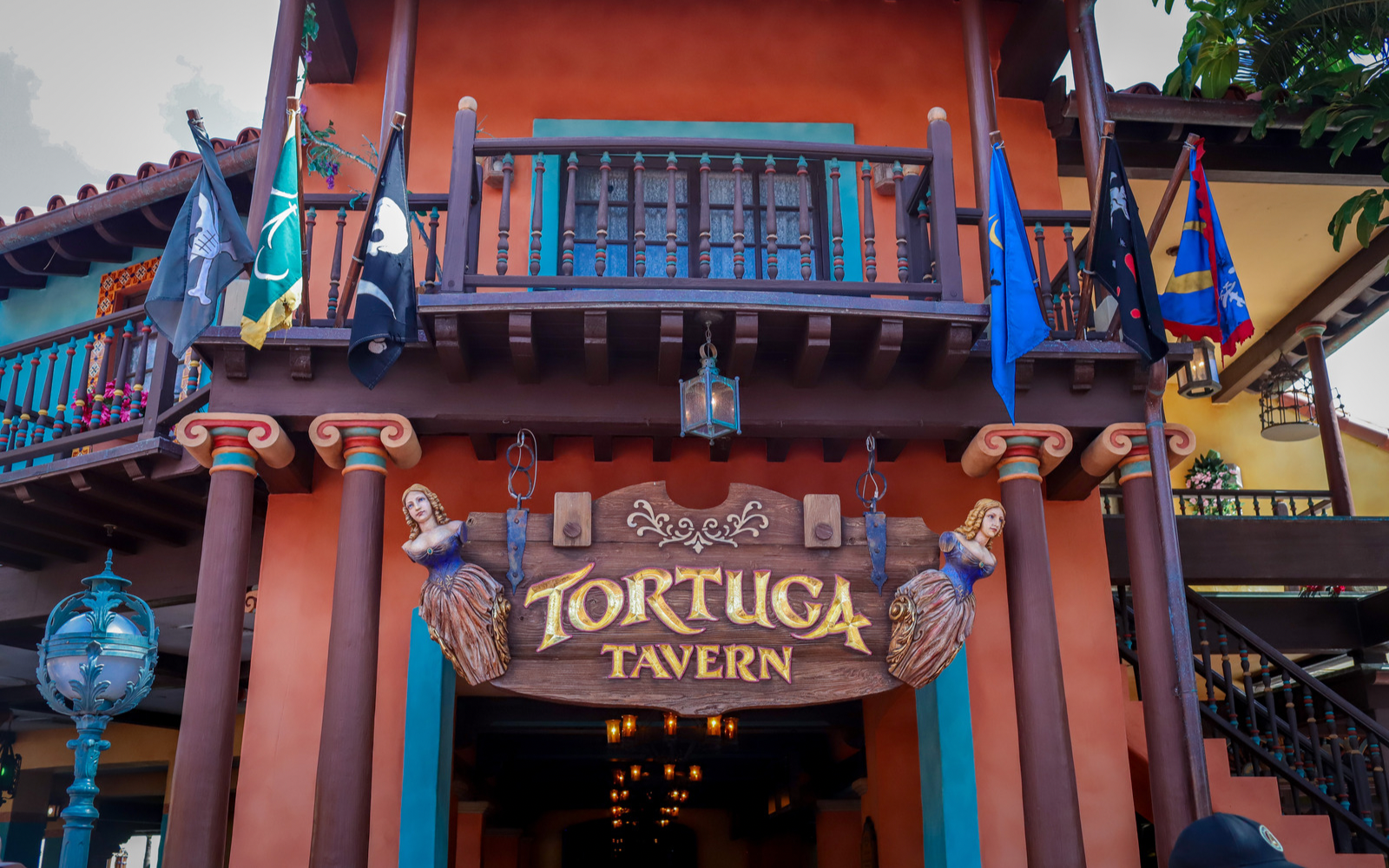 Located in Adventureland, Tortuga Tavern is a small and seasonal quick service restaurant.
Redesigned to reflect the Pirates of the Caribbean franchise, and directly opposite to the ride, the theme is vaguely Caribbean.
The large open-air seating area is connected to Pecos Bill, with indoor seating available as well. Notably, there is no Mobile Order available here, with walk-up counter service only.
The current menu offerings include chicken strips, a teriyaki burger, and hot dogs (all from the Adventureland Veranda), as well as the fan-favorite Peanut Butter, Chocolate-Hazelnut Spread, and Banana Sandwich.
However, the menu changes frequently, so it's a good idea to stop by and see what's currently on offer.
The beverages menu is also limited to sodas, water, and a Desert Pear Lemonade Pirate Slushy, but for a quick bite and a sit down, this is more than adequate.
Be aware that Tortuga Tavern tends to be open seasonally only (ie. the busiest days).
However, the shady seating area and large number of tables secures it a spot in our Magic Kingdom top 10.
Tortuga Tavern is generally only open until 5pm- making this a quick service restaurant stop for the middle of the day at Magic Kingdom, rather than late at night.
Pecos Bill Tall Tale Inn & Cafe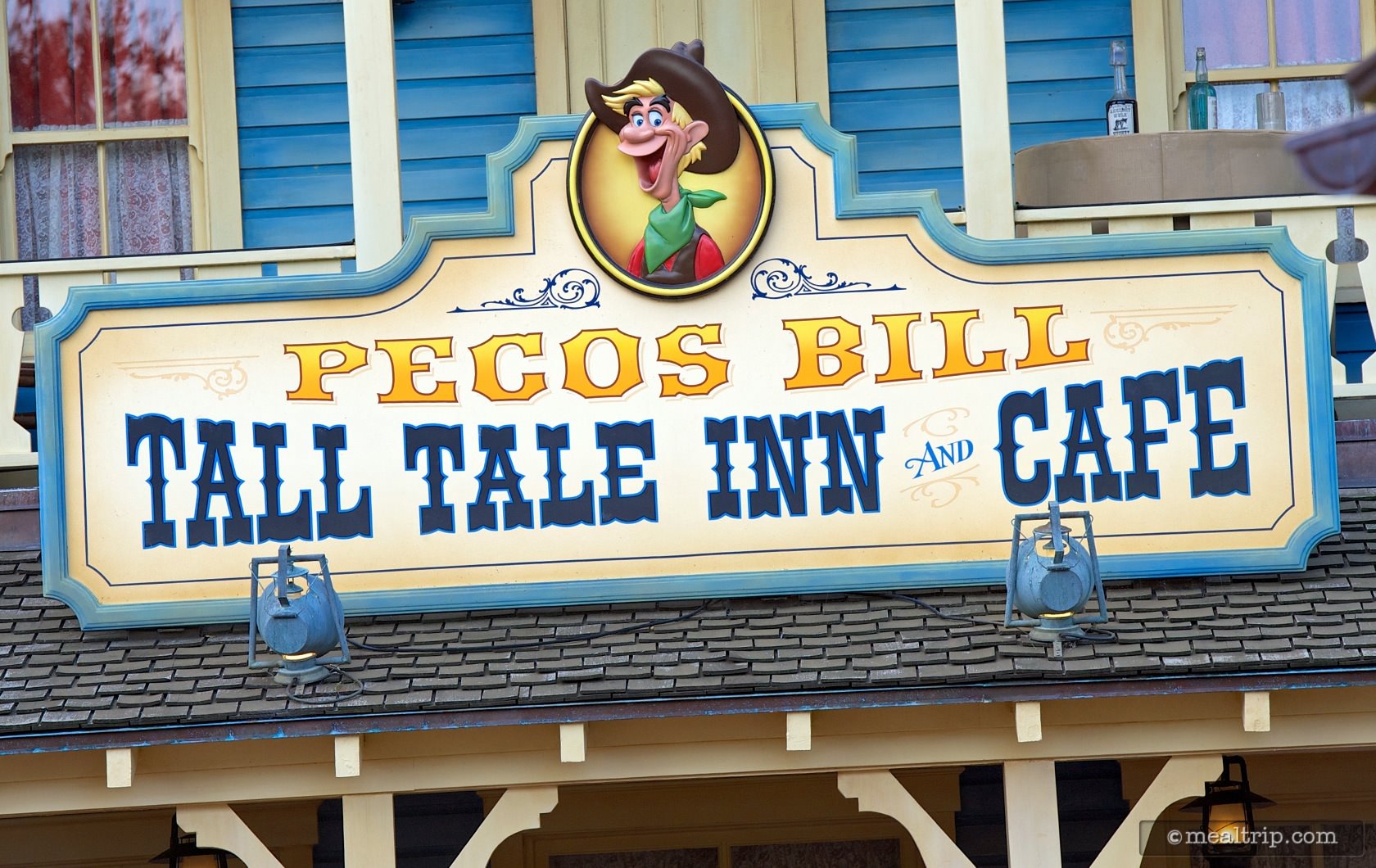 Located in Frontierland overlooking Splash Mountain and the parade route, Old West-themed Pecos Bill has one of the best locations in the whole Magic Kingdom. You'll find long lines here, but Mobile Ordering is accepted- which will speed the process up considerably!
Originally with similar fare to that found at Cosmic Ray's, a few years ago, Pecos Bill's changed their offering to Tex-Mex.
While one of the big draws, the toppings bar, was axed at the beginning of Covid, this hasn't stopped the crowds from pouring in at Magic Kingdom.
The lunch and dinner menu boasts a large selection of Tex-Mex favorites, including carnitas, nachos, and tacos, with burgers thrown in for good measure.
You'll even find a plant-based option, kids' menu, and 6 allergen friendly menus.
With one of the largest restaurants in Magic Kingdom, it only makes sense that Pecos Bill's has one of the largest menus to match.
In addition to indoor seating, there's also a large outdoor section, adjoined to Tortuga Tavern.
This is a great spot to people and parade watch- just be warned that it does get busy during peak hours!
You'll find the usual selection of beverages on the menu here, as well as a slushy in the dessert section of the menu. Other desserts we love are the churros and doughnut holes.
Because Pecos Bill's has such a large variety of menu items, along with its prime location, our best advice is to head here for either an early lunch, or a later dinner.
That way you can avoid the crowds and enjoy the tranquility of Pecos Bill's!
The bottom line?
With a menu selection you'll love, and a decent price point to match, Pecos Bill Tall Tale Inn and Café deserves to be in our top 10 quick service restaurants at Magic Kingdom.
Pinocchio Village Haus
You'll find Pinocchio Village Haus located on the border of Fantasyland and New Fantasyland.
With views overlooking It's a Small World and plenty of seating, it's a good place to settle in with the family.
Inspired by Geppetto's cottage, the décor is well-themed.
Inside, you'll find a large dining area, split into sections. The busiest of these is always the section overlooking It's a Small World, but if you're prepared to wait, you can probably snag a seat here.
Of course, due to its central location, things can get very busy at Pinocchio Village Haus.
We would advise avoiding peak lunch and dinner hours- unless you enjoy fighting for a table! It can get pretty loud in here, too, which makes the outside balcony a great option for dining.
The lunch and dinner menu is essentially Italian-themed, with a large focus on flatbreads.
The flatbreads include your more common pizza toppings, as well as a Chicken Souvlaki Flatbread topped with marinated chicken, tomatoes, cucumber, and tzatziki. You'll also find Caesar Salad, and chicken strips.
There's also a kids' menu, plant-based option, all of the usual beverage options, and 6 allergen-friendly menu sections.
These flatbreads also make great late-night snacks. Check the calendar on the Disney World website for opening hours as these vary from night-to-night, but can be as late as 10pm!
While there are mixed reviews on the fare at Pinocchio Village Haus, we've included it in our top 10 for various reasons.
It's a great location to bring the kids, fill everyone up, and is right in the heart of Magic Kingdom's Fantasyland to boot!
Sleepy Hollow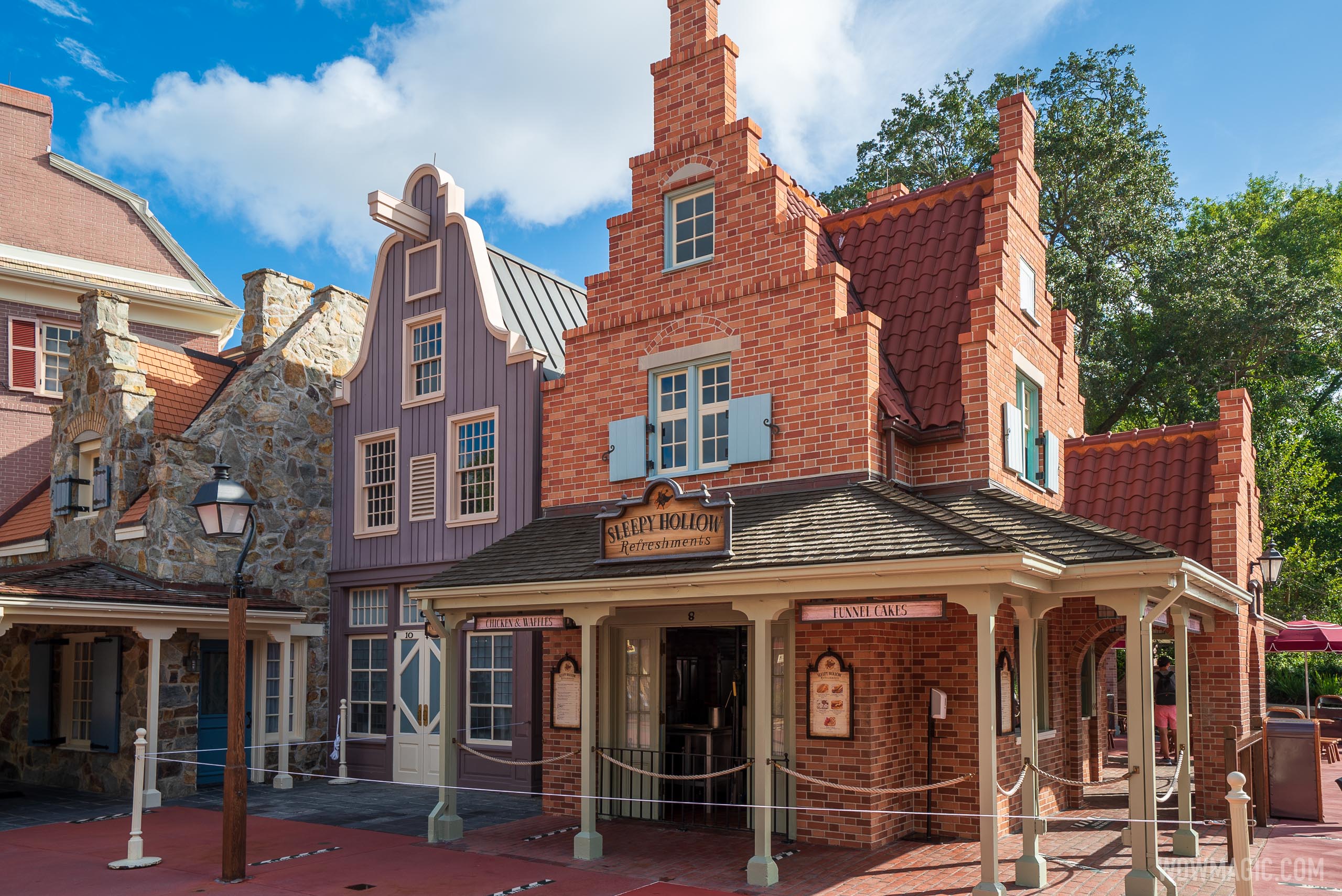 At first glance, Sleepy Hollow, located in Liberty Square, may not seem like much.
Similar to The Friar's Nook, Sleepy Hollow has a smaller menu and seating area than some of the other quick service restaurants at Magic Kingdom.
However, the persistently long lines exist here for a reason; Sleepy Hollow arguably has some of the best food on the list.
With a breakfast and snack menu available, waffles are the main draw at Sleepy Hollow.
You'll find their famous Mickey Waffles as well as funnel cake on the breakfast menu, along with all of the usual suspects on the beverage list.
On the snack menu, not only do you have the popular Sweet-and-Spicy Chicken-Waffle Sandwich, you'll also find corn dogs, chips, and the iconic whole turkey leg (only available after 7pm)!
With Sleepy Hollow right by Cinderella's Castle, this location is incredibly central and has access to great views. There's a great and spacious outdoor seating area, so make sure to take full advantage of it!
The only real downside is that the lines here can get pretty long. Each waffle is freshly made at Sleepy Hollow. So while you'll receive a piping hot, delicious waffle, you'd better be prepared to wait for it!
The Fresh Fruit Waffle Sandwich with chocolate-hazelnut spread is the regulars' choice on the menu, but we're rather partial to the honey-sriracha glazed chicken waffle.
Just be aware that it's a little spicier than most offerings in Magic Kingdom, so approach with caution if you're adverse to spice!
Generous portion sizes, fresh waffles, and the great location bump Sleepy Hollow into our top 10 quick service restaurants in Magic Kingdom.
The Lunching Pad
Directly located underneath the Astro Orbiter in the middle of Tomorrowland, The Lunching Pad has a limited but delicious offering of snacks.
While it may technically fall more into the snack bar offering, it's listed as a quick service restaurant on the Walt Disney World website. And quick it is!
With only outdoor seating available, be aware that in the summer it can get pretty warm out here.
It's not too bad if you're just grabbing a snack to refuel, but definitely something to bear in mind if you're hoping for a longer meal.
Having said that, the current menu options only consist of a couple of hot dogs, Caribbean Jerk Chicken Strips, the famous Cream Cheese Warm Stuffed Pretzel, or Mickey Pretzel with Cheese Sauce.
While that may not seem much to write home about, we bet the fresh, hot pretzels at The Lunching Pad will have you coming back for more!
Beverages here are limited too, with mostly fountain sodas, water, a couple of slushies, energy drinks, and hot cocoa on offer. However, for a quick stop and refuel, it sure punches above its size.
Visit in the morning for a morning pretzel, or stop by late in the evening for a last minute snack before leaving Magic Kingdom.
On some evenings, The Lunching Pad is open until 9pm, and we even spotted a few late-late-night 11pm–1am slots during Disney Extended Evening Hours!
Whether you're here for the pretzels, the hot dogs, or the surrounding Tomorrowland view, The Lunching Pad is a great spot to drop by.
Columbia Harbour House
Right on the border of Liberty Square and Fantasyland, Columbia Harbour House serves up the best seafood this side of Magic Kingdom!
Straight out of a New England seaside scene, the vibe here is warm, quaint, and intimate.
In addition to the downstairs dining area and walkways, you'll find a "secret" upstairs dining area, too.
There's even "secret" seating, which affords you some of the best views in Magic Kingdom.
(Hint: check under the building between the Haunted Mansion and It's a Small World!)
You can use Mobile Ordering here to skip the line, and make your visit that much more relaxed.
We love all of the details that have been put into this venue- be sure to take some time to explore your surroundings and take in the stunning work of the Imagineers at Columbia Harbour House!
On the menu, you'll find lunch and dinner options only, with a Lobster Roll, New England Shrimp Boil, Grilled Salmon, and Sea Captain Catch, amongst others for the seafood lovers.
There are sides galore, including New England Clam Chowder, Hushpuppies, and more.
Even Chicken Strips and a chicken salad are available for the less nautically cuisine minded!
A kids' menu, plant-based options, and 6 allergen-friendly menu sections are provided (as with a few other places on this list), and the usual suspects are all here in the beverage round-up.
The latest dining time at Columbia Harbour House is 9pm, making this a great spot for dinner.
Be sure to check the handy calendar on the Walt Disney World website for exact times when you visit, as this does vary.
Dishes here can get a little pricier than some of the other options at Magic Kingdom, but for the ambience and quality, we think it's well worth it!
More about our TFVG Author
A seasoned traveller, Dad, and avid sports tourist, James foundered The Family Vacation Guide to share his expert vacation experiences- especially when it comes to being a travelling family man.
Featured in Travel articles such as Travel + Leisure, TripSavvy and SFGate, you know you're reading some of the best vacation tips online.